Along with some top dietitians, I share my best tips to stop body shaming and dinner table food shaming.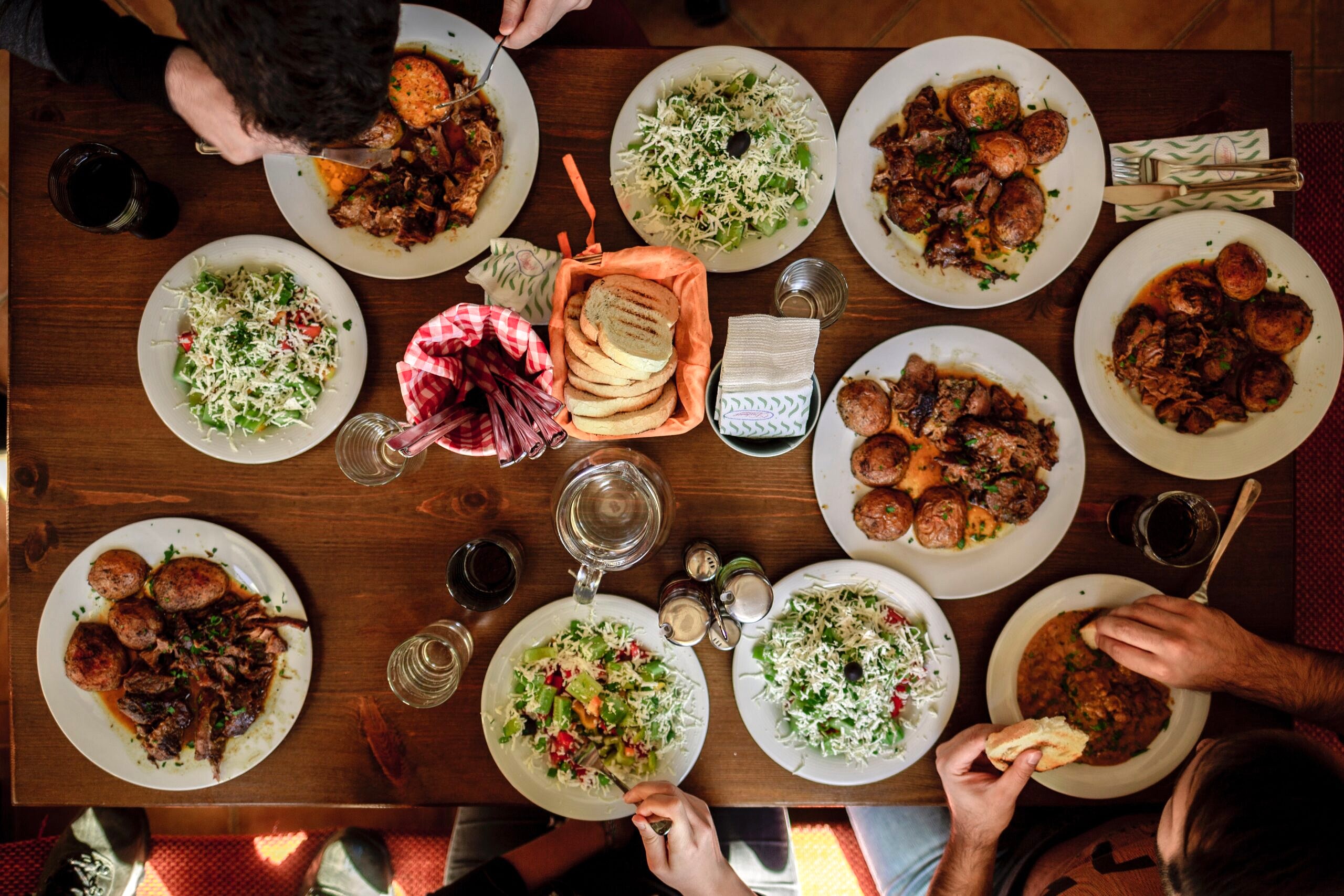 A Little Body Shaming Background
I have pretty cool parents. Okay, so I thought they were the worsssssst when Dad wouldn't let me wear a tight tube top as a skirt, and when Mom refused to let me get a tattoo (thank G-d I listened), but once we were legally "adults", their advice and critiques became pretty much an on-demand service. If we don't ask for their opinion, they don't give it to us- because they trust our judgment. This has specifically been the protocol surrounding conversations around our bodies and food – specifically body shaming conversations. Like almost all women, my mom surely wasn't always happy about the changes age had brought upon her body, especially because she was previously a professional ballerina and stick thin. But growing up, I don't ever remember any conversations about "good" and "bad" foods. I don't remember my mom ever complaining about her own jiggly bits, or commenting on the bodies of women on TV. I don't remember anyone casually dropping "F" bombs at the dinner table. And I'm not talking the official swear word. I'm talking about F-A-T.
Call me naïve, but I didn't know I was living such a sheltered unusual life free of body shaming. I didn't know that conversations around other people's bodies, and food choices were even more common then casual chit-chat about the weather. I had no clue that body shaming was so common among people who supposedly love you.
Fast forward to today, and I've been thrust full speed into situations where anything I put on my plate or shopping cart can be questioned, criticized and judged. I've come to (unfortunately) appreciate this as "Womanhood 101". Lucky me, I also got in on the Bonus edition since I'm a Dietitian and supposedly my food choices and body are even more susceptible to public scrutiny. Bring on the body shaming!
Food and Body Shaming Scenarios
Honestly, no matter what your gender, profession, culture or religion, I've observed food and body shaming across the board. And you probably have been both the victim and perpetrator in different social situations in different times of your life. Tell me if any of these hypothetical scenarios strike a cord:
You're at a holiday feast and your husband's grandmother offers you a slice of pie. You're already quite full from supper so you pass, when she pipes back – "What's wrong with you? You're so skinny! Here, take a big piece – we're all having pie!"
You're out for dinner with your spouse and another couple, and are trying to make healthier choices, so you order a chicken salad sans dressing. When your partner orders the fries, you give him the evil eye, stomp on his toe, and then jokingly rub his belly and say, "Don't do it – you're getting fat!"
You're at a family BBQ helping yourself to a slice of your Aunt's brownie trifle (the one you wait for all year!) when you're mom leans over, motions to your hips and says something like – "Do you really need that much?"
You're in the grocery store picking up your organic gluten free granola and you see a visibly overweight woman lifting 2 L bottles of 7 Up onto the conveyor belt and a tub of no-name Neopolitan ice cream. You first think, Uh, how could she not even TRY to lose weight? Her poor kids are going to end up just as bad as her if she's feeding them such crap.
You're out for brunch with the girls when you have a hankering for the pecan salad until all of your girlfriends say you're a Diet Debbie Downer because you're not splurging with them. You quickly change your order to match their burgers and shakes.
You're watching E Talk red carpet with your family and you can't help but critique some female celebrity as "grossly skinny".
You see an old friend who is in her third trimester of pregnancy. You're first instinct is to rub her belly, followed up by a comment like, "Holy, are you having twins? You are ready to pop!"
You're having lunch at work when you pull out a granola bar. Your hard-core vegan colleague begins to lecture you about GMOs and refined sugar and tells you that you're snack is "poison".
These are all examples of food and body shaming. You see the theme? The food and body choices of people around us likely don't have an impact on us, but we tend to take it really personally when they don't coincide with our own. And you know, that gets really confusing when our choices are always changing. I mean, I wish I could tell you how many dinners I've had where I've been begged to get dessert I don't feel like, and then the next day, the same person will look at me in disgust if I make a decision on my own to order dessert. So why do we feel the need to inflict such random acts of judgment and body shaming?
Why Do We Engage in Food and Body Shaming?
Here are some of the likely reasons for perpetrator's body shaming and food shaming that you can remind yourself of the next time you've been victimized.
They're Jealous
There have been too many times when I've been called out for how much I eat with comments like, "OMG I could never eat all of that. Wow, really Abbey?" and "Abbey, you're like a hoover – you eat so much – I'm so stuffed I feel sick." Now, I'm no super model, but it's possible that people feel envious when they see me eating cheesecake and fitting into a smaller dress while they've trapped themselves in a cycle of fruitless dieting.
They Think Their Health Goals are Universal
Sure, a lot of people want to lose weight – that's definitely what the media had helped us believe. But just because someone else hasn't prioritized cutting calories, eating gluten free, or "cleansing" their body of toxins before goals like enjoying company, experiencing pleasure, or finding happiness – it doesn't make their goals any less valid or right.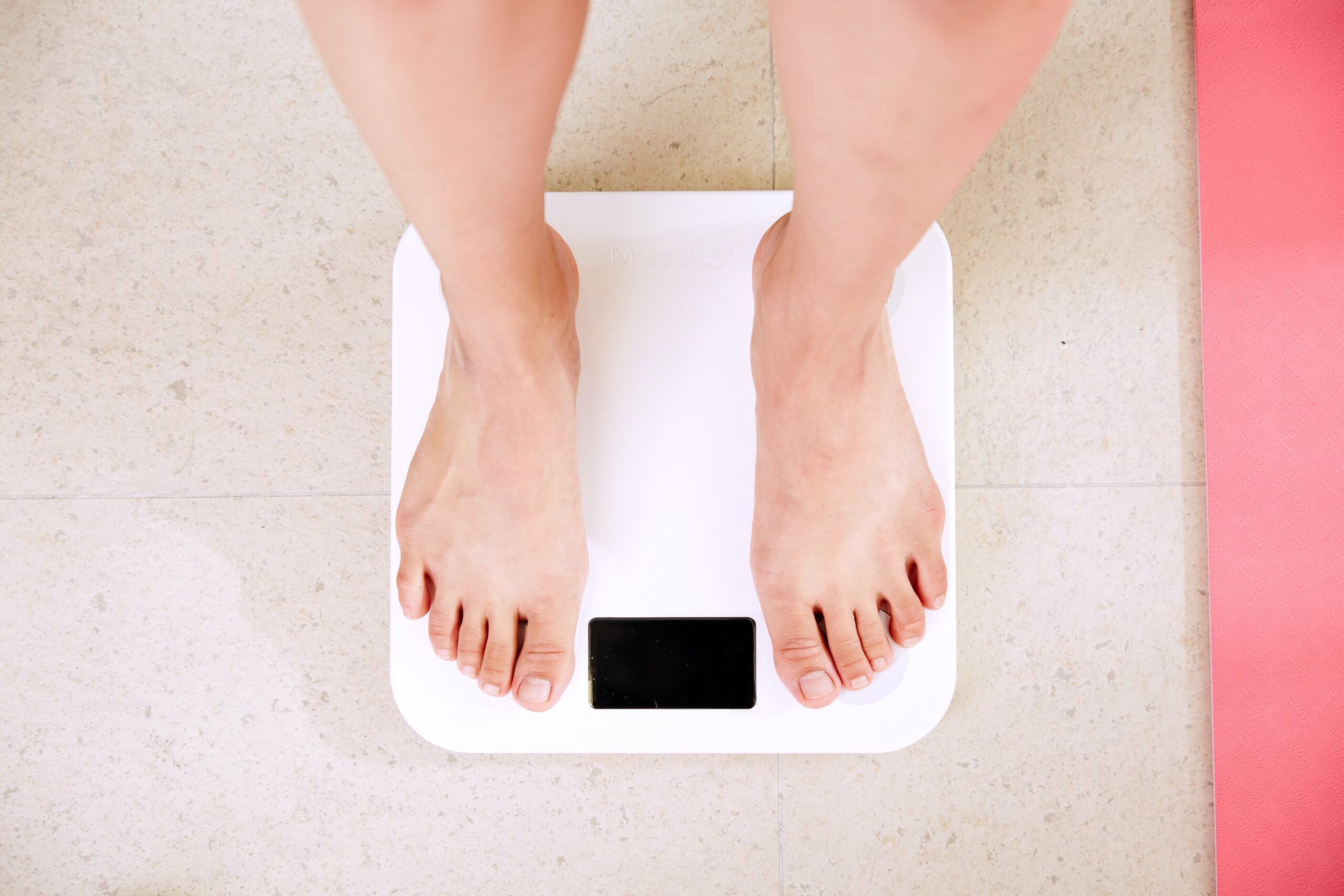 They're Trying to Justify Their Unhealthy Relationship With Food
In my experience, this is probably the most common reason for food and body shaming. A lot of people have developed poor relationships with food and their body, and the easiest way to help them through the challenges of that is through justifying their (not-so-useful) approach. In other words, when they're on a diet- you should be on a diet. When they've negotiated with themselves that they can splurge, you better damn well splurge. This could be considered a form of "projecting". That is, a person who is on a diet will project their calorie-counting tendencies onto everyone around them. My old psychology 101 textbook calls this a defense mechanism. I call it super annoying.
Why Body Shaming Others Doesn't Make Sense
Regardless of the reason why you or others engage in food or body shaming, the truth is- it doesn't make a whole lot of sense. Decisions about food and our bodies just aren't that simple. They're accompanied by huge amounts of context that we usually can't fully appreciate as an uninvolved bystander. Here's what I mean.
Foods aren't Inherently "Good" or "Bad"
While the media, our maternal ancestors and even our doctors might have us believe otherwise, there is no such thing as an inherently "bad" food that leads to body shaming. Sure, some foods may be better for us then others to be included more often in our diets, but I wholeheartedly believe there's room for any food at some time. Seeing our food choices in such dichotomous terms often leads us to associate the person (or ourselves) eating that food with its moral descriptor. In other words, if I eat a "bad" food like chocolate cake, I've "been so bad" today. If I eat a "good" food like salad, I've "been so good" today. Likewise, your body weight doesn't hold underlying moral ties either. Fat people aren't bad people and slim people aren't (necessarily) all good people.
Not yet clear? Let's play a little game to make sure everyone's clear on what's actually inherently "bad".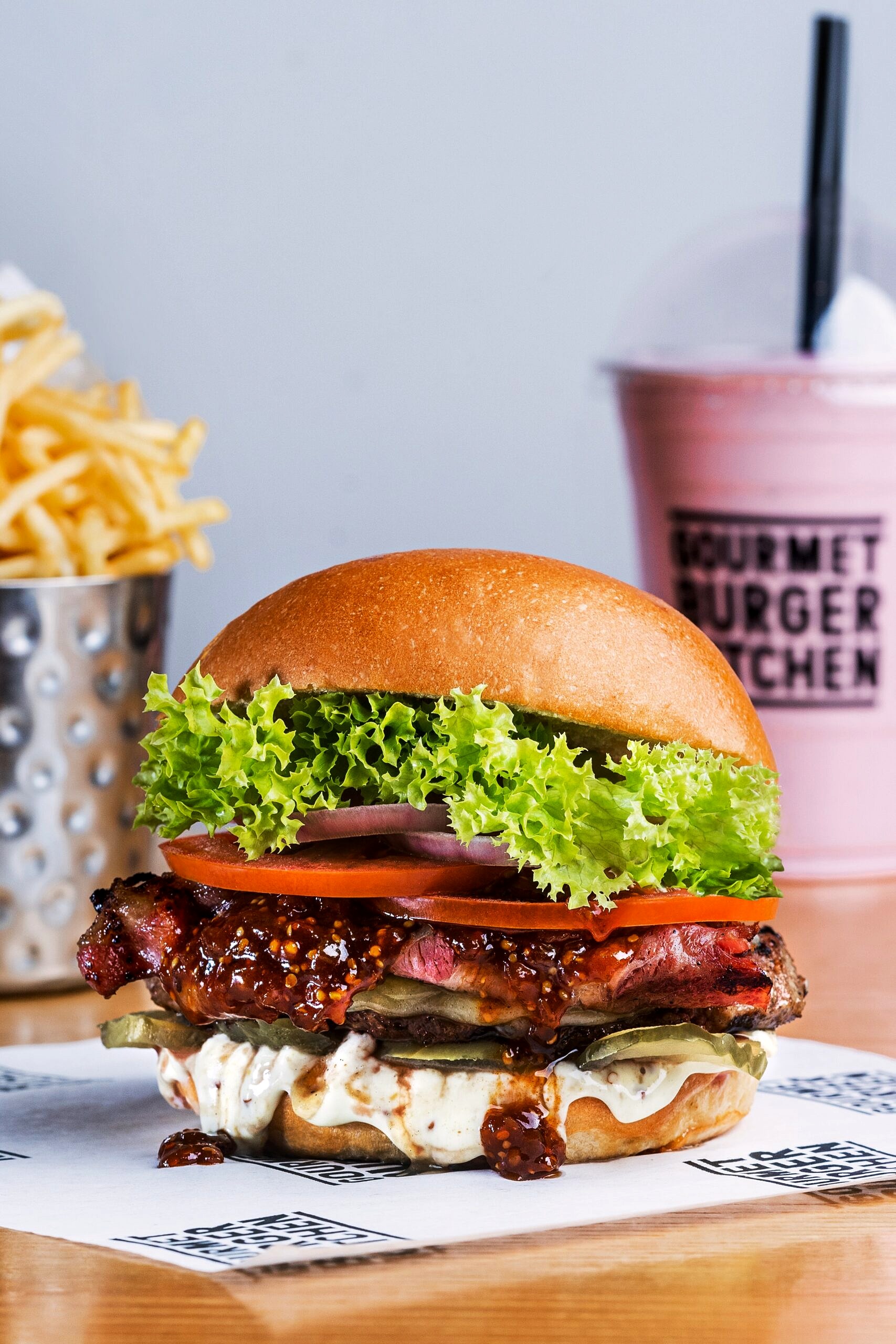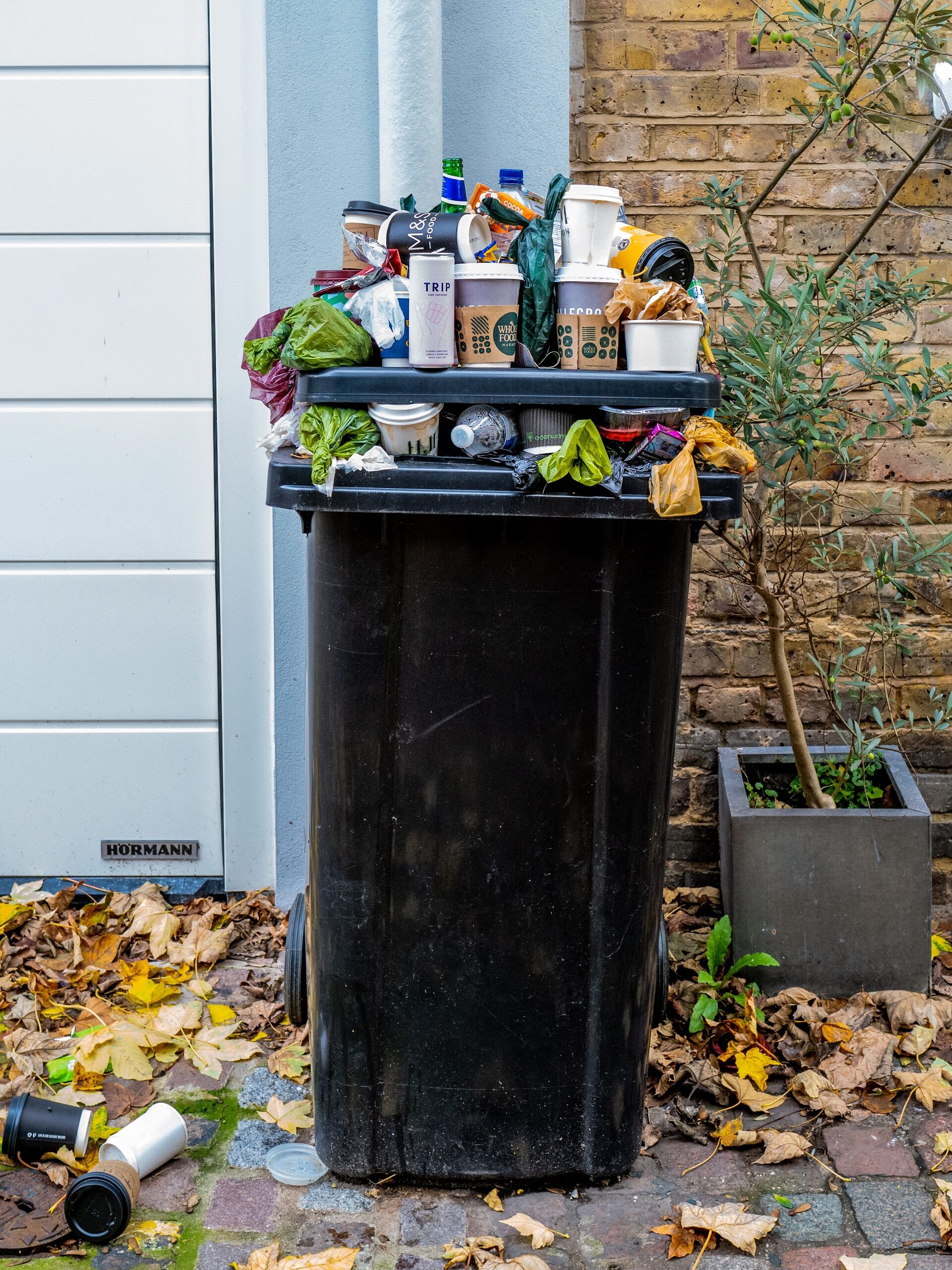 Great, I'm glad we went over that.
We Don't Know Each Other's Goals or Needs
When someone makes a comment that I'm "eating like a horse", usually my first thought is, "Hey, I ran 5 miles today and I met with my trainer! I'm legitimately hungry!" In other others, we have no clue what else another person has eaten that day, how much physical activity they've gotten in, what his or her health goals are, or anything about their unique nutritional needs (ie. a high metabolism). I am the only expert on my body, just as you're the only expert on yours.
Eating is a Natural Response to Physiological Needs!
For folks who haven't been sucked into the diet mentality, eating is just a natural response to a physiological need. "Mindful eating" means listening to our body's cues that we need energy, and intuitively knowing how to supply. As summarized by Ellyn Satter as part of her Eating Competence Model, eating mindfully, intuitively or competently as she puts it means being positive, comfortable and flexible about what we eat rather than relying on rigid rules. But for people who have been counting calories or trying to lose weight their whole life, it's hard to imagine just "trusting your body" to make healthy decisions about how much or what to eat. We seem to be able to trust our body to make its own decisions on many other bodily processes – like menstruation, urination or sweating – but with eating, people have been taught to take away the reins and to assign a bunch of socially prescribed rules instead.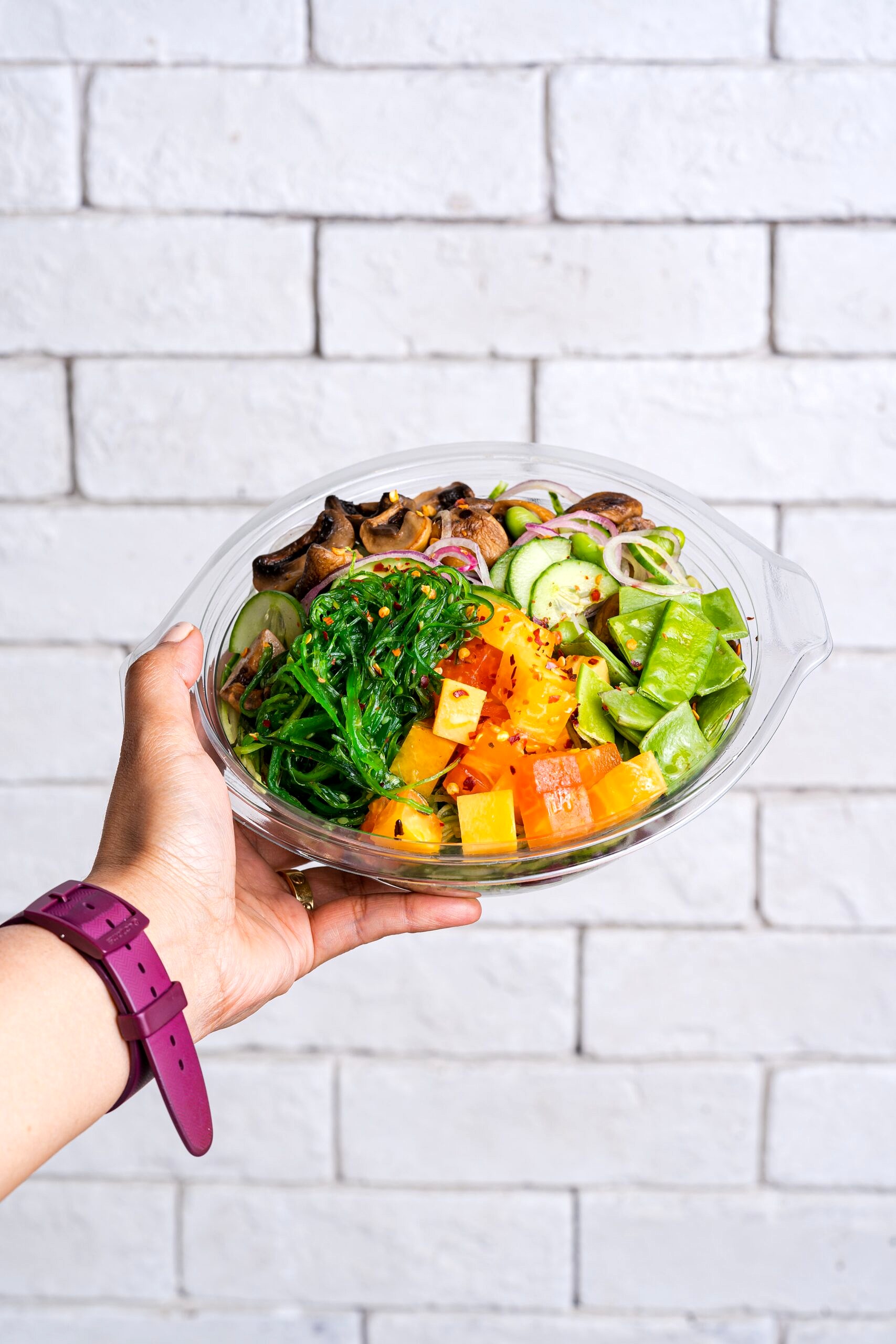 If we think of these all as basic natural human responses, the divide seems unjustified. Think- you wouldn't lean over a person to tell them how much they "should" menstruate, right? That would be totally none of your business. So why do we seem to think that people's dietary needs are our business? You might be thinking, "Ah, well, you can choose how much to eat. You can't choose how much to menstruate." Well, not really if you're doing it right. If you're eating mindfully and in response to your body's true needs, then as long as you have the means and resources to meet your needs, you really aren't choosing much at all. Eating is just a natural response to a bodily need.
Why Body Shaming is a Problem
As someone who has spent the greater part of my adult life honing my mindful eating skills and my personal relationship with food, I can tell you that these innocent comments really throw me off my game. Body shaming isn't cool, guys.
I remember coming home one night after one particular family dinner (and a few comments I didn't appreciate), looking in the mirror and asking myself "Do I actually look fat?" Now, I don't know if I was legit a wee-bit bloated, a little drunk or if I was actually having a body-image crisis, but for a brief moment there, I was wondering if my waist looked bigger then I remembered it looking before I went out. It was a confusing, upsetting and unusual moment that I had never experienced before (and thankfully, haven't experienced since). The next day, I had brushed it off and went back to feeling rad as I caught my reflection in the gym, but a few too many of those nights and I fear my resiliency could easily wear down.
If we're not really strong in our conviction, being constantly criticized on the choices our body has helped us make can force us to question those unique hunger and satiety cues, break down our relationship with food, and severely tarnish our body image. In the most common scenario, we may join the dieting life our perpetrators likely lead. In the most devastating scenario (which is becoming all too common), we may develop some form of eating disorder. Let's not let either of these situations regarding body shaming go down.
Stock Responses to Food and Body Shaming
I reached out to my fellow Canadian dietitians who had some amazing ideas on some easy responses and strategies when someone makes a comment about what you're eating or your body. I'll definitely be memorizing some of these and you should too.
"You might find that restriction and dieting works for you, but listening to my body and finding pleasure in food has been really successful for me- both for my physical and emotional health goals." – Abbey Sharp, RD
"Isn't it great I can intuitively give my body what it needs and not have to base my choices on other people's views"- Sulana Perelman, RD
"You mind your own plate, and I'll mind mine"- Jenna Walsh, RD
"Oh, I didn't know we were critiquing what everyone is eating and their weight… who would you like me to start with?" Jenna Walsh, RD
"I hadn't realized you looked at my body so closely" – Rosie Schwartz, RD (This one is hilarious- I can imagine this would shut someone up REALLY quickly)
"Why? What's wrong with having carbs/gluten/coffee, etc.?" – Stef Palmeri, RD (Note, this is best with someone who you know won't have the energy or knowledge to really fight you on this. Most people don't actually know why they think a specific food is "bad"- they just have heard it on Dr. Oz or something).
"Well, that was rude" and then go back to eating as if nothing was said. – Stef Palmeri, RD (This response will give the perp the stern hint that what they're saying is inappropriate but won't make a huge scene at the dinner table. I've done this before, it works as a quick fix).
Take them aside and lay out your terms. If the person can't refrain from making negative food comments, let them know you won't eat with them. – Stef Palmeri, RD
"I'm pretty lucky that I can eat according to my body's cues and not be influenced by what others are doing or saying!" –Sarah Remmer, RD
"Everything in moderation, even moderation." –Mark Twain via Melissa Boudreau, RD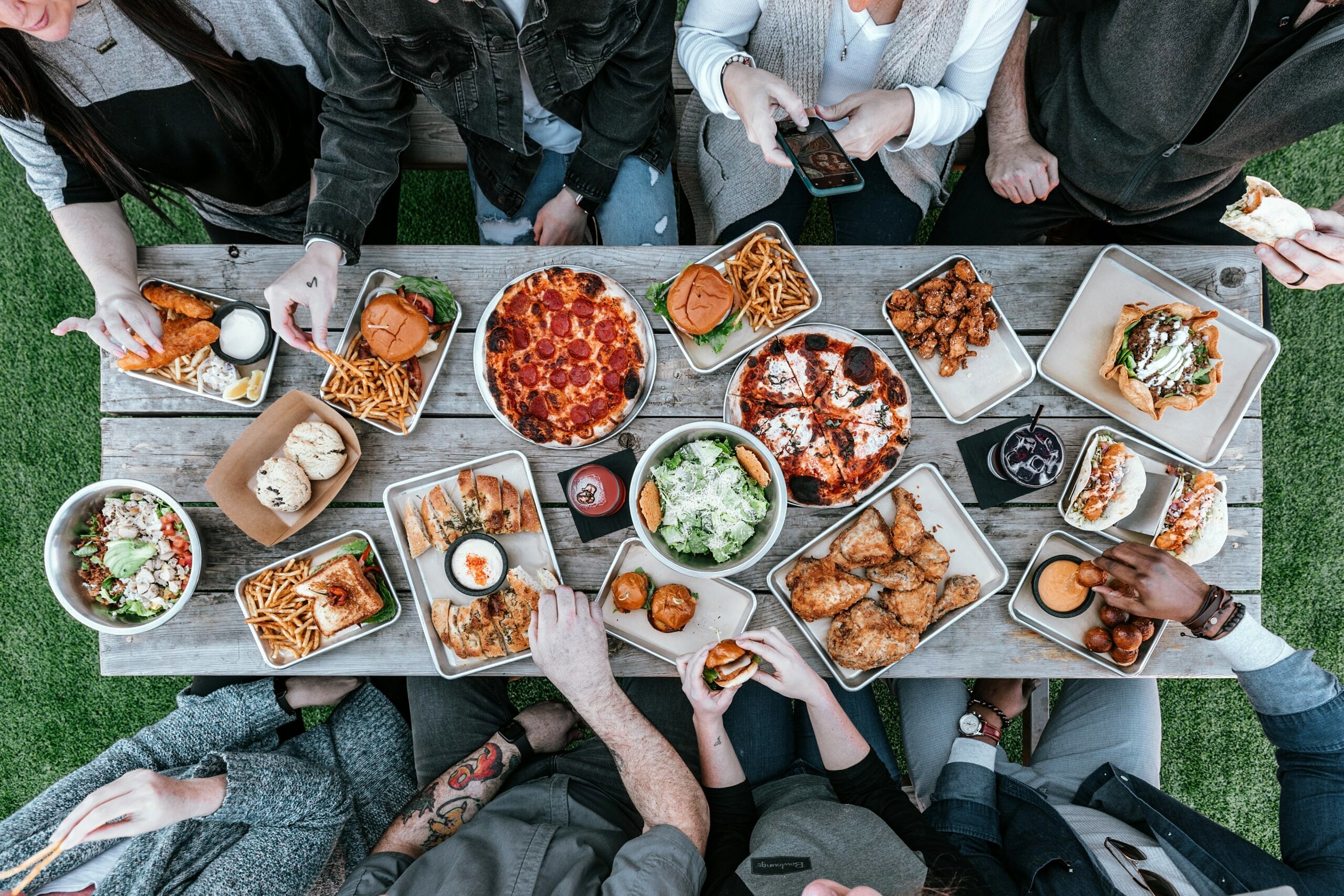 Regardless which end of this conversation you end up on, it's important you keep in mind that our bodies and food are very personal. For the days you're a victim of food and body shaming, remember that the choices you make are really yours and yours alone and it's never your responsibility to make someone else happy by what you're eating. If they can't find happiness in their own choices, there's pretty good evidence right there that they need to work on their own relationship with food. Meanwhile, for the days you're the shamer – I promise you the flavour of your food won't change depending on what others around you eat or weigh. Your kale won't taste better if everyone else is eating it too, and your cake won't taste stale if you enjoying it alone.
If we all work together at this, we can stop food and body shaming all together and settle much more easily into our healthy happy relationship with our bodies, ourselves and food. Good luck!
What strategies and lines have you come up with to help you deal with food and body shaming?
Comment below with your thoughts!
More Blog Posts You Might Like:
If you liked this blog post discussing tips to combat body shaming, then you might also enjoy more blog posts about body image and mental health: