Opening Remarks:
-One Michelin Star
-Located down a narrow street like a hidden little gem that's packed by 9:30 PM.
– The have a 40 seat bar for guests to sit and enjoy drinks over bar nibbles, as well as a dessert bar for sweets, cheese and wine.
-There is a stunning dining room downstairs for private events
-The concept at Pollen Street Social is to offer fine-dining cuisine in a more casual environment.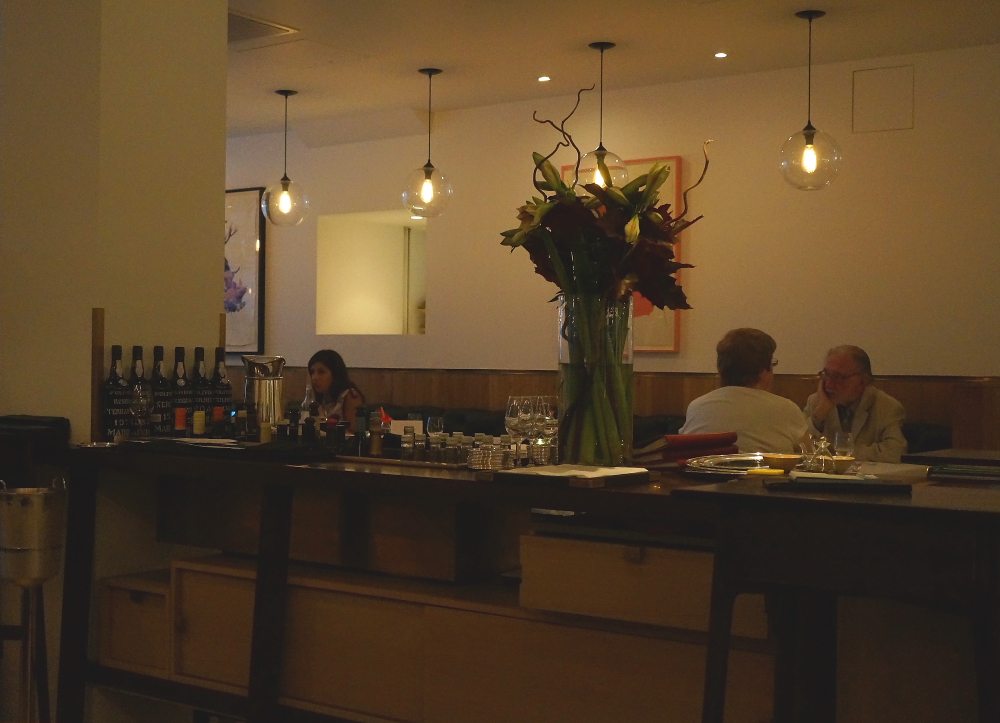 Ambiance:
-Semi-Open kitchen concept (you can peer through the clear walls into the busy and spotless facilities)
-The first room you walk through is the buzzing bar room, beside which is the dining room anchored by a serving table in the middle where wine, cutlery, serving ware and drinks are stored
-The tables are lined in a white table clothes and set with beautiful white plates adorned with black sketches of fresh vegetables – blending the worlds of sophistication with country coziness.
-I love that the plush leather booths feature "dividers" between tables so there is no ambiguity with regards to whose purse should go where
-The crowd is predominantly well dressed 30-50 year olds – the dress code is smart casual, but I'd say you'd be best off to wear a nice dress (for her), and some slick slacks and a button down (for him)
-The dining room offers a comfortable buzz, not noisy or "hopping" as so many modern restaurants tend to be but rather very respectful of people's conversations.
-My only complain would be that the room was intensely warm. I am usually always cold in restaurants, but I just had to walk in for a brief moment and I already started to sweat. Hence why I drank- a lot.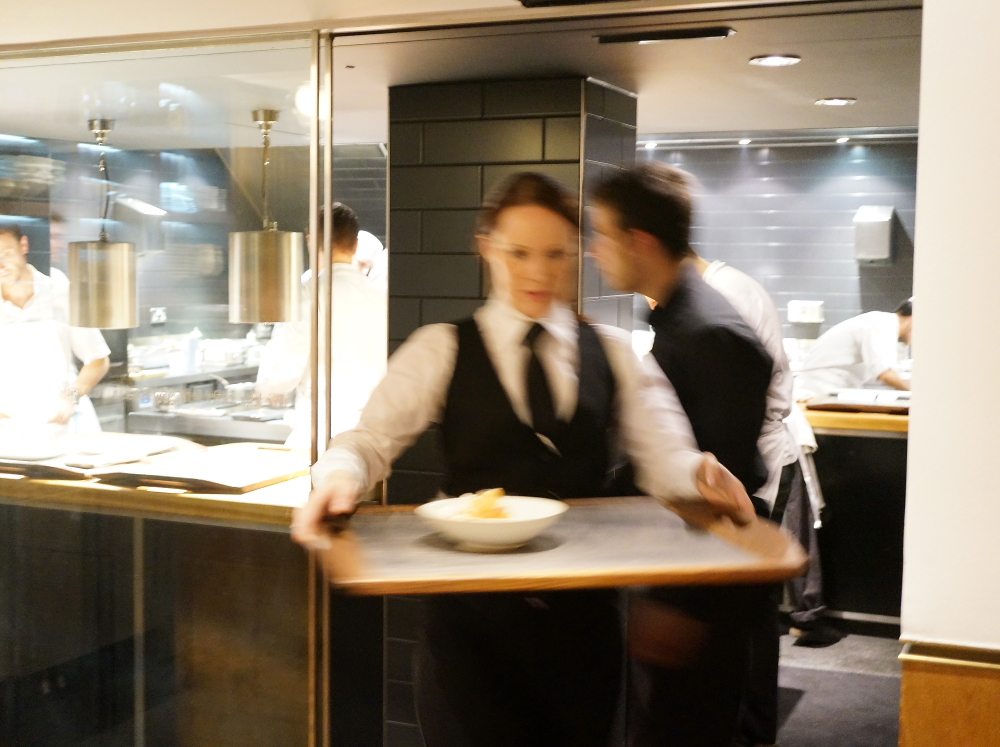 Service:
-Very professional, yet not at all snobby or up tight.
-Each server had their own role in our meal- from bread to water to cutlery to glassware- with each timed just as one should see in a Michelin Star restaurant
-Wine recommendations by the sommelier were also very considerate and precise.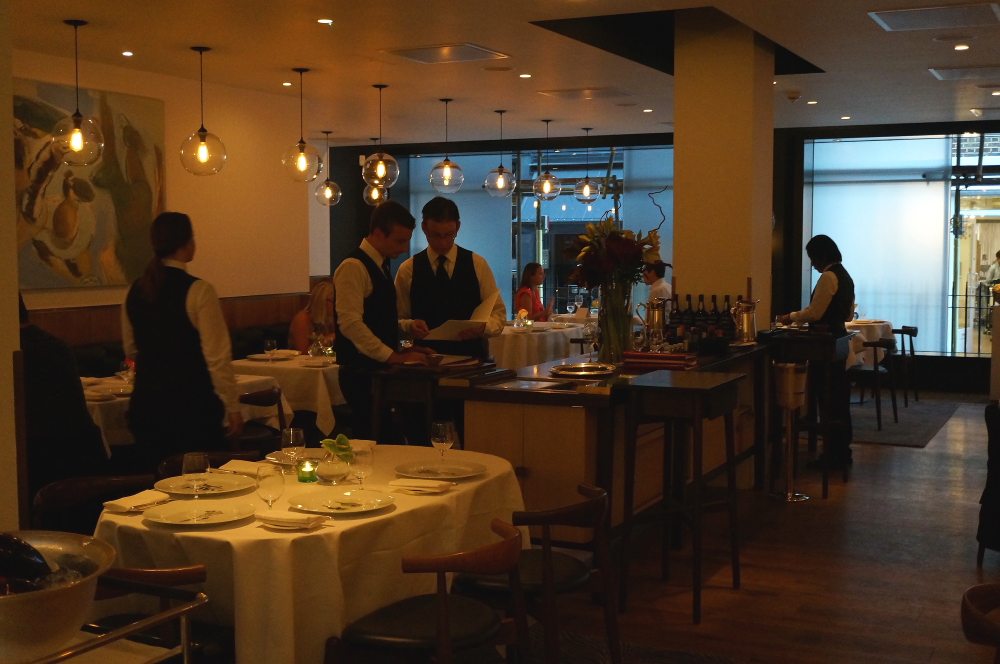 Drinks:
-The wine list is a 30-page exceptional read with favourtism given to the wines of France.
-Most glasses run from ₤8-15, and bottles can go up to ₤2500
-Wine pairings can be arranged to go with the menu offerings, which was the route my partner decided to go. All of the pairings were appropriate and thoroughly enjoyed.
-Bar Manager Gareth Evans has created a remarkably creative and innovative cocktail menu that changes often. I took a quick peak and decided that I absolutely could not resist. It was going to be a boozy night.
– I had a crazy hard time deciding because literally everything struck my eye. Each drink featured whimsical presentations with unique and exotic ingredients including sweet pickle juice, toast and jam (still not sure what that is), beetroot rose, and "British eccentricity" (you will see what I mean below).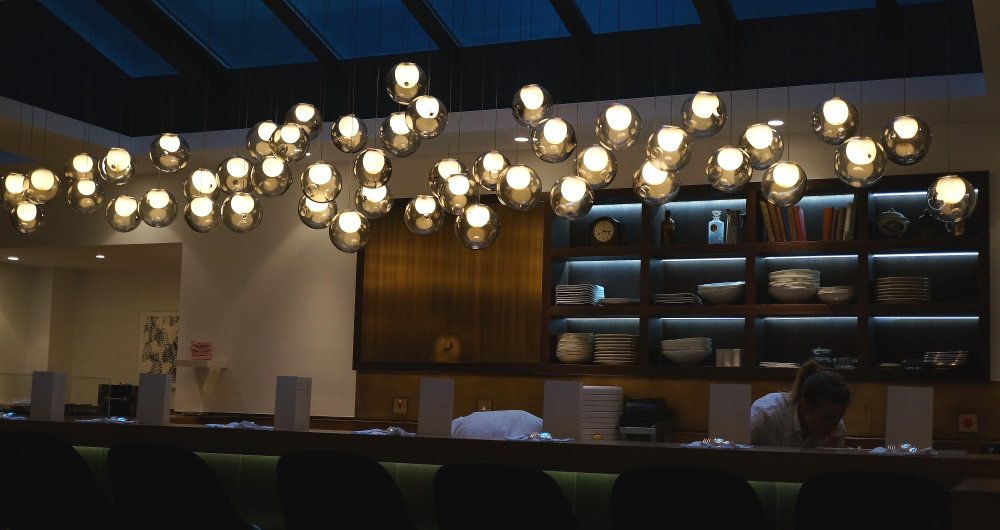 Day of the Dead : Tepatio Blanco Tequila, Aperol, White Chocolate, Lime Juice, Rose Water Syrup, Egg White, Chocolate Mist, Edible Butterfly (₤13.50)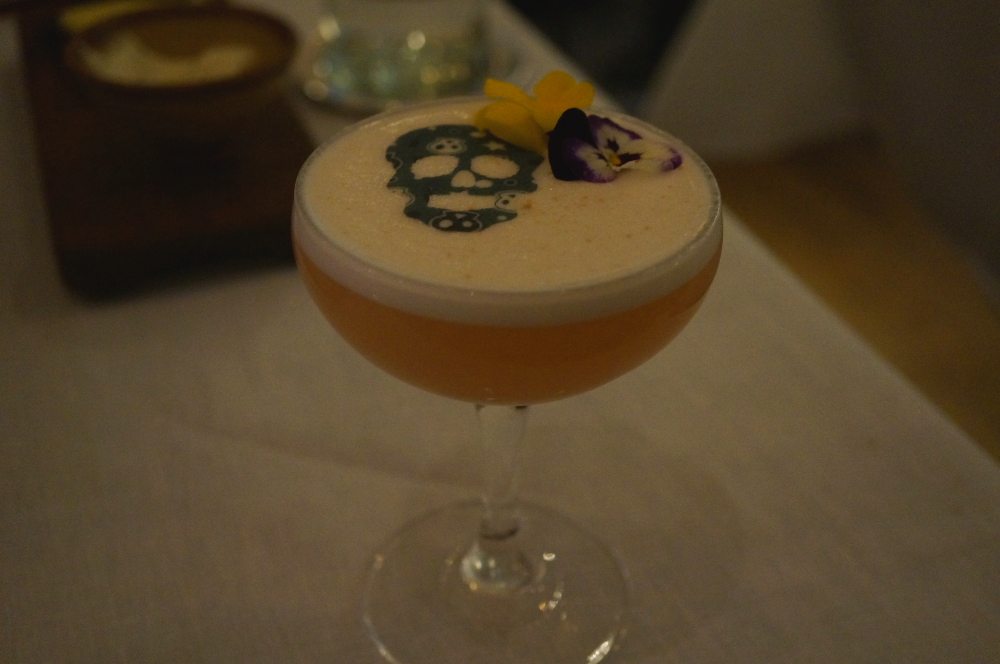 Blew my mind. Yes that's a skull, and yes I ate it. The drink arrived with an antique style perfume atomizer, which the server used to spritz with chocolate mist. The result was an incredibly balanced drink with wicked sex appeal.
Great British Cobbler #2 : Williams Chase GB Gin, Berry Compote, Apple, Lime Juice, Vanilla Syrup, Cardamom Bitters, British Eccentricity (₤13.50)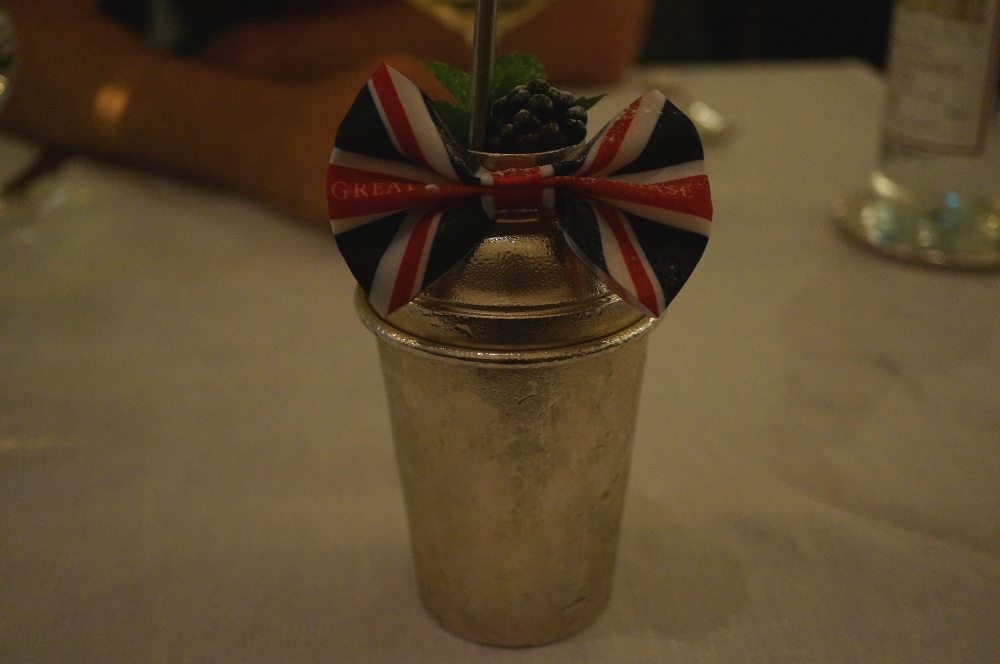 If you like big fruit flavours, this is a must try. It was sweet, tangy and beautifully aromatic, and I loved its British cheeky charm.
Jimmy's Giant Apricot : Tanquerey Gin, Campari, Apricot Syrup, Lemon Juice, Pineapple, Plum Bitters (₤13.50)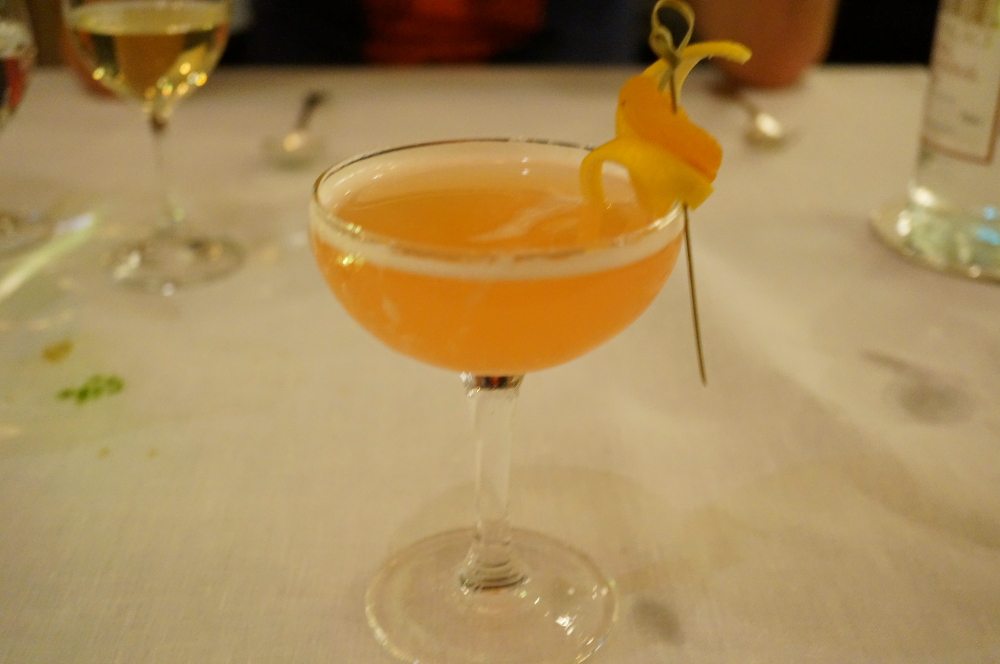 Again, a really well balanced drink, this one being the least sweet of the bunch. I liked the combination of the floral apricot with the tangy pineapple and the bitter plum. Fab.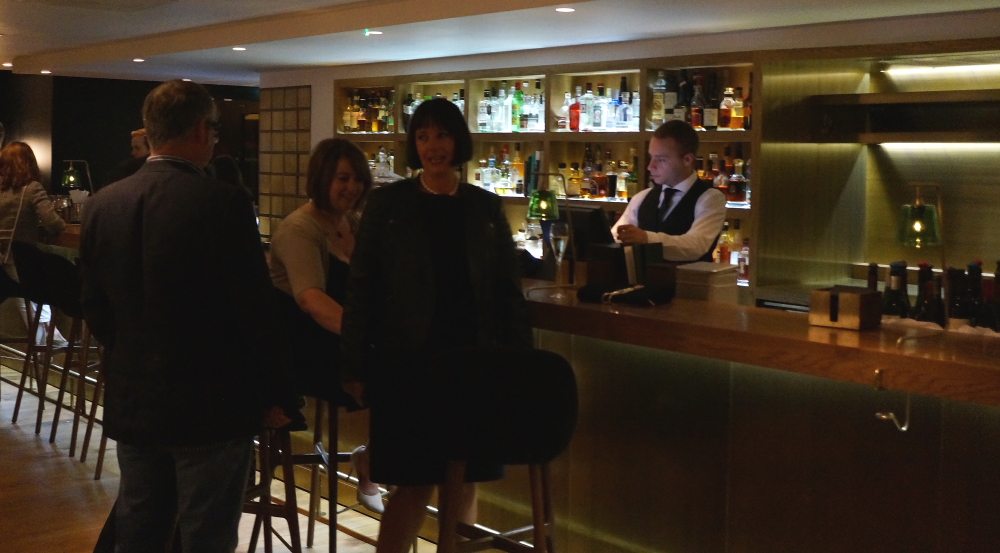 Food:
-Chef and owner Jason Atherton was the first British chef to complete a stage at Spain's elBulli restaurant.
-They offer an a la carte menu as well as a 8-course (₤85) and 6-course (₤60) tasting menu that can be paired with wines if requested
-Not surprising considering chef Atherton's training at elBulli, there is certainly a significant molecular gastronomy influence in all of the dishes
-We opted for the 6 course meal and decided to select a different main course so we could sample more (the only option we were given in that evening's menu)
Snacks: Pork Crackling; Parmesan Biscuit with Tomato and Anchovy; Caraway Cracker with Whipped Smoked Ricotta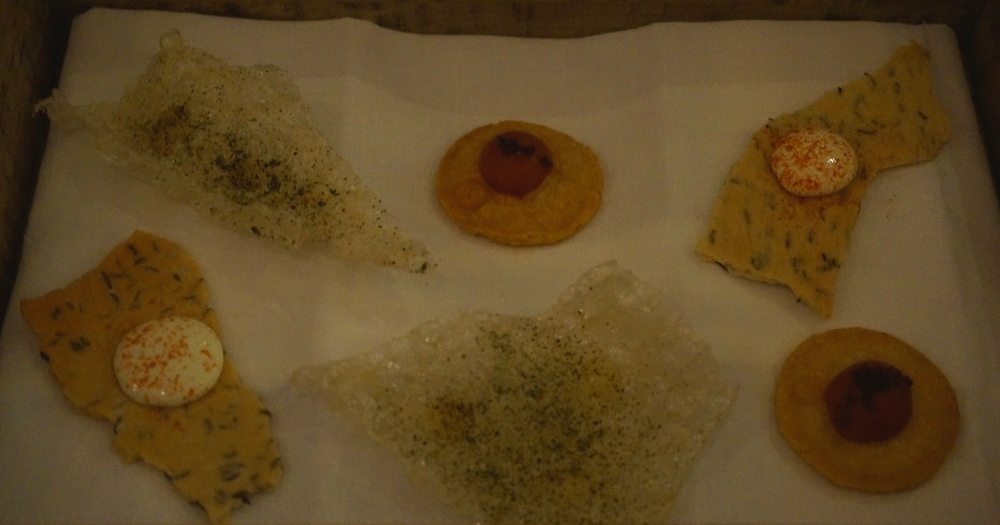 Served in a big hollowed out book, these bites were a lovely start. My favourite was the caraway with the smoky whipped ricotta.
Tartare of Irish Fallow Deer, Smoked Beetroot, Wild Leaves, Berry Pearls, Sourdough Crisps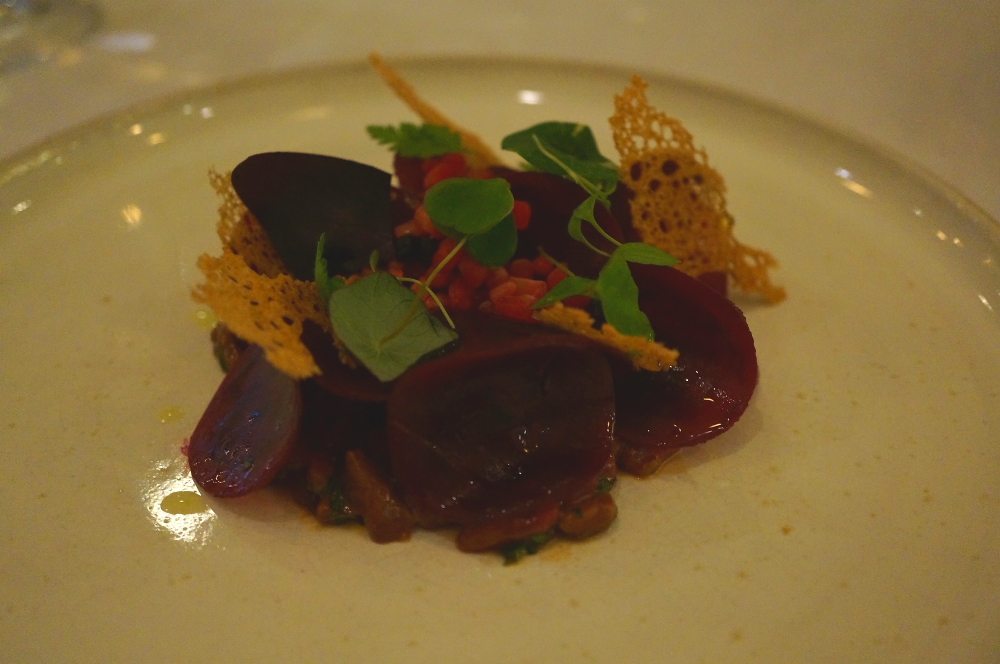 My favourite savoury dish of the night. The gaminess of the venison went beautifully with the sweet beetroots, tangy berry pearls and the caraway-scented crisps.
Roasted Dorset Monkfish, Cauliflower, Dehydrated Grapes, Apple & Curry, Spiced Caramel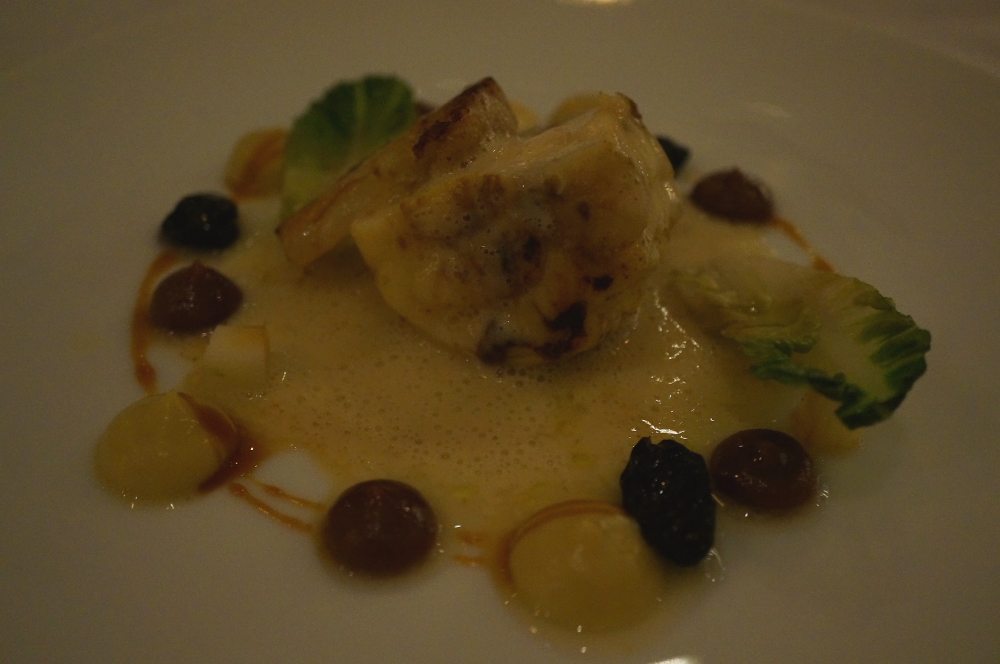 My least favourite dish of the night. While I loved the cauliflower with the aromatic curry and fruit flavorus, I didn't think it worked well with the fish. I also wasn't a huge fan of the monkfish's texture, which I found a little rubbery for me.
Roasted Squab Pigeon, Salt Baked Red Cabbage, Beetroot Stained Onions, Yakitori Pigeon Offal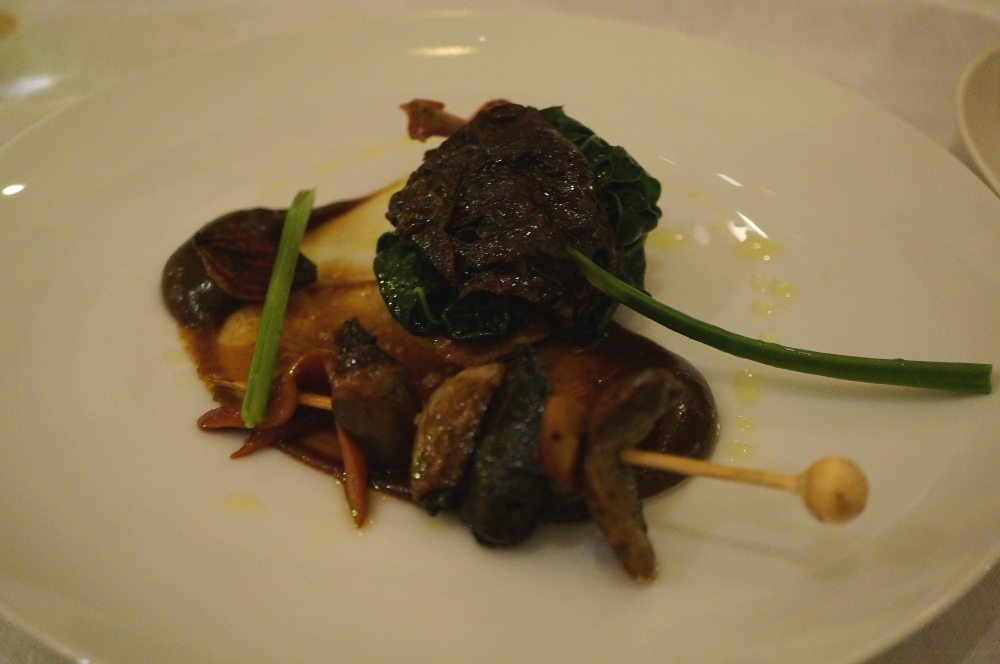 I loved the natural sweetness that the beets imparted on the caramelized onion, while the squab was perfectly seasoned and surprisingly tender.
Lake District Rack of Lamb, Braised Shoulder, Fregula in Basil, Olive Powder, Artichoke & Smoked Tomato Chutney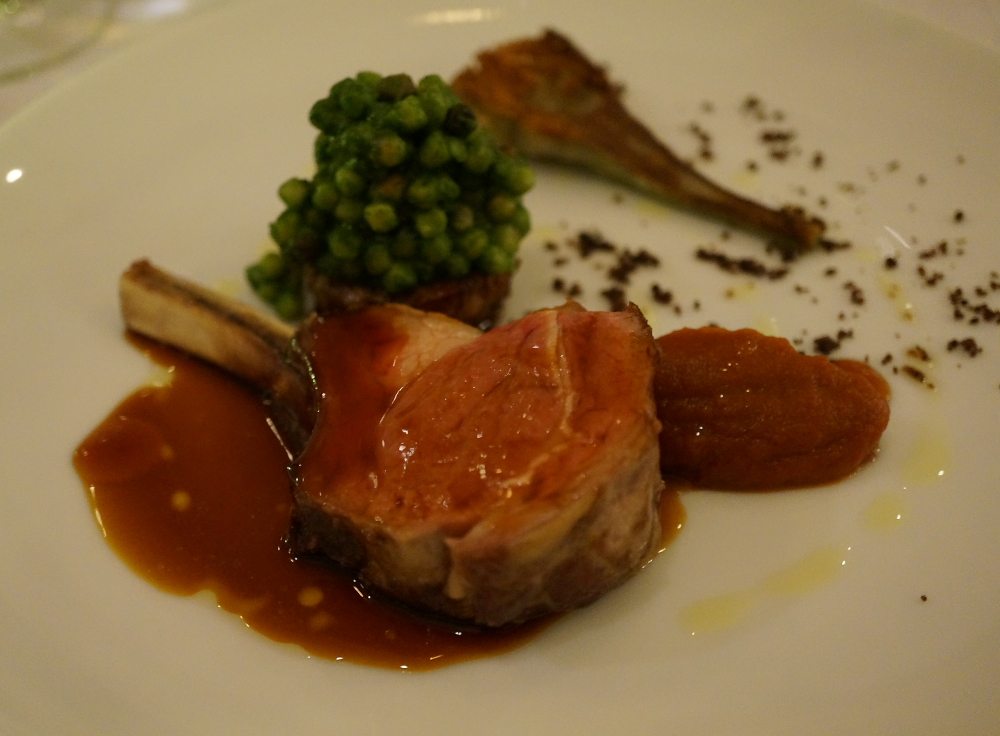 This to me was the better of the two mains. The lamb was flawlessly prepared, and the shoulder was cooked to a meltingly tender consistency. The star, however, was the herb scented fregula which offered a delicate little pop and brightened up the whole dish.
Mini Ice Cream : Mango, Yogurt and Coconut Sorbet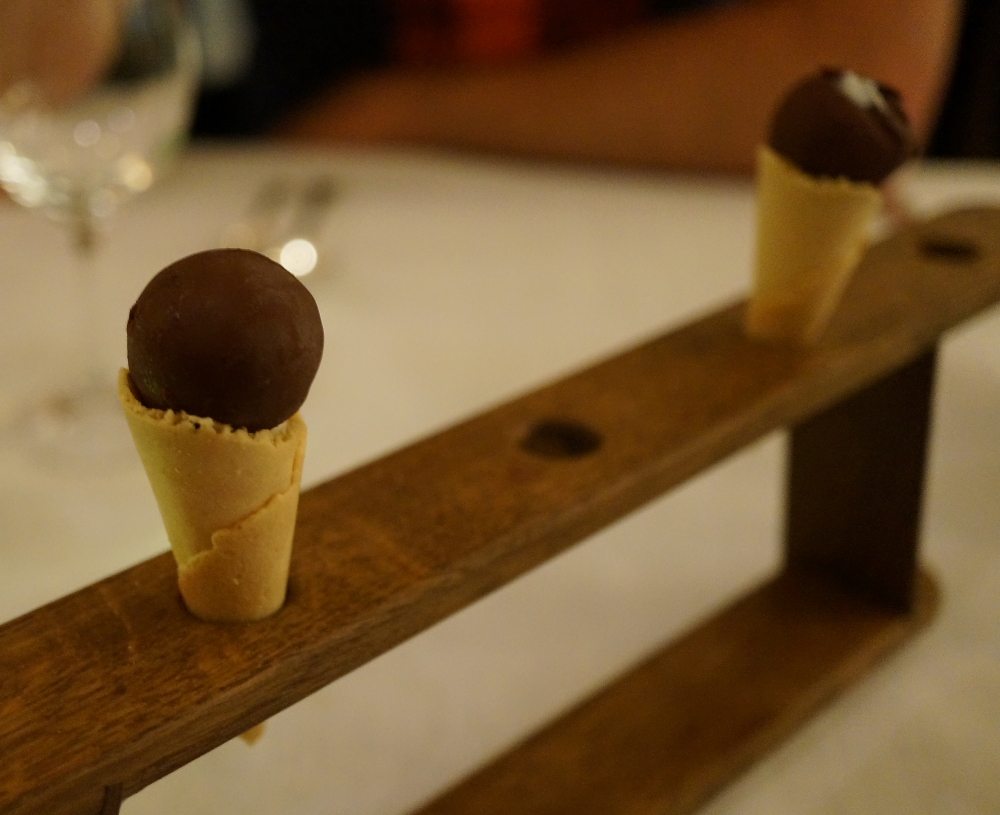 Where they get these baby cones I don't know but I would certainly love to find out. The combination of the sweet mango, the creamy coconut and the tangy yogurt was incredibly refreshing and fun.
Cantaloupe Melon & Camomile Tea Sorbet, Yogurt, Sudachi Lime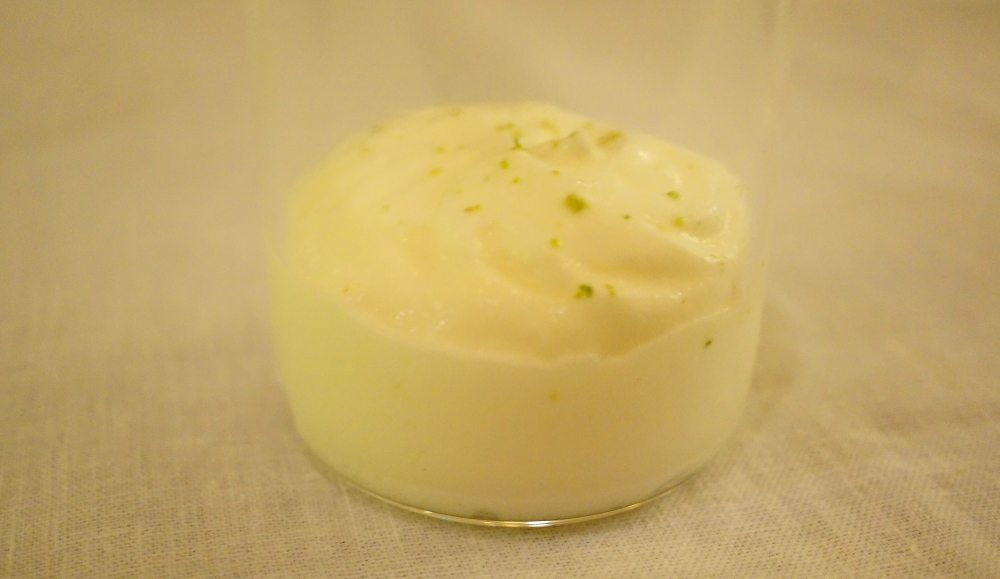 Similar flavour profile to the palate cleanser that came before it, but this featured an wickedly fragrant lime front and centre. The combination of the sorbet with the yogurt yielded a texture similar to a silky foam that simply melted on the tongue in a state of utter bliss.
"Thai Flavours" : Peanut Cream, Green Apple & Yuzu Puree, Compressed Celery, Frozen Praline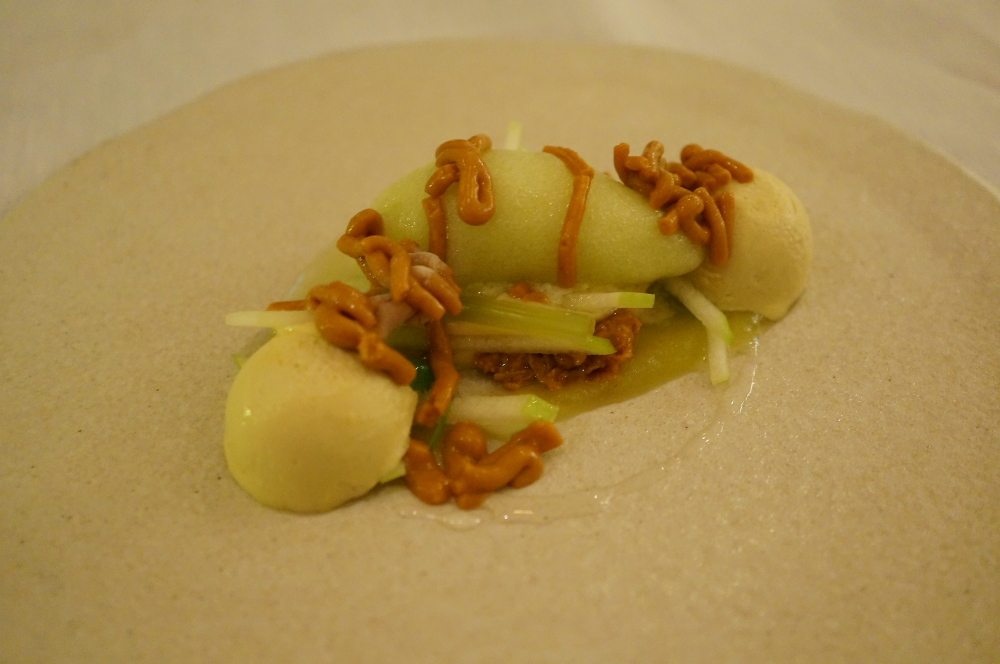 My favourite dish of the night. It tasted like a sweet version of the classic pad thai with a wonderful balance of salty peanut and fresh tart apple yuzu puree. I loved the texture of the compressed celery which lacked any stringy or fibrous quality, and the little bits of praline were addictive.
Petit Fours: Strawberry Jams Financier, White Chocolate Ginger Lemon Chocolates, Macarons (Green Tea, Chocolate Ganache, Japanese Peach)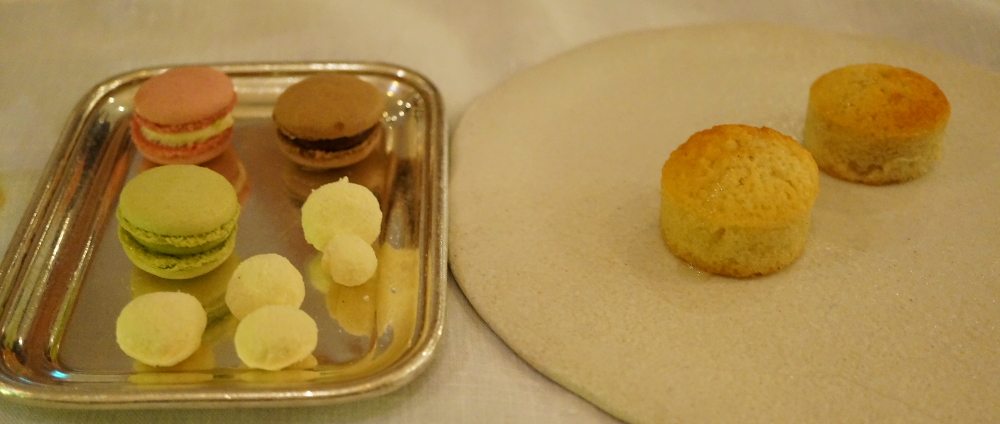 A lovely way to finish our meal alongside some cappuccinos. My favourite little bite were the white chocolates as their sweetness were nicely balanced by the sour lemon. That sweet tangy flavour kind of reminded me of those yogurt candy covered raisins that I am completely and utterly in love with.
Closing Remarks: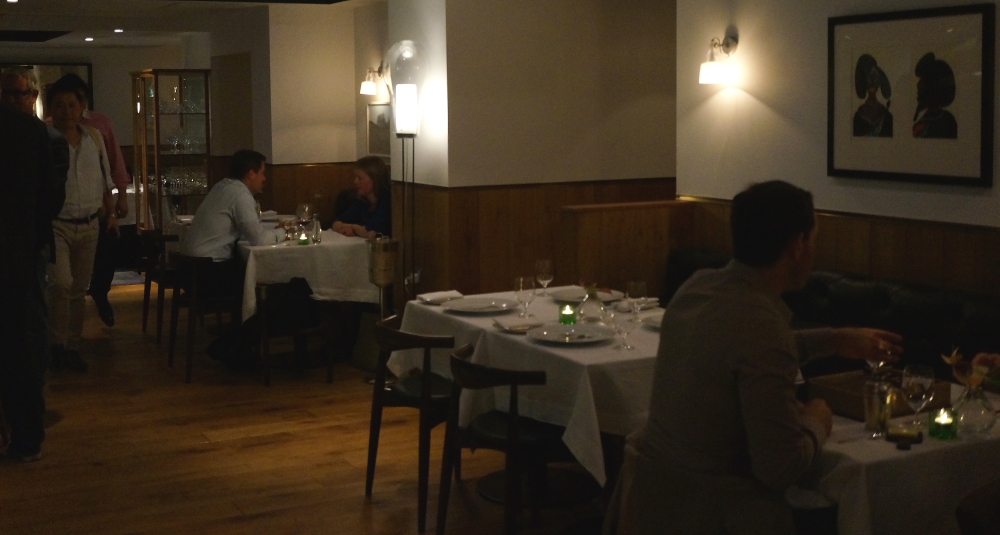 -₤250 (about $410 Canadian) including tax and tip for 2 6 course tasting menus, 2 bottles of sparkling water, 3 cocktails and 4 glasses of wine. I think quite reasonable for a one star of it's quality, and the amount of food/drink we consumed.
-The food was great, the service was impeccable, but it was the drinks that blew our minds. There is no doubt in my mind that Pollen Street Social would likely be one of the first places on my list the next time we're in the city.