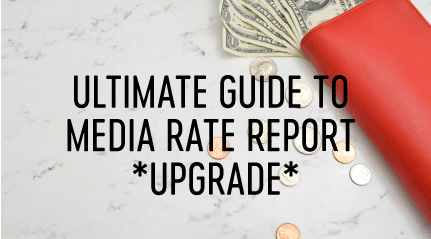 Whether you're just getting started working on your blog, YouTube channel, social media platforms, or spokesperson work, or have been rocking this business for years, you may be unsure what to charge for various types of content and campaigns. Through market research and a 60+ question survey, we have compiled a 20+ page report on the fees charged by your colleagues within the food and nutrition genre of influencer work.
This report may save you THOUSANDS of dollars in lost fees, and will help you avoid the need for agencies and middle men.
Learn the Common Rate Ranges For:
Blog Posts
Recipes
Instagram
Facebook
TikTok
Twitter
YouTube
TV & Radio Broadcast
Print Media
Events
Usage Fees
Podcasts
Nutrition Analysis
Freelance Writing
And More!
This Course Includes:
42 Page 2022 PDF Media Rate Report
Unlimited access to self-paced course
What is NEW in the 2022 Media Rate Report Upgrade?
*NEW* data from updated survey results PLUS new categories including TikTok, Instagram Reels, Instagram Lives, and recipe ghost writing!
How Can I Upgrade?
All eligible students who have previously purchased the course will have been sent an exclusive promo code to gain access to the upgraded report
If you have not received the promo code, email Abbey@abbeyskitchen.com with a copy of your original purchase.
You will be sent a promo code to gain access to your upgrade!
$8.99
(Exclusive Launch Price!)