Baked oatmeal has become really popular recently, partially because it is a super nutritious way to make a massive batch of oatmeal and partially because a lot of us think it makes said oats taste WAY WAY better.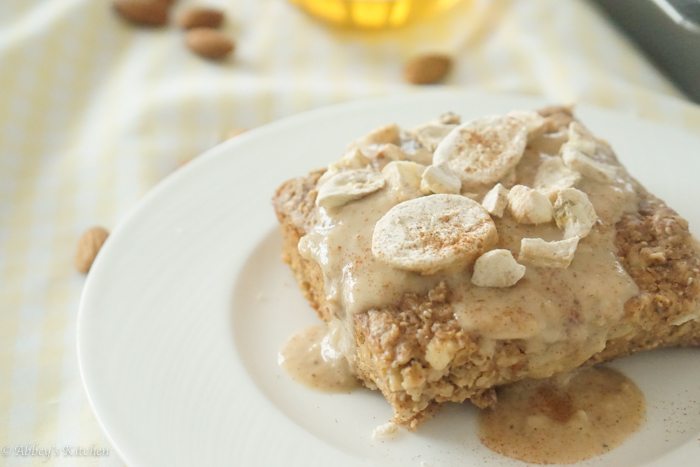 This delicious gluten free baked oatmeal recipe is perfect both for Brunch entertaining and for crazy weekday mornings. It looks impressive when served to guests, but is also ideal for making ahead and simply divvying up for breakfasts throughout the week.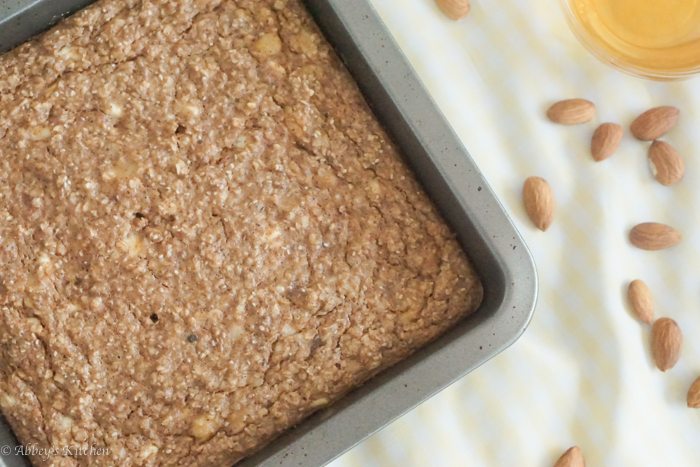 Baked Oatmeal 101
This baked oatmeal recipe features one of my all time favourite flavour combinations- banana, almond and honey. Almonds are a fantastic source of fibre, protein and healthy monounsaturated fats, really delivering some satiating power with this tasty morning treat. My fiance likes to joke that this is like breakfast cake and that he's cheating on his wedding diet – but apparently, he has NO clue how nutritious it really is. I won't tell him if you don't!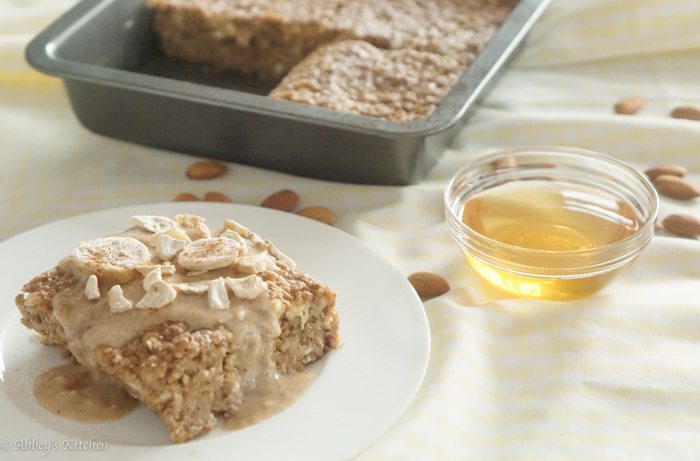 Other superstar ingredients in my oatmeal include the rolled oats for fibre, cottage cheese for protein, and chia seeds which pack protein, fibre and omega 3s! This is key because the combination of protein + fibre  + healthy fats is really what's going to keep you feeling fuller longer and give you that long lasting energy to sustain you to your next meal. I honestly can eat this at 9 AM and be full until 12 or 1. And if I'm not, it just means a bigger piece is in order.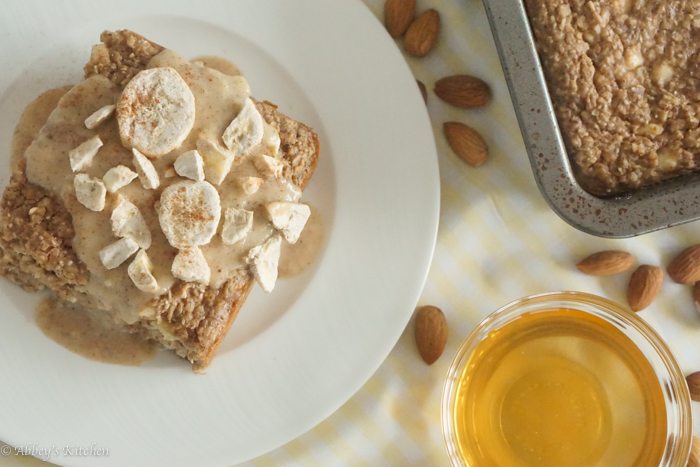 Give it a try and let me know what you think! Have you tried making baked oatmeal? Do you love the combination of bananas, honey and nuts (just like our favourite breakfast cereal?) Are you in a breakfast slump? Leave me a comment on what kind of breakfast recipe you'd like to see next!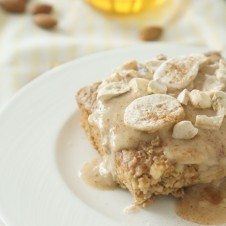 Print Recipe
Gluten Free Baked Oatmeal with Banana Nut Sauce
This gluten free baked oatmeal recipe features one of my all time favourite flavour combinations- banana, almond and honey.
Instructions
Baked Oatmeal Squares
Preheat oven to 350 F. Lightly grease a 8x8" baking dish with butter.

In a medium bowl, mix together the mashed banana, almond butter, cottage cheese, egg white, honey, and almond milk.

In a larger bowl, mix together the oats, chia seeds, vanilla, cinnamon, nutmeg, baking powder and salt. Mix the wet ingredients into the dry ingredients and transfer to the prepared baking dish.

Bake for about 25-30 minutes, or until a toothpick comes out with tacky sticky bits attached (you don't want it to be dry, you want it to remain relatively moist). Allow the oatmeal to cool slightly before cutting into squares.
Almond Sauce and Topping
Puree the banana, almond milk, almond butter and honey in a food processor until very smooth.

Transfer to a small saucepot and heat over low until warmed through.
Assembly
Top the squares of oatmeal with almond sauce and crushed freeze-dried banana.
Nutrition