These adorable Healthy Homemade Vegan Bieber Tails are created in partnership with Flatout Flatbread. They're my healthy version of the beloved Beaver Tails made with almond butter, fruit and a vegan nutella.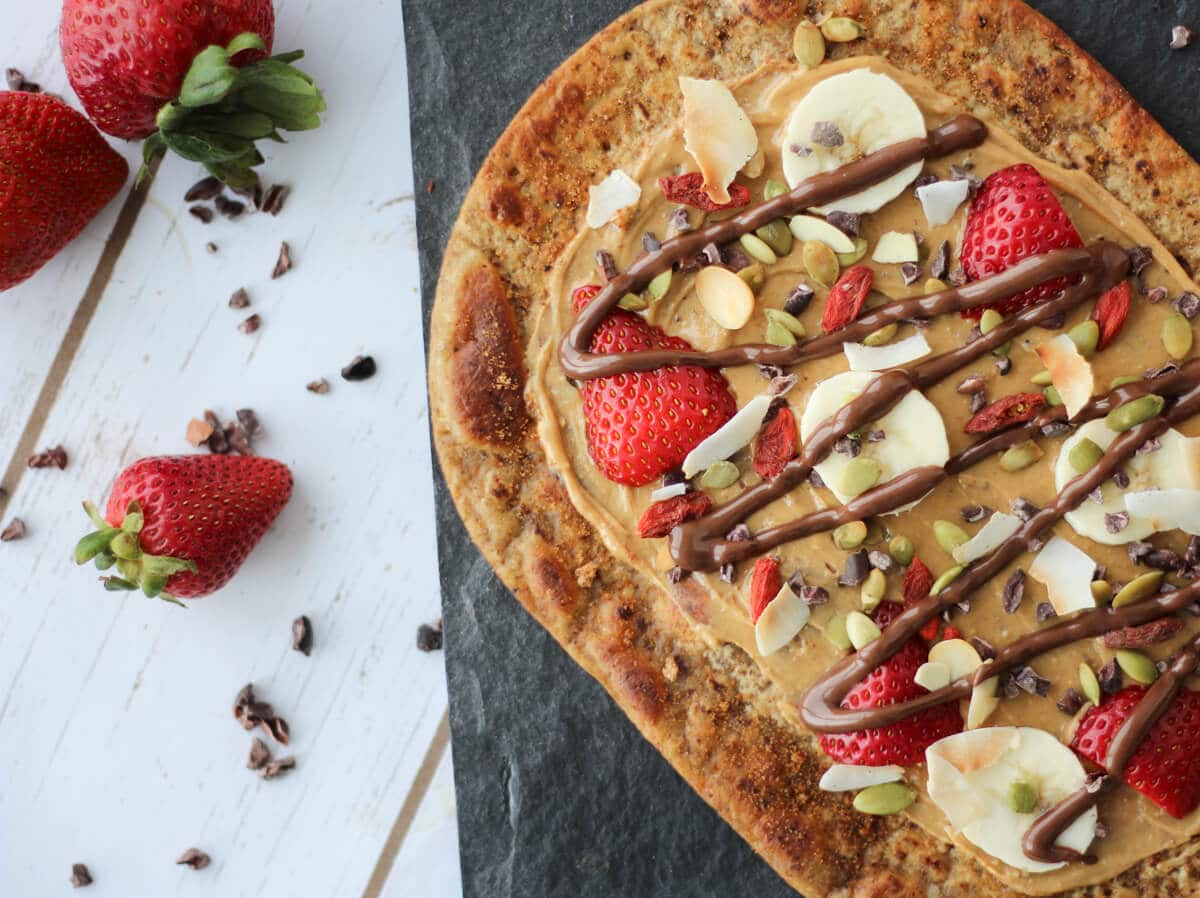 When I was a kid, my grandmother used to take my cousins and I to the Toronto Ex (CNE) every summer. We would see the farm animals, ride on the midway, and eat over the top foods like Beaver Tails until we were sick.
If you have never had Beaver Tails, they're essentially a slab of dough that's been deep fried into a flat doughnut, coated in a ton of cinnamon sugar and then topped with sweet spreads and candy. They're delicious.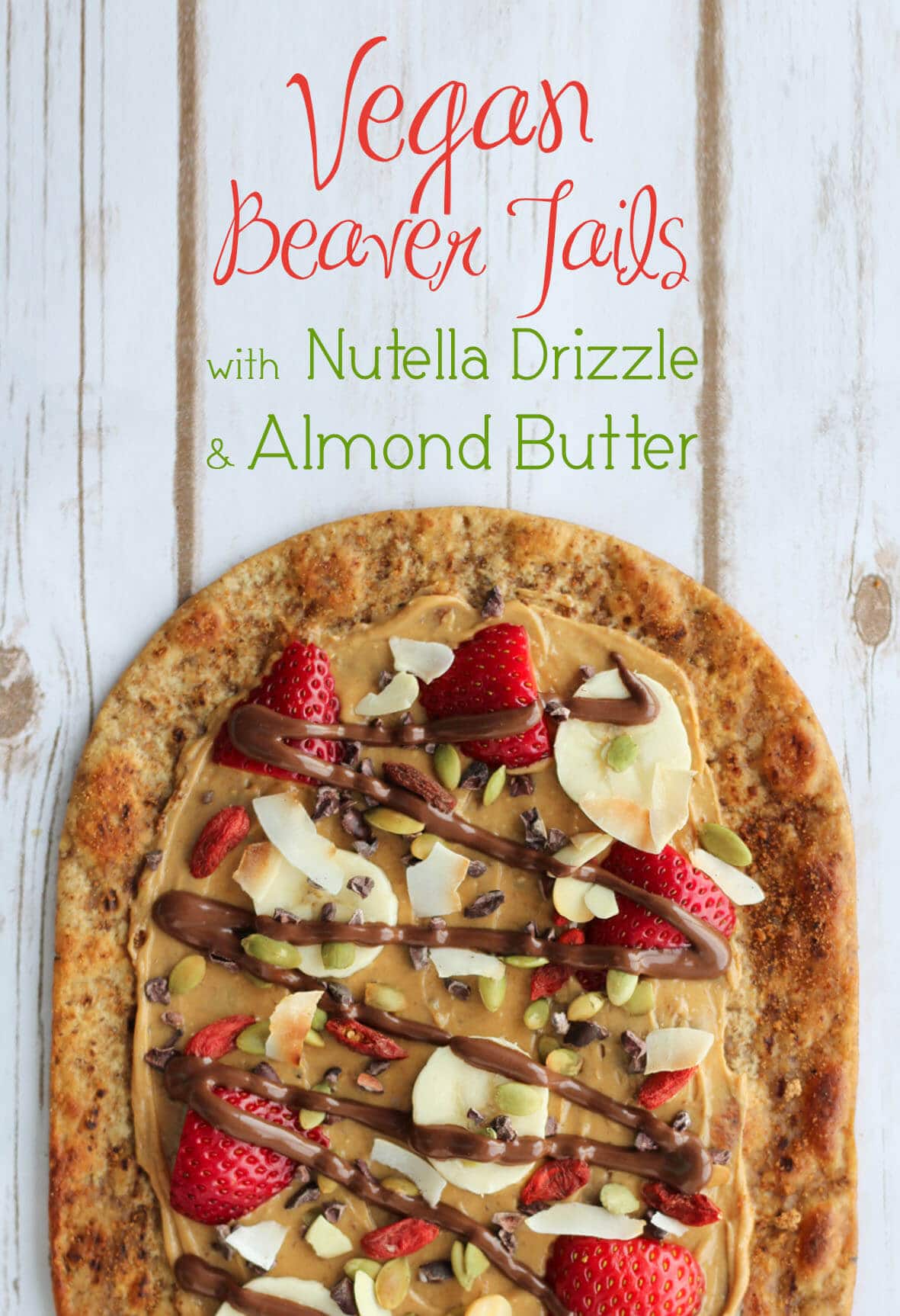 I won't lie. I love doughnuts, so I naturally love large doughnuts like Beaver Tails but I don't have the metabolism of my former 6-year-old self. So I set out to make my own version – healthy vegan Beiber Tails with a natural almond butter spread, a vegan nutella drizzle and lots of fresh fruit.
Why Bieber Tails, you may ask?
Well, I did name these Beaver Tails but then I got a lovely letter in my e-mail box telling me that was a no-no because Beaver Tails is trademarked. Real talk time- mine are really a super not a close copy of the deep-fried version but still, I vowed to change the name. I'm Canadian, my memories at the Toronto CNE eating these bad boys are totally Canadian. You know what else is Canadian? JUSTIN BIEBER!! Bieber Tails it was! Gotta love the Biebs.
How to Make Healthy Homemade Vegan Bieber Tails More Then Just a Fantasy
It starts with my go-to wraps – Flatout flatbreads. These versatile high fibre wraps hold a special place in my heart, so much so that I use them for everything I can dream up. From my new banana roll-ups on a stick, to my cheesecake stuffed crepes, healthy enchiladas, hummus quesadillas, and spicy sausage pizza – there's a lot you can do with these wraps.
In this recipe, I'm using the Multigrain with Flax which packs an incredibly impressive 8 grams of fibre and 7 grams of protein per 140 calorie wrap. And that doesn't even count all the yummy ingredients I'm about to put on top of my healthy homemade vegan beaver tails.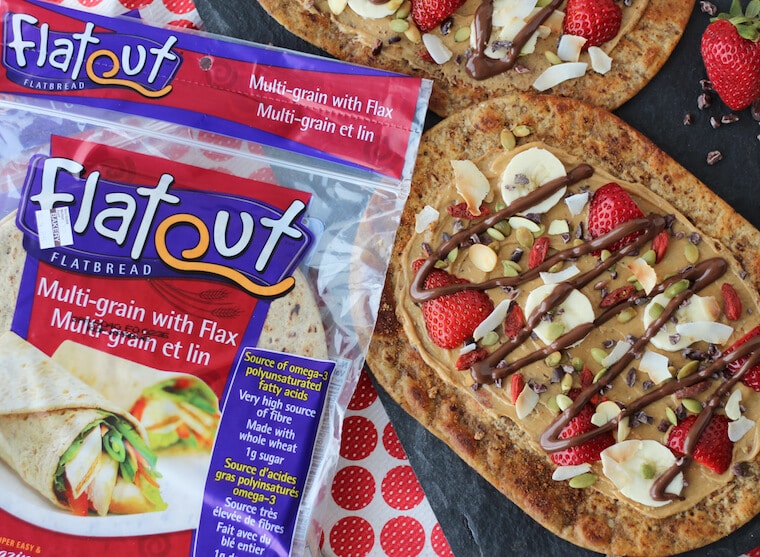 The great thing about this recipe is that you don't have to make dough from scratch OR schlep out the deep fryer. Sometimes going the healthy route is not only calorie saving, but also time saving, too!
To make my beaver tails crispy, I put a touch of coconut oil into a nonstick skillet and lightly pan-fry my Flatout breads until they start to bubble lightly and turn a golden brown. Then very quickly, I give them a light sprinkling of cinnamon and coconut sugar.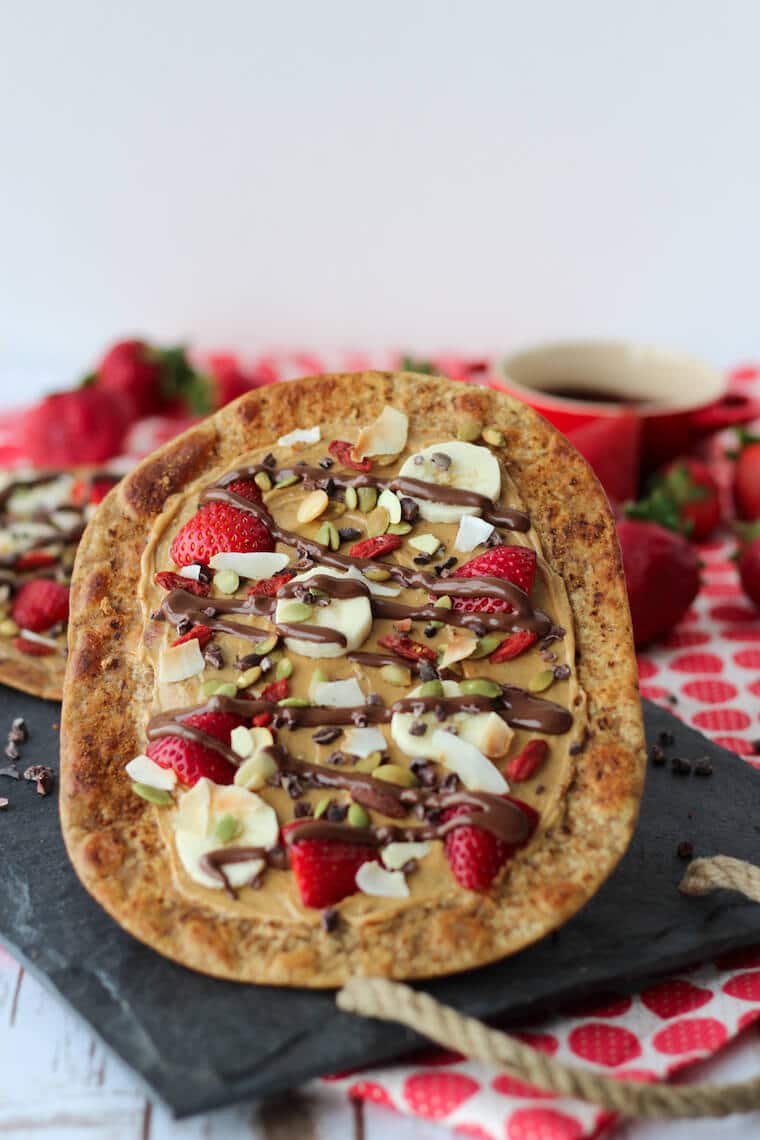 Next is the fun part- we get to decorate our healthy vegan bieber tails! I start with a smear of natural almond butter for a boost of healthy fats, protein and fibre. This acts as the glue for lots of fun fruity toppings.
I used sliced bananas, strawberries, toasted coconut, pumpkin seeds, almonds and cacao nibs on mine, but feel free to whip up your own decadent and nutritious combinations. You could experiment with a range of nutritious nuts, fruits and spreads on your healthy homemade vegan bieber tails!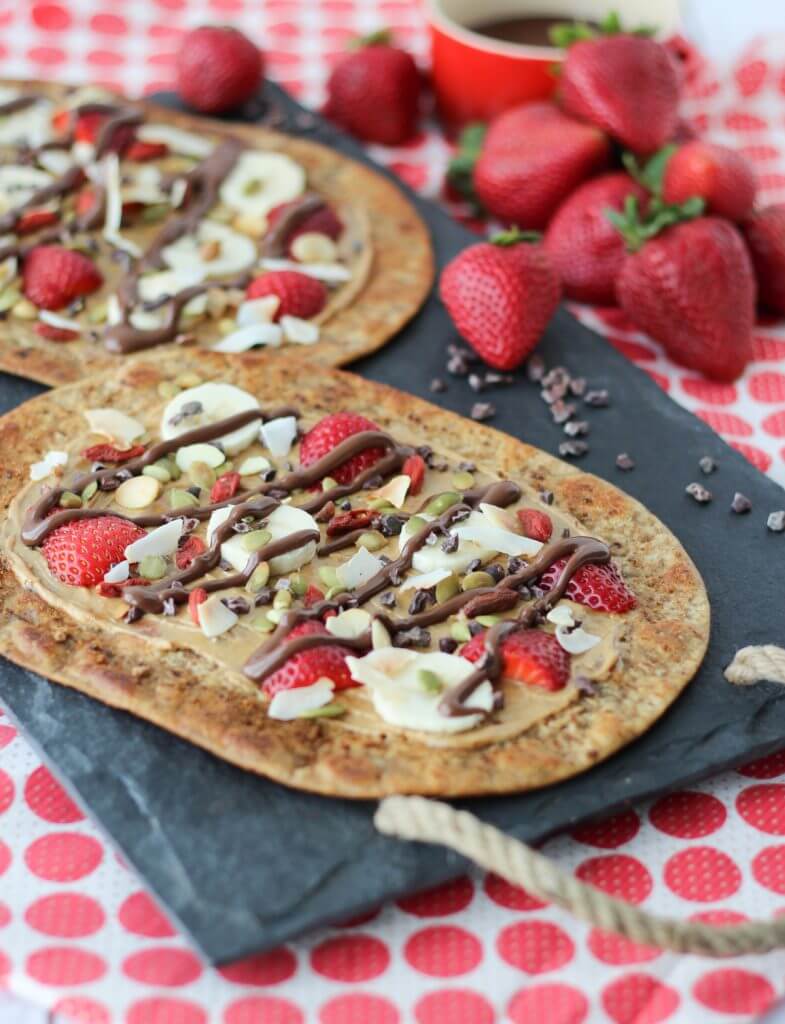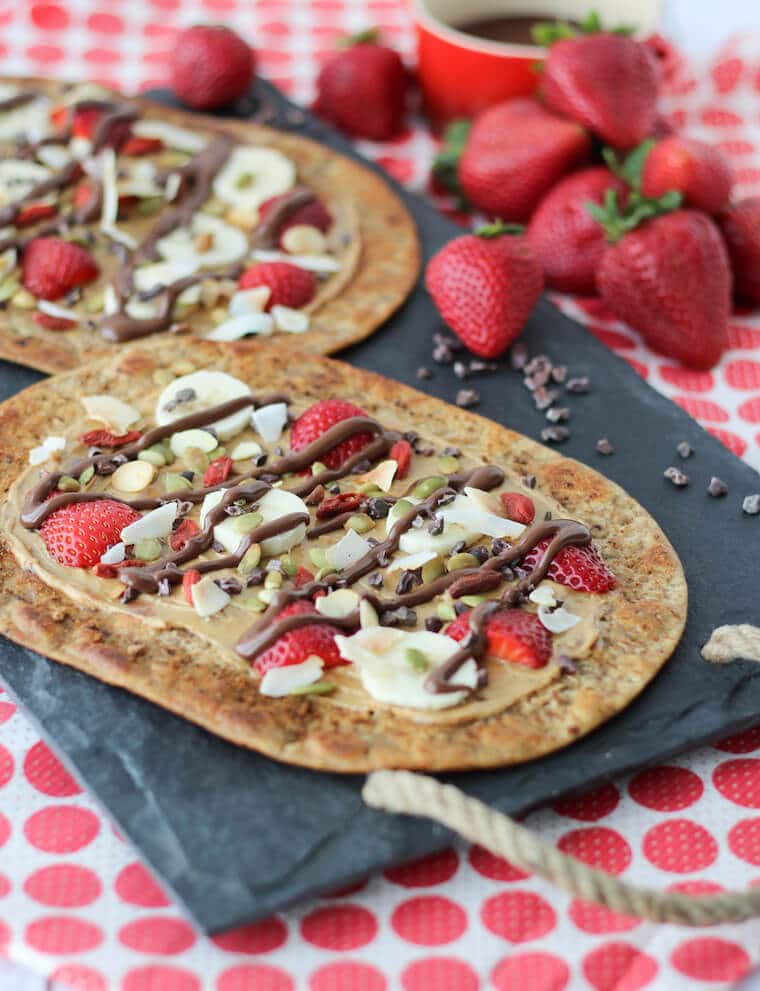 To finish my dessert off the way I always did at the fair, I make an easy homemade vegan nutella that's so much better for you than the store bought kind. It's much lower in added sugar, and is made with unsweetened cocoa powder and a ton of actual hazelnuts. You can feel a lot better about letting your kids lick a little of this nutella right off the spoon.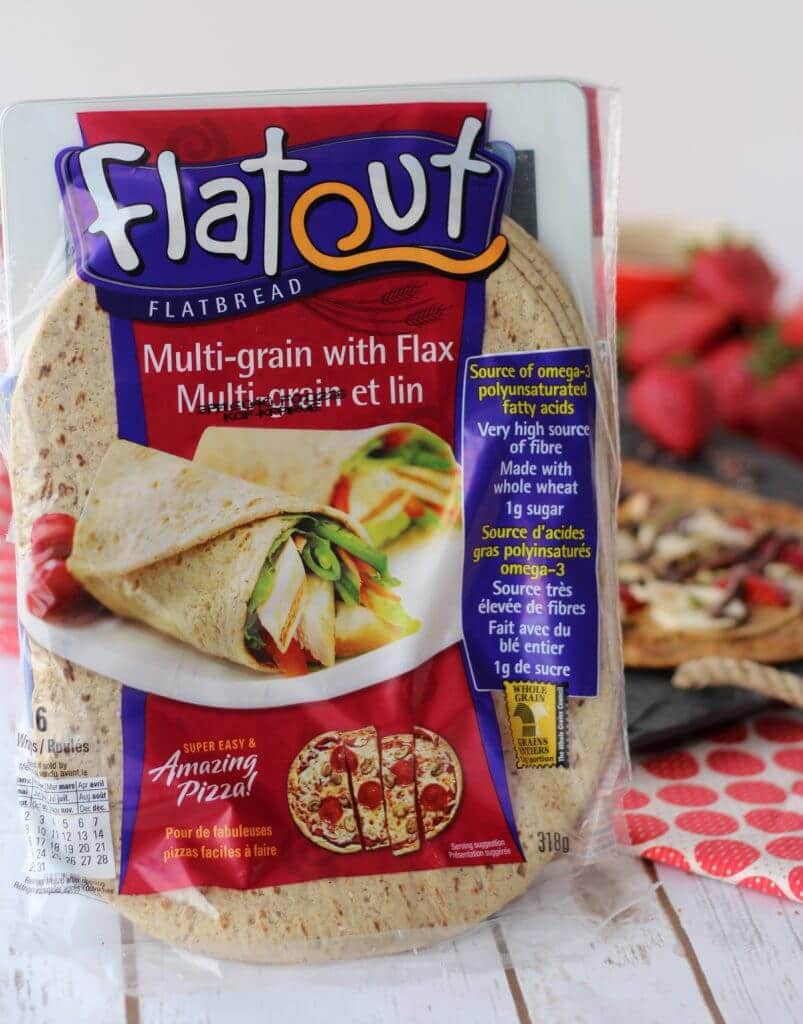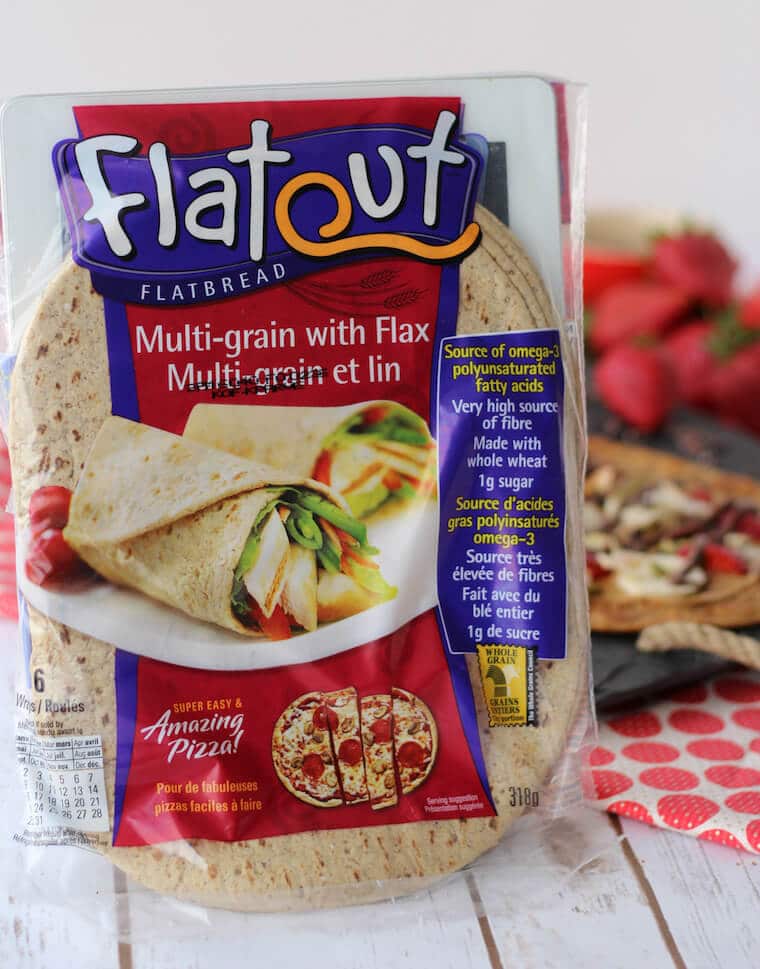 Have you tried making healthy homemade vegan beiber tails? What fun toppings did you always order on your Beaver Tails when you were a kid? Leave me a comment below with some of your favourites! I would love your ideas!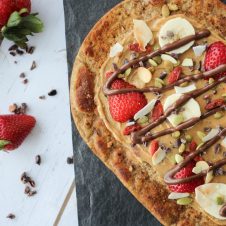 Homemade Vegan Bieber Tails with Almond Butter & Healthy Nutella Drizzle
These adorable Healthy Homemade Vegan Beaver Tails are everything you remember from your childhood, without the crazy calories and fat.
Print
Pin
Rate
Servings:
8
(1/2 Beaver Tails)
Ingredients
Toppings
1/2

cup

natural almond butter

softened

1

Banana

thinly sliced

8-12

strawberries

hulled and thinly sliced

1/4

cup

unsweetened flaked coconut

toasted

1/4

cup

pumpkin seeds

toasted

1/4

cup

almond slices

toasted

1/4

cup

cacao nibs

1/2

Recipe Abbey's Kitchen Vegan Nutella
Instructions
Preheat a large nonstick skillet over medium heat and add in a teaspoon of the coconut oil. Pan-fry each Flatout flatbread in the pan until golden on both sides. Transfer to a baking tray lined with paper towel and immediately sprinkle with 1/4 tsp cinnamon and 1/2 tsp coconut sugar. Continue with the remaining three Flatouts.

Divide the almond butter between each Beaver Tail, then top with the bananas, strawberries, nuts, seeds and cacao nibs.

Finish with a drizzle of the vegan nutella sauce, split with a friend and enjoy the nostalgia!
Nutrition
Disclaimer: This recipe was developed in paid-partnership with Flatout flatbread, however, all opinions are genuine. This post may also contain affiliate links, meaning, I may make a small commission if you purchase one of them.
Updated on October 4th, 2021