This vegan cassoulet with white beans and garlic breadcrumbs is the epitome of healthy cool weather comfort food without any meat!
Let's talk about Cassoulet. It's the dish that I fell in love with in France and have been making at home ever since (albeit quite a bit lighter than the French likely would). Traditionally Cassoulet is a luscious white bean stew with lots of rich pork sausages and fatty braised meats. I love it, obviously, but it's not exactly the kind of cheap healthy meal I try to make part of the usual rotation. So now, let's talk about vegan cassoulet.
What do you mean a Vegan Cassoulet?
I know, it's not such a typical topic to be honest. At least not if you asked a French man.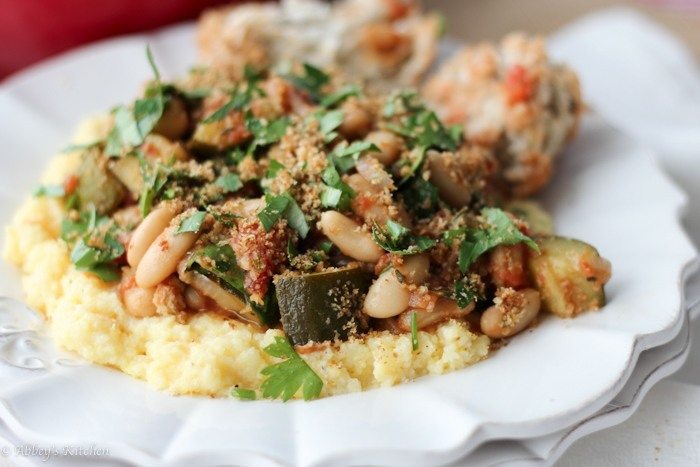 Thankfully, this year is all about beans, pulses and legumes. The United Nations said it was the year of the Pulse so I'm trying to work them in everywhere. I also read that vegan food is going to be super hot! So vegan cassoulet it is!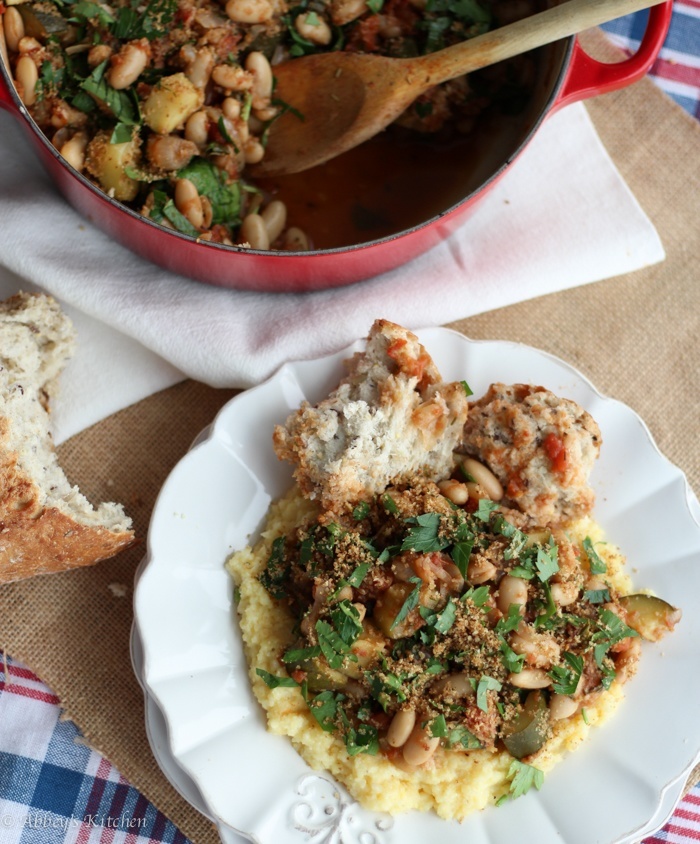 So in celebration of the upcoming trends this year, I decided to create a vegan Cassoulet recipe. One that wasn't boring, had lots of protein and fibre, and that had a yummy crunchy garlic breadcrumb topping I so love. I also decided to serve it on top of polenta, a great easy gluten free grain side dish. It's a super delicious way to sop up all those delicious juices.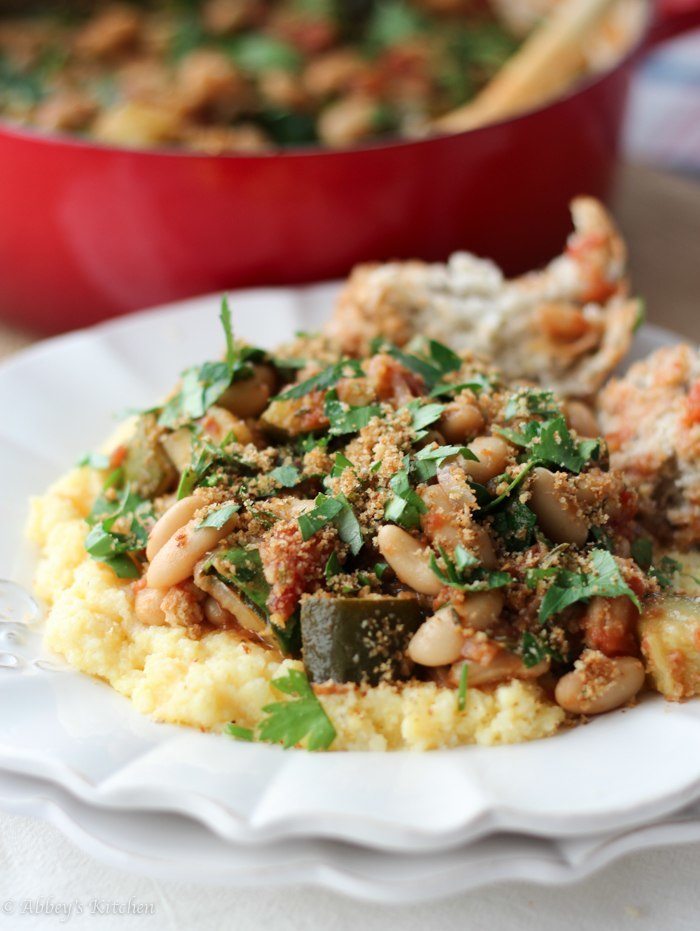 The result? A low fat dinner recipe and cheap healthy meal using inexpensive canned beans that's totally vegan, and could not be easier to pull off. This recipe is also just as good as leftovers, so feel free to make a mucho batch and then pack it away for a healthy vegan cassoulet lunch. Yay for leftovers you look forward to!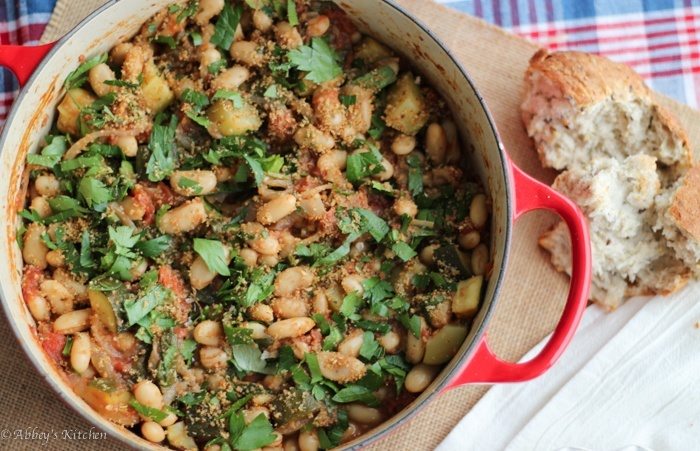 If you're looking for another yummy Cassoulet recipe that's not vegan- I've got a poultry version here with healthy chicken breasts and low fat turkey sausages. It's also super tasty!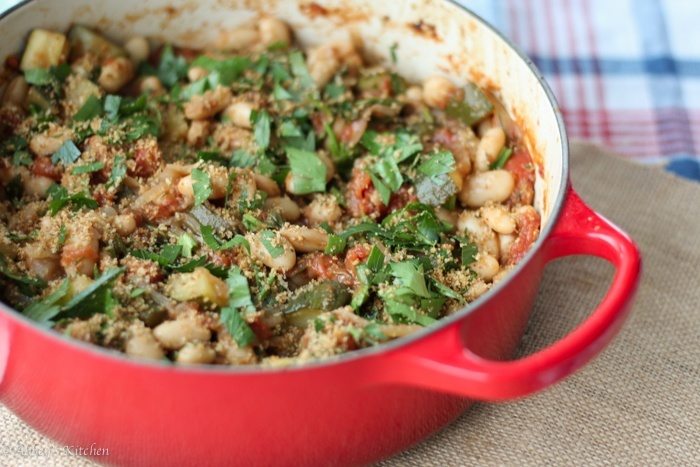 Have you ever had an authentic cassoulet? Would you be into a vegan cassoulet? Try this super cheap healthy meal idea and let me know what you think in the comments section below!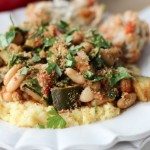 Print Recipe
Vegan Cassoulet with White Beans & Garlic Breadcrumbs
This vegan cassoulet with white beans and garlic breadcrumbs is the epitome of healthy cool weather comfort food without any meat!
Ingredients
Casserole
1

tsp

extra virgin olive oil

Pinch

each of salt and pepper

1 1/2

cups

of thinly sliced onions

2

zucchini

diced

2

cloves

garlic

minced

1

tsp

dried herbs de Provence

1

bay leaf

4

leaves

sprigs of thyme

only

14 1/2

oz

can of diced tomatoes

Pinch

each of salt and pepper

2

cans

white beans

Cannellini, Navy or Great Northern, 19 oz cans, drained and rinsed

2

tbsp

balsamic vinegar

1

cup

baby spinach leaves

finely chopped
Instructions
Heat 2 tsp of olive oil in a Dutch oven over medium heat. Add in the breadcrumbs and garlic, and a pinch each of salt and pepper. Stir until combined and crumbly, mix with the parsley and then set aside.

Return the pot to the low heat, add in a teaspoon of oil and then add in the onions. Saute over low heat until caramelized and golden, about 20-25 minutes. Add in the zucchini and cook 2 minutes, until lightly golden. Add in garlic and cook for another 30 seconds. Add in the herbs, bay leaf, thyme, and the tomatoes with their juice, and season with a pinch each of salt and pepper.

Bring the mixture to a boil. Reduce the heat to medium low, add in the white beans and balsamic, and simmer for about 15-20 minutes, until the sauce thickens.

Meanwhile, bring the polenta water to a boil in a small saucepot. While whisking gently, pour in the polenta in a steady stream and whisk until thickened. Reduce the heat to low for about 30 minutes, whisking very hard every 5-10 minutes to make sure you get all the bits off the corners and bottom of the pan. Add in the olive oil and season with salt and pepper to taste.

Five minutes before you're ready to serve, stir the spinach leaves into the cassoulet until wilted. Then divide the polenta between four bowls, top with the bean cassoulet and a generous sprinkling of garlic breadcrumbs.
Nutrition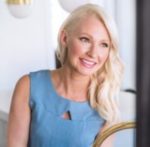 Abbey Sharp is a Registered Dietitian, an avid food writer and blogger, a cookbook author and the founder of Abbey's Kitchen Inc.