This vegan cassoulet with white beans and garlic breadcrumbs is the epitome of healthy cool weather comfort food without any meat!
Let's talk about Cassoulet. It's the dish that I fell in love with in France and have been making at home ever since (albeit quite a bit lighter than the French likely would). Traditionally, Cassoulet is a luscious white bean stew with lots of rich pork sausages and fatty braised meats. I love it, obviously, but it's not exactly the kind of cheap healthy meal I try to make part of the usual rotation. Now, the truth is, vegan cassoulet isn't really a thing in France. But I don't see the harm in omitting the meat and just enjoying the plant based protein from all those beans!
what are the key ingredients in a vegan cassoulet?
White Beans – These white kidney beans are a great source of plant-based protein and are traditionally part of any French cassoulet.
Canned Tomatoes – This is another easy inexpensive pantry staple that makes this cassoulet something you can easily make all year round.
Herbs de Province- A traditional spice blend of thyme, savory, oregano, lavendar, rosemary, marjoram and parsley. You can make your own, but it's also easy to buy now!
Breadcrumbs – Because I love a little crispy crunch on top.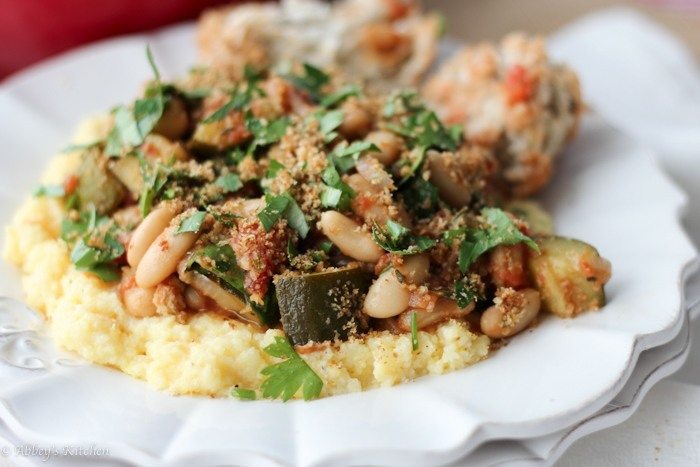 Tips for Making this Killer Casserole
Caramelize those onions. Like, take the time – the 45-50 minutes it may take- to get them golden brown and sweet. This will add SO MUCH flavour to your cassoulet, even without the meat.
I also recommend not skipping the garlic breadcrumbs. They add such a nice textural contrast and are really super yummy on top of the beans.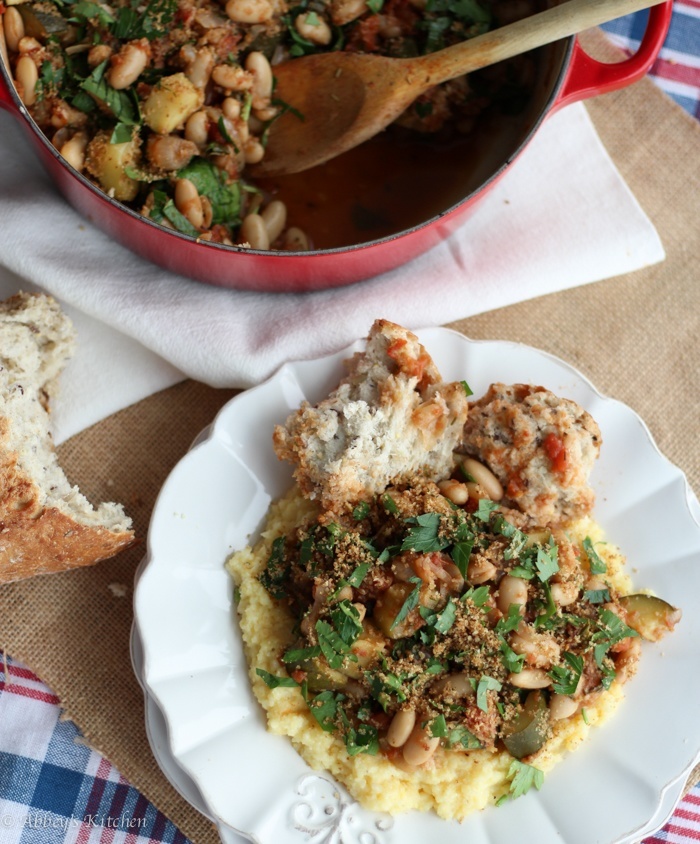 FAQ about this Recipe
Here are some common questions I might get about this vegetarian cassoulet.
Can I serve this on noodles or rice instead of polenta?
100%. I like polenta, but cassoulet is delicious without anything at all (well, maybe some crusty bread), or on another starch or grain of choice.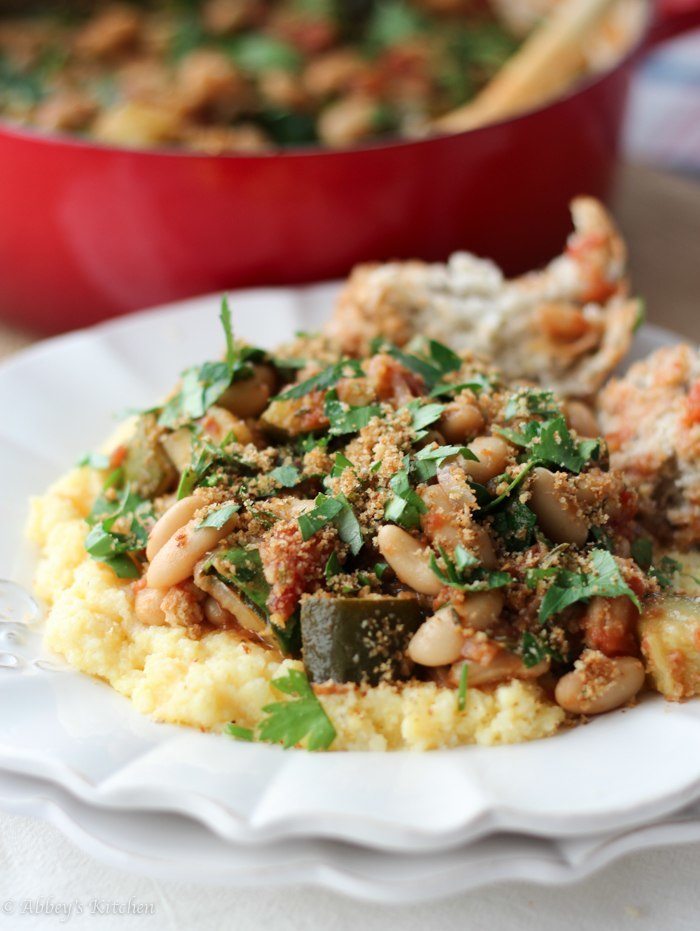 Can I make this ahead of time for meal-prep?
The cassoulet stew actually keeps really well if you make it ahead and will last for 4-5 days if you want to eat it for lunch. My recommendation would just be to wait until you're ready to serve to make the polenta as it will harden in the fridge quickly it cools.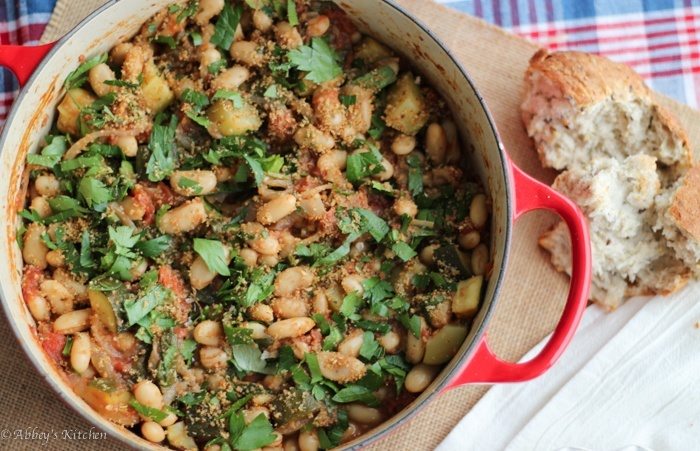 Can I add chicken or duck or sausage if I'm not vegan?
Definitely. Just make sure they're pretty well cooked through before you add them back to the dutch oven and let the sauce finish cooking.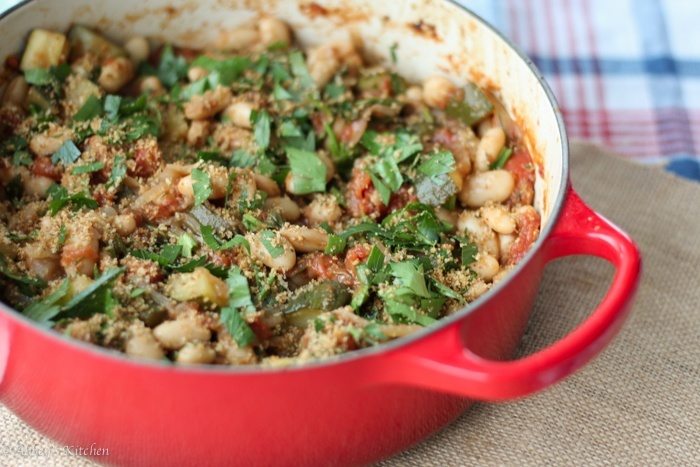 Have you ever had an authentic cassoulet? Would you be into a vegan cassoulet? Try this super cheap healthy meal idea and let me know what you think in the comments section below!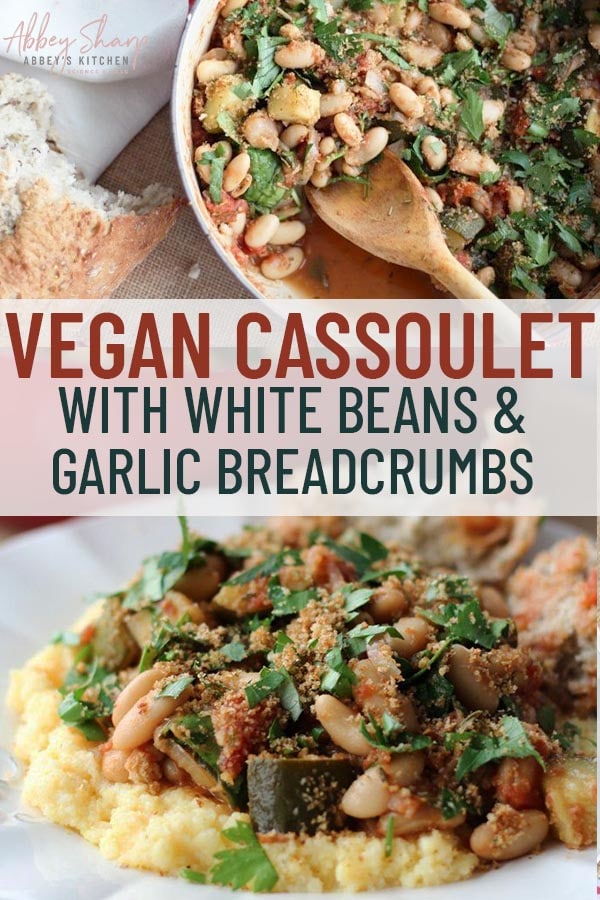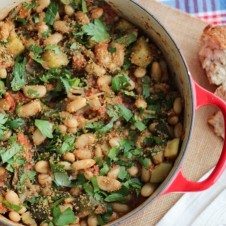 Vegan Cassoulet with White Beans & Garlic Breadcrumbs
This vegan cassoulet with white beans and garlic breadcrumbs is the epitome of healthy cool weather comfort food without any meat!
Print
Pin
Rate
Ingredients
Casserole:
1

tsp

extra virgin olive oil

Pinch

each of salt and pepper

1 1/2

cups

of thinly sliced onions

2

zucchini

diced

2

cloves

garlic

minced

1

tsp

dried herbs de Provence

1

bay leaf

4

leaves

sprigs of thyme

only

14 1/2

oz

can of diced tomatoes

Pinch

each of salt and pepper

2

cans white beans

Cannellini, Navy or Great Northern, 19 oz cans, drained and rinsed

2

tbsp

balsamic vinegar

1

cup

baby spinach leaves

finely chopped
Instructions
Heat 2 tsp of olive oil in a Dutch oven over medium heat. Add in the breadcrumbs and garlic, and a pinch each of salt and pepper. Stir until combined and crumbly, mix with the parsley and then set aside.

Return the pot to the low heat, add in a teaspoon of oil and then add in the onions. Sauté over low heat until caramelized and golden, about 45-50 minutes. Add in the zucchini and cook 2 minutes, until lightly golden. Add in garlic and cook for another 30 seconds. Add in the herbs, bay leaf, thyme, and the tomatoes with their juice, and season with a pinch each of salt and pepper.

Bring the mixture to a boil. Reduce the heat to medium low, add in the white beans and balsamic, and simmer for about 15-20 minutes, until the sauce thickens.

Meanwhile, bring the polenta water to a boil in a small saucepot. While whisking gently, pour in the polenta in a steady stream and whisk until thickened. Reduce the heat to low for about 30 minutes, whisking very hard every 5-10 minutes to make sure you get all the bits off the corners and bottom of the pan. Add in the olive oil and season with salt and pepper to taste.

Five minutes before you're ready to serve, stir the spinach leaves into the cassoulet until wilted. Then divide the polenta between four bowls, top with the bean cassoulet and a generous sprinkling of garlic breadcrumbs.
Updated on July 23rd, 2020