We discuss how to choose the best no sugar added yogurt, considering various taste differences in plain varieties, as well as the health and nutritional benefits.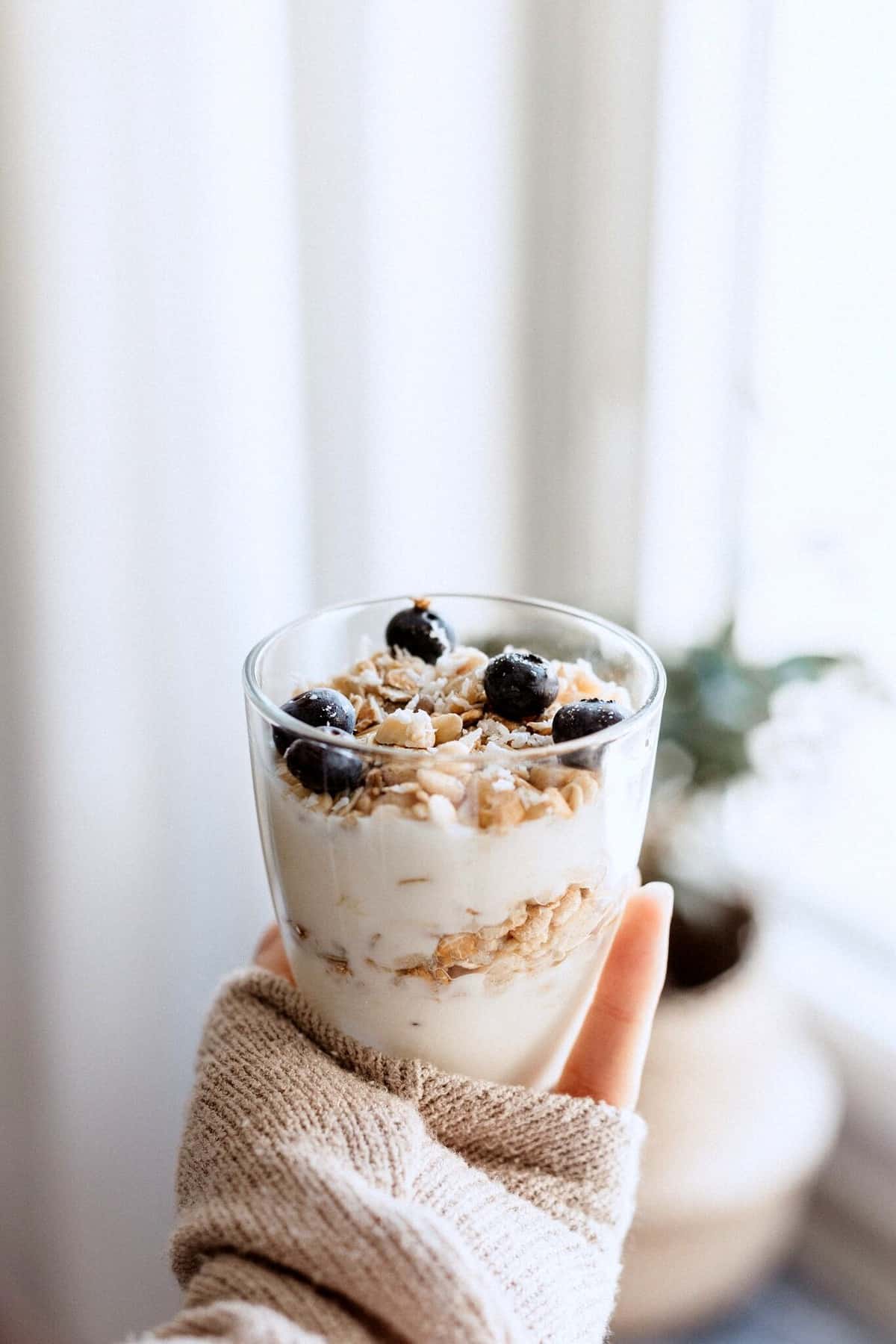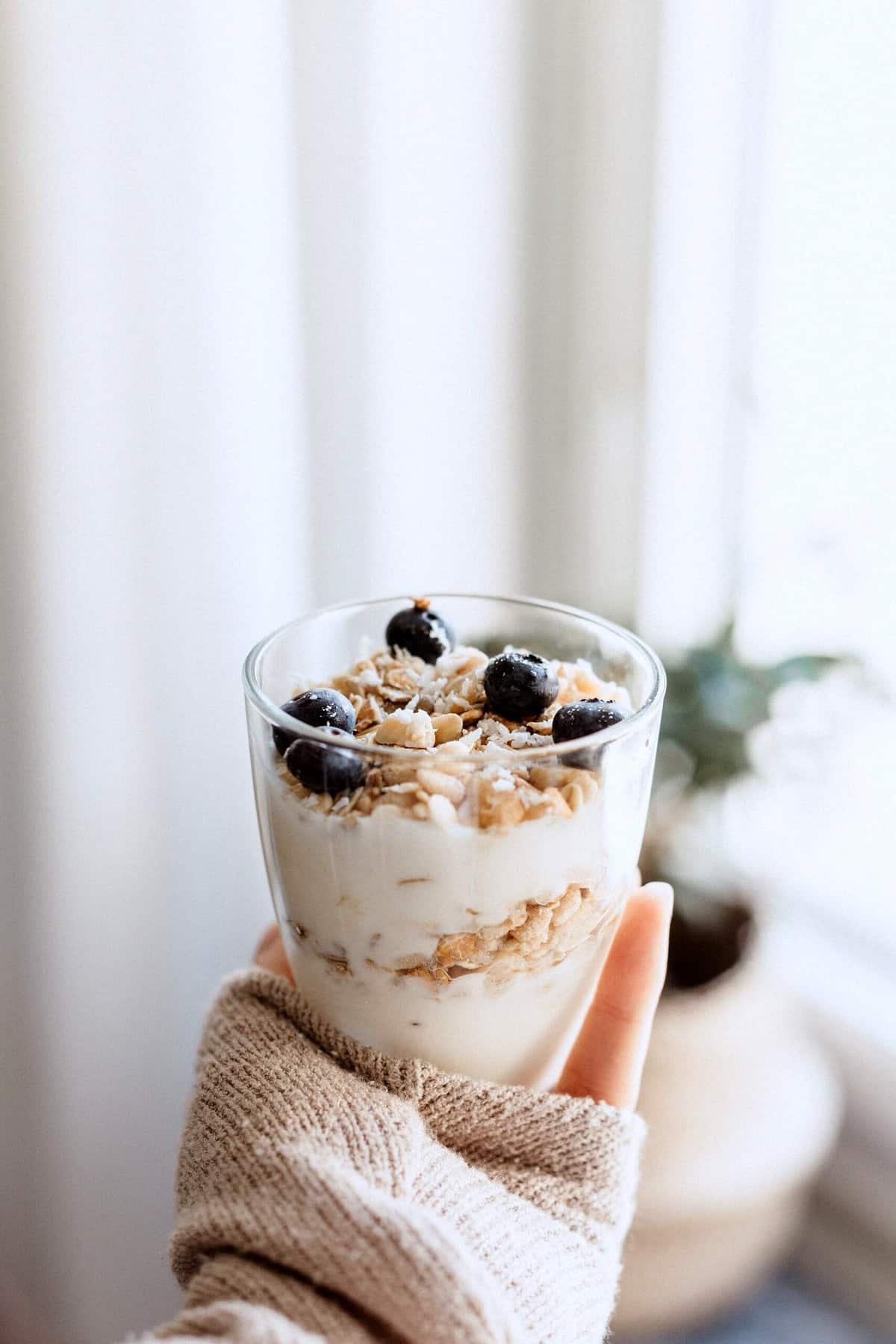 If you ever want to feel completely overwhelmed, go into a grocery store yogurt aisle and pray you make it out with just one tub. The options when it comes to yogurt today are pretty exhaustive. It seems like no matter what your dietary goals, or taste preference, there is a yogurt for you.
What is Yogurt?
Yogurt (also known as yoghurt) is a dairy product produced by fermenting milk with bacterial cultures. The bacteria produce lactic acid which is what makes the distinct yogurt taste.
The Nutritional Benefits of plain Yogurt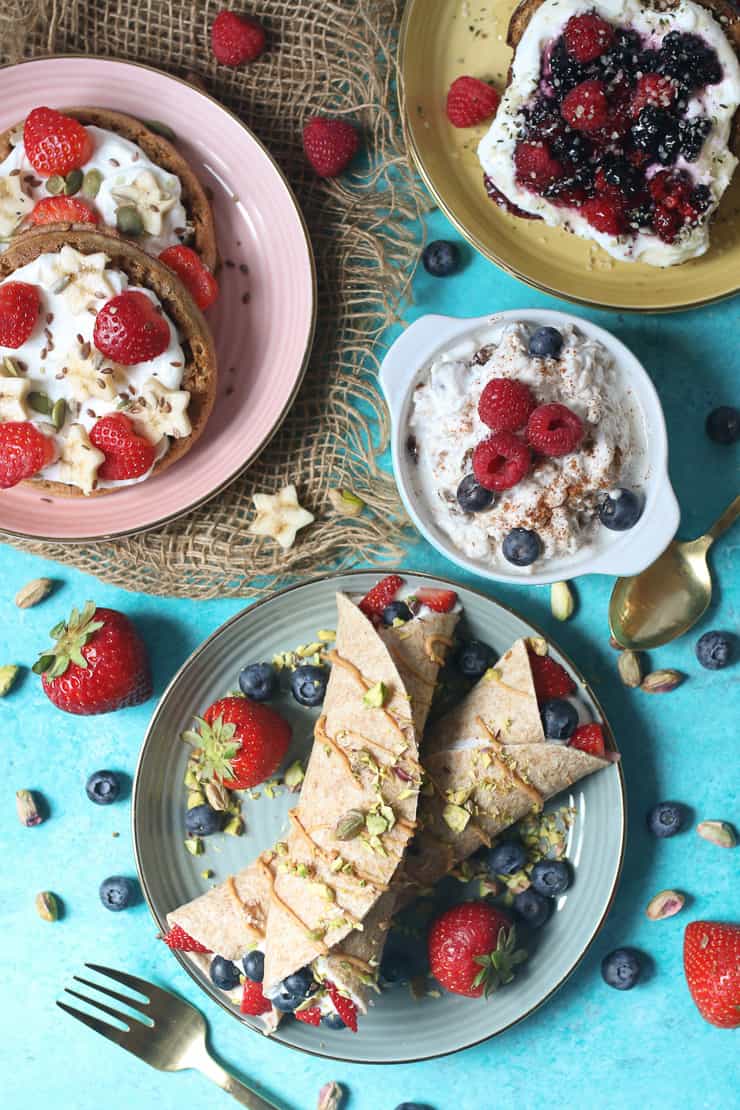 Yogurt contains protein (ranging from 6-20 grams or so per serving), and supplies carbohydrates (in the inherent form of lactose) and dairy fat (ranging depending on milk fat percentage from 0-10%). It's also typically has calcium and vitamin D (if fortified). While all yogurt are fermented, some yogurts also contain added probiotics to help support a healthy gut and/or immune system.
Types of Yogurt
There are a number of types of yogurt available on shelves today, hence why it's often hard to choose a favourite! Here's a brief overview of the varieties you'll find.
Greek yogurt
Greek yogurt has most of its liquid whey strained out, yielding a very thick and high protein yogurt.
Skyr
Drained in the making to create a thick texture that gives a rich and silky-smooth mouthfeel. This Icelandic yogurt is high in protein.
Kefir
Think of Kefir like drinkable yogurt. It's made with different cultures from traditional yogurt and thin enough that you can drink it out of a glass like a smoothie.
Stirred/ Swiss/ Traditional Yogurt
This is a thinner tangy yogurt that is a classic yogurt base.
Dairy Free Yogurt alternative
With the popularity of plant-based diets, there are now a lot of dairy free yogurt alternatives on the market that are made with different ingredients like soy, almonds and oats for those who do not consume or cannot tolerate cow's milk.
How to Choose a Healthy Yogurt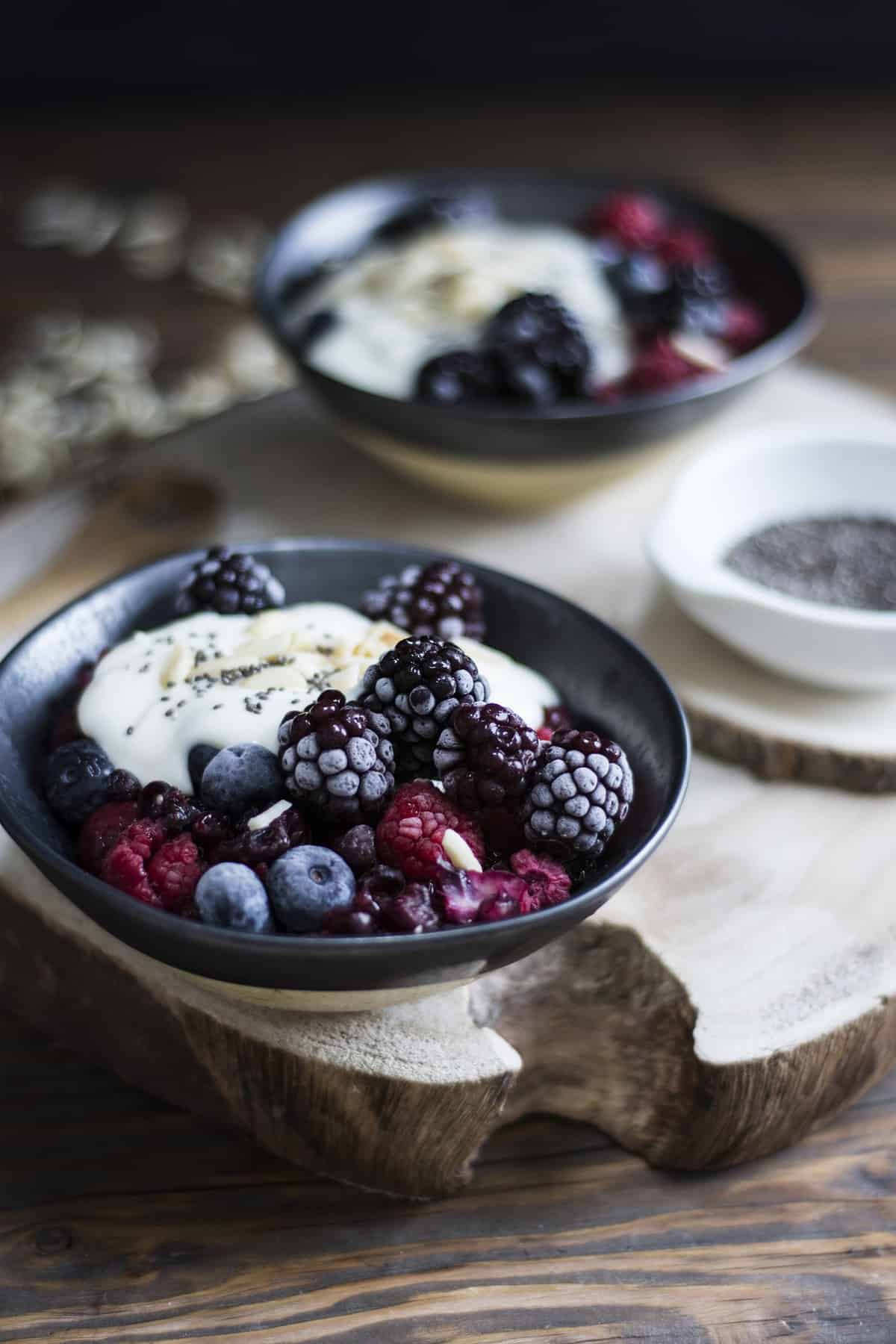 My first tip for people when choosing a yogurt is to look for a plain no sugar added yogurt so that you can then add your own sugar or flavour. So that's why I was so excited when I heard that Liberté was launching their Plain Collection with 15 different plain yogurt varieties, all with no added sugar. This makes it so much easier to find a simple yogurt without any additional sugar or ingredients that you can flavour to fit your preferences and dietary needs.
No Sugar Added Taste Test
I put a bunch of Liberté's plain yogurts to the test in a head to head taste test so you could get a sense of which yogurt is best for you.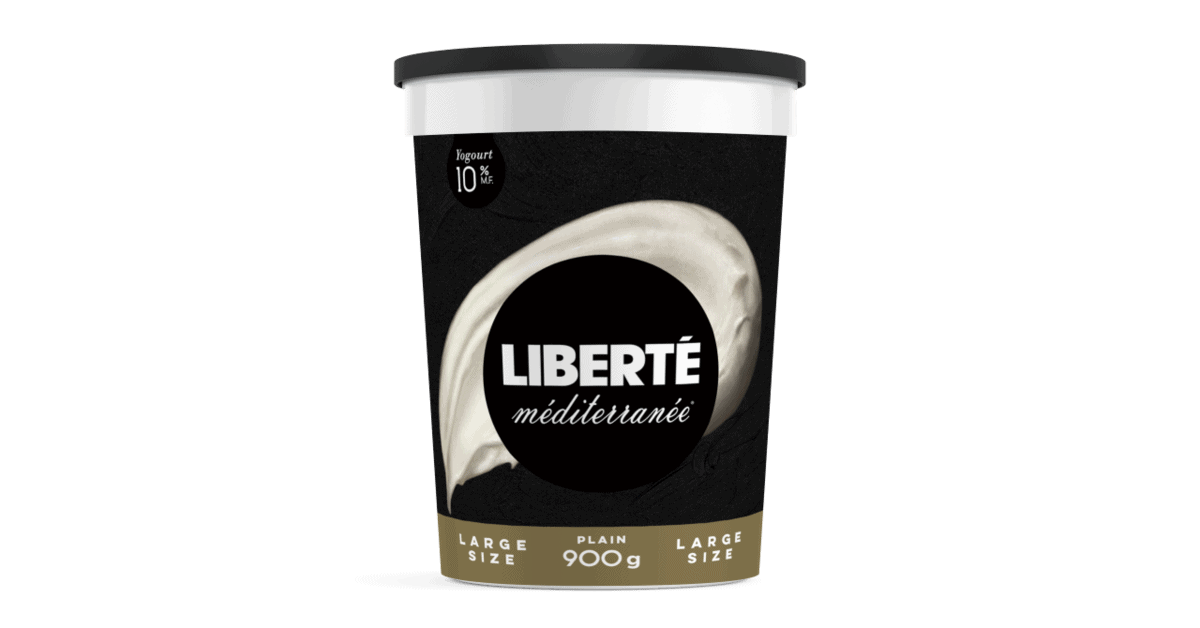 If you are looking for a luxurious yogurt, this is definitely it. It's super creamy and light with a very mild acidic note. And with 10% milk fat and 6 grams of protein per serving with no gelatine or sugar, it's perfect for dessert or a fancy brunch.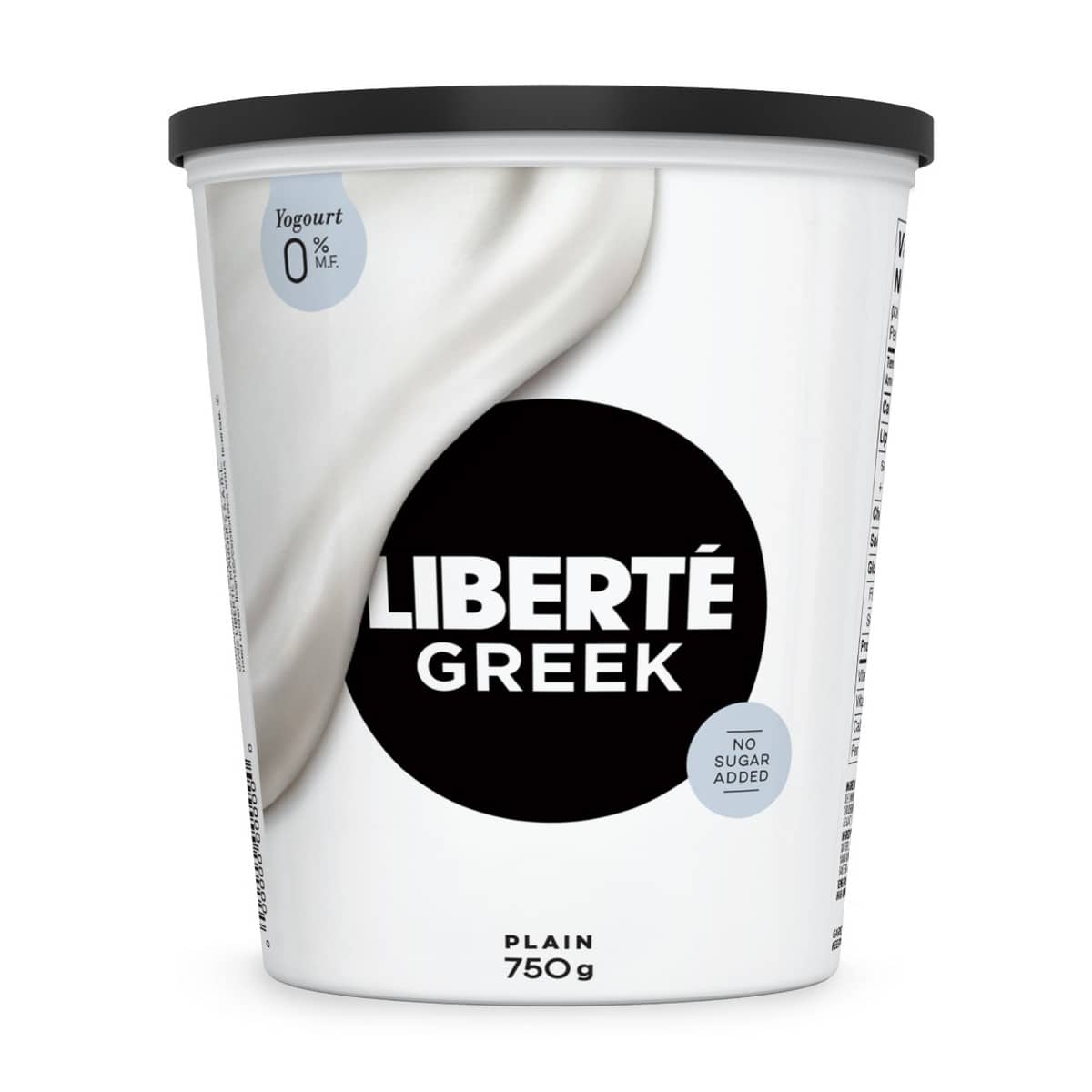 If you're looking for a nutritious high protein option for a quick post-workout snack, this Greek yogurt is perfect. I love the natural sweetness, rounded mouthfeel and clean mildly acidic taste. It's available in 0% (this one is also available in lactose free), 2% or 5% milk fat with an impressive 15-17 grams of protein per serving. The lactose free is ideal for those who want to reap the benefits of dairy but who are one of the 20% of Canadian's with lactose intolerance. Greek 0% and 2% are also available in organic and they contain probiotics. I think the 5% is my absolute favourite yogurt because I feel you get the luxurious texture of the Méditerranée but with the protein of a Greek yogurt.
Liberté Organic – Traditional and Organic Greek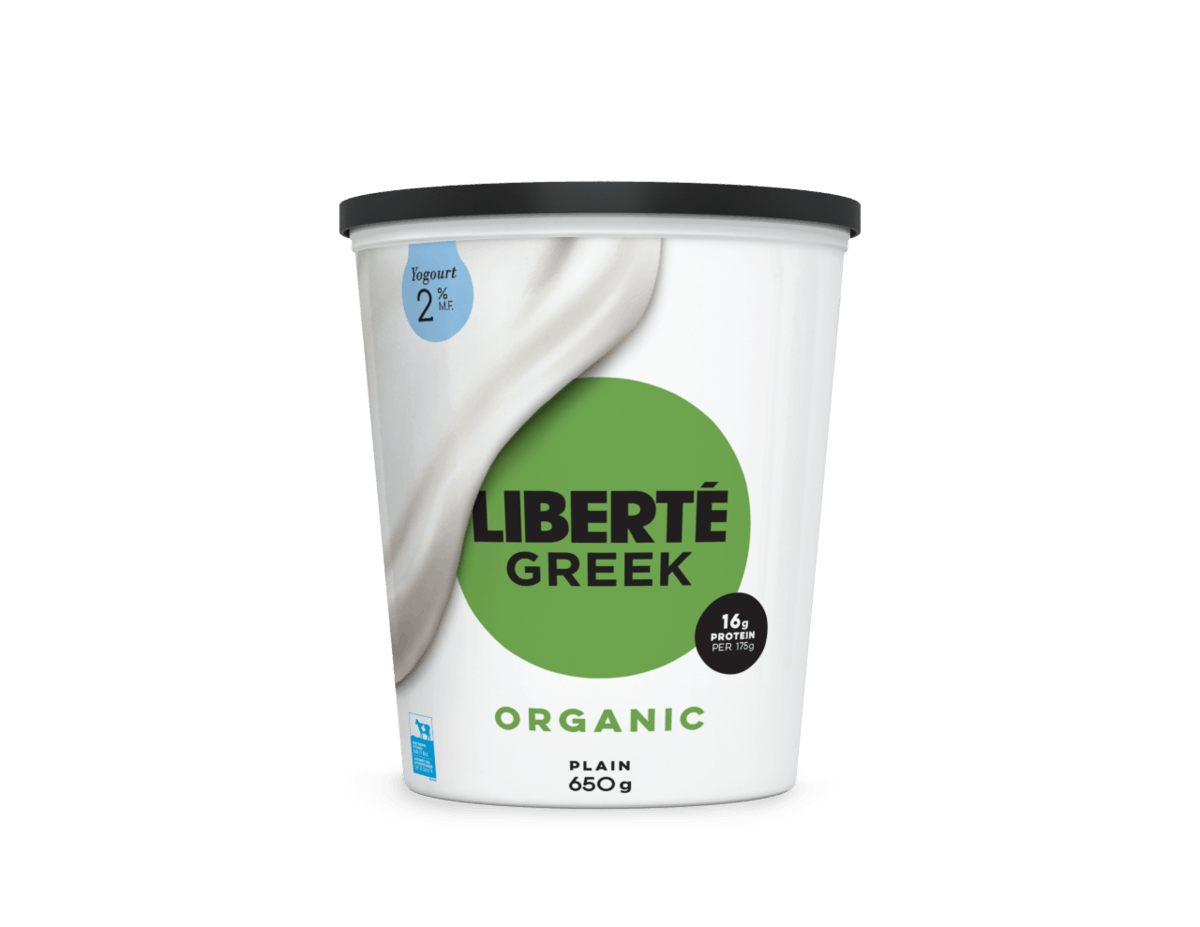 For those who are committed to eating organic , there are two different styles to choose from. The organic traditional is a low fat option with 10-11 grams of protein each and either 0% or 2.5% milk fat along with containing probiotics. These are perfect simple smooth yogurts with no added sugar, preservatives or gelatine. There is also an organic Greek which has 16-17 grams of protein per serving and comes in 0% or 2% milk fat. This one has a very rich and creamy texture.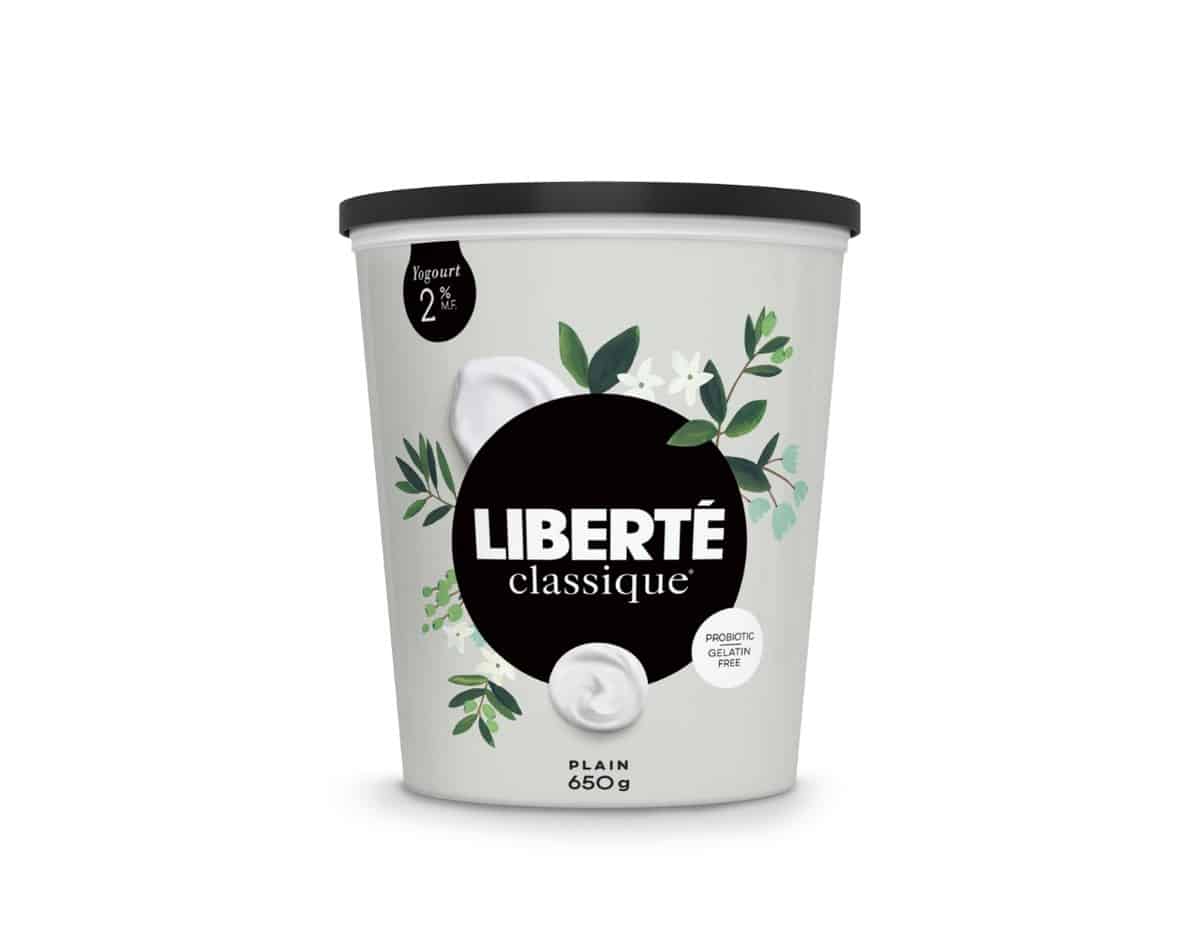 If you're a traditional yogurt kinda person, you will love the Classique line, available in 0%, 2% and lactose free. It has a very light and loose texture, and a very fresh, clean taste with a balance of sweetness and nice acidic finish. This one has added probiotics but no gelatine or sugar, with 10 grams of protein per serving. I love this yogurt in my smoothies to add tang and body without making them too thick.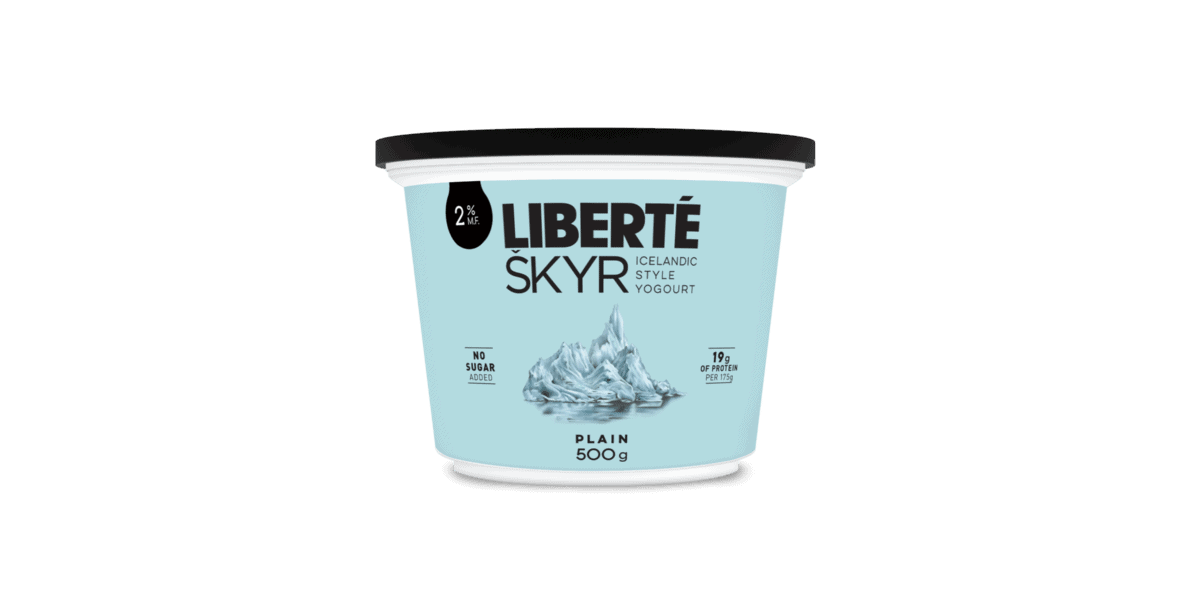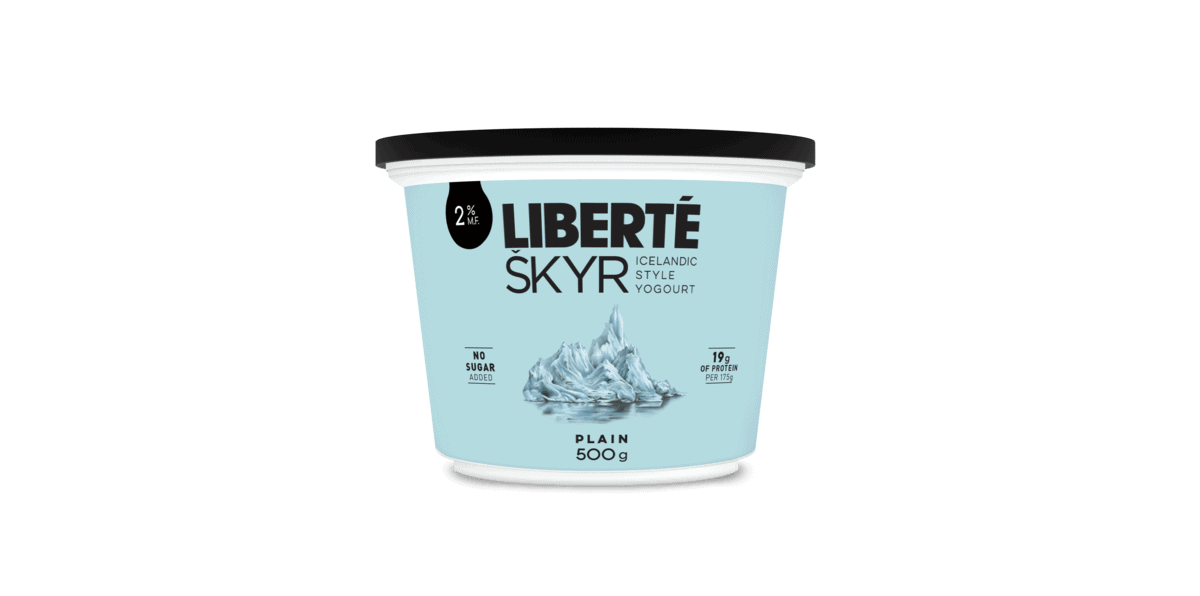 If you like Greek yogurt, you'll love Skyr too. This Icelandic style yogurt has a nice bright acidity and creamy texture that has 19 grams of protein per serving and no gelatine or preservatives.
Liberté Kefir (not including the Liberté Kefir effervescent)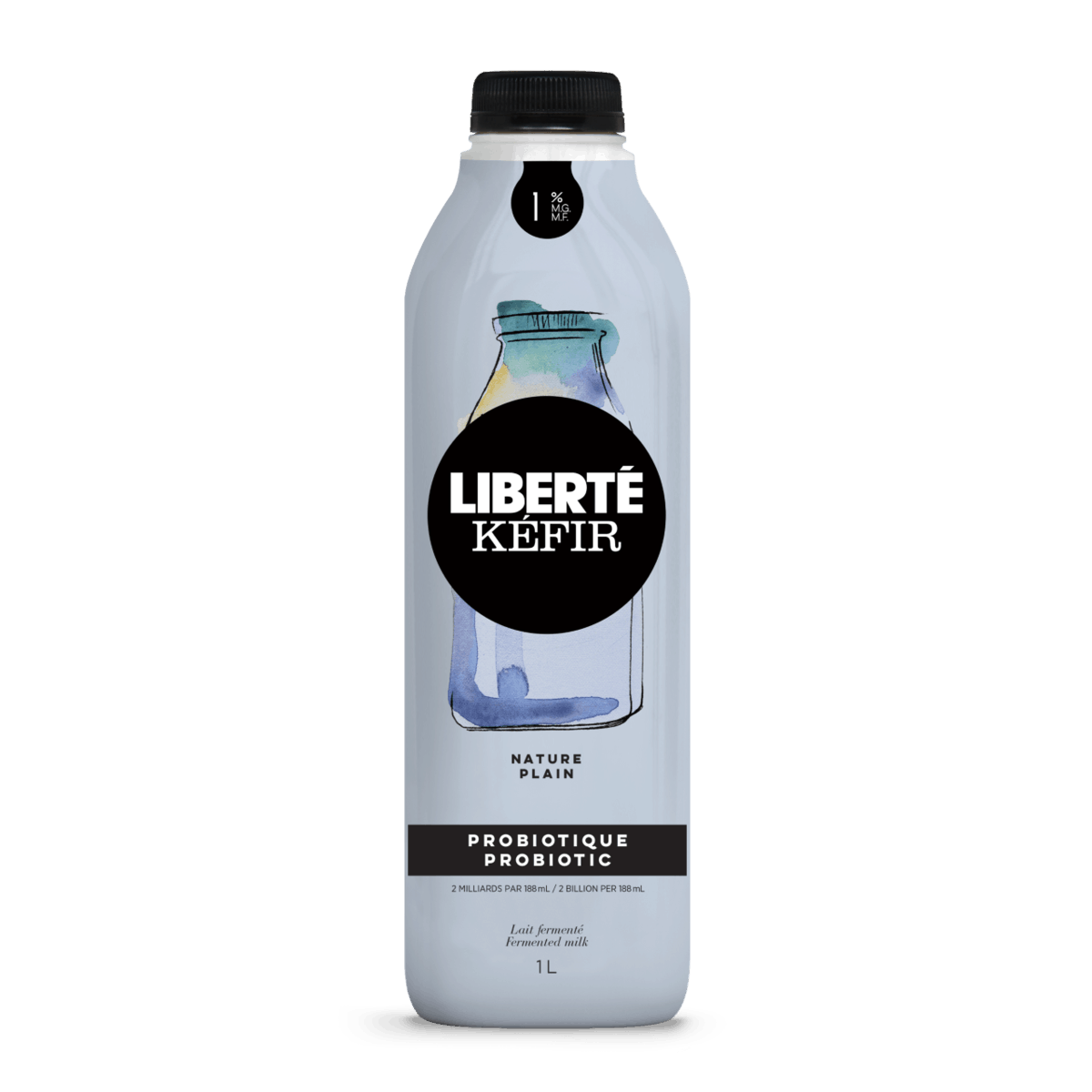 If you're looking for a sippable way to pack in your probiotics, this all-natural yogurt drink has 2 billion probiotic CFUs per ¾ cup and 7 grams of protein per serving. This is a great alternative to milk with cereal, or an awesome on the go drink all by itself if you like a "mouth puckering" experience. You can get it in plain 1% or organic 1%.
For my vegan, paleo and dairy-free friends, Liberté has a coconut-based dairy-free option with just three ingredients and 120 calories per serving.
I hope this taste test helped you narrow down the right no sugar added plain yogurt for you and your family. Let me know in the comments what your go-to yogurt is!
More Blog Posts You Might Like
Disclaimer: This post was developed in paid partnership with Liberté, however all opinions are genuine.