These Keto Pepperoni Pizza Bagel Bites are a great low carb, gluten free snack recipe that will take you back to your 90's childhood.
Raise your hands if you remember coming home from school to whip up bagel bites as an after school snack? And raise your hands if you would burn the roof of your mouth on them EVERY.SINGLE.TIME. Well, believe it or not, but you can still buy those same delicious bagel bites, and they will still totally F with your mouth. You would think that after generations of kids have been brutally injured (but obviously not bad enough to deter them from finishing the box), that they would figure out a way to heat the bread through without turning the cheese into an oozing pit of lava, but hey, I'm not a food manufacturer. For all I know, that could be complicated stuff.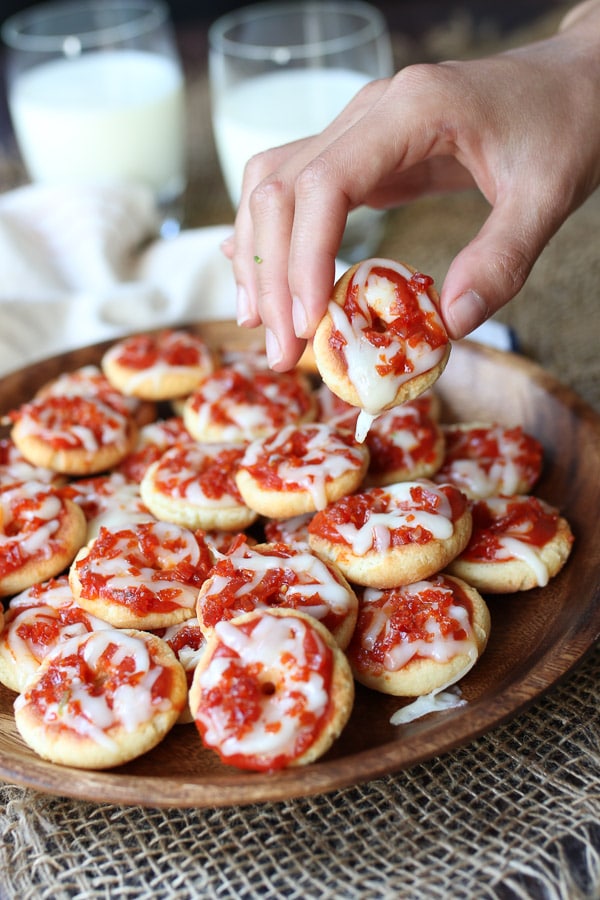 You know what's less complicated? Making these keto pepperoni pizza bagel bites at home. These are gluten free, low carb and actually WAY healthier than the original since they're made with heart-healthy almonds instead of refined grains. That means that you're going to feel WAY more satisfied after eating a few of these compared with the heavily processed frozen version from days of yore.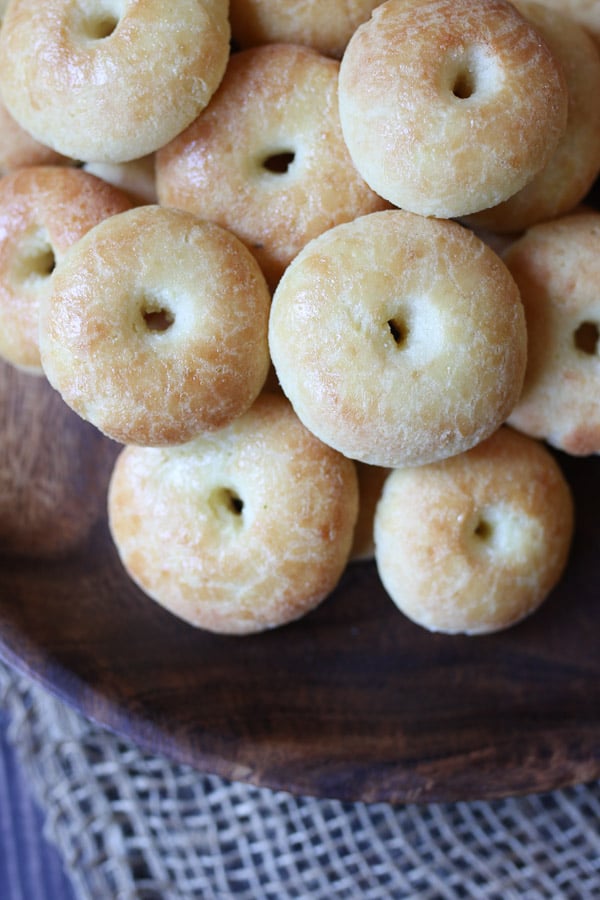 How to Make these Keto Pepperoni Pizza Bagel Bites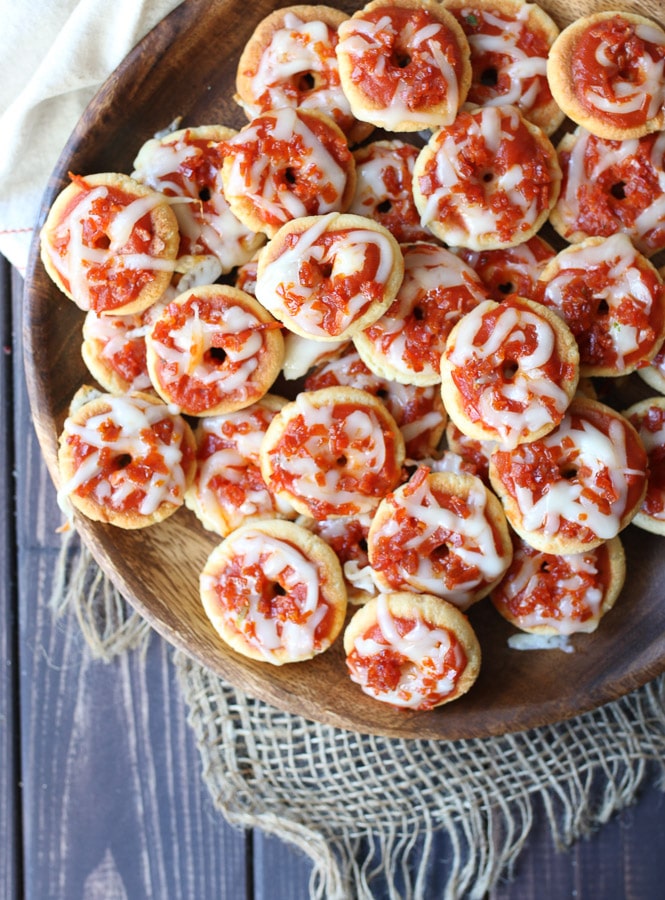 Well, in order to make keto bagel bites, you need to make keto bagels so that's where we start. While it definitely sounds intimidating to make any sort of bagels (nevermind a keto, low carb, gluten free version), these actually couldn't be simpler. They're basically just cheese, almond flour, eggs and little baking powder. That's it, that's all. I roll them into balls, flatten them down and poke a hole in the middle to yield a bagel-like shape. Once they're baked off, I just top them off with some tomato sauce, more cheese, and minced up pieces of pepperoni and HEY THERE- you've got some pretty bad ass keto pepperoni pizza bagel bites that would make your 13-year-old-self pretty damn excited.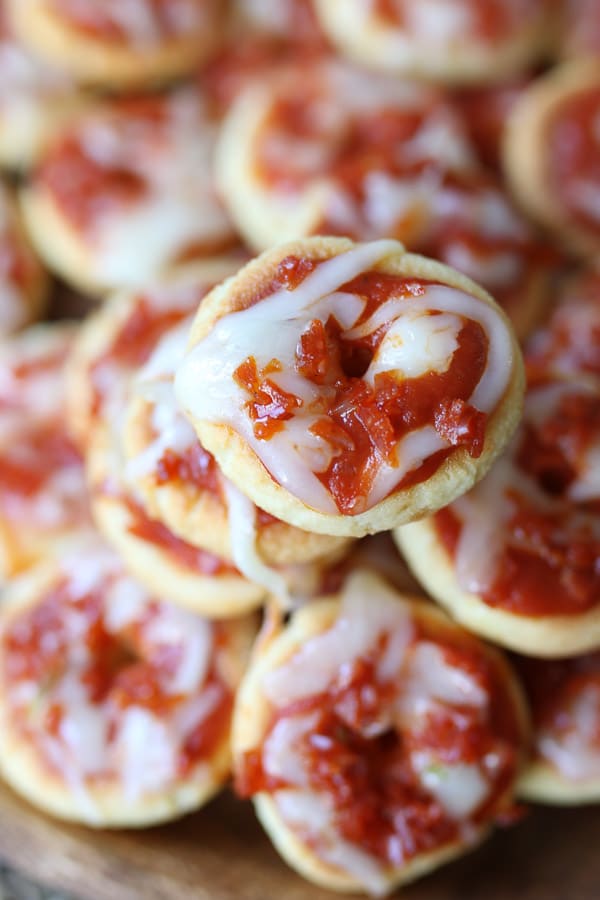 This recipe is obviously super versatile so you can make these keto bagels into full size versions to make pizza bagels (another childhood obsession). You can also top yours with veggies, chicken, ham, sausage, legit anything you've got in your fridge. Pizza night is always a great way to use up any odds and ends in the house.
So loves, tell me, who remembers and loves their childhood bagel bite days?
Have you tried making these keto pepperoni pizza bagel bites?
Leave me a comment below with your thoughts!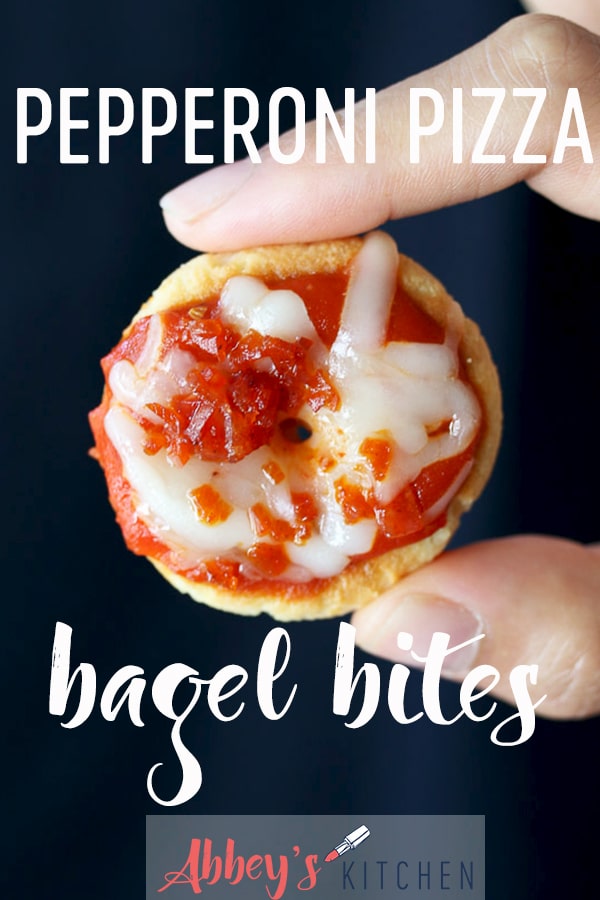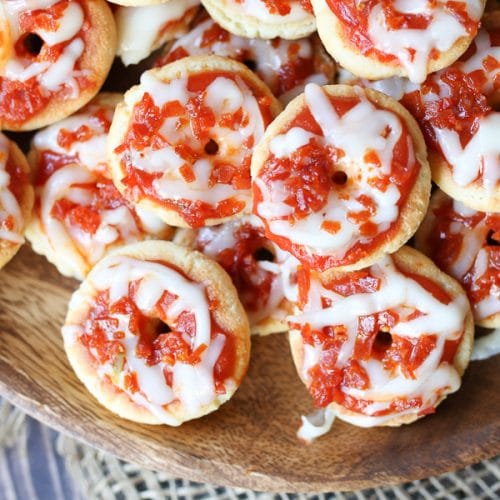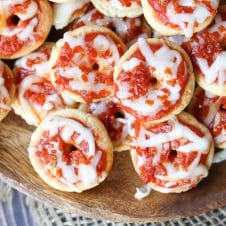 Keto Pepperoni Pizza Bagel Bites
These Keto Pepperoni Pizza Bagel Bites are a great low carb, gluten free snack recipe that will take you back to your 90's childhood.
Print
Pin
Rate
Ingredients
Bagels:
5

cups

shredded mozzarella cheese

1

oz

cream cheese

2

large eggs

divided

3/4

cups plus 2 tbsp

superfine almond flour

2

tsp

baking powder

gluten free
For topping:
1/3

cup

low sugar tomato pizza sauce

1/3

cup

shredded mozzarella cheese

1/3

cup

minced pepperoni
Instructions
Preheat oven to 400°F. Line two baking sheets with parchment paper or silicone baking mats.

In a small bowl, whisk together almond flour and baking powder. Set aside.

Add mozzarella and cream cheese to a large glass bowl.. melt in double boiler.

Add cheese, 1 egg (remember one of the eggs listed is for the egg wash finish at the end only), and almond flour mixture into a food processor with dough blade attachment. Pulse on high speed until the dough is uniform. The dough will be quite sticky, which is normal.

Wrap your pastry board with plastic wrap until the plastic wrap.Lightly coat your hands with oil and divide dough small balls. Flatten and poke hole.

Add the final egg to a bowl and whisk. Generously brush surface of bagels with egg wash.

Bake bagels for 5 minutes until lightly golden and puffed. When you touch the surface of the bagels, they should not collapse. I recommend baking the bagels one sheet at a time rather than trying to bake both sheets at once because it leads to uneven heat distribution and your bagels may not puff up properly. Allow bagels to cool on baking sheets before removing.

Cut in half and top with toppings and bake until the cheese melts, about 2-3 minutes more.
Nutrition
Calories:
113
kcal
|
Carbohydrates:
2
g
|
Protein:
7
g
|
Fat:
9
g
|
Saturated Fat:
4
g
|
Cholesterol:
36
mg
|
Sodium:
211
mg
|
Potassium:
82
mg
|
Fiber:
1
g
|
Sugar:
1
g
|
Vitamin A:
219
IU
|
Vitamin C:
1
mg
|
Calcium:
155
mg
|
Iron:
1
mg
Updated on July 1st, 2020