Everyone's jumping on the old Detox Cleanse bandwagon, but the truth is there is no decent evidence to suggest it's doing anything except draining your wallet. I busted that popular myth in my YouTube video below, and wrote all about it here.
So today I'm back with an evidence based how to on the detox cleanse. Spoiler alert- there will be no unpalatable lemon, cayenne and maple concoctions. Just try my 5 easy ways to detox cleanse your body using your every day body bits. Yes, you can use real body parts to cleanse your body. You've got a liver, kidneys, lungs, skin, and a digestive track for this purposes. Use them. Go pee. You'll cleanse.
How to Detox Cleanse
KIDNEY DETOX CLEANSE: Your kidneys cleanse you automatically every day in the form of clearing toxins from the blood and making you urinate them out. So as long as you can pee, you're good.
LUNG DETOX CLEANSE: Inhale oxygen, and exhale carbon dioxide. Bravo, you just cleansed.
SKIN DETOX CLEANSE: Sweat! Now I know massive sweat circles can be embarrassing, and dry cleaning is no small expense for silk blouses, but consider those stains a trophie of a good healthy detox. Believe it or not, your skin is one of your largest cleansing organs, go for a good run and then let it do its job.
DIGESTIVE TRACT DETOX CLEANSE: Poop. Yep. Your intestines job is to take the vital nutrients you need from what you eat, and get rid of the crap– literally. Yes you heard me – pooping may seem dirty but it's actually inherently cleansing. And if you want to take your bathroom cleansing sesh to the next level, then drink some extra water, get in some extra fibre-rich foods like whole grains, veggies and fruit and let 'er rip.
LIVER DETOX CLEANSE: Yep, your liver's job is to filter out toxins and help you piss them out, so as long as that is in good shape, you are too.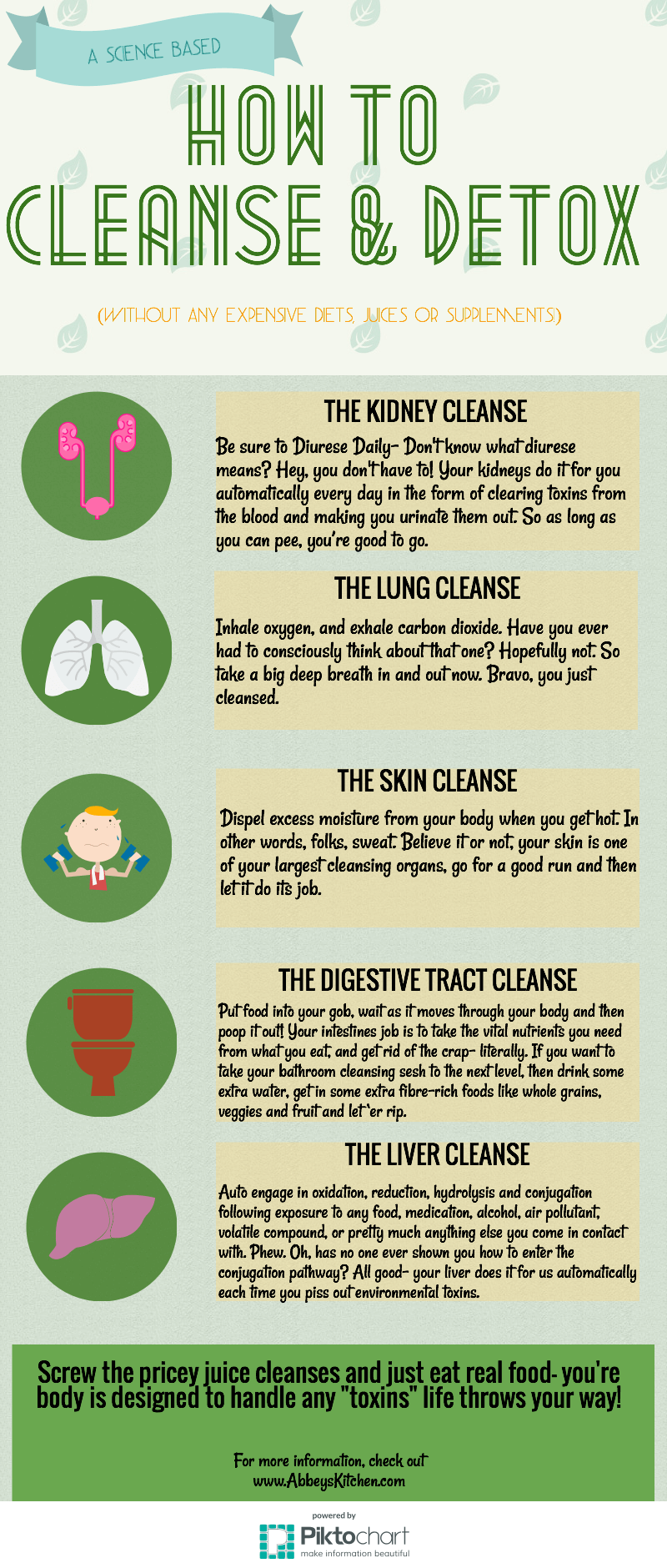 You're going to want to print that out and hand it over to a friend next time she talks about going on a crazy detox cleanse. Ew- green juice. Just don't.
If you're more of a visual person, you'll want to check out my How To video on the ubiquitous detox cleanse!
What do you think of going on a detox cleanse?
What nutrition myth do you want busted?
Leave me a message below and Ill be sure to answer it in an upcoming video or blog post!
Updated on August 12th, 2019