This stunning Garden Layered Dip is planted like a real garden and will impress the pants off all of your dinner guests.
Many of my long time readers and subscribers surely know that I just got back from a trip to Spain where I literally ate my way through pintxos and Michelin star meals. One of the last meals of our trip was in Madrid at a 2 Michelin star restaurant in an old gentleman's club called Casino de Madrid. It was a lovely meal with lots of surprises, but the dish that really blew me away was this garden layered dip with crudité.
I know, normally I'm pretty blasé about veggies and dip but it was truly so much more then that. The dish was described to us as a celeriac and cauliflower dip with a dehydrated olive and breadcrumb topping to make the "soil". When Chef Paco Roncero popped by our table to present his masterpiece, he told me the most beautiful narrative about the dish. He shared that his food is almost always inspired by the inedible world around him and one morning he was out for his daily run and he found himself sprinting through a botanical garden. Suddenly, it hit him to recreate nature's masterpiece on the plate. Well, I'm not a Michelin Star chef, and most of you reading probably aren't either, so the pressure to create something so mind-blowingly new is somewhat irrelevant. As long as it tastes good and looks pretty, most of us will impress our guests. So while professional chefs may have to seek external inspiration for their innovative restaurant dishes, I often find inspiration for my home cooking in restaurants. And that was exactly what happened here. I went home from that trip to Spain a few pounds heavier this year –the extra weight packed on from langoustines, chorizo and knowledge.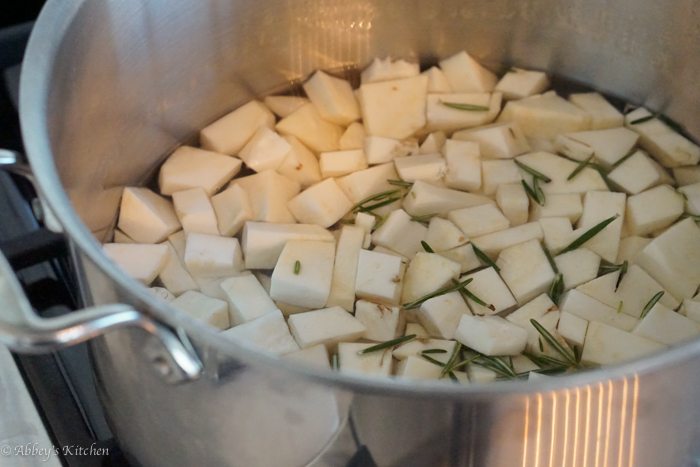 Boiling the celeriac
How to Make Garden Layered Dip Like a Boss
So I began to research how to reproduce the garden layered dip, but not surprisingly, there weren't any exact recipes online. The closest thing I could find were some rough instructions on how to dehydrate olives, which thanks to their high oil content was going to be a royal pain without a commercial dehydrator. My next step then was to consult with a few of my chef friends on Facebook who too confirmed that yes, it would be hard, but with patience, it could be done. I persevered.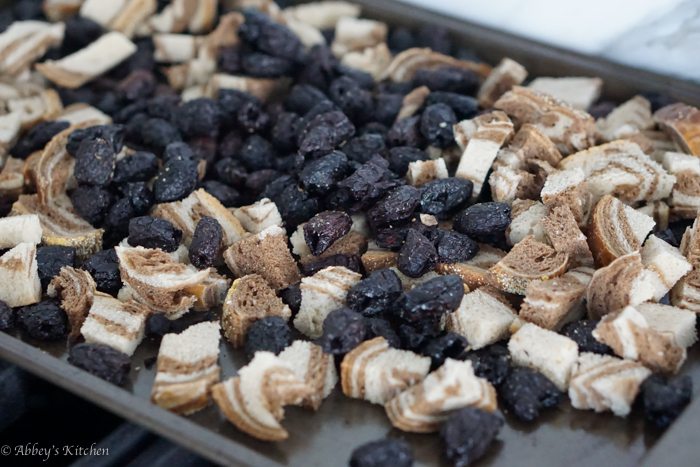 Dry out the olives and bread
Piecing all of that information together into an uncertain but optimistic plan, I put the olives in the oven with the door open just a crack. Yes, I was nervous that it wouldn't work and yes, I was scared that my house would burn down. Actually, I didn't sleep at all worrying that I would die in a fire on the 33rd floor the day before Thanksgiving. But when I finally got up at 5 in the morning, I was pleased to see they had really started to dry out. Another 10 hours later, and they were ready to go to the food processor to be transformed into crumbs.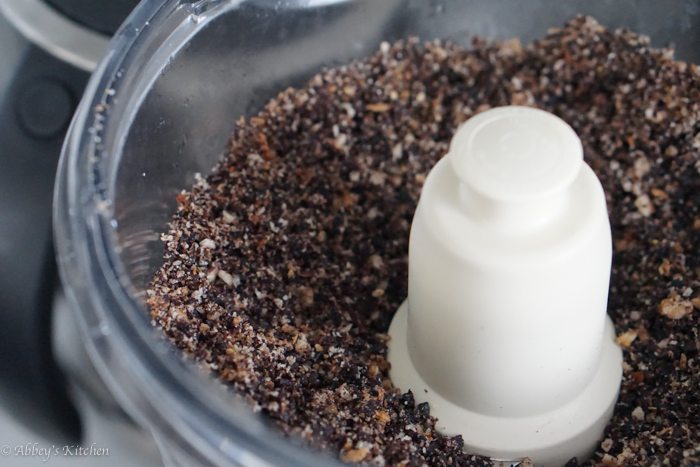 Process/ pulse the crumbs
Now, I used marble rye here in my garden layered dip because I love the caraway flavour with the olives and I thought it would go beautifully with the slightly sweet nutty celeriac dip. To make sure my theory was correct, I simply took a slice of bread, smeared it with the dip and topped it with a single olive. That's pretty much the best way I know to test a recipe before it's made. And voila- yes, it worked.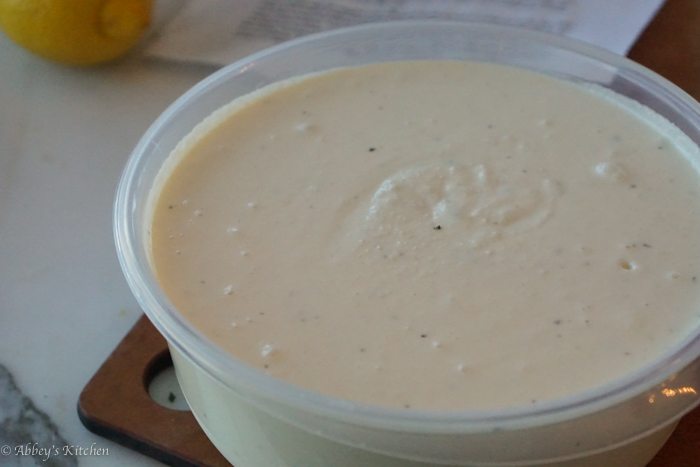 Creamy dip!
As for the dip- this is the easy part. If you can master the olives, you can put any dip underneath and it will likely be fine, but I wanted to stick somewhat close to what I had at the restaurant. I loved the idea of a hearty root vegetable standing in as the base-note, but I decided against using cauliflower to safe guard against a loose watery dip. Plus, this was going to be for Thanksgiving, so a little extra indulgence was in order. In other words, lots of thick unctuous crème fraiche and mayonnaise it was. Feel free to experiment with whatever root vegetables you like with olives to switch things up if you're not a big fan of celeriac or just don't have it on hand. Having said that, I would try to keep the flavours relatively neutral because you want to be able to appreciate the fantastic olive flavour.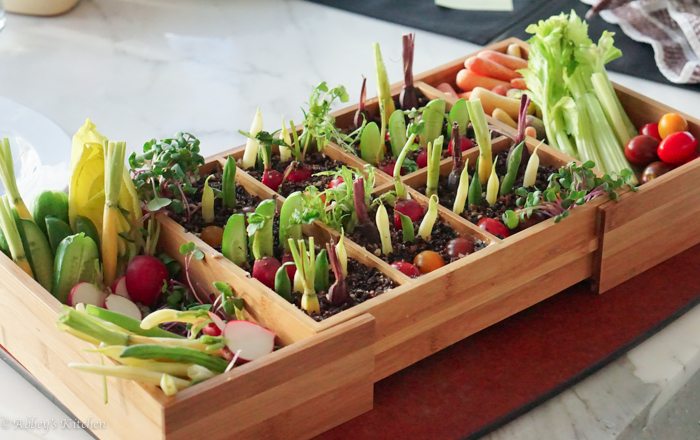 So how do you build up your magical garden layered dip? Well, I went online and ordered a planter box on Amazon.ca but just my luck, it didn't arrive in time. Uh. So in a last minute holiday panic, I ran out to Home Sense and got an expandable wooden drawer divider. It was half the price of the damn planter (which now sits in my locker like most of the stuff I buy haphazardly online) and ended up working perfectly because the centre section looked like a divided garden and the two expansion sections were perfect for storing extra crudité to dip. Then, of course, it's just a matter of having fun planting your garden. Laying down your "ground", then sprinkling it with "soil" and carefully planting your vegetables throughout the space. I even bought some microgreens and sprouts to add in as "grass" the same way I saw chef Paco do in Madrid. Get creative with this- it's your garden- plant it up however you'd like!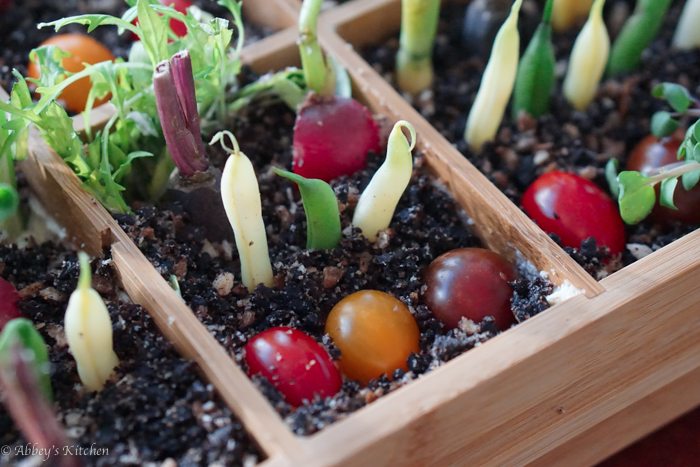 So tell me, foodie friends, what dishes have you had at restaurants that have inspired your home cooking adventures? Do you think you could try making a garden layered dip?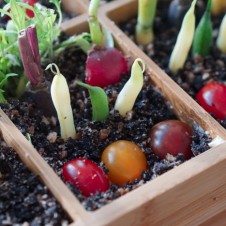 Garden Layered Dip with Dehydrated Olive Soil and Celeriac Crème Fraiche Dip
This stunning Garden Layered Dip is planted like a real garden and will impress the pants off all of your dinner guests.
Print
Pin
Rate
Ingredients
Assorted baby vegetables

cut into smaller pieces if needed

Assorted sprouts
Soil
2

cups

pitted kalamata olives

2

cups

torn marble rye bread
Dip
2

celery roots

peeled and finely diced

2

cups

crème fraiche

2

cups

mayonnaise

3

sprigs

rosemary

leaves only

Zest of 1 1/2 lemons

Juice of 1/2 lemon

1/8

tsp

celery seed

Salt and pepper

to taste
Instructions
Soil
Preheat oven to 170 F. Spread the olives onto two baking sheets.

Bake with the door open a crack for 18-24 hours, or when the olives feel dry and no longer oily.

About 4 hours before you're finished (the olives should still have a bit of moisture to them), add in the torn pieces of bread. Continue dehydrating until everything is very dry. Remove from the oven, transfer to a food processor and process until it forms small crumbs. Transfer to a container and refrigerate until ready to use. This can be made up to 2 days in advance.
Dip
Put the celery root in a medium pot and cover with salted cold water. Bring to a boil and cook until very tender, about 15-20 minutes. Transfer to a food processor and allow the mixture to cool.

Once cooled to room temperature, add in the crème fraiche, mayo, rosemary, zest, juice, and celery seed. Puree until very smooth then season with salt and pepper to taste.
Assembly
Get a wooden box (I bought a cheap wooden cutlery divider and used that) and fill it with the celeriac dip. Top it with the soil until everything is covered. Then arrange the vegetables in rows, and stick the sprouts into the corners of the box like grass.

Serve with additional vegetables for dipping and enjoy.
Nutrition