These are the best banana oatmeal cookies that are naturally vegan, toddler friendly, and healthy enough to eat for breakfast!
There are a few words and phrases that big boy E likes to say on repeat. The current favourites? "E do!", "No", and "Cookie". I mean, he's a 2.5 year old toddler, not to mention he's my child, of course cookie is going to be a favourite word. We have cookies in our house most of the time, but because I just don't like hard store-bought ones, I almost always offer homemade. Yes, that makes me sound like a Martha Stewart mom, but the reality is I take an hour every two weeks to make a batch, then pop them in the freezer. Following the division of responsibility, E will sometimes get a cookie with his lunch or dinner, or occasionally, I put out a bunch and let him have a few for snack. Either way, I don't make a big deal out of it and I try to enjoy them with him.
And while I have no qualms about offering a full on gourmet chocolate chip cookie made with white flour, white sugar, butter and tons of chocolate, if I can throw some nutritious add-ins there, AMAZING. That's where these banana oatmeal cookies come in. These cookies are chock full of nutritious ingredients with way less sugar than most store-bought or standard homemade cookies, but they're totally big boy E approved.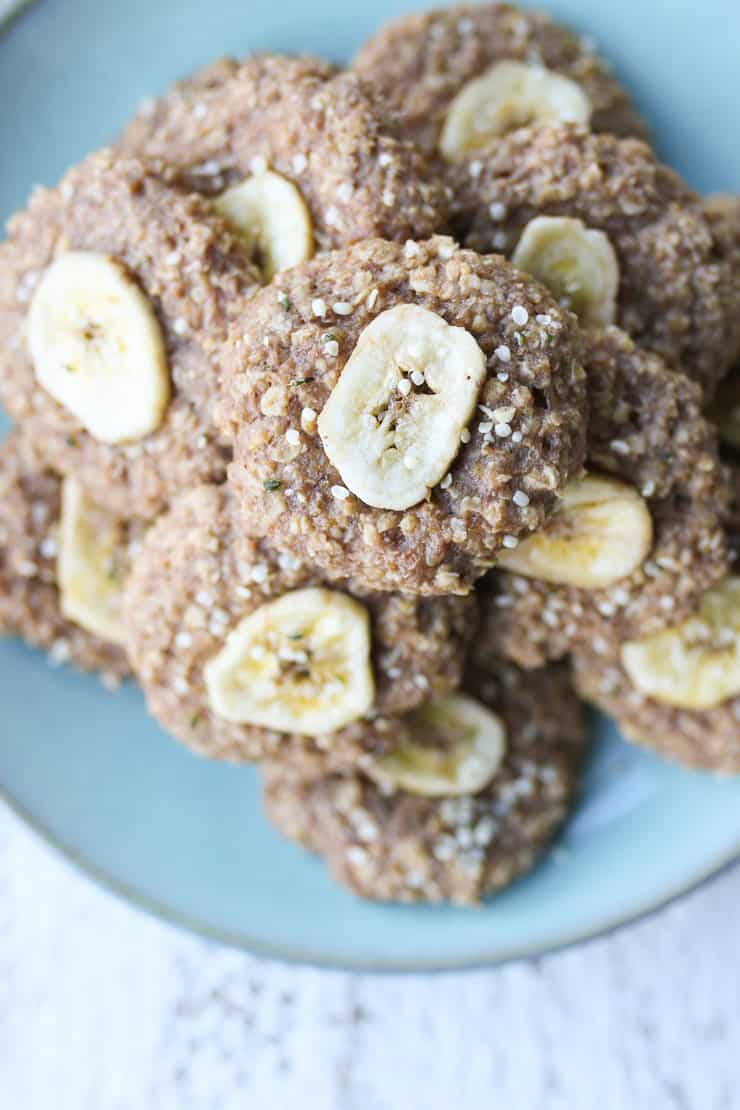 Key Ingredients for Banana Oatmeal Cookies
There are lots of nutritious ingredients crammed into these cookies, but I promise you that your kiddos will still gobble them up!
Ground flax – Loaded with omega 3s, protein and fibre, flax is a fantastic add-in for making baked goods more nutritious. In this recipe it is mixed with water to make a "flax egg" which is a vegan egg replacement.
Vegan butter– If you're not vegan, feel free to use regular softened butter.
Brown sugar and maple syrup– I love the molasses like flavour of brown sugar and the aromatics of maple. These sweeteners are perfect in this recipe because they keep these cookies chewy and moist.
Mashed ripe banana– I love adding banana to baked goods because it's like a natural sweetener so I can cut back on added sugar. I basically always buy extra bananas and as soon as they get really speckled, I chop them up and throw them into a freezer bag for recipes like this.
Quick cooking oats– I adore a good oatmeal cookie and I find the quick cookie oats are tender enough but still give you that chewy texture. I also love that oats are loaded with soluble fibre and provide nutritious energizing carbs (there's a reason I bake with them so much). If you're gluten free, make sure to use gluten free oats.
Whole wheat flour – I prefer to use whole wheat all purpose flour for the extra fibre, but in a pinch you can totally use all purpose flour.
Hemp hearts– You know I love hemp hearts for the omega 3, fibre, and protein. They make perfect easy "sprinkles" for any cookie or muffin recipe.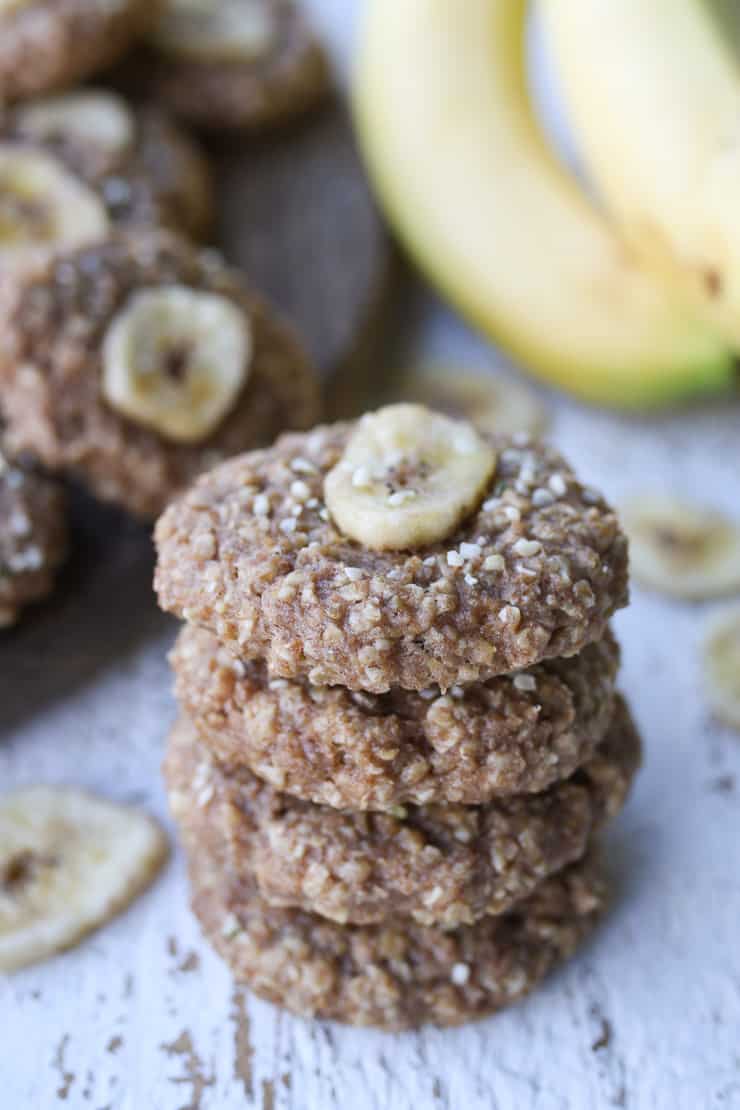 What is the texture and flavour of these cookies?
These are soft and chewy, with a delicate banana flavour that is not too sweet. Perfect for kids but also for adults who are looking for a mid-morning pick-me-up!
How do I prevent my toddler from being cookie obsessed?
I get this question often about toddlers and sweets, and how to balance these "fun foods" with other nutritious meals and snacks. The first step is to normalize them, and that means offering your toddler cookies and other desserts regularly. I know, that seems counterintuitive if the goal is to make sure they're not eating ALL the cookies ALL the time. But it's important that cookies don't become such a novelty that they go hog wild the moment they get one.
I also recommend offering a dessert like this at meal time and allowing your kid to eat their dessert and main meal in whatever order they want. The caveat to this is that there is only one portion of the dessert, while they can have more of the other items on the table.
Another idea is to occasionally offer UNLIMITED cookies at a snack time. The important piece here is that the snack time is far enough away from the main meal that it doesn't compete with other nutritious foods at the meal.
If you want a little more information on these tactics, check out my post on sugar here, and my articles on the division of responsibility here and here. And don't forget to join my mom and feeding facebook group here.
FAQ about this recipe
Here are some frequently asked questions about this recipe.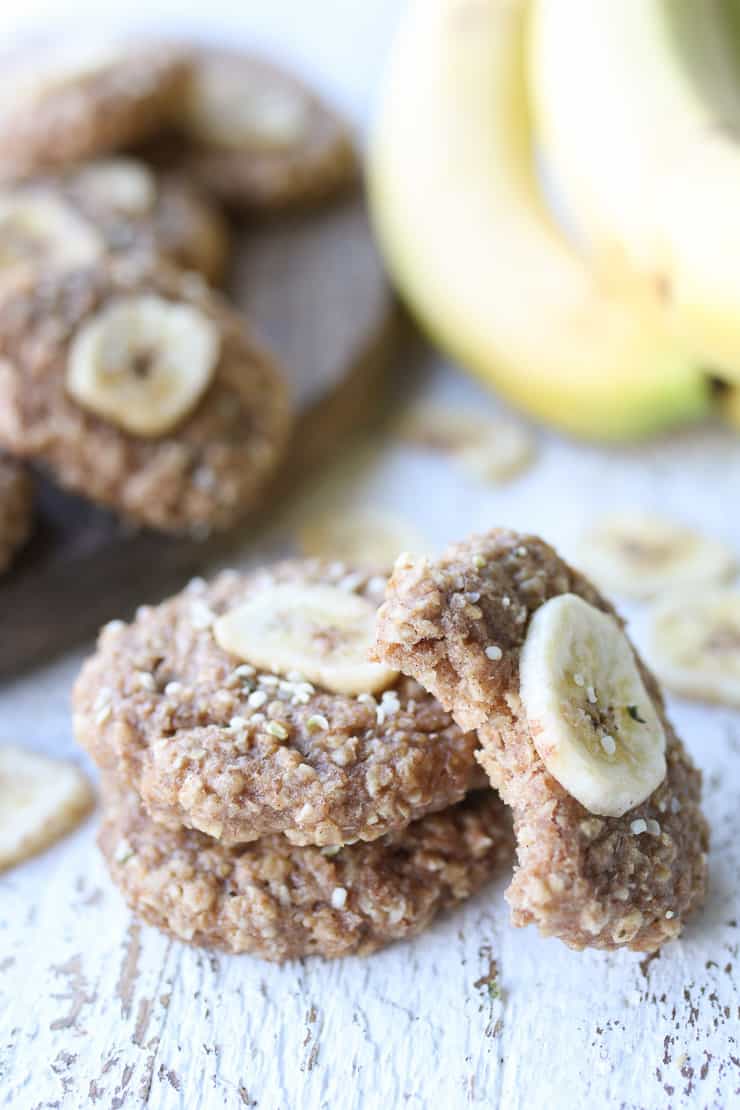 Do I need to make these vegan?
If you are not vegan or dairy free, you can absolutely just use a regular egg or dairy butter. However, I do love using a flax egg for the extra omega 3s, fibre and protein.
can i use a chia egg instead of a flax egg?
Yes! If you have chia instead of ground flax, you can absolutely swap it in. I prefer flax because it doesn't discolour the cookies.
Can I make these gluten free for a child with a wheat allergy, or gluten intolerant?
I haven't tried making these with gluten free flour, but you could experiment with a gluten free or wheat free flour and of course, use a gluten free oat brand.
How should I store these so they don't go stale?
These will keep in an air tight container for about 4 days on the counter, but for longer storage, I do suggest freezing them (see the next question).
How do I freeze these?
Once your oatmeal cookies have fully cooled, transfer them on a baking sheet to the freezer to solidify for 30 minutes. Then you can transfer them to a freezer bag for up to 4 months. When you want to have a cookie, just pop it in the microwave for 15-20 seconds until thawed through.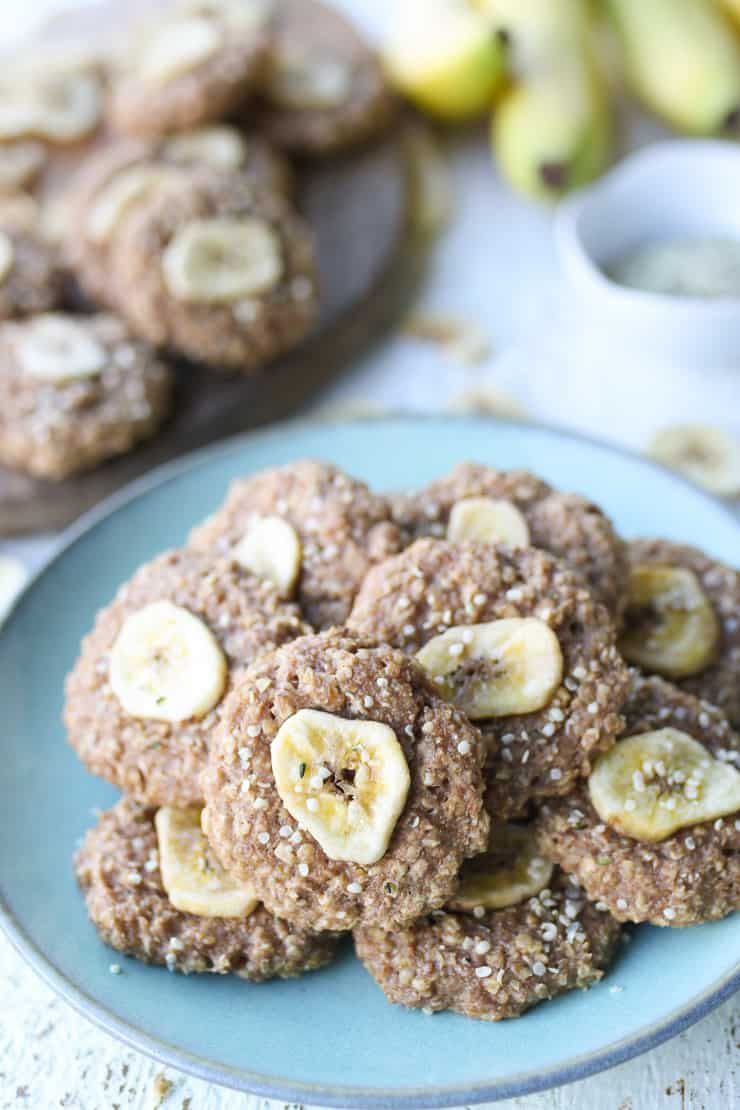 Can I serve these banana oatmeal cookies for an on the go breakfast?
Absolutely! I would serve 1-2 cookies with some fruit and a hard-boiled egg for an easy on the go breakfast.
More Healthy Cookie Recipes You Might Like
Healthy Peanut Butter Cookies (Vegan, GF)
Lemon Poppyseed Cookies (Vegan)
Carrot Cake Cookies (Vegan, GF)
What are your go-to healthy cookie recipes for your kids and toddlers? Leave me a comment below with your go-to toddler approved cookies.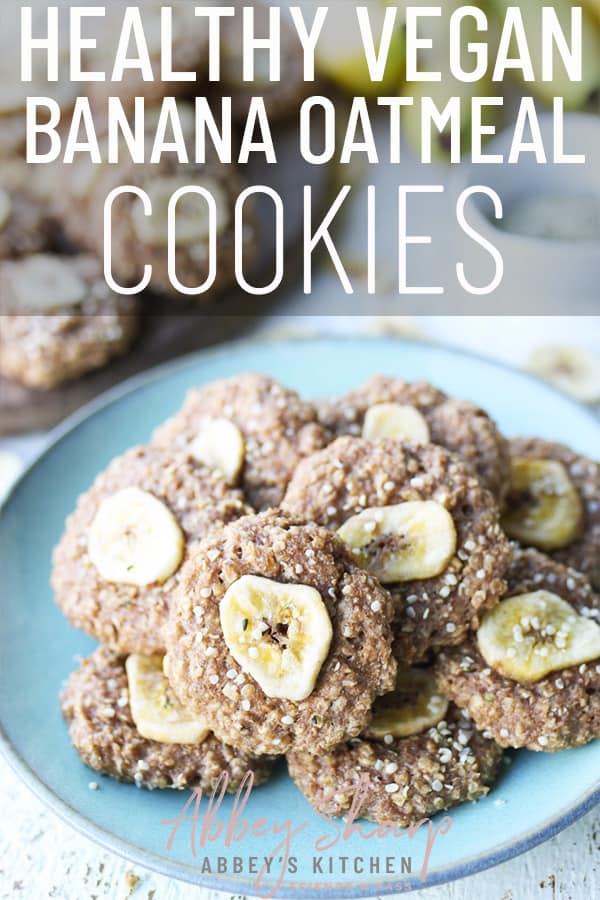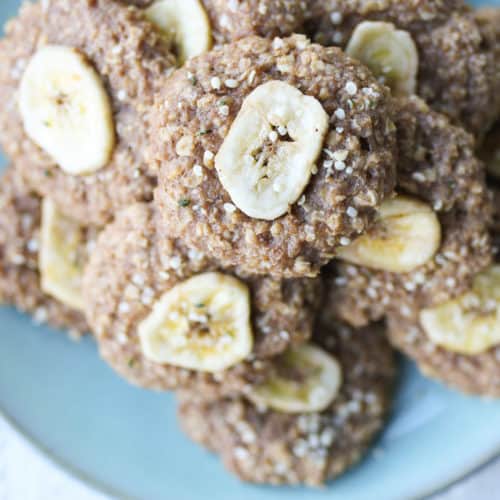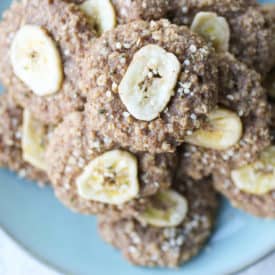 BEST Banana Oatmeal Cookies
These are the best banana oatmeal cookies that are naturally vegan, toddler friendly, and healthy enough to eat for breakfast!
Print
Pin
Rate
Ingredients
1

tbsp

ground flax

2 1/2

tbsp

water

1/4

cup

vegan butter

softened

1/4

cup

plus 1 tbsp brown sugar

packed

2

tbsp

maple syrup

1/2

cup

mashed ripe banana

about 1 large banana

2

tsp

vanilla extract

1

cup

quick cooking oats

3/4

cup

whole wheat flour

1 1/2

tsp

baking powder

1

tsp

cinnamon

1/4

tsp

salt

2

tsp

hemp hearts

20

banana chips

optional
Instructions
Mix together the 1 tbsp flax with water in a small ramekin and sit in the fridge for 15 minutes to set as a flax egg.

Add the butter, brown sugar and maple to a medium bowl and beat until well combined. Add in the banana, vanilla and flax egg and beat for another 30 seconds until combined.

In another bowl, mix the oats, flour, baking powder, cinnamon and salt. Add the wet to the dry ingredients and stir to combine.

Refrigerate the dough for 1 hour.

Preheat to 350 F and line a large baking sheet with parchment paper.

Roll a heaping tablespoon into balls and flatten until they're about 2 inches in diameter.

Sprinkle with hemp hearts and press a banana chip in the centre (if using).

Bake for 10-12 minutes until lightly browned on the bottom. Allow them to cool completely before transferring them to an air-tight container.
Nutrition
Calories:
80
kcal
|
Carbohydrates:
12
g
|
Protein:
2
g
|
Fat:
3
g
|
Saturated Fat:
1
g
|
Sodium:
49
mg
|
Potassium:
106
mg
|
Fiber:
1
g
|
Sugar:
5
g
|
Vitamin A:
114
IU
|
Vitamin C:
1
mg
|
Calcium:
27
mg
|
Iron:
1
mg