This gluten free cauliflower pizza is the perfect low carb dessert that you can enjoy without the guilt!
If you own a Pinterest account and have ever logged on…like even once…ever… you've probably heard about cauliflower "rice". It's been popular on the Pinterest circuit for making cauliflower pizza and the like. I've been known to rice up a few heads of cauliflower every once in a while like in one of my go-to salad recipes with (real) couscous, figs, spinach and chevre.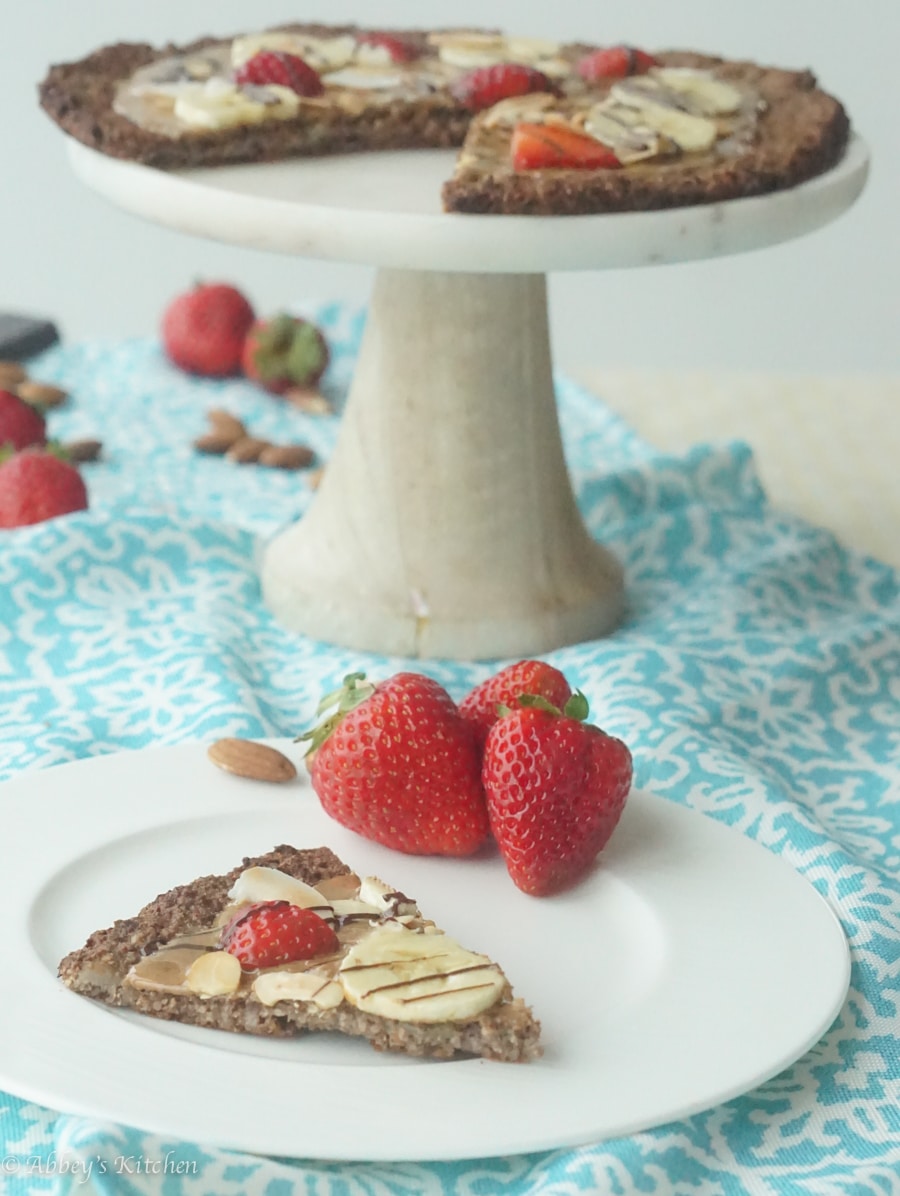 So what the heck is cauliflower rice? Essentially, when you pulse a head of cauliflower in the food processor, it breaks up into teeny weeny pieces that resemble couscous or rice. You can then swap your carb-heavy starches for the low cal faux-rice in dishes like stir-fries, salads and curry.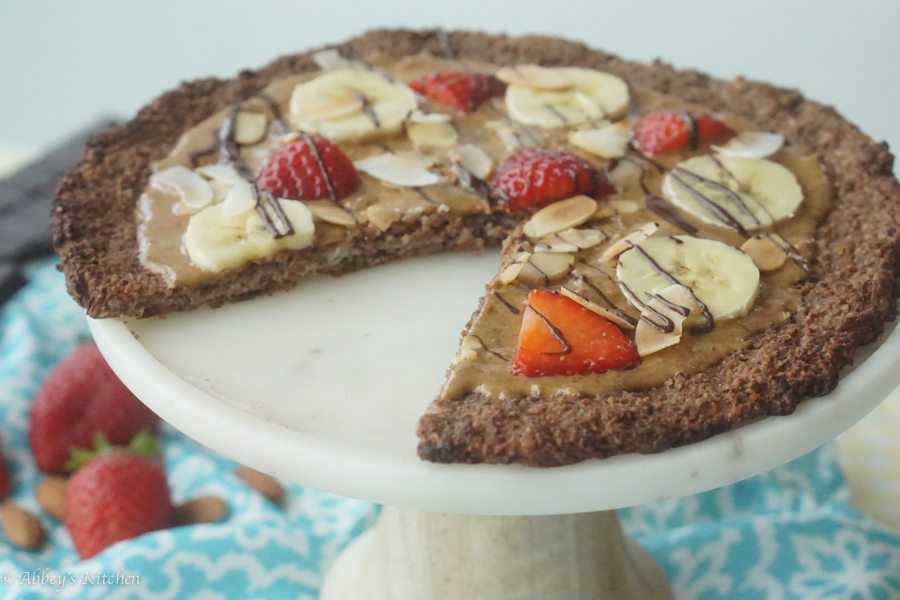 But what else could you possibly use those little low-carb crumbles for? I bet you weren't thinking dessert.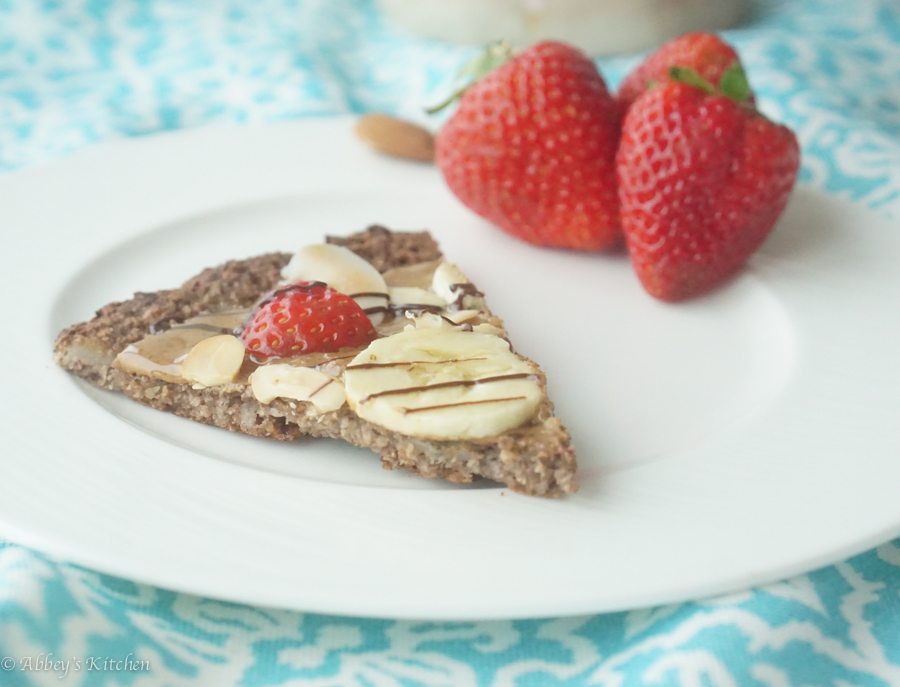 When the Marilyn Denis Show called me and asked for a few recipes using cauliflower rice, dessert wasn't exactly my first thought, either. But then I remembered the epic internet obsession of 2014 with cauliflower pizza crust and ta da, a sweet dessert pizza recipe was born.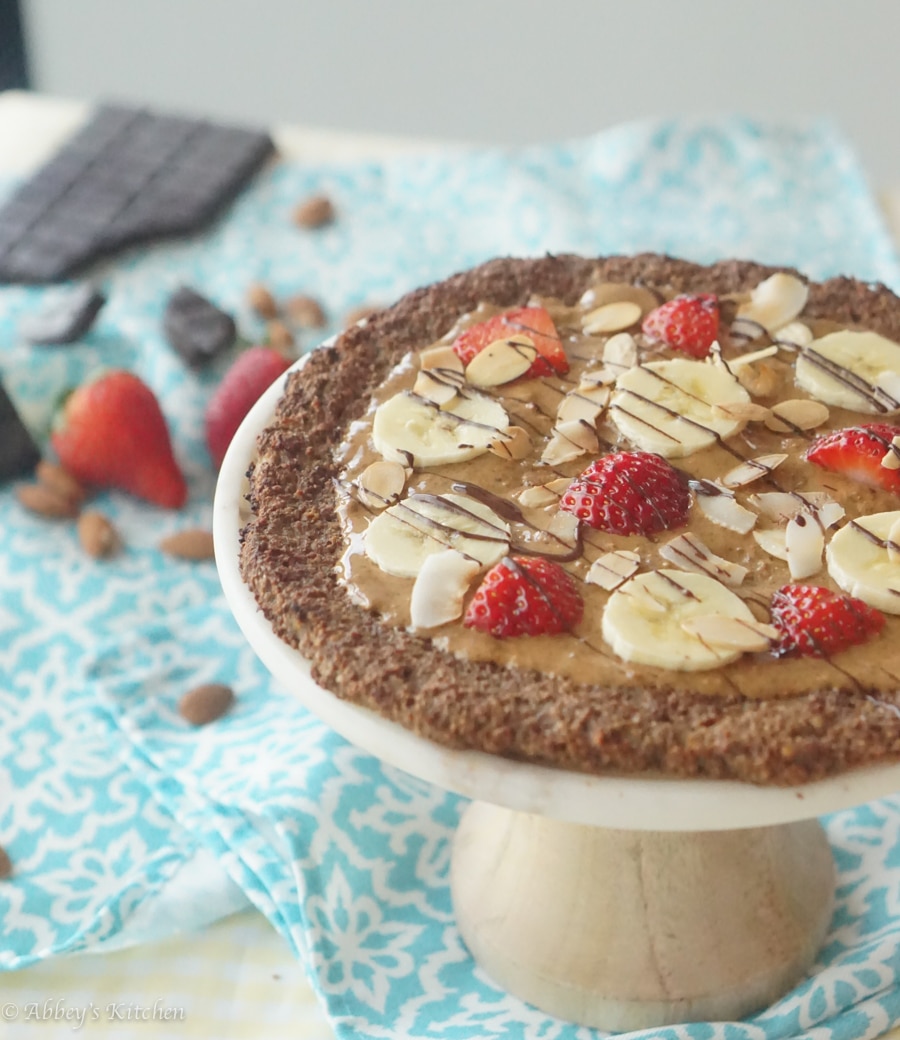 Now, admittedly, I have never read a recipe for a DESSERT cauliflower pizza, so I was going to be taking a bit of a risk. But I had faith that as long as I was using good quality ingredients and trusting my senses on texture and consistency, that I could nail this pizza crust without the dreaded #PinterestFail.
Cauliflower Pizza? For Dessert?? WHAT?!
While most savoury cauliflower pizza crusts are held together by copious amounts of shredded cheese, I wanted to keep things even healthier and of course, make it sweet. So I used a combination of cauliflower rice, yummy almond flour (gluten free), egg, honey and cocoa powder. Woot woot- a delicious chocolate pizza crust was born. And yes, it really does stay together.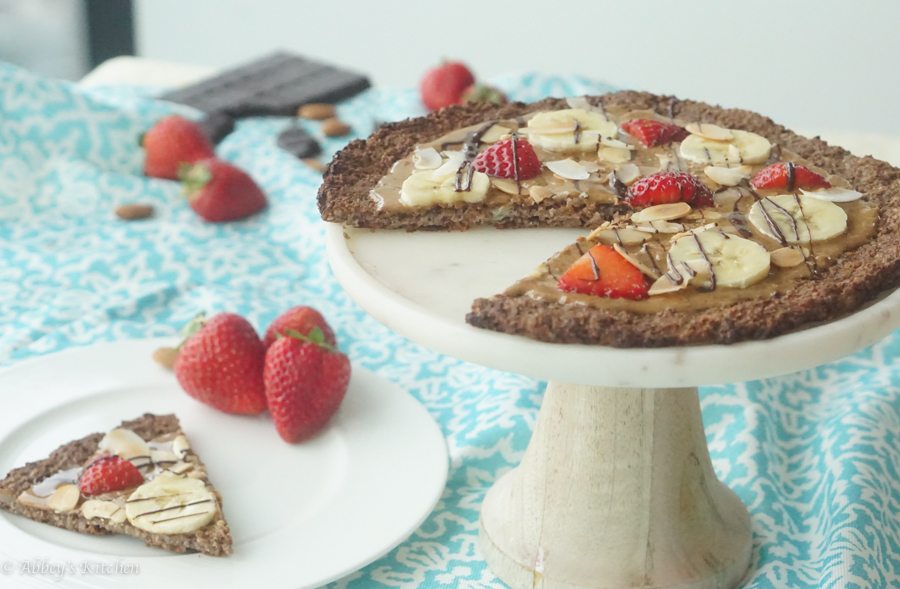 Next, I had some fun layering on some lightly warmed natural almond butter (so it spreads smoothly), melted dark chocolate, sweet sliced fruit and some toasted almonds and coconut. The cauliflower really helps cut those calories and carbs, while all of those almonds deliver the hunger crushing combination of fibre, protein and healthy fats. Trust me, you're not going to be looking for a snack right after you eat this cauliflower pizza.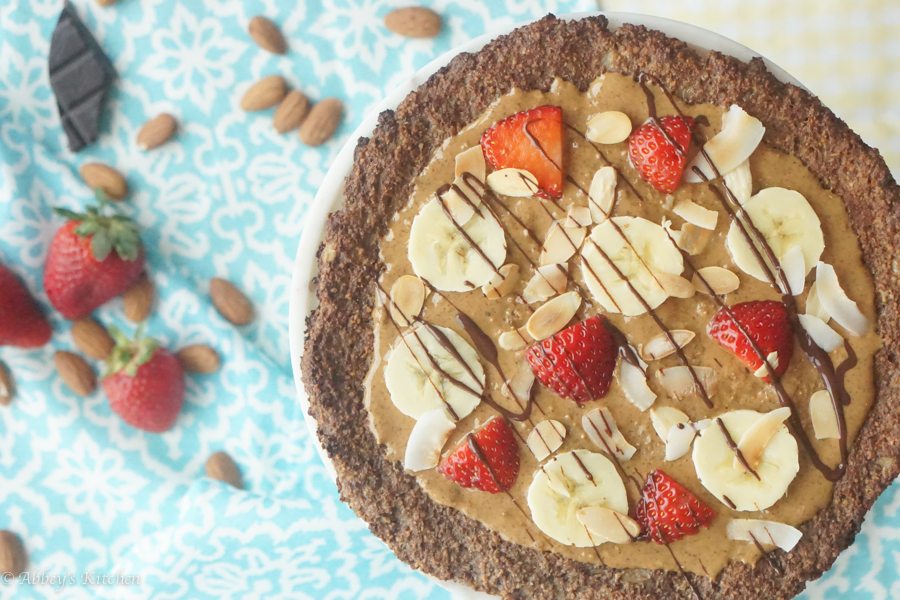 The result is a decadent looking gluten free cauliflower pizza dessert that's so healthy, you can legitimately eat it for breakfast. And if you want it a little more sweet (because neither the chocolate, nor the almond butter is sweetened), you can finish things off with a little drizzle of honey.
You can bet your boots I did a little happy dance in the kitchen after nailing (and inhaling) this cauliflower pizza.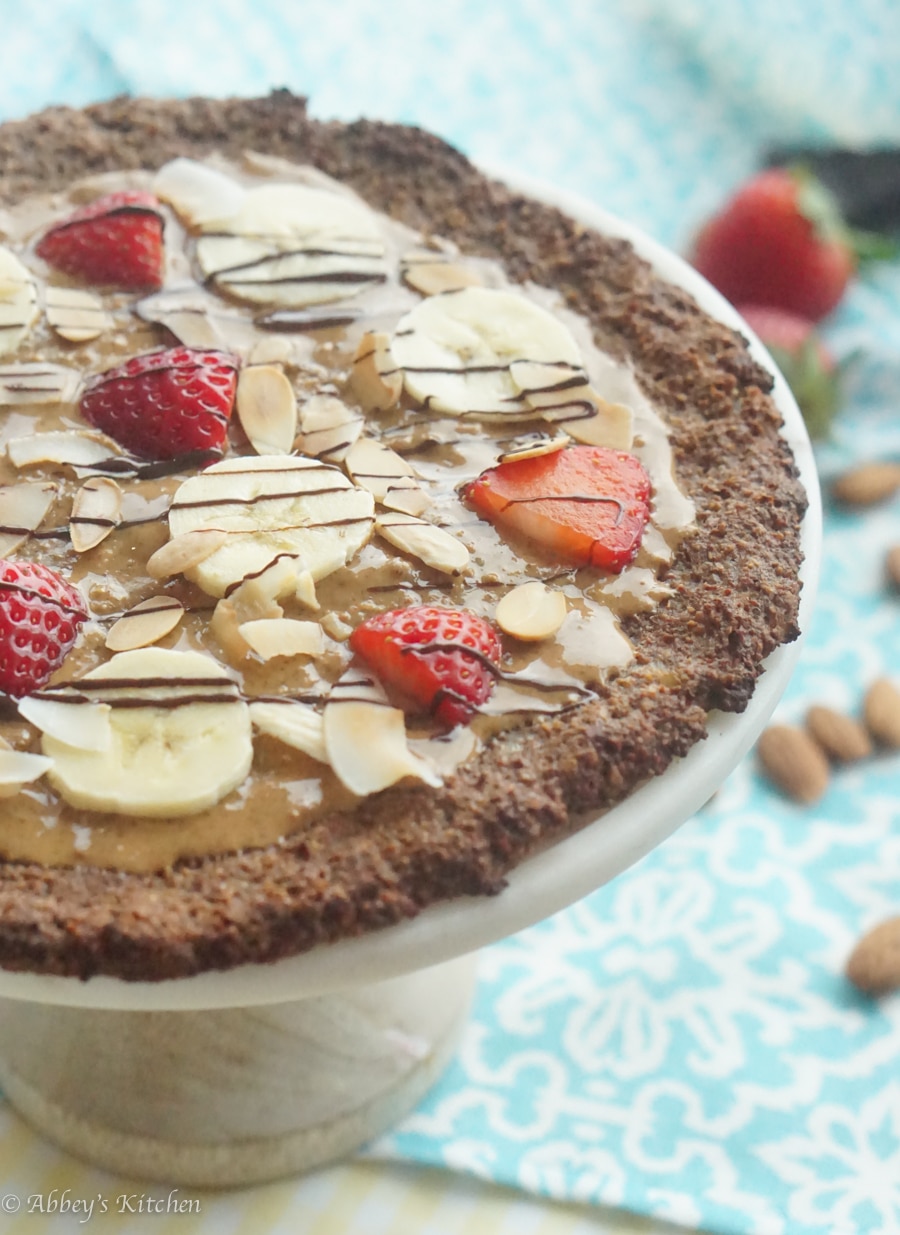 Have you tried making cauliflower pizza? What miraculous comfort food would you like to see me make with cauliflower rice? Leave me a comment below and share this recipe in any of your favourite social media outlets!
This recipe is proudly part of #TheRecipeRedux, so check out some other nut-filled recipes!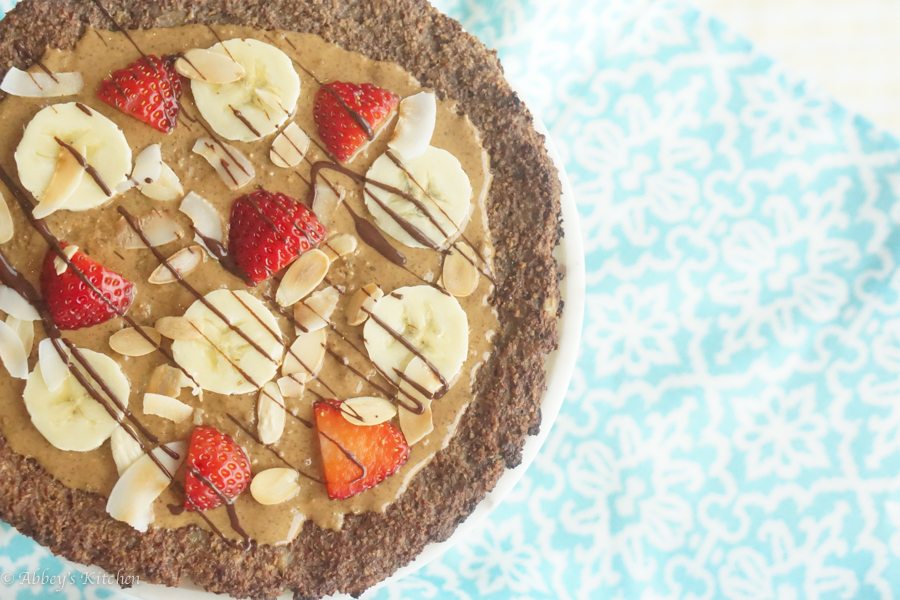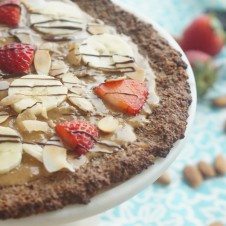 Gluten Free Cauliflower Pizza with Chocolate, Almonds & Berries
This gluten free cauliflower pizza is the perfect low carb dessert that you can enjoy without the guilt!
Print
Pin
Rate
Ingredients
Crust
1 2

lb

head of cauliflower

cut into florets

3/4

cup

almond flour

2

tsp

natural cocoa powder

1

egg

beaten

1

tbsp

honey

Pinch

salt, cinnamon and nutmeg

pinch of each
Toppings
3

tbsp

natural almond butter

1

oz

dark chocolate

finely chopped

1/4

cup

banana

sliced

1/4

cup

strawberries

sliced

1

tbsp

shaved coconut

toasted

1

tbsp

almond slices

toasted

Honey

if desired
Instructions
Crust
Preheat oven to 450 F. Line a baking sheet with a silpat or nonstick mat.

Put your cauliflower into a food processor and pulse until it breaks up into small pieces that resemble rice.

Measure out 3 cups and transfer to a microwave safe bowl. Microwave for 2 minutes on high. Allow to cool, then squeeze the moisture out of the cauliflower rice.

To the cauliflower, mix in the almond flour, cocoa powder, egg, honey, salt, cinnamon and nutmeg.

Roll into a ball, then press into a round pizza crust, about 1/4 inch thick. Bake for 18-20 minutes, or until the centre is dry and the edges begin to brown.
Toppings
In a small microwave safe bowl, heat the almond butter in 30 second increments, stirring between each time, until soft and very smooth.

In another small microwave safe bowl, add the chocolate shavings and microwave on high for 30 second increments, stirring between each time, until melted and smooth.
Assembly
Spread the almond butter onto the crust, leaving a 1/2 inch border around the outsides. Top with the sliced fruit, almonds and coconut.

Dip a fork into the melted chocolate and drizzle it over the pizza. If you want to make the pizza sweeter, add a little drizzle of honey on top. Cut into slices using kitchen scissors, and enjoy at room temperature.
Nutrition
Disclaimer: The preceding recipe was developed in paid partnership with Almond Board of California, however, as always, all opinions are genuine.
Updated on October 4th, 2021