This healthy gluten free shrimp Biryani recipe starts with a flavorful Indian Shrimp marinade and is served peel and eat style. It's so good, you won't want to stop licking your fingers.
I'm lucky enough to cook for a man who pretty much likes everything. Well, everything except cilantro and Indian food. So when I was testing this recipe for Gluten Free Shrimp Biryani with an Indian Shrimp Marinade, I was fully expecting to have to whip up an emergency grilled cheese to fill his unhappy cilantro-and-Indian hating belly.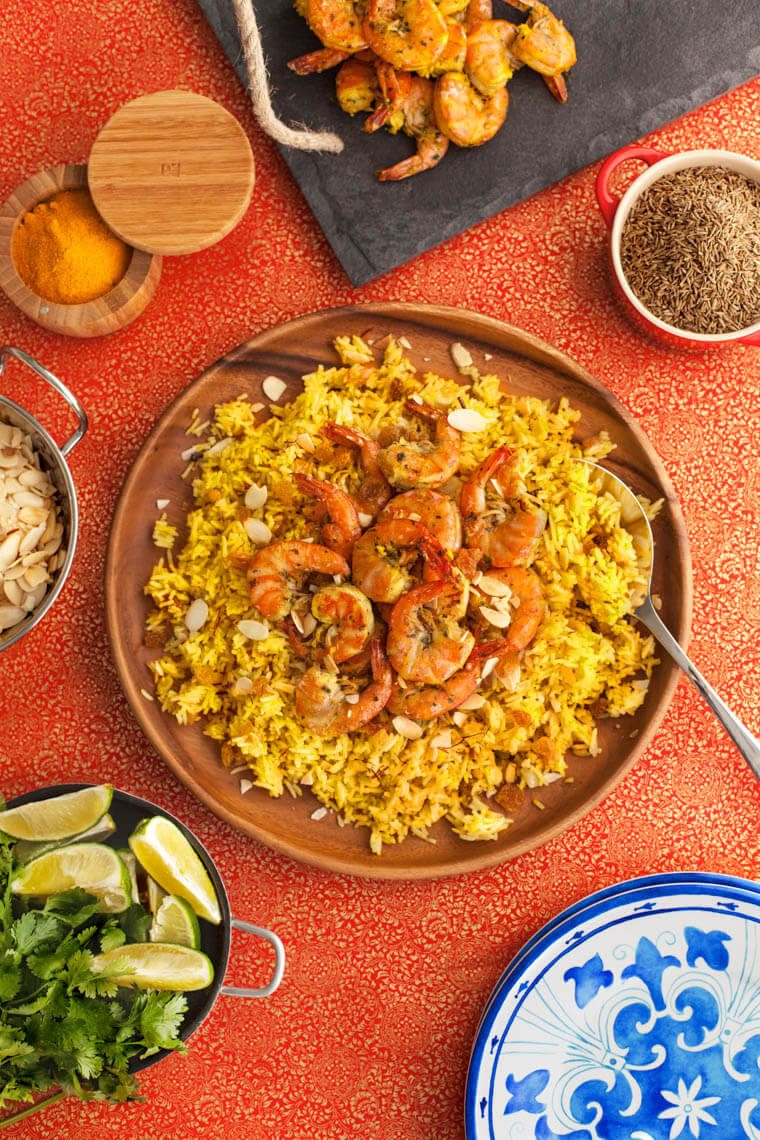 Guess I can save that cheese for lunch because my man inhaled this. Seriously, he licked his plate clean and immediately asked me if there was more (he had already eaten two portions-worth and some of mine). A week later, I made it again because he was begging me every day, and he hasn't stopped talking about it since.
How to Make Gluten Free Shrimp Biryani
I don't know what it is, but there is something remarkably addictive about this shrimp and it all starts with the Indian marinade. This yummy mixture of garlic, ginger, cumin, cilantro, lemon and turmeric is super aromatic and perfectly spiced. Also, there is something really pleasurable about getting to eat with your hands peel-and-eat style. Okay, so I totally ruined my manicure from all the turmeric (yes, I looked like a chain smoker), but it was totally worth it!
In this recipe, I like using Choice Harvest premium shrimp because they contain no chemicals, additives, or antibiotics and are sustainably farmed and harvested.
The result is a gluten free, dairy free dish you're going to want to make over and over again. It's simple enough for a weeknight supper but delicious and pretty enough for entertaining.
What are your favourite Indian dishes? Have you tried making gluten free Shrimp Biryani? Leave me a comment below with some of your thoughts!
Photo credit: Kyla Zanardi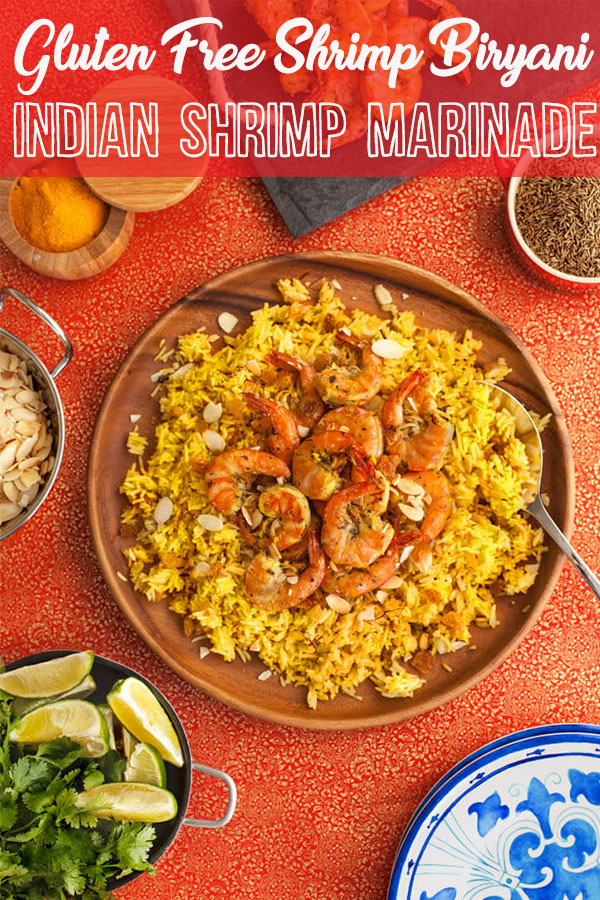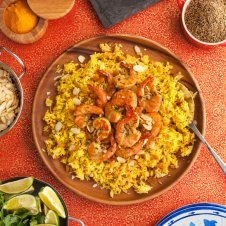 Print Recipe
Indian Marinated Peel & Eat Shrimp Biryani
This healthy gluten free shrimp Biryani recipe starts with a flavorful Indian Shrimp marinade and is served peel and eat style. It's so good, you won't want to stop licking your fingers.
Ingredients
Rice:
2

tbsp

olive oil

6

cardamom pods

6

cloves

whole

¼

tsp

cumin seeds

1

bay leaf

3

tbsp

golden raisins

3

tbsp

sliced blanched almonds

½

onion

chopped

1 ½

cups

basmati rice

soaked or rinsed (according to package directions)

2 ½

cups

shrimp

seafood or vegetable stock

1

tsp

lemon juice

pinch of saffron

salt and pepper to taste
Shrimp:
2

tbsp

garlic

2

tbsp

ginger

2

tsp

ground cumin

1

tsp

turmeric

6

tbsp

olive oil

2

tsp

lemon juice

½

cup

cilantro leaves

chopped

Pinch each of salt

pepper and cinnamon

1

lb

Harvest Choice Shrimp with Shells On

deveined, split
Garnish:
3

tbsp

blanched sliced almonds

toasted

3

tbsp

golden raisins

Cilantro
Instructions
Add 2 tablespoons of oil to a medium pan over medium heat. Add the cardamom, cloves, cinnamon, bay leaf, cumin, raisins and almonds and cook until aromatic, about 3-4 minutes. Add in the onion and sauté until softened, another 5-6 minutes.

Toss in the rice and coat in the spices and oil before covering with the seafood stock and adding a pinch of saffron and lemon juice. Cover the pot and cook for about 10 minutes, or until the rice has almost absorbed all of the liquid and the grains are tender. Season with salt and pepper, to taste.

In a food processor, puree the garlic, ginger, cumin, turmeric, 6 tbsp of vegetable oil and cilantro with a pinch each of salt and pepper. Add it to a plastic bad with the shrimp and toss until coated. Refrigerate for 30 minutes, or until ready to cook.

Add the marinated shrimp to a large nonstick skillet and saute until the spices caramelize on both sides, just about 1-2 minutes per side. Remove from the heat (do not overcook) and sprinkle with a pinch of fleur de sel.

Transfer the rice to a bowl, top with the cooked shrimp and garnish with sliced almonds, additional raisins and cilantro.
Nutrition
Disclaimer: This recipe was developed in paid partnership with Choice Harvest Shrimp, however, as always, all opinions are genuine.