The result is a healthy shrimp recipe that is low in fat, low in carbs, gluten free and super refreshing.
Shrimp ceviche is one of my all time favourites for a low fat, healthy meal or shareable snack. If you're not familiar with ceviche it's essentially a fish dish that is "cooked" by acid rather than heat. Okay, so it's technically not actually cooked, but it isn't raw either. Both heat from the stove and acid found in citrus juice "denatures" the proteins in fish and seafood which turns the flesh opaque like it had been grilled, baked or poached.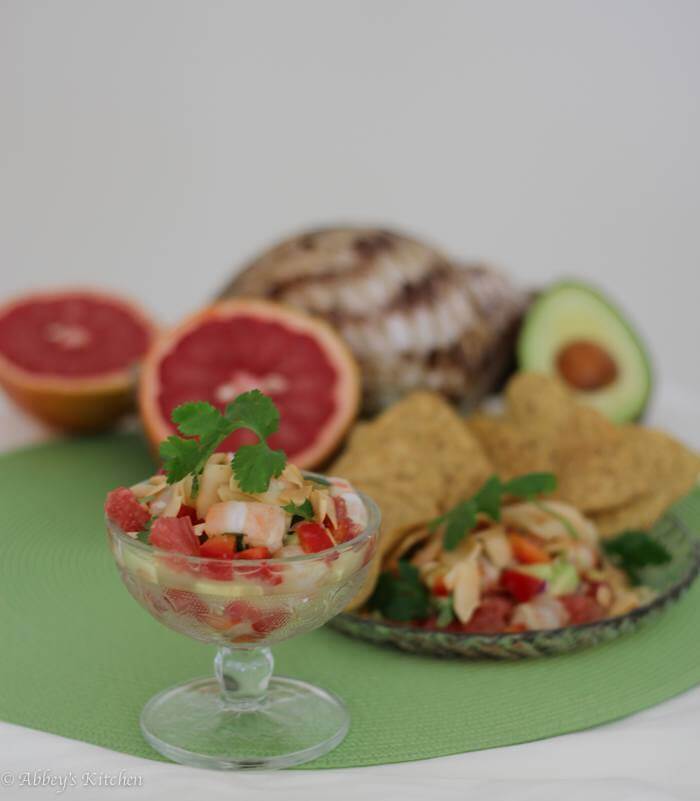 You heard that right- you don't always need an oven, stove or BBQ for your healthy shrimp recipes. Without getting too technical, the acid essentially denatures the proteins the same way heat does, which gives it the same texture.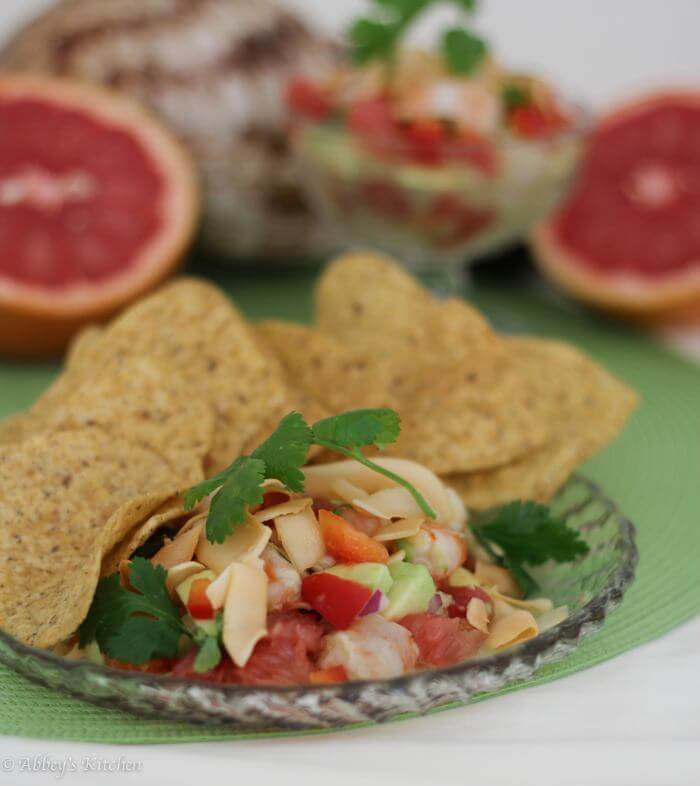 Since it's best to make ceviche with really fresh, high quality fish, and it's sometimes hard to find that in some areas, I opted to add a safety step of a quick blanch in boiling water. This isn't absolutely necessary if you have really high quality fresh shrimp, but it also doesn't hurt.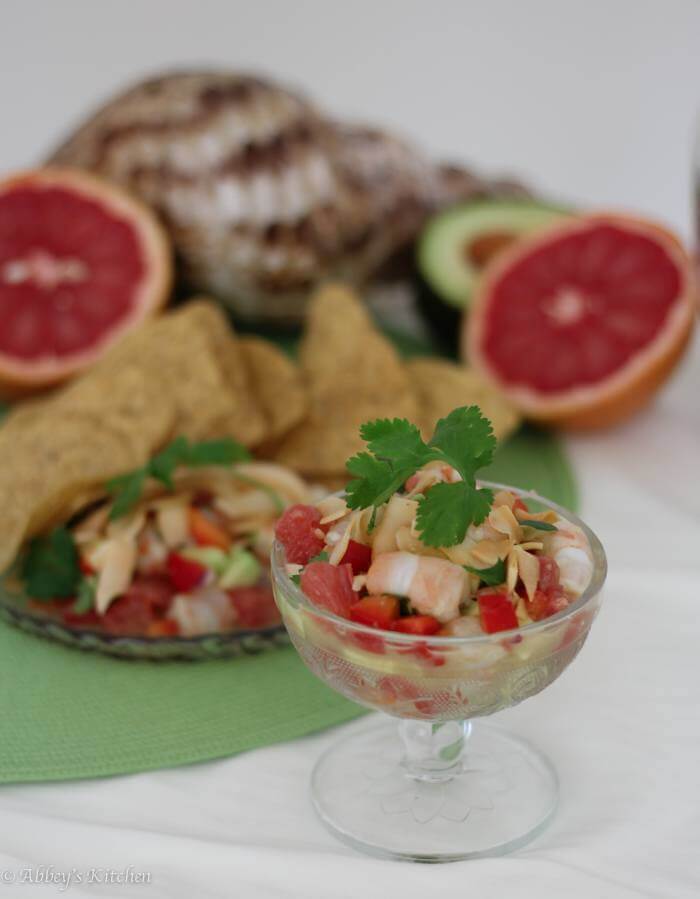 I was in Florida when I developed this recipe so naturally I wanted to incorporate some fresh citrus into the mix. The grapefruit adds a mild bitterness that is absolutely irresistible with the creamy avocado and naturally sweet shrimp. I don't know about you, but when I'm down south I am always looking for tasty low calorie grapefruit recipes.
This shrimp ceviche recipe can easily be done with another mild lean fish or seafood, and of course, feel free to switch up the citrus by using orange, mandarin or clementine segments instead.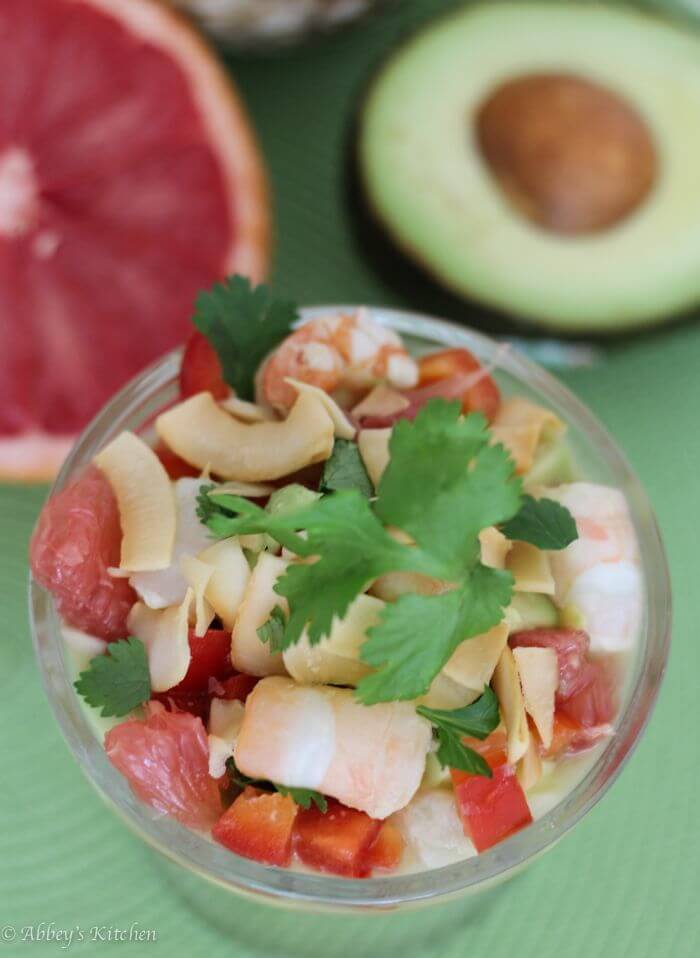 The result is a healthy shrimp recipe that is low in fat, low in carbs, gluten free and super refreshing. Exactly how I want to be eating after an indulgent holiday.
What's you're favourite healthy shrimp recipe? Have you tried shrimp ceviche? Leave me a message below with some of your favourite tricks and combinations!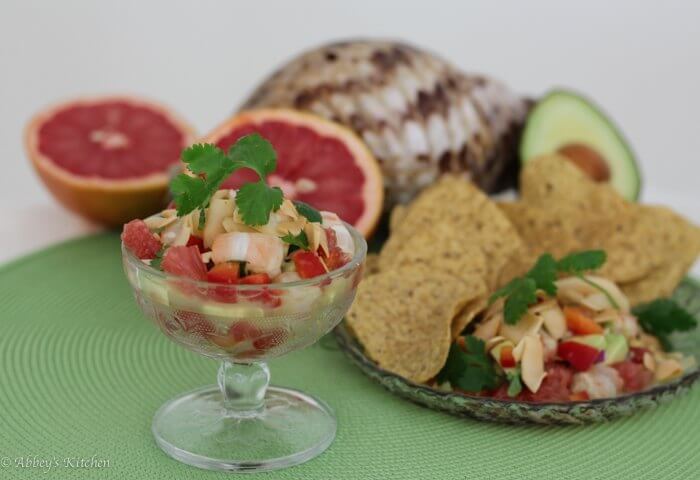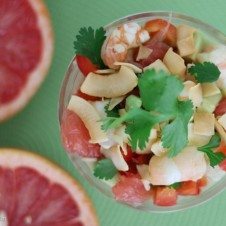 Grapefruit Avocado Shrimp Ceviche - Gluten Free Low Calorie Recipe
The result is a healthy shrimp recipe that is low in fat, low in carbs, gluten free and super refreshing.
Print
Pin
Rate
Ingredients
2

large pink grapefruit

1

lb

high quality shrimp

peeled, deveined, and tails removed

3

limes

juiced

1

shallot

minced

1

large red bell pepper

diced

1/2

jalapeno

seeded and deveined, minced

1

avocado

diced

1/4

cup

cilantro

chopped (optional)

Shaved coconut

toasted

Pinch

salt and chili pepper

a pinch each

Baked whole grain tortilla chips

for serving
Instructions
Remove the bottom and top off of the grapefruits, and carefully follow the contours of the fruit to remove the skin without removing too much flesh. Then working over a bowl, remove the segments from the grapefruit with a pairing knife. Squeeze the remaining juice from the grapefruit into the bowl, then remove and dice the grapefruit segments. Set the segments aside in another bowl.

Meanwhile, prepare a bowl with ice water and a pot filled with water. Bring the water in the pot to a boil over high heat, add in the shrimp. Cook for 2 minutes, drain, then plunge immediately into the ice water to halt the cooking.

Chop the shrimp coarsely then add to the grapefruit juice bowl along with the lime juice. Cover it with plastic wrap and refrigerate for 30 minutes.

Gently mix in the shallots, bell pepper, avocado, jalapeno, the reserved grapefruit pieces, cilantro and salt and chili to taste. Garnish with flakes of toasted coconut and serve cold with baked whole grain tortilla chips.
Nutrition
Updated on October 23rd, 2020