A healthy beef burger recipe with hummus in it that adds a lot of flavour, fibre and extra protein and is gluten free.
Yes. You read the title right. There are 3 ingredients (other than a little oil, salt and pepper) in these healthy hummus burgers, and yes, one of them is my beloved hummus.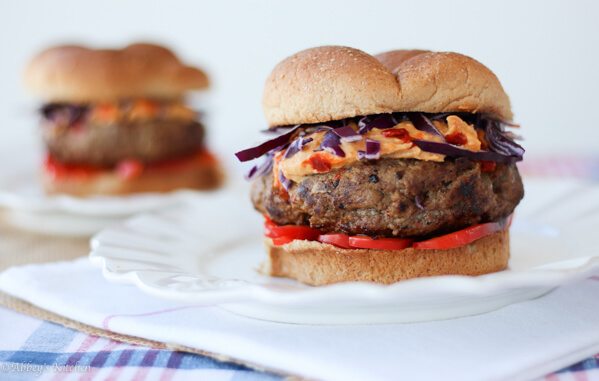 Hummus is obviously one of my go-to snacks for busy days, but you can also use it in a range of recipes as well. And not just healthy hummus burgers!
And my Prosciutto-wrapped Cranberry Hummus Chicken Breasts.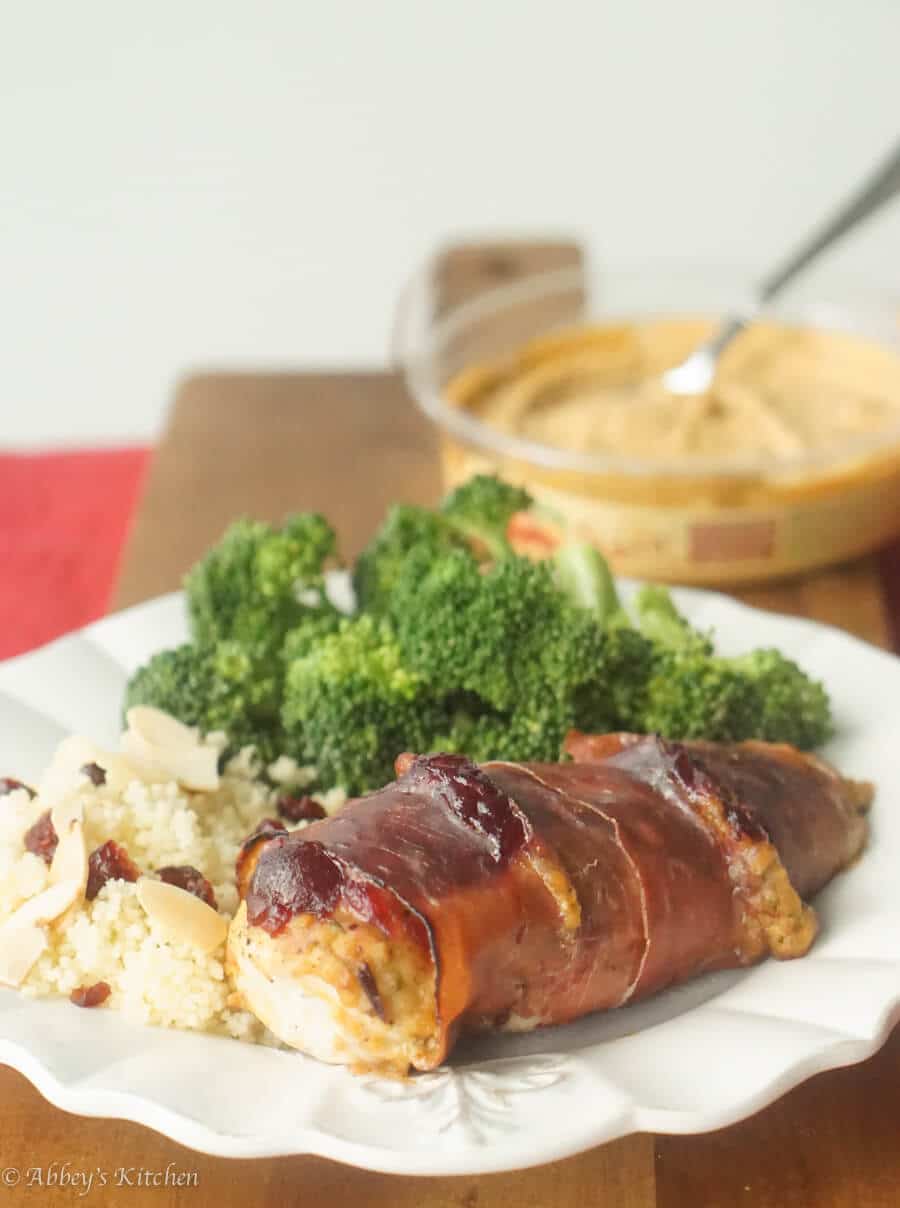 Oh yah, and all of these easy little swaps I dreamed up to cut calories and fat with hummus.
But I'm back with another one because the weather is getting warmer, and I officially am ready to bust out the grill. I know, it just snowed recently, but I can't wait anymore. I know my fellow Canadians can identify!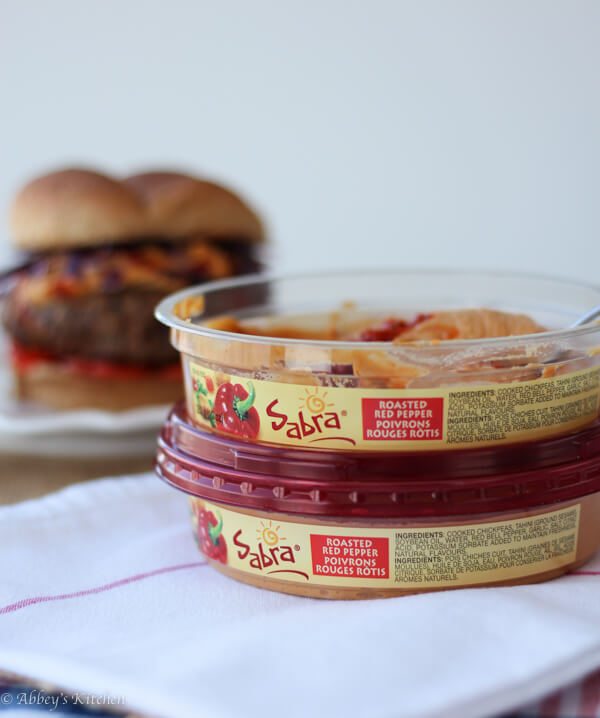 How to Make Healthy Hummus Burgers
These healthy hummus burgers could not be easier to put together and feature's my go-to Roasted Red Pepper Hummus as the flavour and binder. Because the hummus is thick and a bit sticky, it perfectly replaces both the egg and breadcrumbs in these healthy burgers both egg and gluten free. It also has built in flavour (garlic, lemon, sesame, and roasted red pepper), which knocks out the need for much else in this recipe. I really just love that Sabra is made with a simple ingredient list (just oil, spices, garlic, lemon, chickpeas, tahini) so these burgers end up packed with protein and fibre and totally guilt free. It's also the International Year of the Pulse so I'm always looking for ways to get my pulses in. This recipe is a great way to help you meet your pulse target for those of you interested in taking the official #PulsePledge!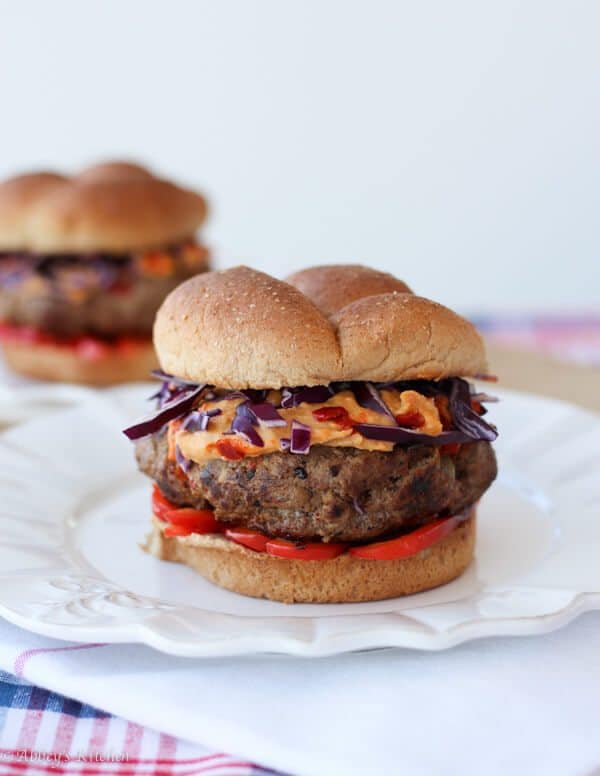 I dress my healthy hummus burgers up with some sliced bell pepper and cabbage for crunch, and another heaping spoonful of Hummus on top for extra richness and flavour.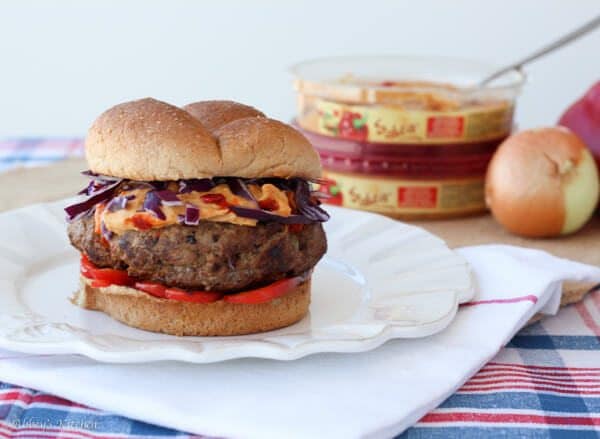 What are your favourite ways to add mucho flavour to your burger? Do you have a favourite recipe for healthy hummus burgers? Leave me a message below, I would love to hear about your family's favourite combinations!
And don't forget to check out these other amazing 7 ingredient or less recipes from the dietitians at #TheRecipeRedux!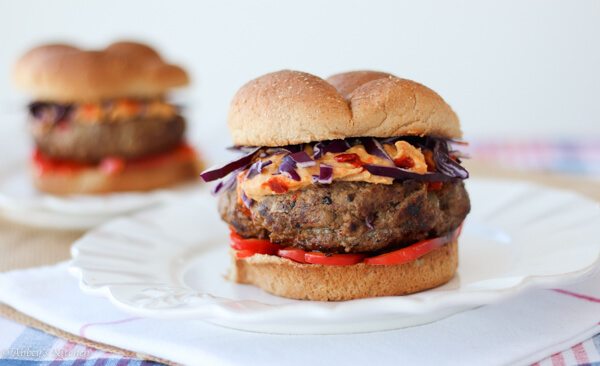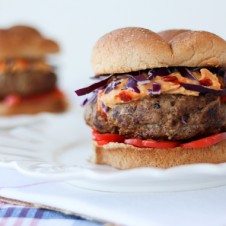 3 Ingredient Healthy Burgers with Hummus - Gluten Free, Egg Free, Low Fat
A healthy beef burger recipe with hummus in it that adds a lot of flavour, fibre and extra protein and is gluten free.
Print
Pin
Rate
Ingredients
Beef Patties
Burgers
4

gluten-free buns

toasted

1/4

cup

Roasted Red Pepper Sabra hummus

1/2

red bell pepper

finely sliced

1/2

cup

cabbage

shredded
Instructions
Heat the oil in a nonstick skillet over medium heat. Add in the onion and sauté until it softens and slightly caramelizes, about 4 minutes.

Add the onion to a bowl with the beef, Hummus, pepper and salt. Mix until well incorporated, then form into 4 3/4" patties. Using your thumb, make a shallow depression in the centre of each burger.

Place burgers on a grill heated to medium, close the lid and cook on both sides, about 6-8 minutes per side, until they reach an internal temperature of 160 F.

To serve, place the bell peppers on the bottom half of the buns, top with the burger and a tablespoon of Sabra hummus, and garnish with the shredded cabbage. Enjoy!
Nutrition
Updated on October 4th, 2021