This vegan avocado chickpea salad sandwich is loaded with a ton of colour, crunch and nutrition! It's the perfect chicken salad swap!
Chicken salad, egg salad, tuna salad or whatever other mayo-laden salad you could dream up were staples growing up. I was always a bit skeptical of them all because the texture weirded me out, but as an adult, I can't help but totally love them all.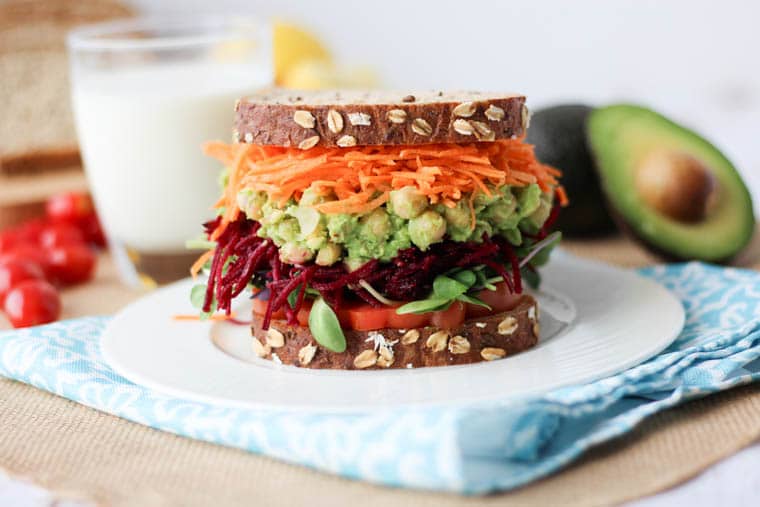 SO I set out to make a "better for you" vegan chicken salad swap – the avocado chickpea salad sandwich. Seriously, if you say chickpea salad sandwich fast enough, no one will even know the difference.
KEY INGREDIENTS FOR THIS AVOCADO CHICKPEA SALAD SANDWICH
Chickpeas – Chickpeas are the star of the show in this recipe and the main protein. I prefer using a can of chickpeas with no added salt, just for convenience sake. But you can certainly cook up some dry chickpeas, just soak them overnight and cook for 1 hour.
Avocado – Avocado is used in place of mayo in this recipe and adds healthy fats and fibre to the chickpea salad. I just love the creamy texture when combined with the chickpeas! So delish.
Lemon – Avocado is not the same without a squeeze of citrus, in my opinion. So a bit of lemon juice really brings out the flavour and freshness. If you don't have lemons on hand, you can definitely use lime juice instead.
Bread – I use whole grain sprouted bread, but thats my own personal preference. Use whatever whole grain bread you have on hand.
Veggie Toppings – I love to make this sammy as colourful and nutrient dense as possible! So I like to add heirloom tomato, microgreens, shredded carrot, and shredded beets. But any veg would go well with this avocado chickpea salad sandwich.
TIPS FOR MAKING THIS LOADED VEGAN Sandwich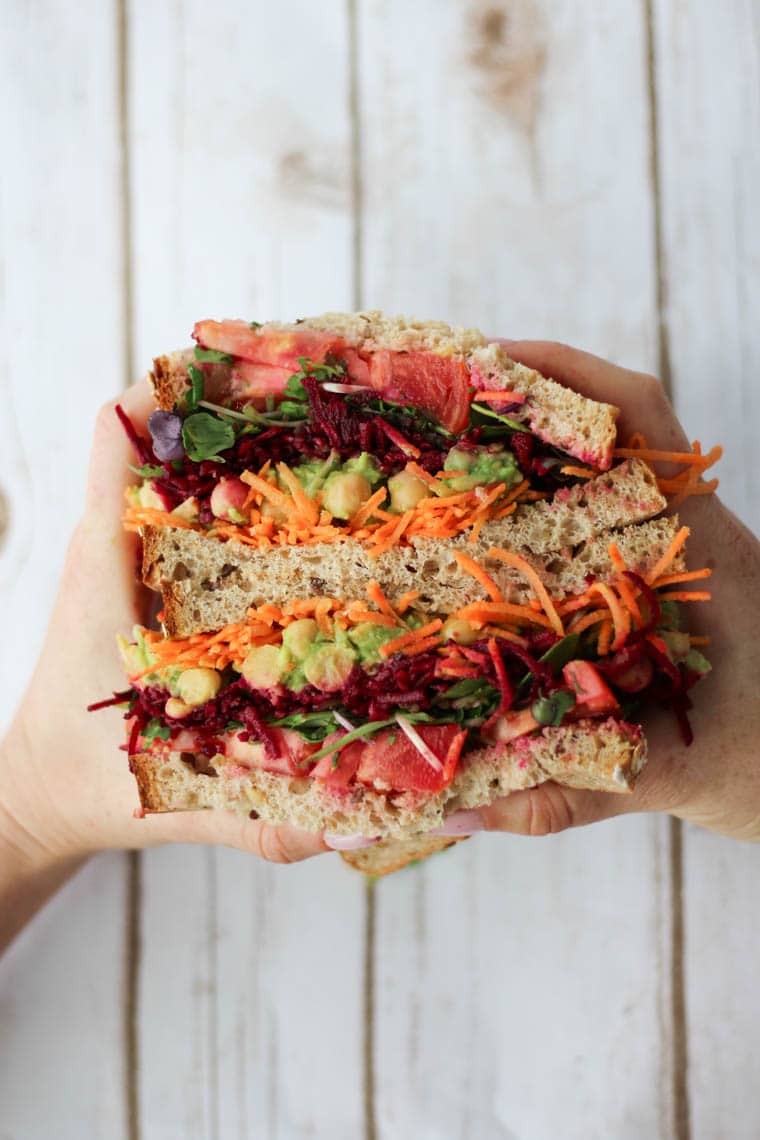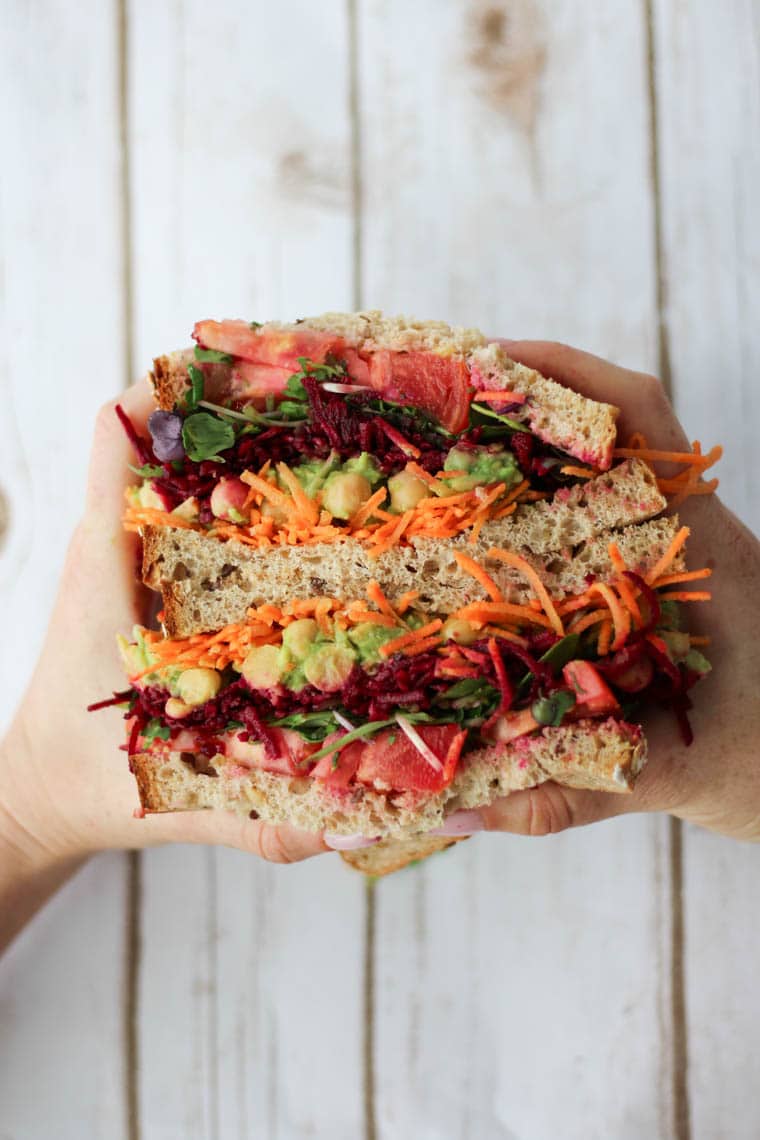 This avocado chickpea salad sandwich is so simple to pull off and really comes together with whatever veg you've got in your fridge. I mix together mashed ripe avocado with canned chickpeas, lemon and a little hot chili. It's kind of like a lazy guacamole. This vegan chicken salad swap is awesome all on its own, but let's not stop there.
Then, I load this avocado chickpea salad sandwich right up. Sliced ripe heirloom tomato, microgreens, shredded cooked beets and shredded carrots. Seriously- could you imagine a more beautiful sandwich?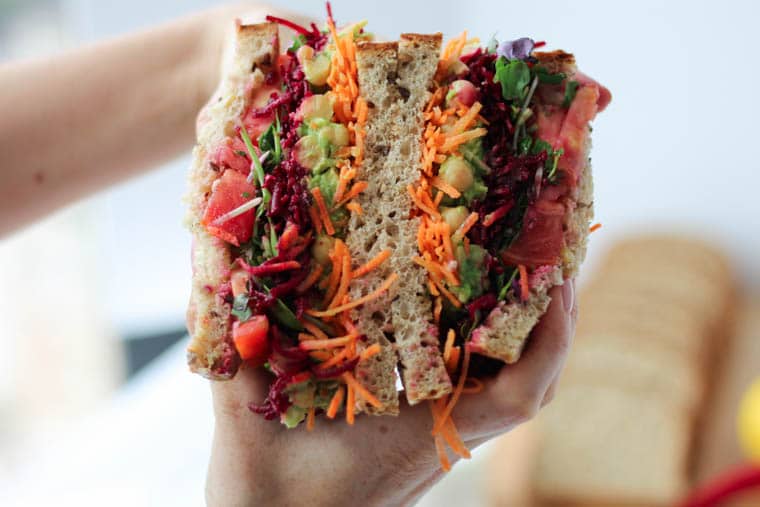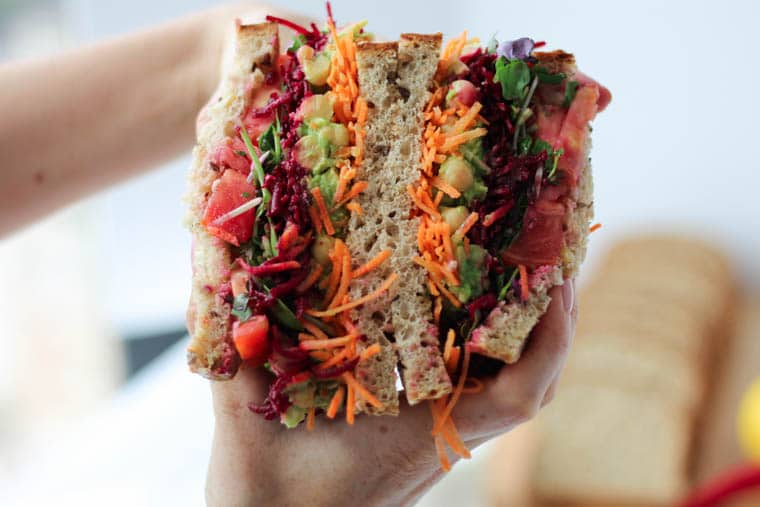 Now, if you're in the mood for chicken salad, will this do the trick? Probably not. It's really not the same, just a take on the concept. But I kind of like the supple texture of the chickpeas with the creamy mildly sweet flavor of the avocado. It's lighter, brighter and holy hell, it's good with all the fixins'.
faq about this recipe
You got questions and I've got answers. Here are some common questions I get asked about this recipe.
what other beans can i use instead of chickpeas?
I have never tried using any other bean besides chickpeas. But I would suggest white beans as a good alternative as they have a mild flavour and texture that is similar to chickpeas to get that same effect.
is this sandwich recipe gluten free?
It definitely can be! Just use your favourite gluten free bread and you are good to go!
if i don't have avocado on hand, what else can i use to get the same creamy texture?
If you're impartial to using mayo or cheese, you can definitely substitute avocado for a vegan mayo or cottage cheese. If you're not vegan, of course, you can try with regular mayo and cottage cheese to make this sandwich super creamy and dreamy. Otherwise, if you don't want to use a mayo or a cheese, you can try just using chickpeas on their own and blend them up with a little olive oil or tahini to give it a bit of a creamy hummus-like texture.
do you have any other sandwich recipes on the blog?
EVERYTHING BAGEL AVOCADO WHITE BEAN SANDWICH
ROASTED VEGGIE, HUMMUS, AND HALLOUMI SANDWICH
HUMMUS QUESADILLA WITH POMEGRANATE AND FETA
What would you put on your avocado chickpea salad sandwich? What are your favourite loaded sandwich recipes? Leave me a comment below with your favourite sandwich toppers!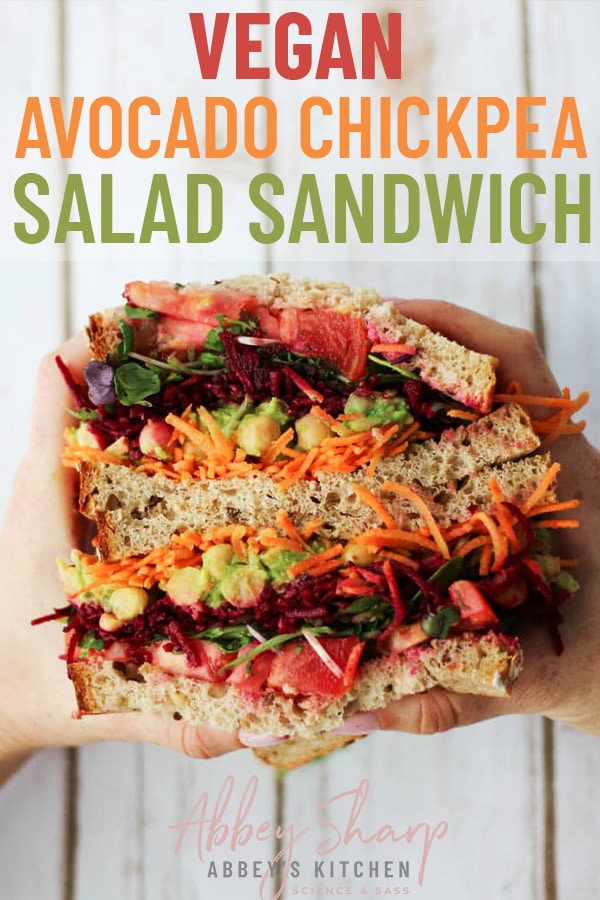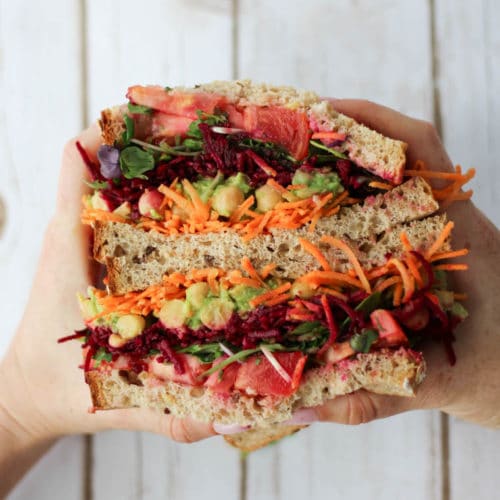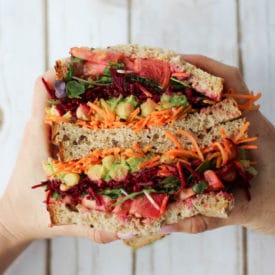 Avocado Chickpea Salad Sandwich
This avocado chickpea salad sandwich is loaded with a ton of colour, crunch and nutrition! It's the perfect vegan chicken salad swap!
Print
Pin
Rate
Ingredients
1

can no salt added chickpeas

drained and rinsed

1

large ripe avocado1

½

tbsp

lemon juice

½

tsp

hot chili pepper

finely minced

4

slices

whole grain sprouted bread

1

large heirloom tomato

sliced

½

cup

sweet microgreens

½

cup

shredded carrot

½

cup

cooked and shredded beet
Instructions
In a bowl, mash the avocado until fairly smooth, add in the lemon juice, hot chili pepper, and chickpeas. Season with salt and pepper.

To assemble the sandwich, layer the slices of tomatoes on one slice of bread, add the microgreens, the beets, the chickpea salad and the carrots. Slice into the bad boy and enjoy!
Updated on July 22nd, 2020