These Vegan Cinnamon Bun Chewy Granola Bars are the perfect Healthy Gluten Free and Plant Based Snack to help get you through the 3 PM energy dip.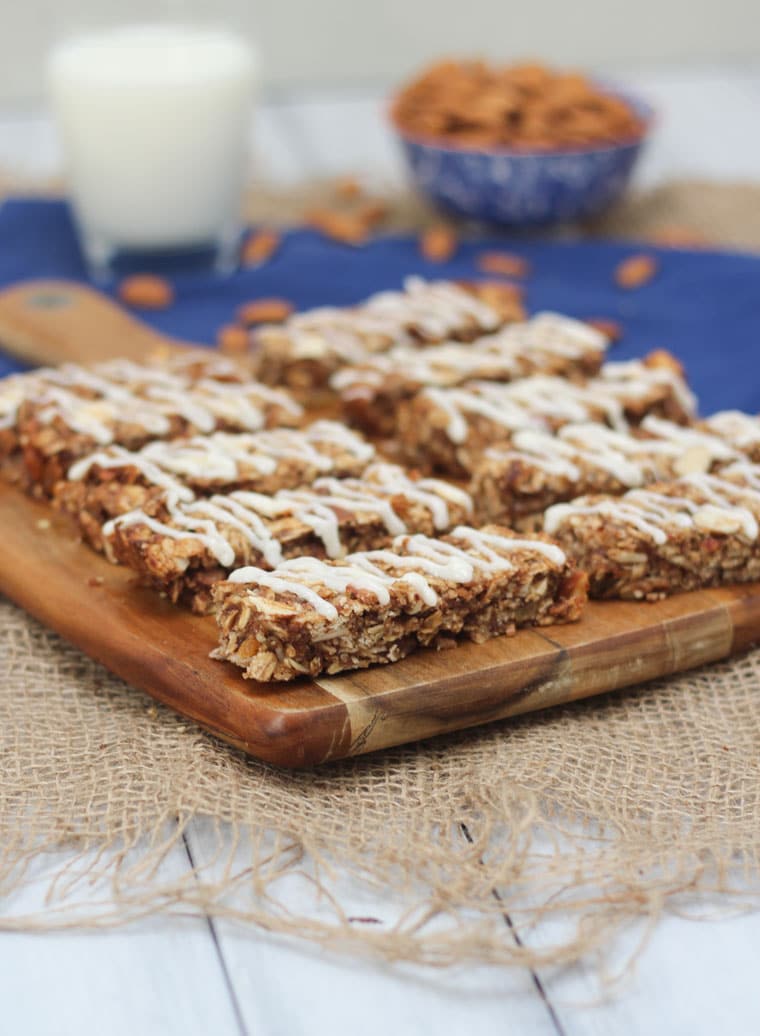 So I'm officially in my second trimester and I'm snacking up a storm. Honestly, we can't keep enough snacks in the house to quell my snacking desires. And while I may use the pregnant card to justify my insatiable appetite, the reality is I've always been a snack queen.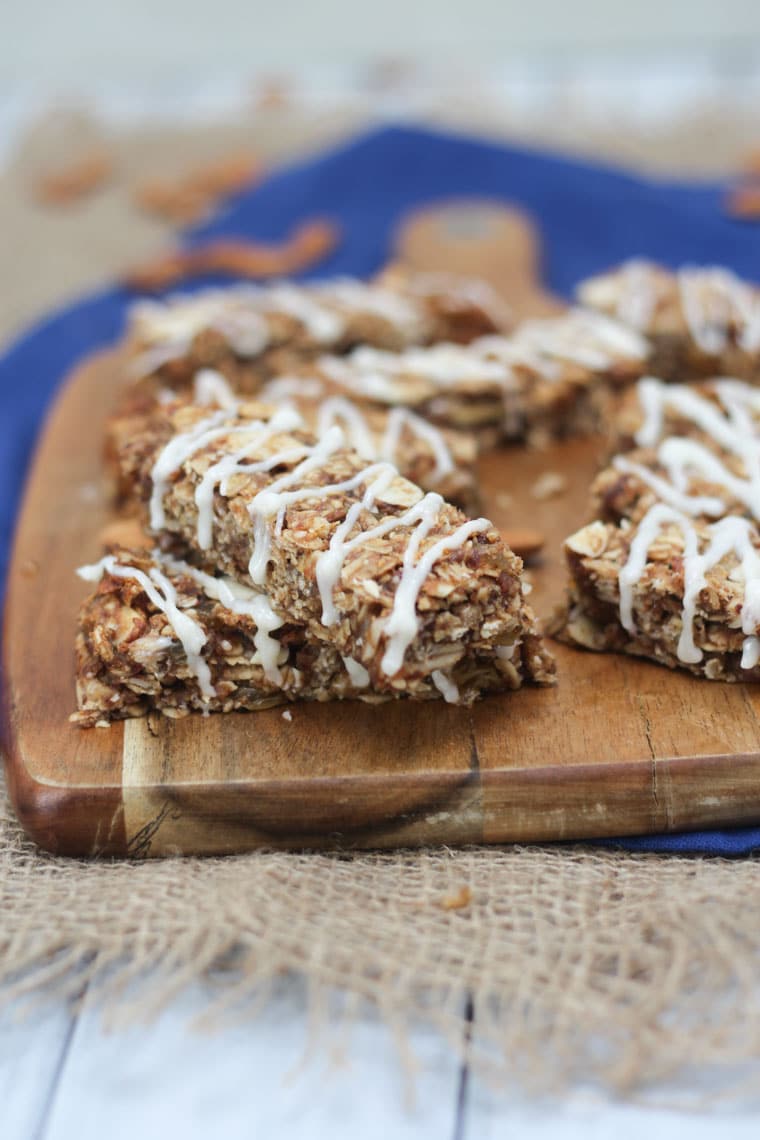 While I do think there are now a ton of healthy bars on the market that have real, amazing ingredients, I sometimes also like to make my own so I can have it just right. And since my eternal guilt-free pleasure is cinnamon buns, I decided to pack all of those cinnamon-y, cream cheese-frostingy, mind blowing flavours into a healthy gluten free and plant based snack. Say hello to my Vegan Cinnamon Bun Chewy Granola Bars, the only snack you'll ever need again.
How to Make Vegan Cinnamon Bun Chewy Granola Bars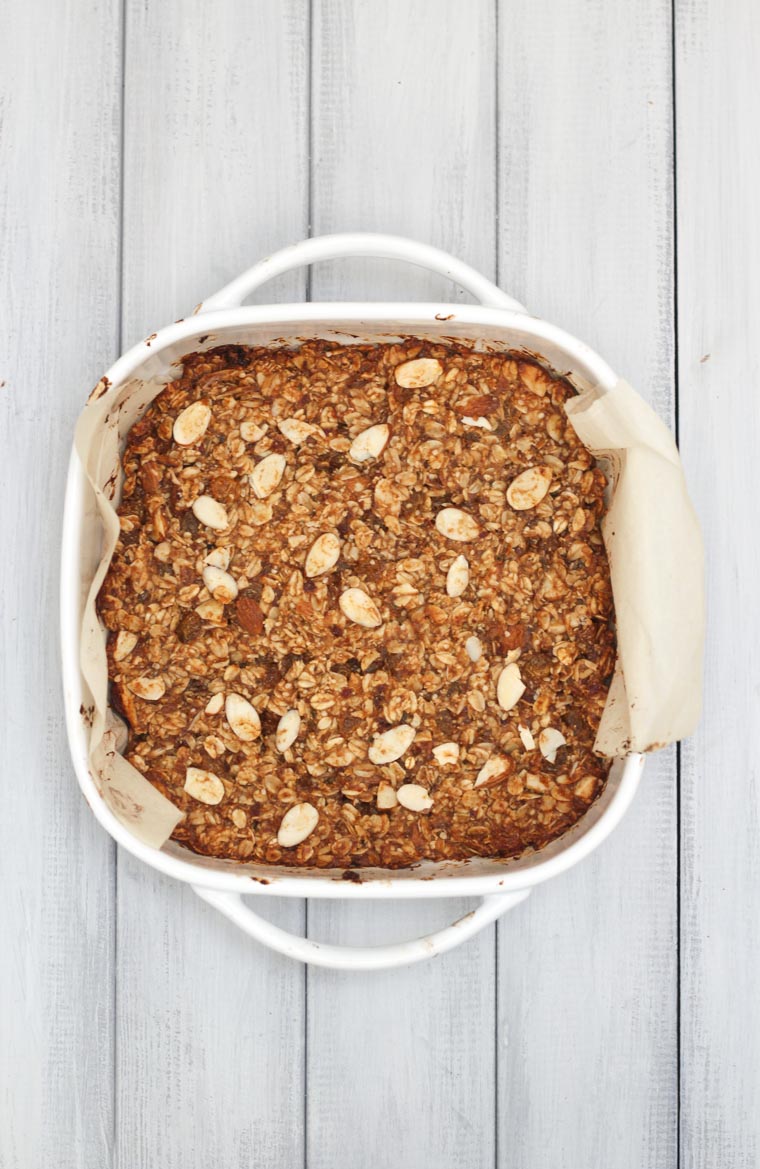 So let's start with the base of these Vegan Cinnamon Bun Chewy Granola Bars before moving onto the crowning glory. I start with a combination of some super sticky dates, natural almond butter, banana and maple to get the sweet sticky "caramel" like feels going. Then I mix in a ton of gluten free oats, almonds of all varieties and some chewy raisins for good measure. I LOVE the raisin addition but if you're not #teamraisins then by all means, you can leave them out and just add more nuts.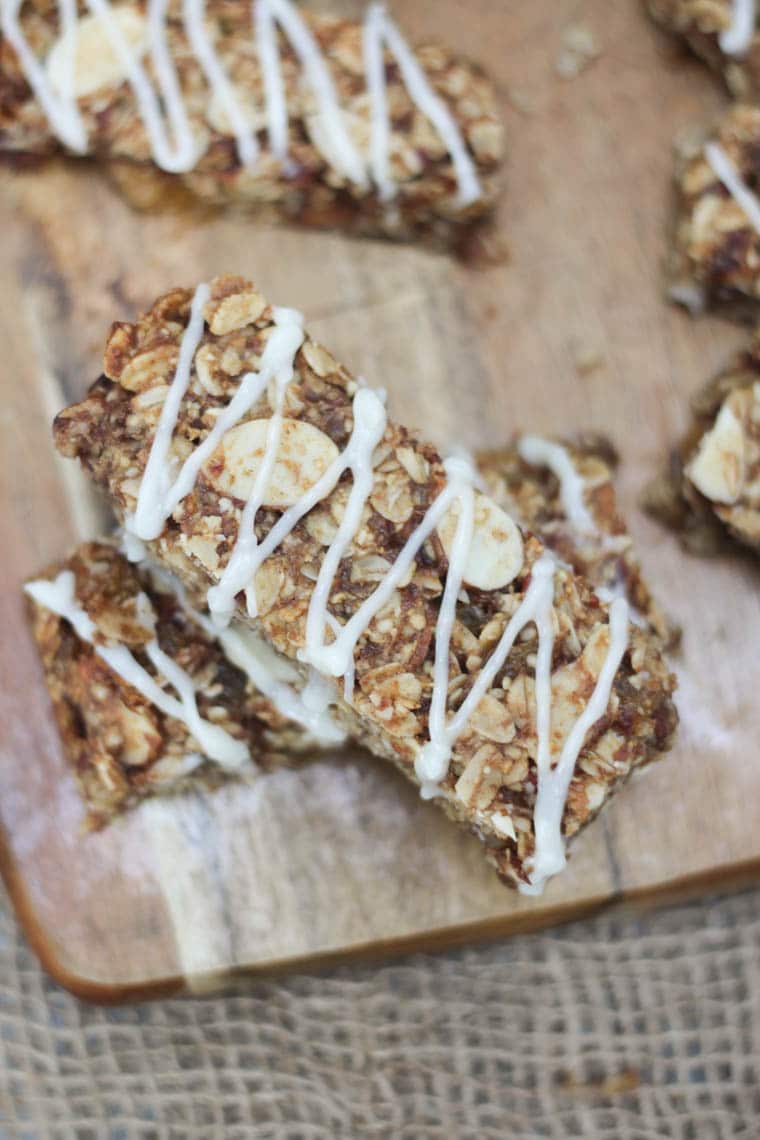 I also like to use a combination of sliced almonds and chopped almonds in my Vegan Cinnamon Bun Chewy Granola Bars so that I can get a little more textural contrast in the bars, but again, if you don't already have a bag of almonds lying around, you can do one or the other to save money and hassle.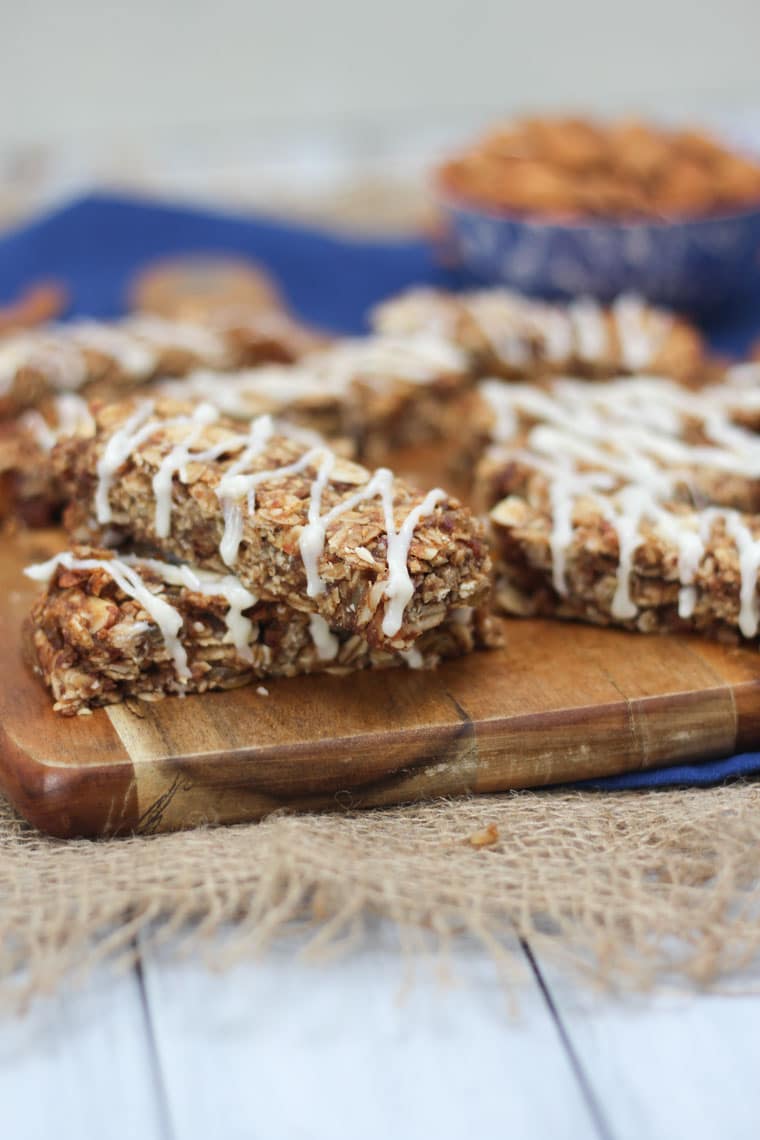 Now these babies are CHEWY bars, not hard, break your teeth off bars. In fact, everyone who has sampled them, loved them to bits when compared with typical store-bought bars. But if you want to make them harder, you can add a bit more oats and bake them for an extra 10 – 15 minutes.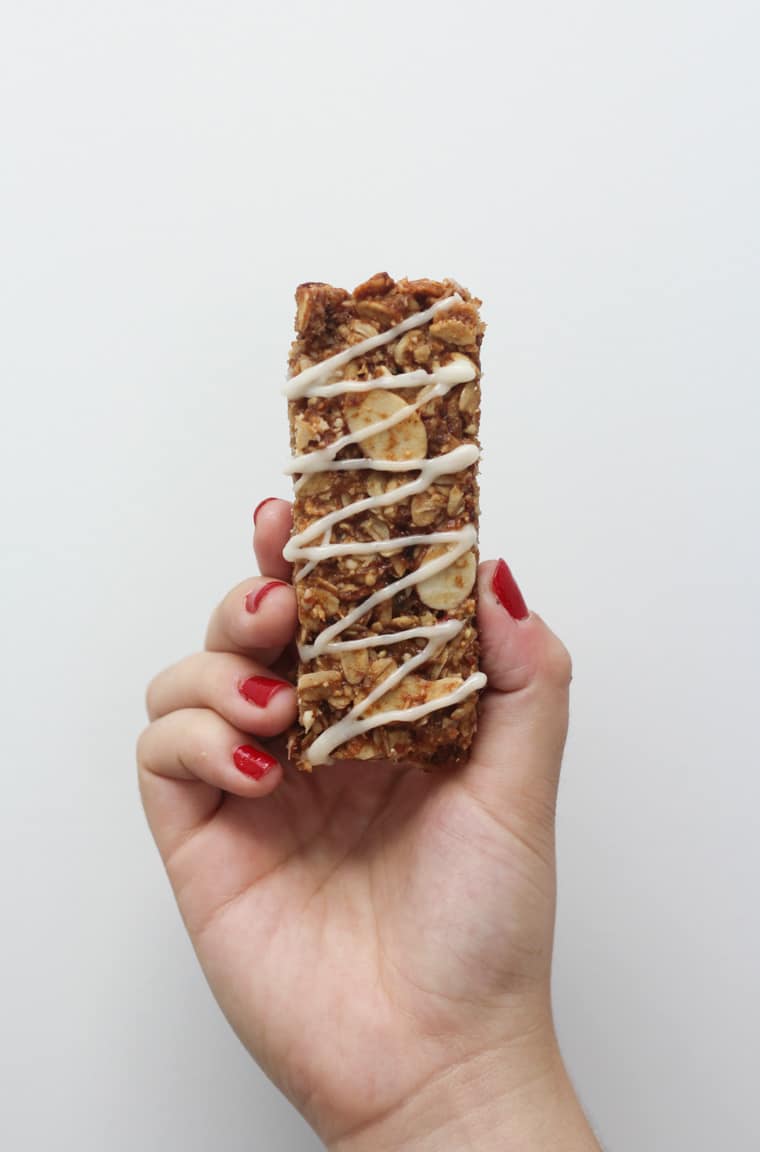 Okay, so now that we've got the base of my Vegan Cinnamon Bun Granola Bars rocking away in the oven, let's talk about the best part- the cream cheese drizzle. OMG. I don't care WHO you are or where you can from, you CANNOT have cinnamon buns without cream cheese frosting. This is a vegan cream cheese drizzle since I used vegan cheese, but if you're not plant-based you can totally just use regular cream cheese OR omit the drizzle all together. Either way, they're amazingly tasty bars. Also, the recipe makes more cheese than you'll need so that you've got extra to just squirt in your mouth. You're welcome.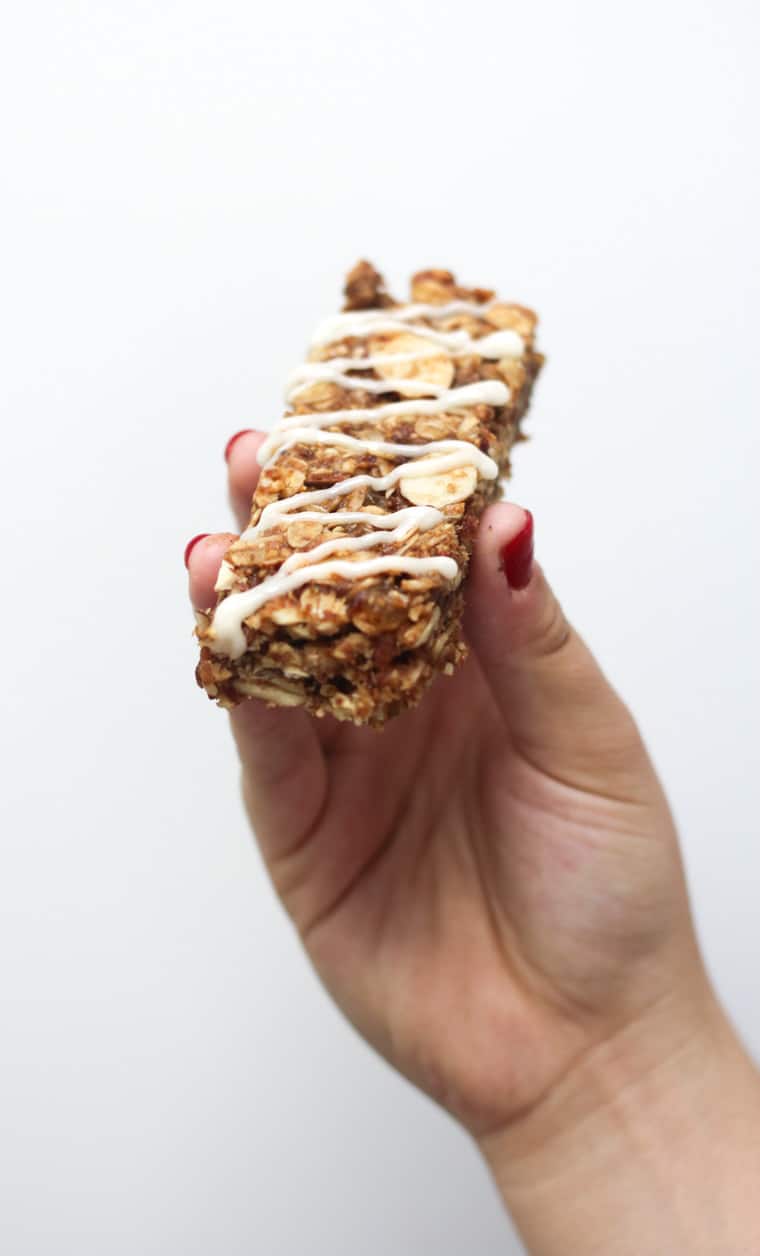 So I want to know, if you had a dessert flavor combination that you ADORED and wanted to be made into a better for you snack, what would it be?
Leave me a comment below with your thoughts!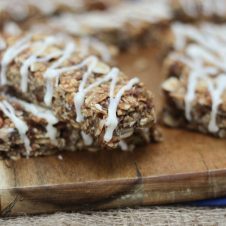 Vegan Cinnamon Bun Chewy Granola Bars
These Vegan Cinnamon Bun Chewy Granola Bars are the perfect Healthy Gluten Free and Plant Based Snack to help get you through the 3 PM energy dip.
Print
Pin
Rate
Instructions
Preheat the oven to 350°F, and line a 9-inch square baking dish with parchment paper, allowing excess paper to hang off each side.

In a food processor or high-speed blender, purée the dates, almond butter, banana, maple syrup, oil and vanilla until smooth with flecks of dates.

In another large bowl, mix together the oats, cinnamon and salt.

Manually stir the date mixture into the oat mixture, then stir in the almonds, raisins, and hemp hearts, until evenly combined with crunchy bits strewn throughout. Press evenly into the baking dish and bake for 35 to 40 minutes, or until the edges start to brown. Allow to cool completely before cutting into bars.

Meanwhile, combine the cream cheese, coconut oil, icing sugar, vanilla, and almond milk in a food processor or blender and puree until smooth. Transfer to a piping bag.

Using a piping bag, drizzle the cream cheese over the bars and transfer to the fridge until ready to eat.
Nutrition
Updated on November 22nd, 2019