I recently had an amazing dish at Mata Bar's – a Vegetarian Quinoa Risotto (aka. Quin-otto) that was gluten free and low in fat. I was pretty determined to make my own version at home where I knew I could control the calories and fat. Because let's be honest, I know how many calories an average meal out can pack. Spoiler alert- it's probably more than any of us need. Even the most health-conscious options are often loaded with fat, sugar and salt, making dining out regularly and managing your weight seem like an impossible task. Trust me, I spend enough hours in the gym to testify to that.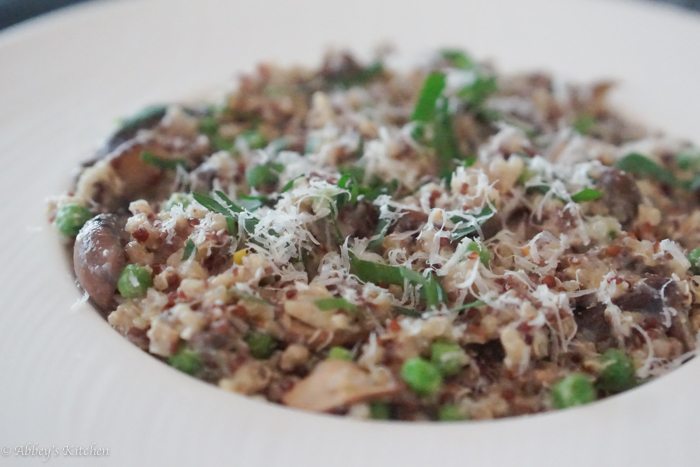 Well, to bridge the gap between delicious restaurant fare and calorie-conscious home cooking, I teamed up with Sobeys to satisfy my Culinary Cravings with a little dish quinoa risotto do-over at home.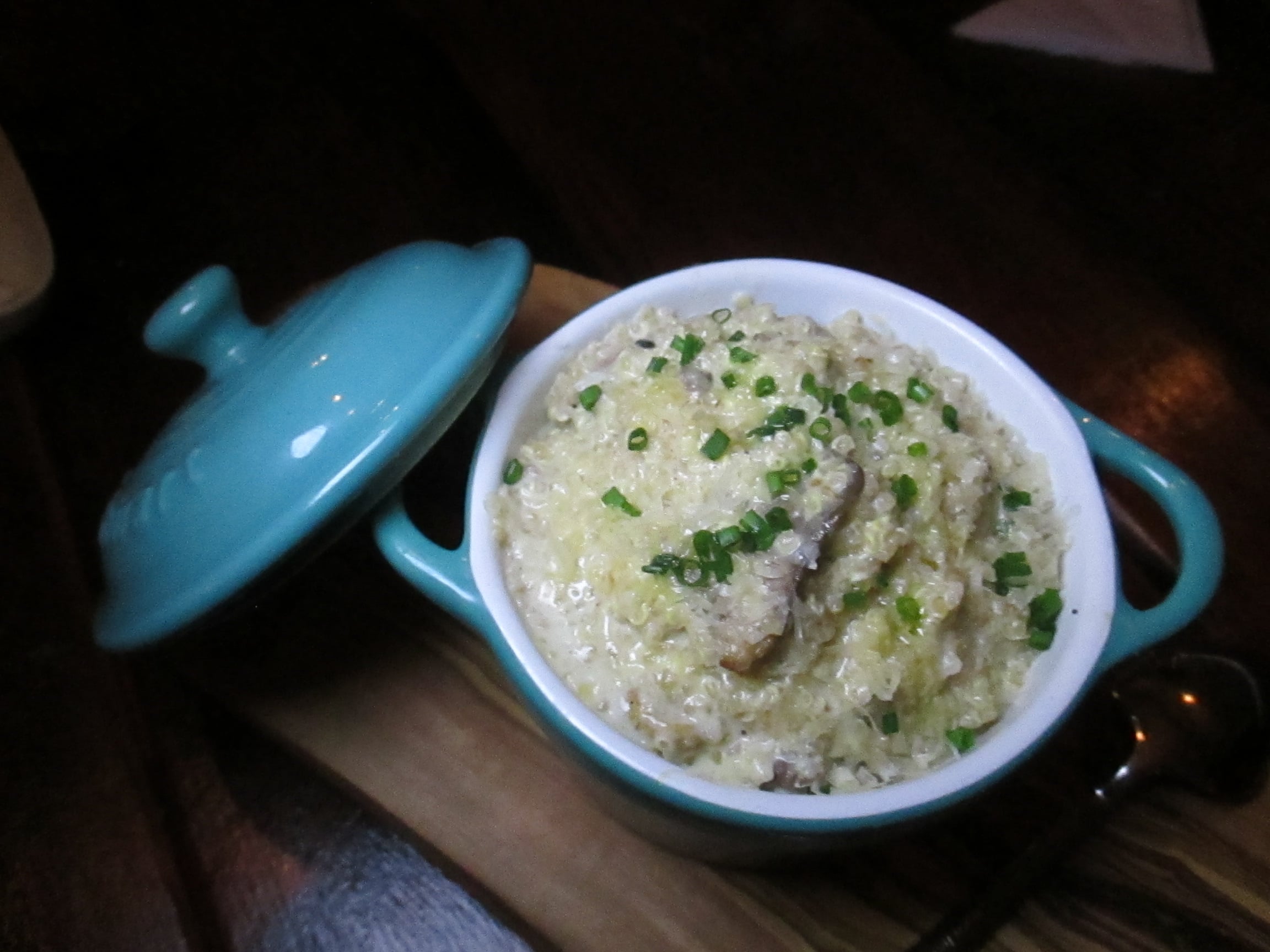 Photo Credit: Goat Roti Chronicals
We all know quinoa is a super healthy grain- it's high in protein and fibre, it's low on the glycemic index and it's naturally gluten free, so this automatically got my attention as a unique dish to try to make at home. And while quinoa risotto may sound healthy, in a restaurant, it's sure to be packed with butter and cheese to make it creamy. I knew I would have my work cut out for me.
Quinoa Risotto 101
But before I got down to calorie cutting, I wanted to nail the technique, so I called up Chef Felipe Faccioli from Mata Bar for the 411 on his popular Quinoa Risotto. His restaurant serves up some pretty delicious South American fare, and I knew he would be happy to help me nail this recipe. He told me that in South America, quinoa is a very popular crop so while its still a relatively new hot food here, they've been using it for generations in a quinoa risotto style dish called Quin-otto.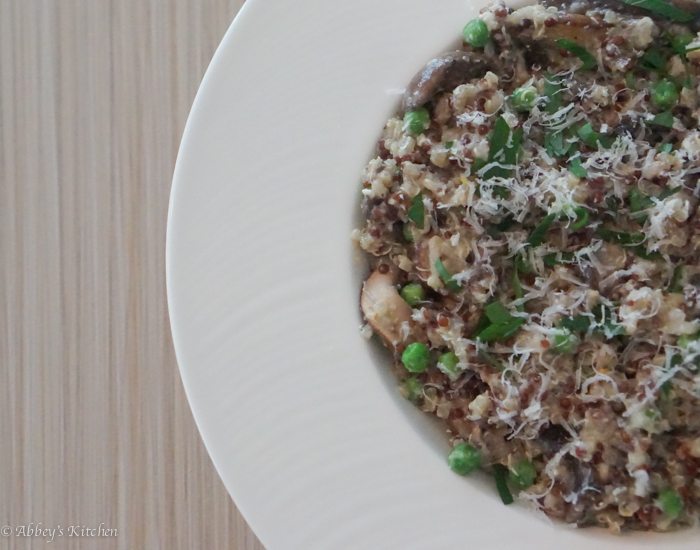 Unlike Italian Arborio rice, quinoa isn't a very starchy grain, so slowly adding in the hot stock doesn't do all that much. Alternatively, Chef Felipe cooks the quinoa first before making it into quinoa risotto and then makes it creamy with loads of butter and Reggianito cheese, which is cheese from Argentina that originated when immigrant Italians tried to make cheese reminiscent of their famous Parmigiano Reggiano. I love butter and cheese, but I knew I would have to cut this stuff back. On the other hand, Chef Felipe also adds huge low-cal flavour in some unique ways I was totally going to steal. For example, he makes his own mushroom stock and he grinds up porcinis and adds the powder to add big umami flavour. He also gave me a great low-fat cooking tip that even I hadn't tried before. While he doesn't do this in the restaurant version himself, he told me that one thing they do in South America is puree hearts of palm into a thick white sauce in place of a lot of butter or cream. How hadn't I tried this before? I was dying to give it a go.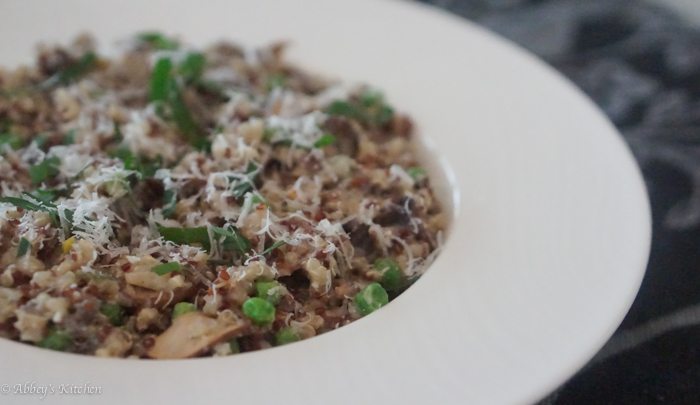 My first duty was to head to Sobeys and pick up all of the ingredients for my quinoa risotto adventures. I wanted to make a stock myself since mushroom stocks are hard to find, and generally really salty when you do. When I make my vegetable stocks, I like to lightly sauté everything in a spot of olive oil just to give a light caramelized flavour before adding in the water. Next, I grinded up the dried porcinis into a powder. You can sometimes find porcini powder but it's way cheaper to just grind it up yourself. Then I used my stock and the powder to cook my tri-coloured quinoa (but you can use whatever quinoa you have on hand). Meanwhile, I sautéed up a variety of mushrooms that I found in the produce department at Sobeys and moved on to make the "creamy" hearts of palm sauce. This was ultimately what scared me. I gave the hearts of palm a really good rinse to get rid of the briny liquid, then pureed it with just enough milk to keep it going. Now it was time to assemble my quinoa risotto.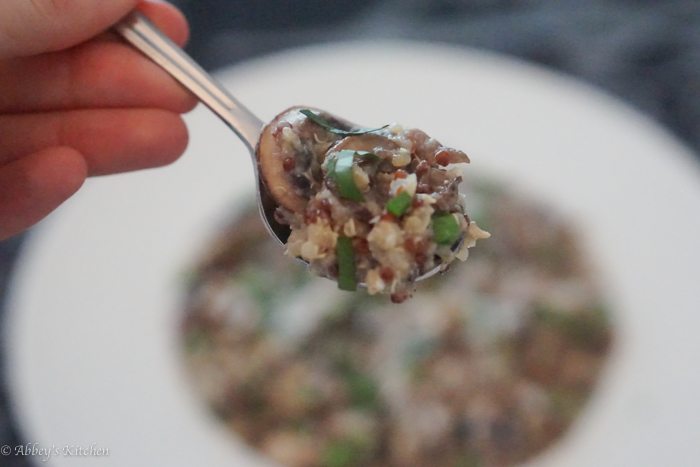 Once the quinoa was cooked, in went the hearts of palm, cheese, mushrooms, frozen peas (they thaw out in a sec), and a little extra milk to thin it out. My George- the faux cream sauce actually worked!! And no, it didn't taste like strange acidic canned veg. Culinary Cravings satisfied!
Check out this gluten free, vegetarian recipe for quinoa risotto and let me know what you think! Do you have a restaurant dish you'd like to see recreated? Leave a comment below or send me a tweet with the hashtag #BetterFoodForAll – you might just see your request on the blog!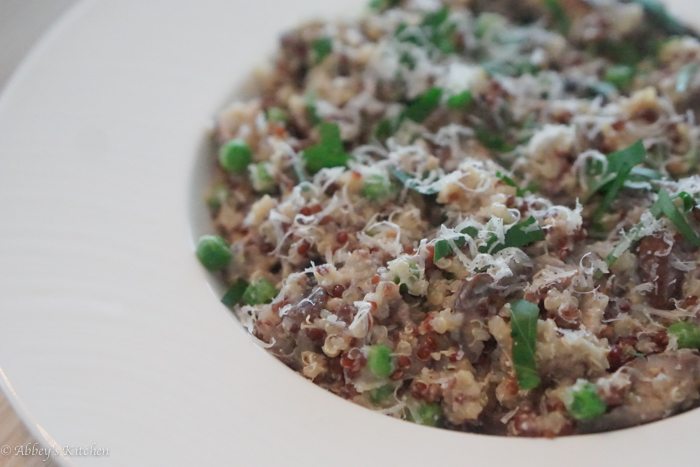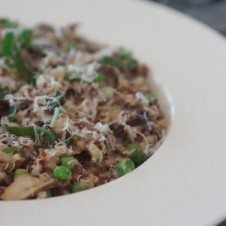 Sneaky Low-Fat Mushroom Quinoa Risotto (Quinotto)
Inspired by an amazing dish I had at Mata Bar's, I was determined to make a low fat and low calories mushroom risotto (aka quinotto).
Print
Pin
Rate
Ingredients
Mushroom Stock
Mushrooms
0.5

oz

package of dried porcini mushrooms

398

ml

can of Hearts of palm

rinsed well

1/3

cup

fat free milk

2

tsp

olive oil

2

lb

assorted mushrooms

sliced

2

cloves

garlic

minced

4

leaves

sprigs thyme

removed

Salt and pepper

to taste
Quinoa
2

tsp

olive oil

1

cup

quinoa rinsed well

1/2

cup

dry white wine

2

cups

prepared mushroom stock

see above

1/4

cup

porcini powder

see above

2

oz

Parmigiano Reggiano cheese

finely grated

1/4

cup

reduced fat ricotta cheese

1/2

cup

fat free milk

1/2

cup

frozen peas

Salt and pepper

to taste

1/4

cup

Italian parsley

finely chopped
Instructions
Mushroom Stock
Heat the oil in a large pot over medium-high heat. Add in the carrot and onion and cook, stirring occasionally, until the onions have softened, about 7 minutes. Add the garlic and cook, stirring occasionally, until fragrant, about 30 seconds.

Add the mushrooms, parsley, thyme, bay leaf, and peppercorns and cook for 5 minutes.

Add the water and bring up to a boil. Reduce the heat to low and simmer for an hour.

Strain through a fine-mesh strainer (discard the vegetable and herbs) and season with salt to taste. This can be made 3 days in advance or frozen 1-2 months in advance.
Mushrooms
Put the dried porcinis in a spice grinder or food processor and pulse until they reach a powder consistency. Set aside.

Add the hearts of palm and milk along with a pinch each of salt and pepper to the food processor and puree until smooth. Set aside.

Preheat the pan to medium high heat and add the olive oil. Once hot, add the mushrooms, garlic and thyme and cook until browned and tender, about 10 minutes. Season with salt and pepper to taste, remove from heat and set aside.
Quinoa
Preheat the olive oil in a medium saucepan over medium heat. Add in the quinoa and toss until coated.

Add in the white wine and let it evaporate.

Add in the stock and porcini powder and cook over medium low for about 10-12 minutes, or until the stock is almost fully absorbed.

Fold in the pureed artichoke hearts and stir until creamy and thick.
Assembly
Stir in the parmesan cheese, ricotta cheese, prepared mushrooms, peas, and milk and season with a pinch of salt and pepper, to taste.

Garnish with Italian parsley and additional grated cheese, if desired.
Nutrition
Disclaimer: The author has received consideration from Sobeys or Sobeys' media partners in exchange for this content. Sobeys has not reviewed these claims and is not responsible for the content.
Updated on October 23rd, 2020