This easy one-pot gluten free Shakshuka recipe with zucchini and feta is super healthy, low in fat and vegetarian.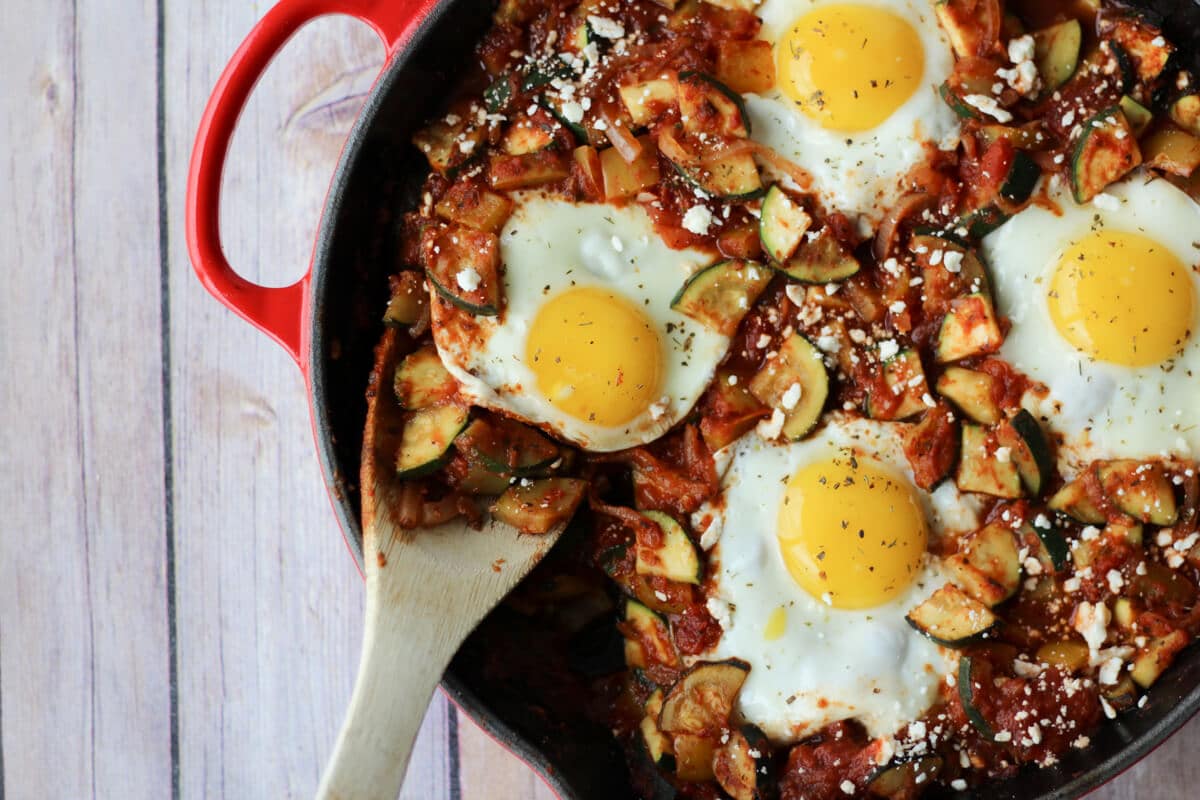 One pot cooking is totally my style. That's why I LOVE this gluten free shakshuka recipe. If you're not familiar with shakshuka, it's an Israeli dish that can easily be served breakfast, noon and night. It's essentially a pan of hot sizzling tomato sauce with eggs baked into it and usually it's served with some sort of bread for sopping everything up. In Israel, it's often an inexpensive vegetarian dish, but I've also had Shakshuka with lamb and other meats.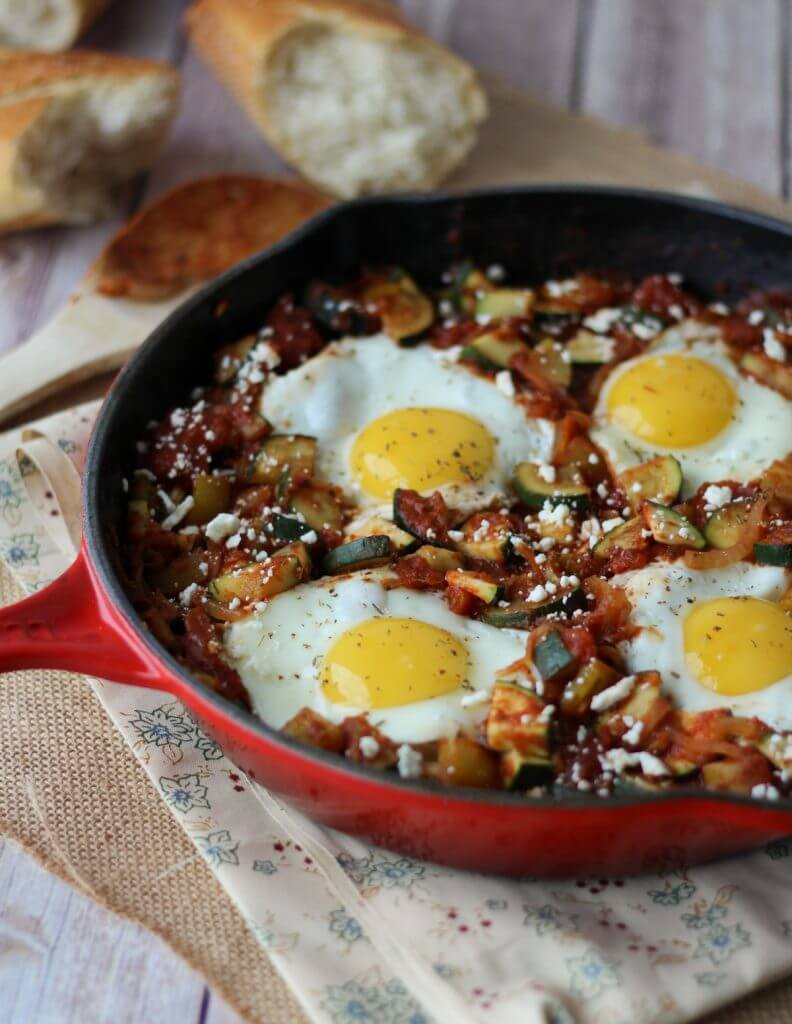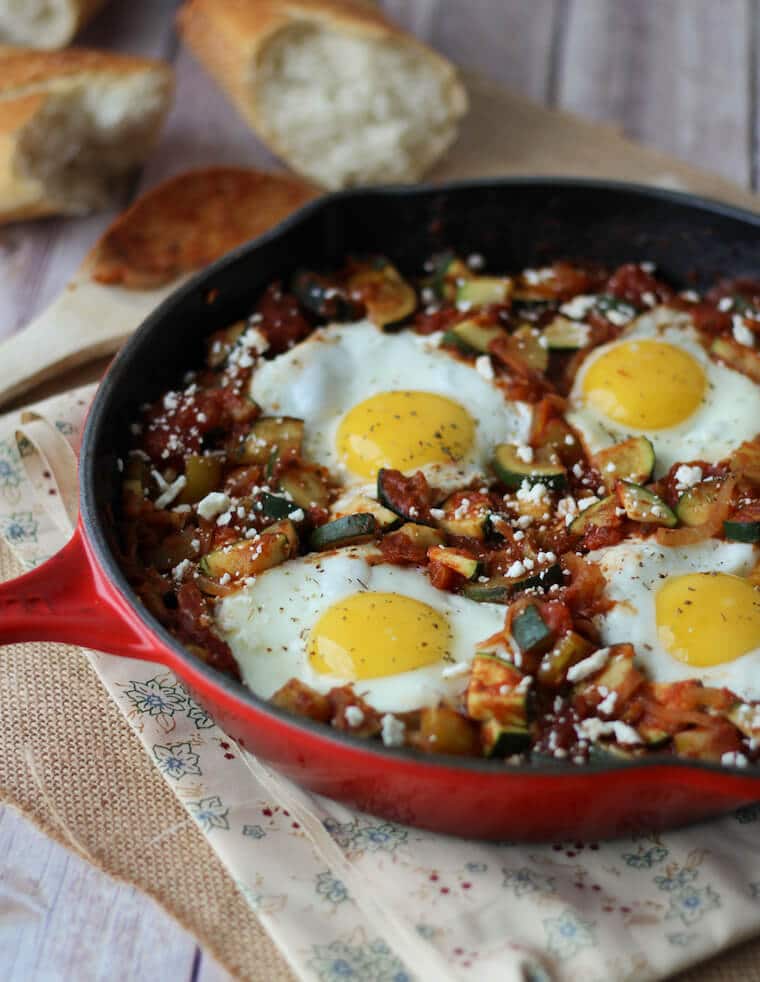 How I Created this Gluten Free Shakshuka Recipe
It's Summer and things are always busy, so I don't always have a ton of time to go grocery shopping. That's exactly how this recipe came to me. Traditionally, shakshuka is made out of fresh or canned tomatoes but mine was birthed from leftover pasta sauce and I think it actually tasted better that way. I then added whatever veg was lying around, and some eggs for protein. I always have eggs and I would bet a lot of you do too. It makes a great end of the week dinner when you're running low on supplies but just want to make it to the weekend without another stop.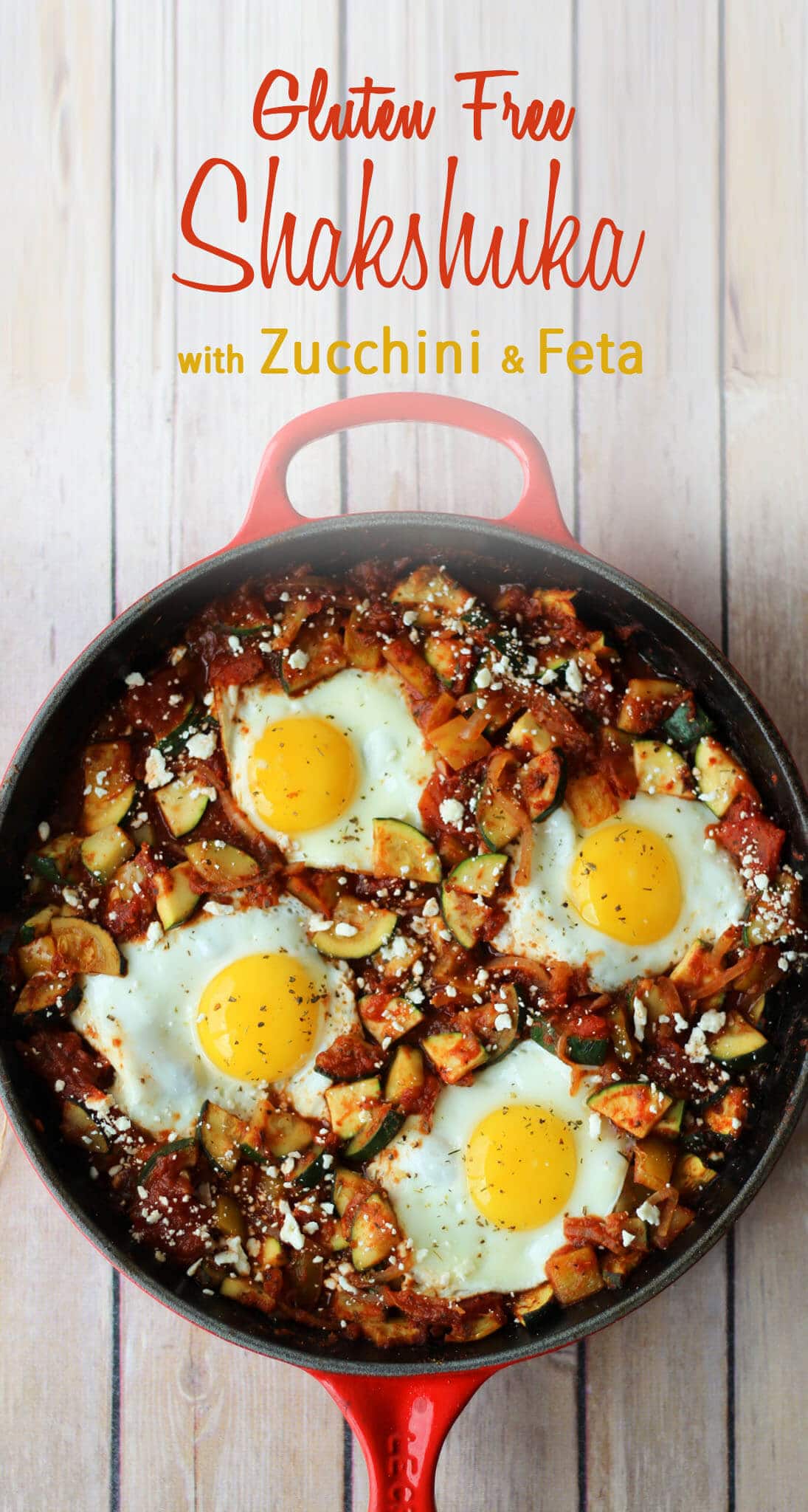 Obviously, this gluten free shakshuka recipe is a super healthy dish. I found when I went to Israel, everyone appeared to be in pretty good shape. My guide told me that it was because it was often too hot to eat, but I think it's because what they do eat is really lean and fibre-rich. This dish is a good example of that.
This gluten free shakshuka recipe is very flexible and forgiving, so if you have canned tomatoes, just use that! If you have spinach but no zucchini, go for it. If you want to throw some frozen peas in there- amazing. You do you!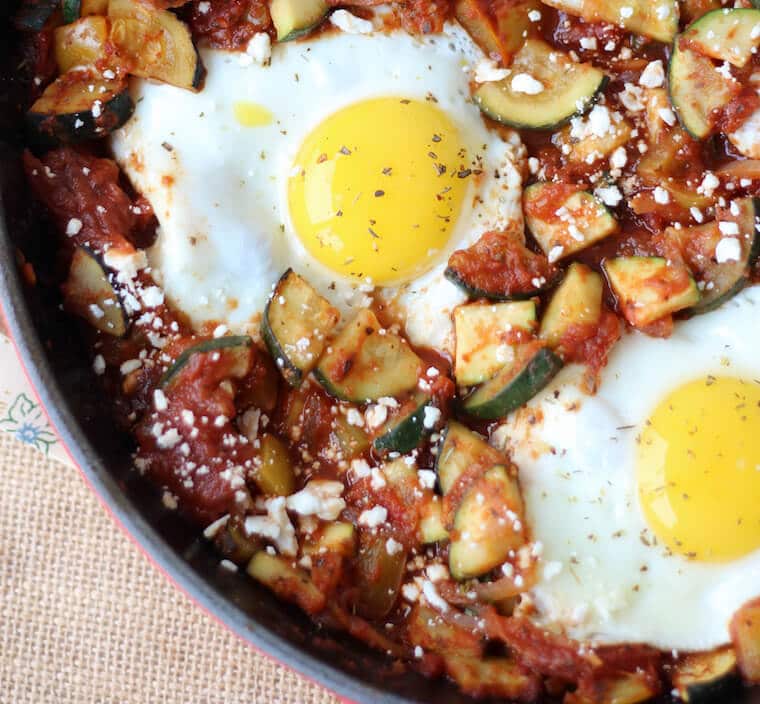 Have you tried making this gluten free shakshuka recipe? What odds and ends would you throw into your version at home? Leave me a comment below and please share with your friends and family!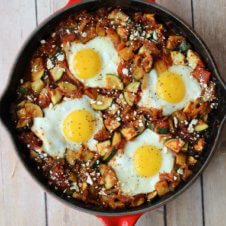 Gluten Free Shakshuka Recipe with Zucchini and Feta | Healthy & Vegetarian
This easy one-pot gluten free Shakshuka recipe with zucchini and feta is super healthy, low in fat and vegetarian.
Print
Pin
Rate
Ingredients
Garnish:
1/4

cup

feta cheese

crumbled

1

Pinch

Za'atar
Instructions
Preheat oven to 375 F.

Heat the oil in a medium cast iron skillet over medium heat. Add the onion and cook until softened and slightly browned. Add in the zucchini and bell pepper and stir until they develop a bit of colour. Then add in the garlic and saute for an extra 30 seconds until fragrant.

Add in the tomato sauce, spinach, cumin, paprika and cayenne and stir until combined. Season with a pinch each of salt and pepper then create 4 wells in the mixture.

Crack the eggs into the wells and transfer the pan to the oven. Bake for 5-7 minutes or until the egg whites are cooked through but the yolks remain slightly runny.

Garnish with feta cheese and za'atar and serve with crusty bread.
Nutrition
Disclosure: This post may contain affiliate links. If you purchase from the link, I make a small commission that adds no cost to you, but helps me pay for my blog! Thanks for your support.
Updated on October 18th, 2016