These Middle Eastern inspired za'atar roasted radishes with silky pea puree, golden raisins and pine nuts is a perfect side dish or shareable starter that's gluten free, vegan and dairy-free.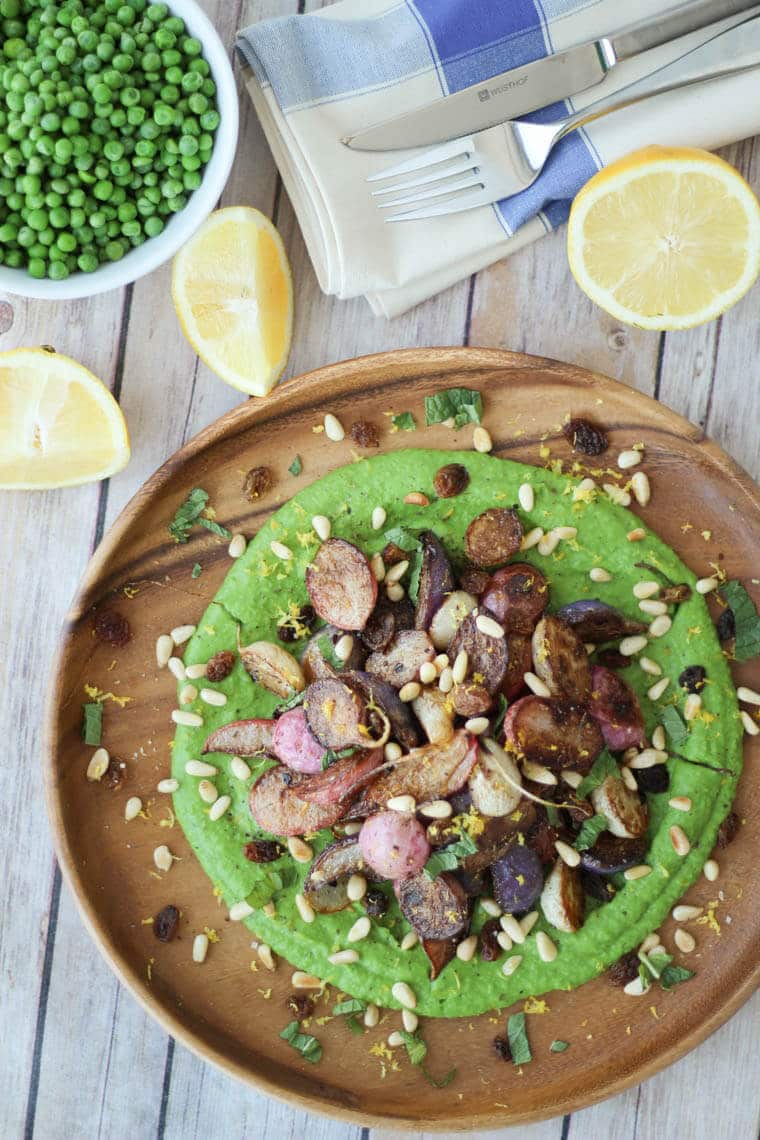 As many of you know by now, I recently got married and traveled across California and Vancouver on my low key honeymoon. It was great- I really needed it. I had only been to Vancouver once before for work so I didn't really get to enjoy it, and had an amazing time eating my way through the beautiful city.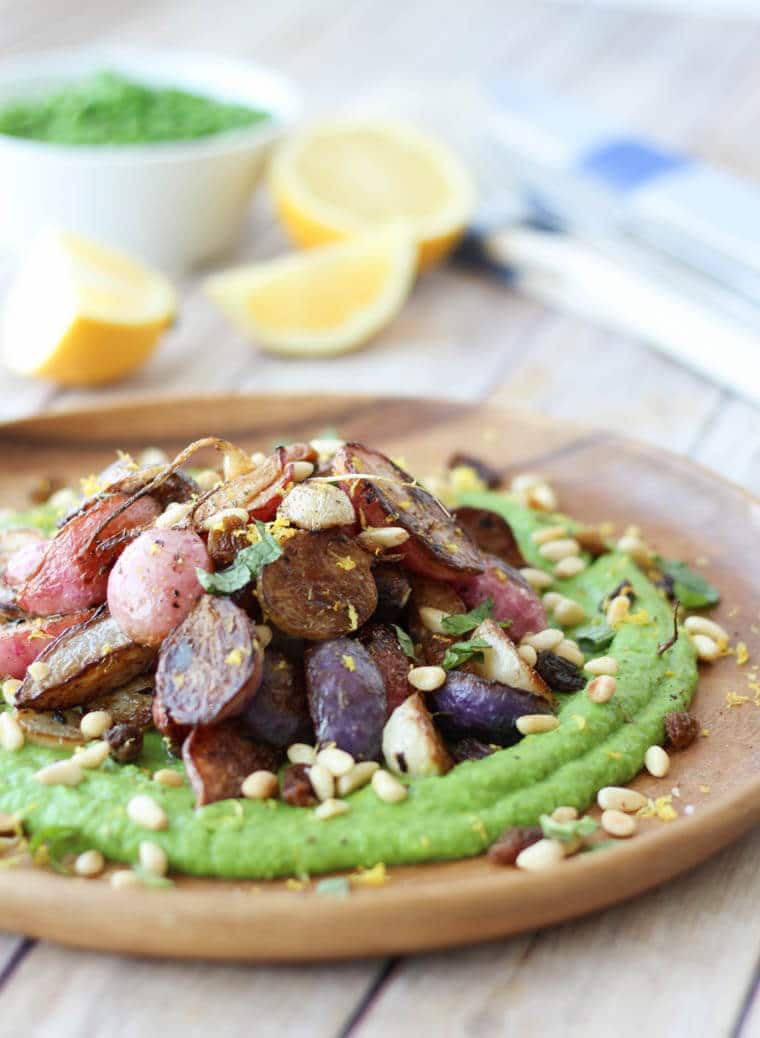 We ate at a really cute Italian spot called Ask for Luigi where I had the most irresistible starter – Roasted Radishes on a bed of Pea Puree. We couldn't NOT order this because my husband is OBSESSED with peas, and at this point in my eating adventures, I was dying for a plate of veg. It did not disappoint.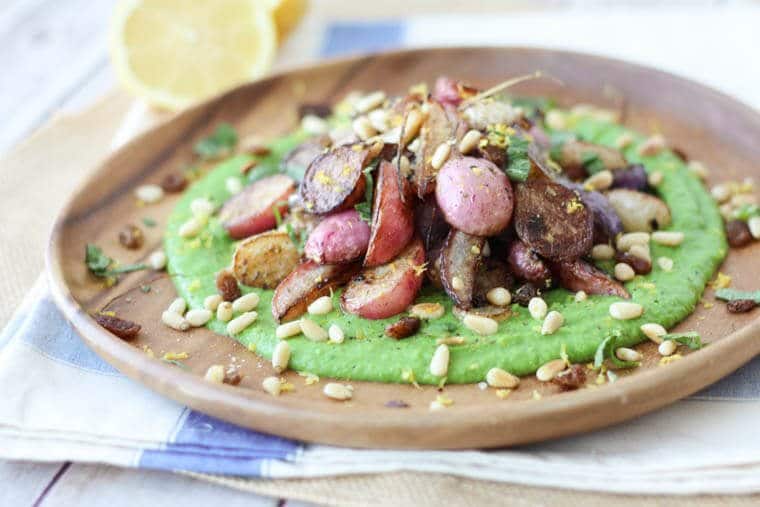 So I went home, as I generally do, with a list of dishes as inspiration for recreating at home. These roasted radishes with peat puree were an absolute must. Fittingly, this month's Recipe Redux challenge was to recreate a dish discovered abroad, so I figured it would be a great time to share it with you.
How to Make Roasted Radishes
Well, it's pretty simple. Making roasted radishes does require a nice high heat and a good glug of olive oil to get it going. I also recommend drying off your radishes really well if you've washed them before roasting just to ensure you get all the colour on there you crave.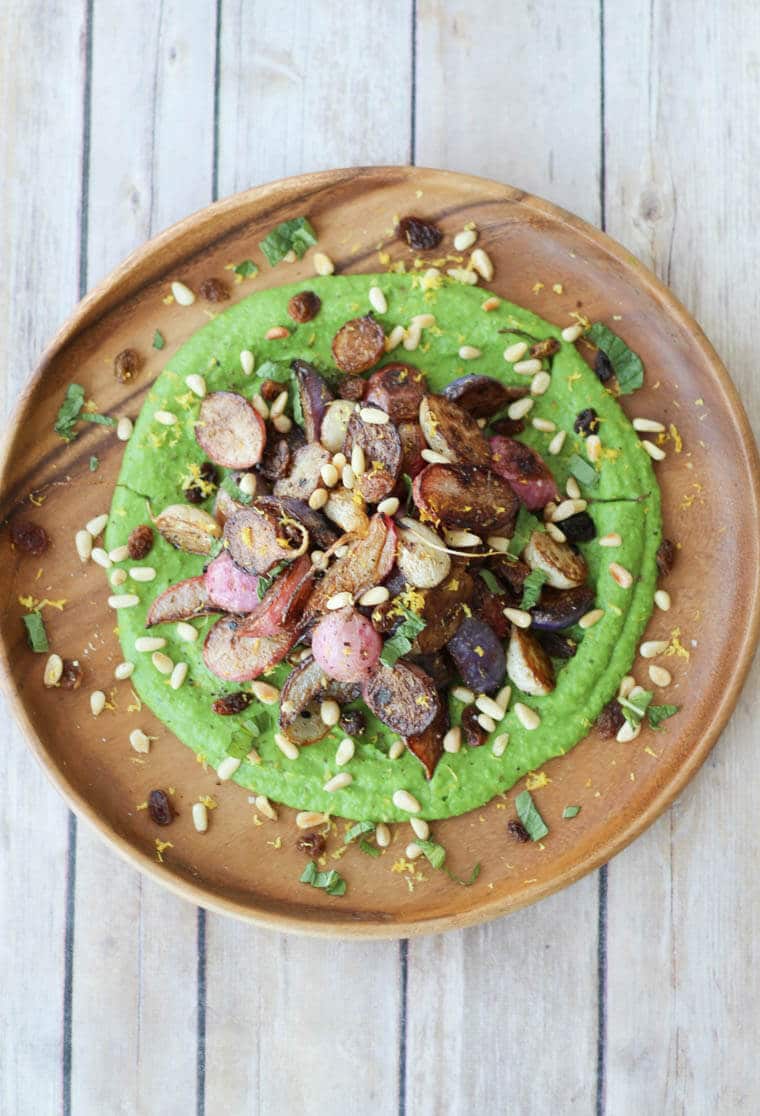 How to Make Pea Puree
This bed for my roasted radishes is super simple and always adds a splash of colour to a fancy plate. I like to start my peas off with a little sauteed garlic and shallots and a touch of mint and lemon zest to balance out their sweetness, but if you want to make it even simpler, just cook them with a little broth or water and puree until smooth. Seriously, it's easy.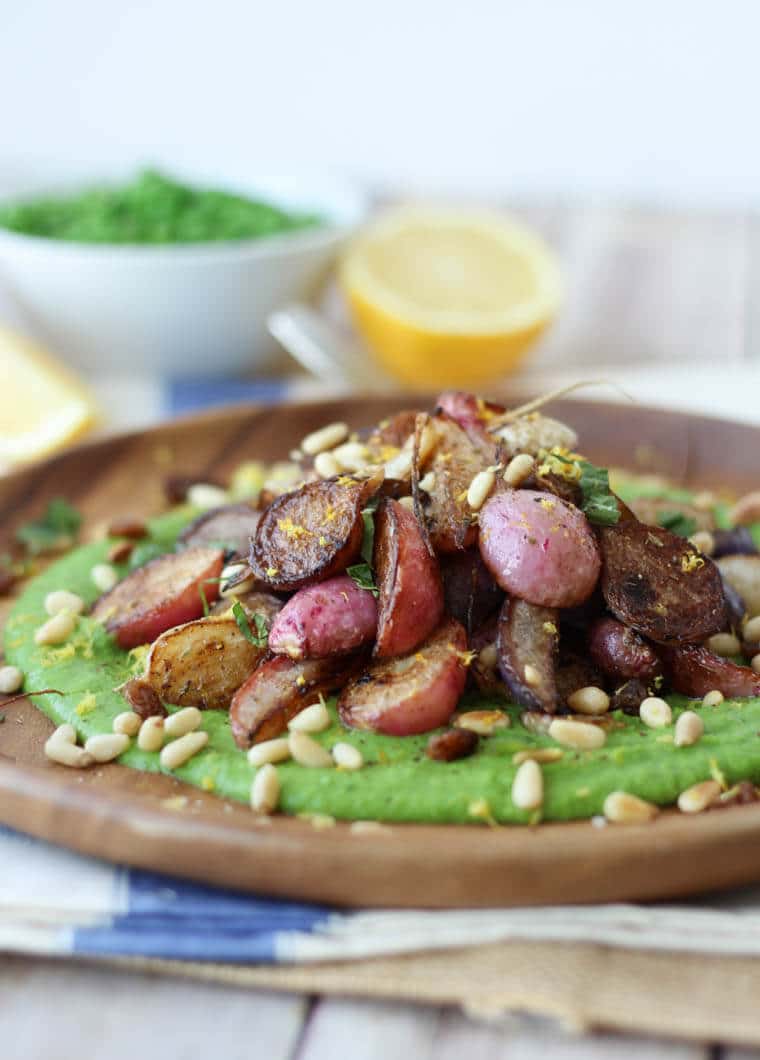 For my roasted radishes recipe, I also wanted to bring in my all time favourite flavour profile – Middle Eastern. I threw in some golden raisins for sweetness and toasted pine nuts for crunch, and sprinkled the roasted radishes with za'atar and sumac.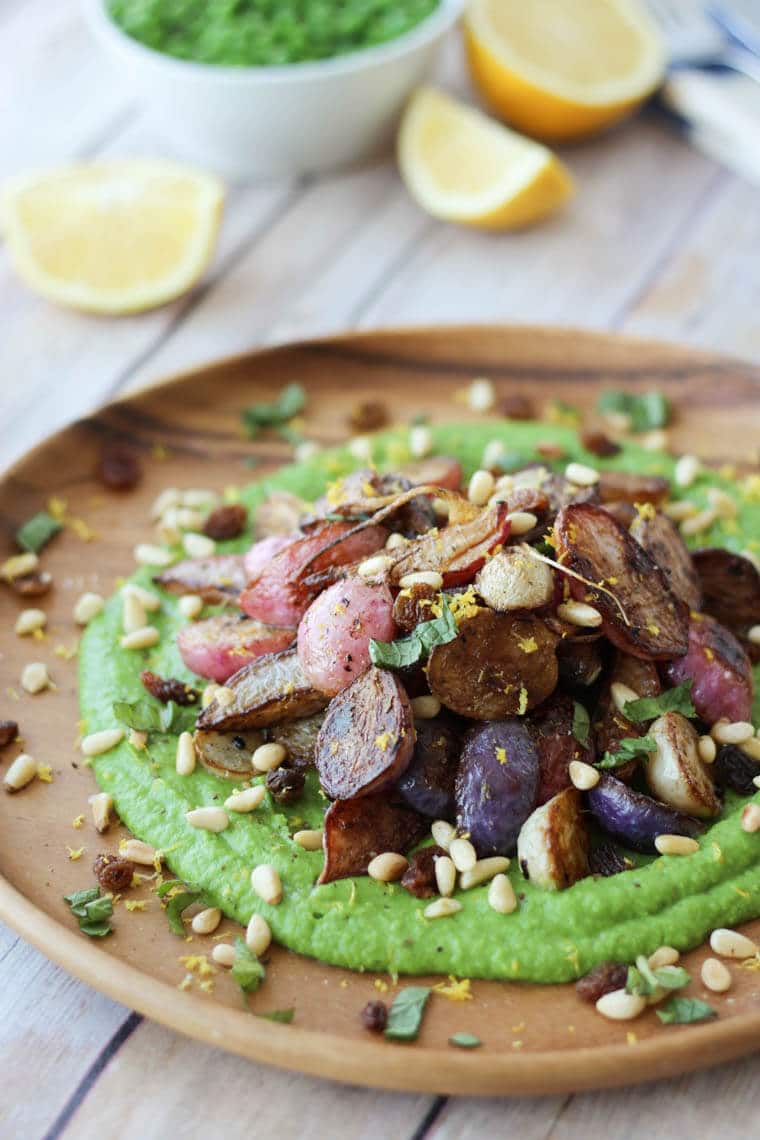 Have you tried making roasted radishes? What are some of your favourite travel inspired dishes? Leave me a comment below- I would love to hear from you!

Want to check out more of my colleagues travel-inspired dishes? Check out #theRecipeRedux gallery here!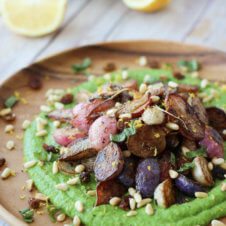 Za'atar Roasted Radishes with Pea Puree, Raisins & Pine Nuts | Vegan & Gluten Free!
These Middle Eastern inspired za'atar roasted radishes with silky pea puree, golden raisins and pine nuts is a perfect side dish or shareable starter that's gluten free, vegan and dairy-free.
Print
Pin
Rate
Ingredients
Radishes
2

bunches of mixed radish

cut in half or quarters (depending on size)

1 1/2

tbsp

extra virgin olive oil

1 1/2

tsp

za'atar
Pea Puree
1

tsp

extra virgin olive oil

1

clove

garlic

finely minced

1

shallot

finely minced

3

cups

frozen peas

1

cup

reduced sodium vegetable broth

1

tbsp

mint

chopped

1

tsp

lemon zest

Salt and pepper

to taste
Garnish
2

tbsp

toasted pine nuts

2

tbsp

golden raisins

2

tbsp

mint

chiffonade

Pinch

sumac

Pinch

fleur de sel
Instructions
Preheat oven to 450 F. Toss the radishes in the olive oil and place cut side down on baking sheet. Roast for about 18 min until crisp tender. Once out of the oven, immediately sprinkle with za'atar, pepper and salt.

Meanwhile, preheat a medium nonstick skillet over medium heat with the olive oil. Add in the garlic and sautee until fragrant, about 30 seconds. Add in the shallot and continue to sautee until soft, about 3 minutes.Add in the peas, mint and broth. Cover with a lid and cook until tender, about 5 minutes.Transfer the peas to a blender and puree until smooth. Add in the lemon zest, and season with salt and pepper to taste. Set aside.To serve, smear the pea puree on the bottom of a platter or plate, pile the radishes on top. Garnish with raisins, pine nuts, mint, sumac and a sprinkle of fleur de sel. Serve at room temperature.
Nutrition
Updated on October 18th, 2016