This amazing high protein avocado toast with white beans and roasted tomatoes is a delicious gluten free, vegan breakfast or snack for any time of day.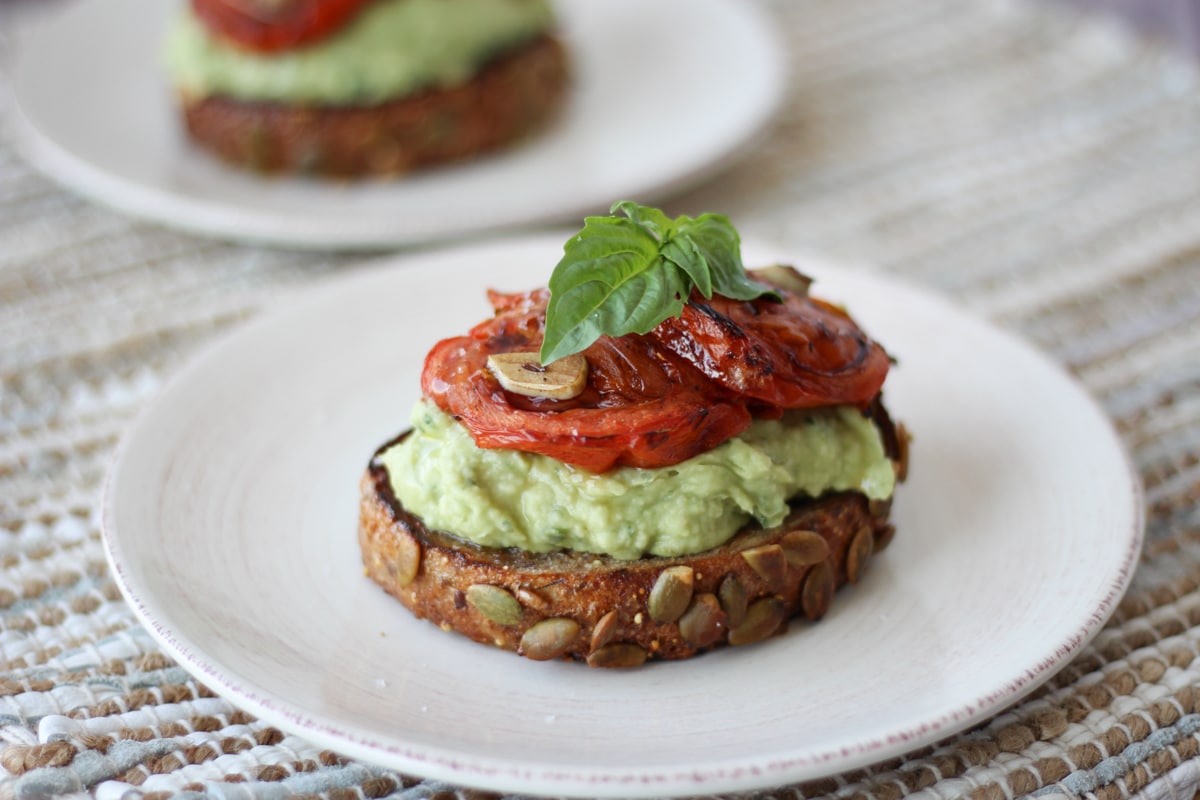 Most of my friends and followers know, I'm a big fan of protein. I eat a lot of chicken breast, I keep the dairy farmers in business with all the Greek yogurt and cottage cheese I whip through, and I'm loving canned pulses. I recently actually wrote about some of my favourite canned pulses (aka. beans, lentils, chickpeas, and dried peas) and even created a fun Youtube video here.
Coming up with some fun creative ways to get in those nutritious pulses inspired me to make this high protein avocado toast recipe. I am always on the look out for new high protein breakfast ideas, especially for days when I get tired of eggs, yogurt and protein pancakes (okay, who am I kidding, I will NEVER get tired of my protein pancakes). But still, this savoury high protein avocado toast is exactly what I was looking for.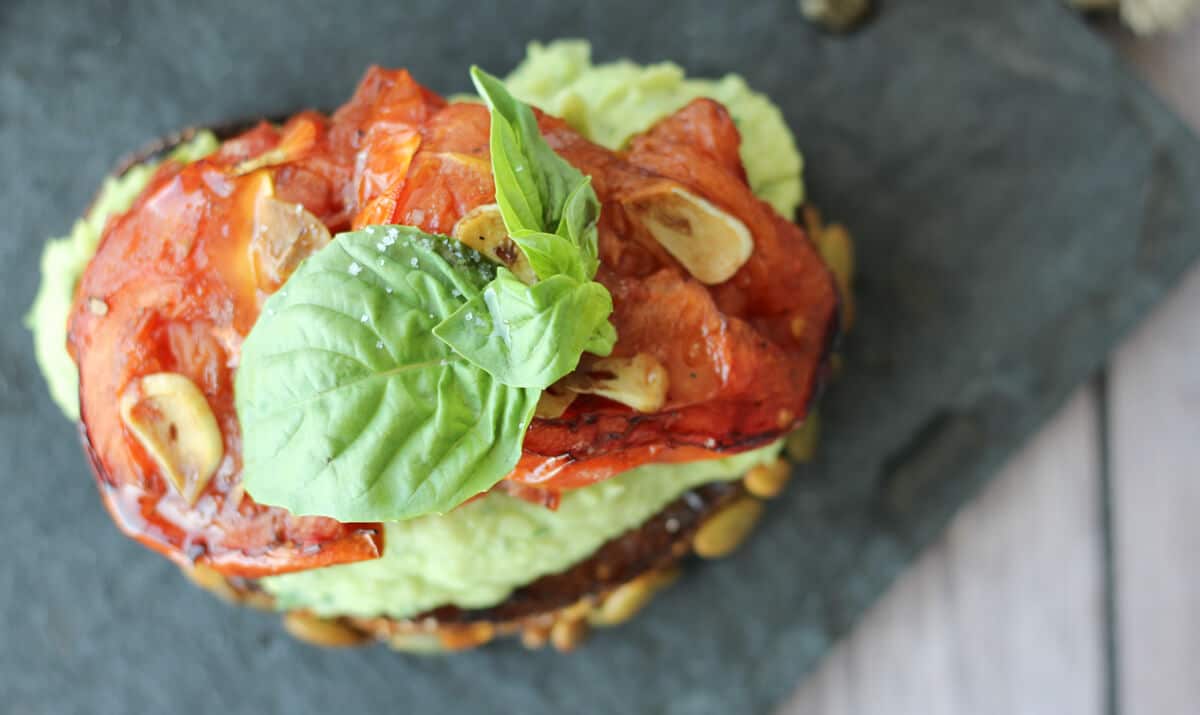 Avocado toast in general is super trendy, but while it's abundant in heart healthy monounsaturated fats, it doesn't really offer any protein. I knew I could do something about that without compromising it's silky smooth creamy texture.
High Protein Avocado Toast = A PERFECT Meal
Think about it for a second. You've got your healthy monounsaturated fats from your avocado mixed with high fibre, high protein beans. Then you're adding some more high fibre goodness with whole grain bread. This high protein avocado toast is everything you could ask for in a perfect breakfast or post-workout snack.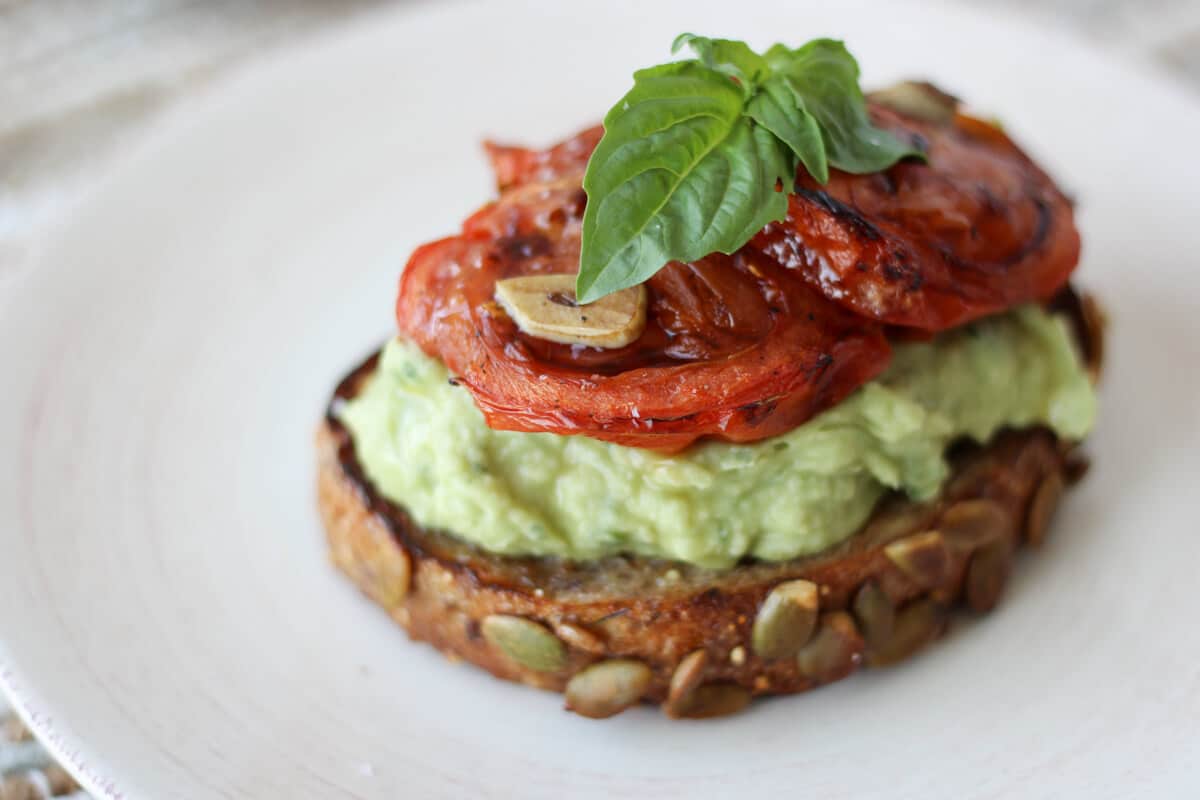 While the star of this dish is definitely the avocado + white bean combination, the roasted tomatoes really make it special. I add little slices of garlic and balsamic to get a sweet caramelized effect, and then finish the whole thing off with fresh basil and fleur de sel.
Have you tried making high protein avocado toast?
What are your favourite toppings for avocado smash?
Do you have a favourite high protein breakfast that keeps you fuelled all day long.
Leave me a comment below!
I would love to hear your ideas!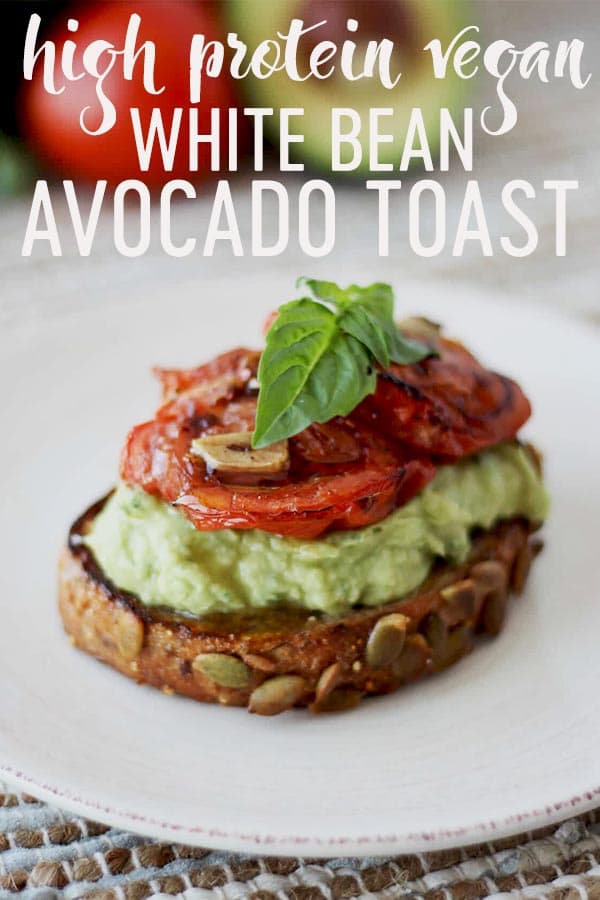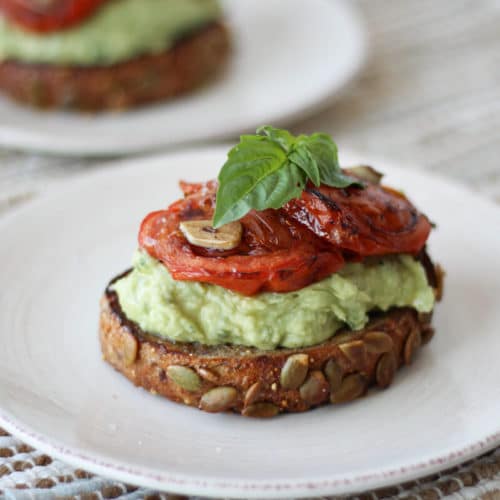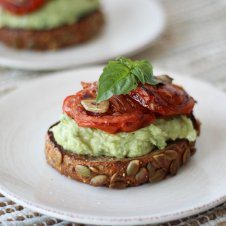 High Protein Avocado Toast with White Beans & Roasted Tomatoes | Gluten Free & Vegan
This amazing high protein avocado toast with white beans and roasted tomatoes is a delicious gluten free, vegan breakfast or snack for any time of day.
Print
Pin
Rate
Instructions
Preheat oven to 450 F.

Toss the tomatoes with the oil and spread out onto a baking sheet, cut side up. Add the garlic into the cavities of the tomatoes, drizzle with balsamic and add a pinch each of salt and pepper. Lightly press the tomatoes down to flatten.

Roast until the tomatoes soften and caramelize, about 20-30 minutes. Allow them to cool compltely, then carefully remove and discard the skin.

Meanwhile, add the beans, avocado, lemon juice, parsley, basil, garlic, salt and pepper to a food processor and puree until smooth.

Once the tomatoes are finished, brush the bread with the remaining oil and toast on the bakign sheet in the hot oven until lightly golden brown, about 5 minutes.

To assemble, divide the avocado between the four slices of toast, top with a piece of roasted tomato and garnish with the fresh basil leaves and fleur de sel.
Nutrition
Updated on November 22nd, 2019