After a trip to Italy, I share my top tips for healthy baby and toddler meal ideas, along with the supplies and food to pack, buy and prepare when you're travelling.

For those who have followed my Instagram stories, you might know that I JUST got home from beautiful Italy. My husband, son, nanny and I stayed a few days at a working vineyard in the Chianti region before heading to Florence for the rest of our trip. While there is no shortage of delicious food (and wine) for us adults, I wanted to share some tips for some toddler meal ideas for travelling and vacation eating, and the best food to pack, buy and prepare when travelling with kids.
Healthy Baby & Toddler Supplies to Pack, Buy and Prepare when Travelling with Kids
We all know that the amount of stuff you need to bring for a baby or toddler when travelling is not reflective of their small size. Honestly, these kiddos need SO MUCH STUFF. But in an effort to pack light, here's what I suggest.
Supplies to Pack for a vacation with toddlers or kids
Baby Plate and/or Bowl:
I like having my kiddos plate with us everywhere we go so that we have a clean surface to put food even if we're at a restaurant, train or airplane. It's also familiar and my kid loves it.
Bib: I mean, that's key, and you can find some of my favourite ones here.
Fork and/or spoon: By the end of our trip, my 17 month old son was using our adult forks and spoons, but if you're just starting with feeding, it's a good idea to pack one with you.
Milk straw cups: My son has a specific cup (see here) that he loves for his milk, so we definitely made sure to bring it along.
Water cup(s): Ditto for his water cup. It's different and he likes consistency.
Baby cup / straw brush: Because those skinny straws are SO HARD to clean sometimes!!
Supplies to Rent while travelling with kids
I suggest renting a high chair so you don't have to schlep one around. I found a great company that dropped the high chair off at my Air BnB and picked it up at the end of our trip! So easy! Simply google "Baby rentals x [INSERT CITY]" to find some options near you before you go!
Healthy Baby & Toddler meal ideas and FOOD Pack, Buy and Prepare for your family vacation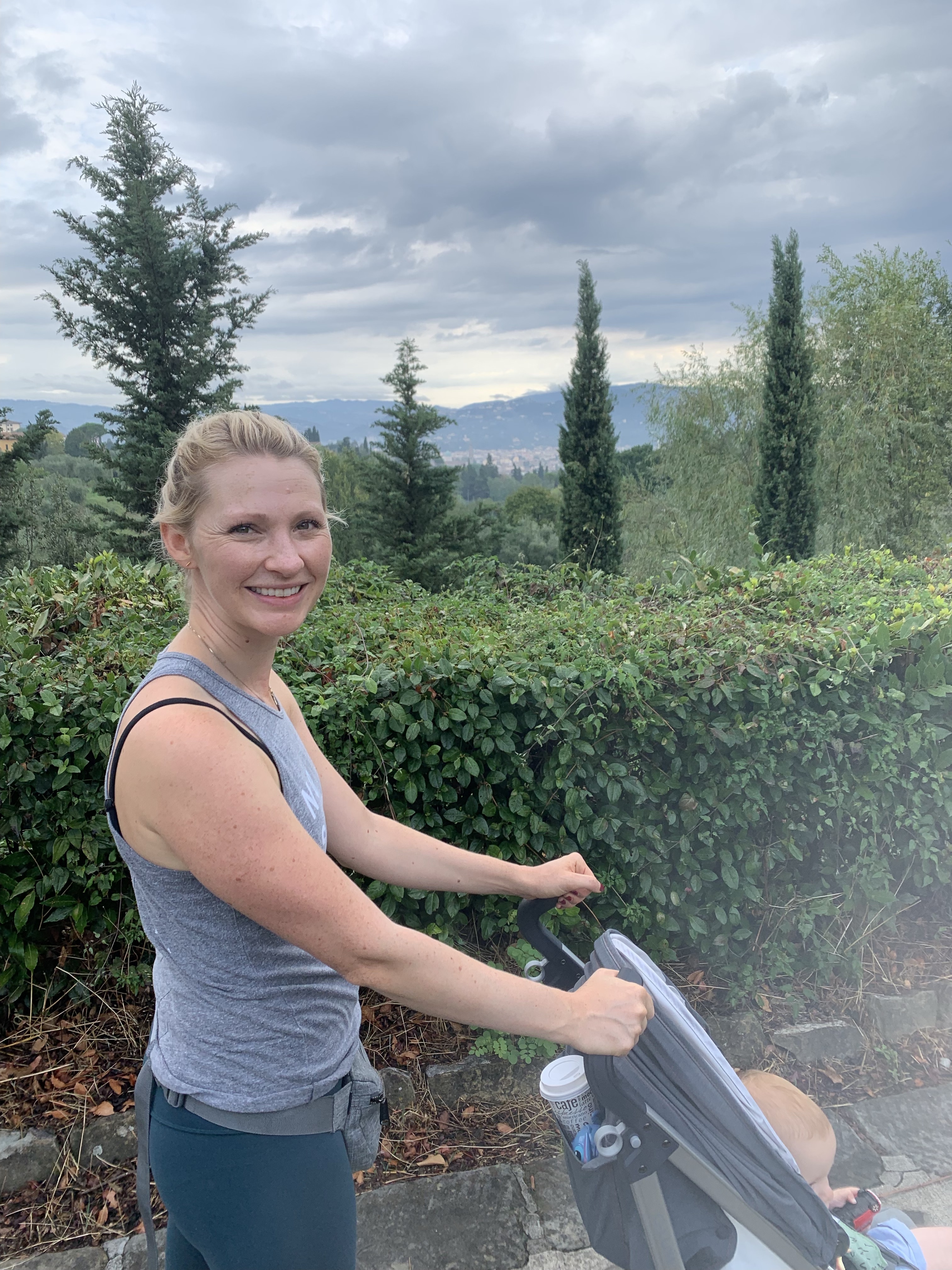 So you're on holiday- I really don't want you to have to stress over what kind of healthy baby and toddler food you need to prepare and pack every single day. So let's make this simple with some healthy toddler meal ideas for travelling, shall we?
I tried to serve most of my son's meals in our Air BnB – both for mess purposes and because I knew there would be more nutritious options for him. So breakfast was at home, and dinner was at home, and lunches would be about half and half. We liked to take him out with us for brunch so he sometimes would eat a combination of restaurant food, and snacks I packed on those days. No big deal.
For snacks, I really would try to make them low mess as possible because when you're site seeing and travelling, it might mean having snacks in a stroller or on a train or plane. Either way, you don't really have the luxury of stripping the babe down to hose him off so easily. So for that reason, I try to at least ensure the snacks I'm packing, preparing or buying are lower mess.
Here are some easy peasy healthy baby and toddler meal ideas for travelling.
Food to Pack for your family vacation
Most of the foods I packed for Baby E got consumed on the flight (they wouldn't have stayed fresh long after anyway). Having said that, here's what I made sure to pop in our diaper bag to bring with us for baby E to eat on the flight that was low mess and relatively shelf stable.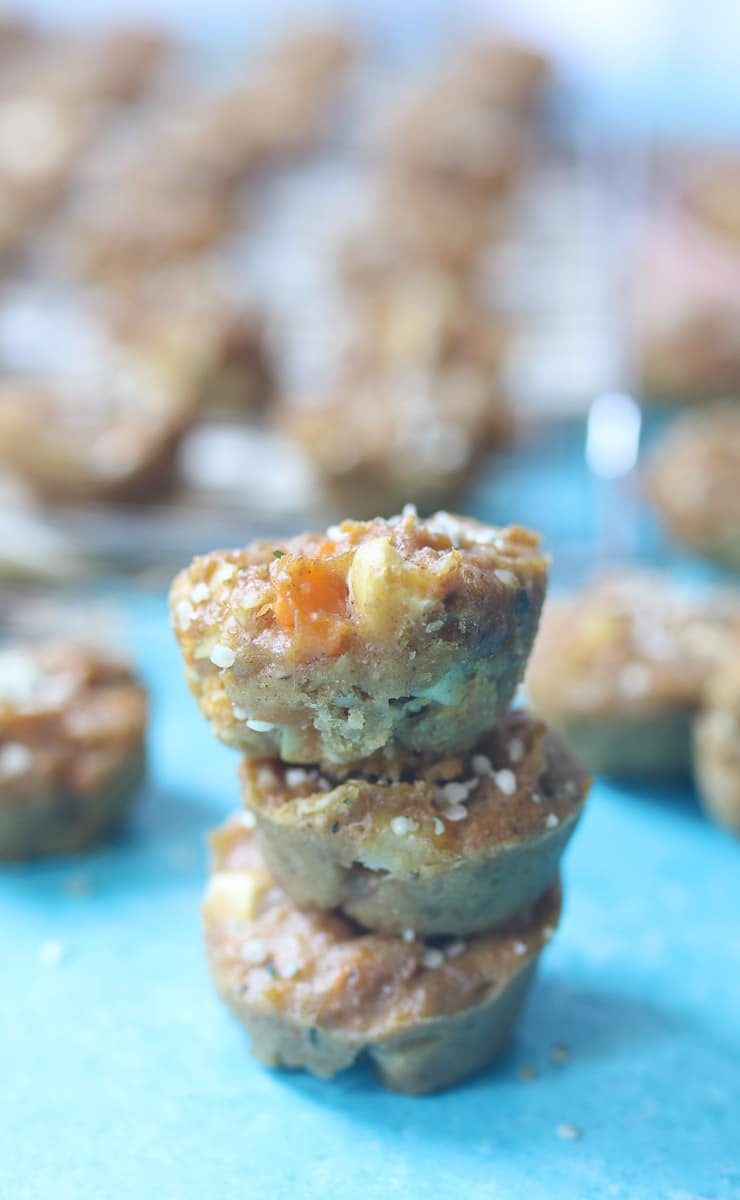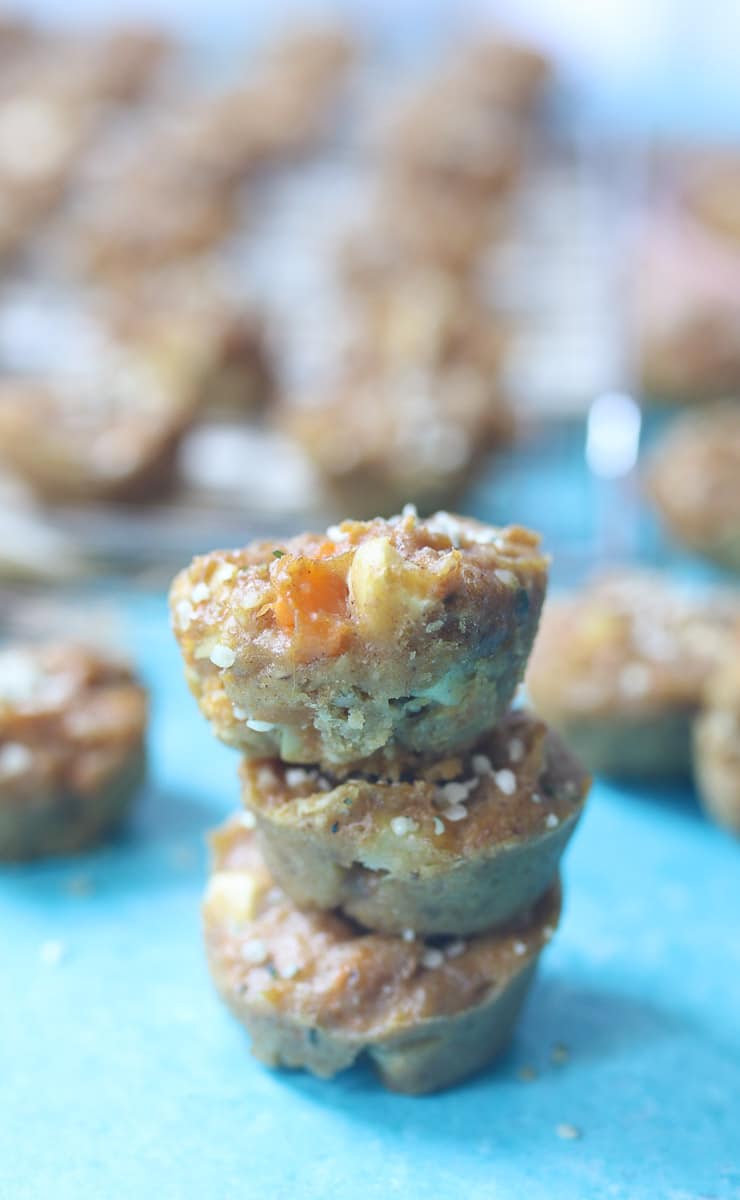 These BLW Iron Rich Sweet Potato Apple Baby Muffins – because they are nutrient dense, have no sugar, are packed with iron and healthy fats and my kiddo LOVES them.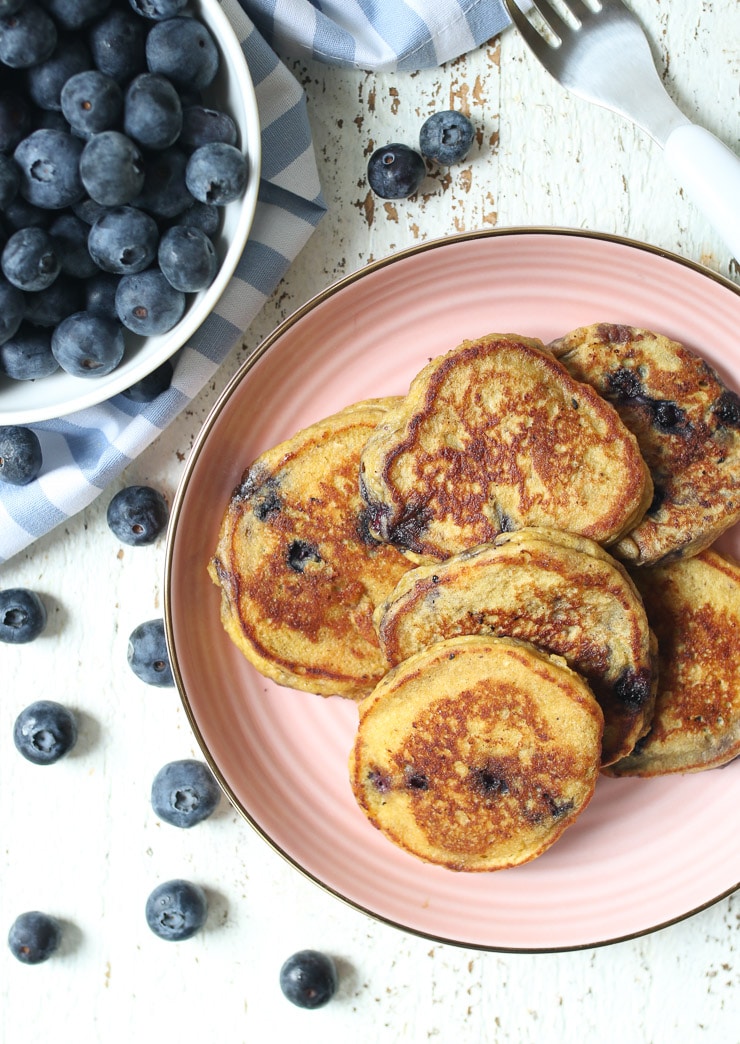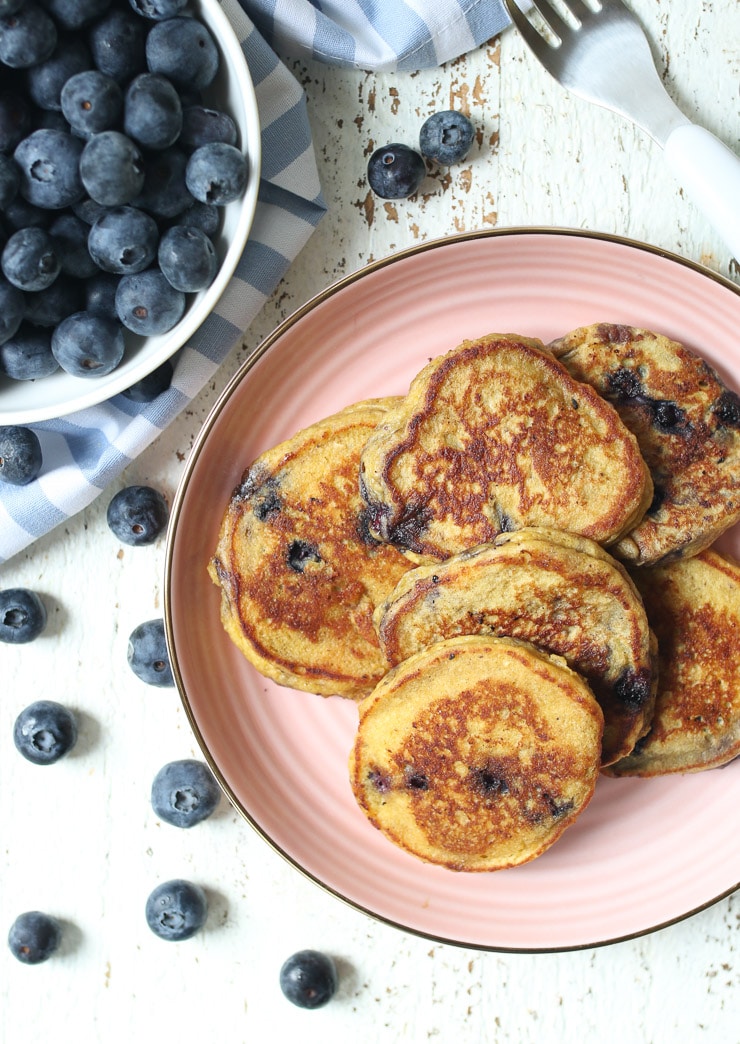 These BLW Baby Cereal Protein Pancakes – I actually made them for the trip into waffle form. Again, I love these because they're rich in protein, iron, and have no added sugar.
Bananas – Easy to eat, and low mess. Love it.
Formula – If you're babe is on formula, you will obviously want to bring some- maybe even enough to get through your trip because I found that it was impossible to get the same brands in Italy of ANYTHING. If your kid is particular about brand (I assume most are), this may be a consideration for you.
Food to Buy on holiday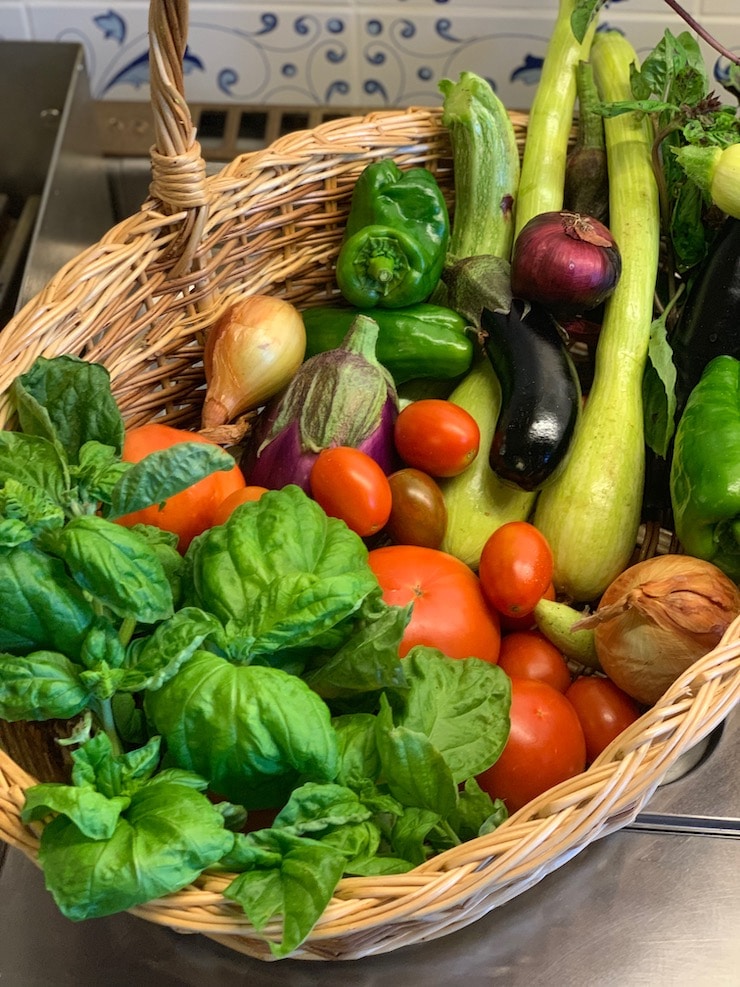 So here's my tip for travelling with kids and trying to just get through the day. Don't stress so much about food. I mean, you're on holiday. You yourself are going to drink more wine, eat more carbs, stay out later, and consume a lot more coffee than what you typically would do at home. The same will happen with your kid (well, hopefully not with the coffee and wine). Embrace it. Having said that, I still wanted to make SOME effort to make sure my kid was getting protein and veggies, and not just eating bread. So here's a little list of foods I picked up at the local grocery store or any café's that would be appropriate for BLW babies, and toddlers.
dairy
Milk – This was basically the most important thing for us HA. If your baby is off formula and/or breastmilk, it's a good idea to make sure you can get yourself some whole milk as soon as you get in. On travel days my MOM HACK was to simply go to any café and ask for just plain steamed whole milk (this is their idea of a latte actually lol). It would be warm and ready to drink!
Cheese – Any cheese is great for snacks and if you want a low sodium option, go with a nice buffalo mozzarella.
Ricotta or Yogurt – Europe is all about full fat dairy so it shouldn't be too hard to find a nice high fat, low sugar option for breakfasts. This became a staple for us.
fat
Butter or Olive oil – Because some foods need a little added fat (like steamed veggies).
fruits and vegetables
Fresh fruit – We always had bananas for travel days, strawberries and raspberries for breakfast, watermelon, figs (because they grew in our Air BnB's garden) and clementines.
Fresh veggies – While most vegetables need to be cooked for babies and toddlers (see below), mine loves fresh tomatoes (cut into wedges or halved or quartered if cherry) and avocado.
protein
Rotisserie Chicken – A staple and so easy to just pull apart into pieces for baby to handle. If you're worried about salt with a new eater, you can give it a little rinse first!
Nut Butter – Perfect for swirling into oats, yogurt or on toast.
Sugo (meat) Sauce – I was in Italy, and every grocery store had homemade meat sauce in the prepared food section. My kid LOVED this stuff.
Cooked Meatballs – So easy and again, pretty readily available in most grocery stores we went into.
Canned Tuna or Salmon – This is such an easy economical staple packed with omega 3 fats so we always have it in the house. I suggest buying LIGHT tuna rather than albacore for babies as it's the lowest mercury choice.
Hummus or other bean-based dips – Hey, kids love to dip and as soon as I found a little juice bar making hummus bowls, my kid was SO EXCITED. Pretty sure he ate straight up hummus with his hands for lunch one day, and that was it.
Eggs- An essential for breakfasts.
carbohydrates
Whole grain bread – All kids like bread, and since they're probably going to eat a lot of carbs on their trip, I say choose a really nice high fibre bread. I couldn't recognize any of the brands there, but I just looked at all of the nutritional labels and chose one with the most fibre.
Roasted potatoes or sweet potatoes- Most of the grocery stores I was in had some sort of potato casserole or dish.
Plain Croissants- Hey, I had to let my kid experience a proper Italian breakfast (sans coffee). I tried to look for a plain croissant (or one place near our Air BnB had a nice multigrain option) that wasn't stuffed with Nutella or pistachio cream (those were saved for mama).
Whole grain pasta – Compare labels and find a pasta that is fortified with iron and high in fibre.
Oats or oatmeal – A lot of restaurants and cafes will have oatmeal to purchase, but I also made sure to have plain oats in the house that just required some hot water and whatever fruit or nut butter add-ins the babe would like.
Food to Prepare or Cook while travelling
Whole Grain Short Cut Pasta – I would batch cook a whole box of short cut pasta so I not only could serve this for dinners with the sugo I bought (see above) but also it was so easy to put plain cooked pasta in a baggy for stroller snacks on the go.
Steamed Vegetables – My son is used to eating a lot of vegetables so we want to make sure we keep those bowels moving while on holiday! We did a lot of steamed baby carrots, cauliflower and broccoli.
Tuna or Salmon Salad Sandwiches – You got that bread already, so if you pick up a can of salmon or tuna and mix it with a little yogurt or mayo, you can make a super quick and delicious sandwich to pack for an on-the-go lunch. Want to get creative? Check out our baby finger sandwiches here.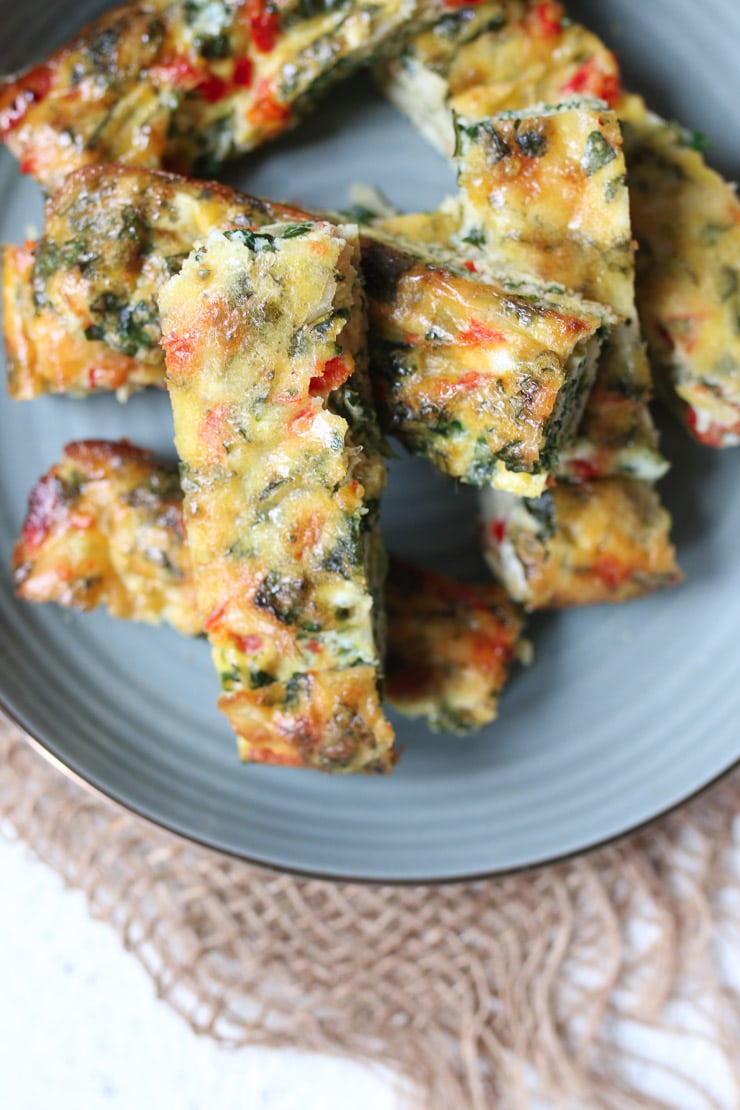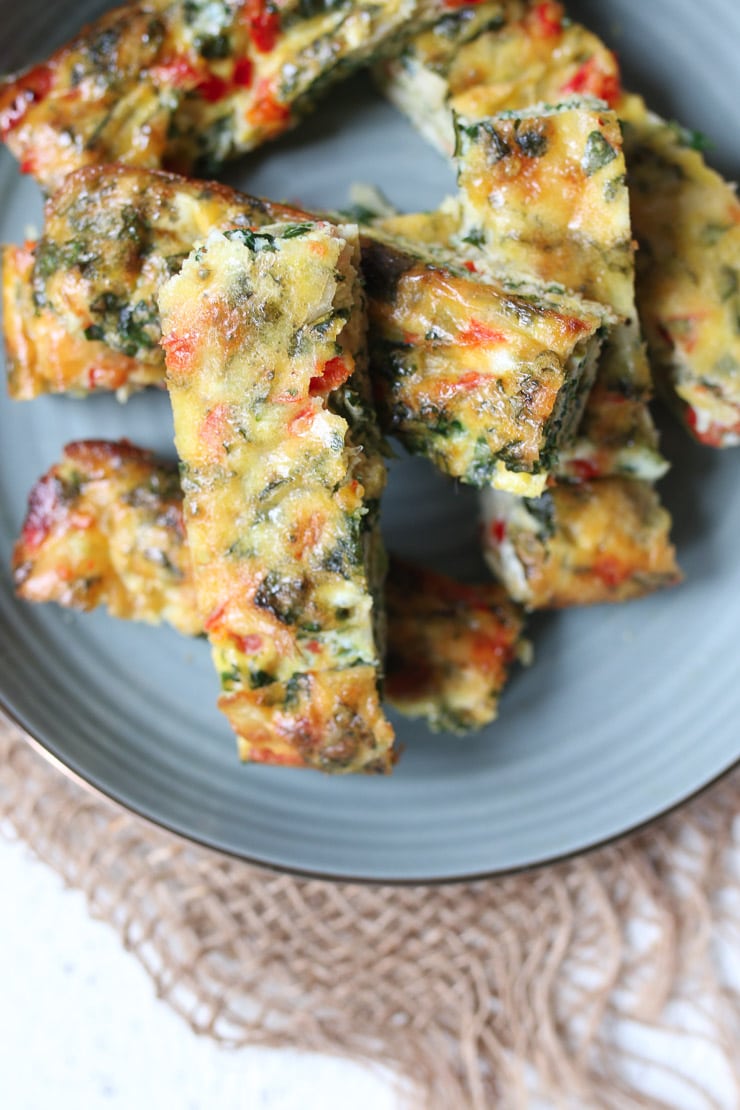 Frittata Fingers- We love these for baby because they're great for home breakfasts and meals on the go. They're so easy and so delicious and a total breakfast staple for us while travelling. Of course, you can also make your eggs scrambled, over easy or any way you like!
Healthy Baby and Toddler Meal Ideas for Travelling and Vacation Eating
Let's keep it simple, shall we?
Healthy Baby and Toddler Breakfast Ideas for Travelling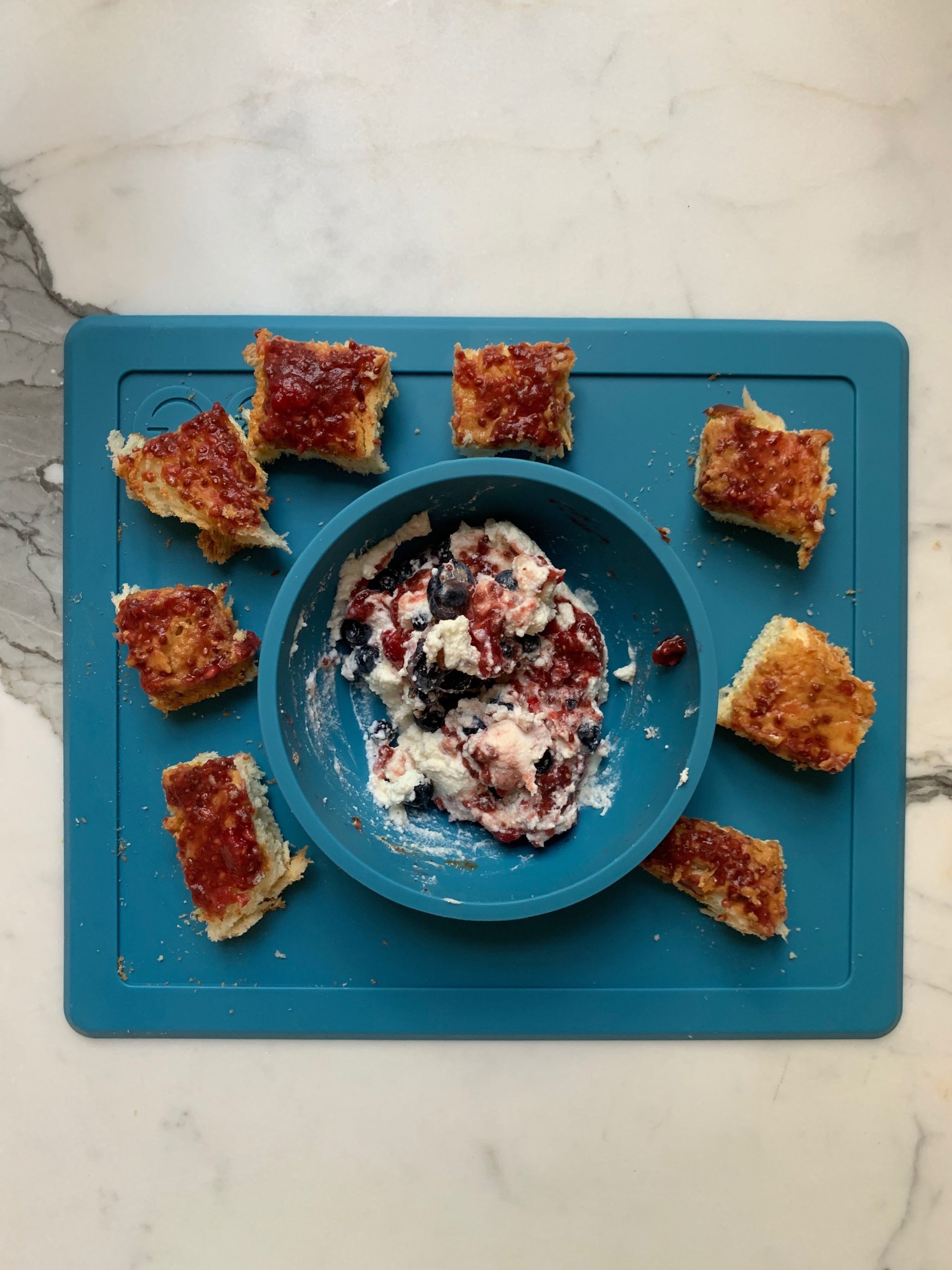 Yogurt or Ricotta with Smashed Berries
Oatmeal with berries and nut butter
Whole grain toast with nut butter
Buttered toast with eggs
Frittata fingers and berries
Croissant with sliced cheese and banana (for an on the go breakfast)
Healthy Baby and Toddler LUNCH AND DINNER Ideas for Travelling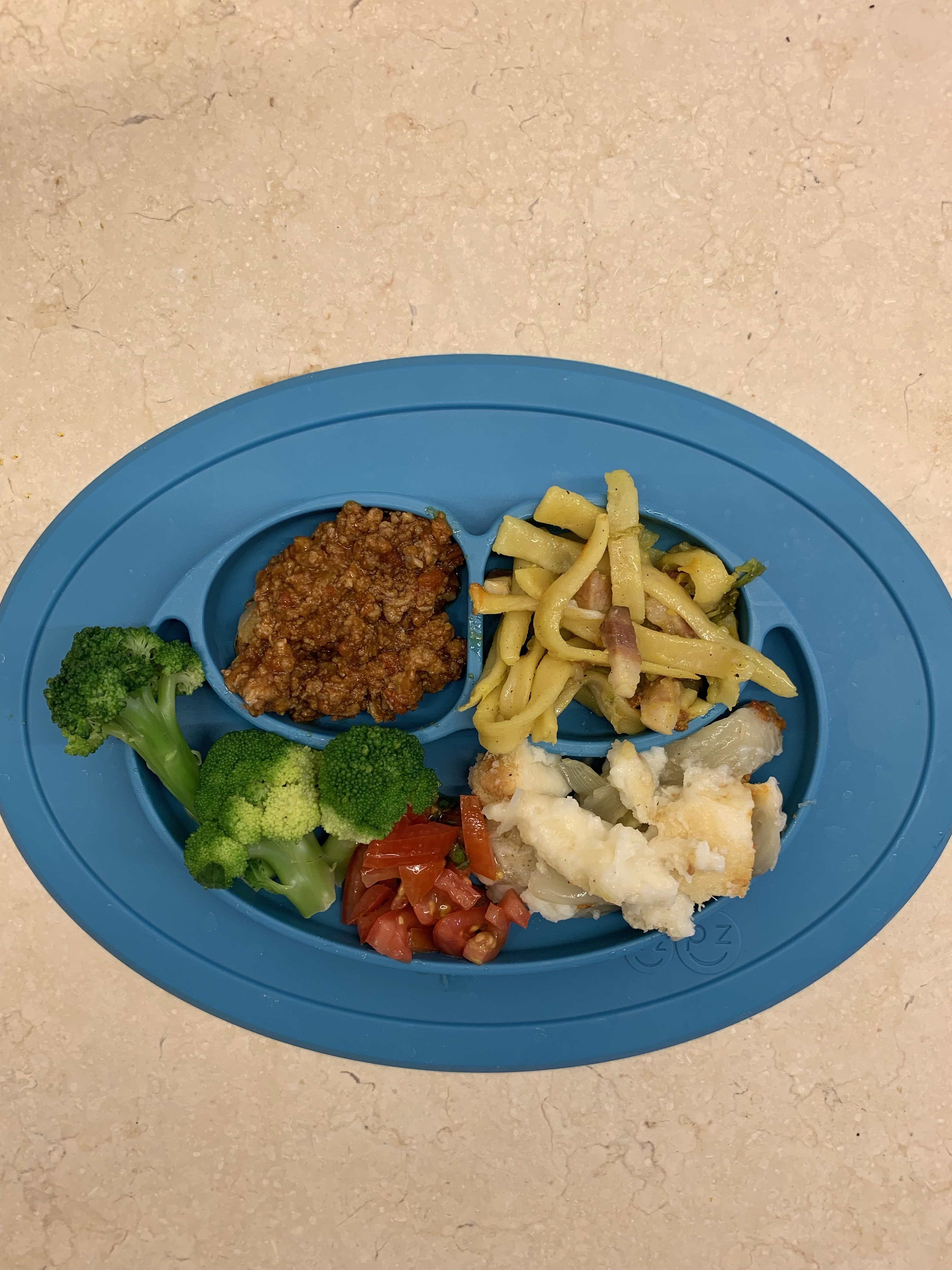 Cooked meatballs with pasta and steamed vegetables
Salmon or Tuna finger sandwiches
Hummus and tomato sandwiches
Rotisserie Chicken with roasted potatoes and veggies
Sugo with pasta and chopped up veggies
Meatball sliders (cooked meatballs between pieces of bread)
Sugo sloppy joes (sugo between pieces of bread)
Healthy Baby and Toddler SNACK Ideas for vacationing on the go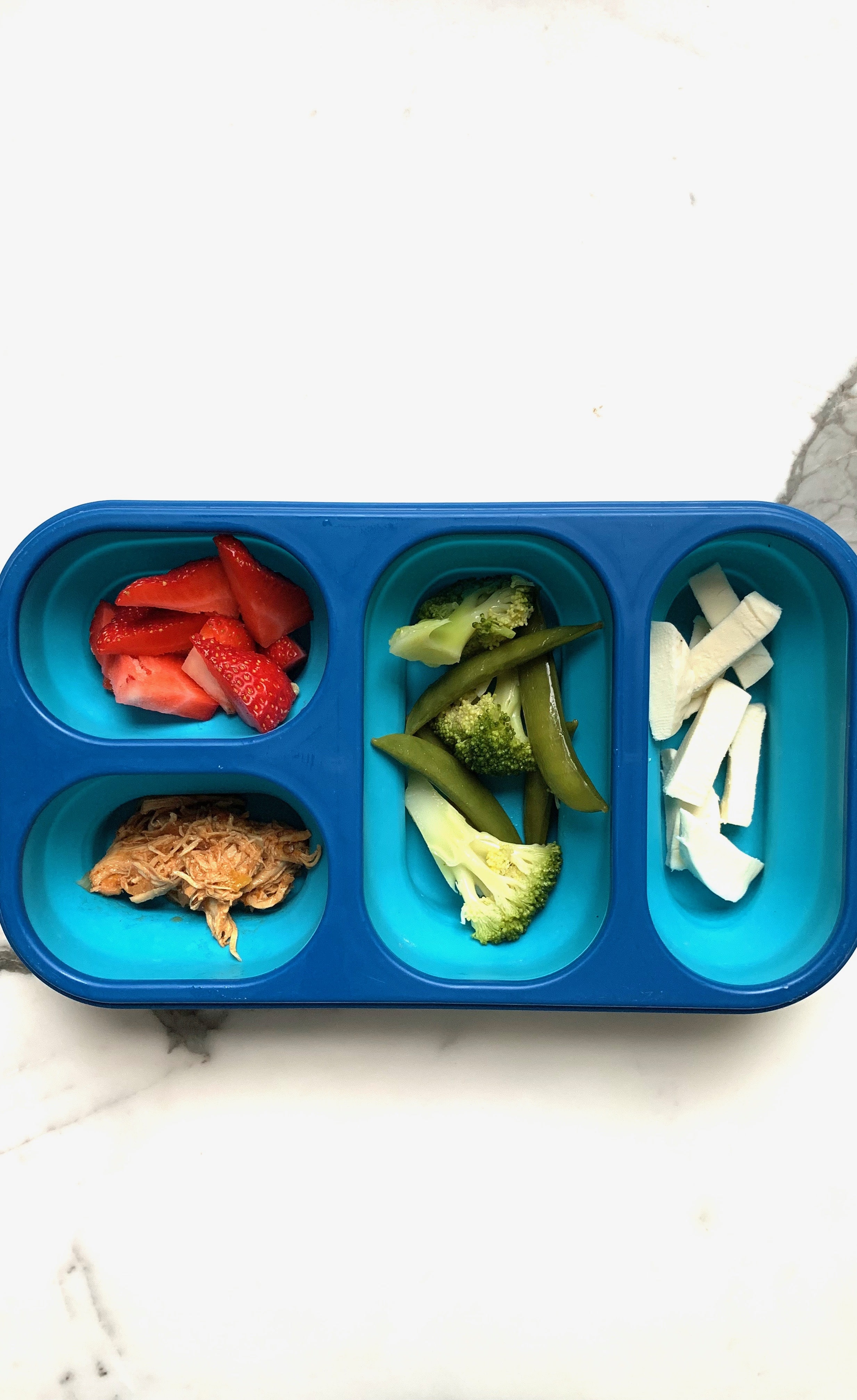 Sliced cheese
Steamed baby carrots with hummus
Plain whole grain pasta
Plain croissants
Whole grain bread with peanut butter
Bananas
Clementines
Plums or peaches
Real talk. Your kid is probably not going to be eating as much veggies and protein as you want while you're away. Some days will be so crazy and hectic, making sure your kids meals are nutritionally balanced will be the LAST of your concerns.
MOM CONFESSION. On our very long day of travel home, my kid ate a sugar coated croissant for breakfast, refused lunch, drank his milk, ate a bit of plain pasta and wouldn't touch his veggies or meat. The closest thing to fruit and veggies my kid got was a store-bought smoothie that was loaded with sugar. IT'S GOING TO BE OKAY. We got home, and he was REALLY excited to eat his salmon and veg.
So now moms and dads, tell me – what foods did you pack, prepare and buy while you were on vacation with your toddler or baby to help you survive?
Leave me a comment below with your suggestions!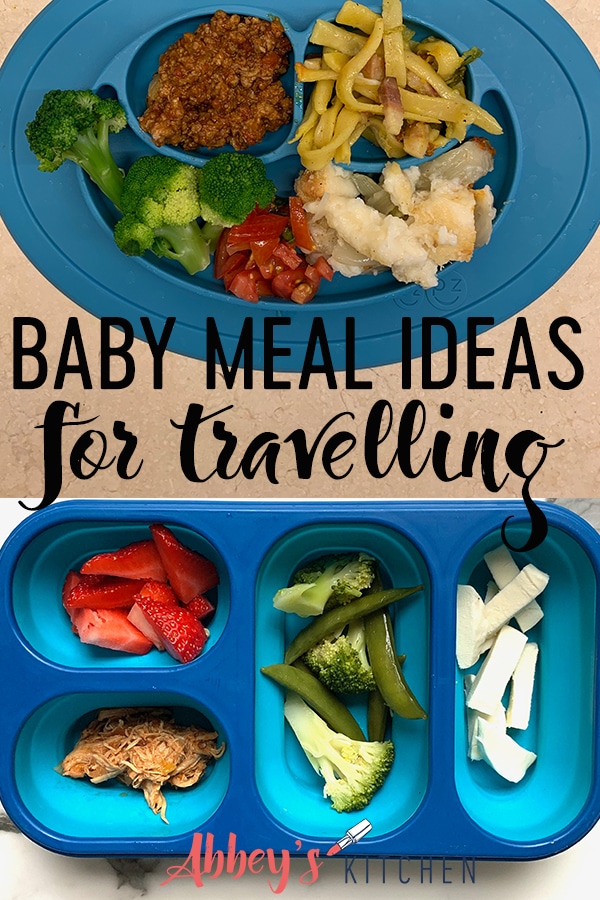 Updated on July 23rd, 2020