These healthy carrot cake cupcakes with yogurt cream cheese frosting are a delicious snack or treat for satisfying that sweet tooth!
Aside from banana muffins (I make a wicked version of these too), carrot cake cupcakes are my all-time favourite vegetable-based treat. They're sweet, they're chewy, and they're packed with yummy bits of pineapple, nuts and carrot. And best of all – they come topped with a decadent cream cheese frosting.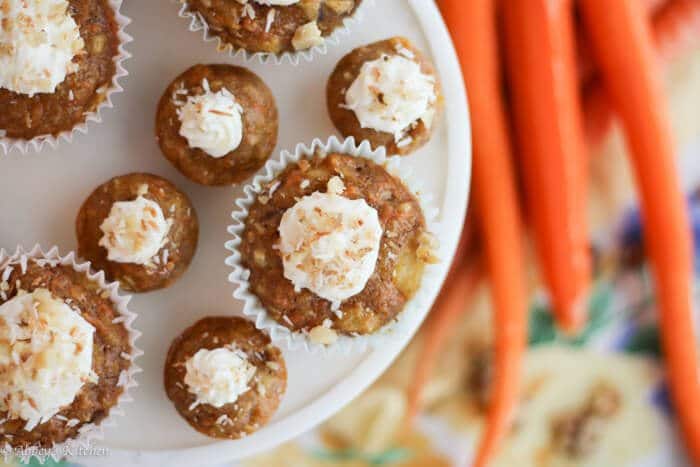 But how do you make Healthier Carrot Cake Cupcakes?
Well, carrot cake cupcakes, like any kind of baked good, are pretty particular when it comes to modifications. You can't just remove all the fat or all the sugar and expect it to work out. Sorry guys, I have done the hard work and can honestly tell you that it won't. It's important to remember that carrot cake cupcakes – even though they have veggies in them – are still a treat. But we can still make some significant changes to the recipe to lighten them up, cut back on fat, and also reduce the sugar.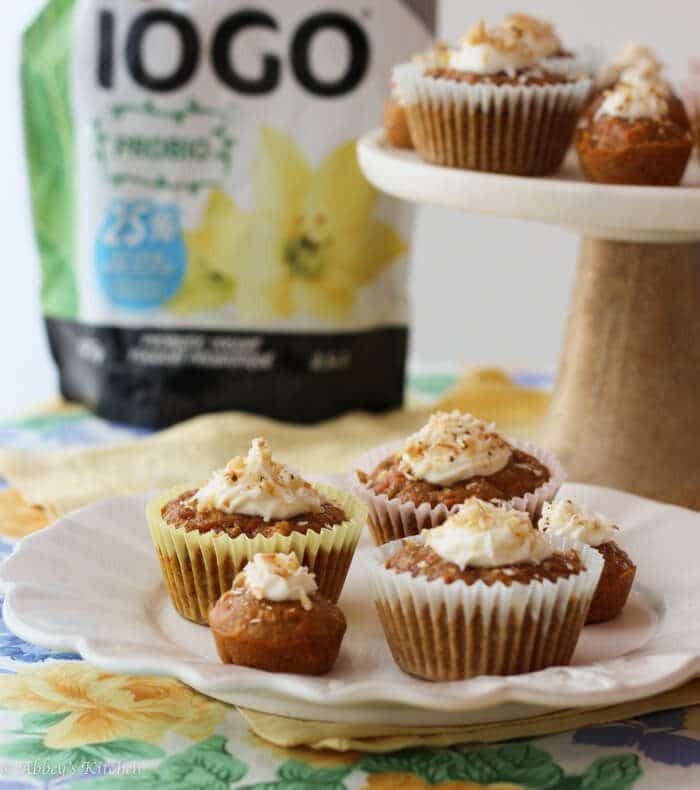 One of my secrets to cutting down on fat, boosting protein, and still getting really moist carrot cake cupcakes is to use yogurt. I'm using my go-to yogurt, IÖGO Probio Vanilla yogurt which now has 25% less sugar than before and only 80 calories per serving. It also packs over 1 billion probiotics per 100 gram serving so it's great for promoting gut health. Not only does it add amazing texture and vanilla flavour, but the yogurt keeps my carrot cake cupcakes so moist, I only need to add 1/4 cup of coconut oil and can cut back drastically on the sugar.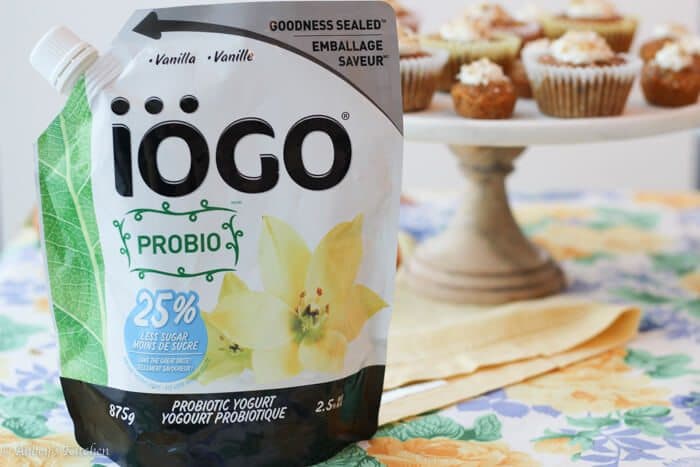 Recently I discovered IÖGO's new packaging with a resealable cap in their Original, Probio and Greek flavours. The new cap not only locks in the freshness, but it makes pouring my yogurt into my recipe a million times easier and takes up way less space in my fridge. When you're done whipping up a batch of these bad boys, you can just screw the lid on, pop it back in the fridge, and it's ready to be poured into a parfait glass for breakfast the next day. Or maybe right into your mouth. Either way, no spoons and no mess required!
But what are we going to do about the obligatory cream cheese frosting? You cannot have carrot cake cupcakes without a decadent cream cheese frosting – AM-I-RIGHT? Don't worry, folks. I got your back. If you were getting ready to head to the gym to help you justify topping these healthy carrot cake cupcakes with a super sugar bomb frosting, get ready for something a little lighter. I love this yogurt cream cheese frosting because it is significantly lower in fat and calories and light as a feather, but you still get that classic cream cheese sweet-tangy flavour. OMG. This on a spoon? YEP.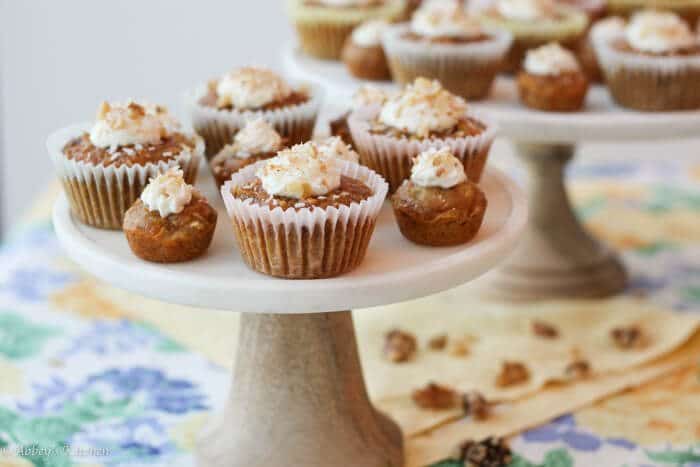 Do you love carrot cake cupcakes with cream cheese frosting but have been looking for a lightened up version? What are some of your favourite baked goods that need a recipe makeover? Leave me a comment below with your go-to treats!

Disclaimer: This recipe was developed in paid partnership with IÖGO, however, as always, all opinions are genuine.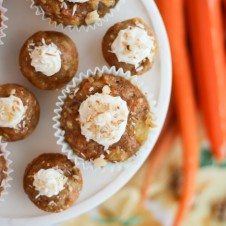 Healthy Carrot Cake Cupcakes with Yogurt Cream Cheese Frosting
These deliciously moist carrot cake cupcakes are lightened up with yogurt, less oil and less sugar and you still get an amazing low yogurt cream cheese frosting! Yay- winning!
Print
Pin
Rate
Servings:
18
regular and 48 mini
Ingredients
Cupcakes
1/2

cup

crushed pineapple

drained

1 1/2

cups

finely grated carrots

1/4

cup

golden raisins

1/4

cup

finely chopped walnuts

1/4

cup

unsweetened coconut

2/3

cup

whole wheat flour

2/3

cup

all purpose flour

1/2

tsp

baking soda

1

tsp

baking powder

1/2

tsp

nutmeg

1/4

tsp

ginger

2

tsp

cinnamon

1/2

tsp

salt

3/4

cup

plus 2 tbsp brown sugar

packed

1/2

cup

IOGO's Vanilla Probio yogurt

1/4

cup

coconut oil

2

eggs

1

tsp

vanilla extract
Frosting
1/2

cup

cream cheese

very soft

2

tbsp

coconut oil

melted

3

tbsp

powdered sugar

2/3

cup

IOGO's Vanilla Probio yogurt

1/4

tsp

vanilla extract

Toasted unsweetened coconut

for garnish

Toasted walnuts

finely chopped, for garnish
Instructions
Preheat oven to 350ºF. Prepare 18 muffin tins with muffin liners or spray 48 mini muffin tins with non-stick cooking spray (or do a combination of both!)

Press the excess juice out of pineapple in a fine sieve. Place the pineapple in a small bowl and stir in carrots, raisins, nuts and coconut.

In another large bowl, whisk together flours, baking soda, baking powder, nutmeg, ginger, cinnamon, and salt. Add in the brown sugar, yogurt, coconut oil, eggs and vanilla and beat on low speed in an electric mixer until well combined.

Add the carrot-raisin mixture to the flour mixture, and fold until well combined.

Fill the muffin tins no more than 2/3 of the way full. Bake the large cupcakes for 20-25 minutes, and the mini cupcakes for about 8-12 minutes, or until a skewer comes out clean. Let cool in the pan for 10 minutes, then remove and transfer to the fridge to completely chill before icing.

While the cupcakes cool completely, put the cream cheese and coconut oil in a medium size bowl and beat until very soft. Add in the sugar and continue to beat until well incorporated and smooth. Add the yogurt and vanilla extract and beat until fluffy and light.

To decorate, transfer the icing to a piping bag if desired and pipe little florets onto each cupcake. Top with toasted coconut and walnuts, if desired. Store in the fridge until consumed.
Nutrition
Updated on October 4th, 2021