These low fat homemade chorizo and sweet potato tacos are packed with flavour, served in low carb lettuce wraps, and topped with avocado, mango and radishes.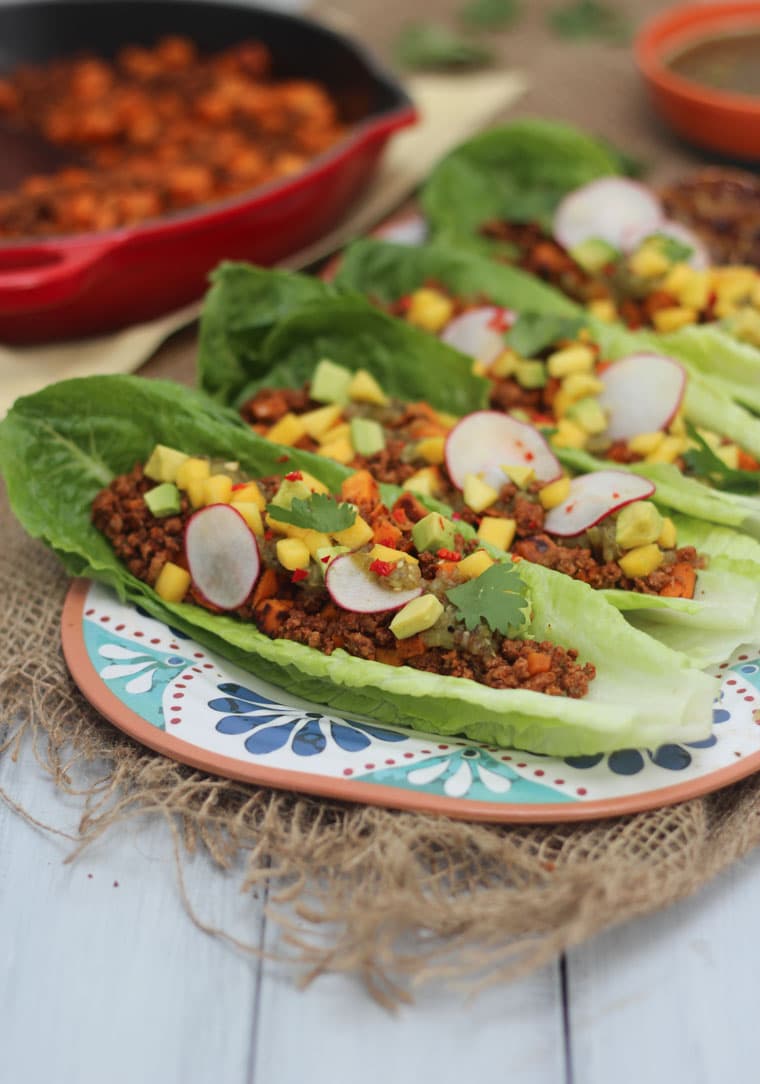 Real talk- taco night is always the best night. No, not just because I enjoy any excuse not to eat with a fork and knife. And not just because it's an inexpensive way to dine out or in. But because everything always tastes better in a taco- #AmIRight?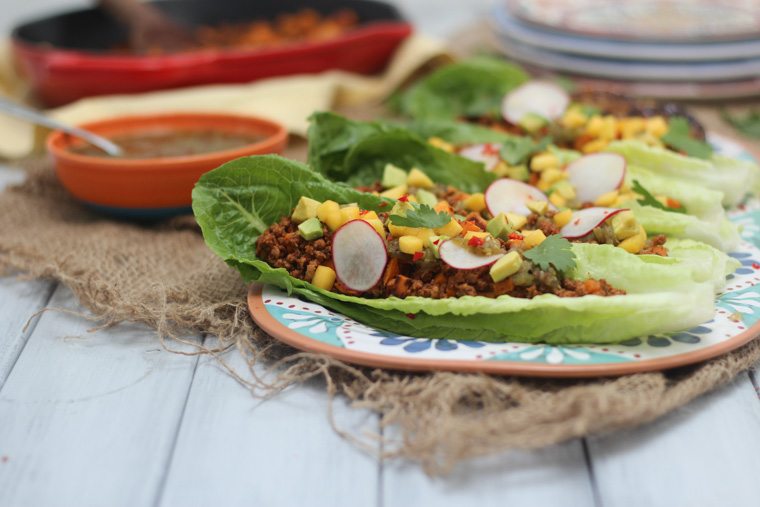 Case in point- chorizo. I mean, chorizo sausage, a classic spicy sausage popular in Mexican and Spanish cuisine, is delicious any way you slice it (or in this case, crumble it). But when topped off with all the classic taco-suspects and packed into a handheld meat-vessel, it just tastes better. Having said that, typical chorizo is really rich and oily. Like you're pretty much guaranteed to ruin your shirt from chili-died oil after a single chorizo taco bite. So I decided to make my own Low Fat Homemade Chorizo and pack them into a low carb lettuce taco shell. And the key to that is to start with the best quality ground pork.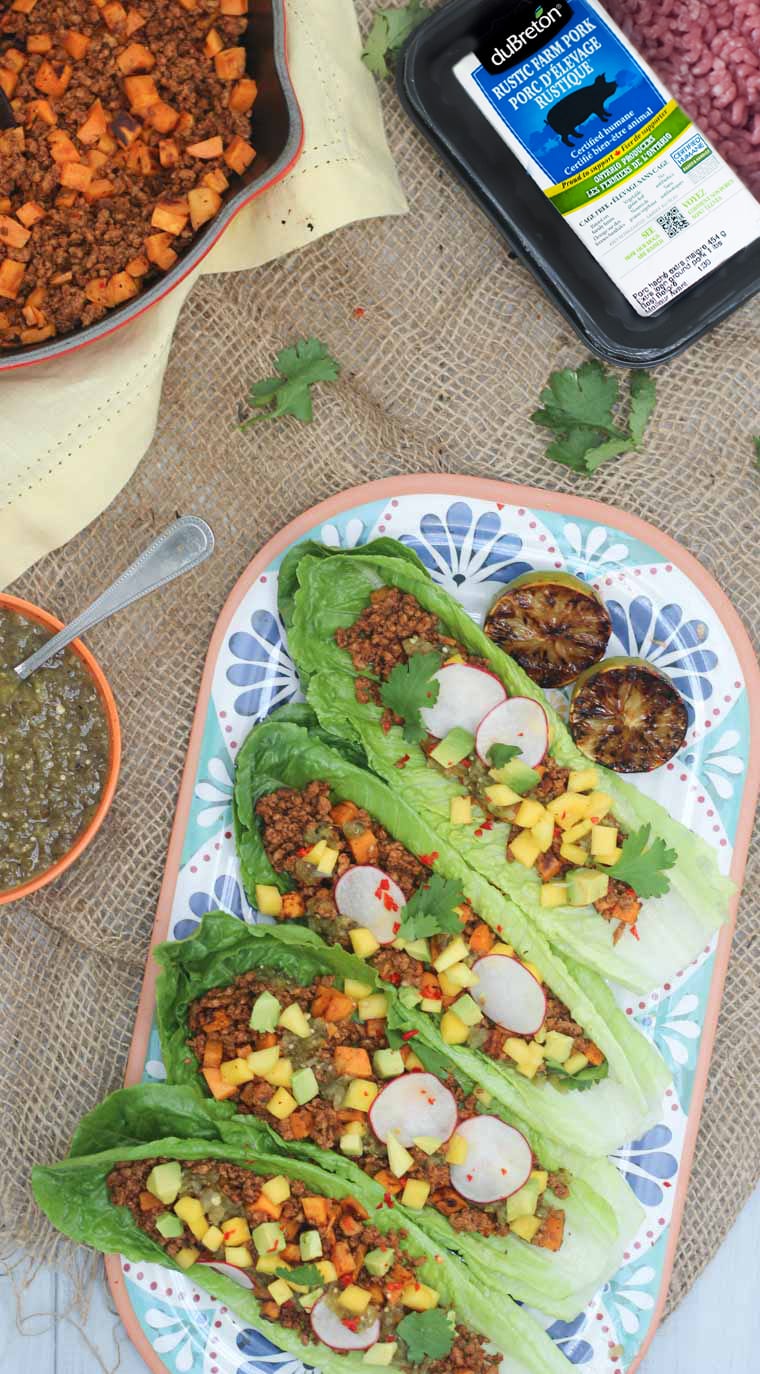 I've recently been buying duBreton pork products since I was introduced to them at Taste of Toronto this summer. DuBreton is the only Canadian pork company to have earned the Certified Humane distinction on all of its Rustic Farm Pork and Organic products. We've talked a lot about animal welfare on this blog lately, and it's definitely a trendy topic. If you aren't already seeing it in stores, this official designation demands that animals are given a nutritious diet without antibiotics or animal by-products. They have to be raised in a crate-free environment  with free access to shelter, hay or straw bedded resting areas, plus have enough space and ability to engage in natural behaviours. So if animal welfare is a priority for you, you definitely want to be on the lookout for the Certified Humane label on any of the meats you buy.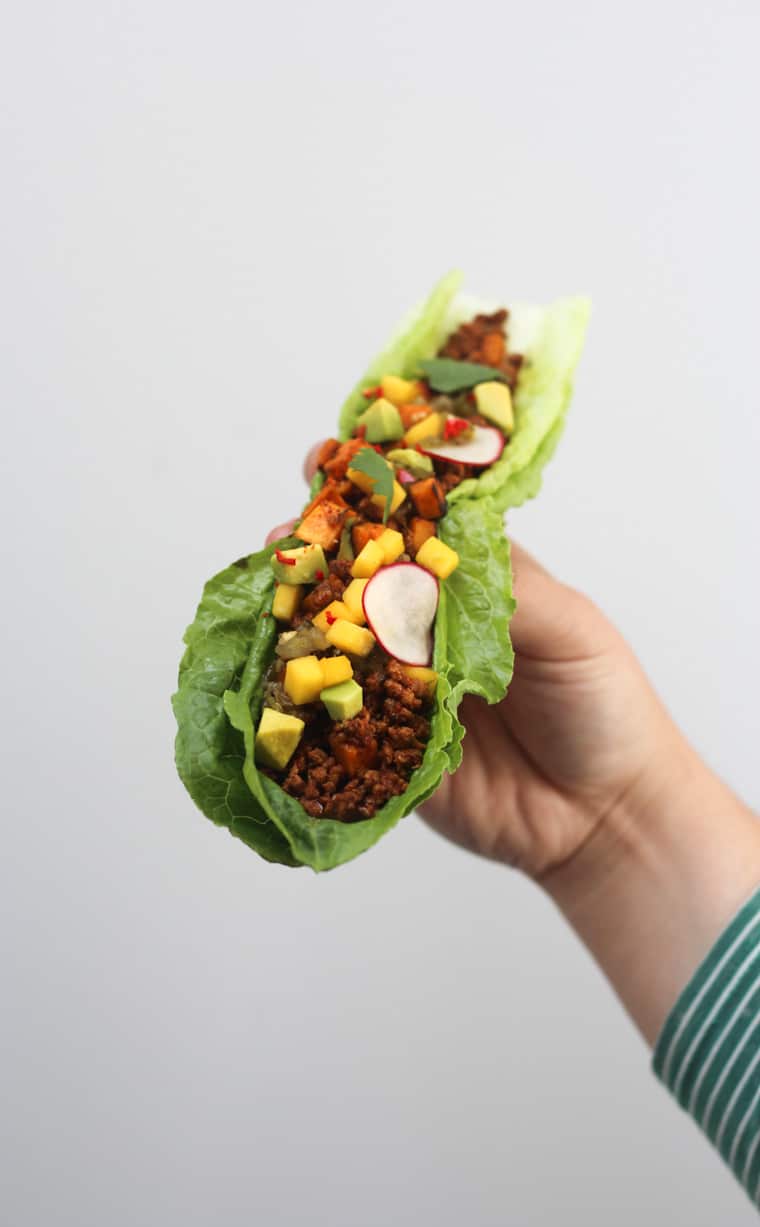 How to Make AMAZING Low Fat Homemade Chorizo and Sweet Potato Tacos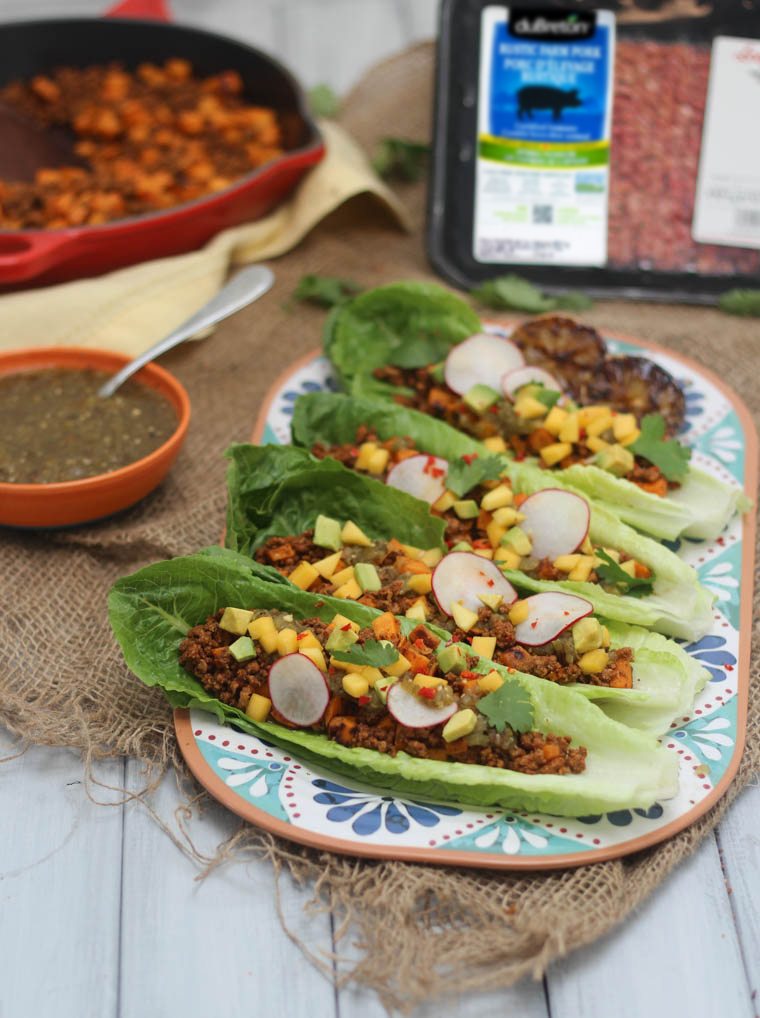 Now that you've got your meat, making your own low fat homemade chorizo is surprisingly easy. It just takes a bunch of different spices mixed with a little apple cider vinegar and of course- your ground pork. I prefer to let mine sit in the fridge over night before cooking to really let those spicy flavours sink in but if you're in a pinch, it still tastes ah-maz-ing freshly mixed.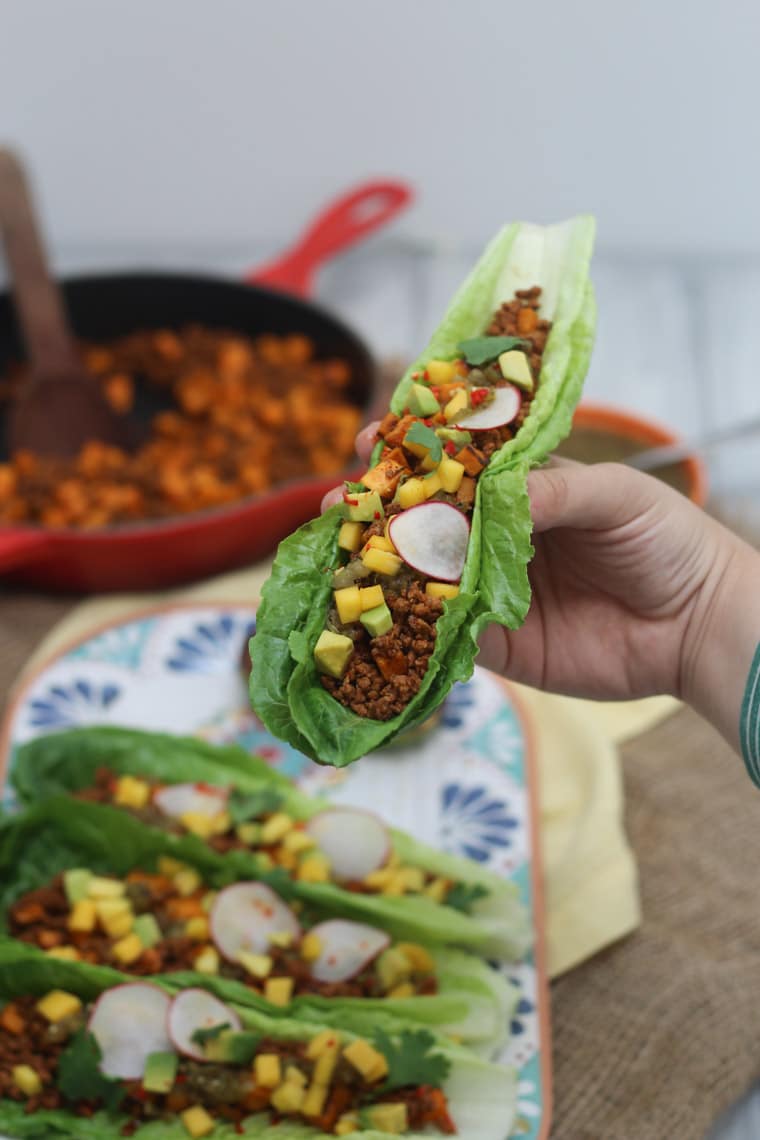 For my Low Fat Homemade Chorizo and Sweet Potato Tacos, I cook off some finely diced sweet potato and the chorizo before stuffing it all into some crispy fresh lettuce leaves. While I have no qualms about using traditional corn or flour tortilla shells, sometimes I just crave something lighter and lettuce is a crunchy vessel for my meat. Plus, this makes them naturally gluten free, low carb and paleo-friendly if that's your jam. You can serve your tacos however you want but I usually like to top mine with some sweet mango, crunchy radish, buttery avocado and fragrant cilantro to balance out the heat. Hey, you do you!
Now, I want to know, have you seen Certified Humane on any labels of products you buy regularly?
What'ss your go-to taco filling?
Have you tried my Low Fat Homemade Chorizo and Sweet Potato Tacos?
Leave me a comment below!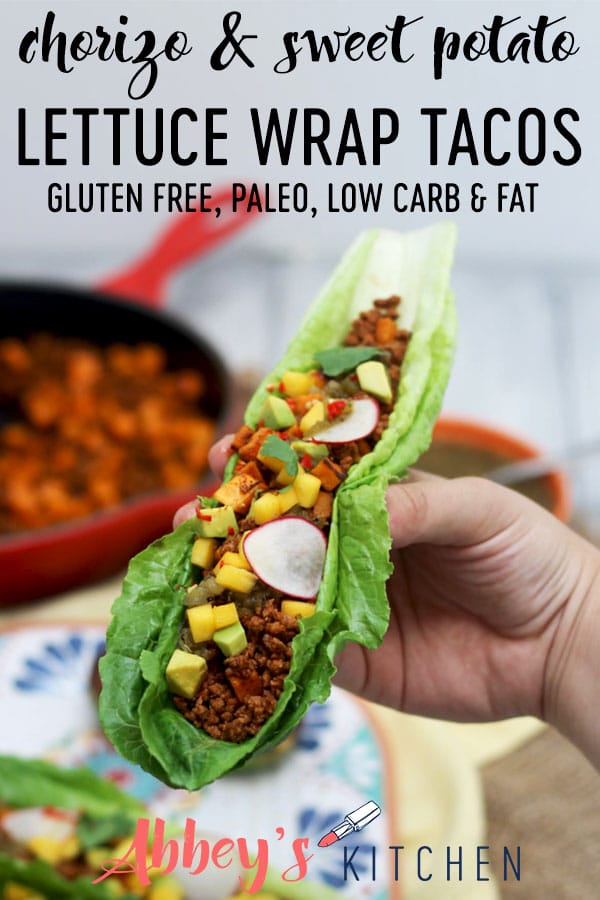 Disclaimer: This post was developed in paid partnership with duBreton, however, all opinions are genuine.
Low Fat Homemade Chorizo and Sweet Potato Tacos with Low Carb Lettuce Wraps
These low fat homemade chorizo and sweet potato tacos are packed with flavour, served in low carb lettuce wraps, and topped with avocado, mango and radishes.
Print
Pin
Rate
Ingredients
Tacos:
2

tbsp

extra virgin olive oil

1

sweet potato

peeled and finely diced

Salt and pepper

to taste

1

large head of romaine lettuce

½

cup

salsa verde

½

mango

finely diced

½

avocado

finely diced

1

radish

thinly sliced

½

cup

cilantro

Lime

for serving
Instructions
In a large bowl, mix together the deBreton pork with all of the spices and vinegar. Stir until well incorporated and mixed, then transfer plastic wrap. Wrap it up tightly into a log and refrigerate overnight.

Heat one tablespoon of oil in a large nonstick skillet over medium high heat. Add in the sweet potato and cook until browned and soft, about 6- 7 minutes. Season with a pinch each of salt and pepper and transfer to a bowl.

Return the pan to medium high heat and add in the remaining oil. Stir in the chorizo and brown until cooked through. Add the sweet potato back in, just to rewarm.

To serve, add the chorizo-sweet potato to the lettuce leaves, and top with salsa, mango, avocado, radish and cilantro. Serve with lime, if desired.
Nutrition
Updated on October 28th, 2020