This Easy Breakfast Vegan Ginger Apple Crisp with Granola Crumble is an easy low sugar, high protein breakfast your family is going to love.
I don't know about you, but I want to live in a world where I can have something that tastes like dessert for breakfast every day. I get that a lot of us are always in a rush in the morning, and so we often think that anything even remotely healthier than a donut is a win. I also understand that most people assume that baking something is a crazy time consuming task that should be relegated to our weekend to-do list. But I want to change that today because this tired mama needs something tasty to wake up to every day.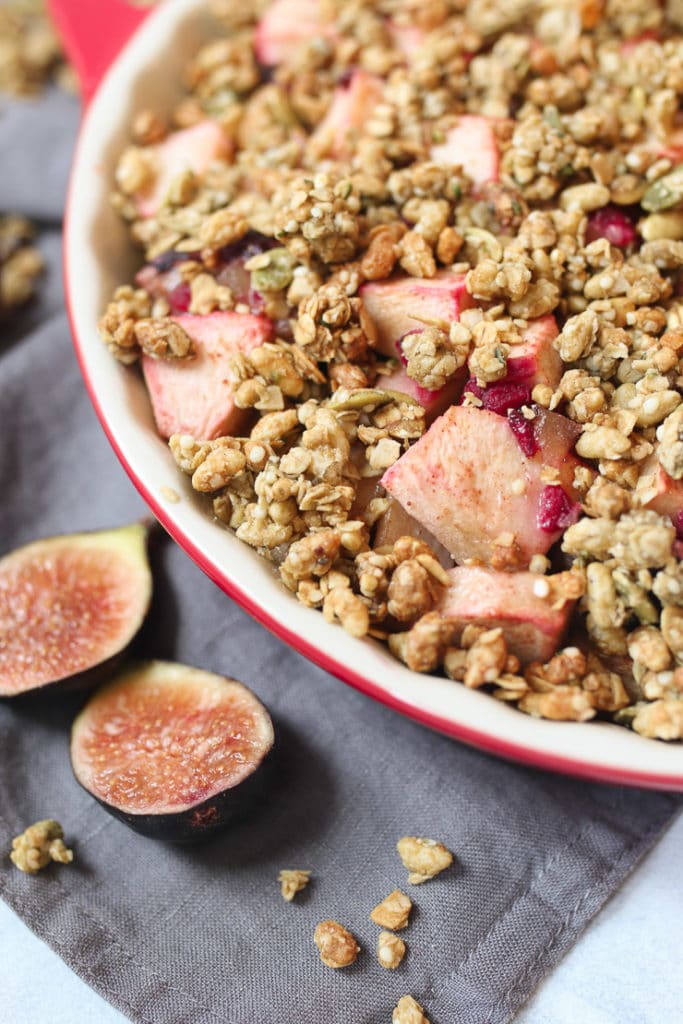 I guess my mom set the bar for breakfast pretty high. When I was a kid, my mom used to make mundane Monday's extra special by baking us her famous baked apples for breakfast. It was super special to us at the time as we felt like we were getting to have dessert before noon, but I realize now that it was literally just a cored apple filled with store-bought granola, brown sugar and butter. It was a super fast, simple and healthy breakfast, but it made the whole house smell divine and we looked forward to getting through the weekends to have a taste.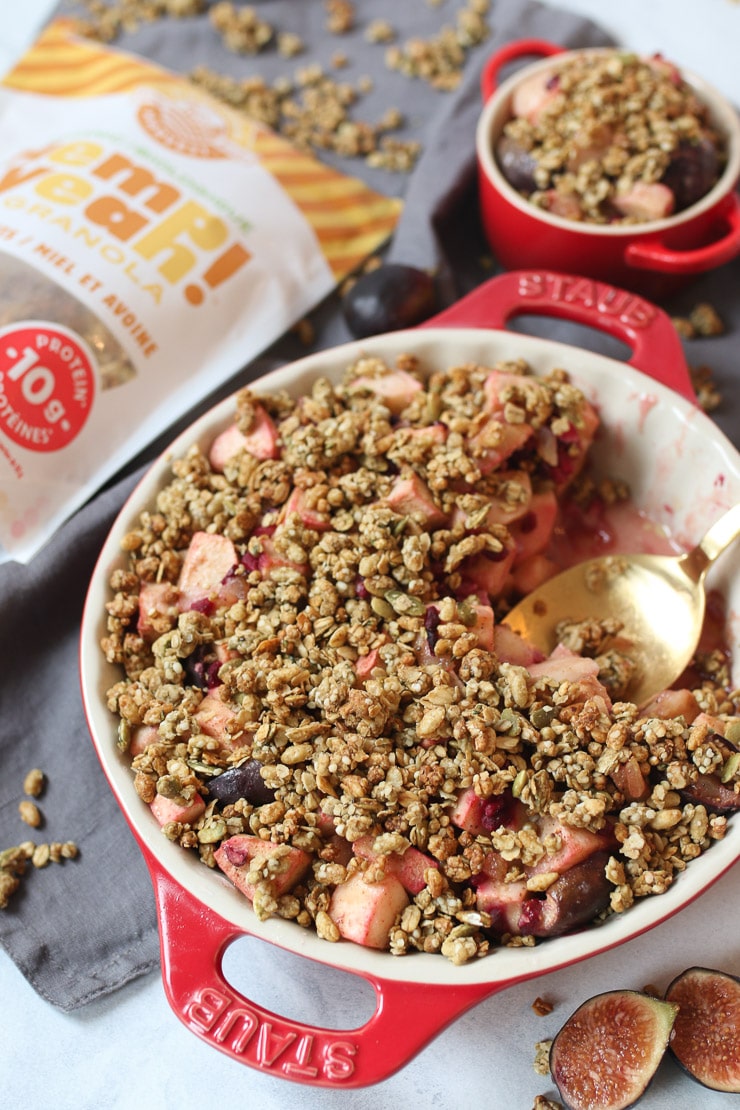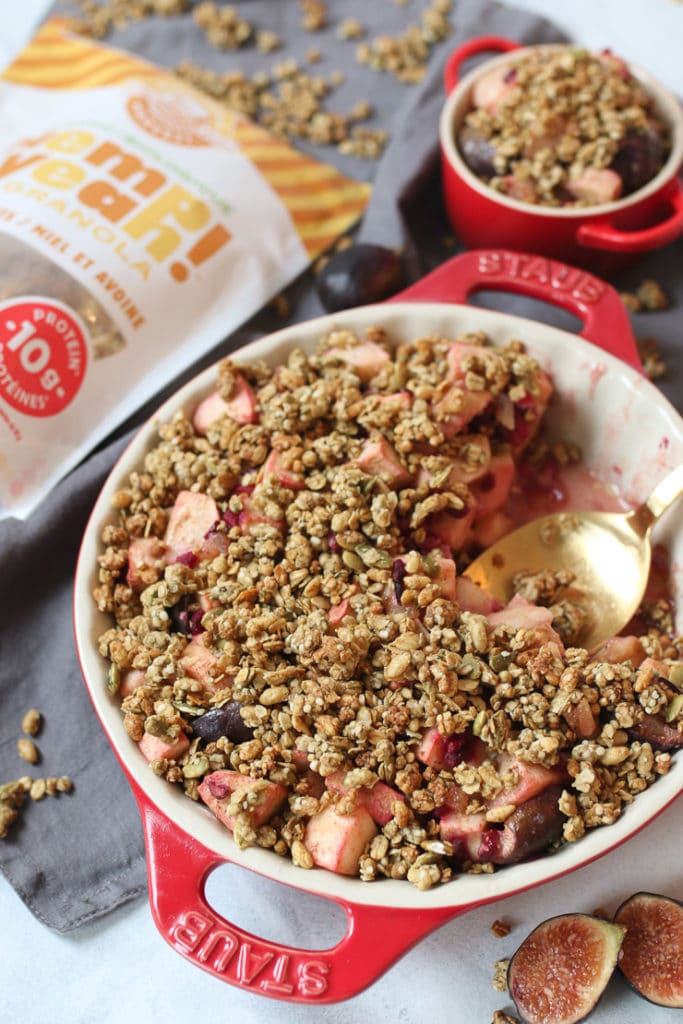 This week I decided I would take a tip out of my mama's book and whip up a plant-based version based on the same concept as my easy breakfast vegan ginger apple crisp with granola crumble. Looks impressive, tastes delish, but it's actually surprisingly easy and nourishing.
How to Make this Easy Breakfast Vegan Ginger Apple Crisp with Granola Crumble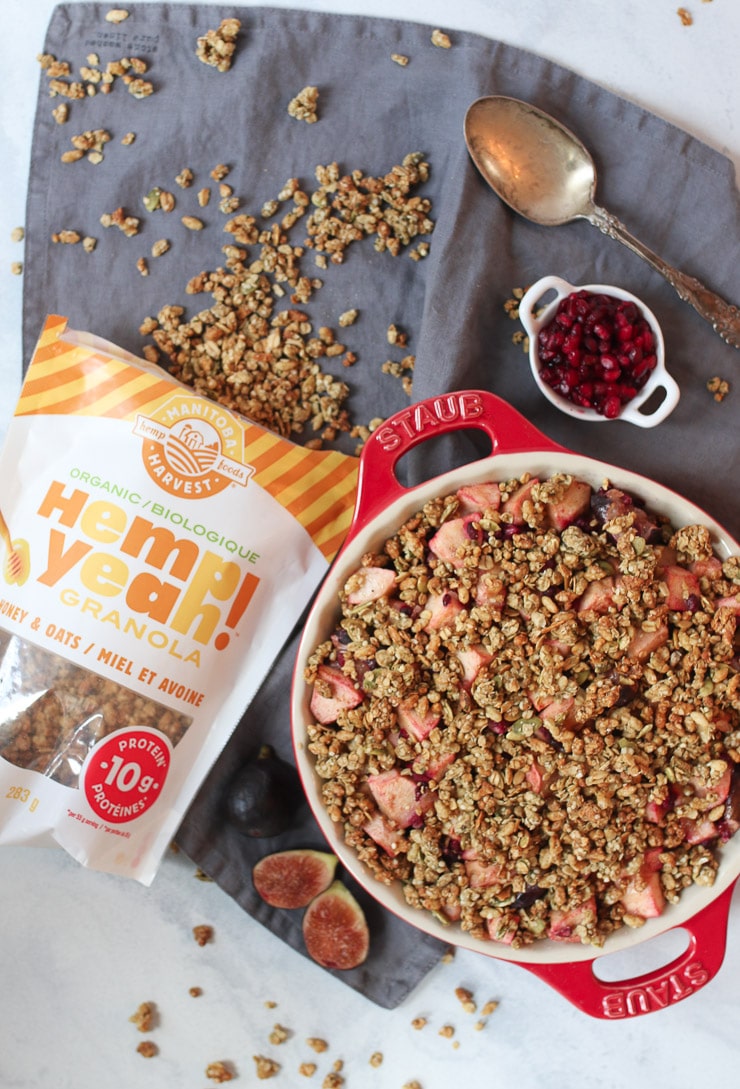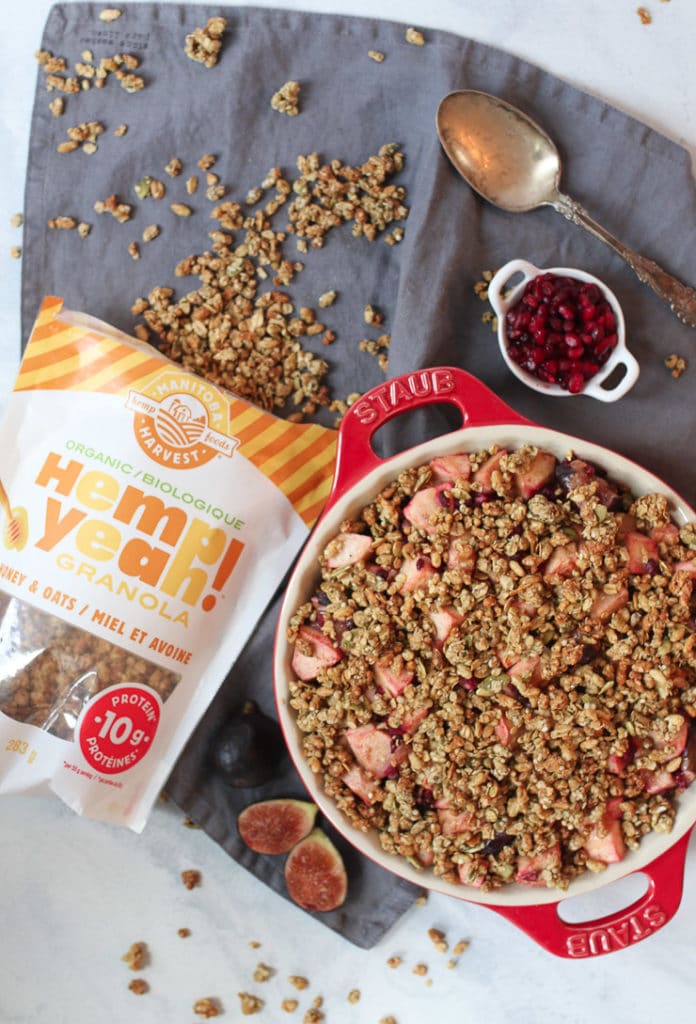 Think you don't have time to bake in the morning? Think again. This recipe throws together any fruit you have in the house (right now, in the dead of winter it's apples and pears, but you can totally use frozen berries, too). I mix them with warm baking spices and some candied ginger for a little zing, and bake them until bubbly and sweet. I personally like to keep this easy vegan ginger apple crisp breakfast appropriate so I actually don't think it needs any extra sugar but if your apples aren't super sweet and you want a little extra sweetness, then of course, add a little maple in there.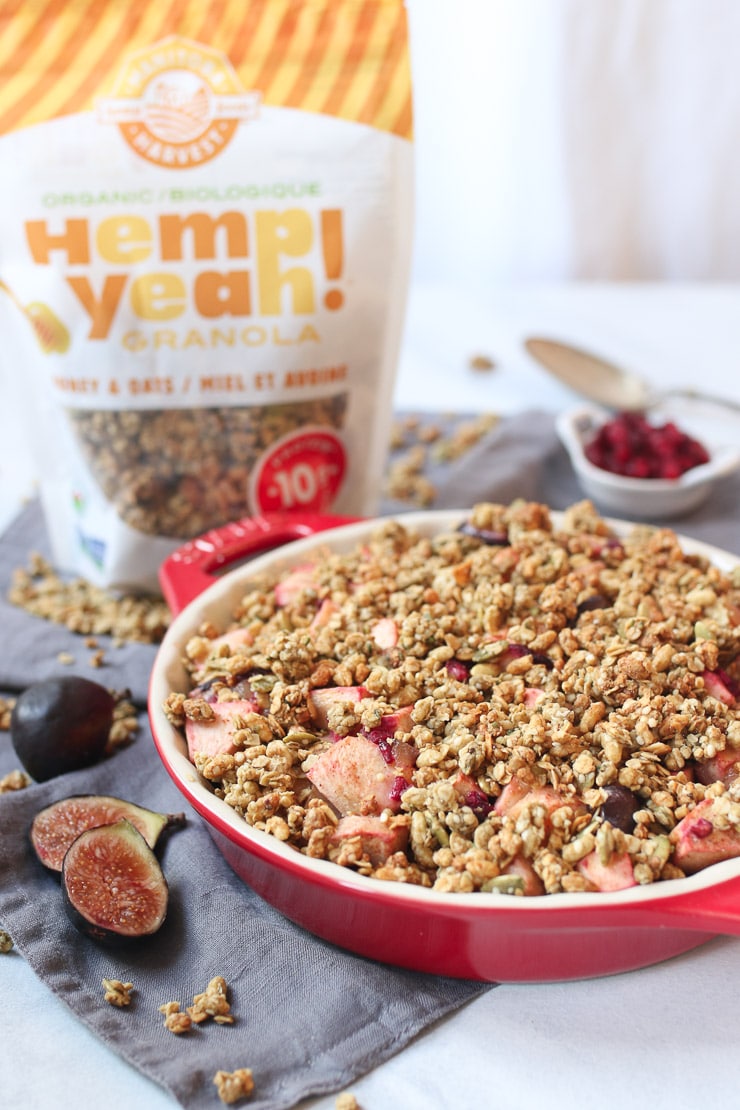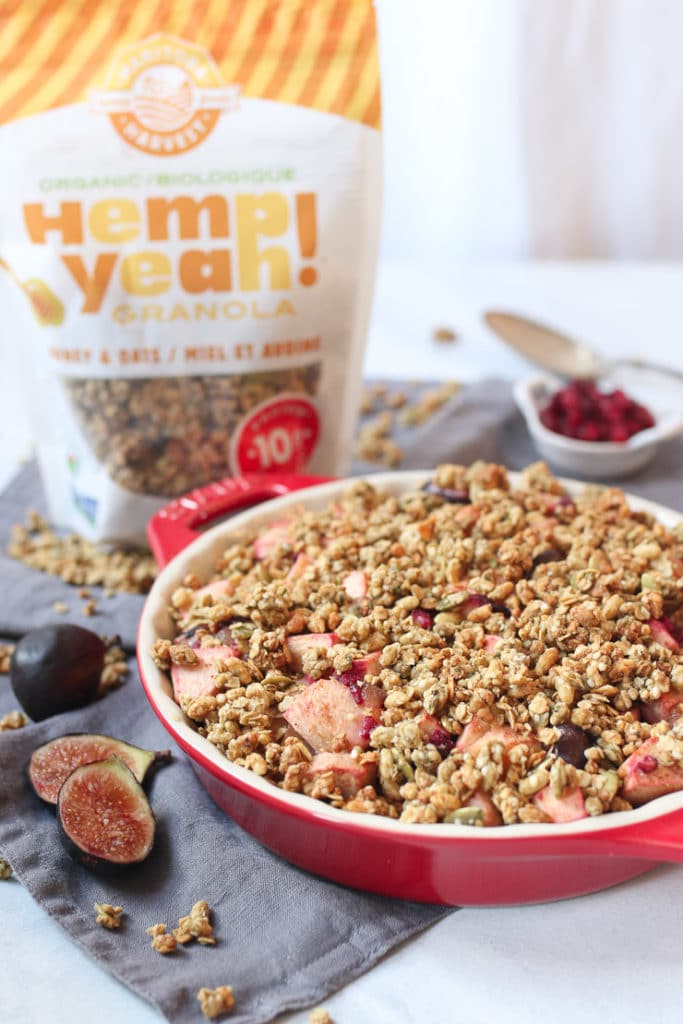 Once the vegan ginger apple crisp base is gooey, tender and warm, we can hit it with the star ingredient- the granola crumble! I have no clue what kind of granola my mom used to use when we were kids, but I am confident it didn't boast health benefits like mine. I am a huge fan of the New Manitoba Harvest Hemp Yeah! Granola because it packs 10 grams of protein and 3.5 grams of omega 3 and 6, but less than 10 grams of sugar per serving. It's made with real, simple organic ingredients like pumpkin seeds, chia, quinoa and hemp so it will actually keep you satiated all morning long. If the thought of hemp has you wondering if this recipe is family-friendly, let me tell you, it's not that kind of hemp. Hemp has been proven to be one of the most nutritionally dense foods on the planet with twice the protein and omegas and less carbs than chia or flax. It's also super delish in this vegan ginger apple crisp.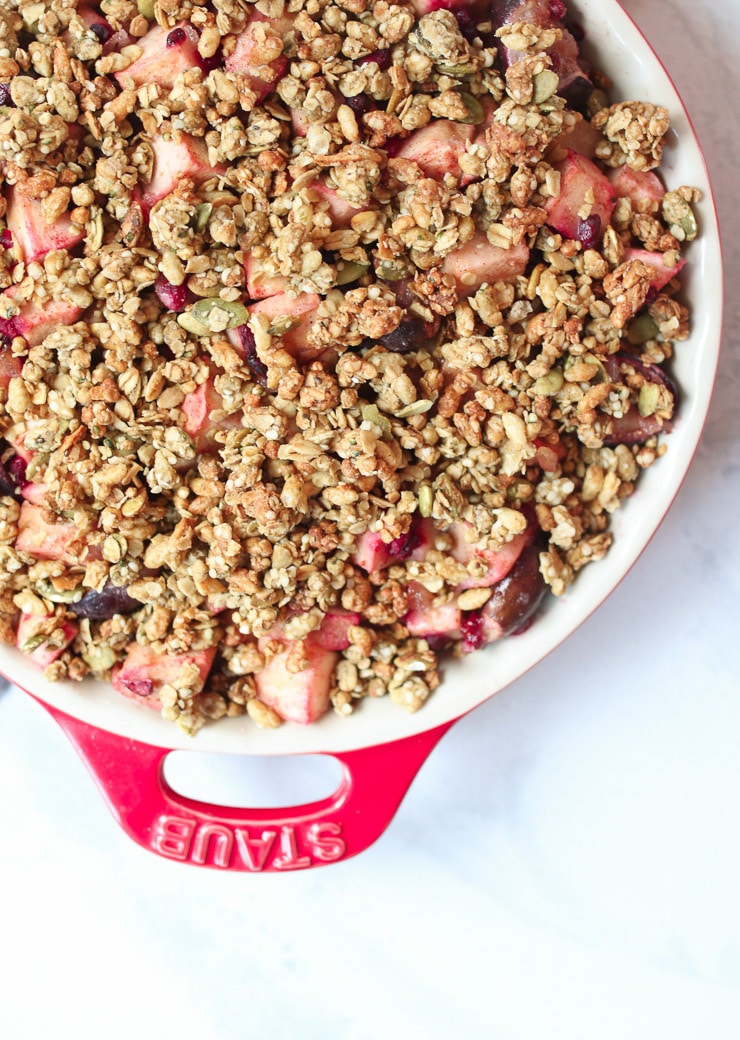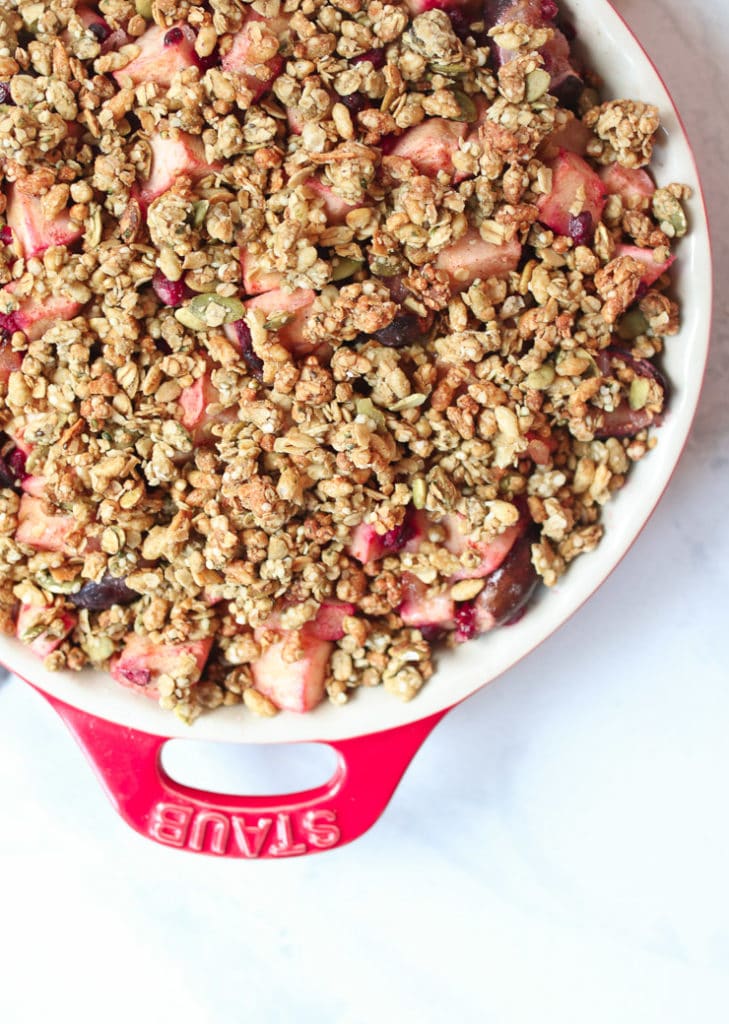 And the best part? This Easy Breakfast Vegan Ginger Apple Crisp is totally make ahead friendly. I bake up the fruit the night before, warm it up in the microwave, and then top it with the granola in the last minute so it stays nice and crisp. In my version, I use the Honey and Oats flavour, but the Blueberry or Dark Chocolate would be equally tasty. You can find them all in major grocery stores or on Amazon as I do (when you're a Canadian mom in a terrible winter, you buy EVERYTHING online).
do you have any other great vegan Breakfast recipes?
You bet I do!
VEGAN BREAKFAST SAUSAGE WITH APPLE & MAPLE
VEGAN BREAKFAST TOFU BURRITO WITH TOFU SCRAMBLE
PEANUT BUTTER AND JELLY VEGAN BREAKFAST COOKIES
Now lovelies, I want to know, what are your thoughts on baking something up on a weekday for breakfast?
Have you tried my Easy Breakfast Vegan Ginger Apple Crisp yet?
Leave me a comment below with your thoughts!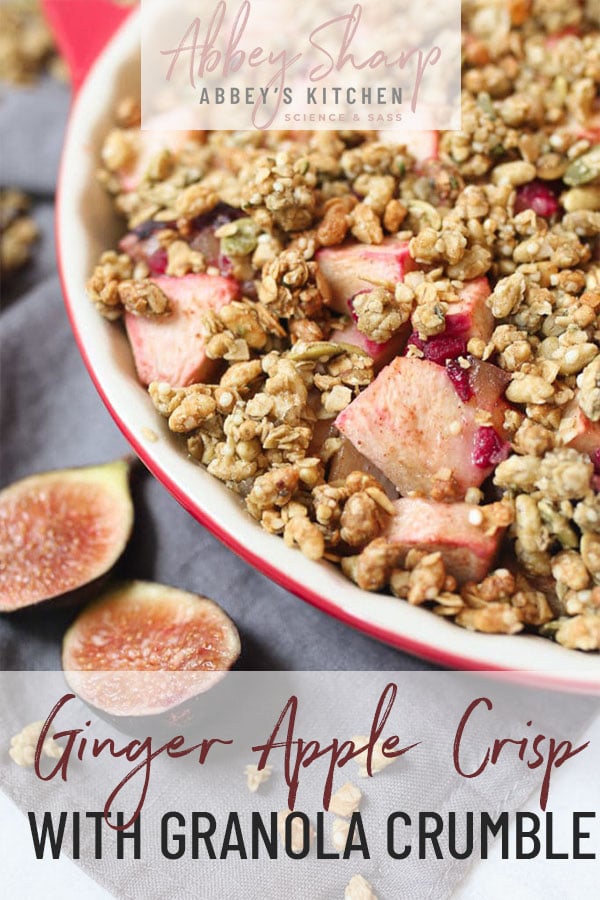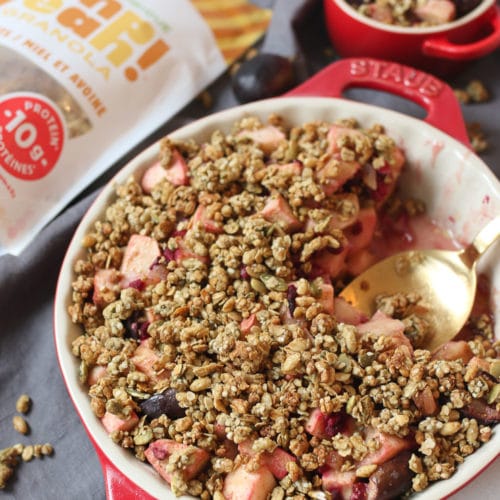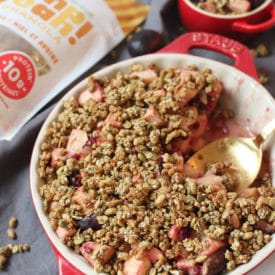 Easy Breakfast Vegan Ginger Apple Crisp with Granola Crumble
This Easy Breakfast Vegan Ginger Apple Crisp with Granola Crumble is an easy low sugar, high protein breakfast your family is going to love.
Print
Pin
Rate
Ingredients
3

apples

peeled and diced

2

pears

peeled and diced

1/3

cup

pomegranate arils

1

cup

halved figs

2

tbsp

minced candied ginger

2

tbsp

vegan butter

melted

2

tsp

lemon juice

3

tbsp

tapioca starch or corn starch

¼

tsp

ground nutmeg

½

tsp

ground cinnamon

¼

tsp

salt
Instructions
Preheat oven to 350 F and lightly grease a 9" round pie dish or cast iron skillet.

In a bowl, mix together the apples, pears, pomegranate arils, figs, ginger, butter, lemon, tapioca or corn starch, nutmeg, cinnamon, salt and maple syrup, if using. Pile into the dish, cover with foil and bake for 25 minutes.

Remove the foil and allow to bake for an additional 10-15 minutes or until the fruit is very tender.

Top with the Manitoba Harvest Hemp Yeah! Honey & Oats Granola and serve warm.
Nutrition
Calories:
411
kcal
|
Carbohydrates:
68
g
|
Protein:
7
g
|
Fat:
14
g
|
Saturated Fat:
3
g
|
Sodium:
204
mg
|
Potassium:
516
mg
|
Fiber:
11
g
|
Sugar:
38
g
|
Vitamin A:
380
IU
|
Vitamin C:
13.2
mg
|
Calcium:
54
mg
|
Iron:
2
mg
Updated on October 4th, 2021