These raspberry margarita gluten free donuts are naturally dairy free, grain free and lower in carbs. Instead of fancy mixes and a ton of strange additives, they're just made with the goodness of almond flour, coconut yogurt and fresh fruit!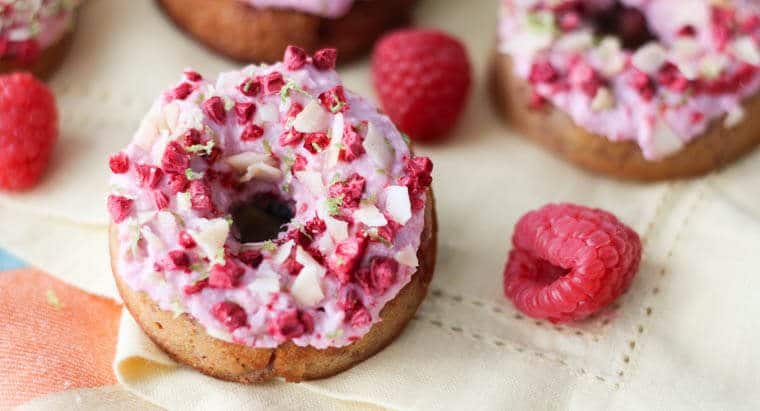 If I were to have one dessert to eat for the rest of my life, it would probably be donuts. I know, they're like the ultimate in indulgent fare – they're carby dough, deep fried and then loaded with sugary sweet frosting. But hey, this is hypothetical (I will never choose just ONE dessert for ever).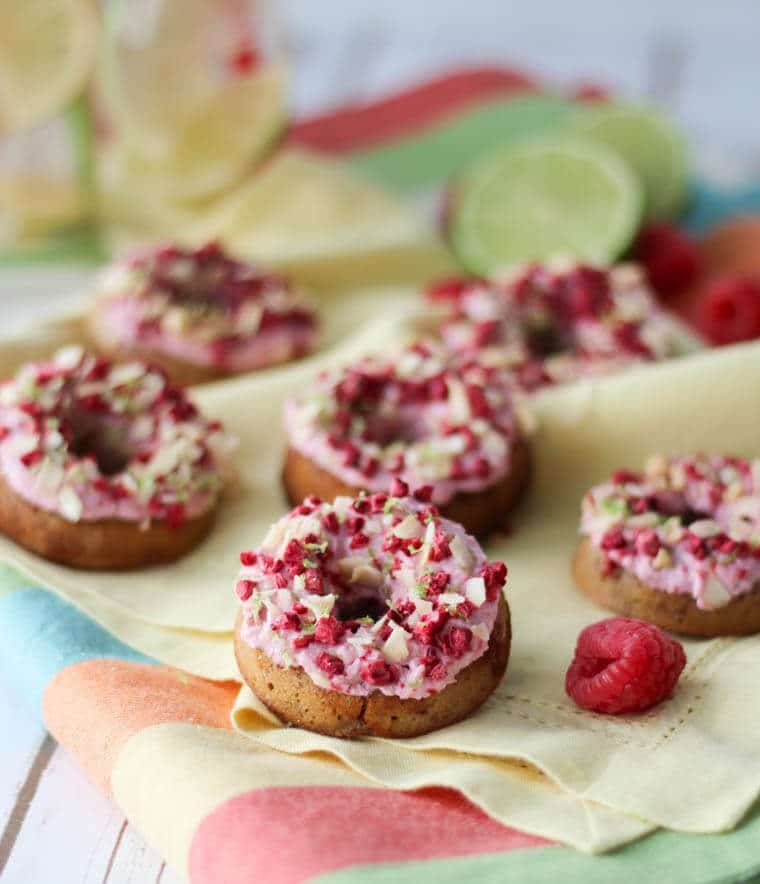 Alas, even if I wanted to, I couldn't eat donuts for the rest of my life, so I sought out to make a batch of better for you donuts. Raspberry Margarita Gluten Free Donuts, to be exact. Because hey, it's 5 o'clock somewhere.
How to Make Raspberry Margarita Gluten Free Donuts
These bad didn't start out as gluten free donuts. I was playing with almond flour (essentially just finely ground up almonds) and wanted to bust out my cute new donut pan. I love almond flour because it has all of the goodness of almonds (protein, fibre, healthy fats) and it just happens to be naturally gluten free.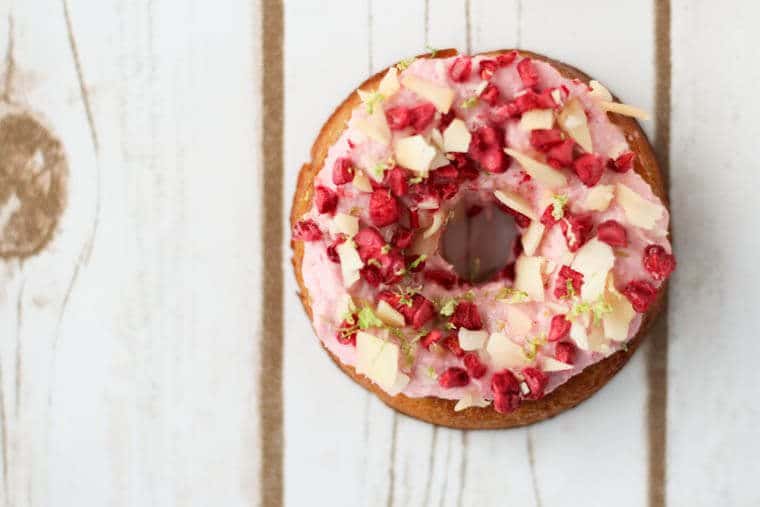 PS: You can actually make your own almond flour if you feel so inclined. Simply take a bunch of blanched raw almonds and process the hell out of them. The finer the better, after which I suggest you run in through a sifter before using it in this recipe. Or of course, you can take the lazy route, buy a bag of almond flour and do a quick sifty sift. I'm lazy so I choose B.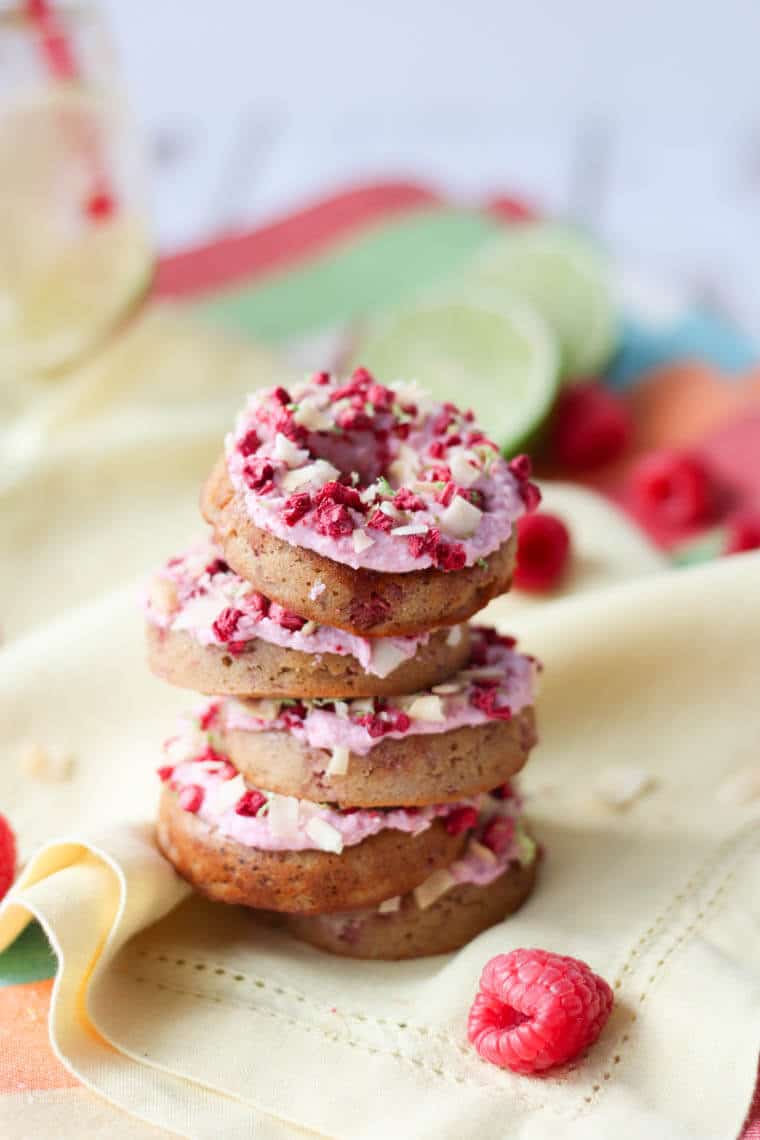 These raspberry margarita gluten free donuts are also totally grain free, dairy free and relatively low in carbs for a baked good – complete with a simple clean ingredient list. No weirdo xanthan gums, or guar gums, or a mix of 3 different gluten free flours that you have to buy a $10 bag of each of. This donut recipe is simple, wholesome and it's really good.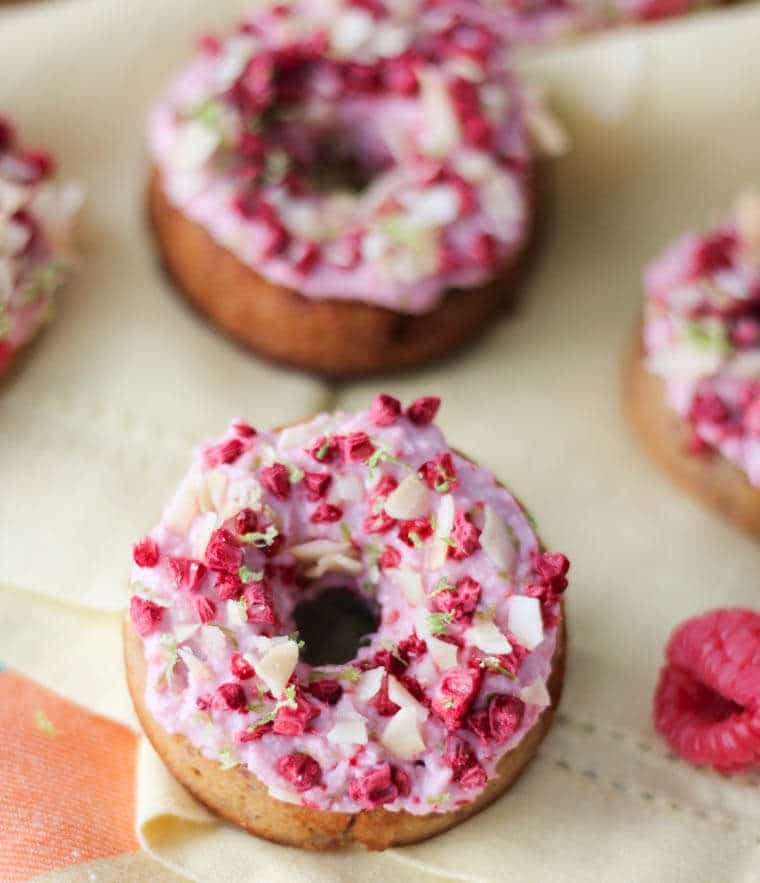 To get a good rise in these raspberry margarita gluten free donuts, I use a technique somewhat more like a pound cake where I mix egg yolks into the batter, whip a few egg whites until fluffy, and then gently combine the two. The result is an airiness that's balanced by the slight crispy, crackly goodness of the almonds inside and is super satisfying.
Making a Healthy Raspberry Margarita Frosting
So this is where things could get decadent with these gluten free donuts. Normally, to make a donut glaze, you mix powdered sugar with water or some other liquid and top the whole thing off with artificially coloured sprinkles and sugars. Not here. I puree some fresh raspberries with coconut yogurt and shredded unsweetened coconut into a food processor until smooth, smear it on my donuts and then decorate with freeze dried fruit, coconut and lime zest. Oh, and you cannot forget that sprinkle of salt. That, my friends, is what makes the margarita!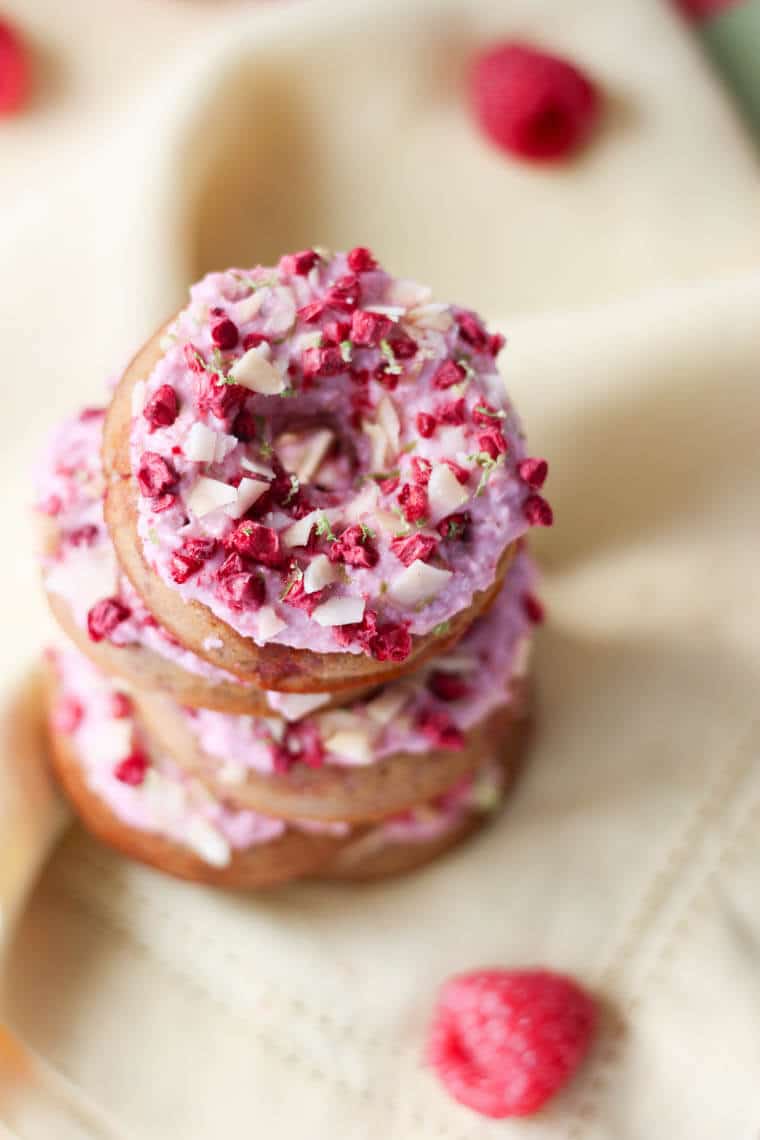 The result? Wholesome treats for the whole family that look as tempting as a cartoon Homer donut but are actually good for you. Nothing artificial. Nothing super processed. Just nuts, fruit, eggs and coconut. Bring on those raspberry margarita gluten free donuts!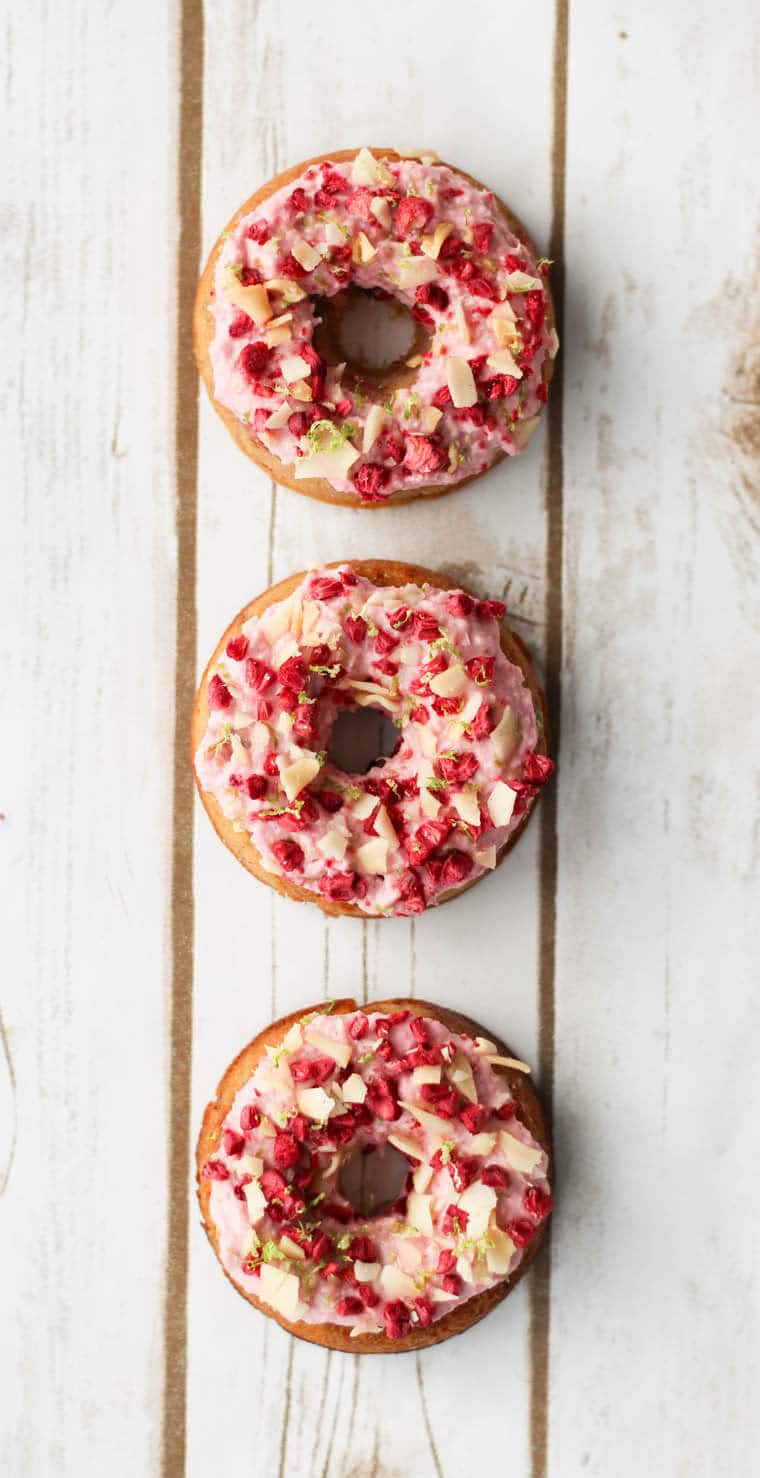 What's your dream donut flavor?
Have you tried these gluten free donuts?
What are your thoughts on a sweet and tangy raspberry margarita version?
Leave me a comment below!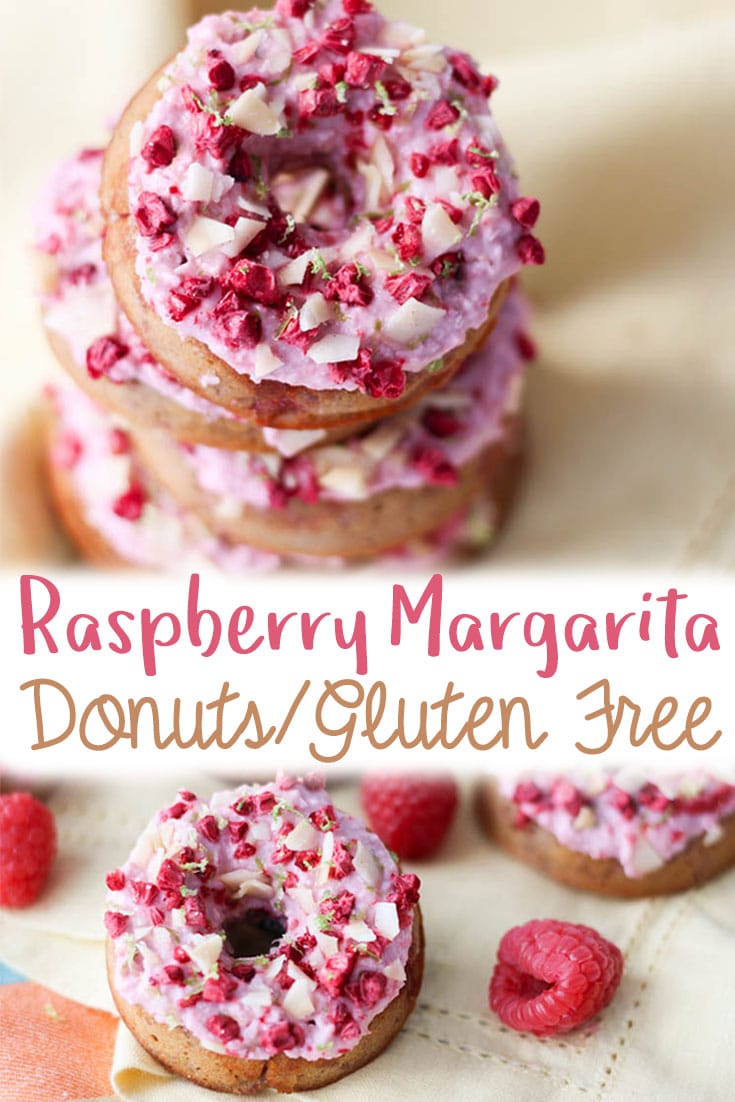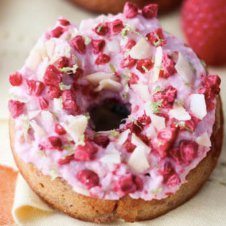 Raspberry Margarita Gluten Free Donuts | Dairy Free & Grain Free
These raspberry margarita gluten free donuts are naturally dairy free and grain free but packed with tropical flavour! Note: This recipe was inspired and adapted from See and Savour
Print
Pin
Rate
Ingredients
Glaze
1/4

cup

coconut yogurt

1/4

cup

unsweetened finely shredded coconut

6

tbsp

raspberries

3

tsp

lime juice

1

tsp

lime zest

2

tsp

agave
Instructions
Preheat oven to 350 F and spray 12 small donut holes with nonstick cooking spray.

In one bowl, mix together the almond flour (sifted!), baking powder, and salt.

In another bowl, mix together the coconut oil, vanilla, lime juice, zest, agave, egg yolks and raspberries. Combine the dry into the wet.

Finally, in one last bowl, whip the egg whites until soft peaks form, then fold gently into the rest of the batter.

Fill donut molds about 3/4 way full and bake for 23-25 minutes, or until golden brown and a toothpick inserted into the middle comes out clean.

Carefully unmold and place flat side down on a cooling rack.

Meanwhile, in a food processor or blender, puree the yogurt, coconut, raspberries, lime juice, zest and agave until the raspberries break down.

Once cool, smear the donut tops with the coconut yogurt, top with the freeze dried raspberries, coconut chips, a little lime zest and a pinch of sea salt. Enjoy immediately or transfer to the fridge until ready to consume!
Nutrition
Updated on October 23rd, 2020