Take a look at pinterest and you'll quickly see that the internet is obsessed with the "superfood" smoothie bowl. Originating from fancy pants Juice bars and smoothie shacks, the Acai Smoothie Bowl was developed as an alternative to the slurpable breakfast or snack.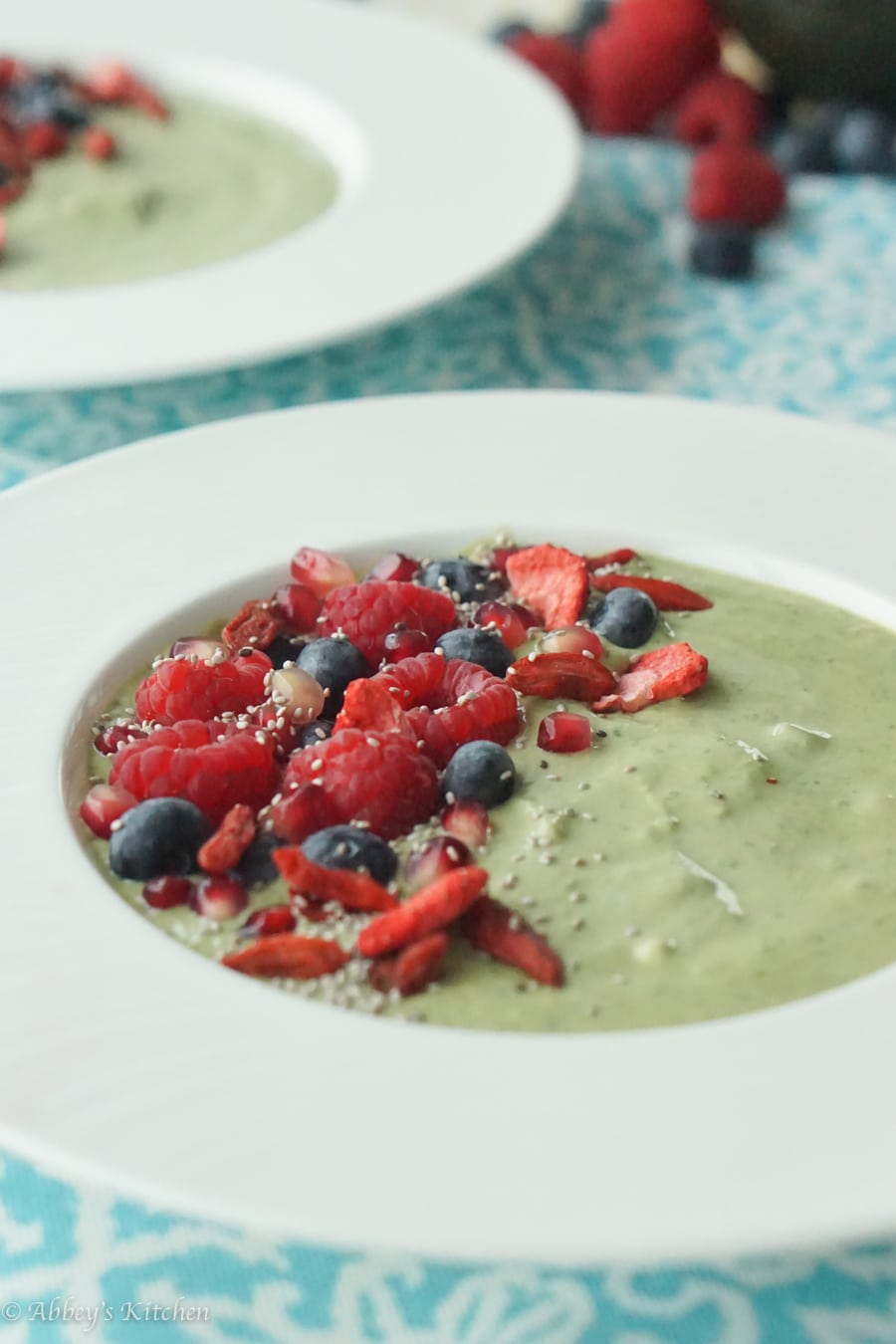 Truth be told- I hate Acai. I first tasted it as part of a blogger challenge for Top Chef Canada and I honestly thought I might gag. It's brutally bitter and grossly viscous, not exactly the kind of thing I would be able to effortlessly spoonfeed myself.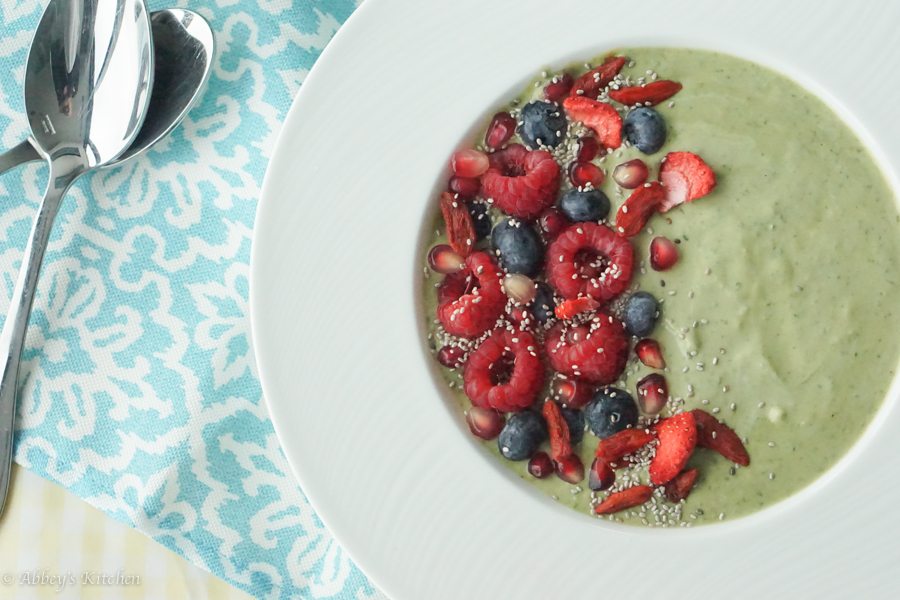 I care about what I eat but lord, there are tastier ways to get your antioxidants and a green smoothie bowl like this one is a great example.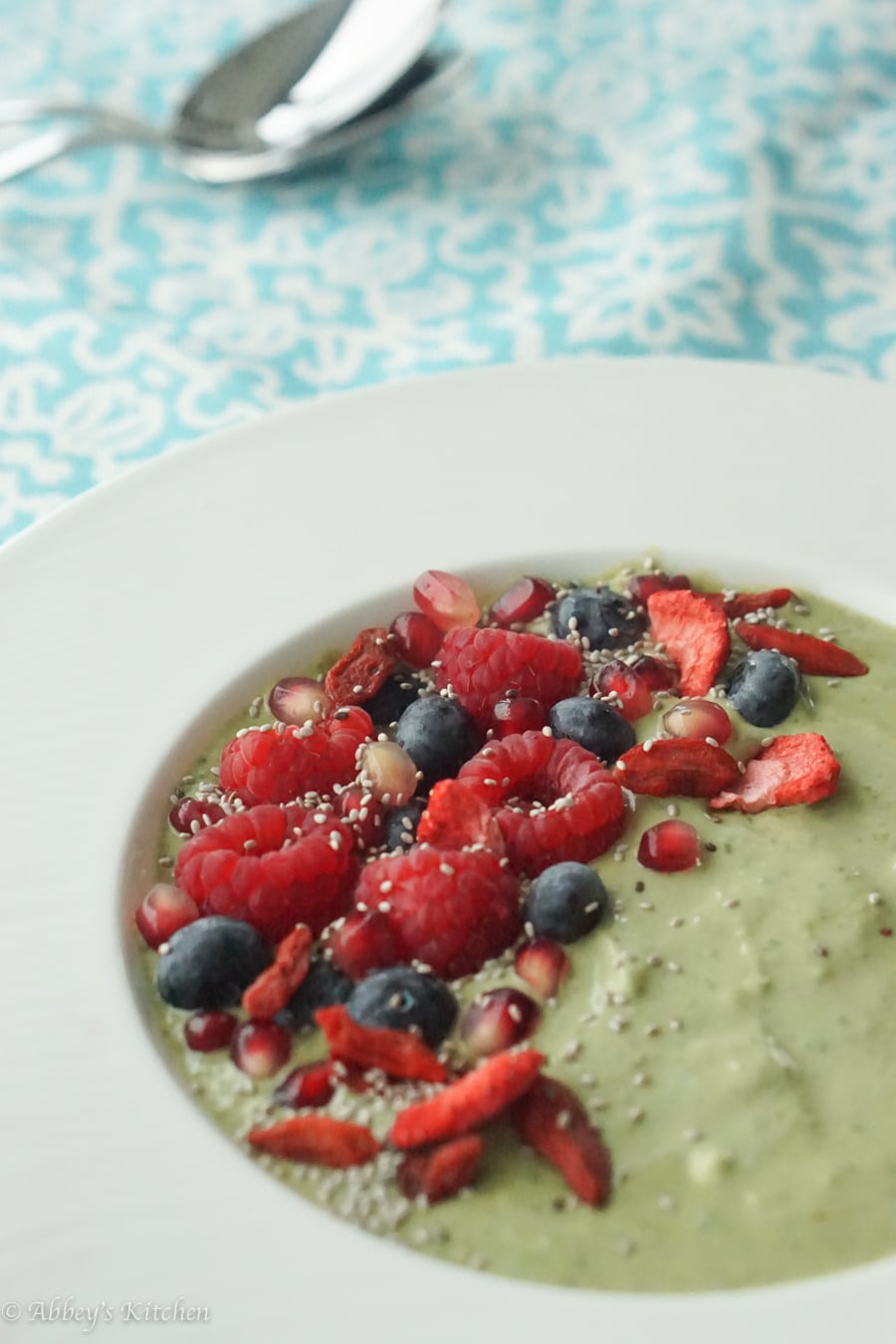 So I took the whole "Superfood" theme (ps: I hate that term, hence the quotations) and ran with it my own way, a way that actually tastes good! I included lots of antioxidant-rich fruits, vegetables and add ins in my green smoothie bowl, and made sure it tasted as good as it looked.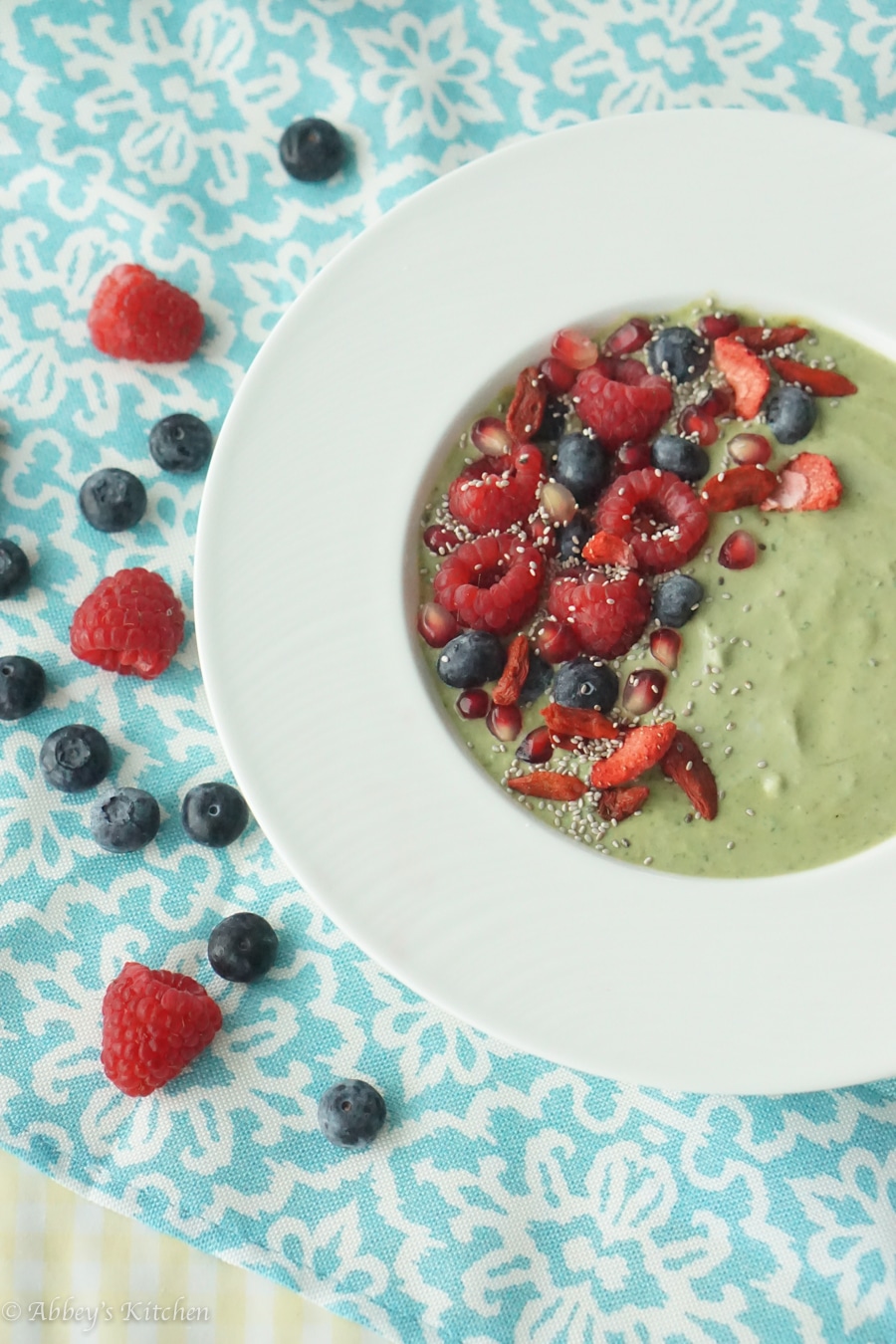 The result? A green smoothie bowl breakfast of champions. Check out just some of the nutrients you're getting in this breakfast bowl!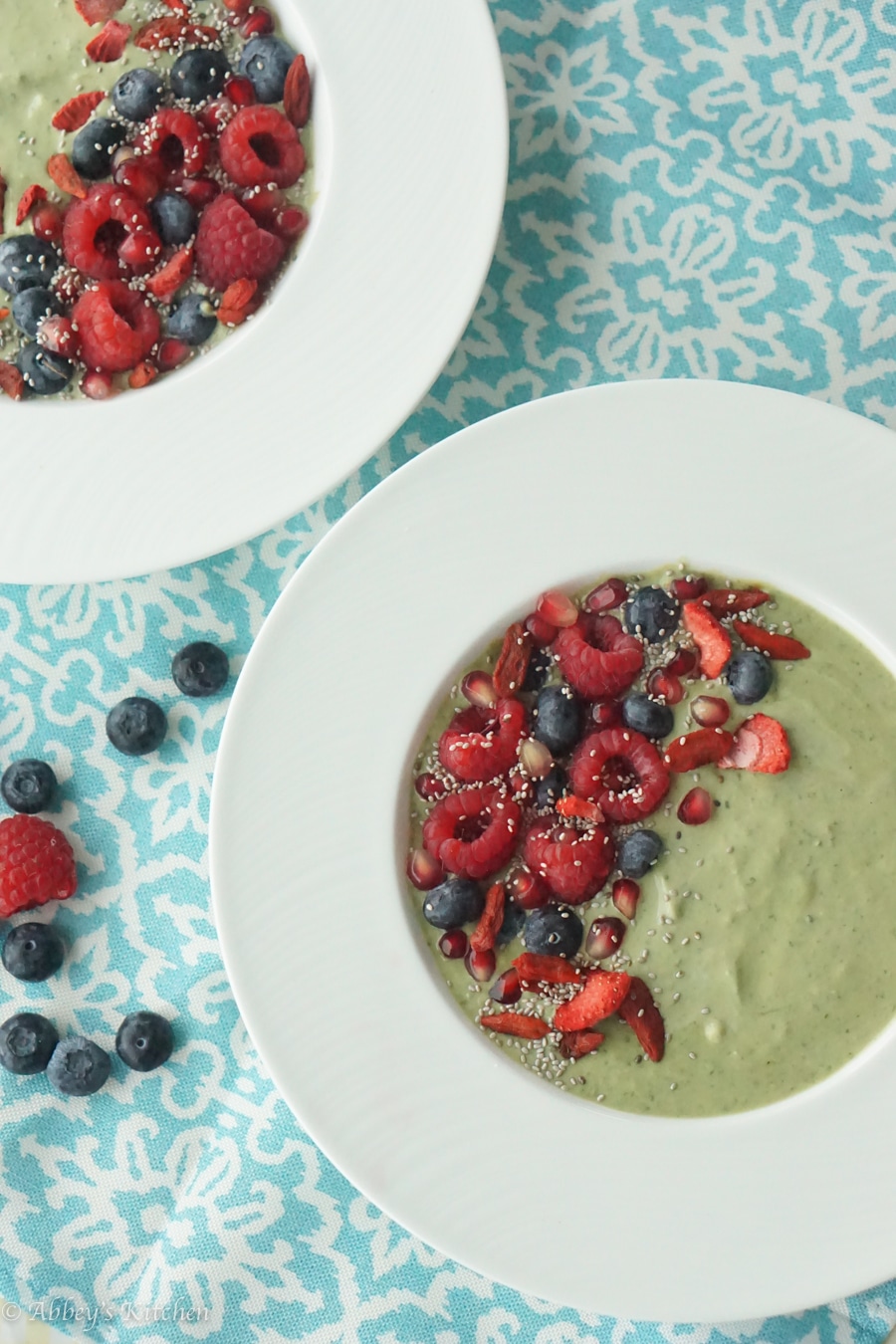 Antioxidants in This Green Smoothie Bowl
Skim milk for Protein, Calcium, Vitamin D, A, Bs and Potassium.Greek Yogurt for Protein, Calcium, vitamin D, Bs and Probiotics.Spinach for Vitamin A, E, C, K, B vitamins, Folate, Calcium, Potassium, Iron, Magnesium and Fibre.Bananas for B vitamins, C, Manganese, Potassium, and Fibre.Avocado for Vitamin K, B vitamins, E, Potassium, C, Folate, and Fibre.Lemon for Vitamin C, Folate and Flavonols.Matcha for Catechins.Blueberries for Vitamin C, K, Manganese, Anthocyanins, Anthocyanadins and FibreRaspberries for Vitamin C, K, E, Manganese, Anthocyanins, Flavonols, Tannins, and Fibre.Pomegranate Seeds Vitamin C, Folate, K, Manganese, Potassium, Anthocyanins, Tannins, Ellagic Acid, and Fibre,Goji Berries for Vitamin C, A, Bs, Potassium, Iron, Fibre, Zeaxanthin, Lycopene.Chia Seeds for Fibre, Protein, Omega 3 Fatty Acids, Calcium, Manganese, Magnesium, Phosphorus.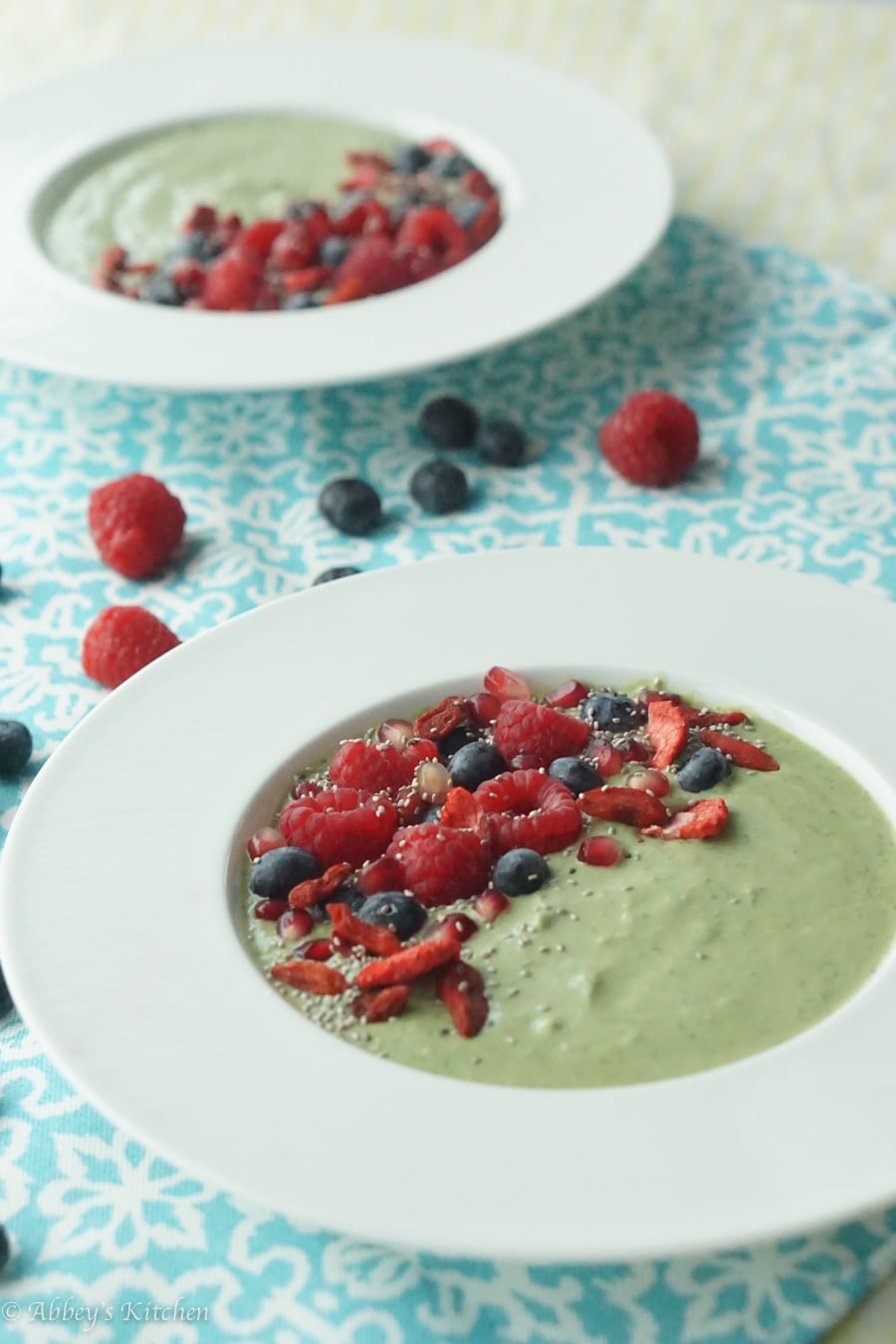 This doesn't even touch on how delicious it tastes! Try it out for yourself and let me know what you think. Have you tried making a green smoothie bowl? Do you prefer your smoothies in a glass or a bowl?
Green Smoothie Bowl with Antioxidant Packed Matcha & Berries
The perfect post workout snack packed with antioxidants and green tea matcha.
Print
Pin
Rate
Ingredients
1/4

cup

unsweetened vanilla almond milk

1/2

cup

plain 0% Greek yogurt

1

cup

baby spinach leaves

1/2

frozen banana

diced

1/4

avocado

diced

Juice of 1/2 lemon

1/2

tsp

matcha powder

1

tsp

honey

to taste

Blueberries

Raspberries

Pomegranate seeds

Goji berries
Instructions
Blend together the milk, yogurt, spinach, banana, avocado, lemon, matcha and honey to taste. Pour into a bowl.

Decorate your smoothie with blueberries, raspberries, pomegranate seeds, goji berries and chia seeds. Enjoy!
Nutrition
Updated on June 2nd, 2017