It's September. You've still got a bumper crop of zucchini kicking around perfect for making zucchini noodles, apples are showing up at the market for a buck a pound, and you're desperate to get back on track with your eating after months of BBQ, beer and ice cream sundaes. Well, that's my reality, at least.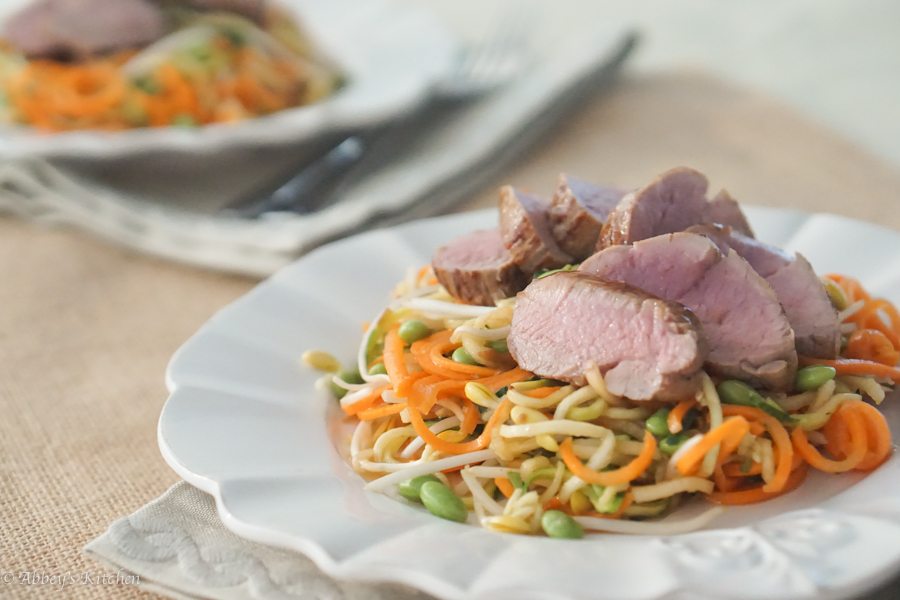 So all that considered, I really wanted to come up with a low-carb healthy stir-fry, using my weeknight go-to protein, Ontario Pork Tenderloin.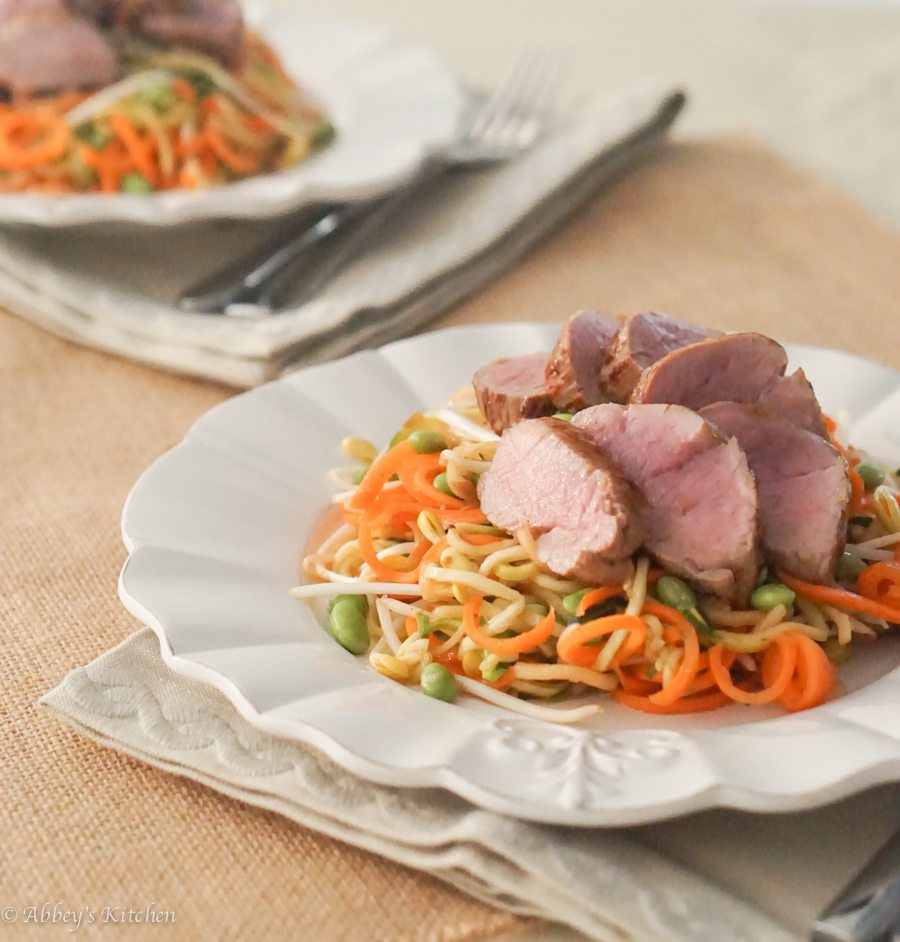 Often referred to as "the other white meat", pork deserves a heck of a lot more respect than it's given. Not only are many cuts of pork (like the tenderloin) comparable to skinless chicken breasts in terms of calorie and fat count, but Ontario pork farmers uphold the highest standards in food safety standards. They are bound to regular animal care assessments for monitoring animal husbandry practices, a set of strict rules and regulations affectionately called the Pig Code of Practice.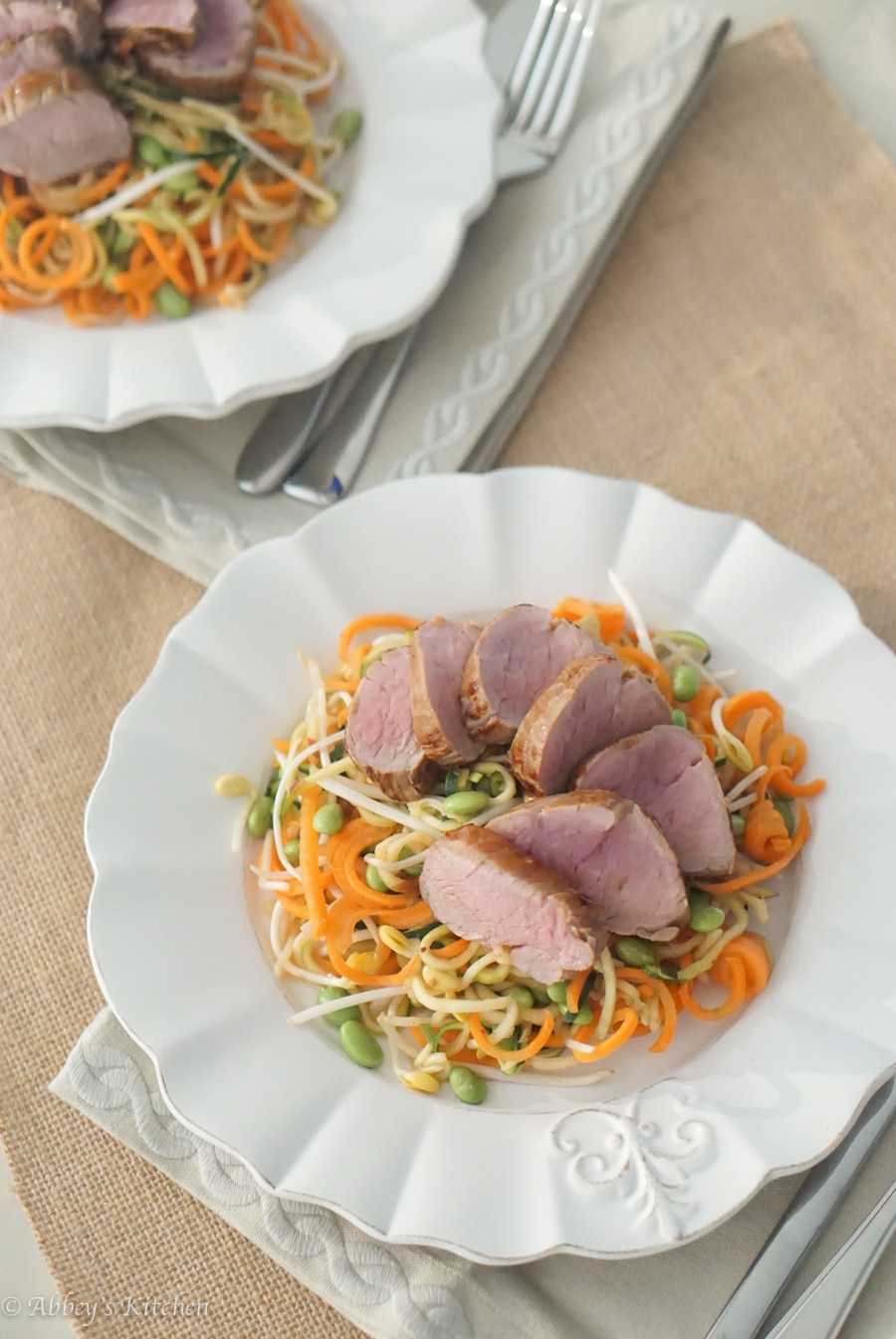 To help dispel some of the common myths about pork farming practices, Ontario Pork (a not for profit agricultural commodity association representing provincial pork farmers) has also created a bunch of quick interesting videos. You can learn about what pigs eat, how Ontario pork never contains added hormones, the "Pig Code of Practice", how pigs are housed, inspections and vet visits and much more. It's a great place to get a bit of background on the health properties of pork.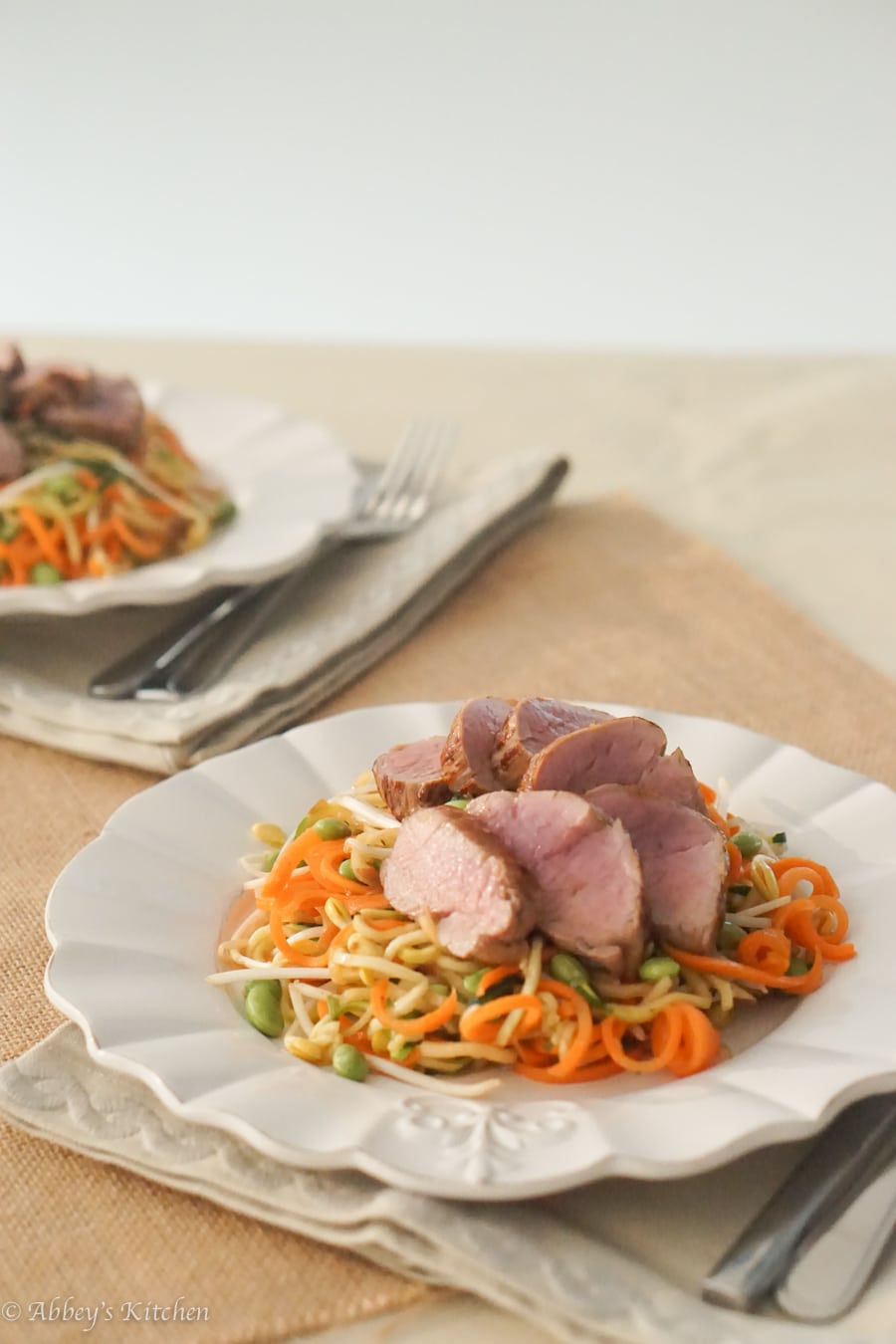 Zucchini Noodles + Pork = Low Carb Heaven
With this recipe for zucchini noodles stir fry, I really wanted to play with the traditional pork and apple combination, adding a little Asian flare and my favourite low-carb, gluten free noodle-sub- zucchini noodles! I also added in some carrots, apples, bean sprouts and edamame for a little pop and flavour contrast in the stir-fry. The glaze I created is simply irresistible, and doubles as a sauce for the stir-fry zucchini noodles. It's sweet, tangy, and deeply aromatic, but only takes a few simple ingredients to put together. Trust me, you're going to want to start putting this stuff on everything!
So, the big question- do you have to brine? If you're in a pinch, then no, you can skip the brine step. But pork tenderloin is so blessedly lean, that little bit of time in a brine (it's only 2 hours!!) really does help keep the meat juicy while added a really irresistible sweet flavour.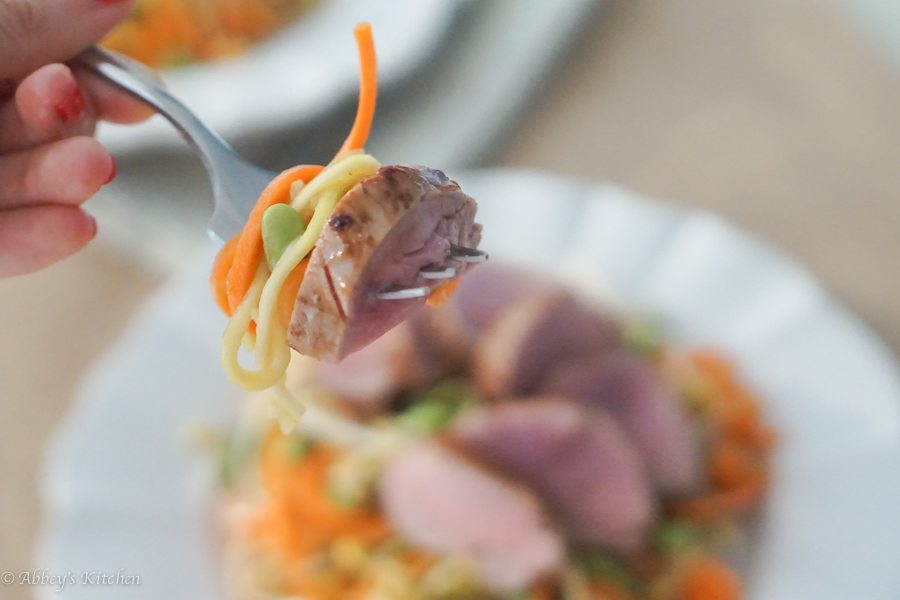 The result is a low fat, gluten free, low carb meal packed with protein, fibre and flavour- a perfect meal to get back on the healthy eating track this fall! Thank goodness for those zucchini noodles.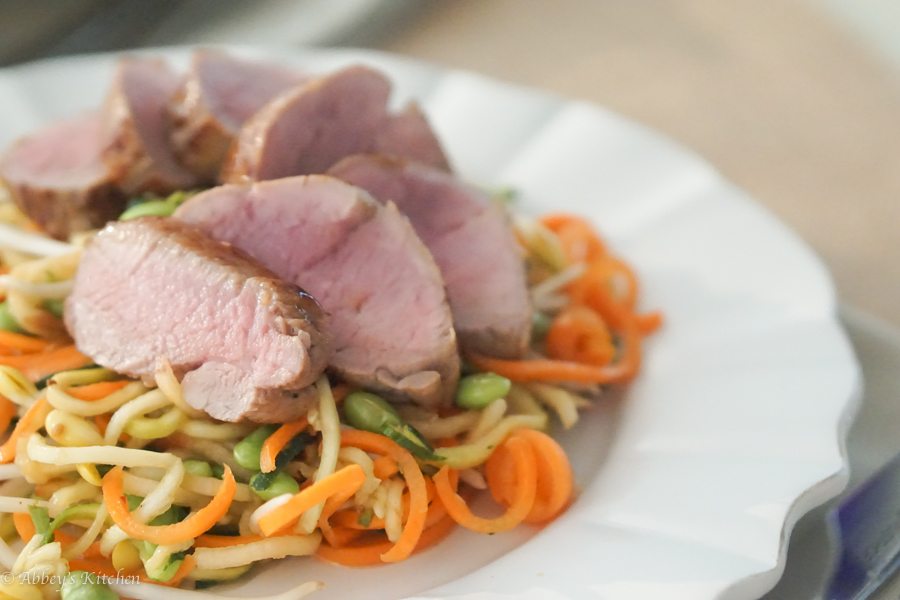 Don't you love zucchini noodles as a low carb bed for your protein? What are your favourite fall recipes with pork? Leave me a message below about some of your go-to meals!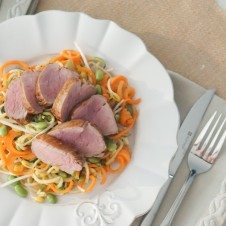 Zucchini Noodles Stir Fry with Hoisin Asian Pork Tenderloin
These low carb zucchini noodles pair best with Ontario pork tenderloin for a lean source of protein.
Print
Pin
Rate
Ingredients
Brine:
2

cups

cider

2

tsp

black peppercorns

2

anise

2

cloves

garlic

smashed

3

tbsp

kosher salt

4

cups

ice

2

Ontario Pork tenderloins

1 lb each, trimmed
Glaze:
Stir-Fry:
1/4

cup

apple cider

1

tsp

corn starch

3

carrots

spiralized into thin noodles

3

large zucchini

or 4 medium zucchini, spiralized into thin noodles

1

apple

spiralized into noodles

2

cups

bean sprouts

1

cup

frozen edamame

shelled
Instructions
Brine:
In a medium saucepan, bring the cider, cinnamon, peppercorns, anise, garlic cloves and salt to a boil. Simmer for 3 minutes until the salt dissolves.

Turn off the heat and add in the 4 cups of ice. Allow to cool completely.

Once cool, add the pork tenderloins to a large re-sealable bag or container and pour the brine over top. Refrigerate for 2 hours.
Glaze:
Preheat oven to 425 F.

Mix together the apple butter, hoisin, ginger, lemon, garlic, and 5-spice powder.

After the two hours, remove the tenderloin from the brine and pat dry.

Add the olive oil to a large nonstick skillet and sear the pork tenderloin on all sides until evenly browned. Do not wipe or rinse out the pan.

Transfer the tenderloins to a baking sheet lined with parchment paper and brush with the glaze, reserving the remaining glaze. Cook until it reaches an internal temperature of 145-150 F, about 20 minutes.
Stir-Fry:
In a small bowl, mix together the apple cider and corn starch until dissolved.

Return the large nonstick skillet to the burner over medium high heat.

Add the carrots and cook for 2 minutes.

Add the apple cider mixture and the remaining apple butter glaze to the pan and cook on high until the mixture thickens, about 2 minutes.

Add in the zucchini noodles, apple, bean sprouts and edamame and toss to coat in the sauce and lightly cook the noodles.
Assembly
Divide the noodles between 8 plates.

Slice the pork tenderloins into 1/2 inch pieces and fan on top of the noodles. Enjoy!
Nutrition
Disclaimer: This recipe was developed in paid partnership with Ontario Pork, however, as always, all opinions are genuine. Οntario Pork plays a role in many areas, including research, government representation, environmental issues, consumer education, human nutrition and food quality assurance. For more information visit Ontario Pork's website at http://www.ontariopork.on.ca/.
Updated on October 23rd, 2020