Valentine's Day is right around the corner, and if you don't want to screw it up I recommend you read this. I have some DO's and DON'Ts plus a Sexy Strawberry Cucumber Salad recipe.
Boys, Valentine's Day is here, and you better not screw it up. Sure, you could get your girl a crusty box of chocolates or a cheap teddy bear, but do you want her to hate you? I didn't think so. Valentine's Day should be the day you show your girl that you really do love her and one of the best way to do that is with an impressive homemade meal.
The key, however, to a "seal the deal meal" that won't kill either of your buzz is to think long and hard about the kind of foods you prepare. You don't want to leave her feeling farty or bloated. You also don't want anyone to get dehydrated or too tired for
Valentine's Day "cuddles". You want "in the mood" food, right? So I have come up with my official DOs and DON'Ts for an amazing Valentine's Day meal.
Valentine's Day DO- Choose ingredients that feel festive and on the Valentine's Day theme!

Red and pink foods are the obvious choices for Valentine's day, and thankfully there are a lot of blushing ingredients out there to choose from. California Strawberries are my ultimate go-to for Valentine's Day desserts, salads and even mains because they're available all year long, are naturally sweet, bright red and actually look like little hearts..
Trust me, girls will appreciate your attention to colour palate. It says, "Hey girl, I'll totally be down to look at linen swatches with you for our hypothetical future wedding."
Valentine's Day DON'T – Serve foods that make you feel tired and lethargic.

You want to be able to enjoy the night through dessert and afterwards on Valentine's Day, too (for those of you in consensual loving relationships, of course.) So skip the heavy fatty foods like cheesy casseroles, creamy pastas and fattier cuts of meats that generally lead to a black-out food coma. Not good. Also, pace yourself on the booze. While one drink can help build a nice buzz, I'm often ready for bed after two- and I mean in my pajamas with my retainer, reading glasses and teddy bear kind of bed. Just to clarify expectations.
Valentine's Day DO- Choose a menu that's actually good for you both!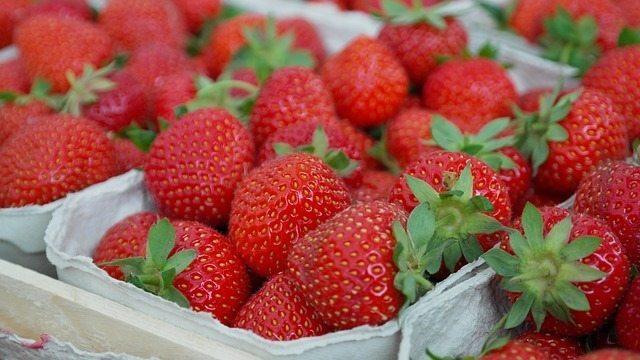 Hey, maybe I'm making overly favourable assumptions about your character, but you care about this girl (hopefully). You want her to stay healthy and strong so you can grow old together, right? Good boy. That's what I thought. So go for foods with disease-fighting minerals, vitamins and antioxidants to help promote good health. Those
California strawberries are again a perfect fit because they're super low in calories, but pack more of the antioxidant vitamin C than a standard orange! Plus, research suggests that eating just 8 strawberries a day may help improve heart health, manage diabetes, reduce the risk of some cancers and support brain health. And I know how important a woman's brain is to nice boys like you. Yay for strong female minds!
Valentine's Day DON'T- Make foods that cause bloating, gas or discomfort.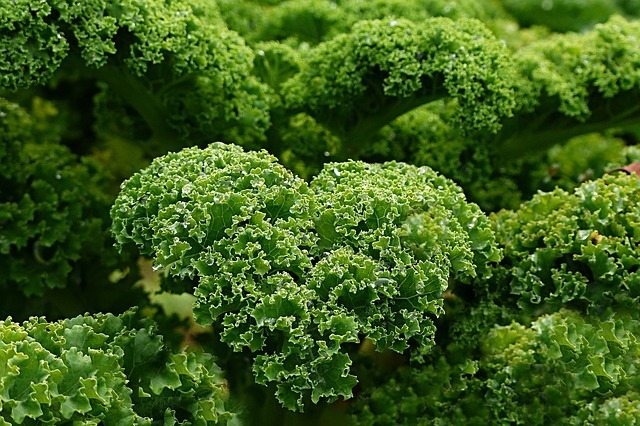 In other words, you want to avoid the kiss of death for post dessert "cuddles". Yes, that means no beans, no carbonated drinks, no salty sauces, no broccoli, and no kale salads. I know kale is super trendy, and for a farty-brunch with the girls, they're A-OK but for a Vday date night just say no.
Valentine's Day DO – Keep hydrated.
Hospitality rule number one, never let your guests feel parched and this is particularly important for your Valentines date. Make sure there's lots of flat water, plus some water-rich foods. This salad recipe below is a perfect bloat-free, refreshing, and low calorie shaving some cucumber and topping it with California , toasted almonds little reduced I made by reducing down balsamic vinegar to a thick luscious syrup starter to any meal!
Valentine's Day DO – Make it Interactive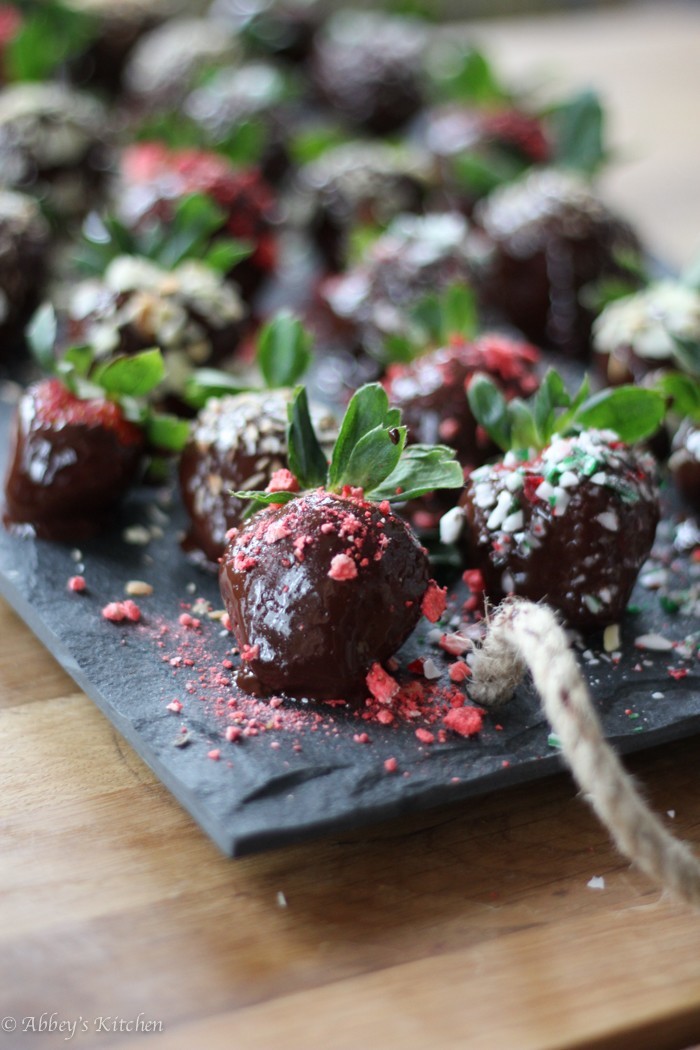 DIY dishes are perfect for date night because they're flirty, sharable and encourage you to eat with your hands, which is always kind of hot. My favourite healthy dessert is tableside chocolate dipped strawberries, loaded with a double hit of antioxidant power, plus there's no need to add any extra sugar. Just melt some 70-80% dark chocolate over simmering water, and have fun dipping and dunking each others strawberries in your favourite toppings. I often use crushed almonds, toasted coconut, freeze dried strawberries and some peppermint candies to make sure your breath is fresh before the first kiss of the night.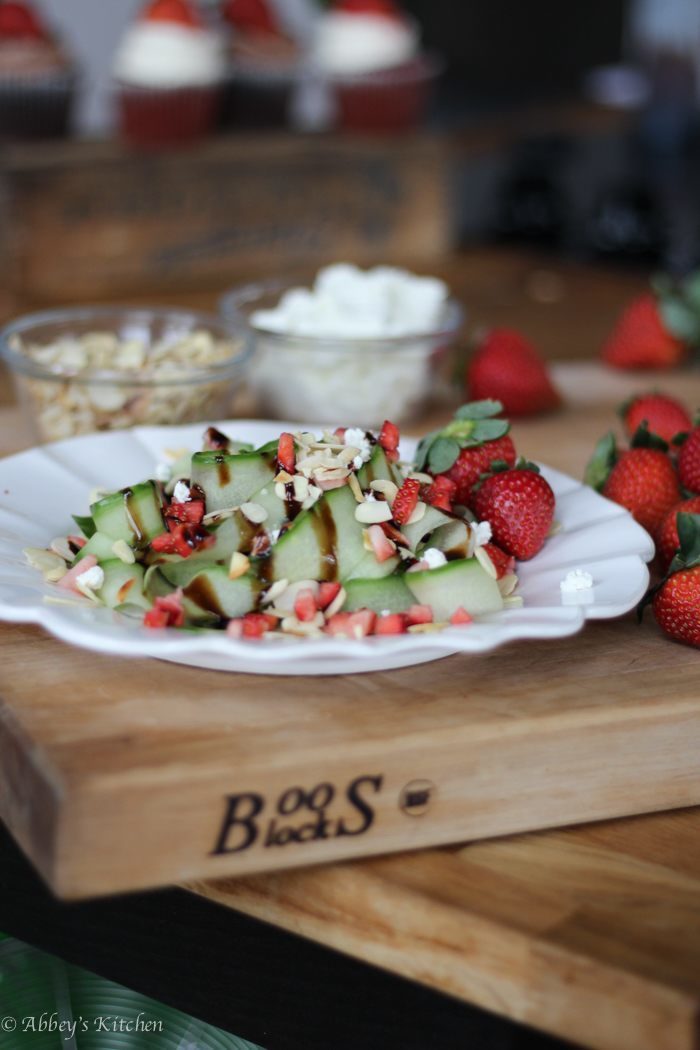 See, you got this! Just remember the Valentine's Day Buzz Kill DON'Ts and Seal the deal DOs to ensure a pleasure packed Valentines day success.
Want to see these tips and recipe in video? Check out my YouTube video here!
Thanks so much for watching, for more delicious date night dish ideas, be sure to subscribe to my channel, and I'll see you next time on abbeys kitchen.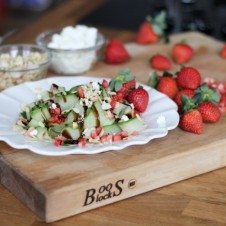 Sexy Strawberry Cucumber Salad
This salad recipe below is a perfect bloat-free, refreshing, and low calorie shaving some cucumber and topping it with California , toasted almonds little reduced I made by reducing down balsamic vinegar to a thick luscious syrup starter to any meal!
Print
Pin
Rate
Instructions
Heat the balsamic vinegar over medium high heat until it has reduced to a thick syrup, about 5-7 minutes.

Place the cucumber on a plate, top with strawberries, almonds, and chevre (if using) and season with salt and pepper to taste. Enjoy!
Nutrition
Disclosure: This video and blog post was developed in paid partnership with California Strawberries, however, as always, all opinions are genuine.