These Homemade Peanut Butter Cups are one of my favourite desserts of all time. They're sweet, salty, and a little bitter from the rich dark chocolate. These are a must have!
Oh homemade peanut butter cups …. Mmmm… If I were to name one combination of foods that I would most definitely be happy eating every day until the end of my days, it would without a doubt be peanut butter + banana + chocolate + toffee + salt. You really cover your pleasure bases with a combination like that. You're getting salty, sweet, creamy and a hint of balancing bitter.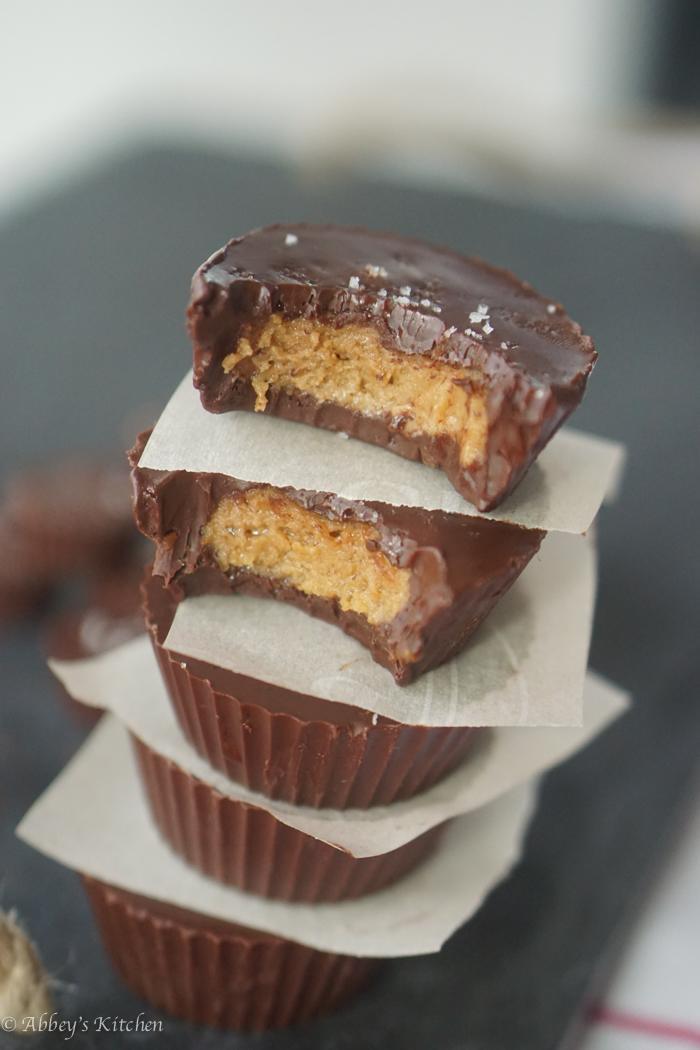 I'm not overly religious but if I had to guess, I think that's what heaven must be like. Alas, here in the mortal realm, that combination tends to be a total sugar and calorie bomb- not ideal for those of us trying to feel our hottest this upcoming Valentine's day.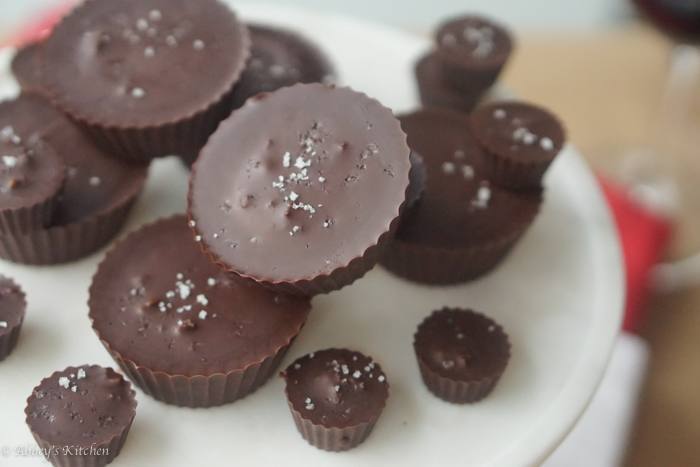 How Can You Make Homemade Peanut Butter Cups- That Are Healthy?!
With Green & Blacks Organic dark chocolate! G&B is definitely my go-to chocolate brand because I love its smooth rich creamy texture, its commitment to quality ingredients and their wide range of delicious flavours. I used the Burnt Toffee for these cups because I adore the tiny touch of bitter-sweet from the toffee flecks, but you can definitely rock this recipe with the 70% Dark as well.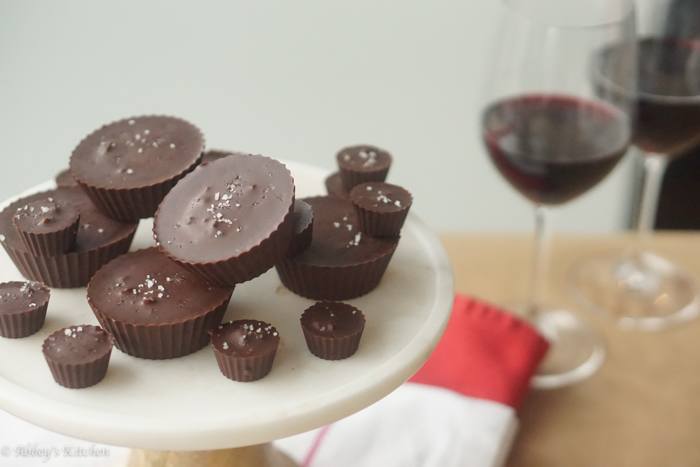 The key to getting those picture perfect ridges on your homemade peanut butter cups is to use silicon muffin cups or silicon candy molds, depending on your preferred size. Personally I love making the teeny tiny ones because they're so small, they're even more guilt free.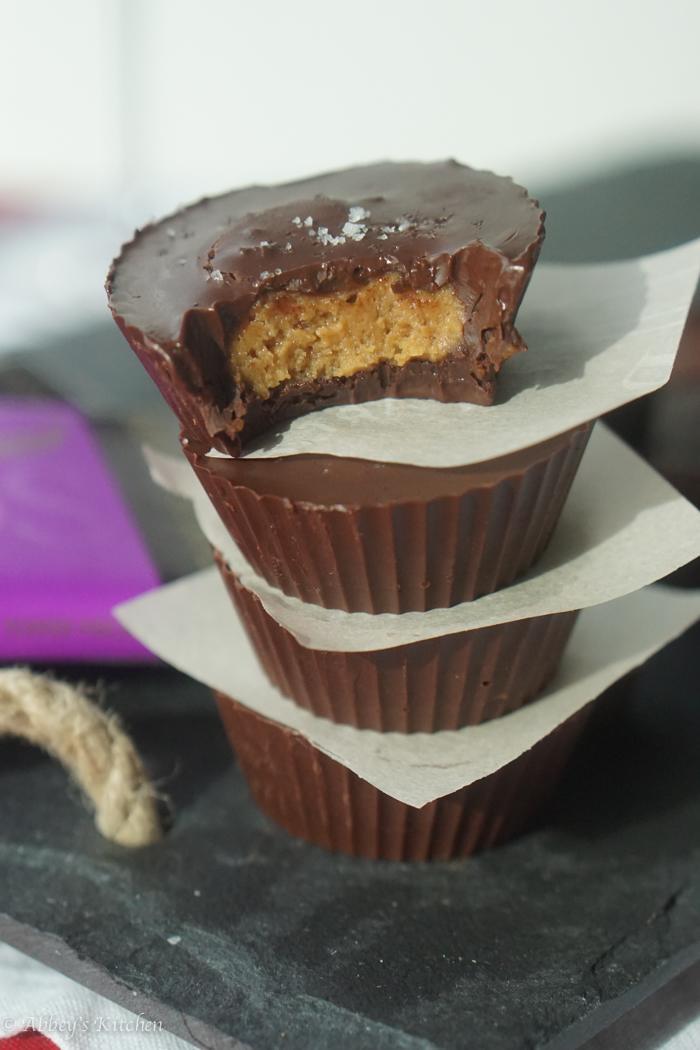 These homemade peanut butter cups make a perfect Valentine's Day treat for your sweetie because they feel incredibly decadent but contain hardly any sugar at all as the filling gets naturally sweetened with a ripe banana. They're also completely gluten free and packed with the antioxidant power of dark chocolate.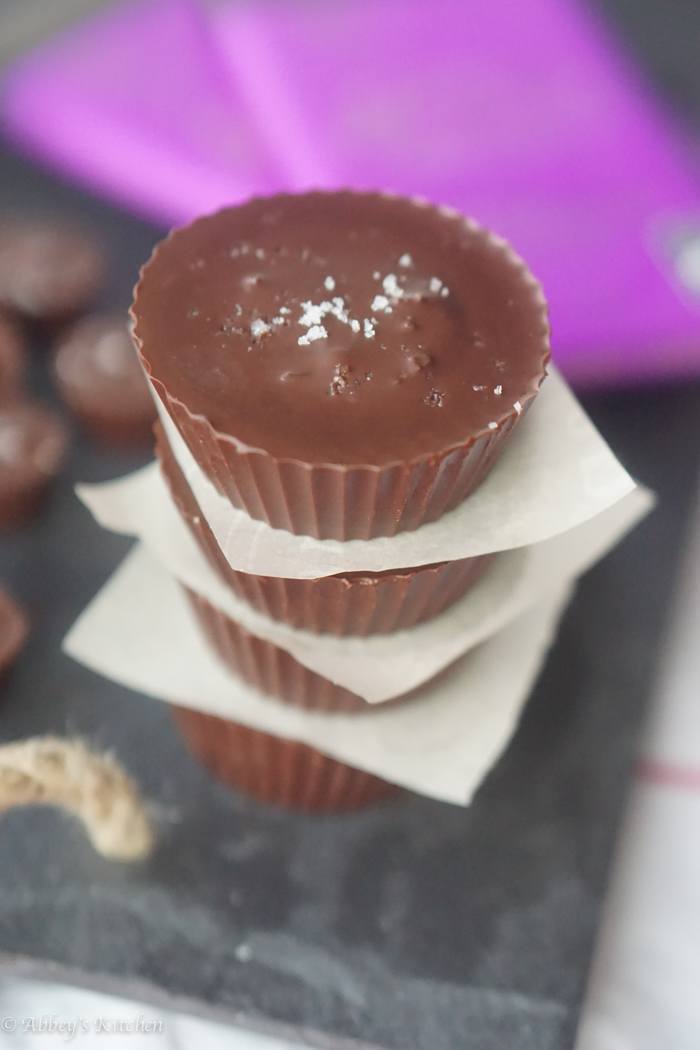 And for those busy Valentines out there (me!), these homemade peanut butter cups are perfect make-ahead treats. Just store them in the freezer until you're ready to enjoy and only take out the portion you want to eat.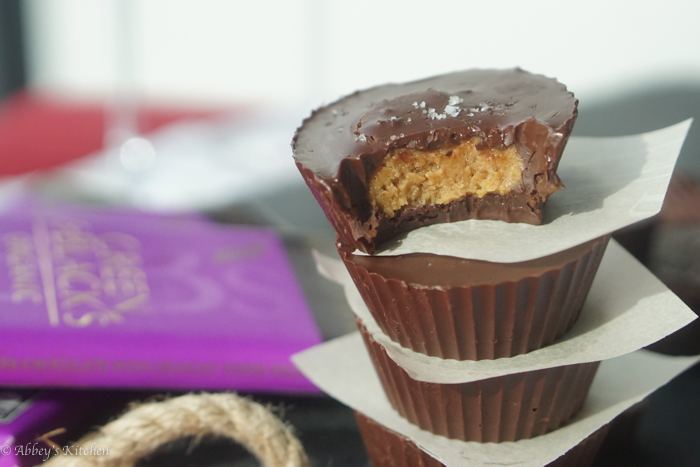 Don't you love homemade peanut butter cups – especially ones that are healthy? What is your all time favourite treat that you want your love to make you for Valentines Day? Leave me a message below and I'll try to lighten it up!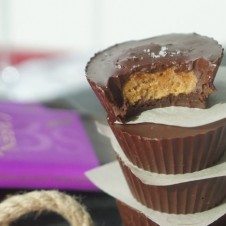 Healthy Homemade Peanut Butter Cups with Banana & Dark Chocolate
These Homemade Peanut Butter Cups are one of my favourite desserts of all time. They're sweet, salty, and a little bitter from the rich dark chocolate. These are a must have!
Print
Pin
Rate
Servings:
8
-10 Regular Cups, or 50 Mini Candy Cups
Ingredients
Coating
200

g

Green & Blacks Organic Burnt Toffee Dark Chocolate

finely chopped

2

tbsp

coconut oil

melted

Fleur de sel

for garnish
Instructions
In a small food processor, puree the banana, peanut butter, 2 tsp. coconut oil and vanilla extract until smooth and creamy. Set aside.

Place the chocolate and 2 tbsp coconut oil into a medium sized glass bowl and set it over a small saucepot filled 1 inch up with water. Bring the water to a simmer and slowly stir the chocolate until it melts. Remove from the heat.

Using a small spoon, carefully spoon a thin layer of the Green & Blacks Organic Burnt Toffee Dark Chocolate onto the bottoms of 8 regular sized silicon muffin containers or 50 very mini sized silicon molds. Place the molds onto a baking sheet and transfer to the freezer to harden for at least 5 minutes.

Once set, make a ball no wider than the diameter of the muffin or candy mold and press it on top of the chocolate base, being careful not to touch the sides of the mold but also to try to make as flat a surface as possible. If using a regular sized mold, I recommend a heaping tablespoon of filling, and if using the mini candy molds, more like 1/2 teaspoon.

Using a small spoon, very gingerly pour the chocolate down the sides to envelope the filling and on the top to fully cover the peanut butter. Transfer to the freezer to fully set- at least 20 minutes.

Right before serving, sprinkle the cups with a pinch of fleur de sel and enjoy. These can be made well in advance, but are best enjoyed within 15 minutes of removing them from the freezer.
Nutrition
Disclaimer: This recipe was developed in paid partnership with Green & Blacks, however, as always, all opinions are genuine.
Updated on April 30th, 2020