This recipe for adorable banana salted caramel budino will impress your guests and become a holiday favourite.
If you ask anyone who knows me what my favourite flavours are, they will immediately tell you caramel and banana. I will always find a way to sneak caramel and/or bananas into a recipe no matter what the theme or occasion- even if it's for someone who doesn't really like caramel (oops- I didn't know?).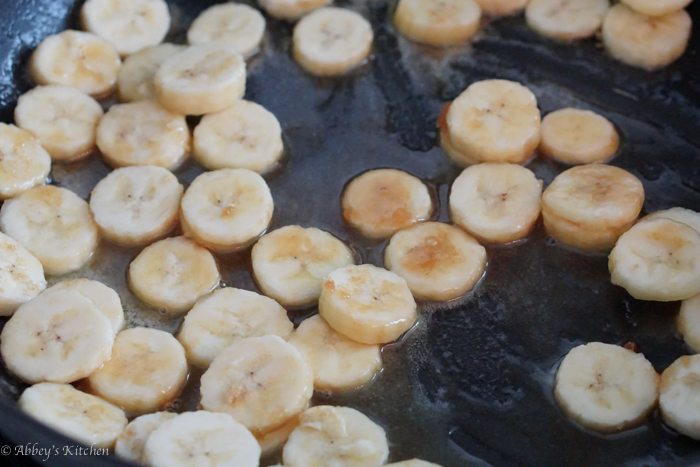 Well, this past thanksgiving, I found these adorable little mini mason jars at Canadian tire for $1.99 each. I don't honestly know what they're supposed to be for, but I was inspired to make some sort of layered parfait type of dessert to showcase their adorable size. It was time to master the salted caramel budino.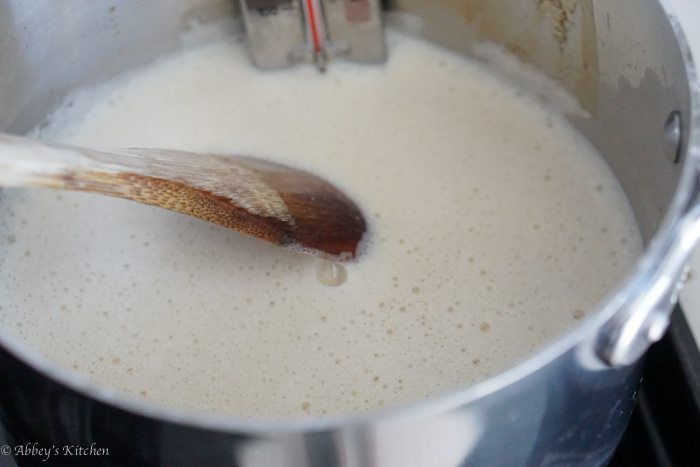 Salted Caramel Budino – You're New Favourite Dessert
I decided on a salted caramel budino with caramelized bananas, and gingersnap crust. The result? Ooey, gooey, sweet, salty, almost bitter goodness.
The key with this salted caramel budino is to wait until it's reached a nice dark amber so you get a really deeply flavoured caramel. Don't pussy foot around this. Don't chicken out. Don't end up with a dull blonde caramel without any real substance or depth. You need that tiny hint of bitterness to balance out the mild budino custard, sweet caramelized bananas and whipped cream. Just note that there is a fine line between deep caramel and burnt caramel- don't turn your back for a second or it's possible it will go on you.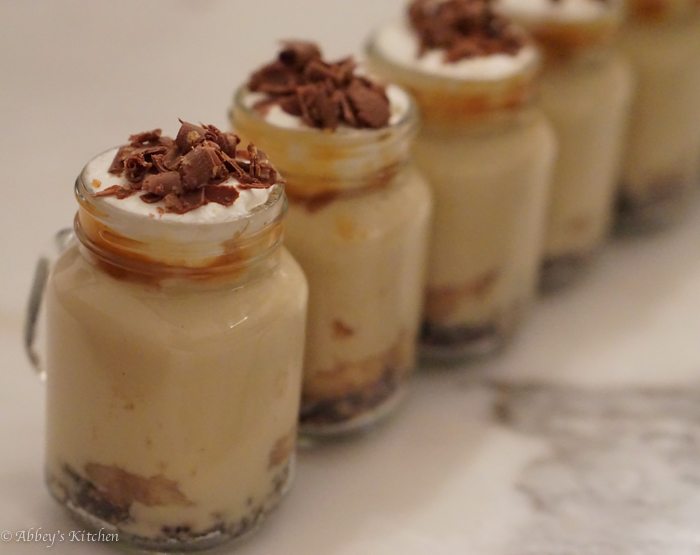 What's your favourite flavour combination to incorporate into a budino recipe? Have you tried salted caramel budino? Leave me a comment below!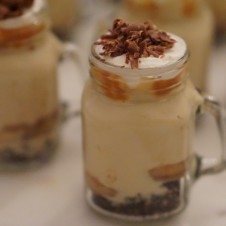 Salted Caramel Banana Budino
Inspired by Bon Appetit's Caramel Budino with Salted Caramel Sauce. This recipe for adorable banana salted caramel budino will impress your guests and become a holiday favourite.
Print
Pin
Rate
Ingredients
Cookie Crust
1/3

cup

chocolate cookie crumbs

1/3

cup

ginger cookie crumbs

1 1/2

tbsp

unsalted butter

melted

1

Pinch

salt
Caramel Sauce
1/2

cup

heavy cream

1/2

vanilla bean

split

5

tbsp

white sugar

1

tbsp

light corn syrup

1

tbsp

water

3

tbsp

unsalted butter

very cold

1/3

tsp

fleur de sel
Cream
1/4

cup

heavy cream

2

tsp

sugar

A few drops of vanilla extract
Budino
3

cups

whole milk

divided

1/4

cup

cornstarch

3/4

cups

dark brown sugar

packed

3/4

water

5

egg yolks

3

tbsp

unsalted butter

1

tsp

fleur de salt

1/4

cup

toffee milk chocolate bar

shaved or curled with a potato peeler
Instructions
Cookie Crust
Mix together the cookie crumbs, butter and salt. Divide between 12 small glass ramekins or dessert bowls.
Bananas
Heat a medium skillet over medium heat and melt the butter with the sugar. Add in the bananas, cinnamon and salt and stir until fully coated in the caramel, just about 1-2 minutes. You don't want the bananas to get too cooked.
Caramel Sauce
Put the cream in a container with the vanilla bean seeds and residual bean.

Heat a medium saucepan over medium heat and add in the sugar, corn syrup and water. Heat until the sugar dissolves.

Increase the heat to high and swirl until a deep amber colour forms and a thermometer reaches 350 F.

Immediately remove from the heat and add in the vanilla cream. Whisk until smooth, about 2 minutes. Then add in the butter and salt. Transfer to a heat-proof bowl and allow to cool.
Cream
Whip the cream until soft peaks form. Add in the sugar and vanilla and refrigerate until ready to use.
Budino
Whisk 1/2 cup of the milk and cornstarch in a small bowl and set aside.

Heat the remaining milk in a small saucepan until it begins to simmer slightly, about 4 minutes. Set aside.

In another saucepan, heat the sugar and water over medium heat until dissolved. Once dissolved, cook on medium high without stirring until it reaches 210-220 F. Immediately remove from the heat.

Whisk egg yolks in a large bowl and slowly add in the scalded milk. Once combined, whisk in the cornstarch milk, and then (very slowly!!) the caramel.

Return everything to a saucepan and whisk constantly over medium heat until the mixture coats the back of a wooden spoon and reaches about 175 F. This usually takes around 3-4 minutes. Remove from the heat, stir in the butter and salt and strain through a sieve into a bowl.
Assembly
Add a few slices of caramelized bananas over the cookie crust.

Top with the budino almost all the way to the top of the ramekin. Allow to cool in the fridge until set, about 5 hours.

Before ready to serve, top with a tablespoon or so of the caramel sauce and a dollop of whipped cream. Garnish with some shaved chocolate.
Nutrition