These unique peanut butter cookies and ultimate recipe will become your go-to when the craving hits for something sweet.
Confession: I'm not usually a cookie girl. I am not of a "wet" dessert kind of girl. I know that sounds gross, but let me get into specifics so you can conjure up a more appetizing image. I like cheesecake, ice cream, mousses, puddings, sauces and custards more than cookies, pastries and crusts. But- there is a very big exception to this rule anytime peanut butter comes into play. Put a plate of unique peanut butter cookies in front of my face and BAM, don't expect me to share. Now that the weather is getting cooler, the days are getting shorter, there's definitely a strong urge to warm the house with the smell of baked goods. And cookies are the go-to treat for satisfying that call for something cozy and sweet at the end of a chilly Wednesday because they're fast, easy and convenient. No one has time to whip up an elaborate 6- step cake that inevitably leaves the kitchen (and in my case, the rest of the house) covered in flour, dishes and cooking tools. No one wants to go shopping for a bunch of unusual ingredients. No one wants to wait for hours for temperamental goods to cool or set. When it's cold outside, I don't even want to leave the house, nevermind go to the supermarket. But that's exactly why I love peanut butter cookies. I always have all of the necessary ingredients in my fridge and pantry, they take a mere 10 minutes in the oven (because I tend to get real impatient when I smell warm peanut butter), and no one can deny their nutty appeal. Just check out this cute 30 second video to see just how simple this can be!
With the holidays coming up, a lot of you may also be participating in cookie exchanges, or heading to holiday parties where a scrummy (yummy+ scrumptious) baked good would be nice gift. Let me tell you, you may have a hard time giving these unique peanut butter cookies away (I highly suggest a double or triple batch), but if you manage, you'll be rewarded in lots of praise and love.
10 Unique Peanut Butter Cookies
This cookie recipe from the Peanut Bureau is really the best I've ever tried, but how can you make these babies your own? Get creative! Here are some of my top ideas:
Buy a cookie press that will add stenciled designs on the cookies.
Make the cookies half sized, smear a little dark chocolate on the bottom of them and sandwich two of them together.
Add chocolate chips- dark, milk, white- whatever you like!
Add toffee bits and crushed banana chips- love this combo!
Add cooked diced bacon (hello!). Salty sweet perfection.
Make a little imprint in the centre before baking and fill it with your favourite jam. Now it's a PB & J cookie!
Make big cookies and let the kids decorate them with colourful M&Ms or other candies before baking.
Substitute half of the flour with oats to make a more chewy and healthier cookie.
Add a little chopped dark chocolate, a hint of chili powder and some sea salt on top for a real sweet-salty-spicy experience.
Add even more peanut flavour with nuts sprinkled on top before baking- go spicy with BBQ, sweet with honey roasted, or just find the craziest flavours in the store! They're your cookies- go nuts!
How are you going to make these Peanut Butter cookies your own? What are your favourite unique peanut butter cookies?
Tip: While natural peanut butter is delicious, it varies in texture. So, to ensure the recipe works perfectly every time, make cookies with regular peanut butter.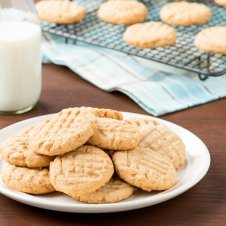 The Best Classic Peanut Butter Cookie
These unique peanut butter cookies and ultimate recipe will become your go-to when the craving hits for something sweet.
Print
Pin
Rate
Ingredients
1 1/2

cups

all-purpose flour

375 mL

1/2

tsp

baking soda

2 mL

1/2

tsp

salt

2 mL

1

cup

peanut butter

crunchy or smooth (regular, not natural - see tip below), 250 mL

1/2

cup

unsalted butter

at room temperature, 125 mL

1/2

cup

brown sugar

lightly packed, 125 mL

1/3

cup

granulated sugar

75 mL

1

egg

1

tsp

vanilla

5 mL

1/2

cup

coarsely chopped peanuts

125 mL, optional
Instructions
Preheat oven to 350°F (180°C). In a small bowl, whisk flour with baking soda and salt until mixed. Using an electric mixer, in a large bowl, beat peanut butter with butter and sugars until well blended. Beat in egg, scraping down sides to mix well. Beat in vanilla. Gradually beat in flour mixture. Stir in peanuts, if using, until evenly distributed.

Using floured hands, roll dough into 1-inch (2.5 cm) balls. Place at least 2 inches (5 cm) apart on ungreased baking sheets. Dip the flat base of a glass in flour and gently press on each ball to flatten cookie to a little thicker than 1/4-inch (0.5 cm). Then, dip the tines of a fork in flour and press gently into centre of cookie. Press again at a different angle to form a cross pattern.

Bake in centre of preheated oven until golden and just set, 9 to 11 minutes. Remove from oven. Leave on baking sheet for 1 minute, then transfer to a rack to cool completely.
Nutrition
Disclaimer: The preceding post was developed as part of a paid Ambassador program with the Peanut Bureau, however, as always, all opinions are genuine.