These crazy good reuben egg rolls are going to blow your party guests' minds. Be careful- they're addictive.
The beauty of working in food media is that there is never any shortage of inspiration to garner from talented chefs and restaurants all around the world. Everywhere I go, and everything I eat sets my mind in motion for a new dish.
This can be particularly exciting during the holiday season when I don't feel like I need to think so much about calories, fat, carbs, fibre etc. Sometimes it's just fun to be decadent and think only about one thing- flavour.
This dish was inspired by the Caplansky Smoked Meat Spring Rolls at the new hot restaurant, Dailo. I started to think that if these were so delicious with spring rolls, then heck, they would surely be awesome with melty Swiss cheese, briny sauerkraut and a little thousand island dressing. OMG Reuben egg rolls.
Reuben Egg Rolls -> The NEW Egg Roll
I assume this can be done with spring roll wrappers, which would make them more reasonably sized, but I opted for the egg rolls for my reuben egg rolls for two reasons. A) Egg roll wrappers tend to be easier to find. B) Egg roll wrappers tend to be sturdier and a little thicker so I thought they would hold up to the moisture a bit better just in case I wasn't able to get enough brine out of the sauerkraut.
Now, lets talk about that sauerkraut for making these reuben egg rolls. You've really got to squeeze the hell out of that stuff. I recommend throwing it into a cheesecloth to help out with the process, but either way, you've really got to put your back into it. Otherwise, these babies are super easy to put together.
These reuben egg rolls are perfect for a party or holiday because you can make them around a month ahead of time, freeze them, and then just deep-fry right before serving. Simply roll all of your egg rolls and place them on a baking tray lined with wax paper and covered in plastic wrap. Freeze on the tray until solid, then transfer to a freezer bag and put back in the freezer until ready to use. I would recommend taking them out about 30 minutes before you want to start frying but you don't need to thaw them completely. I would also add an extra minute to the fry time just to ensure they're fully heated through.
What fun food flavours do you want to see me pack into an egg roll? Have you tried making reuben egg rolls?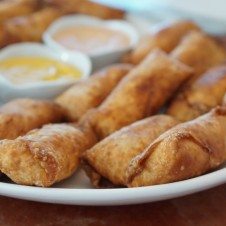 Reuben Egg Rolls- Perfect Party Appetizers for Entertaining, Holidays & Game Day
Inspired by Nick Liu at Dailo. These crazy good reuben egg rolls are going to blow your party guests' minds. Be careful- they're addictive
Print
Pin
Rate
Ingredients
12-14

egg roll wrappers

1

lb

corn beef

shredded

1/2

cup

sauerkraut

1

cup

Swiss cheese

shredded

2

L

vegetable oil

for frying

Thousand Island dressing and/or Mustards

for dipping
Instructions
Put the sauerkraut in a cheesecloth and squeeze vigorously until all of the liquid comes out. Transfer to a cutting board and chop finely.

Finely cut the shredded corn beef and add to the sauerkraut. Add the shredded cheese and mix everything until evenly distributed.

Set up a small bowl with water in it for moistening your egg rolls.

Place an egg roll wrapper with one point facing towards you in a diamond shape. Add a bit of water to the top and side points of the diamond. Scoop out about 1/4 cup of the meat mixture and compress it into a log. Place it the middle but a bit more towards you- about 2/3 of the way down the wrapper.

Starting with the bottom, roll the wrapper around the meat until covered, then fold the outside corners in and continue to roll until fully sealed.

Place on a baking tray lined with wax paper and cover with plastic wrap until all of the egg rolls are finished. Repeat with the remaining egg rolls.

When ready to fry, preheat your oil in a deep pot or deep fryer to 360 F. Once to temperature, add in the egg rolls a few at a time, turning once when they start to brown- about 4 minutes total or until golden brown all over. Drain on paper towels and repeat with remaining egg rolls.

Serve on a platter with little ramekins of thousand island dressing and assorted mustards.
Nutrition
Calories:
118
kcal
|
Carbohydrates:
7
g
|
Protein:
7
g
|
Fat:
7
g
|
Saturated Fat:
3
g
|
Cholesterol:
24
mg
|
Sodium:
473
mg
|
Potassium:
112
mg
|
Fiber:
1
g
|
Sugar:
1
g
|
Vitamin A:
60
IU
|
Vitamin C:
9
mg
|
Calcium:
65
mg
|
Iron:
1
mg
Updated on October 23rd, 2020