Packing a healthy lunch box is not just for kids or parents of kids. I share my easy guide to packing a balanced healthy lunch box for adults to take to work.
Bringing your lunch to work may have seemed lame in your early 20s, but now it is totally in vogue. Not only is packing a healthy lunchbox a great way to save money, but it's also key to cutting on calories and fat, as well. I mean, it's awesome if your cafeteria has a salad bar, but otherwise veggie options are usually limited to sad baby carrots and dip.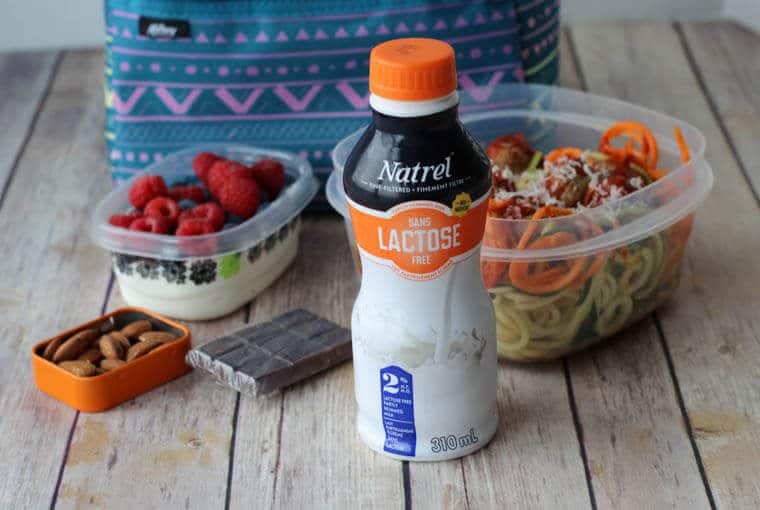 How to Build a Healthy Lunch Box for Adults
A balanced healthy lunch box requires a nice variety of yummy eats. Here's my guide to help you create a healthy lunch box and some ideas for each food to include.
SNACKS
Choose 2-3 snacks with either protein, fibre, or both:
Milk
Plain Greek Yogurt with fruit
Almonds
Hummus and veggies
Plain Cottage Cheese with berries
Almond butter and celery
Low Sodium Jerky
Cheese with Whole Grain Crackers
LUNCH
Lean Protein:
Grilled Chicken
Canned Beans
Hardboiled Eggs
Cooked Lentils
Baked or Grilled Tofu
Cooked Lean Ground Meat
Seared Steak
Baked Fish
Cooked Shrimp
Edamame
High Fibre Carbs:
Brown Rice
Quinoa
Wild Rice
Whole Grain Pasta
Whole Grain Crackers
Sweet Potatoes
Peas
Corn
Carrots
Oats
Barley
Low Calorie Vegetables:
Salad greens
Tomatoes
Bell peppers
Zucchini noodles (zoodles)
Cucumbers
Green Beans
Asparagus
Healthy Fat:
Vinaigrette
Avocado
Cheese
Olives
Nuts
Seeds
Healthy Sweet:
Dark Chocolate
Fruit
Berries
Power Balls/ Bliss Balls/ Energy Balls
Dried Fruit
Applesauce
Chia Pudding
Granola
Small Homemade Muffin
What's in my Healthy Lunch Box?
Check out my treasure trunk of a healthy Lunch Box! This is what I've packed inside!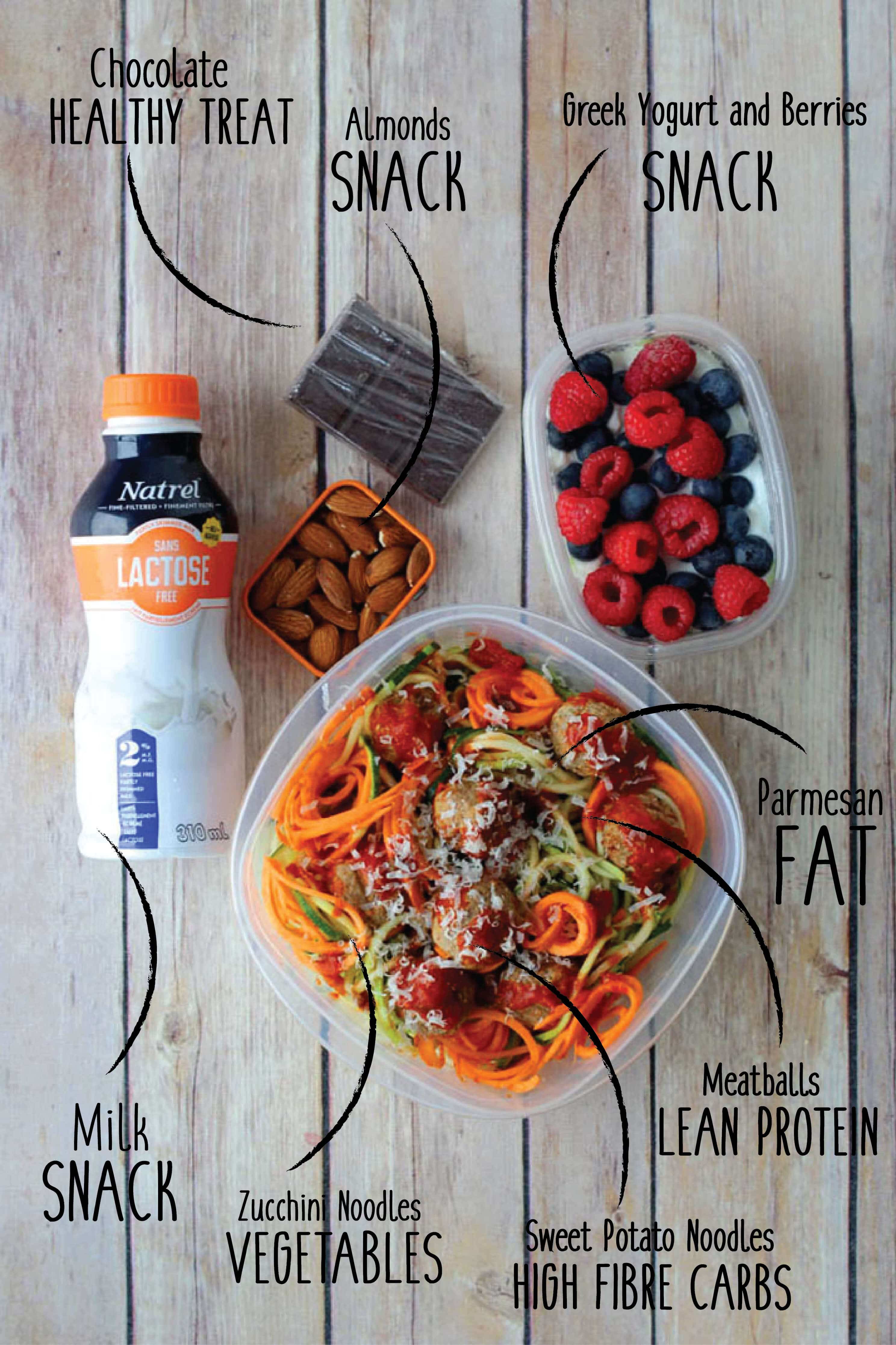 Natrel lactose free on-the-go milk – this is a great single-serving snack that offers healthy protein, Calcium and Vitamin D on the go. It's also totally lactose free so you can avoid the discomfort you may find with regular dairy and it's made with Canadian dairy. You can get it now in major supermarkets, convenience stores and mass merchants throughout Ontario, Quebec and the Maritimes.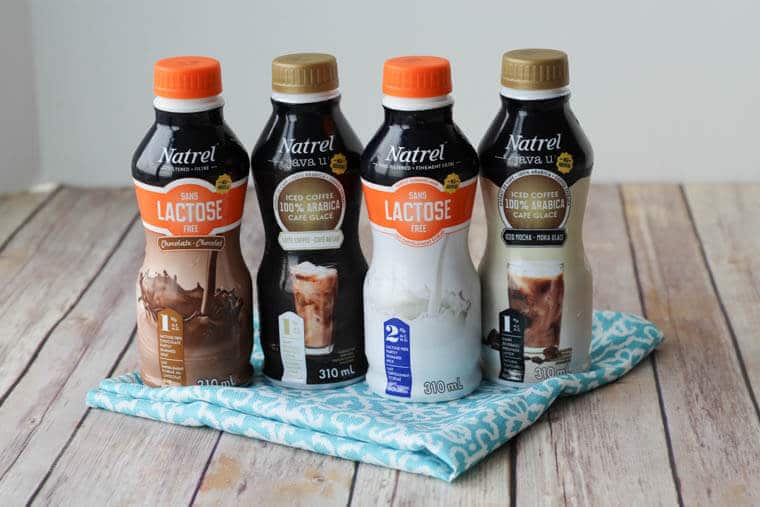 Greek Yogurt with Berries for a great morning snack.
Almonds to get through the 3 PM energy dip.
Steamed Zucchini Noodles for my low calorie veg!
Steamed Sweet Potato Noodles for a little bit of energizing carb.
Leftover Baked Lean Beef Meatballs for my protein (and they taste so good)
Dark Chocolate as my treat. We all need a treat in the work day.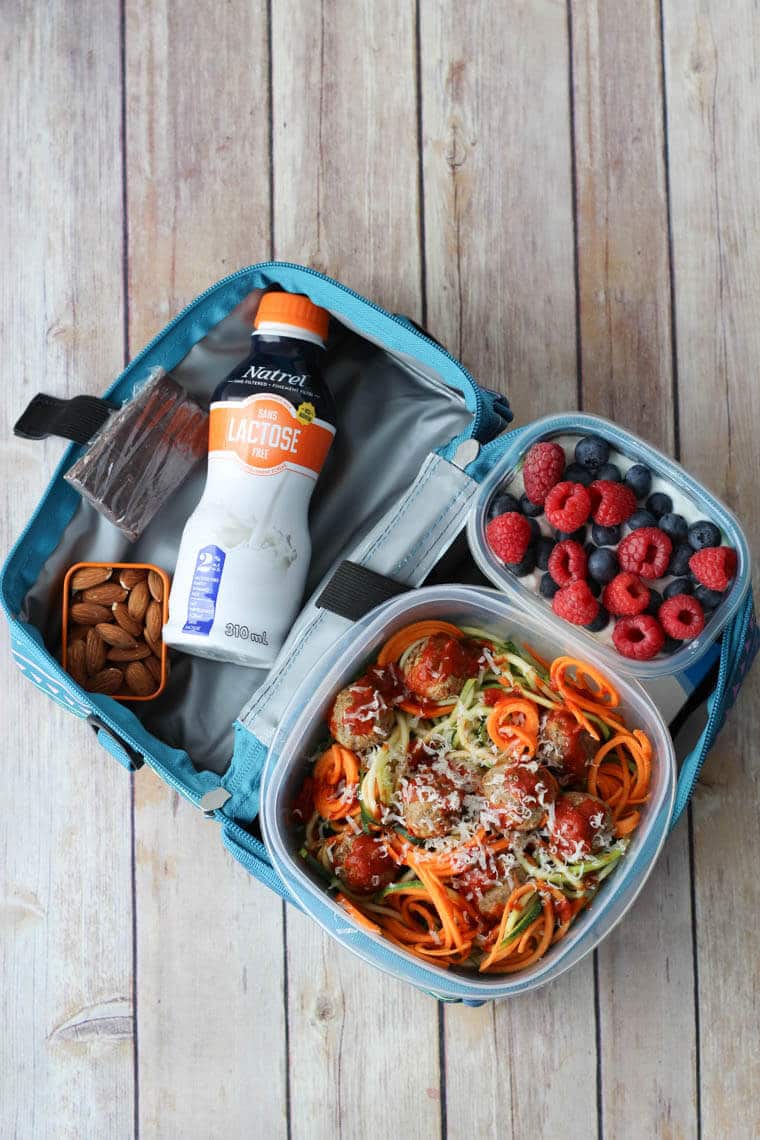 What's in your healthy lunch Box? What would be your ultimate picks from the list above? Leave me a comment below, I would love to hear your faves!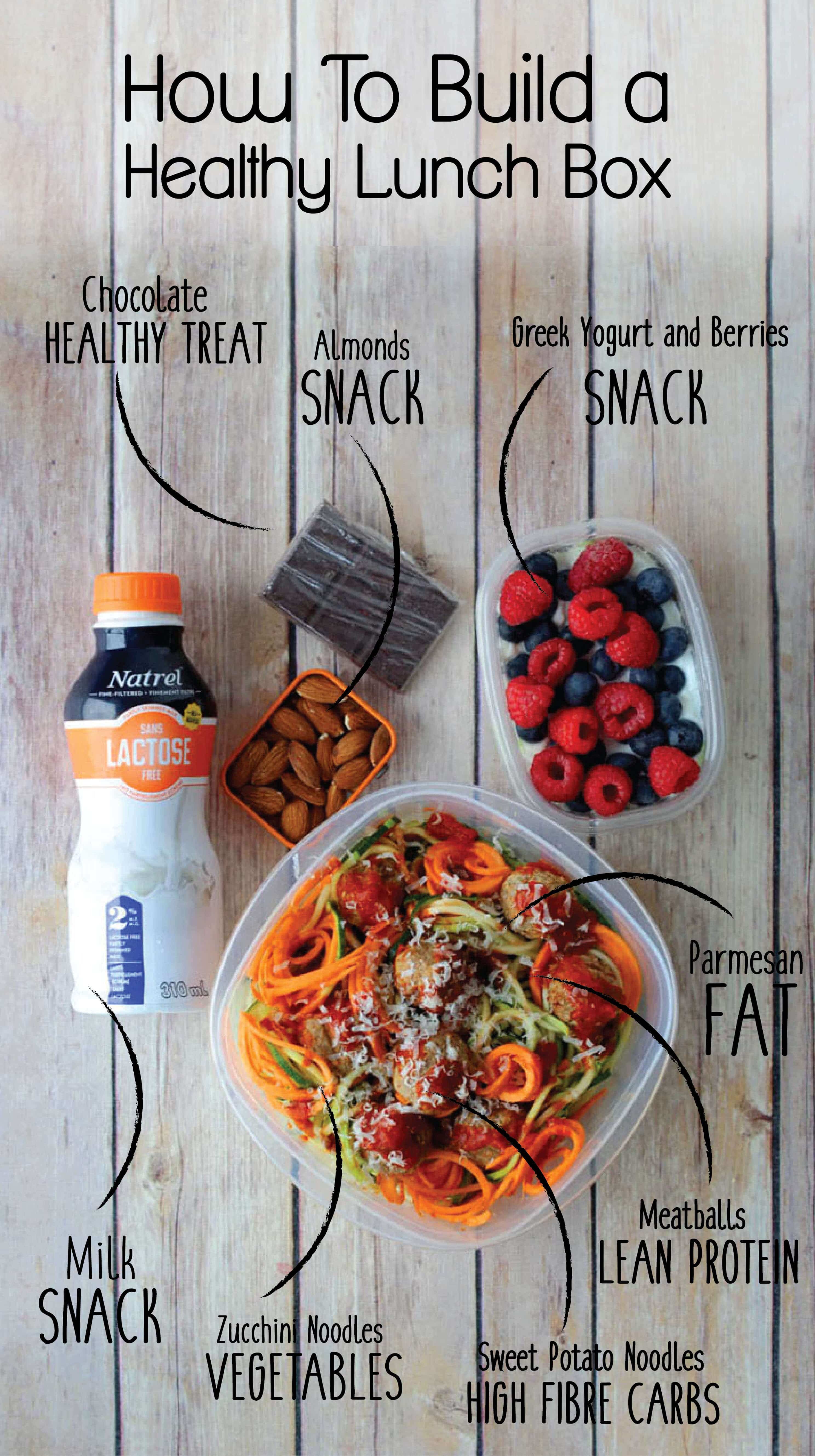 This post was sponsored by Natrel, however, all opinions are genuine.
Updated on October 4th, 2021