These Fudgy Samoa Girl Scout Vegan Brownies with Coconut Caramel are the perfect no bake brownies that can be made gluten free for Passover, Easter, Mother's Day and more!
Spring is finally here and not only does that mean better weather, but also some of my favourite holidays are all around the bend – Passover, Easter and (MY NEW FAVE), Mother's Day. Basically, all great reasons to eat chocolate. This recipe for Samoa Girl Scout Vegan Brownies was actually inspired by my Passover menu (though I know a lot of people don't consume almond flour or anything similar during Passover, we aren't so strict lol). But I also wanted a dairy free dessert since we always have a meat-based seder. At Passover, coconut macaroons are often a staple, so I wanted to kind of play with that flavour profile and make it…well.. better. No offence to macaroon lovers, but they're dry and boring in my books. If I'm going to eat dessert, I want to make it AMAZING.
Well let me tell you, folks. These super FUDGY Samoa Girl Scout Vegan Brownies are freaking…amazing. They can be made gluten free and vegan, or not. Either way, they're insanely good. I admittedly ate like 5 of them in the course of two days, and I don't usually even love chocolate desserts. THEY'RE THAT GOOD.
What the heck is a Samoa?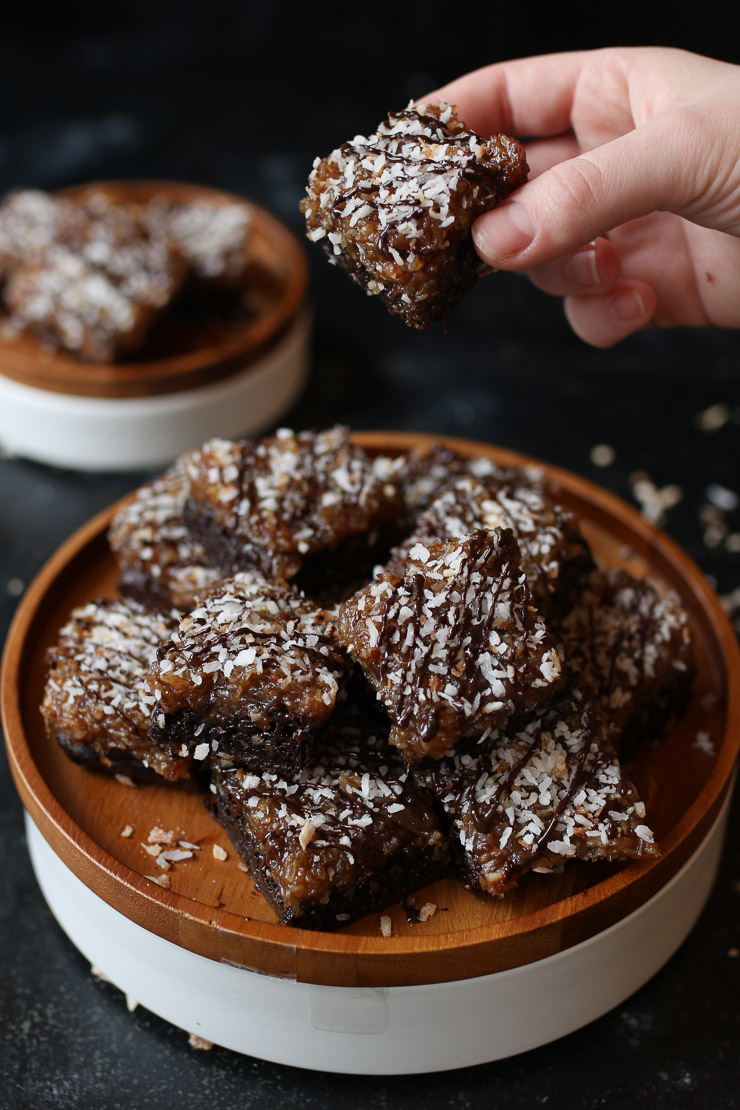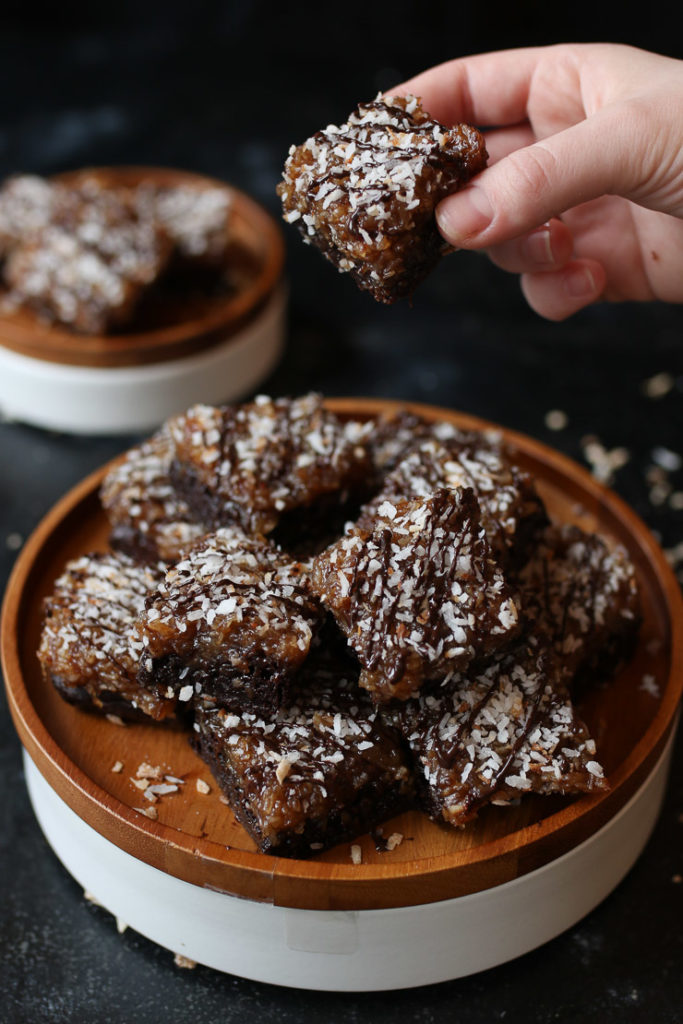 I actually have no freaking clue, but if you've ever been a girl scout, you know the iconic cookies well. Caramel, coconut and chocolate meet in this EPIC (charitable) treat. It really is such an awesome combination I can't help but let it inspire other desserts. I used this as inspiration in my book, the Mindful Glow cookbook, to make the most amazing gluten free donuts (you need that recipe NOW), and these brownies are equally divine.
How to make Samoa Girl Scout Vegan Brownies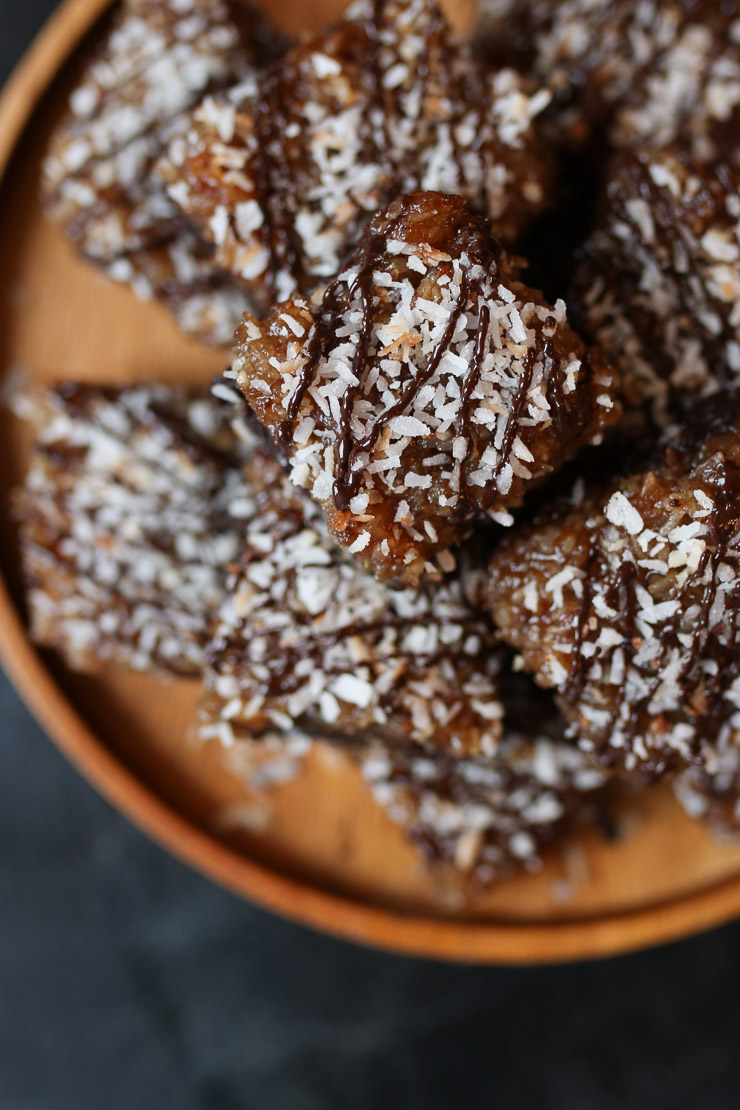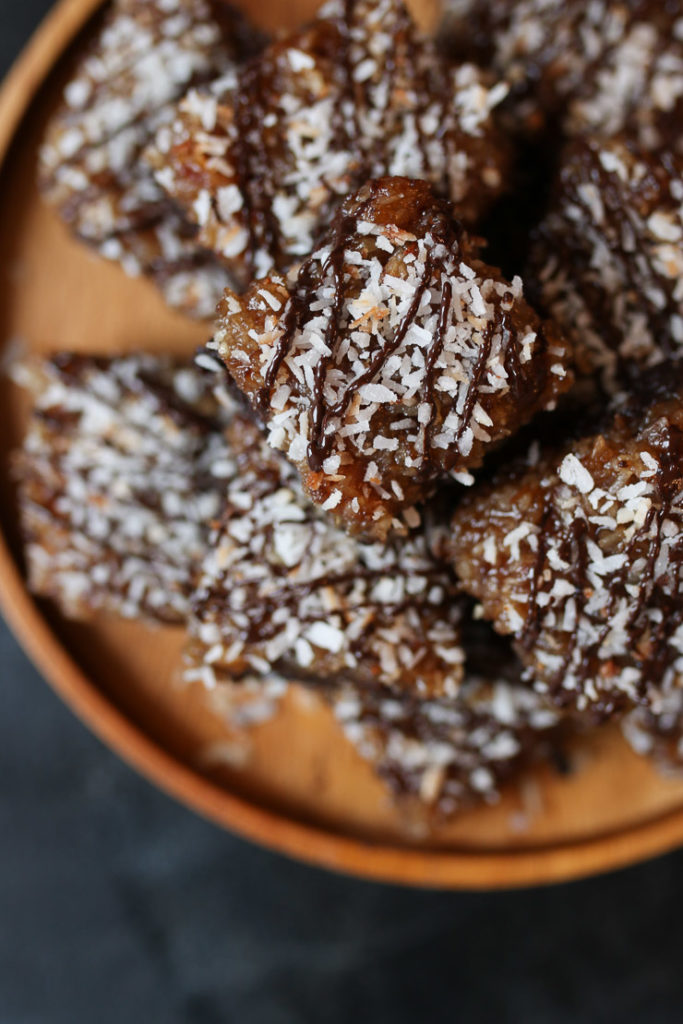 The key to making the most FUDGY brownies of LIFE is that there's very little starch in there. It's mainly just cocoa, dates to sweeten, and some almond flour to bind.
I then make a caramel out of beautiful dates (a staple in Israel), and I mix that with lots of coconut. Honestly, the coconut caramel is DEADLY.
And the best part is you don't have to bake them! YAY.
You really only need super small pieces of these Samoa Girl Scout Vegan Brownies because they're so fudgy and rich. Honestly, you may need to store these in the freezer to prevent eating them all in one shot (like I did). But that's also an awesome thing for entertaining. They can be made ahead, frozen and then thawed out and served. I recommend making sure you let them come completely to room temperature, however, since the chocolate will harden and they will lose their fudge factor if they're served just too cold.
DO YOU HAVE OTHER VEGAN desserts ON THE BLOG?
You bet I do! Sweet treats and desserts are one of my favourite recipes to veganize. Here are some of my favs!
VEGAN RAINBOW NO BAKE BROWNIES
VEGAN PEANUT BUTTER & JELLY WHOOPIE PIES
Now loves, let me know – have you tried these FUDGY samoa girl guide vegan brownie?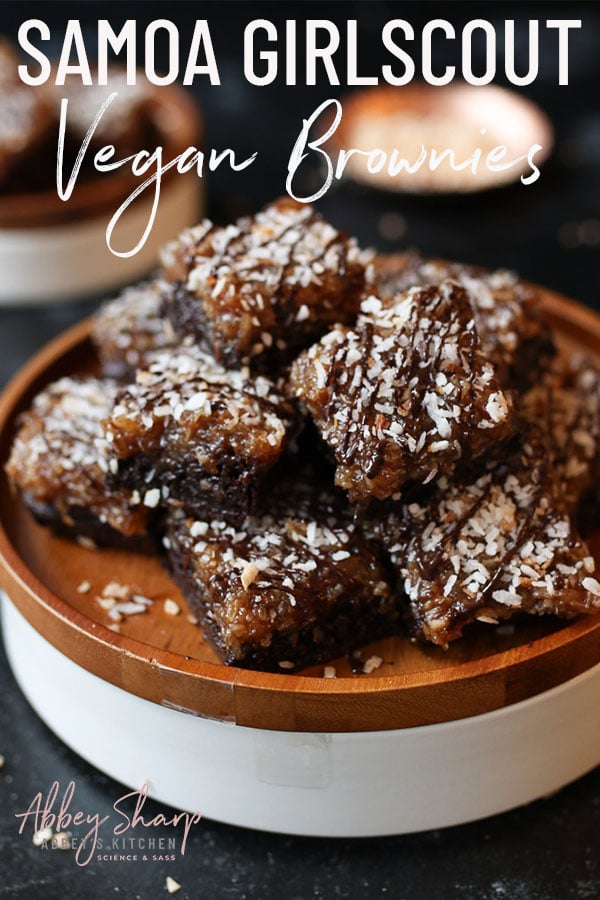 Fudgy Samoa Girl Scout Vegan Brownies with Coconut Caramel
These Fudgy Samoa Girl Scout Vegan Brownies with Coconut Caramel are the perfect brownies that can be made gluten free for Passover, Easter, Mother's Day and more!
Ingredients
Topping:
1

cup

chopped pitted dates

½

cup

coconut milk

½

cup

maple syrup

Pinch

sea salt

200

gram

pack of coconut

toasted (about 1 ¾ cup)

1/2

oz

dairy free vegan dark chocolate

chopped
Instructions
Line an 9×9" baking dish with 2 overlapping pieces of parchment, leaving overhang like wings.

In a food processor, puree the dates until they reach a thick paste. Add in the almond flour, cocoa powder, coconut oil, salt, and vanilla. Refrigerate.

Meanwhile, heat the dates and coconut milk in a small sauce pot over medium heat. Cook for 4 minutes or until the dates soften, then transfer to a food processor or blender. Puree until smooth. Add the maple and salt and puree again until incorporated.

Transfer back to the sauce pot and cook over medium low heat for 4 minutes until bubbling and thick.

Add all but 2 tbsp of the toasted coconut to the date caramel and spread on top of the cooled refrigerated brownies. Top with the remaining toasted coconut. Place in the fridge to fully set up for at least an hour. Before serving cut into 16 bars.

Melt the remaining ½ oz of chocolate for 30 seconds in the microwave on 50% heat until fully melted. Transfer to a piping bag and drizzle the brownies.

Store in a container in the fridge for up to 4 days.
Nutrition Facts
Fudgy Samoa Girl Scout Vegan Brownies with Coconut Caramel
Amount Per Serving
Calories 277
Calories from Fat 108
% Daily Value*
Fat 12g18%
Sodium 109mg5%
Potassium 383mg11%
Carbohydrates 45g15%
Protein 4g8%
Vitamin C 1mg1%
Calcium 49mg5%
Iron 2mg11%
* Percent Daily Values are based on a 2000 calorie diet.
Updated on July 21st, 2020