These Easy Toddler Dip Recipes for Veggies & Fruit are essential BLW recipes for helping your kid eat more fruits and vegetables to get their fibre in!
HELP! My kid used to eat broccoli, pate, and fish, and now he only wants pasta and bread!
Sound familiar? I hear you. My kid also was a superstar eater, and then he got his molars in and went through a picky phase where he barely ate anything other than toast. The first things to go, of course, were the veggies – he went from broccoli being a favourite to being despised.
What do I do about picky eaters who don't want to eat vegetables?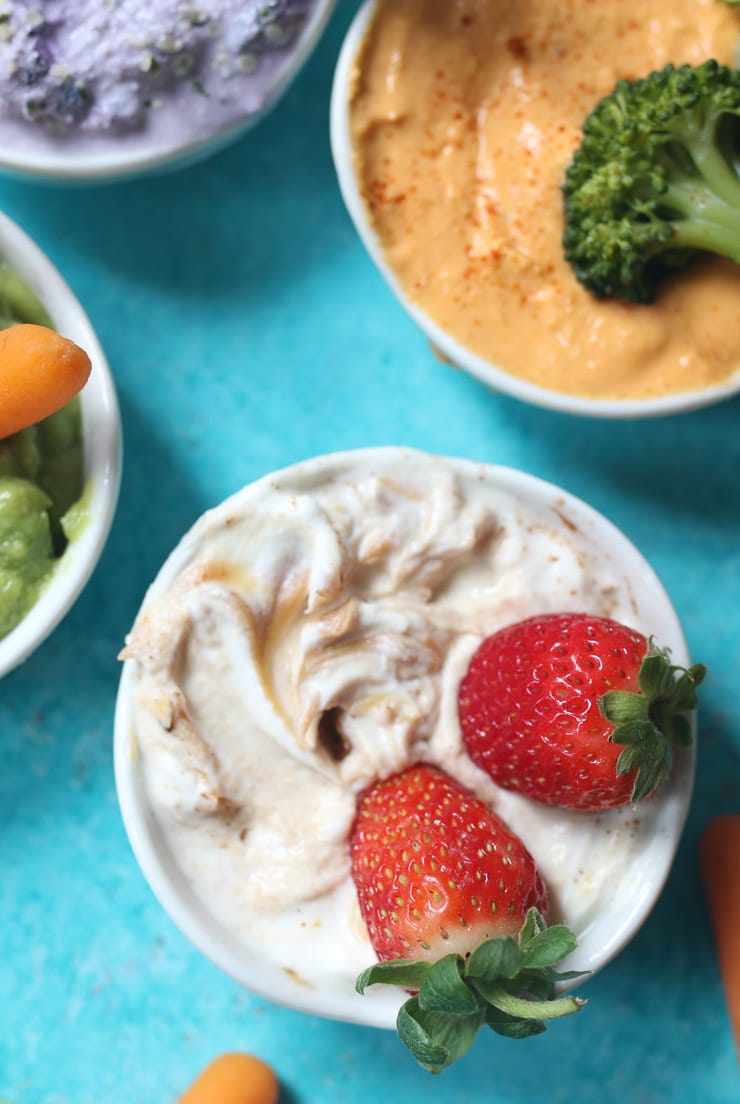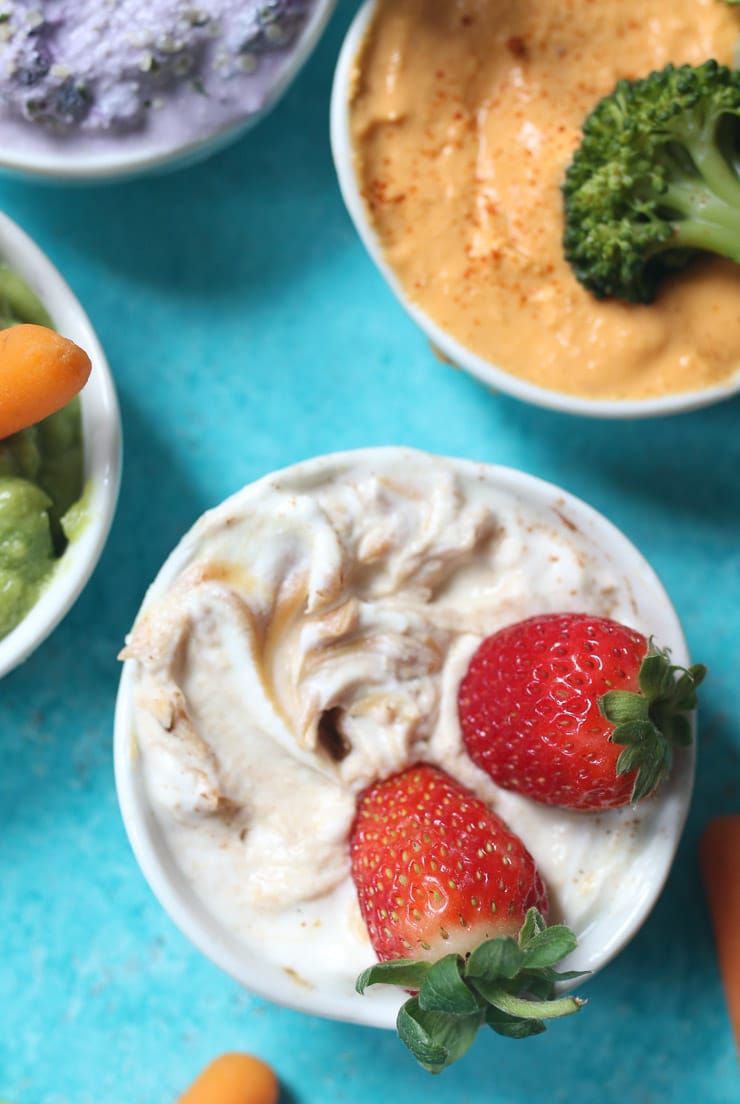 You make these easy toddler dip recipes. Trust me. They work! My kiddo LOVES the dip. He will dip anything in anything (sometimes just his hands because YOLO). But seriously, pairing his basic steamed broccoli with an exciting new dip has been a really great way to encourage him to eat his veggies.
Dips add flavour, fun, and something NOVEL and NEW. Mamas, if you're struggling with picky eaters trying to get them to eat their vegetables, you need to try out these 6 healthy easy toddler dip recipes.
what are the best toddler dip recipes for picky eaters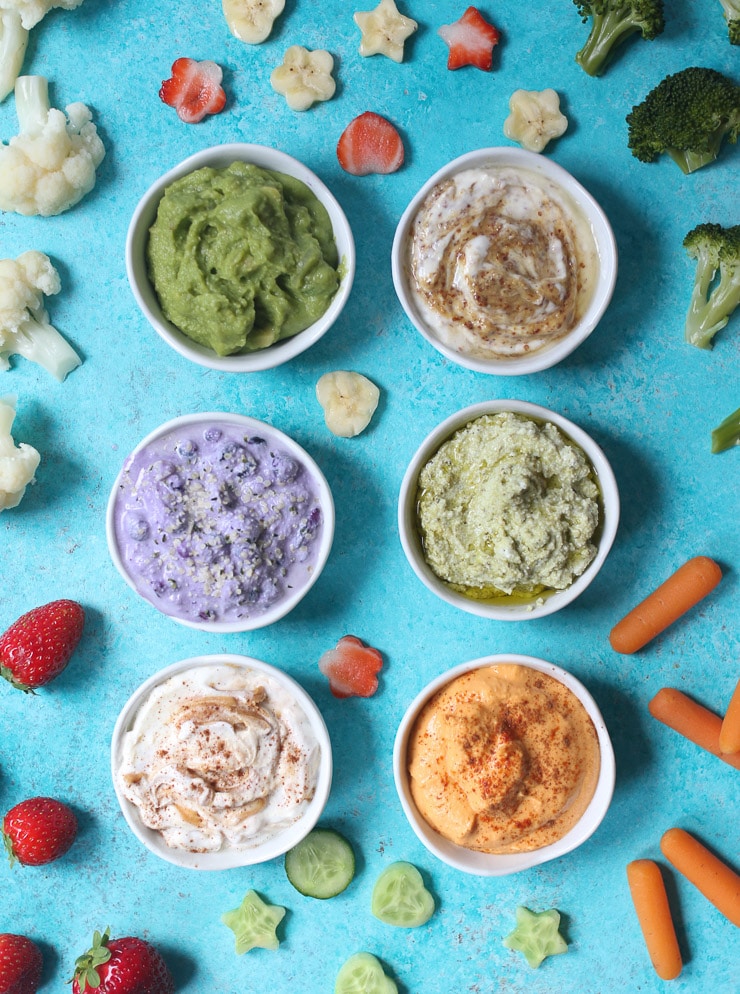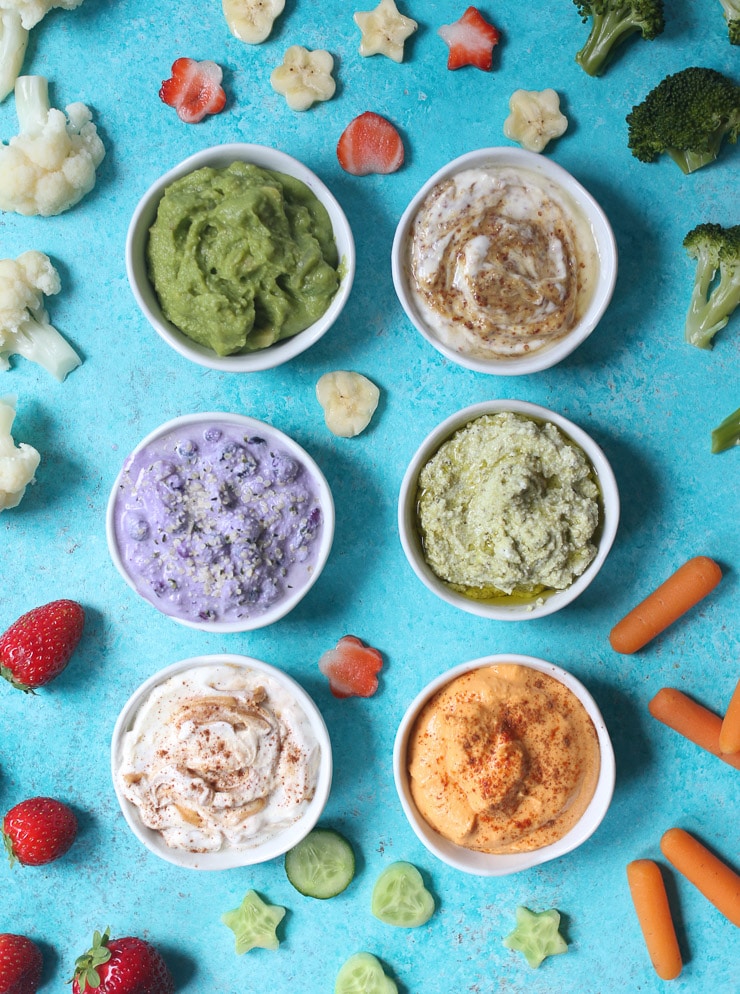 The possibilities are endless when it comes to dips, but these 6 easy healthy toddler dip recipes have proven to be Baby E's favourites and also my favourites (because they're a sinch to pull off).
For dipping fruit, we have a Berry Protein dip with cottage cheese, cream cheese and your kiddo's favourite fruit. There's also a Yogurt Peanut Butter dip which is amazing with strawberries or bananas.
For dipping vegetables, I've got even more options (because let's be real, its the veggies that are a hard sell). There's a honey mustard yogurt dip that is sweet, tangy and delish. For the kiddos who are under 1, just swap in a hint of maple syrup for the honey. If your kid is an avocado lover like mine, try my white bean avocado dip. Hummus lovers will love the familiar sweetness of my CARROT hummus. And for the cheese lovers, try the creamy pesto dip!
Make one of these toddler dip recipes each week and keep the experience of eating vegetables and fruit fun!
What if the kids just eat the Dips and don't eat the vegetables?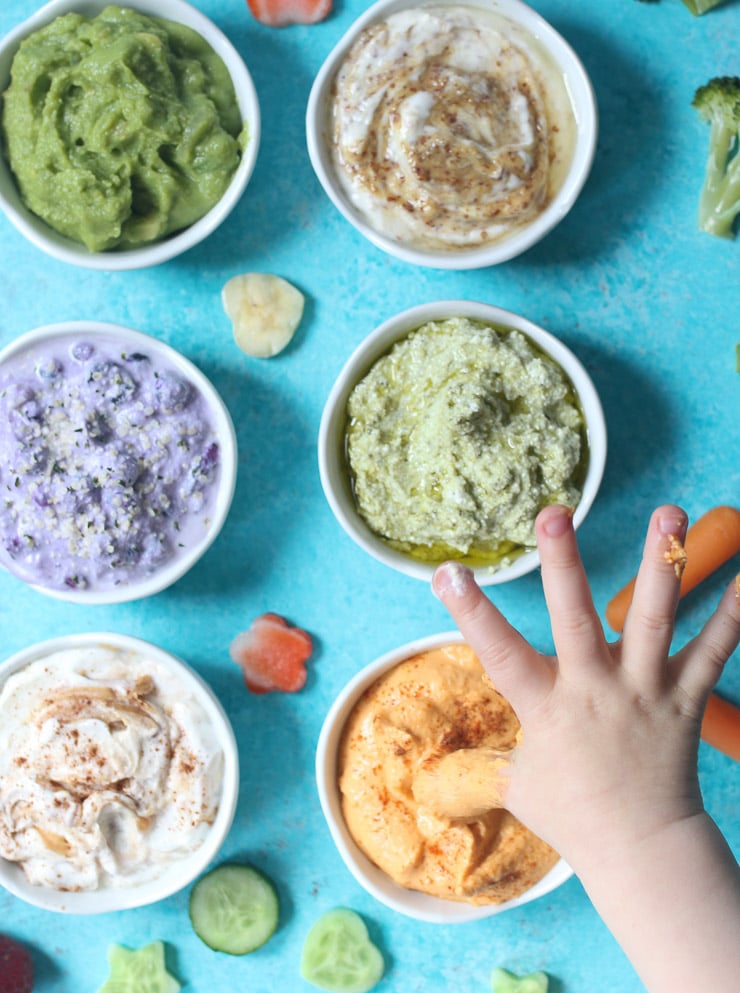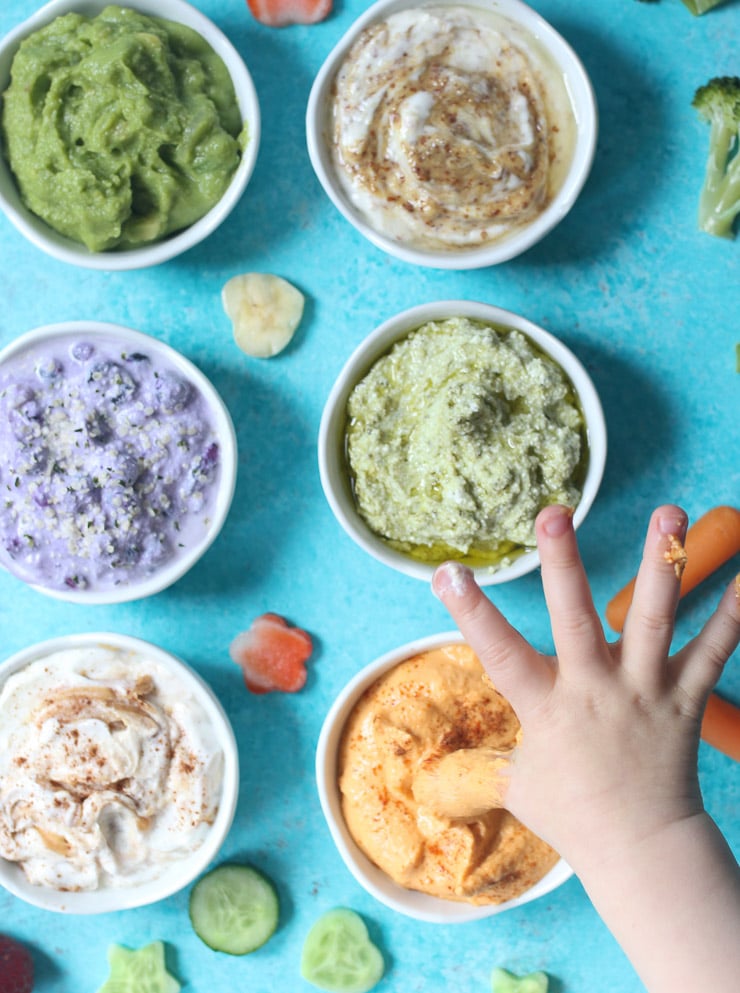 Ha sometimes my kid gets so excited about the dip, he just shoves his hand in there and dips his fingers in! It happens. But because these toddler dips are so nutrient dense, I'm totally fine with it too. They'll be getting lots of healthy fats, protein, calcium and more – even if they don't eat the vegetables with the dip!
How Do I teach my kid how to dip vegetables and fruit?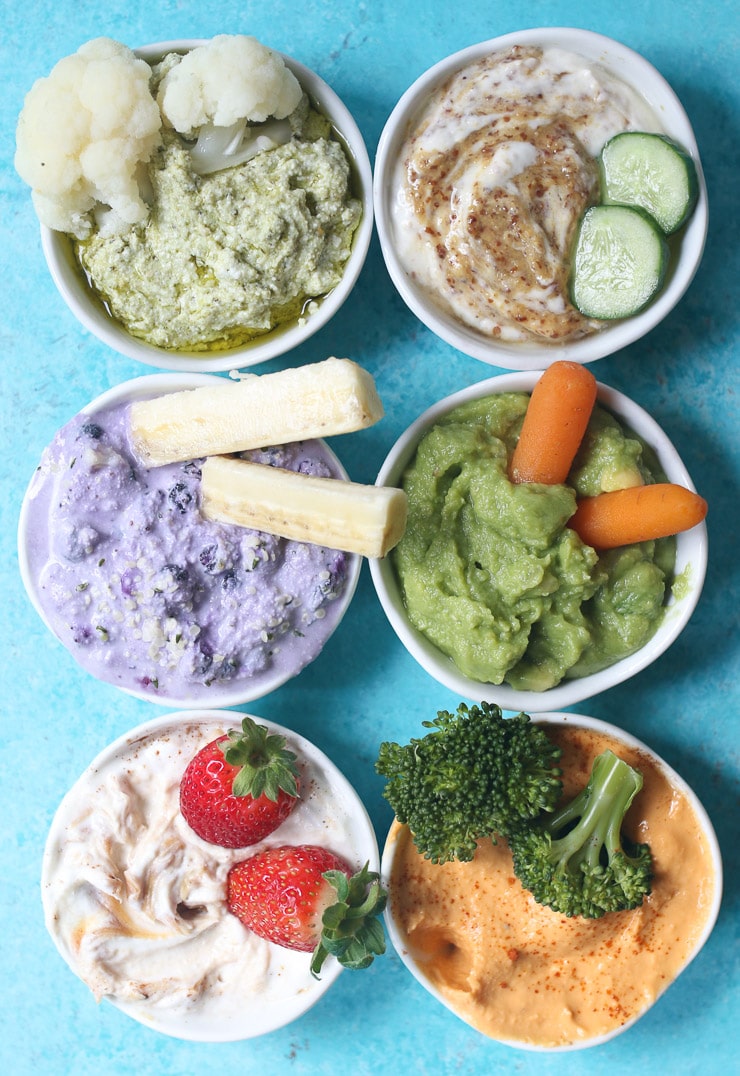 Modelling! I take a vegetable (try a baby carrot, for example) and dip it into one of these dips. Show babe how to lift it up and bring it to their mouth. The first time I introduced a dip with baby E's carrots, I stuck one into the avocado dip and turned my back for a second to grab a fork. When I looked back, he had stuck four other carrots into the dip and then I watched him pick them up to eat. Now this kid LOVES to dip!!
So mamas and papas, what are some of your fool proof ways to get your kiddos to eat their veggies?
Have you tried these easy toddler dip recipes for picky eaters?
Leave me a comment below with your thoughts!
If you liked this post, you may also like: