This Everything Bagel Keto Salad is perfect for Breakfast and Brunch and includes all of the classic fixings without the bagels!
When we think of breakfast or brunch, a lot of us don't immediately think SALAD. Well I'm about to change all that with this Everything Bagel Keto salad with a runny egg and smoked salmon. One of the things I've been asked REPEATEDLY by a lot of my followers who are eating more high fat, lower carb or keto style diets, is that they need more awesome salads that don't suck in their life. I agree, I think one of the biggest potential downfalls of the keto diet is it's potential to lack fibre, so any recipes I can give you to help boost that up are GOLD in my opinion. I also think that even if you're not eating keto or low carb, we could ALL stand to get more veggies into our mornings, and a salad that LEGIT tastes like a bagel is the BEST way to do it.
How to Make Breakfast Everything Bagel Keto Salad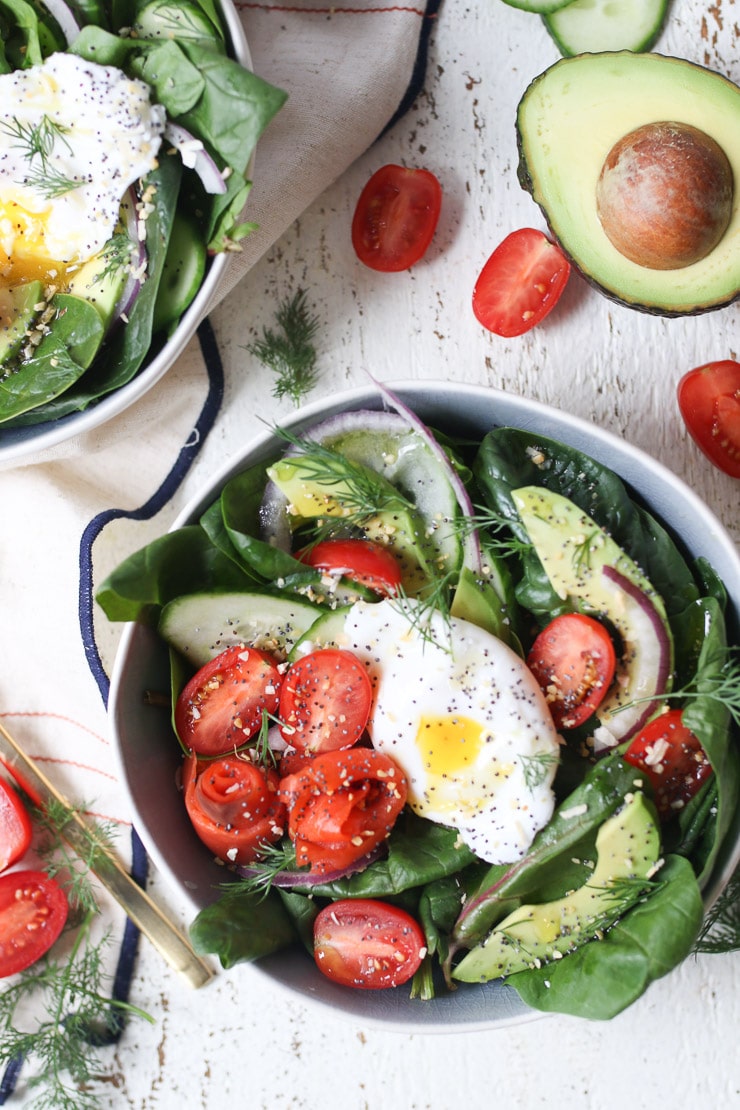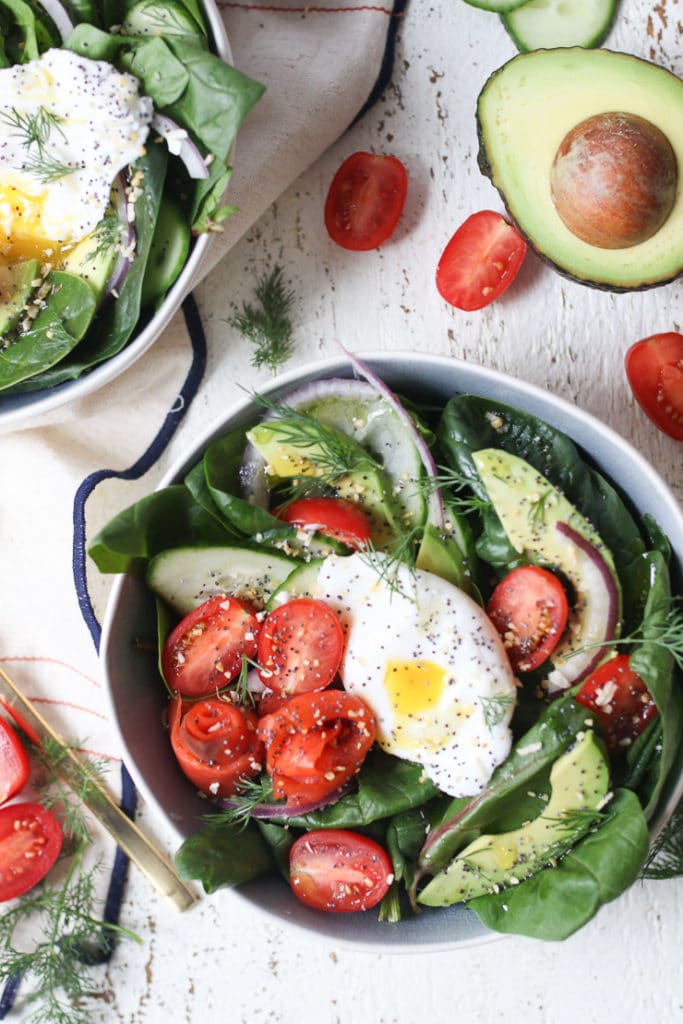 This is stupid easy but is awesome for just a single serving breakfast or if you're brunch entertaining a crowd and need to balance out all the french toast and bennies. It starts with the holy grail of flavour- EVERYTHING BAGEL SPICE. I have a standard blend I use in my everything bagel recipes on my blog that's super easy to whip up, but you can also easily pick it up on amazon (I like Trader Joe's).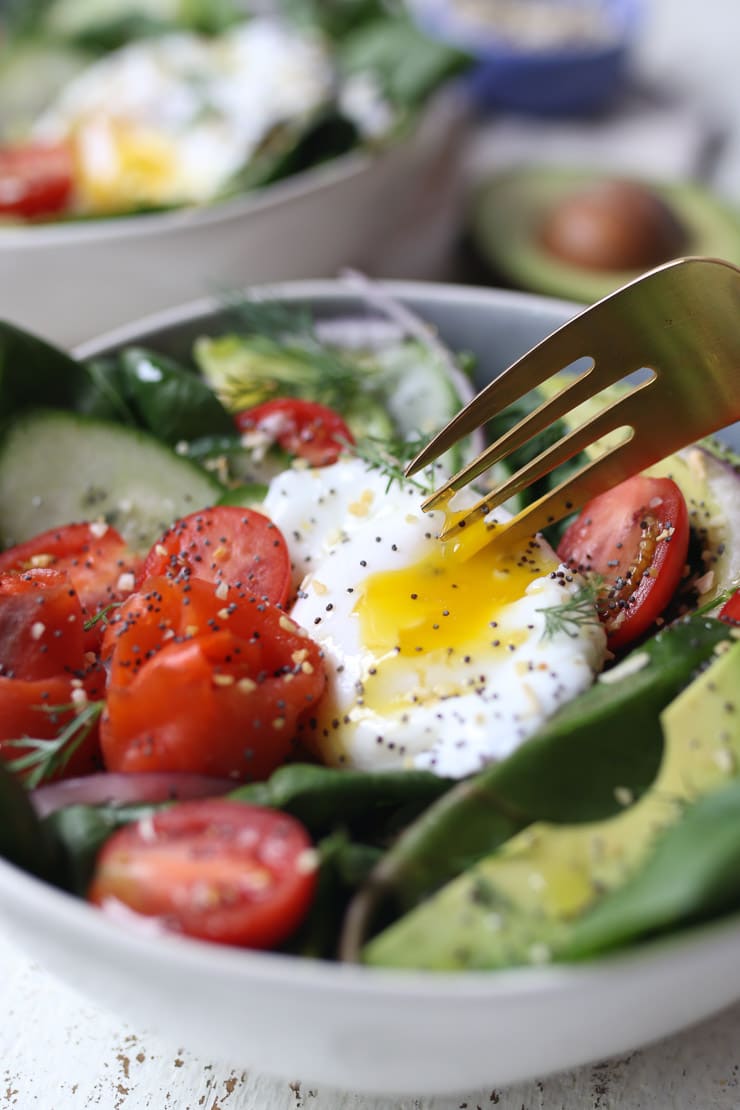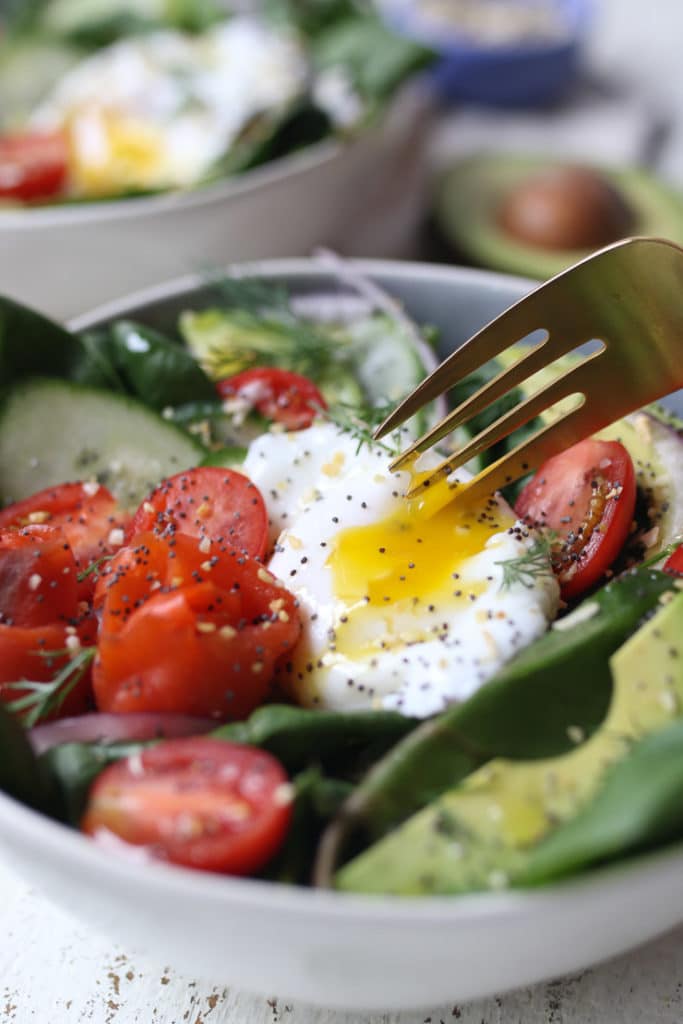 Then I just get some beautiful greens (you can use spinach, romaine, iceberg or even shredded kale for some extra fibre), cucumbers, tomatoes, red onion, dill, avocado, and smoked salmon. Basically, this is everything (except for the bagel) that you'll typically find on a bagel and lox spread. As a Jewish mother, I know this spread ALL TOO WELL. There isn't a day that I don't have all of these things in my house, and there isn't a weekend breakfast or brunch where these essentials are not expected to be served. I don't know about your family, but I think mine would welcome a lighter take on the classic.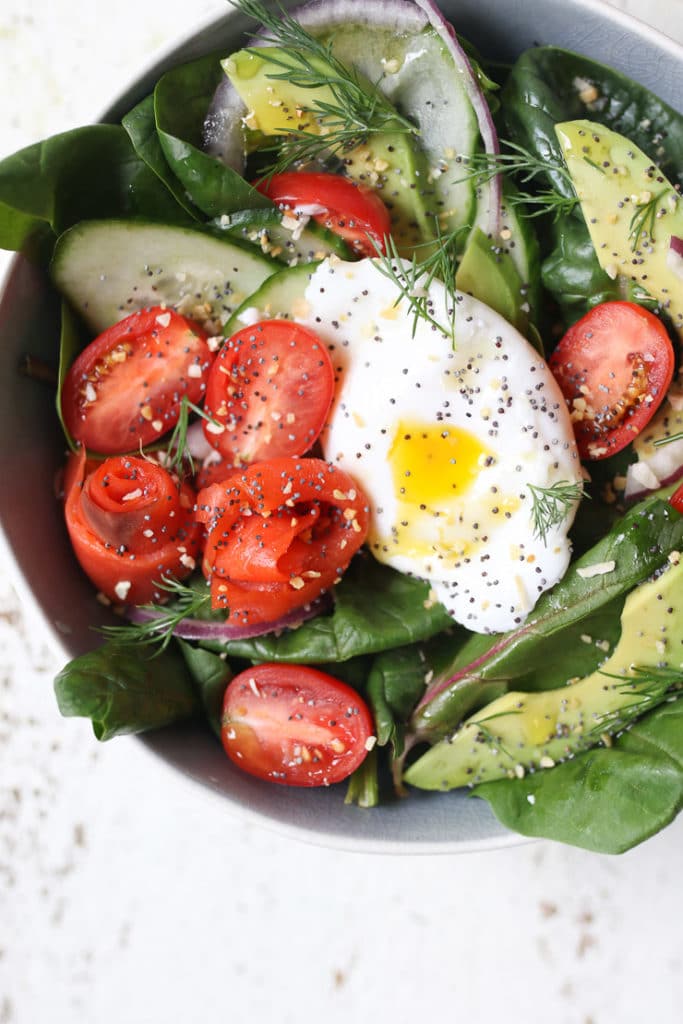 So here you go, bagel-lovers. I've put all of our favourite everything bagel keto friendly ingredients in ONE AMAZING fibre-rich and nutrient-rich salad bowl. You're welcome, loves.
Now tell me, what everything bagel recipes do you want to see more of?
Have you tried this everything bagel keto salad for breakfast?
What are your thoughts about salads at breakfast in general?
Leave me a comment below with your thoughts and check out these other amazing everything bagel recipes!
If you like this recipe, you might like:
Everything Bagel Chicken Breasts
Everything Bagel Devilled Eggs
Everything Bagel Vegan Mac & Cheese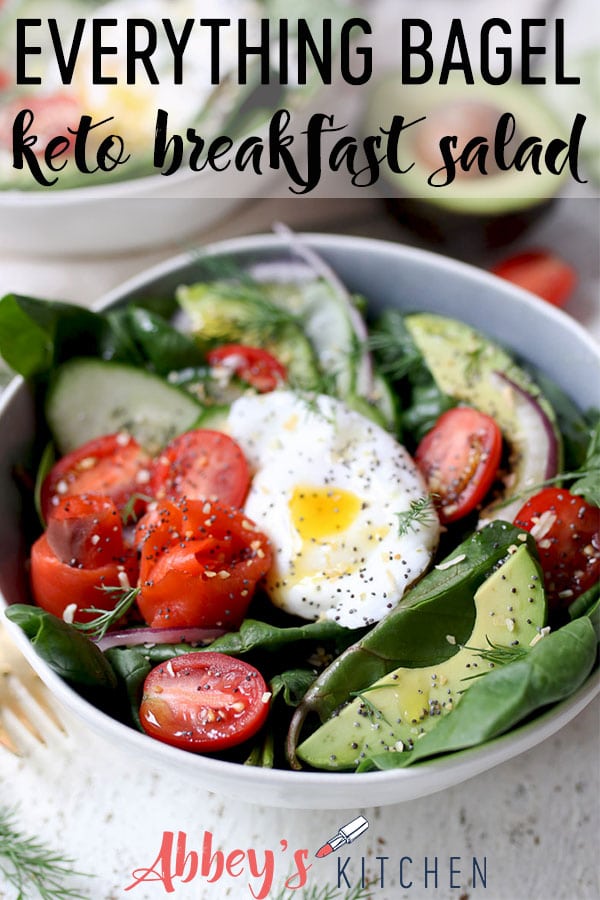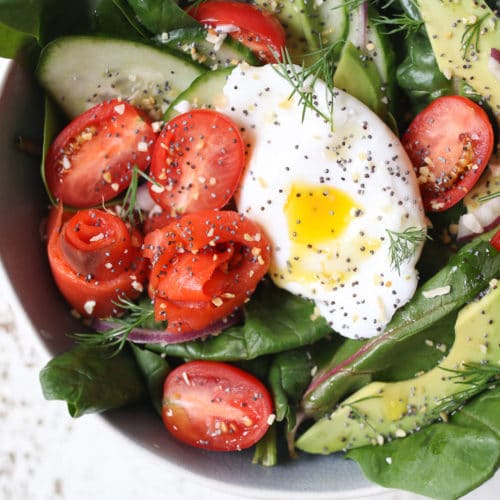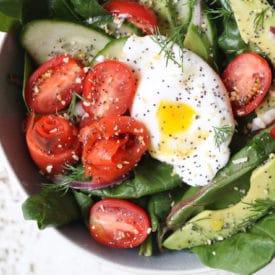 Breakfast Everything Bagel Keto Salad
This Everything Bagel Keto Salad is perfect for Breakfast and Brunch and includes all of the classic fixings without the bagels!
Print
Pin
Rate
Instructions
Mix together the everything bagel spice. Set aside.

Top the greens with smoked salmon, avocado, cucumber, cherry tomatoes, dill, and poached or fried eggs.

Mix together the olive oil, lemon juice and dijon and season with salt and pepper, to taste. Drizzle on top of the salad and top with the Everything Bagel spice.
Nutrition
Calories:
407
kcal
|
Carbohydrates:
13
g
|
Protein:
15
g
|
Fat:
34
g
|
Saturated Fat:
6
g
|
Cholesterol:
170
mg
|
Sodium:
825
mg
|
Potassium:
710
mg
|
Fiber:
5
g
|
Sugar:
3
g
|
Vitamin A:
1625
IU
|
Vitamin C:
45
mg
|
Calcium:
142
mg
|
Iron:
3.3
mg
Updated on July 1st, 2020