These Everything Bagel Spice Avocado Devilled Eggs are Keto friendly, Low Carb, Gluten Free and packed with healthy fats for a super simple lunch or snack!
I always have avocados in my house. Not just because I'm a millennial and pretty much obligated to enjoy them on the regular. And not because my son is OBSESSED and goes through ½ an avocado every day. Avocados are packed with healthy monounsaturated fats, flavour and creamy texture and are pretty much the universal symbol of food happiness, am I right? Well since I have a big bag of them in the house at all times, I figured I needed to come up with some ways to enjoy them and that's where these Everything Bagel Spice Avocado Devilled Eggs come into play.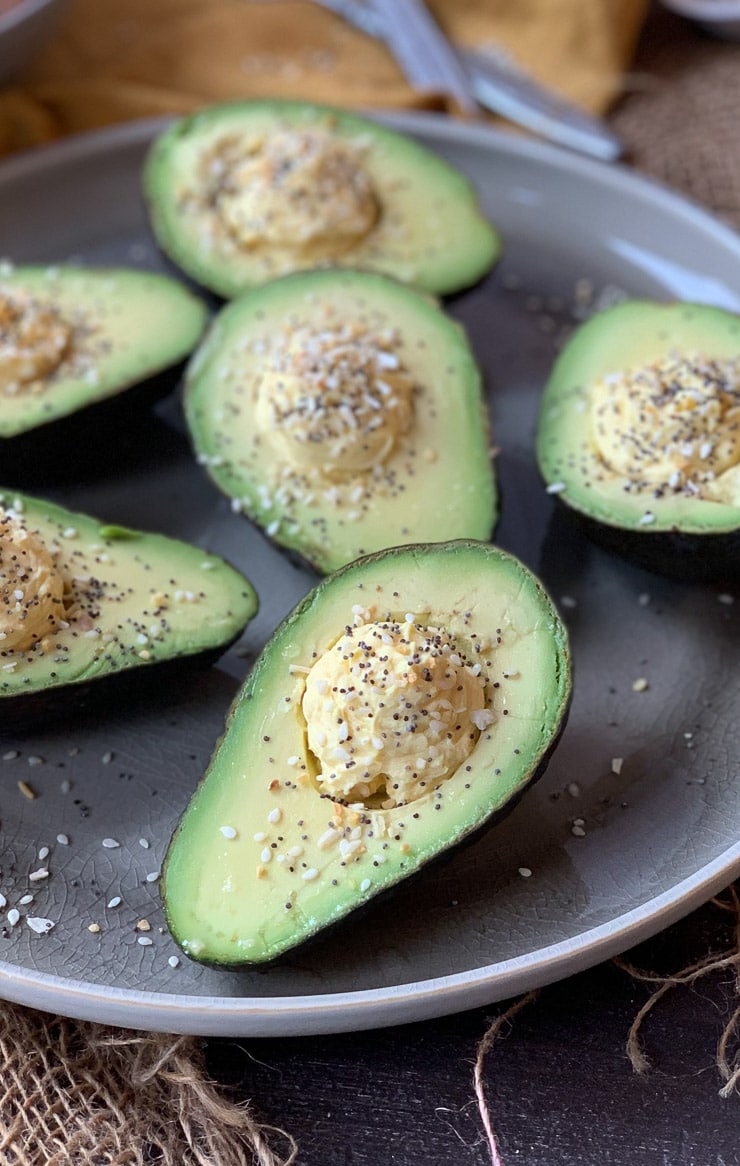 So I was actually inspired to make these after my friend and YouTube producer, Houston, told me she made devilled eggs for a party and topped them with everything bagel spice. Instantly I was like HOLY GENIUS, WOMAN! While a simple devilled egg recipe is always welcome, I thought I would turn this into a bit more of a main meal by adding the devilled egg filling to an avocado hole. Hence my Everything Bagel Spice Avocado Devilled Eggs! These are perfect for those of you experimenting with keto, are gluten free or who just need a really satisfying lunch (like me) because they're loaded with monounsaturated healthy fats.
key ingredients for these avocado devilled eggs
Everything Bagel Spice – a store-bought Everything Bagel Seasoning is definitely a great option and makes life wayyyy easier. But If you don't have everything bagel spice available at your local store, no need to worry. You can make your own! I have a provided a super simple recipe (see recipe below) that only requires poppyseed, sesame seed, garlic flakes, onion flakes, and a bit of salt. Voila!
Eggs – Eggs are the star of the show here and this recipe called for 6 hard boiled egg yolks. I prefer to use omega 3 eggs to get some extra omega 3 fats in my diet, but free range or organic are also great options.
Cream Cheese – To make this recipe keto, we are upping the fat content by adding in some cream cheese with our eggs. If you're not keto and don't care to make this recipe higher in fat, you can certainly go for a lite version.
Greek Yogurt – Greek yogurt not only adds some extra creaminess to the recipe, but also gives this recipe an extra protein boost.
Avocados – Make sure to look for ripe avocados at your local store by giving them a squeeze – they should be soft but not too squishy or too firm. If you can't find any that are ripe and ready to go, a great way to ripen up avocados in a cinch is to put them on the counter in a brown paper bag with an apple or banana. The ethylene gas that's emitted from the apple and banana will ripen them up in 1-3 days.
How to Make Everything Bagel Spice Avocado Devilled Eggs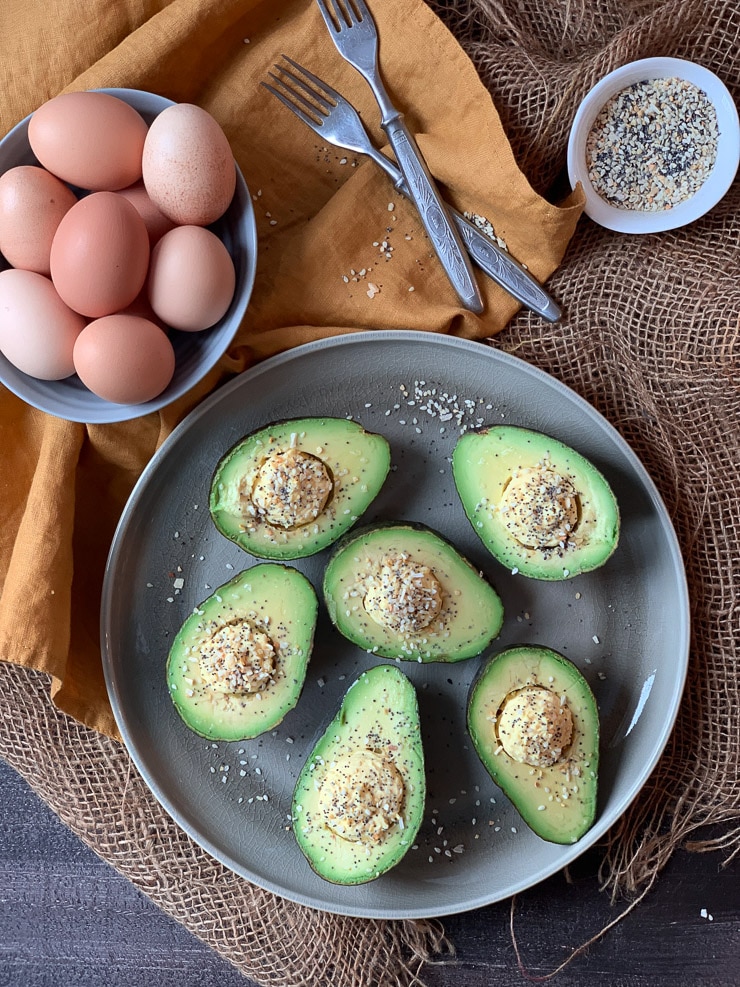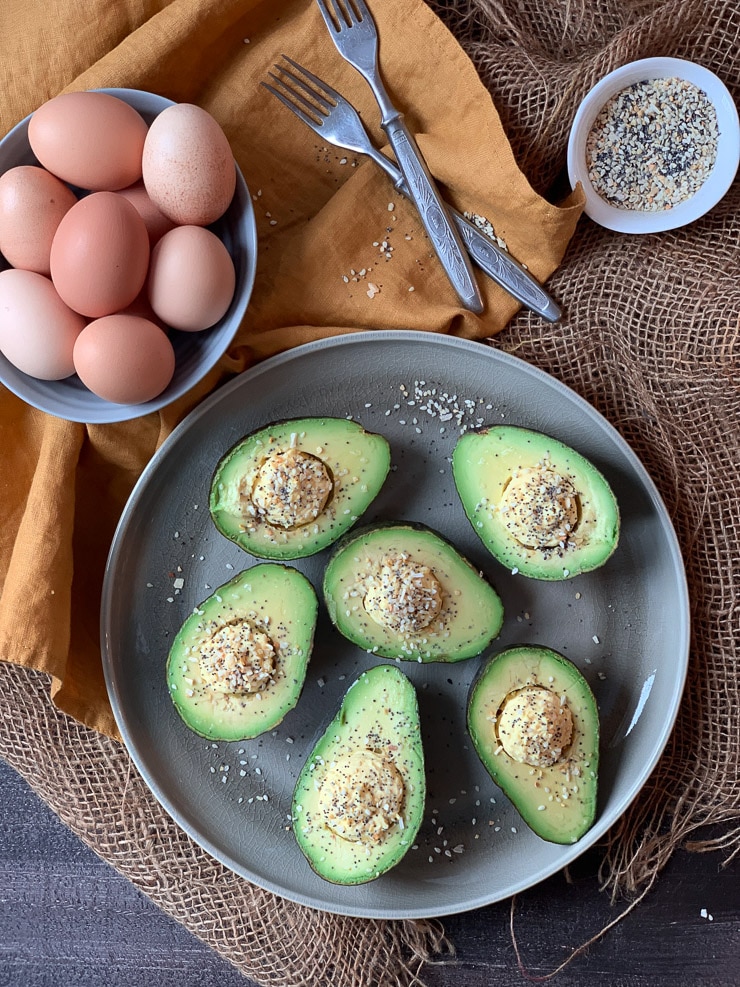 To make the Everything Bagel Spice Avocado Devilled Eggs, I just puree the yolks from a few hardboiled eggs with some cream cheese, Greek yogurt and some everything bagel spice. I knew you were all as obsessed with everything bagel spice as I am after my everything bagel spice chicken breasts did so well so here we are with another fun use for the stuff. Then I simply pipe or spoon it into the centres of an avocado and voila! A super hearty and filling meal you're going to love.
faq about these avocado devilled eggs
Here are some common questions I get asked about this recipe
is this recipe kid friendly?
Yes definitely. This recipe is 1000% baby E approved! It's also a great way for your kiddo to get in some healthy fats, protein, and fibre.
what can i serve with these avocado devilled eggs to make it a meal?
These avocado devilled eggs are already loaded with protein, fibre, and fats but could definitely use some beautiful veg on the side or some carbs on the side (if you're not keto, or low carb). For my keto readers, I'd recommend pairing it with a lovely salad like my keto beet green pesto zoodles. If you're not keto and are hankering for some carbs on the side, you can opt for some toast and/or fruit to make this a lovely breakfast or a pasta salad.
do you have any other everything bagel spice recipes?
Girl, 10000% I do! Everything bagel spice is literally the spice of life. Here are some of my all time favs.
EVERYTHING BAGEL CHICKEN BREASTS
EVERYTHING BAGEL VEGAN TOFU NUGGETS
EVERYTHING BAGEL AVOCADO WHITE BEAN SANDWICH
EVERYTHING BAGEL VEGAN MAC AND CHEESE
KETO BAGELS WITH EVERYTHING BAGEL SEASONING
Now loves, do you love everything bagel spice? What else should I make everything bagel spice flavoured?
Leave me a comment below with your thoughts!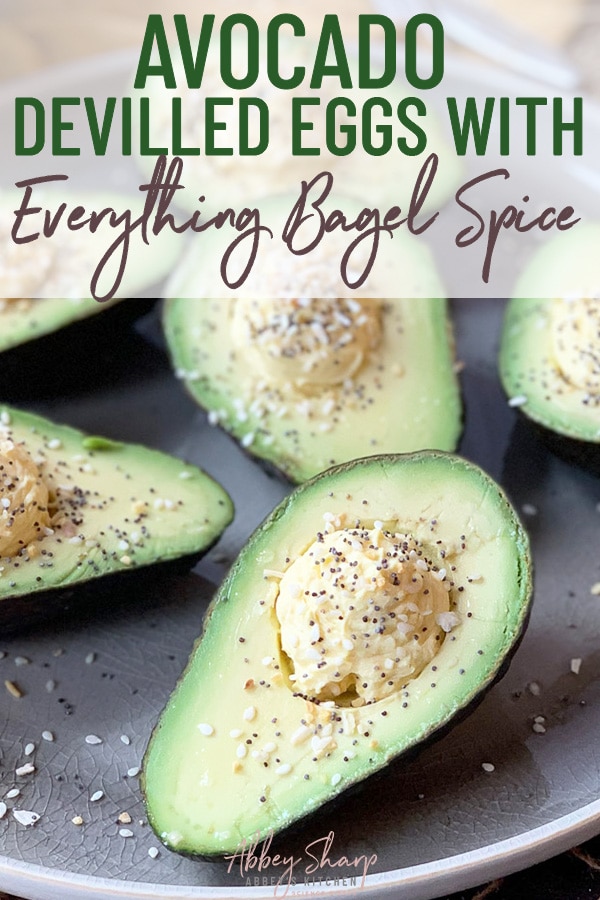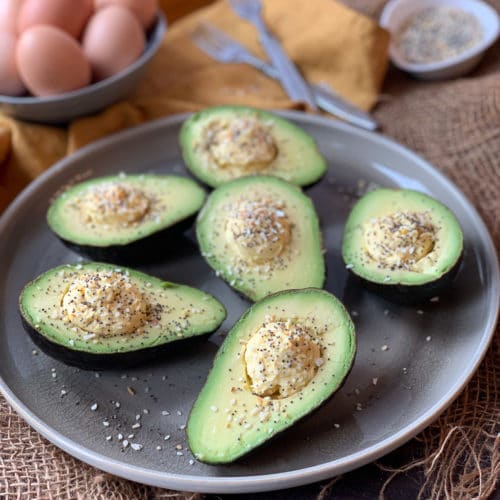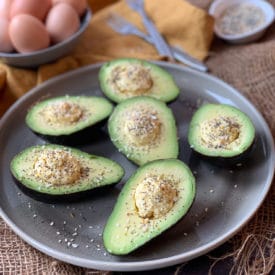 Everything Bagel Spice Avocado Devilled Eggs
These Everything Bagel Spice Avocado Devilled Eggs are Keto friendly, Low Carb, Gluten Free and packed with healthy fats for a super simple lunch or snack!
Print
Pin
Rate
Ingredients
DEVILLED EGGS
6

hard boiled egg yolks

1/4

cup

cream cheese (lite, or regular for keto)

1

tbsp

4% plain Greek yogurt

3

avocados (halved)
Instructions
In a bowl, mix together the everything bagel spice ingredients.

To a food processor, puree the egg yolks, cream cheese, and yogurt until smooth. Stir in 1 tbsp of the everything bagel spice.

Transfer the mixture to a piping bag fitted with a star tip and pipe into the middles of the avocado halves. Sprinkle generously with the remaining spice mixture and enjoy!
Updated on July 21st, 2020