These gluten free chicken and butternut squash enchiladas are an easy, healthy family dinner that's fast, balanced and delicious every time!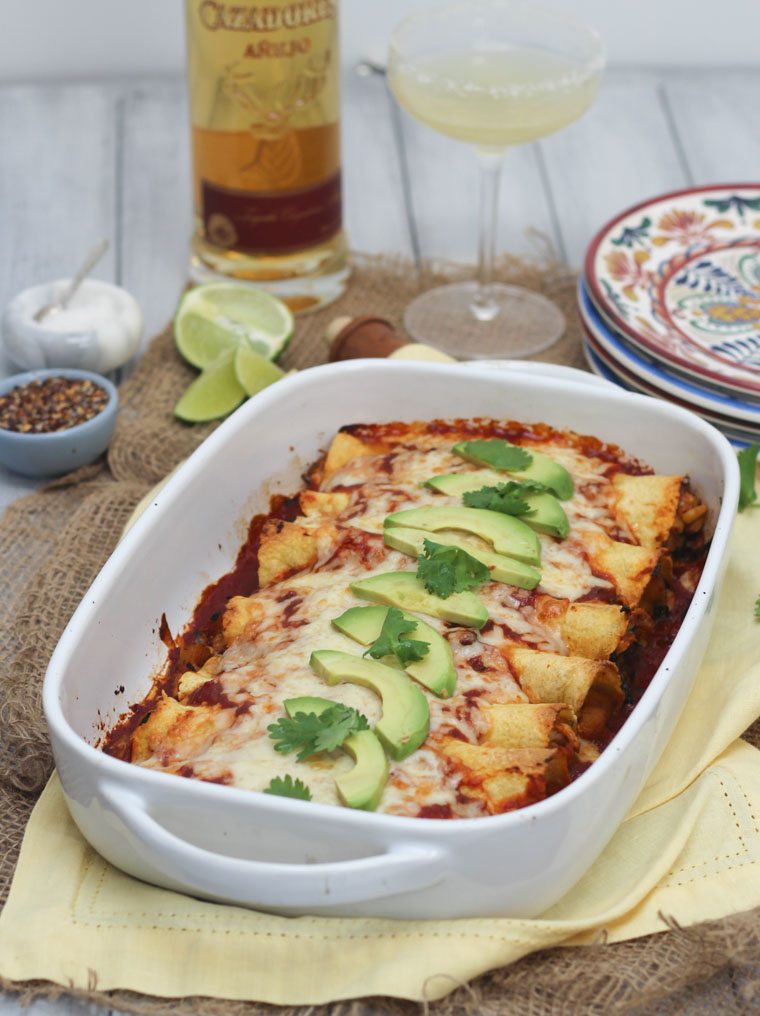 Mexican food is my jam. Packed with spicy, bright flavours, and vibrant colours, Mexican is an all-around winner every time. I've got tons of taco recipes on the blog (like these new chorizo beauties, these chicken ones, these sausage ones, and these vegan cauliflower ones), but I recently realized I'm equally obsessed with enchiladas (like these babies I made a little while back). A classic enchilada sauce is just so crazy good- sweet, spicy, smokey and tangy. I could eat that stuff err' day, all day. But you know, rather than taking sauce shots, I thought it would be somewhat classier to just make enchiladas, and my Gluten Free Chicken and Butternut Squash Enchiladas are my new obsession.
How to Make Gluten Free Chicken and Butternut Squash Enchiladas

Enchiladas seem like a long, arduous process, and hey, maybe they are if you're pressing tortillas from scratch. But I'm a busy girl, nobody's got time for that.  I start by cooking up some butternut squash and baby spinach in a hot pan, then adding in some leftover shredded chicken breasts and corn. Honestly, this is a great way to use up any leftover chicken you've got lying around the house, or even take a short cut from the grocery store with a rotisserie chicken. It's also a great way to sneak a little spinach into your family's meals and TRUST ME, they will gobble it up. You can totally omit or add to your version of the filling, but I'm admittedly loving these chicken and butternut squash enchiladas.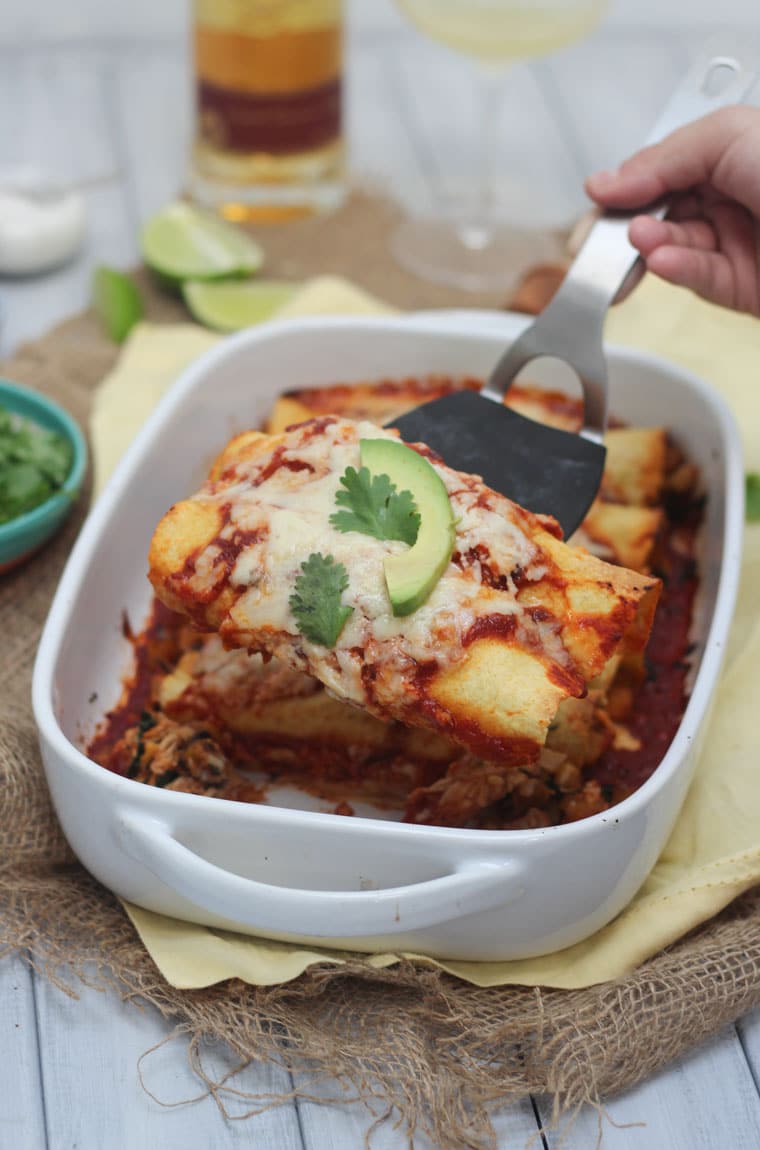 Now, the enchilada sauce. The stuff I literally would drink if given a chance. Again, it couldn't be simpler. I just saute up some garlic, some plain canned tomato sauce, a little chipotles in adobo sauce (maybe a lot if you like a kick), and some maple syrup to help balance things out. It's a super simple, but mind blowing combination that everyone -including your picky kids – will love.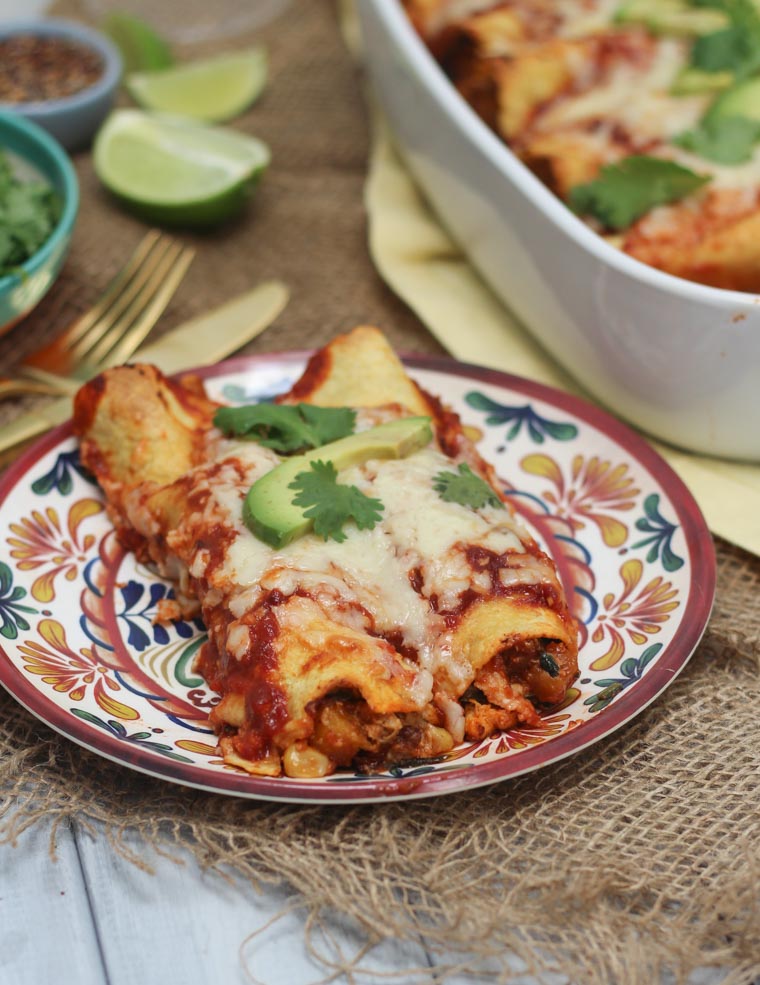 The best part about these Gluten Free Chicken and Butternut Squash Enchiladas is seeing them come out of the oven all bubbly and golden brown. OMG, that cheese bubble game is FIERCE, and the crispy little bits on the corner make me do a total happy dance until my plate is clean (folks, that is like 20 minutes of seat dancing). So if you wanna see your kids dance (and eat healthy things), make. these. enchiladas. Trust me, I wouldn't lie.
Now I want to know, are you team taco or enchilada?
Have you tried making my Gluten Free Chicken and Butternut Squash Enchiladas?
What are your favourite enchilada toppings and fillings?
Leave me a comment below with your thoughts and also how you like this recipe!

Gluten Free Chicken and Butternut Squash Enchiladas
These gluten free chicken and butternut squash enchiladas are an easy, healthy family dinner that's fast, balanced and delicious every time!
Ingredients
1 1/2

tbsp

olive oil extra-virgin olive oil

2

cups

butternut squash

cubed into ½ inch dice

2

cups

finely chopped and packed baby spinach

leaves only

½

tsp

ground cumin

¼

tsp

chili pepper

2

cups

shredded chicken breast

¼

cup

canned corn kernels

Sea salt and black pepper

to taste
sauce:
1

tbsp

extra-virgin olive oil

2

cups

plain tomato sauce

2

small garlic clove

minced

½ - 1

chipotle in adobo

depending on how large and how spicy you like it

1

tablespoon

adobo sauce

from chipotle in adobo

1 1/2

tbsp

maple syrup

¼

tsp

cumin

Sea salt and freshly ground black pepper
for the enchilada assembly:
8

small corn tortillas

3

cups

grated sharp cheddar cheese
serve with:
Cilantro

if desired

Avocado slices

Lime wedges
Instructions
Preheat the oven to 350°F. Spray a 9x13 inch baking dish with nonstick cooking spray.

Heat the tablespoon of olive oil in a large nonstick skillet over medium high heat. Add the butternut squash cubes, and stir until golden and fork-tender, about 10 minutes. Add the additional ½ tablespoon of oil along with the spinach, cumin and chili pepper, and stir until wilted. Take off the heat and mix in the chicken and corn and season with a pinch each of salt and pepper. Transfer to a bowl and set aside.

Meanwhile, in the same nonstick skillet (wiped out), heat the olive oil over medium heat. Add the garlic and stir until fragrant, about 30 seconds. Add in the tomato sauce, chipotle, adobo sauce, maple syrup and cumin. Let simmer for about 5 minutes, stirring often. Season with salt and pepper to taste.

Add about 1/3 cup of the sauce to the chicken mixture and 1 cup of the shredded cheese.

Spread about ½ cup of the tomato sauce on the bottom of the dish. Assemble the corn tortillas with about ½ cup of the filling, roll each tortilla and place seam side down into the baking dish.

Pour the remaining tomato sauce over the enchiladas, and sprinkle with the remaining cheese. Cover the casserole and bake for 20 minutes. Uncover and bake for 5 – 10 more minutes, or until the cheese is bubbling and golden brown.

Serve with fresh cilantro, avocado slices, and lime wedges.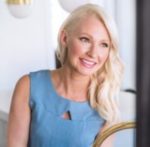 Abbey Sharp is a Registered Dietitian, an avid food writer and blogger, a cookbook author and the founder of Abbey's Kitchen Inc.