These Healthy Butter Chicken Nachos are the perfect High Protein, Low Carb Party Snacks for any festive get together!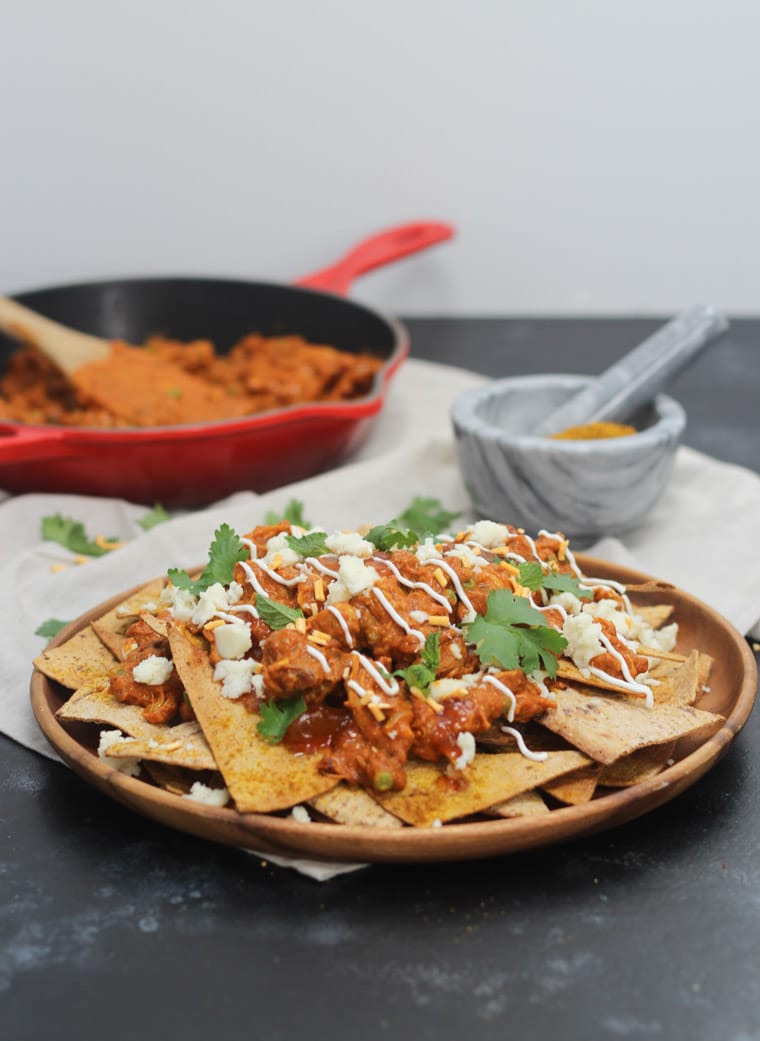 When I still lived at home, my sister, parents and I used to go out once a week for dinner at a local pub. I liked to switch things up with the main, but if nachos were available for an app, they were ordered. Every. Single. Time. Whenever a friend or boyfriend would join us at our weekly meal, we would have to give them a full-on pep talk to warn them of our ways. If you didn't get in there QUICKLY with those nachos, you probably would be left hungry. Seriously, it was every man for himself when there are nachos on deck in the Sharp-Fitzpatrick household.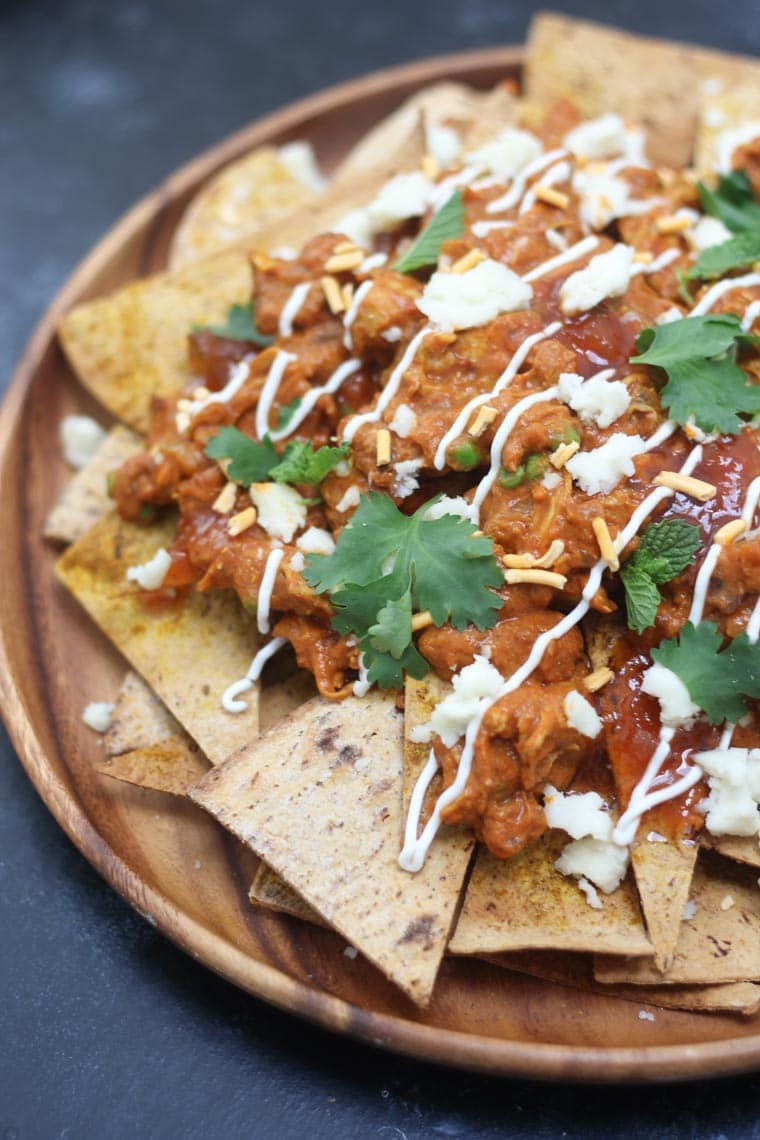 Now, nachos are by no means diet food (not that I would EVER want you eating diet food, anyway). They're fried corn chips smothered in crazy amounts of full-fat cheese, topped with more high fat condiments like sour cream. Yummy, oh yes, but not something you want to eat daily (or even weekly, heaven bless my 20 year old metabolism). So I decided to switch things up a bit, and make these Healthy Butter Chicken Nachos that are not only high in protein, but also low in carbs and fat! Translation? You can legit eat them for dinner and call it a balanced meal.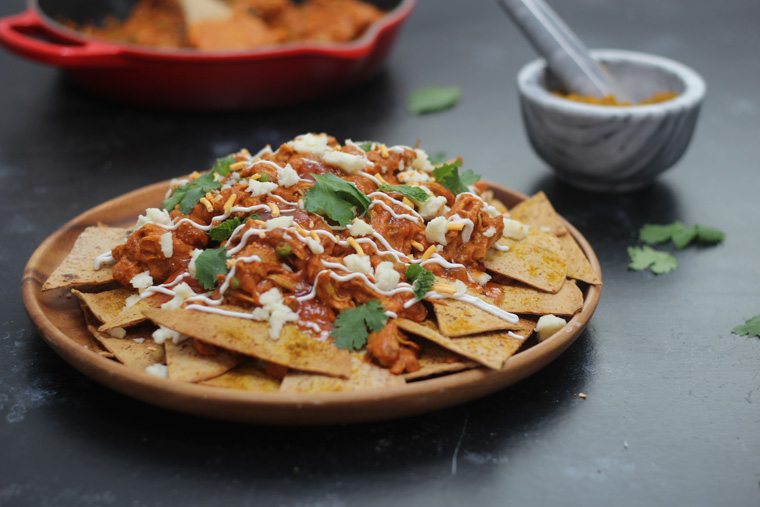 How to Make Healthy Butter Chicken Nachos
My dad LOVES a good Indian restaurant, so to honour him, I thought I would switch up the typical Mexican-themed nachos and load these bad boys with butter chicken instead. Yep, healthy butter chicken nachos, it's basically all of your dreams come true.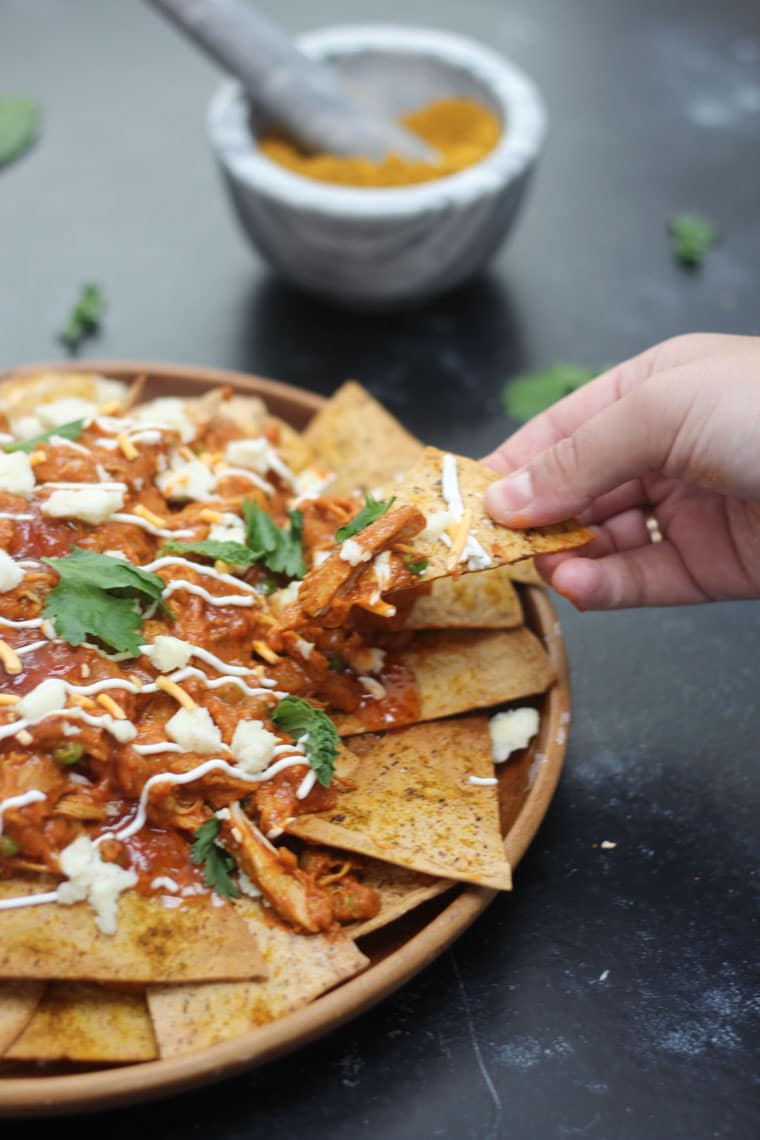 It starts with making the an amazing pan of butter chicken. I have another curry recipe, which is by far the most popular recipe on the blog, so I knew these Healthy Butter Chicken Nachos would be a hit. Between chunks of simmered chicken meat, a creamy butter-free butter chicken sauce, and the playful pop of peas, this is the kind of topping you'll want to put on everything.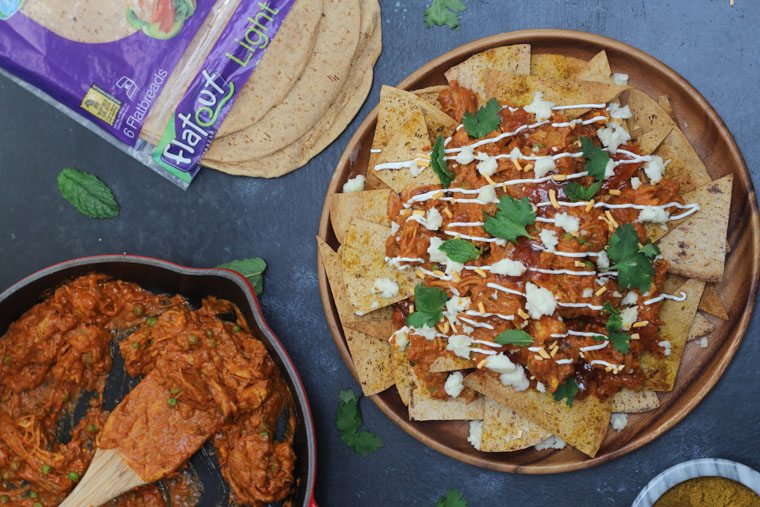 Next, we gotta make chips because there's NO SUGAR THING as Healthy Butter Chicken Nachos without nachos!! I've made dessert nachos with Flatout Light wraps before, so I knew these were going to work perfectly here too. Flatouts are my go-to wraps because they've only got 90 calories but pack a crazy 9 grams of protein and 8 grams of fibre per wrap! And they make DAMN good chips.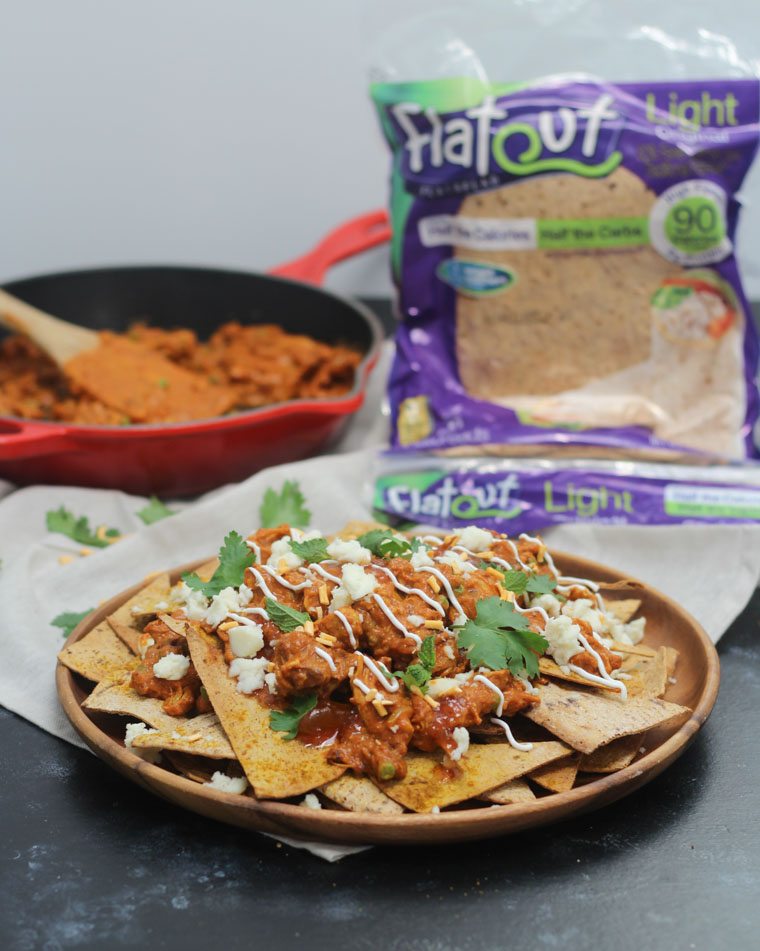 Of course, the most fun part of making nachos (aside from eating them) is decorating them up, so I go to town with the toppings. Between cilantro, mint, mango chutney, paneer cheese, greek yogurt, and sev – these Healthy Butter Chicken Nachos are totally worth fighting over.
Check out this amazing video for all of the ways you can use Flatout!
Have you made my Healthy Butter Chicken Nachos?
What do you like putting on your nachos?
What dish does your family devour as a group?
Leave me a comment below with your thoughts!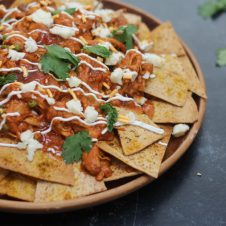 Healthy Butter Chicken Nachos
These Healthy Butter Chicken Nachos are the perfect High Protein, Low Carb Party Snacks for any festive get together!
Print
Pin
Rate
Ingredients
Butter Chicken:
1

tbsp

extra virgin olive oil

2

tbsp

coconut oil

2

lb

skinless

boneless chicken thighs, trimmed of excess fat

1

small yellow onion

finely diced

3

cloves

garlic

finely minced

4

teaspoons

finely grated fresh ginger

3

tablespoons

curry powder

1

tablespoon

ground cumin

1

tablespoon

ground coriander

1/4

teaspoon

sea salt

1/4

teaspoon

cayenne pepper

680

ml

tomato passata sauce

1

can

14 ounces/400 ml light coconut milk

½

cup

frozen peas

½

cup

plain greek yogurt

Sea salt and cayenne pepper

to taste
To Garnish:
Cilantro leaves

Mint leaves

Plain Greek yogurt

Tamarind or mango chutney

Paneer

crumbled

Sev

crispy chickpea flour noodles
Instructions
Preheat oven to 400. Grease two baking sheets with nonstick spray. Lay the Flatout triangles onto the baking sheet and brush with the olive oil. Sprinkle with curry powder and bake for 10-12 minutes, or until golden and crispy. Set aside.

Meanwhile, in a large nonstick skillet over medium-high heat with a tablespoon of olive oil and coconut oil.

Season the chicken thighs with salt and pepper, and add them presentation side to the pan. Cook the chicken thighs until browned on both sides, about 3 minutes per side. Once browned, but not cooked through, transfer to a plate.

Reduce the heat to medium. Add the onion, and sauté until it begins to soften, about 5 minutes. Add the garlic, ginger, curry, cumin, coriander, salt, and cayenne, and stir until fragrant, about 30 to 60 seconds.

Next, add the tomato sauce and coconut milk, and then nestle in the chicken thighs. Cover the pan with a lid, and cook over medium heat, stirring the mixture every few minutes. Cook until the chicken thighs reach an internal temperature of 165˚ F, about 10 to 14 minutes.

Remove the lid, and shred any large pieces of chicken. Reduce the heat to low. Stir in the peas and yogurt, then season with salt and cayenne to taste.

To assemble, pile the chips onto a platter, and top with the curry. Garnish with the cilantro, mint, chutney, yogurt, paneer and sev, if desired.
Nutrition