This Healthy Vegetarian Matzo Lasagna is the best easy Passover recipe that uses leftover matzo crackers from the seder – so good and so easy, you'll make it all year!
Happy almost Passover to my Jewish brothers and sisters. If you're unsure what this Jewish holiday is all about, let me break it down in gentile terms.
What is Passover and Why Do We Eat Matzo?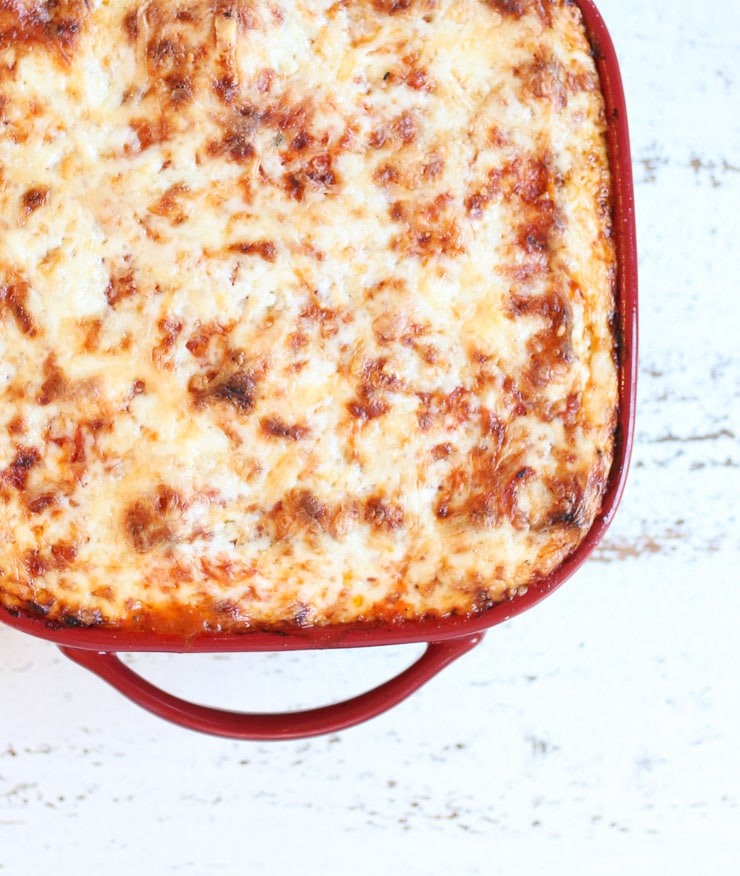 Basically, Passover celebrates Spring, birth and rebirth, and the emancipation of the Israelites people from slavery in Egypt. After being enslaved by Egyptian pharaohs, Gd sent Moses to Pharaoh to ask him to let his people go. When he refused, we smited the Egyptians with the 10 plagues (like locusts and other terrible things…). The worst plague was the death of all firstborn sons (NOT MY BABY E!!!), so on the last day, God came to deliver this plague across the land, but the Jews were instructed to mark their homes with lamb's blood (the sacrificial lamb). These homes were "passed over" by Gd.
This plague finally breaks Pharaoh down, and he instructs all the Israelites to leave. But they leave in such haste, they don't have time to let their bread rise. This is why we eat only unleavened bread (aka matzo!) on Passover.
What Are the Key Ingredients for this vegetarian matzo lasagna?
Cheese – Because whats a lasagna without a healthy amount of cheese? Like any classic lasagna dish, I stuck to ricotta cheese for the filling. As for the melty cheese toppings, I opted for mozzarella and parmesan.Â
Mushroom, Zucchini, and Spinach – These are my veggies of choice for the lasagna filling simply because I think they complement each other quite nicely. However, you are free to use whatever veggies you have lying around.Â
Marinara Sauce – I prefer to use a nice tomato passata or any other low salt, low sugar variety. Â
Matzo Crackers – It wouldn't be a matzo lasagna without matzo crackers now would it? In this recipe, we use matzo crackers to substitute for lasagna noodles.Â
Why I LOVE this Kosher for Passover Matzo Lasagna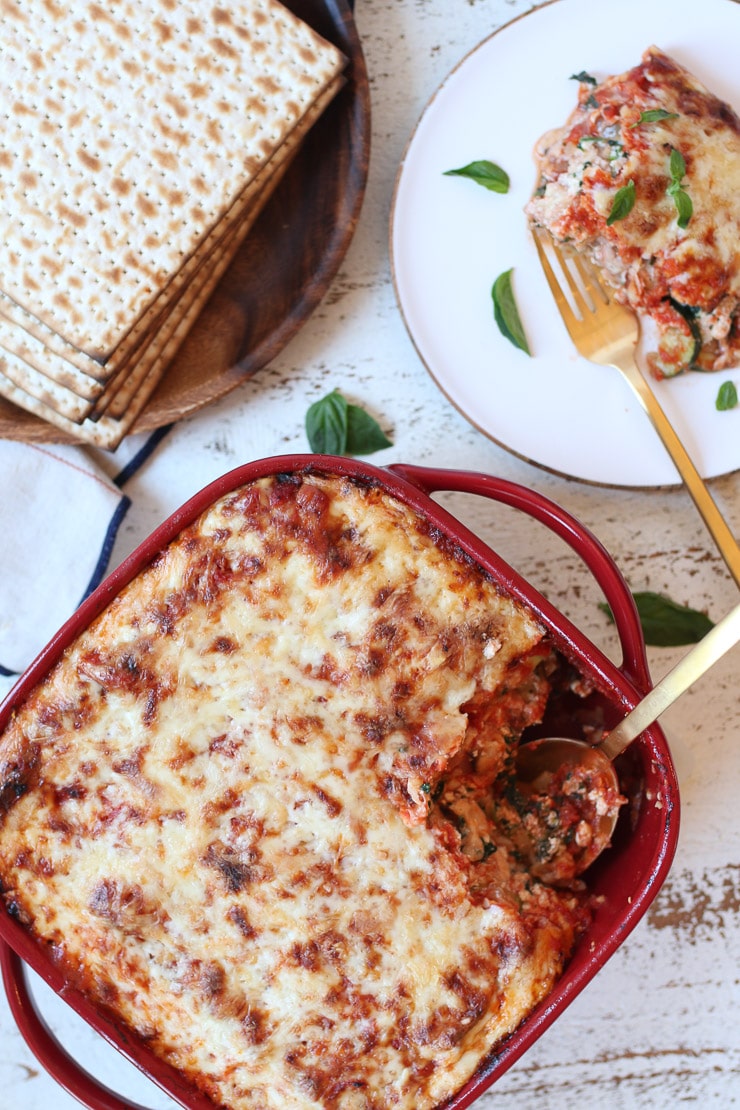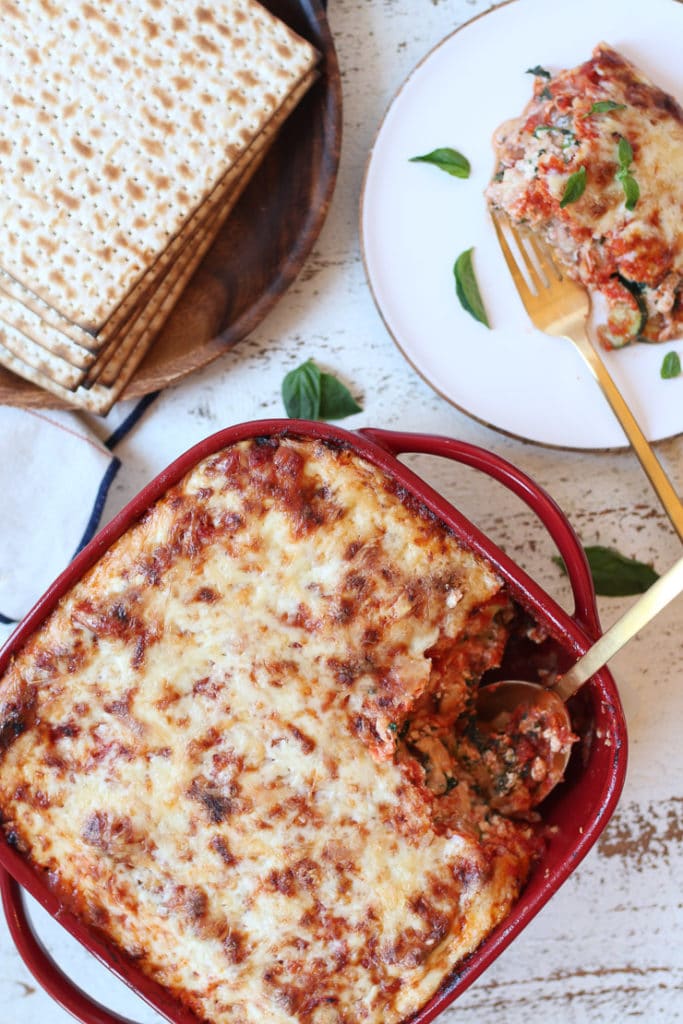 OK truth be told, I don't like matzo. I just basically choose to eat LESS carbs during Passover because I can't be bothered eating bland, hard crackers. But this Passover matzo lasagna is NEXT LEVEL GOOD.
This is a vegetarian matzo lasagna that's PACKED with veggies and actually not a ton of carbs since we can't mix dairy and meat in Kosher laws. If you don't keep Kosher or Kosher for Passover, but want to try this easy lasagna (it's WAY easier than a normal lasagna) than you can totally add meat in as well.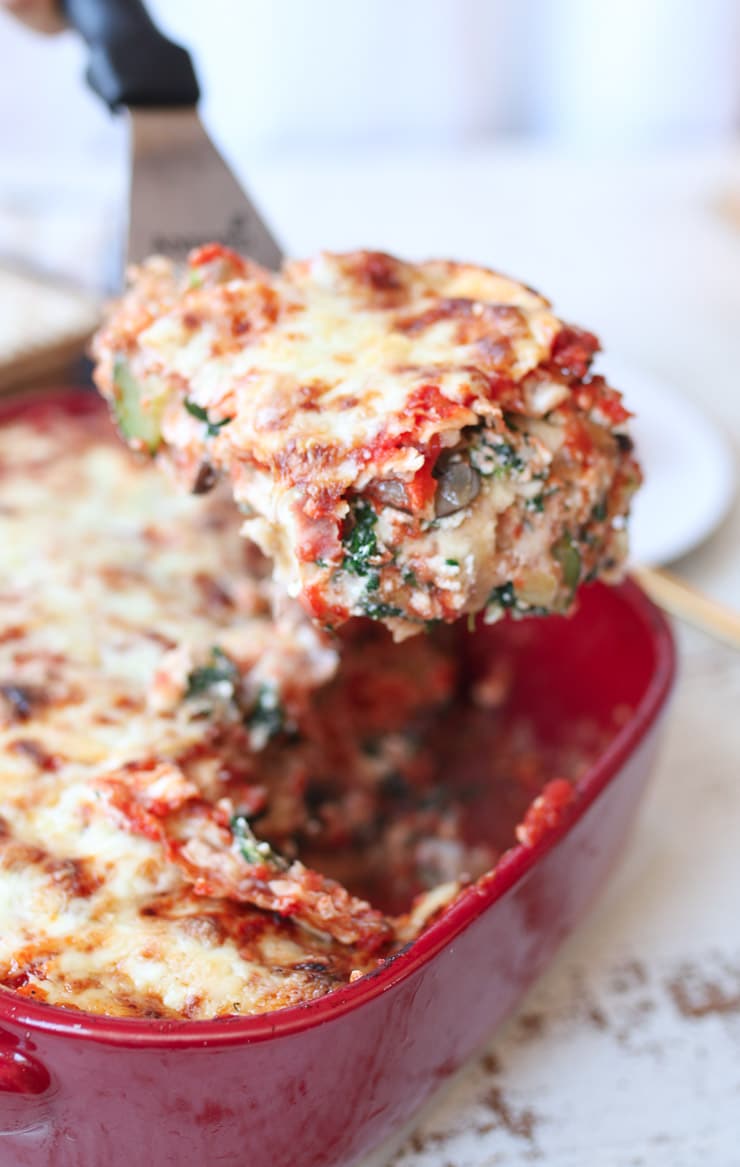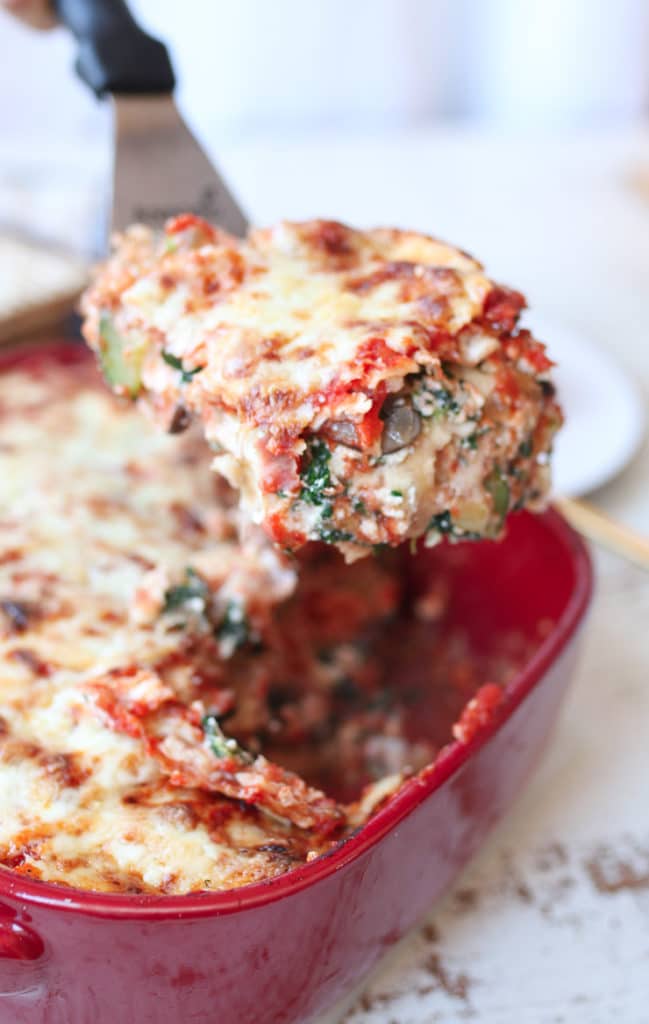 To make this Veggie Matzo Lasagna, just grab your favourite pasta sauce, saute up some veggies, grate the cheese and LAYER that bad boy up. Honestly, I even gave some to Baby E and after a few tries, he was sold. My husband finished the entire thing AND IT'S NOT EVEN PASSOVER YET. So I think it's safe to say that this Passover Matzo Lasagna will definitely be on our menu this Passover.
FAQ About This Recipe
Here are some of the major questions I often get about this recipe.
Can I make this passover recipe vegan?
Totally! Instead of the ricotta cheese filling you can try using tofu instead if you want to get that same texture. You can also swap in for some vegan cheese as well.Â
Is this lasagna recipe Gluten Free?
Its not gluten free but it totally can be! You'll just have to use gluten free matzo crackers instead.Â
Is this vegetarian lasagna kid friendly?
Oh yes. My kid is a total cheese head and loves to cheese pulls. There were definitely no complaints from my little guy with this recipe!
Do you have any other easy passover recipes?
Absolutely! Here are some of my favourites.
VEGAN PASSOVER MATZO BRITTLE WITH SALTED COCONUT SUGAR TOFFEEÂ
ALMOND CHERRY CHOCOLATE MERINGUE COOKIESÂ
Now loves, what are you excited to make for passover? What kind of recipes do you make using matzo crackers? Leave me a comment below, and help a fellow Jew out!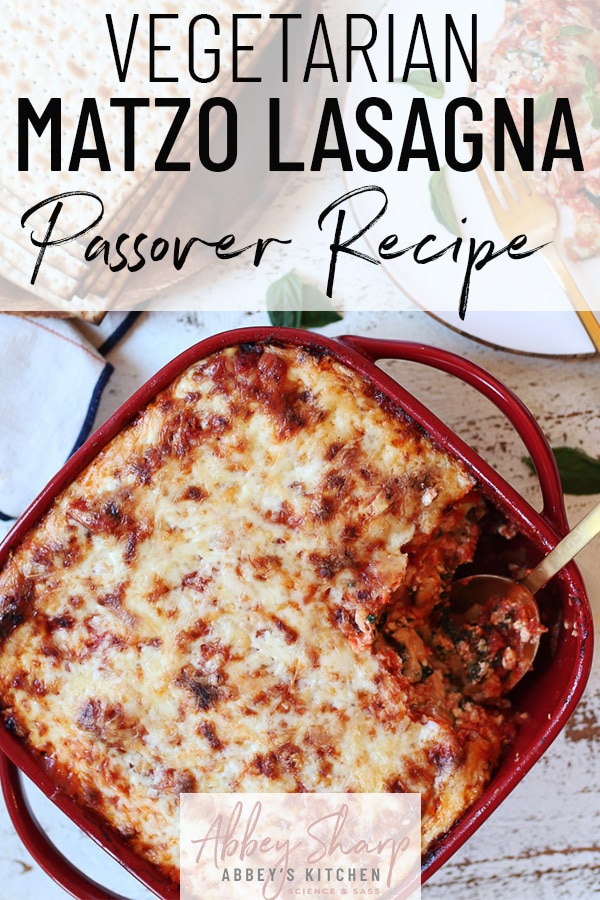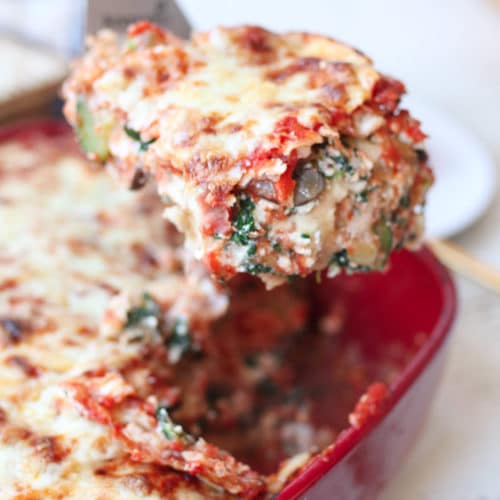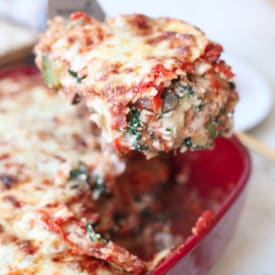 Healthy Vegetarian Matzo Lasagna
This Healthy Vegetarian Matzo Lasagna is the best easy Passover recipe that uses leftover matzo crackers from the seder – so good and so easy, you'll make it all year!
Print
Pin
Rate
Ingredients
1

tbsp

olive oil

3

cloves

garlic

minced

1

small onion

diced

8

oz

cremini mushrooms

sliced

2

zucchinis

halved and sliced into 1/2 moons

3 1/2

cups

low sugar

low salt marinara sauce

15

oz

tub part skim ricotta cheese

300

grams

frozen spinach

thawed and squeezed to remove excess moisture

1

egg

beaten

1/2

tsp

pepper

1/4

tsp

salt

4

matzo crackers

whole wheat or gluten free

1 1/2

cups

mozzarella cheese

grated

1/2

cup

parmesan cheese

grated

Basil

for garnish
Instructions
Preheat oven to 350 F. Lightly grease a deep 9″ square baking dish.

Heat the oil in a large skillet over medium heat and add in the onion. Saute until it starts to soften, then add in the mushrooms and zucchini. Cook for an additional 4 minutes, then add the garlic for another 30 seconds. Set aside.

In a bowl, mix together the ricotta, spinach, egg, pepper and salt.

Layer 1: Add about 1/2 cup of the sauce to the bottom of the greased dish. Add 1 matzo cracker, then about 1/3 of the ricotta mixture, 1/3 of the veggies, about a cup of the sauce, and 1/4 of the cheese.

Layer 2: Repeat with matzo, ricotta, veggies, sauce, cheese.

Layer 3: Repeat with matzo, ricotta, veggies, sauce, cheese.

Layer 4: Finish with the remaining matzo, sauce and cheese.

Cover in foil that has been greased to prevent the cheese from sticking, then bake for about 40 minutes. Remove the foil and increase the heat to broil. Broil for 5 minutes or until bubbly and golden. Allow to sit before cutting into squares and topping with basil, if desired.
Nutrition
Calories:
391
kcal
|
Carbohydrates:
39
g
|
Protein:
22
g
|
Fat:
10
g
|
Saturated Fat:
5
g
|
Cholesterol:
66
mg
|
Sodium:
2307
mg
|
Potassium:
606
mg
|
Fiber:
3
g
|
Sugar:
15
g
|
Vitamin A:
6288
IU
|
Vitamin C:
16
mg
|
Calcium:
449
mg
|
Iron:
2
mg
Updated on June 25th, 2020