These Pizza Egg Muffins are keto-friendly, gluten free and perfect as an easy meal prep breakfast using fridge and pantry essentials.
Hey lovelies, let's do a mental health check in. How is everyone surviving this friday knowing that there will be no fun dinners out, or bar nights with friends? I mean, that was always my reality as a parent, but still, it's been very hard for me to get through this whole social isolation / social distancing experience. Especially because I have no clue how long we will be in this mess (and it doesn't look promising).
The good news is I'm having PIZZA for breakfast! Yes lovelies. I found a way to put the flavours of everyone's favourite delivery staple into an easy keto-friendly, gluten free, meal-prep breakfast – my pizza egg muffins. Cheese, pepperoni, sauuuuuuce and the goodness of eggs- what is not to look forward to?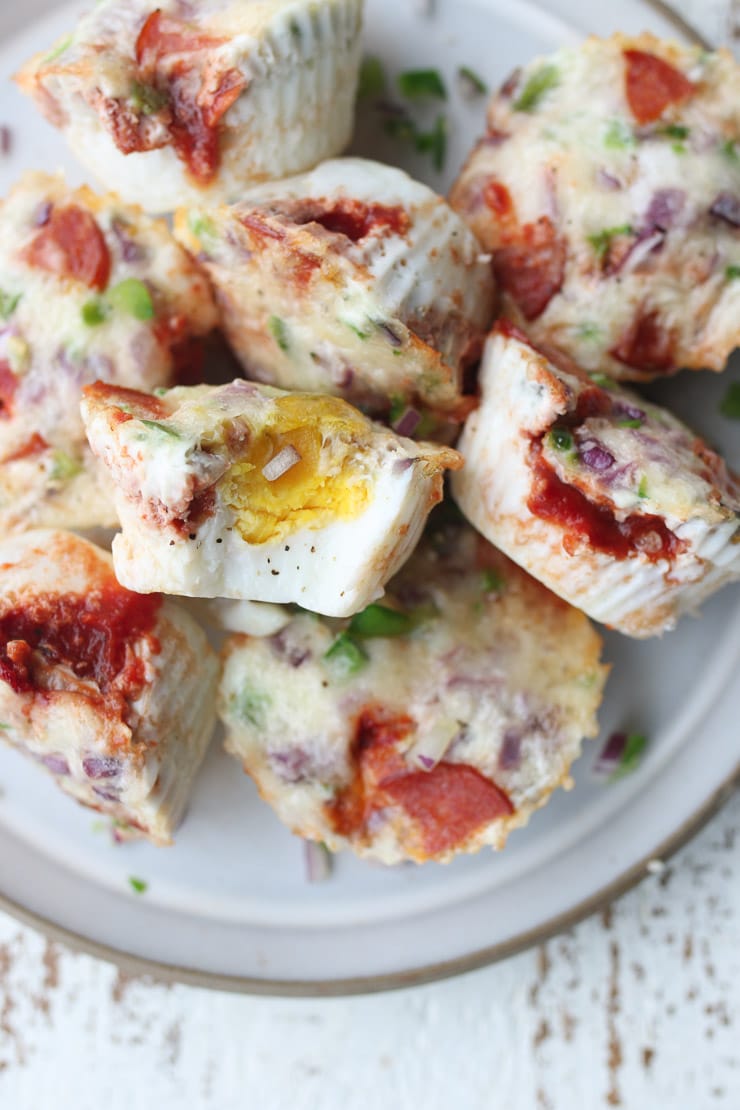 Key Ingredients for these Easy Pizza Egg Muffins
Well, the good news is this recipe is surprisingly adaptable depending on what you have in your fridge, pantry and freezer from your social isolation grocery haul.
Eggs – Most grocery stores are still stocking eggs (thank goodness).
Canned pizza sauce – This is actually something I bought when I did my first Covid-19 grocery haul because sometimes you gotta make pizza.
Cheese – Mozzarella is traditional, but really, anything you can find will work.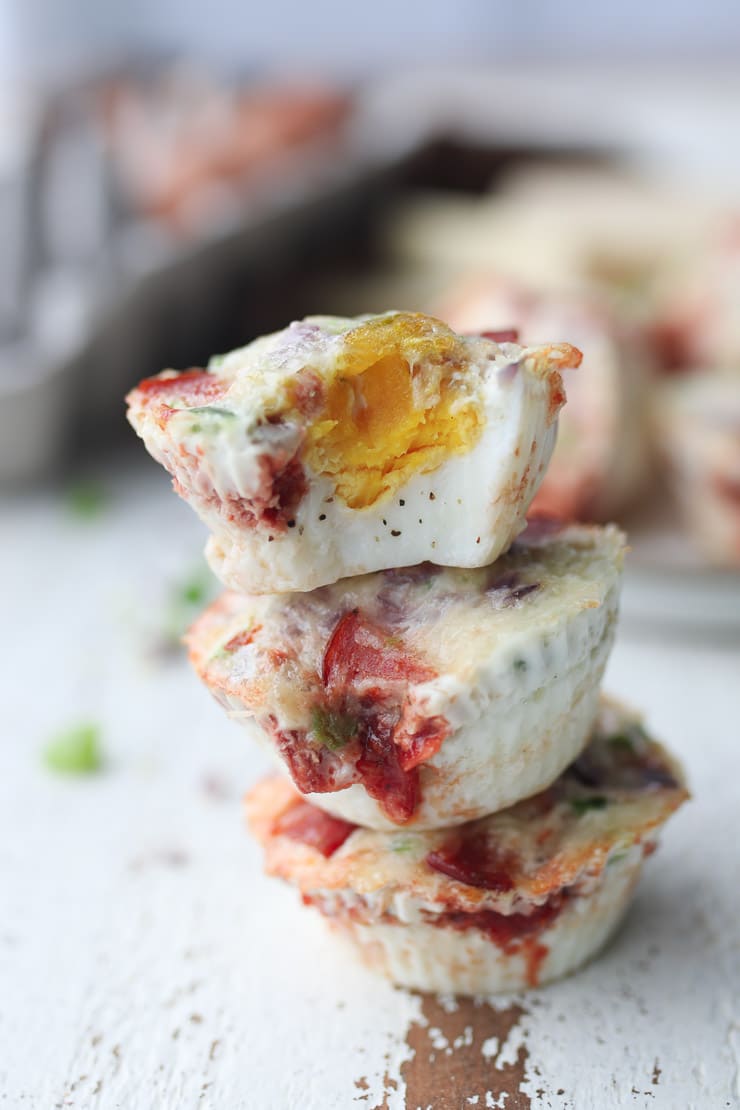 Tips for Making these Egg Cups
This isn't my only egg muffin recipe for a reason – this is a staple type of recipe in my house for meal prep breakfasts.
My tip? Use silicon muffin cups if you can. I'm obsessed with mine (and also use them to make these chocolate peanut butter cups so there's that as incentive as well). But these will make your clean up SO much easier.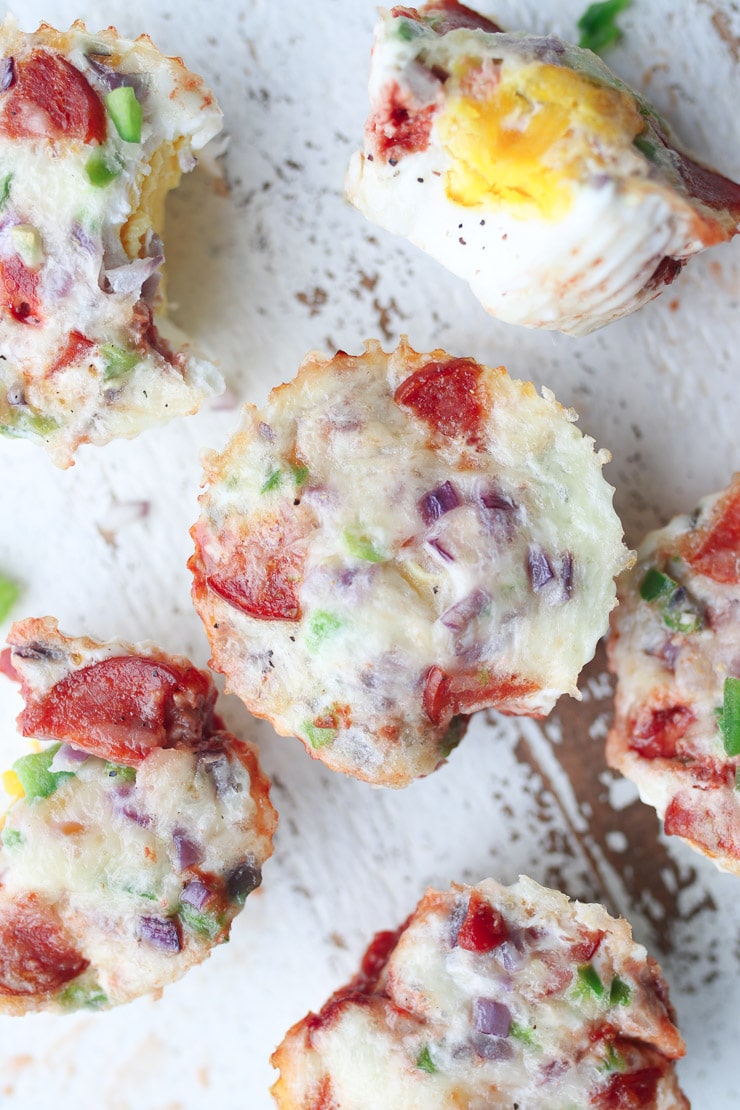 FAQ about this Recipe
Now let's answer some of your common reader questions.
Can I make these vegetarian if we don't eat pepperoni?
This recipe is so versatile depending on what you have in your fridge and at this time in our lives, that's going to be all over the place. So use whatever little leftovers you have, or keep this super simple with just sauce and cheese. Nothing wrong with that!
can I use frozen or canned vegetables on top?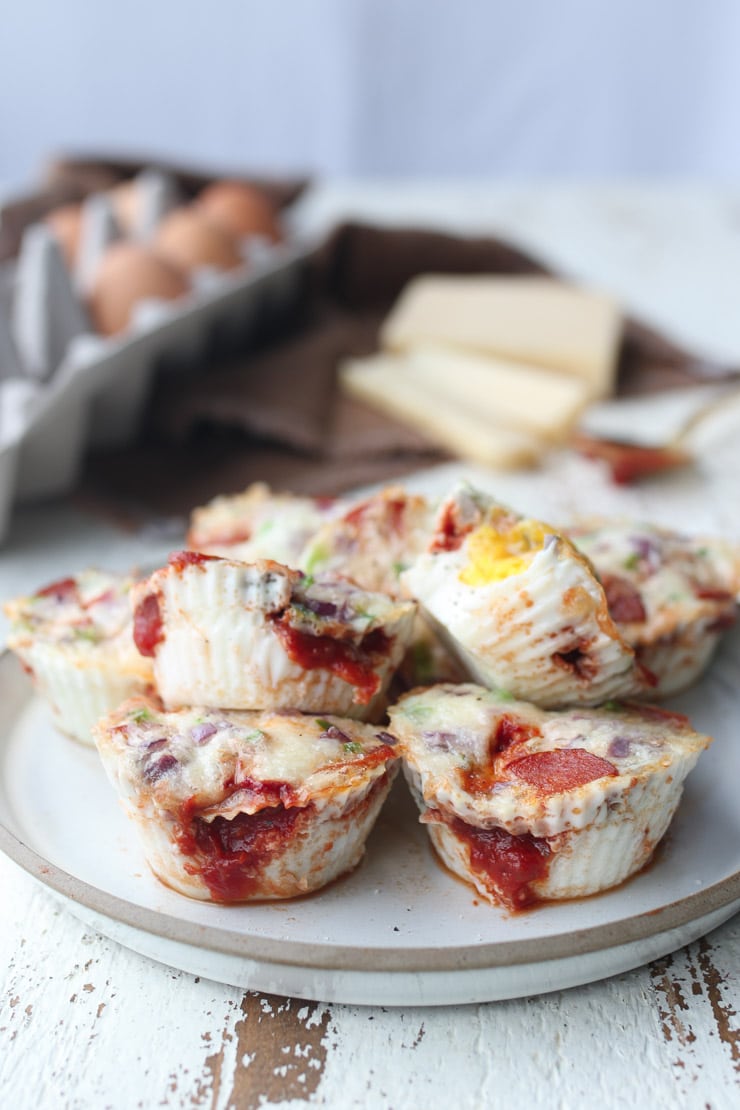 Yes, but if you have a choice between frozen and canned, I would probably opt for canned for these egg muffins just because you don't want too much excess moisture.
how long will these last in the fridge if i use the recipe for meal prep?
I find they are best eaten within 4 or 5 days, but honestly, they take such little time to prepare, you can easily make a second batch mid-week to get you through.
are these pizza cups kid-friendly?
Are you kidding? They have the word PIZZA in their name. So I would say yes, your kids will love them. My son was obsessed. It was messy, yes. But now he asks for "pizza eggs".
Do you have any other easy meal-prep breakfasts to get us through this quarantine?
Yes, friends. I am all about making this social distancing thing / working from home life as easy as it possibly can be. And it's not easy. Here are some of my favourites:
SHEET PAN PROTEIN PANCAKES WITH PB, CHOCOLATE & BANANA
VEGAN CHOCOLATE ZUCCHINI BAKED OATMEAL
VEGAN BREAKFAST BURRITO TOFU SCRAMBLE
Now lovelies, tell me – what are some of your go-to easy breakfasts that your whole family seems to love?
Stay safe, friends!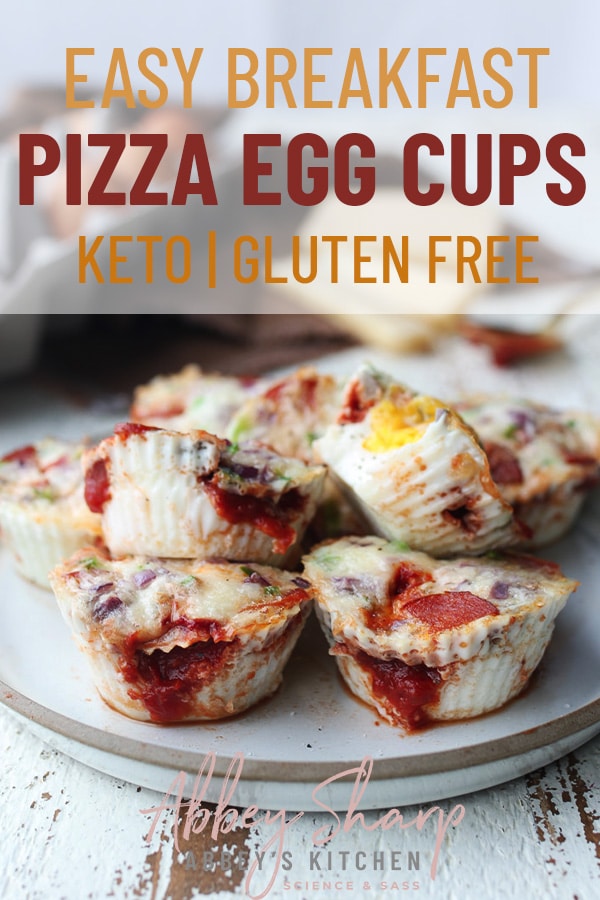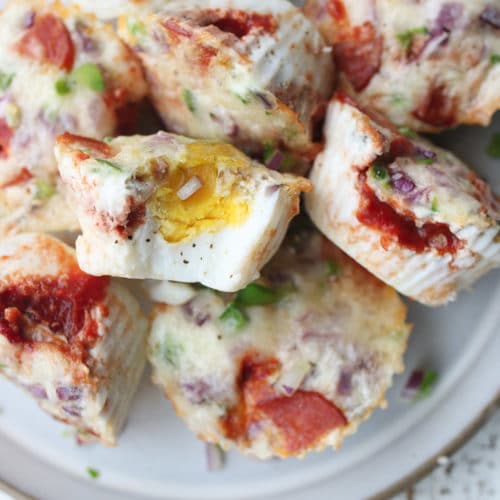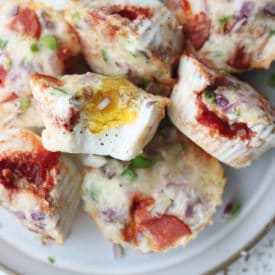 Pizza Egg Muffins
These Pizza Egg Muffins are keto-friendly, gluten free and perfect as an easy meal prep breakfast using fridge and pantry essentials.
Print
Pin
Rate
Ingredients
12

omega 3 eggs

6

tbsp

pizza sauce

divided

4

tbsp

green bell pepper

finely minced

2

tbsp

finely minced red onion

12

pieces

pepperoni

pork or turkey, cut into 6 pieces each

8

tbsp

finely grated mozzarella cheese
Instructions
Crack the egg into each of the silicon muffin cups. Add a generous pinch of salt and pepper. Top with about 1 1/2 tsp pizza sauce each, 1 tsp bell pepper, 1/2 tsp onion, 1 piece of pepperoni, cut into pieces, and 2 tsp cheese.

Bake for 15-18 min until set and cooked through.
Nutrition
Calories:
101
kcal
|
Carbohydrates:
1
g
|
Protein:
8
g
|
Fat:
7
g
|
Saturated Fat:
3
g
|
Trans Fat:
1
g
|
Cholesterol:
173
mg
|
Sodium:
181
mg
|
Potassium:
104
mg
|
Fiber:
1
g
|
Sugar:
1
g
|
Vitamin A:
348
IU
|
Vitamin C:
3
mg
|
Calcium:
76
mg
|
Iron:
1
mg
Updated on July 23rd, 2020