These Vegan Gluten Free Rice Krispies Easter Eggs are coated in a Homemade Vegan White Chocolate that is easy for the whole family to decorate with different colours, sprinkles and candies!
I was raised pretty much agnostic, so Easter to me wasn't about a trip to church, it was about a massive sugar high. Our local park hosted a massive Easter egg hunt where all of the kids had to fight it out for chocolate. We also, of course, did round two at home, and I always thought it was hilarious when we would find a rogue mini egg months later.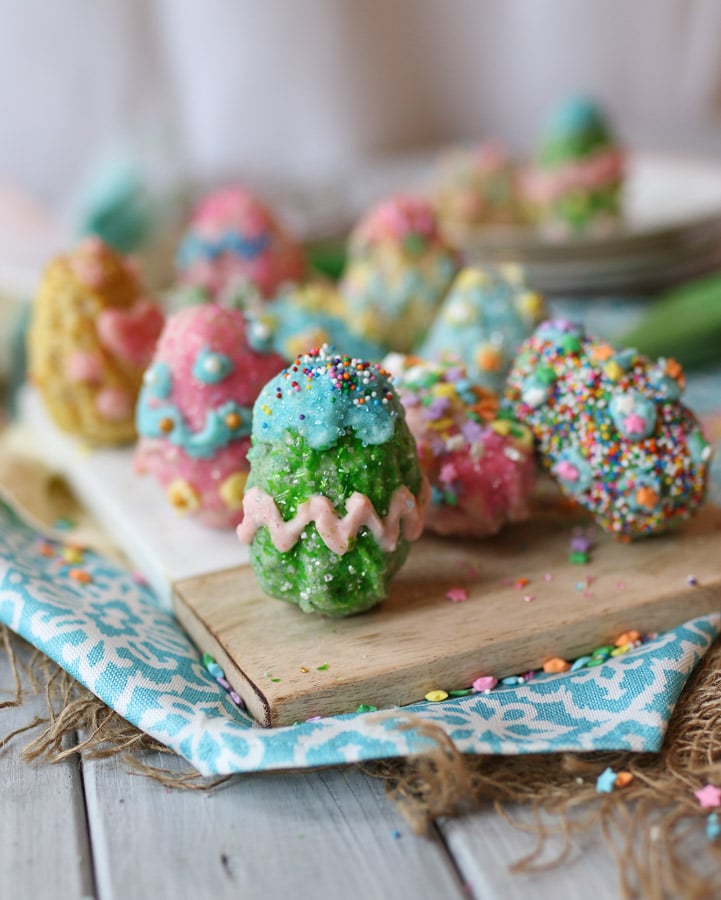 Well, if you haven't noticed, I'm loving the Easter recipes right now. I just made Mini-Egg Protein Pancakes and OMG they are good. I don't know if it's part of "nesting" as a new momma-to-be, as I look forward to some of the traditions my parents had for me, or if it's just that I love the pretty Spring colours. Either way, I was pretty jazzed when I came up with these Vegan Gluten Free Rice Krispies Easter Eggs. These are ALMOST too pretty to eat- almost being the operative word!
KEY INGREDIENTS FOR THESE rice krispies easter eggsÂ
Maple Syrup -Â maple syrup not only adds some natural sweetness to the easter eggs but also helps to bind all the ingredients together. Honey or agave would also work very well in this recipe.Â
Almond butter – I love adding nut butter anywhere that I can to add in some extra protein and healthy fats. Almond butter is personally my nut butter of choice but if you're not an almond butter person, any other nut butter will do!Â
Brown Rice Cereal – this recipe is pretty versatile in terms of cereal ingredients. I love using brown rice cereal to add a little extra nutrition but any other crispy cereal also works.Â
Ground Flaxseed – because why not add some extra fibre and healthy omega 3 fats?
Vegan White Chocolate – I obviously like to get my Martha Stewart on when making recipes from scratch so I opted to make my own homemade vegan white chocolate using cocoa butter, coconut oil, powdered sugar, and vanilla extract. But thats just me. However, you if you want to make things a little easier for yourself you can always substitute for a store bought white chocolate, vegan or otherwise.Â
Sprinkles – because whats a decorating party without sprinkles, am I right?Â
HOW TO MAKEÂ VEGAN GLUTEN FREE RICE KRISPIES EASTER EGGS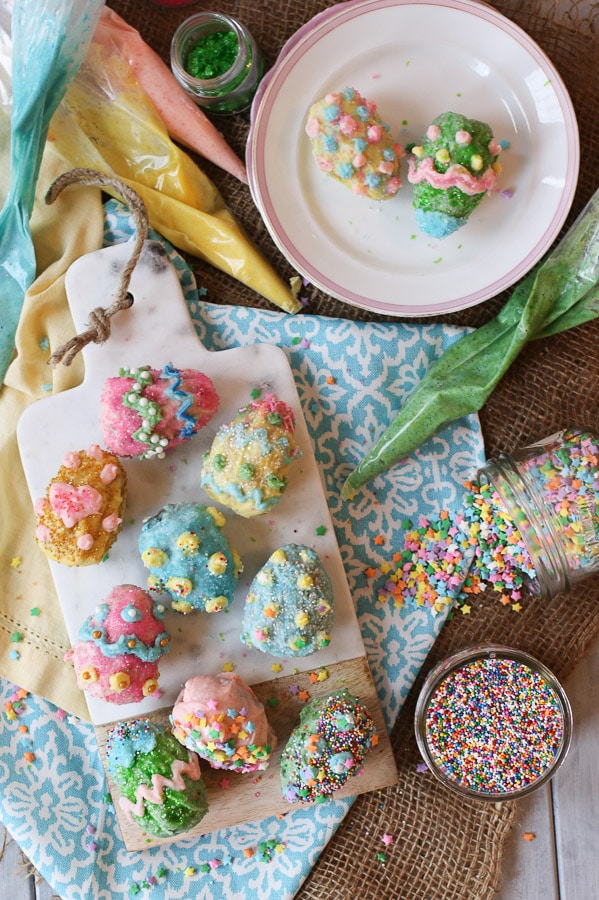 This starts with our rice krispies treats that we all love and adore so much. I make mine a little healthier by combining brown rice cereal with nutrient-dense almond butter, coconut and flaxseed for some Omega 3s, fibre and protein! This totally helps me justify the extra sprinkles on top!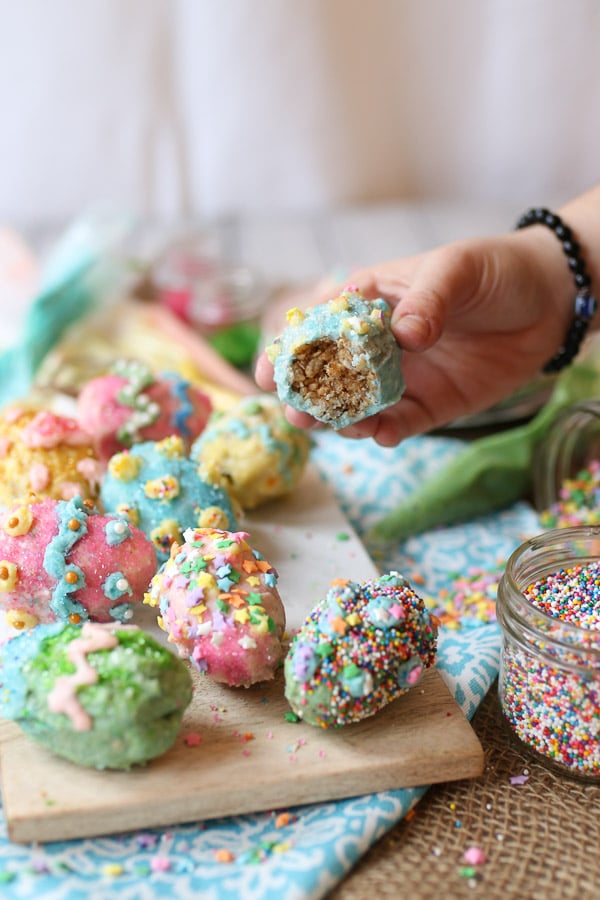 Next we make our homemade vegan white chocolate! While you could use store-bought white chocolate if you're not vegan, to make your own, you'll just need some cocoa butter, coconut oil, powdered sugar and of course, vanilla!! Then you just have to colour yours using natural food dyes and decorate to your little hearts delight!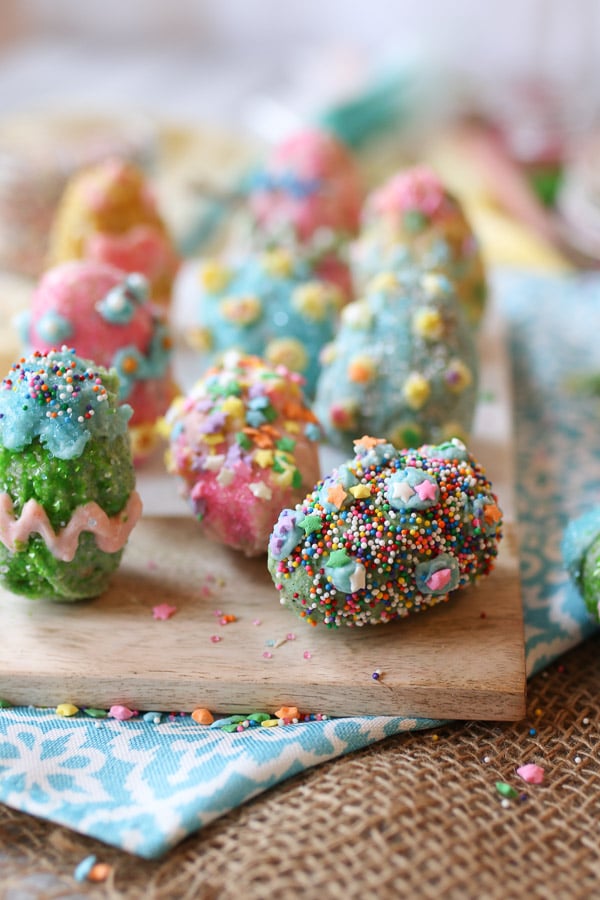 Tell me these Vegan Gluten Free Rice Krispies Easter Eggs are not ADORBS!! I mean, let's be real, if you let a child do this, they probably won't be so detailed, but they will be JUST as delicious, and ultimately, that's all that matters.
FAQ ABOUT THIS RECIPE
Now let's answer some of your common reader questions
Can i use store bought white chocolate?
Oh absolutely! Though it is super easy to make your own, it is arguably EASIER to just buy store-bought. To melt you can just follow the same instructions outlined in the recipe.Â
Is there any other type of cereal I can use instead of rice krispies?
I personally have only used rice krispies for this recipe but I imagine other cereals may also work! I prefer to use rice krispies to give the easter eggs that nice little "snap, crackle, pop" LOL. But other kid friendly cereals would also work well. Just be mindful of the sugar content as they tend to be higher in some.
Do you have any other easter recipes on the blog?Â
I wouldnt be a good food blogger if I didnt! Here are some of my favourites.Â
MINI EGG HOT CROSS BUNS EASTER TRIFLEÂ
Now, I want to know what some of your family's Easter traditions were growing up? Did you have an Easter Egg hunt? Would you consider making these Vegan Gluten Free Rice Krispies Easter Eggs as a new tradition? Leave me a comment below with your thoughts!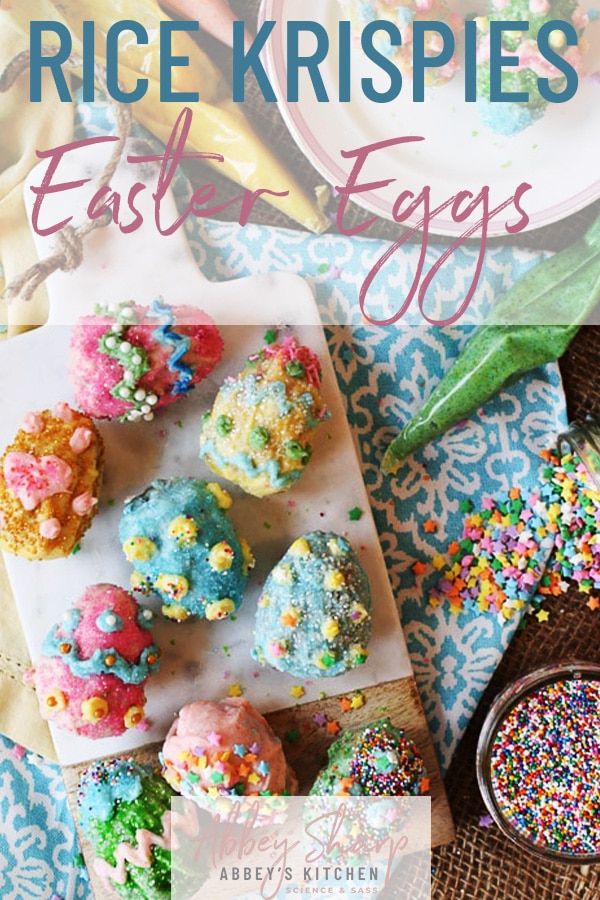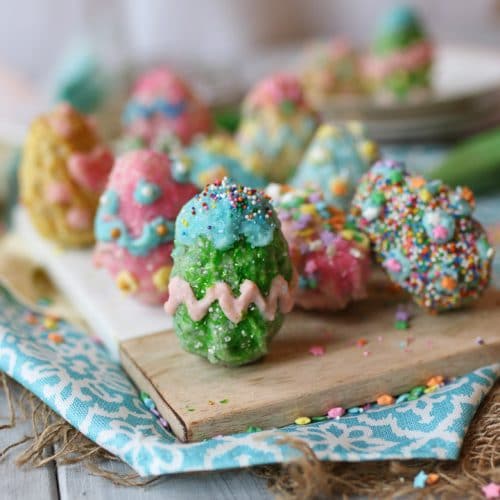 Vegan Gluten Free Rice Krispies Easter Eggs with Homemade Vegan White Chocolate
These Vegan Gluten Free Rice Krispies Easter Eggs are coated in a Homemade Vegan White Chocolate that is easy for the whole family to decorate with different colours, sprinkles and candies!
Print
Pin
Rate
Ingredients
Vegan White chocolate:
2

cups

cocoa butter

finely chopped

3/4

cup

coconut oil

3 1/4

cups

powdered sugar

sifted

1 1/2

tsp

vanilla extract

Natural food colouring
Instructions
In a small saucepot, heat the maple and almond butter until hot, soft and bubbling.

To a bowl, mix the cereal, coconut and flax. Add the maple almond mixture and stir until well coated.

Prepare a baking sheet lined with parchment or a silpat. Shape the cereal mixture into eggs, insert a skewer or popsicle stick and place on the silpat. Set aside.

Meanwhile, place a glass bowl over a pot of simmering water. Add the cocoa butter and coconut oil and stir until melted.

Transfer to a standmixer, and slowly add in the powdered sugar. Add in the vanilla and divide into four bowls.

Add natural food colouring to the four bowls.

Holding onto the popsicle stick or skewer, dip the eggs into one of the bowls of white chocolate. Transfer to the silpat. Continue, alternating colours, with the other eggs.

Transfer the remaining white chocolate to piping bags and pipe designs on the eggs. Add sprinkles and candies to your liking.

Transfer to the silpat and to the freezer for 5 minutes to set up. Once set, you can remove the popsicle stick (or leave it on for easy eating!) Enjoy!
Nutrition
Calories:
377
kcal
|
Carbohydrates:
45
g
|
Protein:
3
g
|
Fat:
22
g
|
Saturated Fat:
14
g
|
Sodium:
5
mg
|
Potassium:
146
mg
|
Fiber:
2
g
|
Sugar:
38
g
|
Vitamin C:
1
mg
|
Calcium:
52
mg
|
Iron:
1
mg
Updated on August 30th, 2022