We create a map of Canadian Culinary History in Meat with 5 amazing Charcuterie boards for the Canadian provinces in this visual display of culture.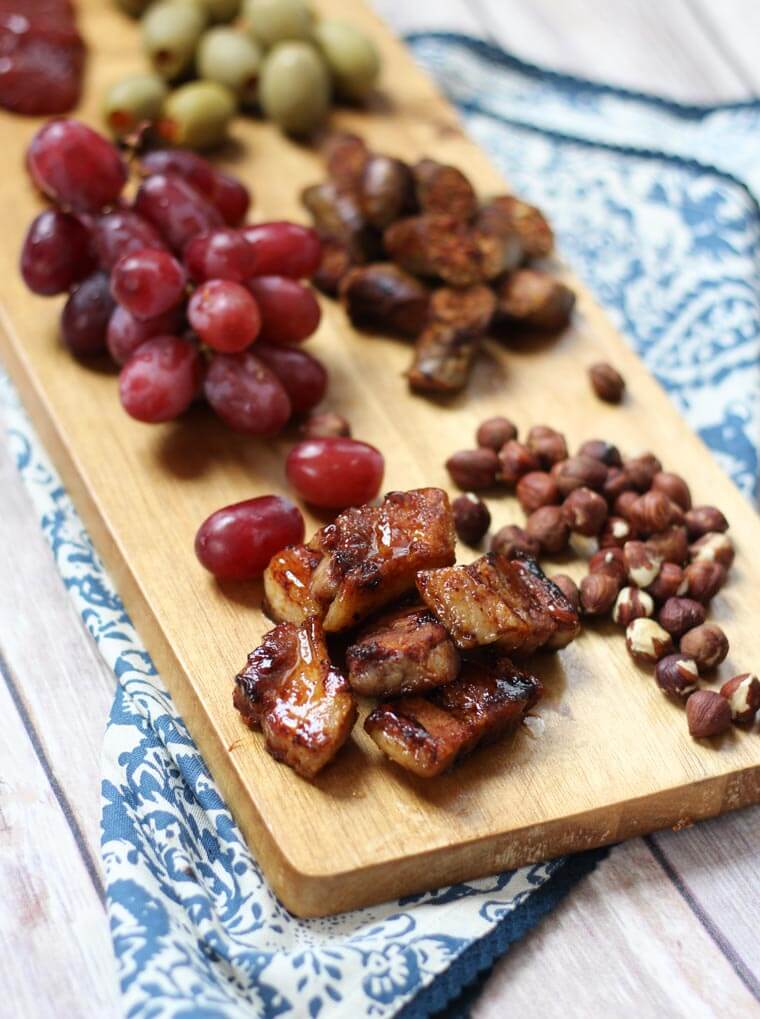 Every once in a while, a project comes along that gets me really excited because I get to put my foodie hat on a geek out. This was that project. This month I partnered up with the Canadian Meat Council to create 5 beautiful charcuterie boards featuring a variety of tasty meats, cheeses and accoutrements unique to each province.
Since each Canadian province is unique in its culinary history, the types of meats, cheeses and other charcuterie board noms should depict those differences. So if you want to learn a bit about Canada the tastiest way I know how, check out these tasty spreads.
A Canadian Culinary History in Meat and Charcuterie Boards
Let's break each province down and give you a little food history lesson about the regions we call home.
ONTARIO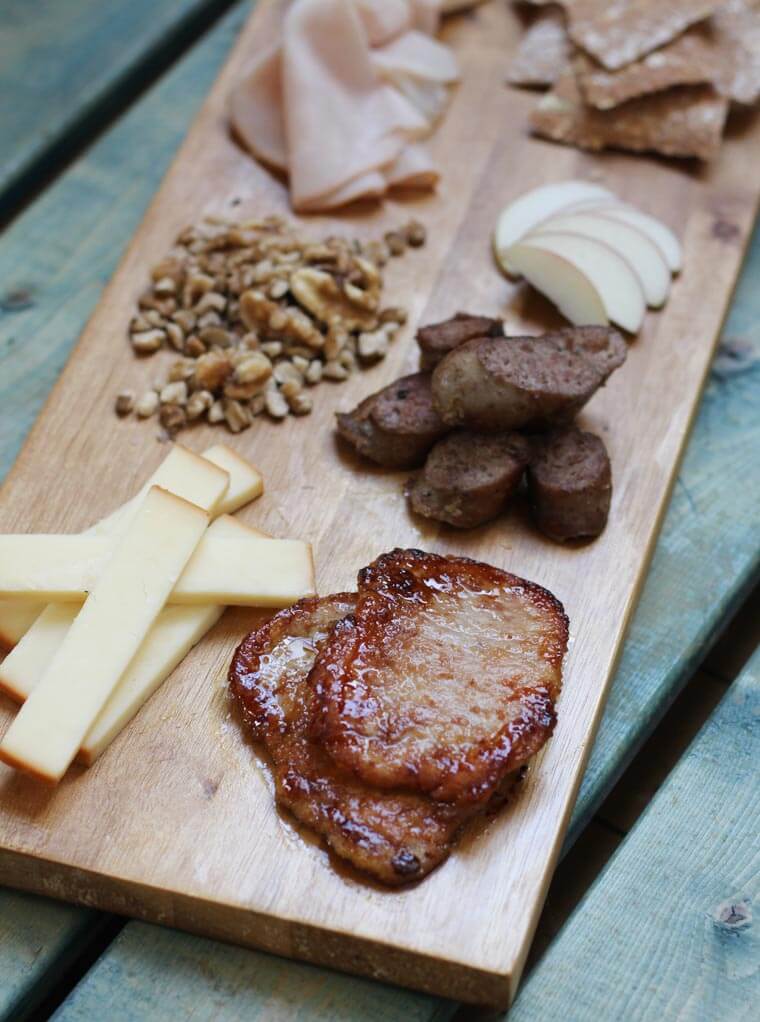 German-Style Sausage: In the 19th century, areas like Kitchener were first settled by German-speaking Mennonite farmers from Pennsylvania which encouraged a huge influx of German immigrants to move to the province.

Peameal Bacon Candied: Peameal bacon is unique to Ontario because of its creator, William Davies, who was a pork curer and sold his bacon at the St. Lawrence Market (the best place to buy it) which gave the city of Toronto the nickname "Hogtown".
Maple Glazed Wild turkey: Ontario is the leading area for hunting wild turkey and is the leading turkey producer. We also make a mean maple syrup so this is a natural pairing.
McIntosh Apples: John McIntosh planted apples in a small plot of land in southeastern Ontario and since then McIntosh apples became the most produced apple in Canada.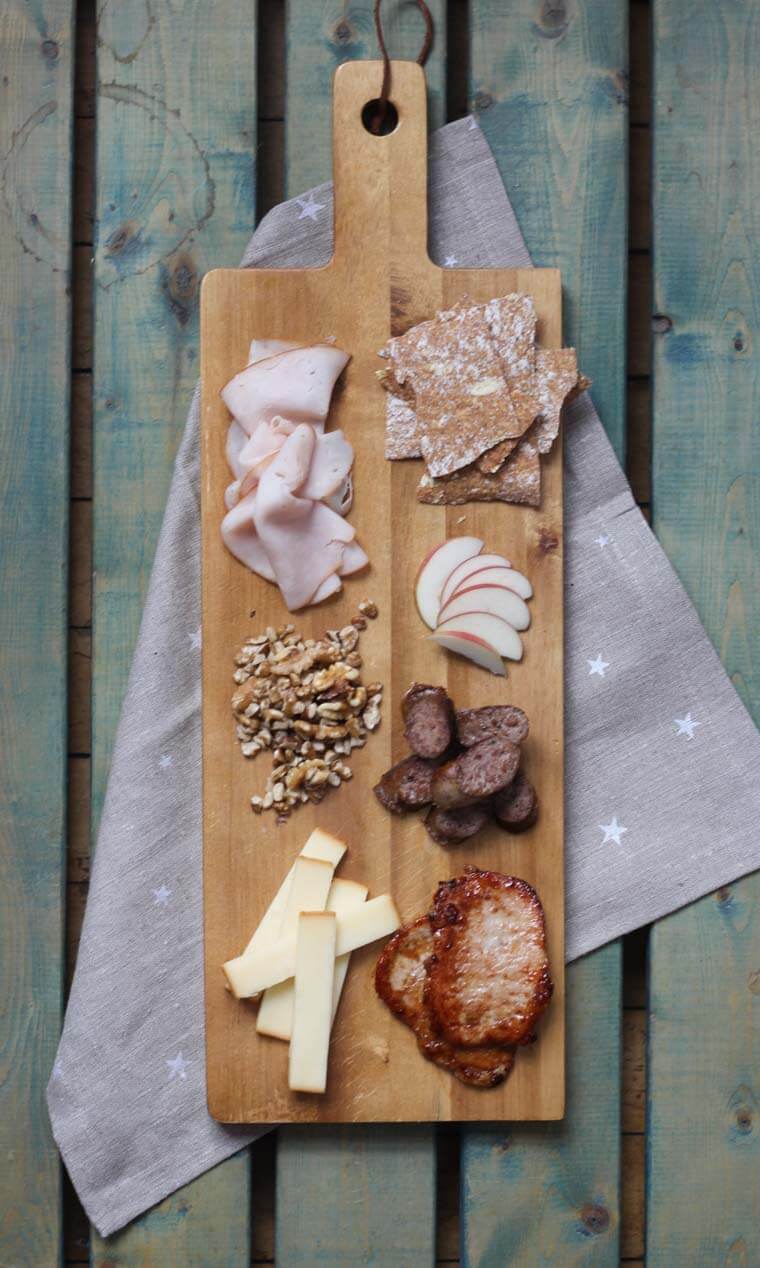 Smoked Cheddar Cheese: The best award-winning cheddar cheese come from southern and eastern Ontario. Big names like Balderson and Odessa are from this part of the province and they are amazing.
Red Fife Seed Cracker: Even through the prairies is the largest producer of wheat in Canada, the Red Fife was developed in Peterborough Ontario (my home town!) and became very popular because of its high yields, and baking qualities.
Black Walnuts: The black walnut is the most successful edible tree in Ontario and has been adapted to withstand the winter cold.
QUEBEC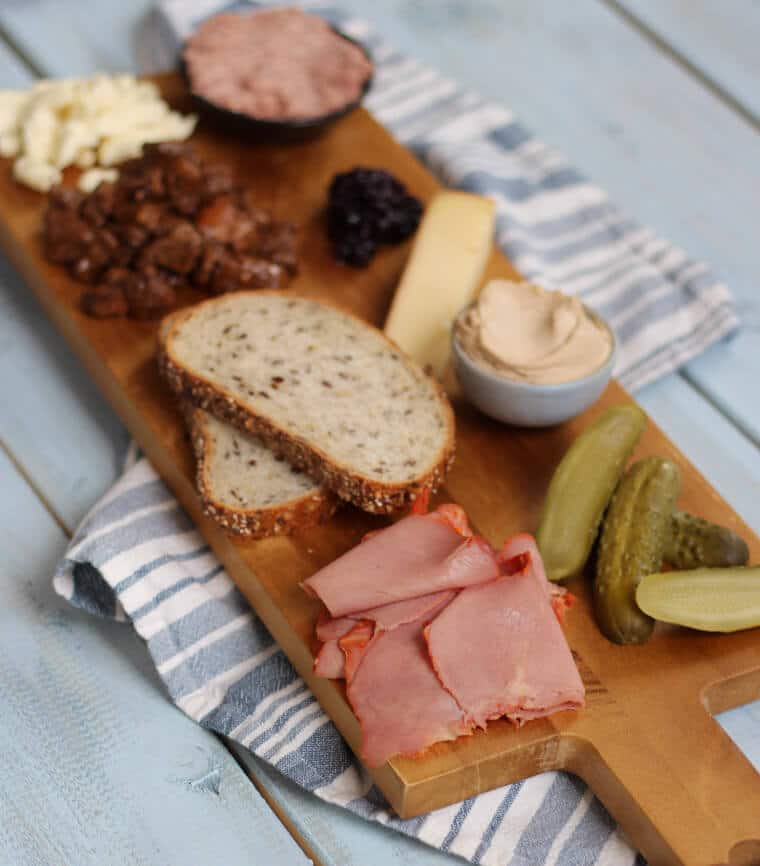 Smoked Meat : Smoke Meat was developed by Jewish immigrants in the 1930s who fled Europe and settled in Montreal.
Cretons : A Quebecois signature dish that is a cold meat spread traditionally made with ground pork and cinnamon, savory and cloves.
Beef Tassot: Montreal has a growing Haitian population and Tassot is a classic Haitian dish of fried beef, goat or lamb with citrus and spices.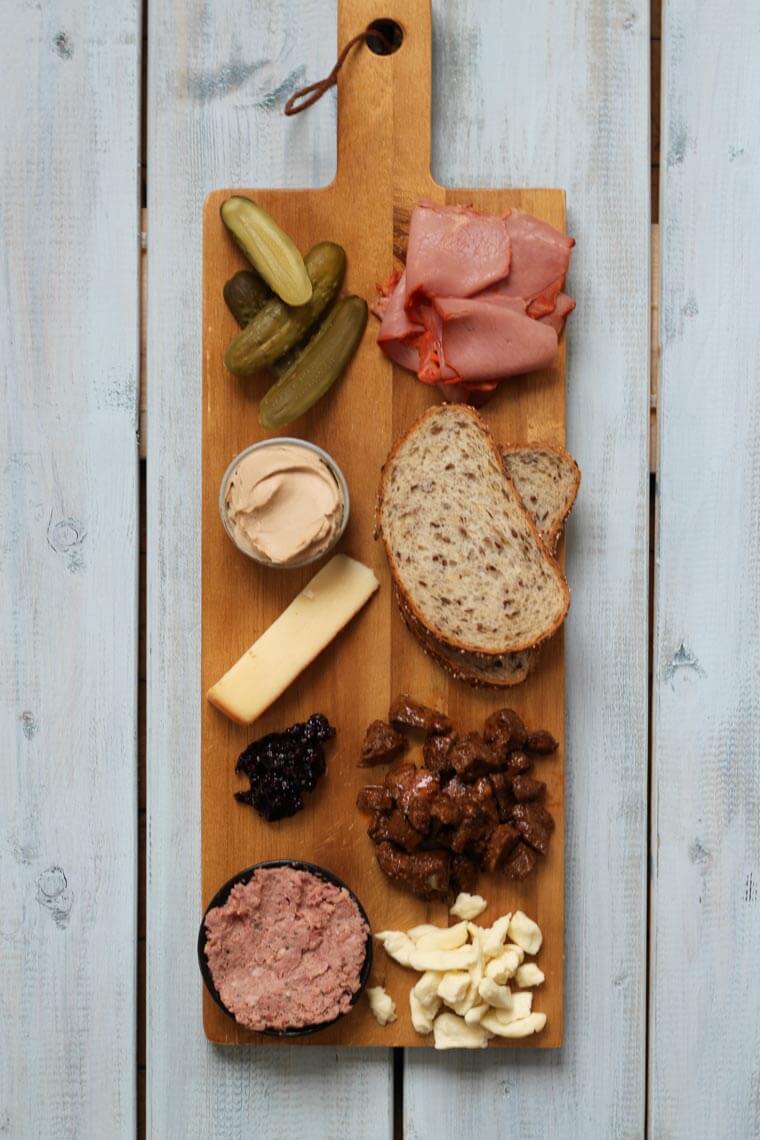 Cheese curds: Quebec has always been named the cheese-making leader in North America since the colonialism age. In the 1950s, there was a surplus of milk in Quebec, which meant an increase in cheese production and leftover curds were discovered. Hello, poutine!
Foie Gras terrine: Foie Gras is the fattened liver of a duck or goose that has been overfed. Quebec has the largest foie gras industry in Canada and tends to use duck instead of goose.
Oka Cheese : Named after a small village of Oka located northwest of Montreal made by Trappist monks from the Roman Catholic religious order to provide income for the monastery. The cheese has a nutty and fruity flavour.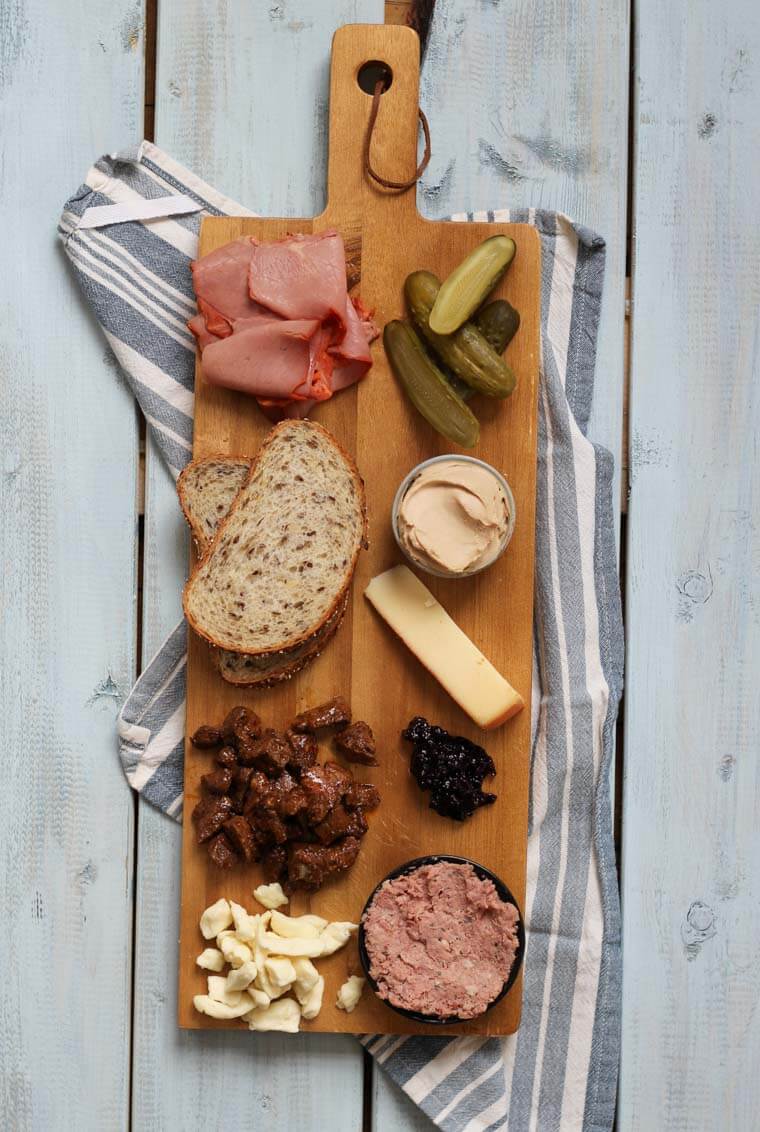 Wild Blueberry Jam: Canada is world's largest producer and exporter of wild blueberries that are mostly grown in Atlantic provinces and Quebec.
Pickles: In 1892, pickles were first brought to Quebec, and to this day, is still the largest pickle producer in Canada.
Rye bread: Rye bread is a traditional bread served at delicatessens to accompany smoked meat and mustard, a common meal introduced by the Jewish community in Montreal.
PRAIRIES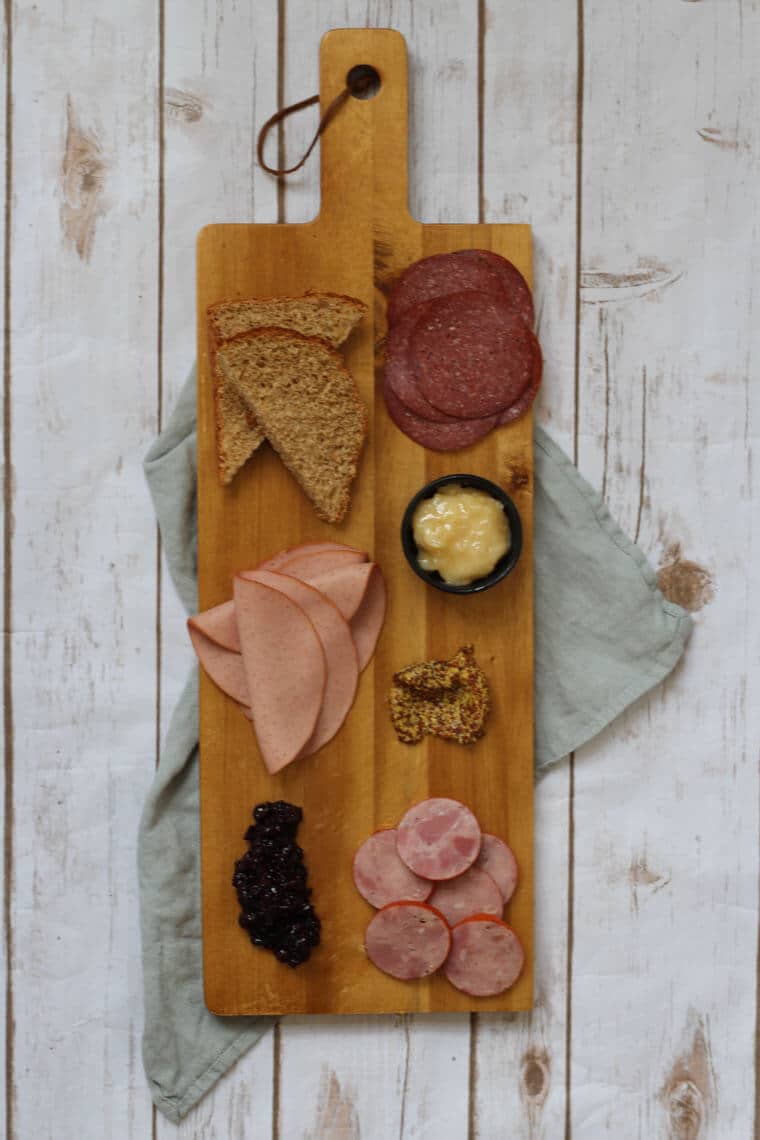 Beef Salami: The cattle industry is a central piece of economic life in Alberta.
Old Country Bologna: A cured beef or pork cold-cut that is a staple in Manitoba.
Kielbasa: Kielbasa is Polish for sausage and is a common sausage from Central Europe. This sausage became popular in the prairies once Ukrainians settled in the prairies.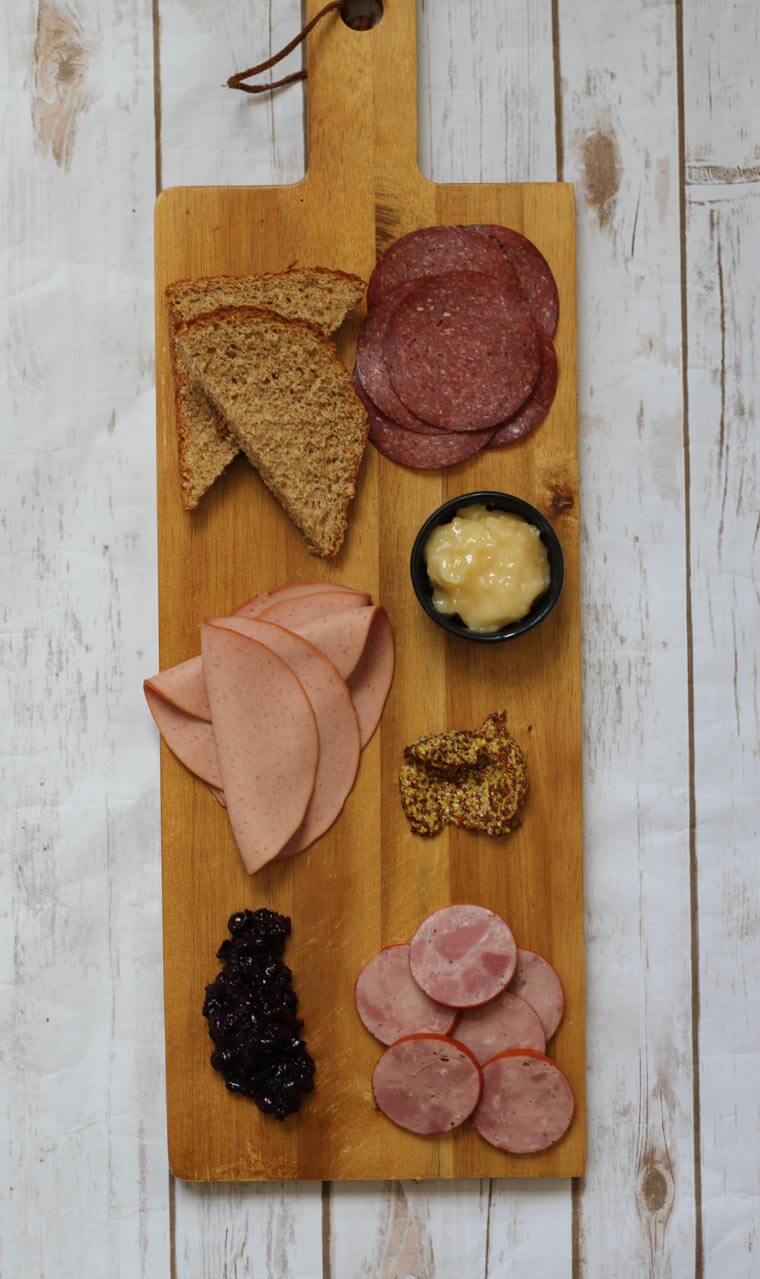 Saskatoon Berry Jam: Historically, the Saskatoon berries were popular among indigenous groups in the prairies for sustenance and also to treat diarrhea and stomach aches. The whole bush would be used not only for eating, but also used the leaves to make teas, soups and stews and the branches used for arrows and tools.
Honey: Canada is the world's sixth largest producers of honey and ¾ of that honey is produced in the prairies.
Mustard: Canada is the largest exporter and second largest producer of mustard seed in the world. Mustard production began in Western Canada in the 1936 and Alberta is responsible for a significant portion of these exports, second to Saskatchewan.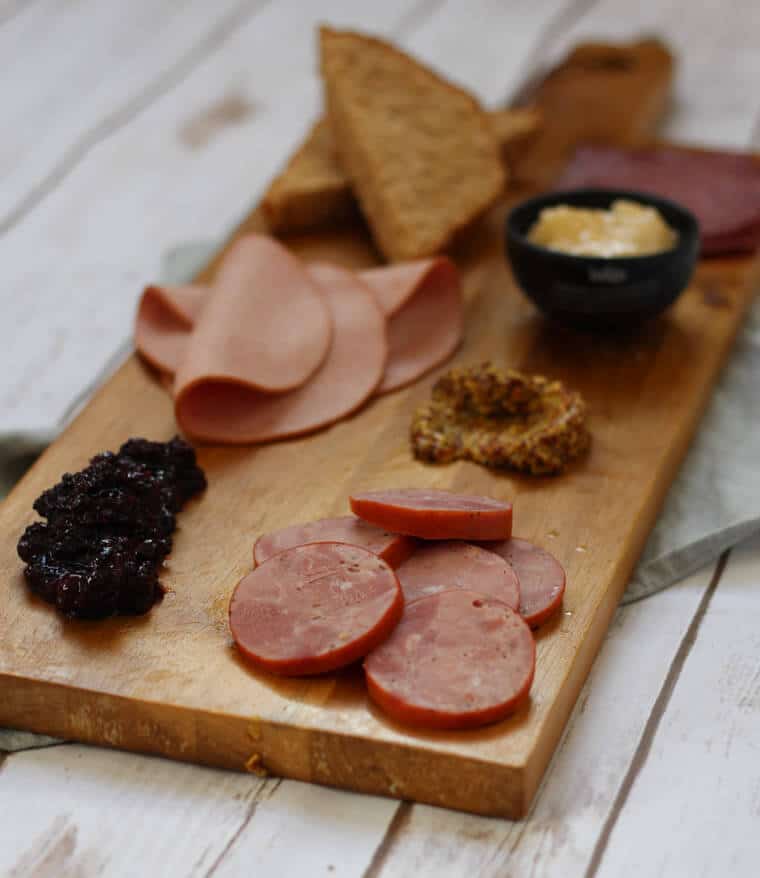 Whole wheat bread: The prairies is a lucrative environment for wheat production and almost half of all Canadian wheat is grown in Saskatchewan, followed by Alberta and Manitoba.
ATLANTIC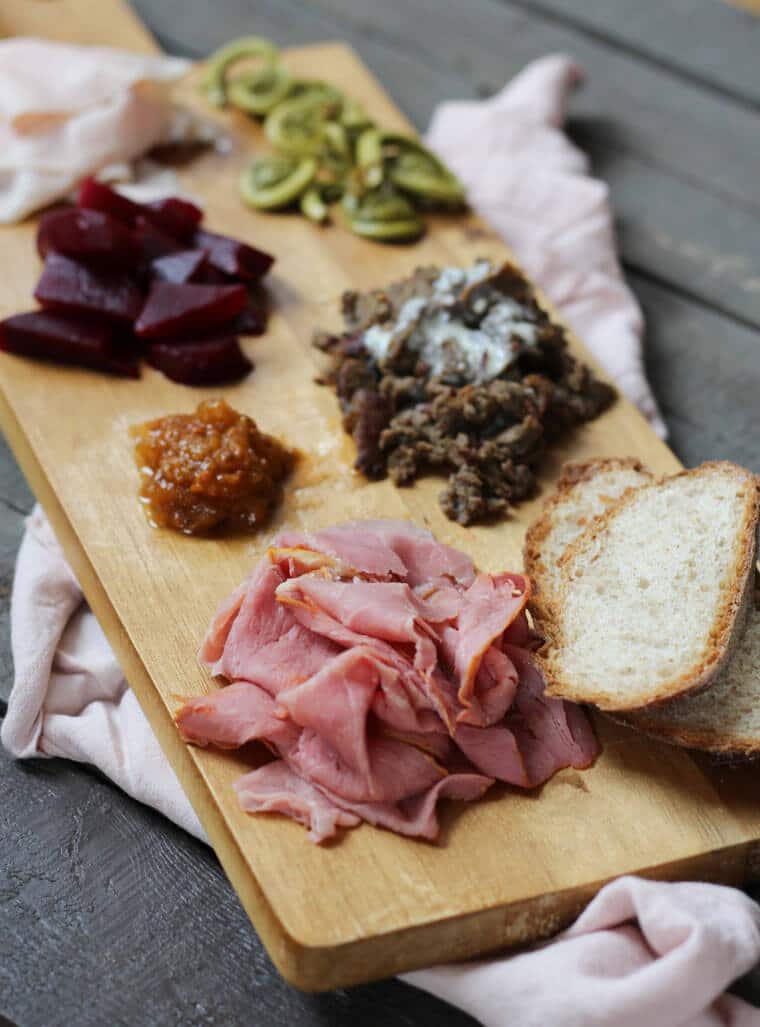 Corned Beef: Grounded in a history of Irish settlement in Canada's east coast, it's very common to see corned beef on maritime menus. In fact, a Newfoundland special is something called a Jiggs dinner, a Sunday night staple of Corned beef and cabbage.
Donair Meat with Donair Sauce: A Halifax staple made of cooked ground beef, with a sauce made of evaporated milk sugar and garlic powder.
Cured Chicken: Chosen to symbolize the traditional Acadian dish, Rappie pie, made of roasted whole chickens, potatoes and salted pork. The curing process gives the chicken the salty flavour like the salted pork alternatively would.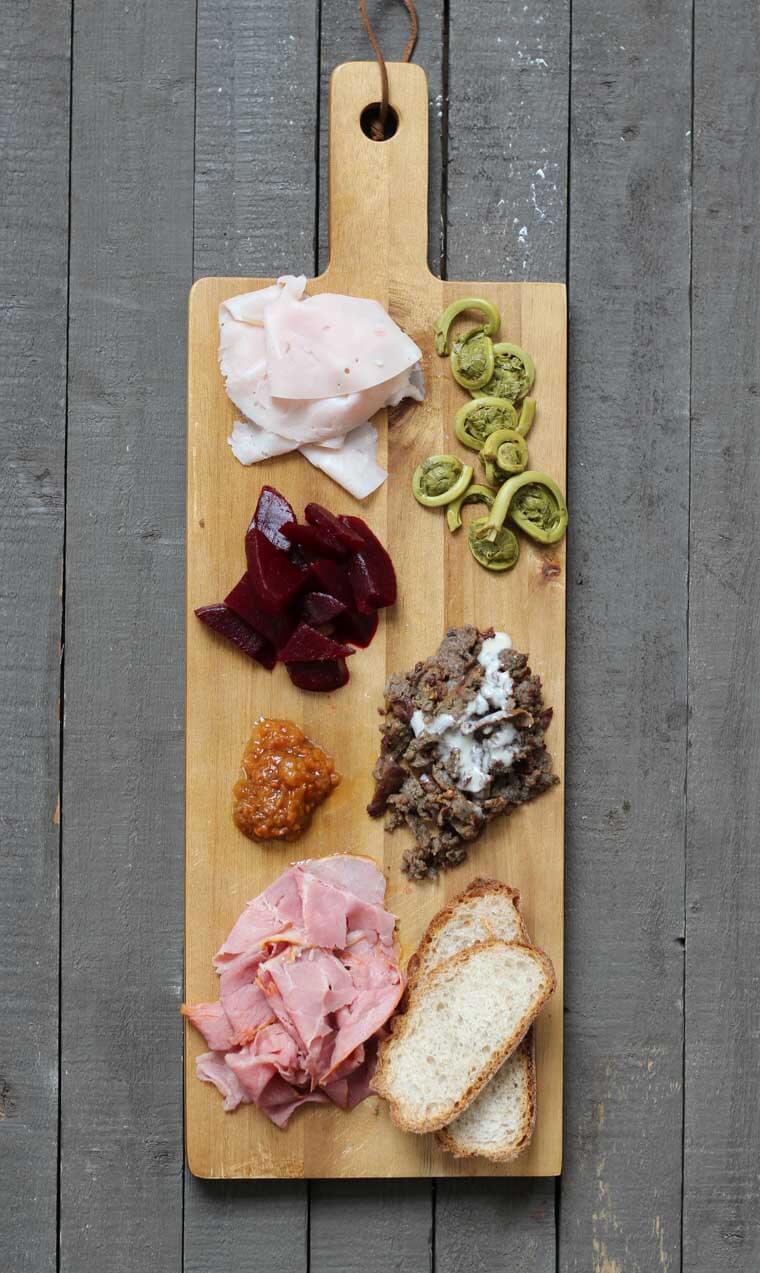 Cloudberry Jam: Cloudberries are small berries also known as bakeapple in Newfoundland and Labrador where it makes a popular choice for jam and pie.
Irish Soda Bread: Irish soda bread is a traditional bread made with soft cake or pastry flour and baking soda instead of yeast that was made popular on the East Coast thanks to the large population of Irish immigrants.
Pickled Beets : A common dish prepared by the Acadians and Metis, who are descendants of the French colonists who settled in the 17th & 18th centuries in Atlantic Canada.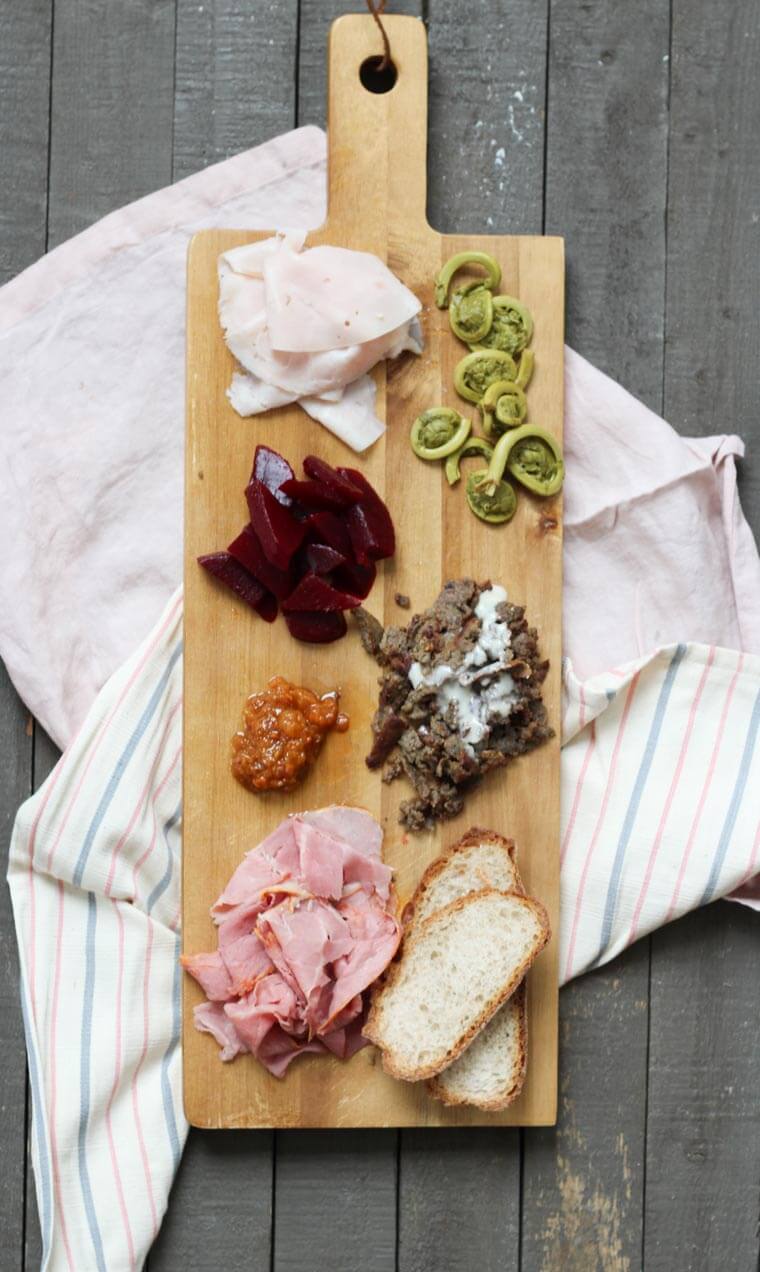 Pickled Fiddleheads: Fiddleheads are a cross between asparagus and green beans and have been consumed for centuries in the Atlantic region.
BRITISH COLUMBIA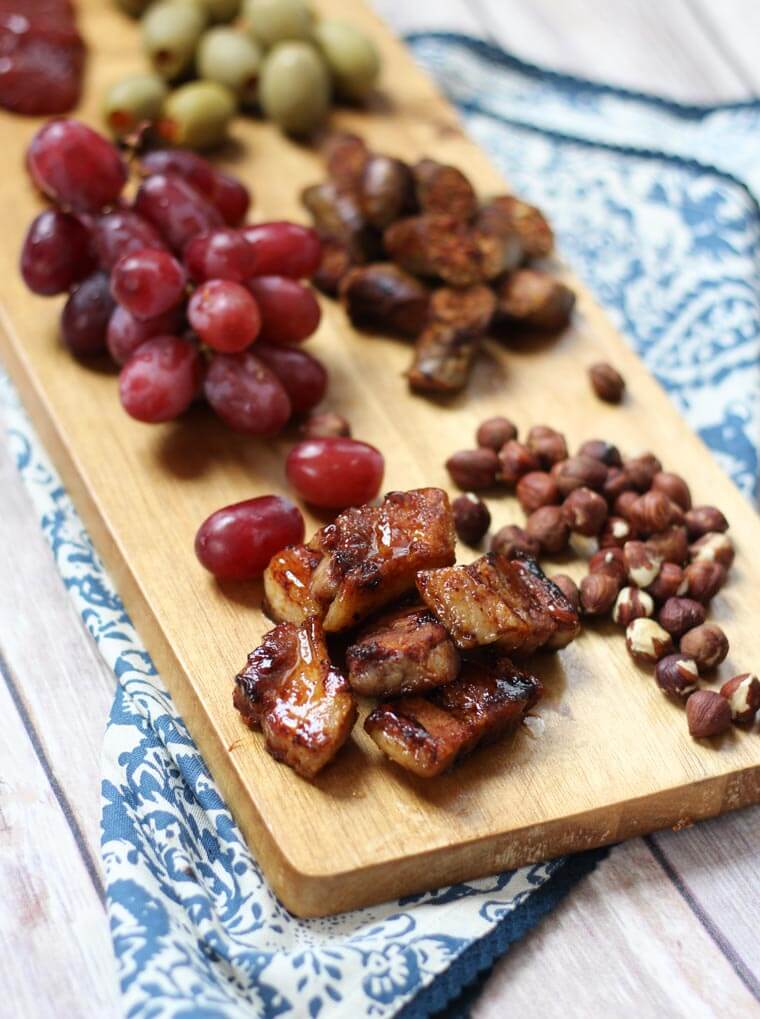 Pork Belly Cured Bacon : Based on stats Canada, the rate of those with Asian roots in metro Vancouver is growing at a faster rate than those without Asian roots- 43% of metro Vancouver residents come from a familial Asian background. This pork belly cured bacon, also known as lap yuk in Cantonese, is a traditional Chinese bacon, and is a knod to the large Asian population in Vancouver and the incredibly vibrant Asian food culture in the city.
Lamb Sausage: BC is quickly becoming a celebrated region for exceptional lamb, especially with the popularity of the beautiful Salt Spring Island destination which is known for its lamb.
Olives: Due to the climate it is difficult to grow olives, however all places, BC would be the place. Most of the growers are located in the lower mainland and southern Vancouver Island.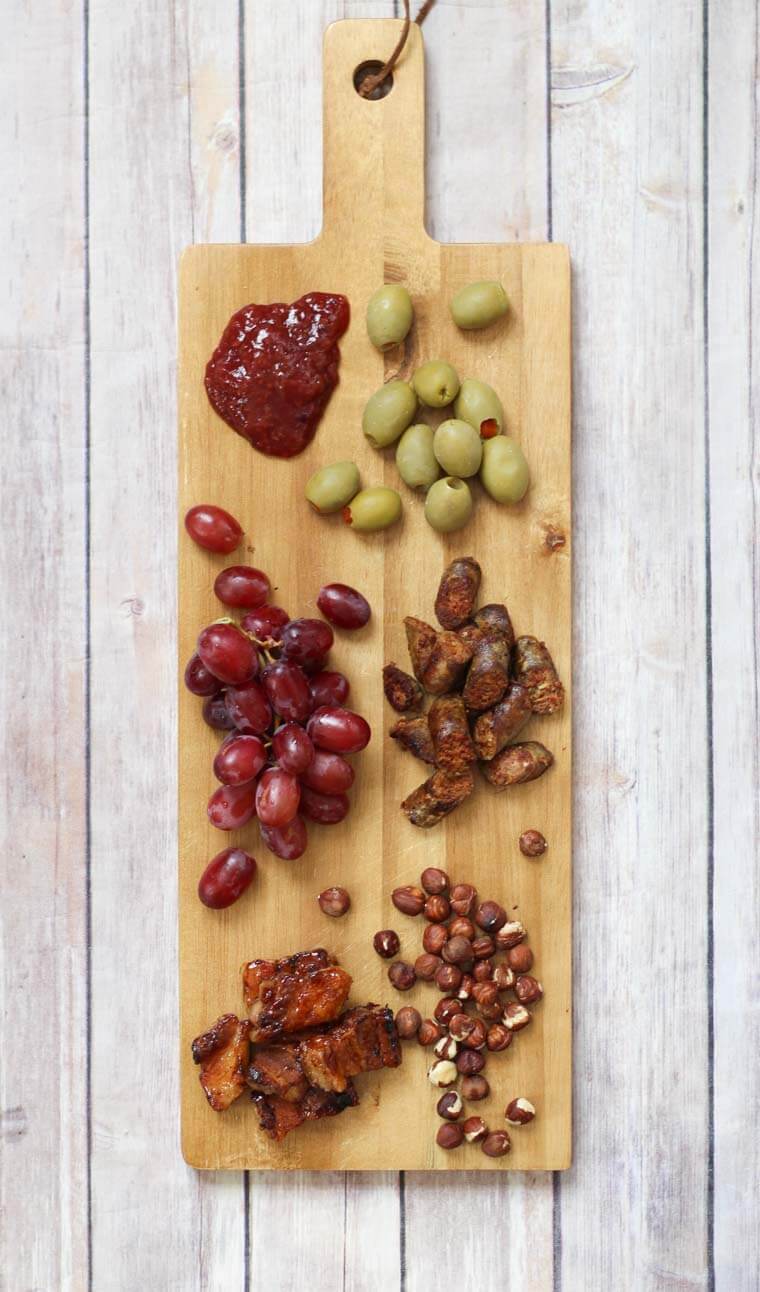 Grapes: The warm climate in BC means they are one of the biggest producers of fruit. Specifically, in the Okanagan Valley, its dry climate allows for the cultivation of beautiful plump grapes.
Red Raspberries Preserve: BC is one of the world's premier production regions for red raspberries because of its fertile regions.
Hazelnuts: Hazelnuts make up an important part of BC food history because of BC's well suited environment for growth.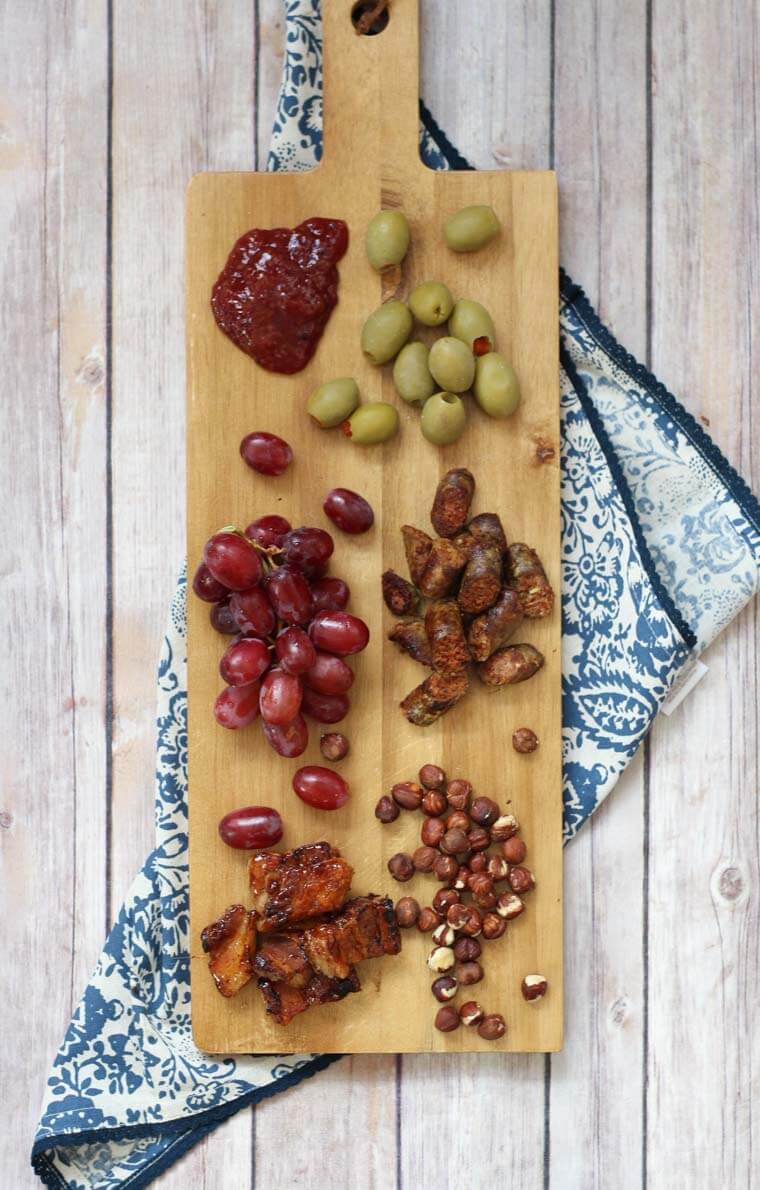 I certainly learned so much researching for this project and I love that I now have the tools to build 5 amazing Canada themed charcuterie boards for many Canada Day celebrations to come.
Now, I want to know, based on where you live, what would you describe as a quintessential charcuterie board ingredient to represent your home?
Leave me a comment below with your thoughts!

Research Support by Sofia Tsalamlal, RD