I share my new favourite low carb easy dinner recipe for Keto Gluten Free Zucchini Lasagna with Turkey Ragu, perfect for adults and picky kids alike!
Confession: I enjoy eating lasagna, but I rarely make it at home. Why? Well, it's usually just me and the hubs at home so I can rarely justify a massive casserole for two, and when I do entertain, I tend to want to make something lighter and/or more elegant. Lasagna is sunday comfort food that I'm SURE I'll be well versed in once my kid(s) get of eating age, but for now, it's just a bit too heavy and much. Not this Keto Gluten Free Zucchini Lasagna. This recipe is simple, healthy and PACKED with protein and veggies, it instantly became a family favourite.
How to Make Keto Gluten Free Zucchini Lasagna with Turkey Sausage Ragu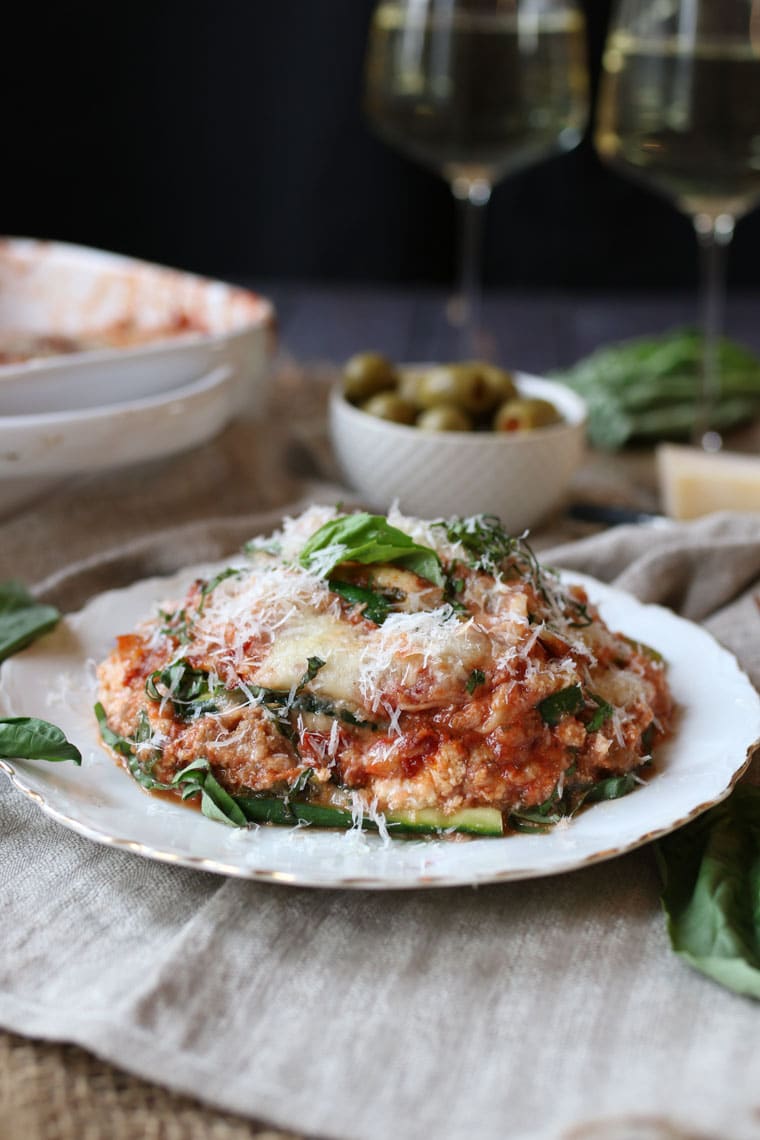 I tend not to eat a ton of carbs at dinner for the simple reason that they fill me up too much so I don't enjoy my nightly chocolate fudgicle and popcorn #PregnancyLife. Ha, no but seriously, I'd rather have room for chocolate than rice, wouldn't you? This recipe for Keto Gluten Free Zucchini Lasagna with Turkey Sausage Ragu is surprisingly filling, but is super low carb and nutrient packed.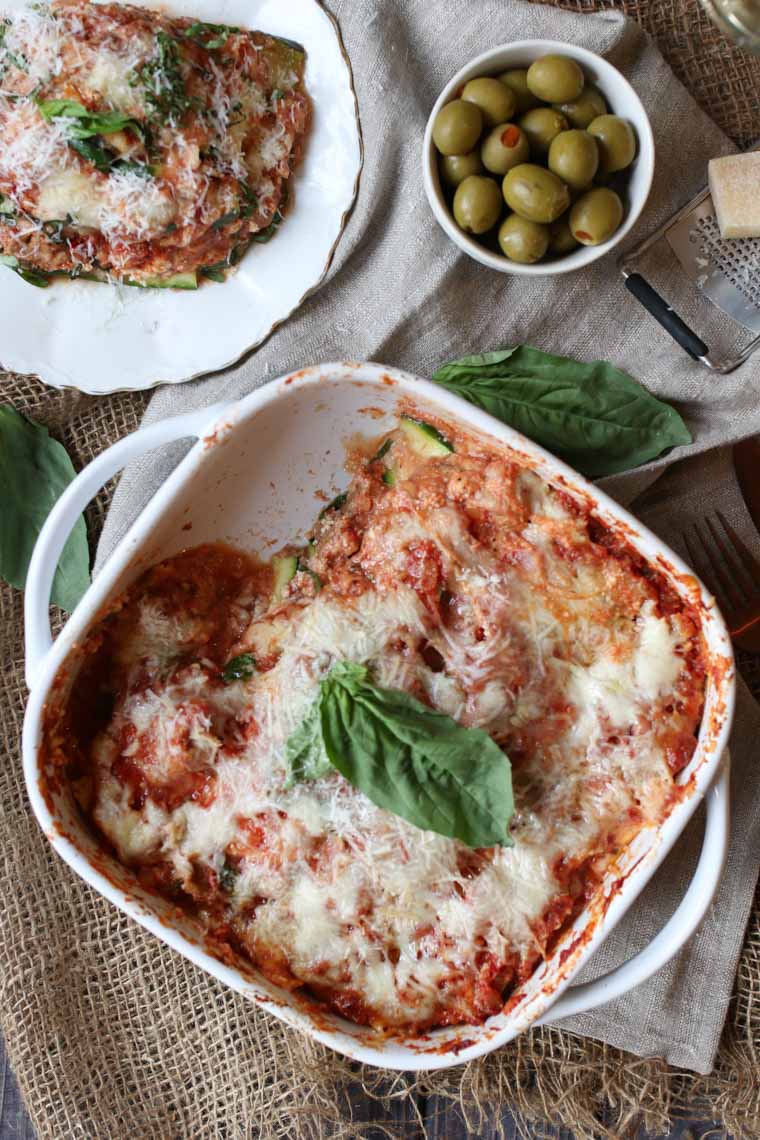 I start by slicing my zucchini into thin lasagna-like noodles and then drawing the moisture out of them using a little science trick we know of as osmosis. You want to make sure to dry the HELL out of them before you use them. This ensures that our zucchini noodles have a bit of an al dente like bite, but also don't leach too much moisture into the casserole once cooking.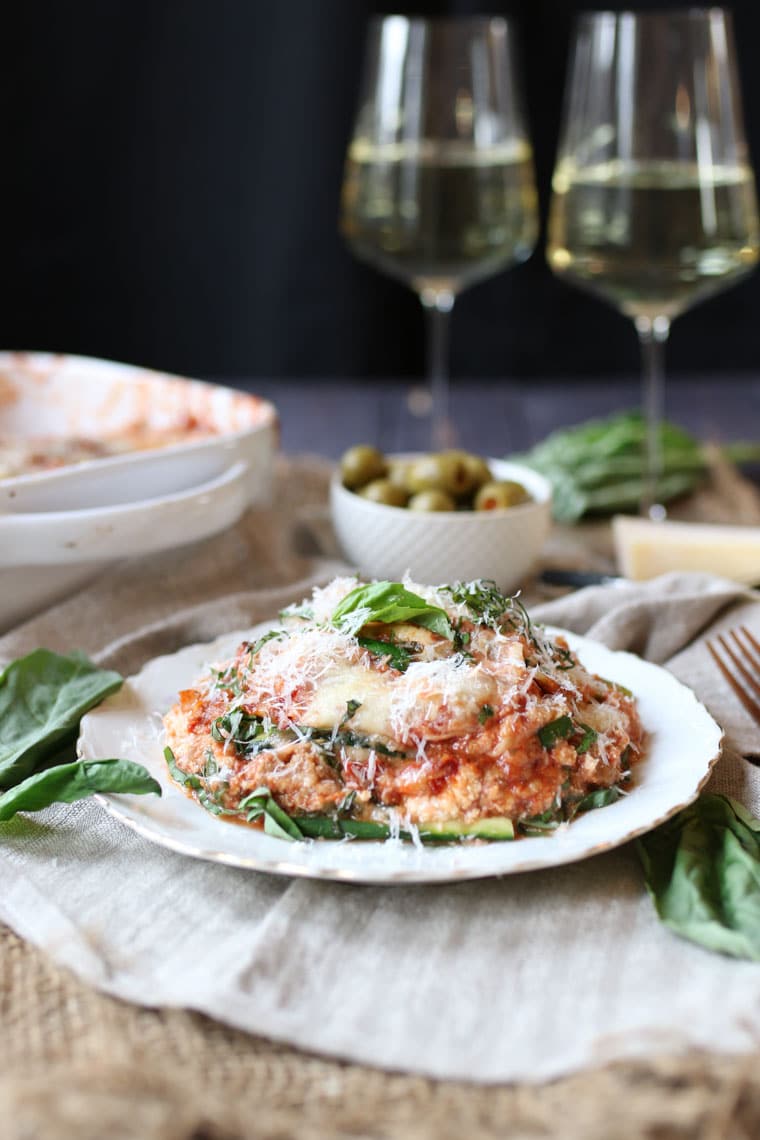 Next, I make a delicious ragu using my favourite lean turkey sausage meat, and veggies for my Keto Gluten Free Zucchini Lasagna. I actually love mushrooms in my ragu, but you can also easily add in whatever veggies you have in the fridge. You can also easily make this vegan by using canned beans instead. The key is to get your ragu to be REALLY tight. This shouldn't be a loose sauce like you would enjoy normally on your spaghetti. It should be super thick and chunky so that when it bakes and that last little bit of moisture comes out of your mushrooms, you won't be left with a soggy mess.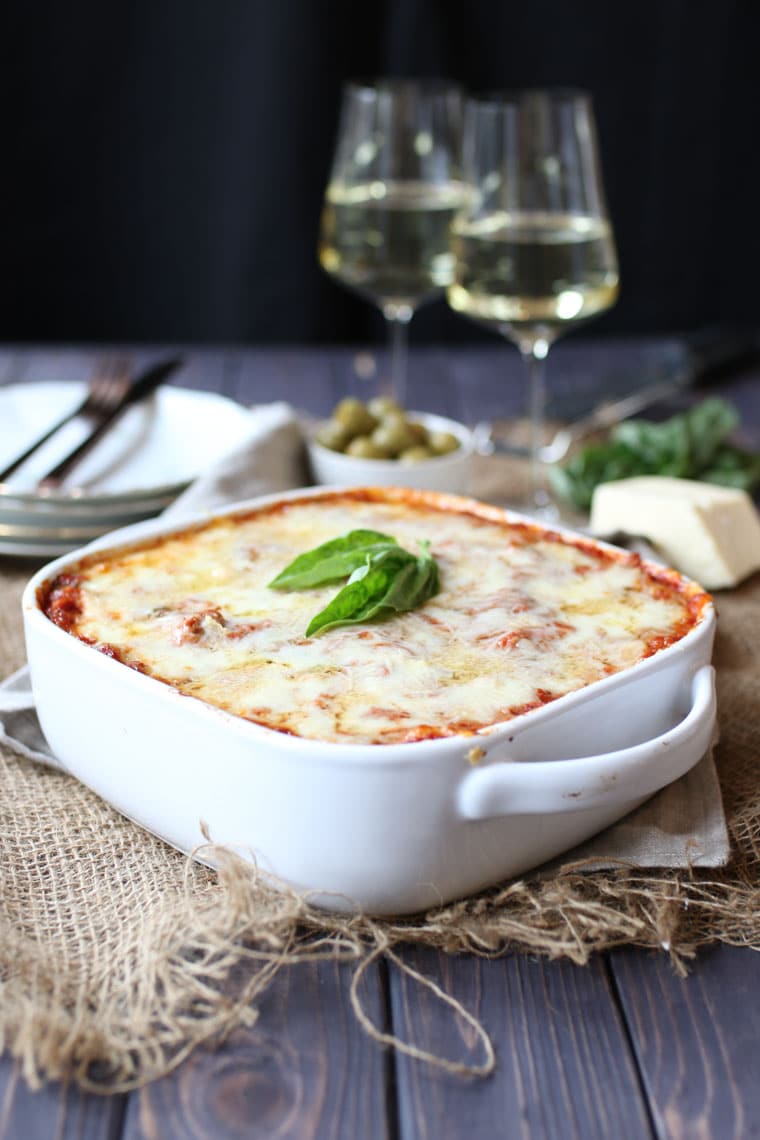 Then it's all about the cheese. I use havarti which is obviously SO not traditional, but I find it supplies a MUCH better flavour profile compared to mozzarella which I have always found to be a little hum-drum in the flavour department. Of course, you can choose your favourite melty cheese (the melty factor is kinda key though!)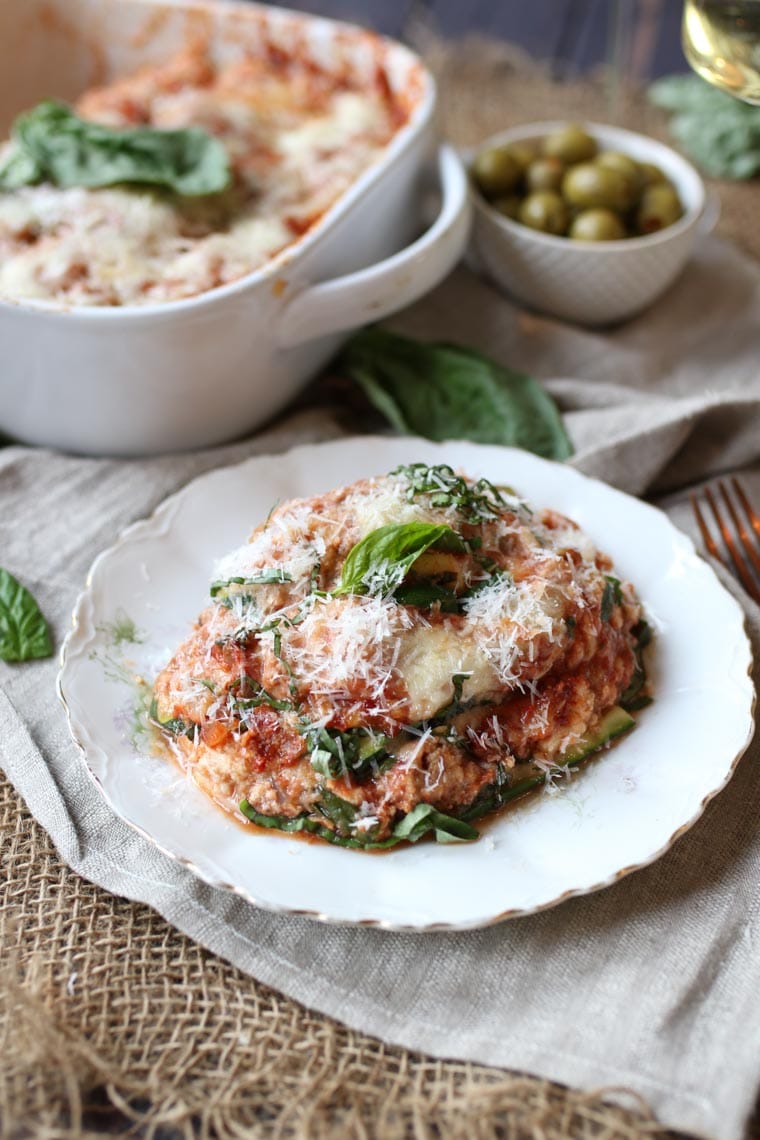 This Keto Gluten Free Zucchini Lasagna doesn't have to be made in a casserole. I have also built it in single-serving ramekins or small tin containers if you want to meal prep and freeze them. Just rewarm from frozen covered for about 30-40 minutes at 375 F, removing the foil in the last 10 minutes until bubbly and hot.
Now let me know, what's your favourite family recipe that you would love to see lightened up or made gluten free, keto, paleo or whatever you dream of!
Have you tried making this Keto Gluten Free Zucchini Lasagna?
Leave me a comment below!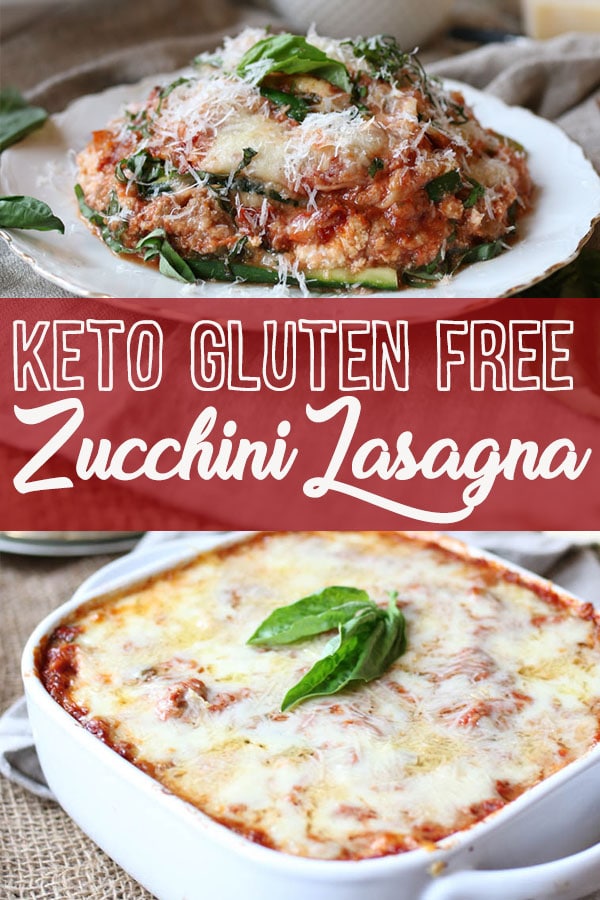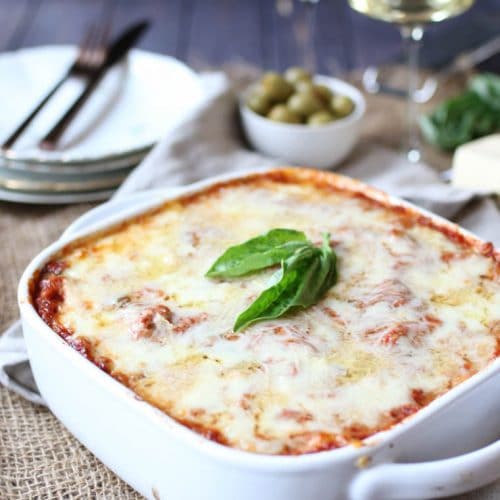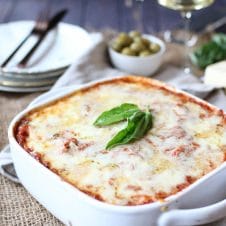 Keto Gluten Free Zucchini Lasagna
I share my new favourite low carb easy dinner recipe for Keto Gluten Free Zucchini Lasagna with Turkey Ragu, perfect for adults and picky kids alike!
Print
Pin
Rate
Ingredients
3

medium zucchini

sliced into 1/8 inch thick long strips

1

tsp

kosher salt

2

tsp

olive oil

1

pound

turkey sausage

casing removed and diced

1

small sweet onion

finely chopped

3

garlic cloves

minced

8

oz

cremini mushrooms

thinly sliced

1

28-ounce can crushed tomatoes

2

tablespoons

chopped fresh basil

2

tsp

dried oregano

2

cups

baby spinach leaves

Salt and pepper

to taste

1 1/2

cups

part-skim or regular ricotta cheese

1/4

cup

grated Parmigiano-Reggiano cheese

1

large egg

4

cups

shredded Havarti cheese
Instructions
Preheat oven to 375 F.

Spread the zucchini out onto a baking sheet lined with paper towel or a kitchen towel and salt on both sides. Allow to sit for 15 minutes. Towel dry and press down the zucchini slices to remove the moisture.

In a nonstick skillet, heat the oil over medium high heat. Add in the sausage (out of the casing) and break it into small pieces. Once it's almost cooked through, add the onion and garlic. Cook for 2 minutes. Add in the mushrooms and cook for another 5 minutes until softened.

Add the tomatoes, basil, oregano and spinach. Simmer for about 10-15 minutes until the mixture is VERY thick and chunky. Season with salt and pepper, to taste.

In a small bowl, mix the ricotta, parm and egg.

Spread about 1/2 cup of sauce onto the bottom of a 9x13" baking dish. Add a layer of zucchini, then a layer of the ricotta mixture (about 1/2 cup) and a sprinkle of the grated havarti. Repeat with another layer of the sauce, zucchini, ricotta and havarti. You should have enough for three layers.

Cover the casserole dish with foil and bake for 35 minutes. Remove the foil and bake for another 15 minutes until golden brown. Allow it to stand for 5 minutes before serving.
Nutrition
Calories:
274
kcal
|
Carbohydrates:
9
g
|
Protein:
23
g
|
Fat:
16
g
|
Saturated Fat:
8
g
|
Cholesterol:
101
mg
|
Sodium:
866
mg
|
Potassium:
628
mg
|
Fiber:
2
g
|
Sugar:
5
g
|
Vitamin A:
1290
IU
|
Vitamin C:
18.9
mg
|
Calcium:
270
mg
|
Iron:
1.7
mg