These creamy miso pasta noodles with edamame are a vegan nutrient-packed meal that makes for the perfect comfort meal with some Asian-inspired flare!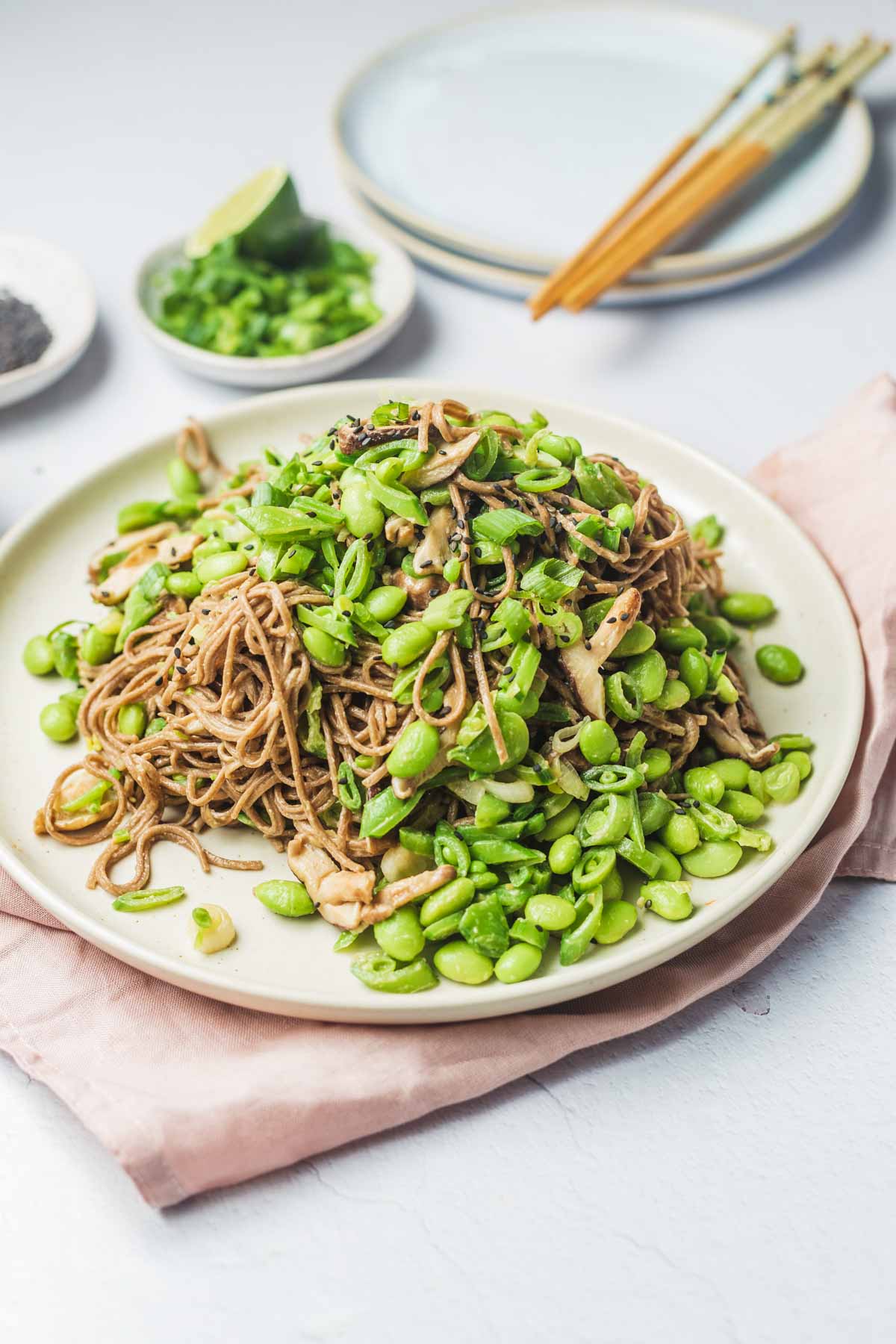 Okay, fine I'll say it. I am obsessed with miso noodles. I could have them all day, everyday if I had my way – and that includes breakfast, lunch, and dinner. There is something about the combination of veggies, noodles, and umami miso sauce that just makes my mouth water and, before I know it, my UberEats app is processing my order. But this is obviously no way to live and is a fast tracked way to drain my wallet. So, instead, I like to keep this easy creamy miso pasta recipe with edamame in my back pocket for whenever the craving hits and I want to give my UberEats app a rest day.
Why This Recipe Works
If you also love an Asian-inspired meal and want to create a restaurant worthy dish right from the comfort of your own home, then get ready to add this creamy miso pasta to your weekly menu. Here are a few reasons why I am lovin' this recipe:
Made with pantry staple ingredients
Packed with plant-based protein
Veggie loaded
Provides 17g of protein
Only takes 30 minutes to prepare
Flavourful as can be!
Key Ingredients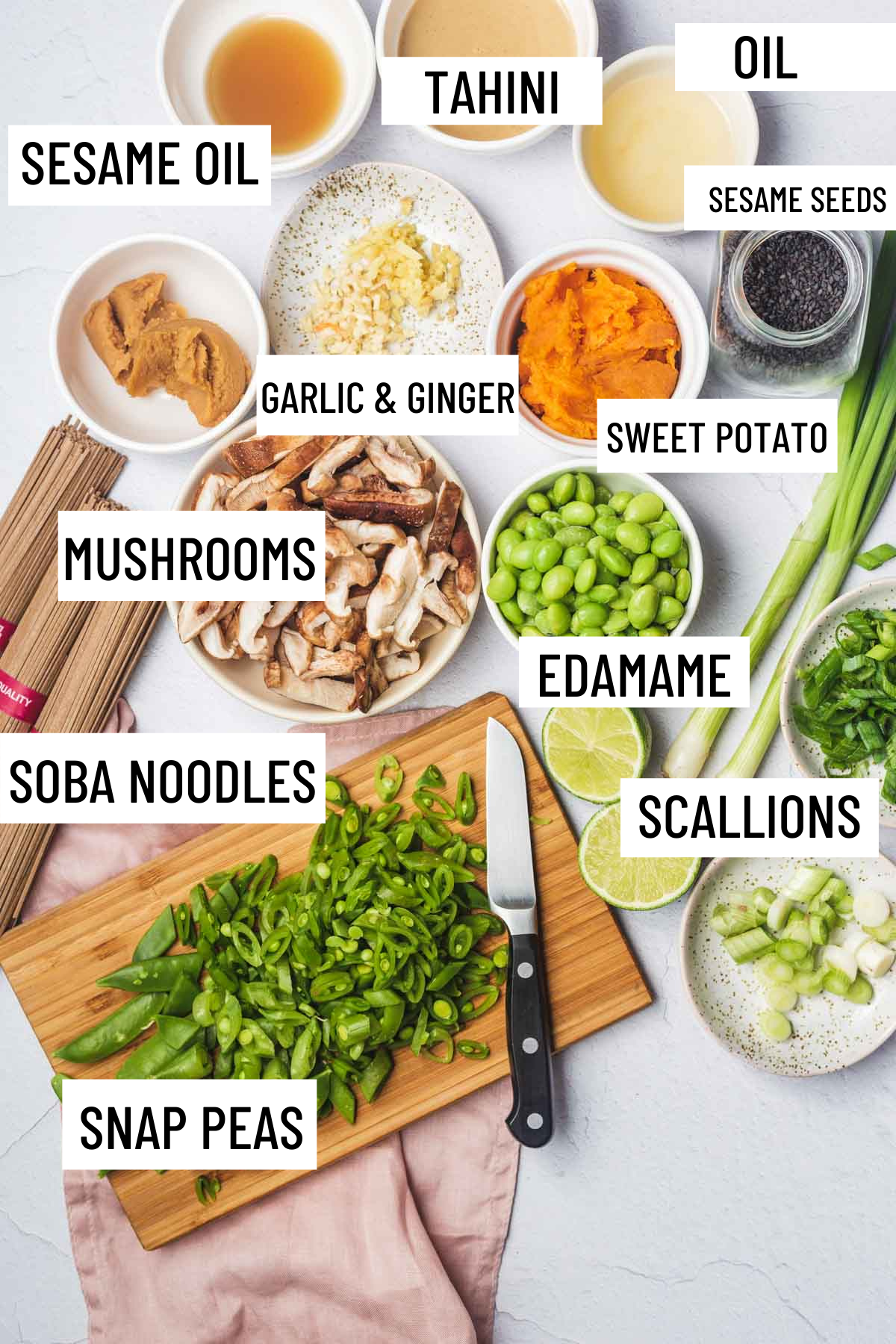 Soba Noodles -Soba noodles are a thinner type of noodle derived from buckwheat and are totally gluten-free, making them a great option for those who can't tolerate gluten. They are also ready in 5 minutes or less, making them a great quickie carb option!
Edamame – I always make sure to have a pack of frozen edamame ready to go in the freezer for a quick protein option for meals and snacks. In fact, one cup of edamame provides a whopping 22 grams of protein, and 7 grams of fiber.
Sweet potato – We have sweet potato to thank for making the miso pasta sauce extra creamy and delicious. It also adds an extra dose of fiber and vitamin A, which I ain't mad about.
Sesame seeds – We love healthy fats around here, so in addition to the tahini and sesame oil in the sauce, I like to add a generous sprinkle of sesame seeds to top off this creamy miso pasta. Plus, what kind of Asian-inspired meal is complete without a sprinkle of sesame seeds?
Veggies – To up the veggie content of this creamy miso pasta we've thrown in Shitake mushrooms as well as green onions and snap peas for a pop of colour! But this recipe would totally thrive by adding in more Asian-veggies like bok choy or green cabbage.
How To Make This Recipe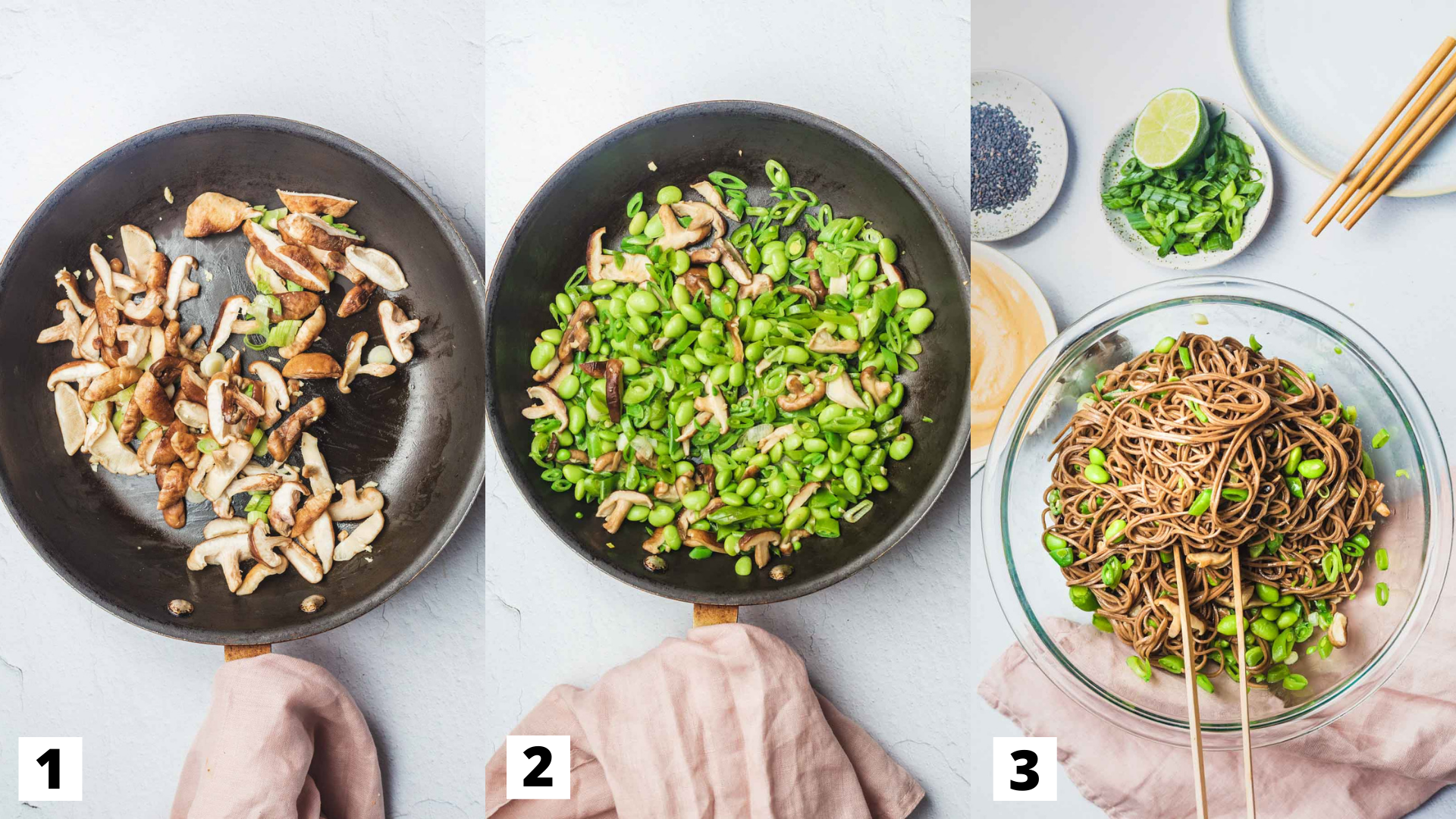 Step 1: Add oil to skillet and cook Shitake mushrooms over medium-high heat until the water evaporates.
Step 2: To the skillet, add minced garlic and the scallion whites and saute for 1 minute, or until fragrant. Add edamame and sugar snap peas and toss until vegetables turn bright green, about 1-2 minutes.
Step 3: Remove skillet from heat and combine veggies with cooked Soba noodles. Mix in 4-5 tablespoons of sauce and toss until everything is well coated. Garnish with scallion greens and sesame seeds. Serve and enjoy!
Expert Tips
Soba noodles can very easily overcook, so be sure to follow package cooking instructions to ensure they don't get too soft and mushy. Once you strain the noodles, I would also recommend running them under cold water to stop the cooking process and then immediately tossing them in a light drizzle of sesame or olive oil to prevent the noodles from sticking together.
If you don't have a ton of time on your hands and need to shorten the cooking time of this creamy miso pasta, pre-processed ingredients are your bff! I generally like to have pre-minced garlic and ginger in my fridge because mincing these ingredients is my least favourite part of any recipe. You can also look for pre-chopped mushrooms and scallions to save on prep time!
Another quickie hack that I like to lean on is to blanch the edamame in the microwave. Simply add the frozen edamame to a microwave safe bowl, add enough water to cover, and pop in the microwave for 2-3 minutes. Strain the water, and you are good to go.
Recipe FAQs
Is this creamy miso pasta recipe best served hot or cold?
Something that I love about this recipe is that it can be served either hot or cold! Whatever your palate desires.
Is this creamy miso pasta recipe gluten-free?
This recipe is generally gluten-free, however, I would double check the packaged ingredients such as the soba noodles, miso paste, and tahini to ensure there is no wheat, barley, and rye added.
How do I store this recipe?
You can store this recipe in an air-tight container for up to 5 days in the fridge. I recommend separating the sauce & noodles just so that the miso pasta doesn't get soggy or lose its texture.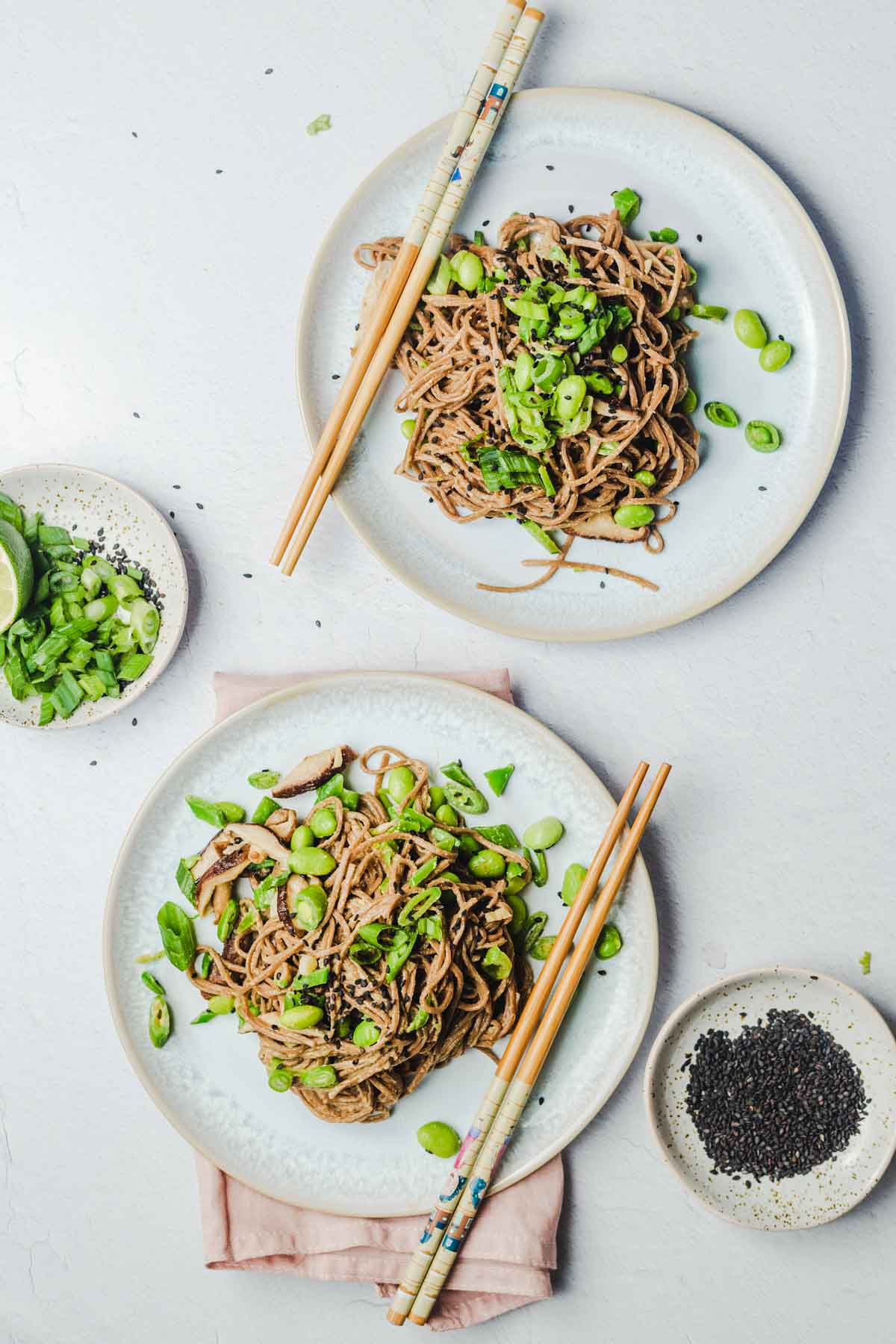 More Recipes You Might Like
If you're looking for more ways to add some Asian-inspired cuisine like this creamy miso pasta to your weekly meal rotation, check out some of these recipes: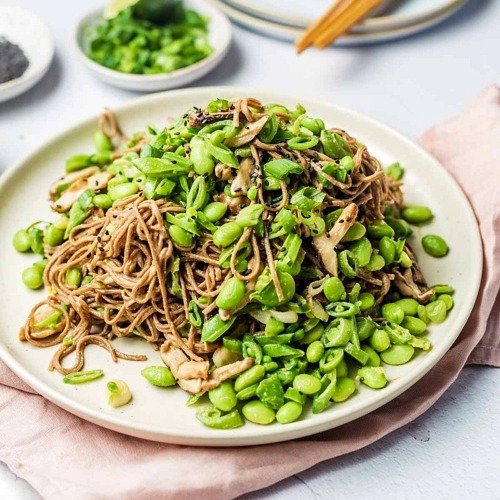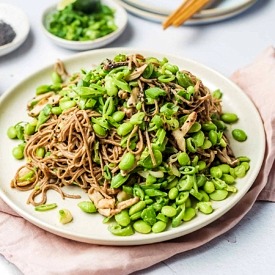 Creamy Miso Pasta Noodles with Edamame (Vegan)
This miso pasta recipe is completely vegan, nutrient packed, and the perfect dish to make if you're craving an asian inspired meal!
Print
Pin
Rate
Ingredients
8

oz

soba noodles

1

box

shiitake mushrooms, sliced

1

cup

sugar snap peas, sliced thinly across

1

cup

frozen edamame

1

tsp

neutral tasting oil

1

tsp

toasted sesame oil

3-4

scallion whites

1

clove

garlic
Sweet Potato Miso Sauce
Garnish
toasted sesame seeds (to garnish)

scallions greens (to garnish)
Instructions
Make the Sauce:
In a blender, blend all the sauce ingredients with ¼ cup water until smooth. Taste and adjust the seasoning.
Miso Pasta:
Bring a pot of water to a boil and cook your soba noodles per package instructions.

Drain and rinse the soba noodles under cold running water. Drain them in a large bowl. Toss and coat the noodles in a sesame oil to prevent them from sticking.

Heat the oil in a skillet over medium-high heat. Add shitake mushrooms to the pan and cook until the water evaporates. Add in minced garlic and the scallion whites and saute until fragrant about a minute. Add in edamame, sugar snap peas and toss till it becomes bright green about a minute or two. Remove from heat and add all the veg to the bowl of noodles.

Add in the sauce 4-5 tablespoons of sauce and toss till everything is well coated. Taste and adjust seasoning, Add more sauce if desired. Garnish with scallion greens and sesame seeds.
Nutrition
Calories:
426
kcal
|
Carbohydrates:
59
g
|
Protein:
17
g
|
Fat:
16
g
|
Saturated Fat:
2
g
|
Polyunsaturated Fat:
7
g
|
Monounsaturated Fat:
6
g
|
Trans Fat:
1
g
|
Sodium:
1368
mg
|
Potassium:
550
mg
|
Fiber:
5
g
|
Sugar:
3
g
|
Vitamin A:
2742
IU
|
Vitamin C:
20
mg
|
Calcium:
98
mg
|
Iron:
4
mg