This Vegan Bean & Frozen Vegetable Soup is an easy recipe to use up your pantry and freezer staples for those of you who stocked up for Covid-19 social isolation.
If you're struggling with meal planning thanks to Coronavirus and social isolation and you're stuck with a TON of frozen vegetables and canned goods, know that I've totally got your back. I myself have a lot of pantry and freezer staples to use up, so I'm constantly trying to figure out what to do with them that will still taste good.
Now canned beans is not a huge problem. Canned beans always taste pretty good to me. But man, frozen vegetables can be a STRUGGLE. I tried first to pan-fry them at a super high heat to get them crispy, but they ended up being a soggy mess. Then I tried to roast them at a super high heat to get them crispy, soggy again. I was really struggling obviously so I figured soup was a safe choice. And, lo and behold, it was! This vegan bean and frozen vegetable soup is crazy simple, nutrient packed and a great way to use up that massive freezer full of frozen veggies.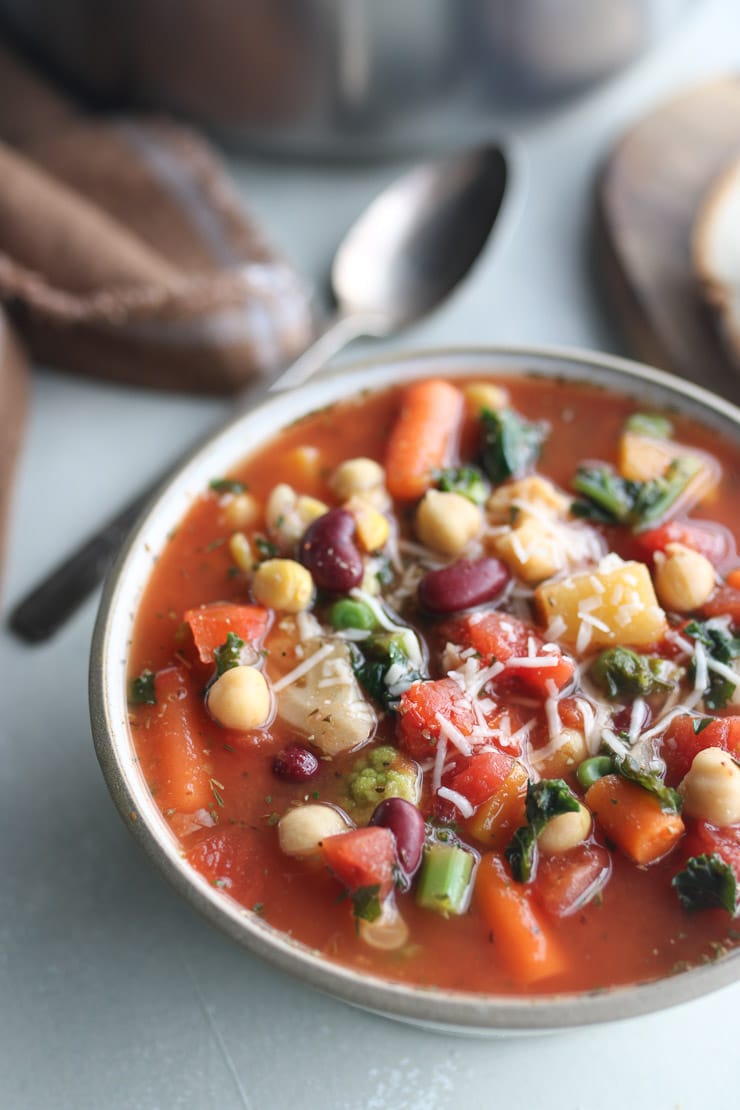 Key ingredients for Vegan Bean & Frozen Vegetable Soup
Well, this is going to be an embarrassingly small list, but that's the beauty of making these crazy easy freezer and pantry staple meals!
Canned Beans – I used chickpeas and red kidney beans but you can totally use whatever you have on hand.
Frozen Vegetables – I used a bit of cauliflower, peas, corn, squash, carrots, and kale, but again, experiment with what is going on in your freezer right now.
Diced tomatoes – This is to add the tomato flavour without any fresh tomatoes needed.
Vegetable juice – I like using a low sodium variety as some of these veggie juices are really high in salt. I typically have V8 in my pantry, but any tomato based juice will work.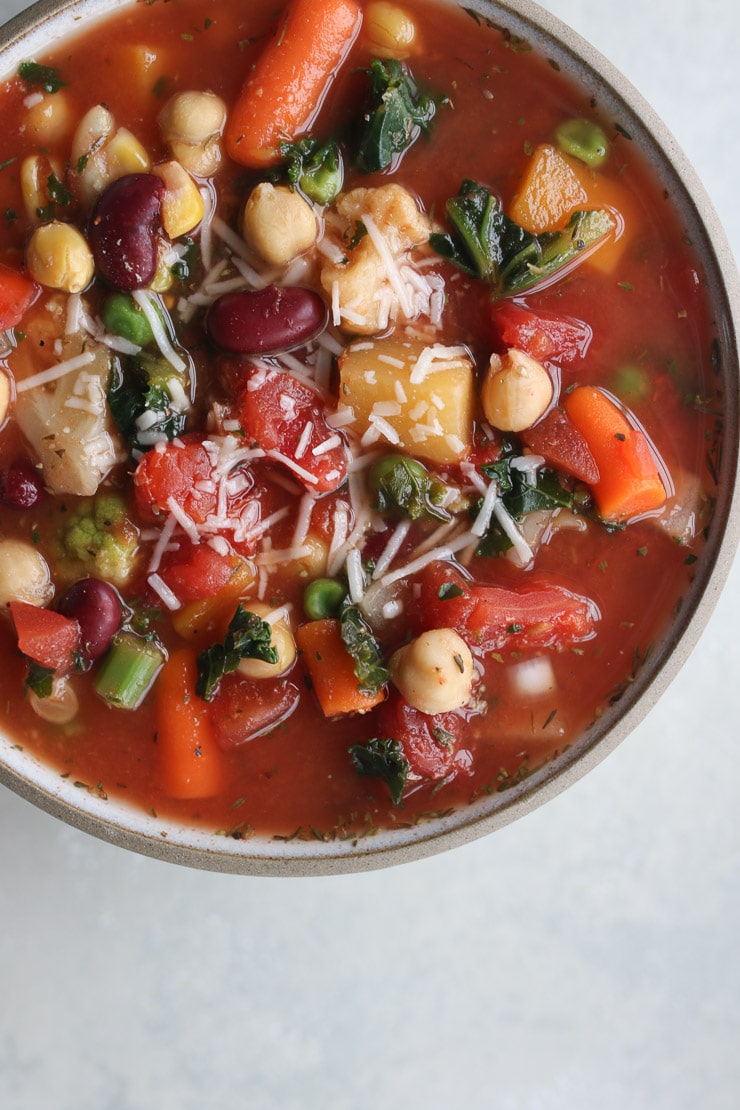 Top Recipe tips
Whatever you do, make sure your frozen vegetables were stored correctly when they were frozen. If you let frozen vegetables thaw, then freeze them again, they will end up coated in water and moisture which can result in soggy vegetables. BOO.
Also, I strongly suggest choosing frozen vegetables that are around the same size as each other. Feel free to cut up some pieces to make them more uniform in shape. If your vegetables are different sizes, then stagger when you pop them into the pot. Broccoli, cauliflower and larger pieces of carrots should go in first, smaller bits like corn, bean pieces and peas next, and any bits of kale or spinach can go in last.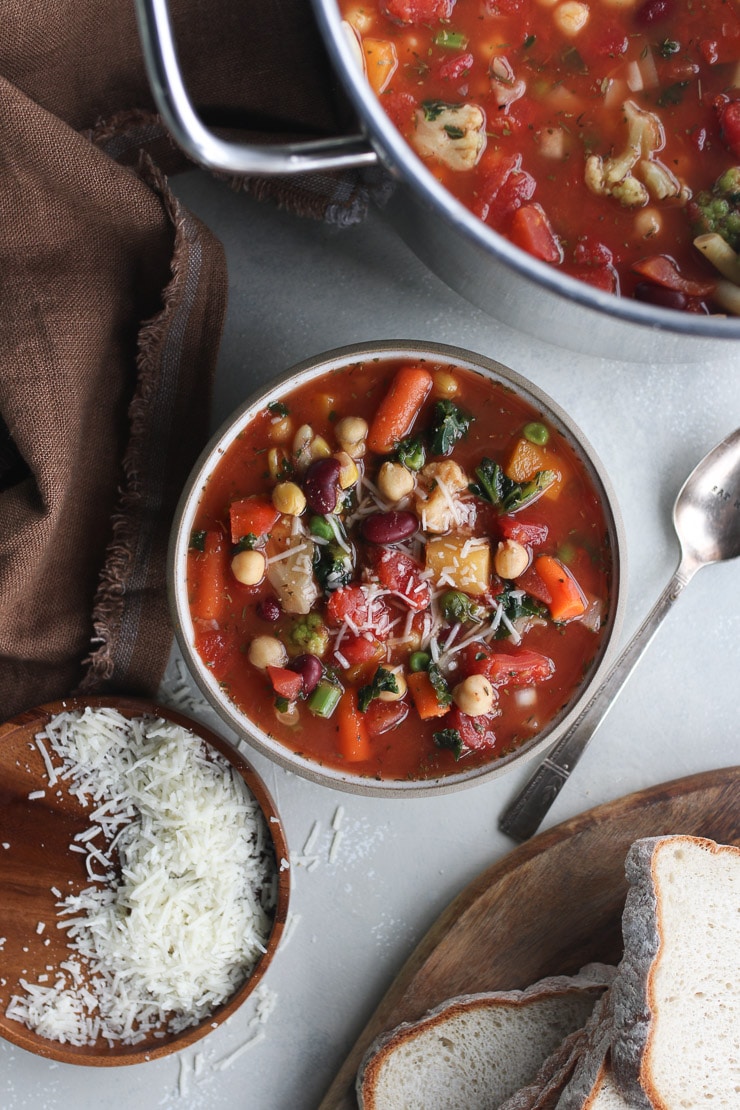 faq about this recipe
Here are some of the most likely common questions about this recipe.
what vegetables work best in the soup?
The best is the classic carrot, corn and pea combination, but I also love the cut green beans!
Do any vegetable not work well in this soup?
I would avoid any "Asian style" blends or anything that has bell peppers (these get super soggy) or raw onions (since you're putting them in without being sautéed in oil.
can i freeze this vegetable soup?
Yes, this soup is very freezable.
do you have any other great recipes with pantry or freezer staples?
You bet! I have been pumping them out like crazy! Here's some favourites:
VEGAN LENTIL BUTTERNUT SQUASH SOUP
KOREAN SAVOURY OATS WITH A RUNNY EGG
VEGAN UNSTUFFED CABBAGE ROLLS IN A BOWL
What are you making with your frozen vegetables? Have you tried making this vegan bean & frozen vegetable soup?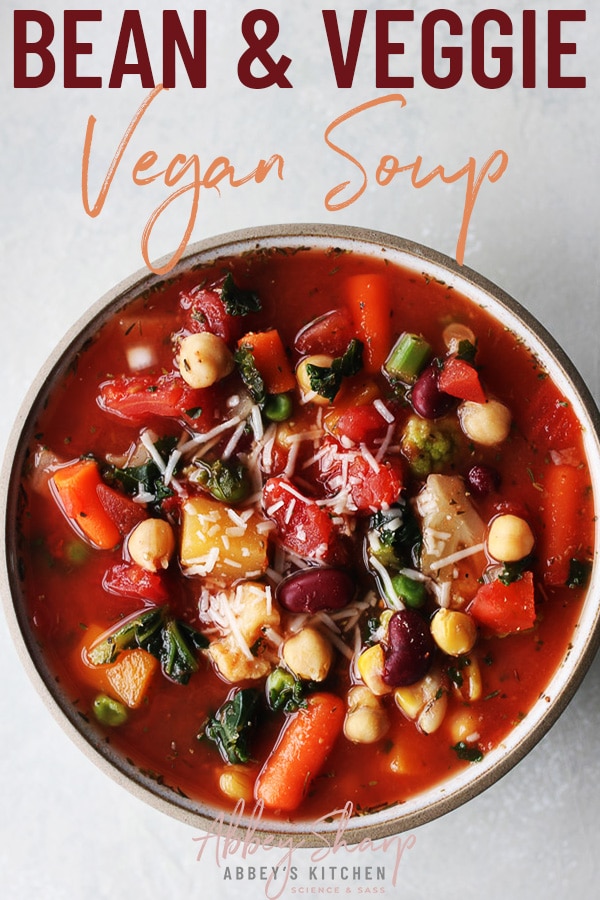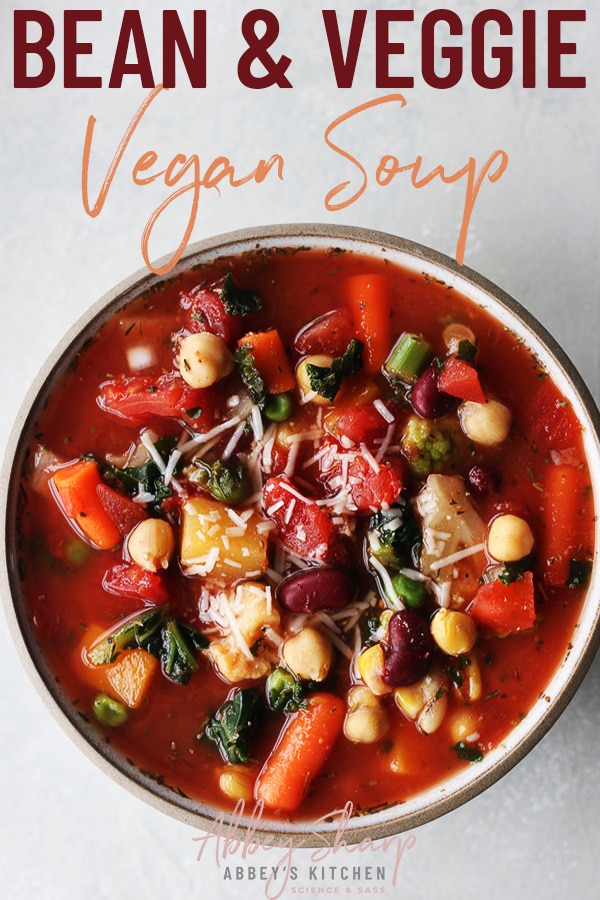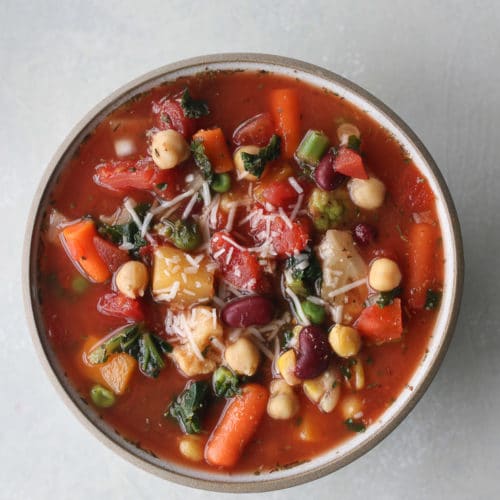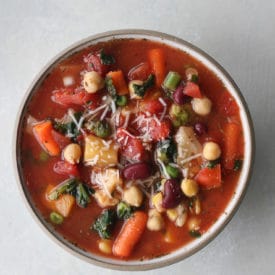 Vegan Bean & Frozen Vegetable Soup
This Vegan Bean & Frozen Vegetable Soup is an easy recipe to use up your pantry and freezer staples for those of you who stocked up for Covid-19 social isolation.
Print
Pin
Rate
Ingredients
1

tbsp

extra virgin olive oil1 onion

finely diced

3

cloves

garlic

finely minced

1 28

oz

can low sodium diced tomatoes

4

c

low sodium vegetable broth

2

cups

canned low sodium vegetable juice or tomato juice

1

tsp

dried oregano

1

tsp

dried thyme

1/4

cup

nutritional yeast

4

tsp

brown sugar or maple syrup

or to taste

8

cups

frozen vegetables of your choice

1 19

oz

can low sodium chickpeas

drained and rinsed

1 19

oz

can low sodium red kidney beans

drained and rinsed

Ground black pepper and sea salt

to taste

Vegan parmesan style cheese

for serving (optional)
Instructions
Heat the olive oil in a large soup pot over medium heat. Add the onion and garlic and cook until softened and fragrant, about 3 minutes.

Add the diced tomatoes, juice, broth, thyme, oregano..... Allow to cook for 5 minutes.

Add in the frozen vegetables, chickpeas, kidney beans and cook for an additional 5 minutes or until all of the vegetables are warmed through and softened.

Season with salt and pepper to taste and top with vegan cheese, if desired.
Updated on October 4th, 2021