As a dietitian who loves her spin classes and lunch hour training sessions, I'm constantly getting asked by my fellow gym rats about what to eat. I don't know about you, but what I decide to put in my body as Pre Workout Meals and Post Workout Meals can have a significant impact on my performance, endurance, and recovery. Here's what I've learned so far.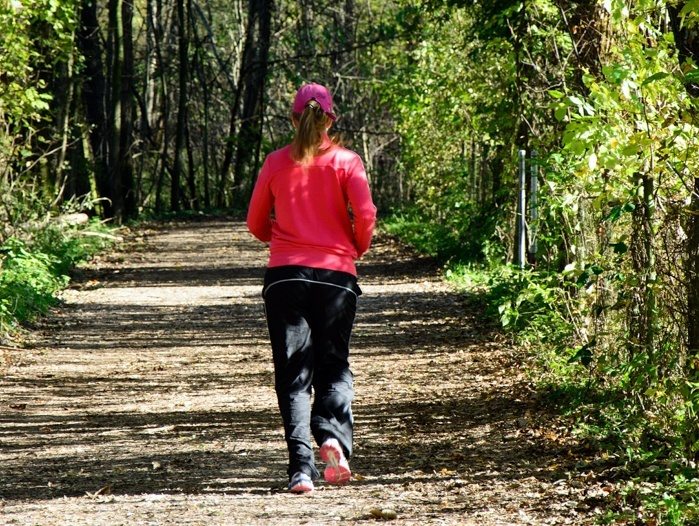 Pre Workout Meals and Post Workout Meals – Why are Carbohydrates So Important?
Since carbohydrates are your body's main source of energy (and you brain's ONLY source of energy), this nutrient is obviously very important if you want to excel during your workout.
So how does this relate to your exercise? When you eat carbs in your pre workout meals, the "glucose" (energy) in the is converted to "glycogen" and stored in your muscles and liver. During a workout, your body takes the glycogen, and converts it to back to glucose in your blood so it can be used to fuel your workout, depleting those glycogen stores in the process. This is why it's so important to eat proper amounts of carbohydrates in your pre workout meals. You never want to have your glycogen stores completely depleted as your body will subsequently resort to breaking down protein (aka. yep, those hard earned muscles) for the energy to fuel your body. This results in decreased muscle mass and fatigue – the exact opposite of what you're probably hoping to achieve.
After an energy-depleting workout, it's often important to replenish the glycogen that was used in your post workout meals! Your body naturally kicks this into gear within 24-48 hours after exercise, however, eating carbs within about a 1 1/2 hour recovery window after exercise can help speed up this process and optimize recovery. Post-workout meals with carbs and protein will enhance glycogen replacement, and help build and repair your tired and sore muscles. This is especially important if you're a competitive or high-intensity athlete!
BUT, before we go running towards our cookies and white bread, I want to distinguish between simple and complex carbohydrates.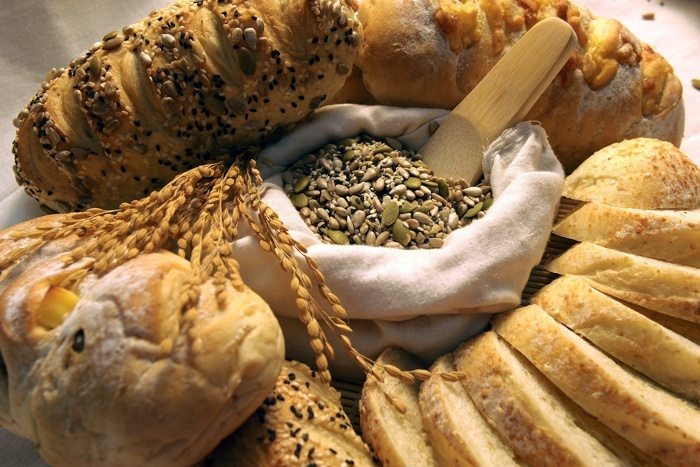 Simple = "fast" energy. Although it sounds appealing in this context, these carbs will only give you a small and quick spurt of energy, important for some endurance athletes but often not always necessary for a recreational workout as they don't have the same satiety factor as complex carbs. These carbs are found in white flour products, juice and desserts.
Complex = "slow" energy. This is the type of carb you should be aiming for most often! They give us long-lasting energy throughout our exercise, and are found in whole grain products, vegetables, fruits, and legumes.
Pre Workout Meals
Lets get into what are the best snack choices for pre workout meals. Key word here people: snack! We're talking 100-200 calories people. A common misconception is that we "need" to eat before working out. Whether we're talking about cardio or weight training, we only need to eat if it's been a few hours since your last meal, or if you're feeling hungry- but we'll get into those specifics in a few minutes. Let's talk for a minute first about what kinds of snacks we're talking about pre workout.
Protein, fat, and fibre, although incredibly important diet components in your diet for good health and weight management, take a back seat when it comes to eating before exercise. Generally before a cardio session, look for a meal that's higher in complex carbohydrates. There has been some debate between dietitian's and competitive bodybuilders on what type of carbs to have pre and post workout. To pop some gummy bears or have a whole wheat piece of toast? I'm going to be discussing complex carbs for the most part since I believe the small amount of added fibre won't sit in your stomach much longer and there are many benefits such as being higher in B-vitamins and iron- which play a key role in metabolism and transporting oxygen.
Also, look for snacks relatively low in protein, fibre, and fat. The last 3 nutrients are actually "slow-digesting", which is great for preventing overeating and watching your weight, but can make you feel uncomfortably full while you're trying to crush a 10 K.
Slow, Long and Steady Cardio
If you're planning a longer exercise session lasting over an hour, it's ideal to eat balanced pre workout meals 2-3 hours beforehand. Why this time frame? It allows for full digestion before your workout (so there's no uncomfortable "full" feeling), it helps stabilize your blood sugar levels, and will keep you feeling energized and ready to workout. What do we mean by "balanced?" We're talking about a meal with long-lasting complex carbs and protein. If you need to eat a snack closer to the time of exercise, say, 1 hour or less, go for mainly high complex carb foods. . Remember, this is a 100-200 calorie snack so you're not feeling stuffed while lacing up those runners.
Snack examples:
1 large banana
1 small yogurt cup with half a cup of berries
1 cup of applesauce within cinnamon
1 piece of whole wheat toast with 1 tbsp of peanut butter (my personal favourite!)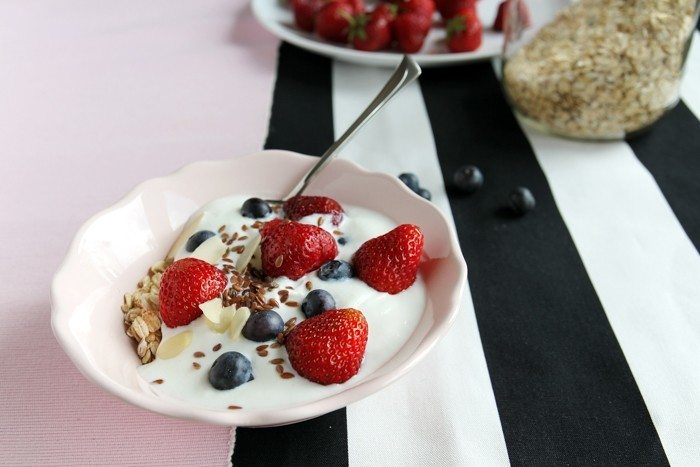 Avoid eating foods really high in fat and fibre in your pre workout meals, as these two are slowly digested and can lead to an upset stomach during your workout. Refined, high sugar foods will also lead to a quick high (lots of energy!), but unfortunately your energy levels can crash just as quickly as it rose.
Quick tip: Caffeine, depending on the person, can sometimes cause gas, bloating and loose stools. There's a reason they call them the "runs". But seriously, the last thing you want is to run looking for a washroom in the middle of your long-distance run or hike.
VERY Slow, Long and Steady Cardio (Marathon)
If you're running a marathon, or engaging in any physical activity that lasts several hours, it may be wise to eat during your exercise as well. This is where we'll be bringing simple carbs into the picture. Whether it's running or walking, the general rule of thumb is to take a few minutes every hour to re-fuel on foods high in simple carbs, as this can maintain normal blood glucose levels, extend your endurance, increase your power output, and increase overall sports performance! You should be eating approximately 30-60 grams of carbs per hour. Some examples here include :
2-3 cups of your favourite sports drink
1-2 portable carbohydrate gels
5-6 dates
Hard, Short & Fast Cardio
For high-intensity cardio that lasts less than an hour like a spin class, zumba, or a short fast paced run, the focus is similar to low-intensity long-term cardio. It is wise to load up on 100-200 calories of complex carbohydrates in your pre workout meals, and limit high fibre and fat foods. The same snacks listed for low intensity cardio can be used here!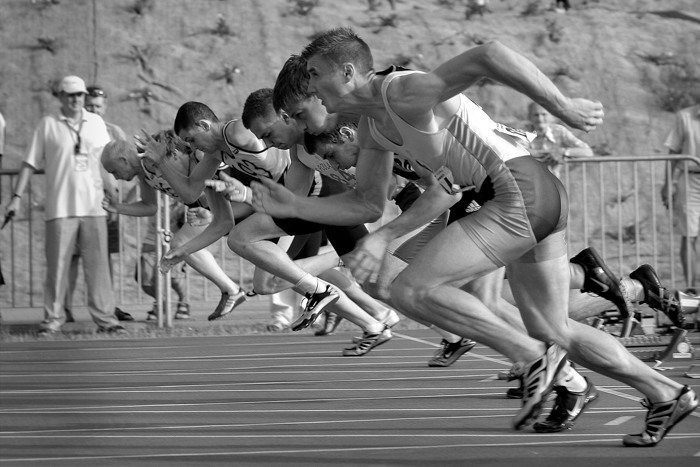 Your body's glycogen stores are not likely to run too low in this short amount of time. Plus, I'm not sure about you guys but the thought of popping a handful of trail mix while jumping around in an aerobics class just doesn't sound appetizing.
Strength Training
Many of the same eating guidelines apply for strength training as with cardio. Aim to have balanced pre workout meals 2-3 hours before hitting the weights. And remember, have a snack high in complex carbs 30-60 minutes before only if you're feeling hungry or know you'll be in that sweat sesh for an hour or more.
Post-Workout Meals
Lets start by looking at what the literature says about post workout meals. In a large meta-analysis study the authors found a decrease in gherelin (the hunger hormone) and an increase in three hormones that suppress hunger. They also found there is insufficient evidence to conclude what the effect of intensity has on these hunger hormones. Sound like the opposite of what you expected? What I took from this study is the importance of mindful eating, especially post-exercise. Do you actually feel hungry, or do you feel like you want those 4 cookies because of the grueling Mount Everest cycle class you just endured?
There's no problem in treating yourself to a delicious dessert once in a while, or even after your workout, just be knowledgeable of the fact that what you eat after a workout is just as important as what you eat before. Also, stop for a minute to think about how much you're eating. We'll talk about that next.
Post-Cardio
Eating after exercise is the perfect opportunity for you to restore your body's depleted energy levels, repair your tired and sore muscles, and re-hydrate yourself after all that sweating. Carbohydrates are still important here in your post workout meals, but they no longer take precedence over protein, as they are both important. Now, after a workout, it's time to focus on simple carbohydrates high in naturally-occurring sugar, so it can be quickly absorbed into your bloodstream, and you can immediately start replenishing the glycogen stores in your body. The goal is to be quick!
General Guidelines:
1) Make sure you eat a small snack high in carbohydrates within 60 minutes after your activity. More specifically, think about having about a 100-200 calorie snack within the first 60 minutes following exercise.
Some great options include :
Chocolate milk is a favourite go-to post-workout snack for me. It contains simple carbs, a little protein, lots of fluid as well as sodium and potassium to balance those electrolyte levels out.
Fresh fruit, I find oranges can be very refreshing
You'll notice I didn't add serving sizes to these snacks. This is because depending how long your cardio sesh is, you could be burning between 300-1200 calories. As you can imagine, that will change the size of your post-cardio snack significantly. For example, if you're on the lower end of 30 minutes of cardio, aim for 1/4 cup of chocolate milk, or a small apple. If you're on the high end, maybe a two-hour long run, you're looking at 1 cup of chocolate milk or 1 large navel orange with a handful of grapes. This is when it becomes important to listen to your body's hunger cues!
2) Now, within 2 hours after your activity (so 1.5 hours after your previous snack), aim for post workout meals that are rich in complex carbs and protein to keep you full! Your body is in full recharge & recovery mode during this 2-hour window, so we better take full advantage of it. Again, choose the quantity of these snacks based on your length of workout and hunger cues!
Some tasty options include :
Tuna sandwich on whole wheat bread
Greek yogurt with berries and granola
Egg scramble loaded with veggies and an whole wheat english muffin
Whole wheat pita with hummus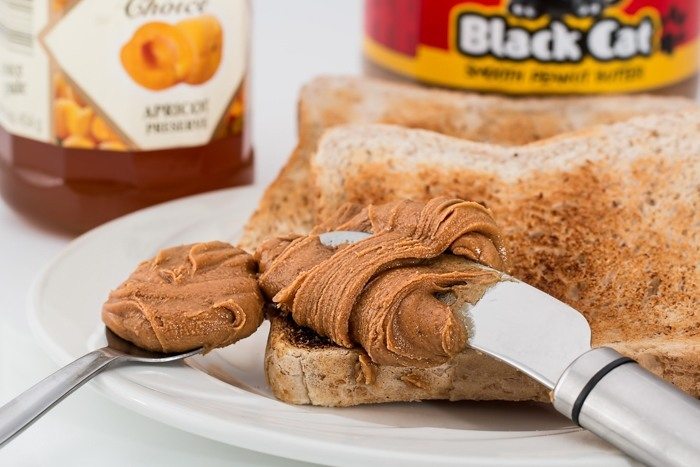 Post- Strength Training
Eating for recovery after strength training is similar to that of cardio, but with slight variations!
The purpose of strength training is to increase muscle mass, right? Well, the increase of muscle isn't due to the actual lifting, as that actually breaks down your muscle tissues – that's why your body feels sore! The actual bulking comes in after the weight-lifting sesh, when you replace the nutrients you've lost to maximize recovery. That's why you need to make sure nutrients are available for you muscle right away.
There is also a window of opportunity here. It's best to eat protein in your post workout meals within 30 minutes to help maximize your protein synthesis. Carbohydrates (to replenish glycogen stores) and protein (to build muscle) are key components, yet again. Notice a trend?
Contrary to popular belief, stuffing yourself with seemingly endless amounts of protein will not result in increased muscle gain…your body only uses what it needs and disposes of the rest! When you digest protein, it is broken down in your stomach into amino acids. These amino acids can now enter your bloodstream or tissues in your gut to be absorbed. One article in the International Journal of Sport Nutrition and Exercise Metabolism found amino acids can be absorbed at a rate of 1.3-10g per hour. Since that's a lot of variation, and what does that really mean anyway, we're going to take a look at how much protein we need daily instead. Dietitian's of Canada recommends 1.2-1.7g/kg of body weight per day for athletes (depending on the sport), which can be met through food alone. For a 70kg woman that equates to 84-119g of protein daily which is ideally spread throughout the day. I've seen people waste expensive protein powders because of this myth…only use what you need!
The Importance of Hydration
Did you know muscle is made up for 75% water? It's no secret that hydration massively contributes to good performance on the track or in the gym. As you exercise, your body produces sweat in order to cool itself down, resulting in a loss of bodily fluids. A general recommendation is 8-10 cups of non-caffeinated water a day, although more for those who are physically active.
Aim to have around 1-2 cups of fluid for every hour of exercise. This can be plain water, juice, or a sports drink – which can be especially helpful during endurance exercise as it has both carbs for fuel and electrolytes, which helps your body "hold on" to fluid. Use caution though, one cup of juice or sports drink can have 100-150 calories and as much sugar as a can of pop. For the majority of people exercising less than an hour, water is the best choice.
If you lose any weight immediately after exercise, it's actually water loss from your body – so drink 3 cups of liquid for every pound lost. Trust me, you don't want to suffer from dehydration. It not only affects your athletic performance, but your daily life as well.
Generalized Take-Home Message
Pre Workout Meals
Enjoy a balanced meal 2-3 hours pre-workout
Have a snack with complex carbohydrates 30-60 minutes before exercise only if you're hungry or if your workout lasts more than an hour
Stay hydrated.
Post Workout Meals
Stock up on complex, high glucose carbohydrates immediately
Within 2 hours of activity, include complex carbohydrates and protein to enhance glycogen replacement, and help build and repair your tired muscles.
Again, stay hydrated!
Follow these guidelines like I do, and I guarantee you'll be well on your way to having an amazing, butt-kicking workout while feeling great afterwards. Happy exercising!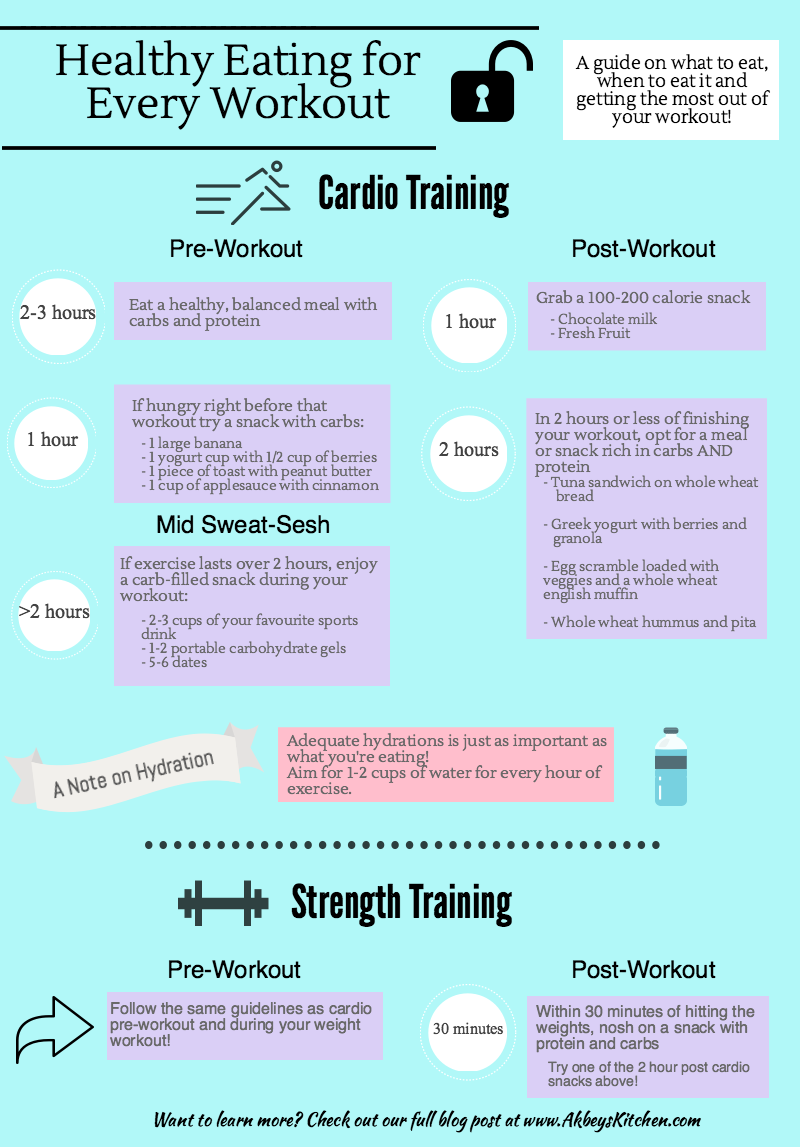 Contribution by AK Nutrition Student Trista Chan, AK Dietetic Intern Tiffany Schebesch and consulting with Ben Sit, RD
References:
http://www.dietitians.ca/Your-Health/Nutrition-A-Z/Sports-Nutrition-(Adult).aspx
http://www.heidismithnutrition.com/Home10.html and her sports nutrition book, Nutrition for the Long Run
http://www.eatrightontario.ca/en/Articles/Physical-Activity/Sports-nutrition–Facts-on-carbohydrate,-fat-and-p.aspx#.VgnaLXg-Dq0
https://mysportsdconnect.com/sports-nutrition-podcast/part-2-recovering-faster-with-nutrition-post-workout-nutrition/
https://www.sportsdietitians.com.au/factsheets/fuelling-recovery/eating-drinking-sport/
http://www.pennutrition.com/KnowledgePathway.aspx?kpid=8180&trid=8176&trcatid=43
Updated on May 12th, 2020