Before last week, I had no idea how sordid the fake olive oil industry was. More dramatic than your favorite soap opera, the villains and heroes surrounding the production and distribution of olive oil worldwide will make you clasp your heart and gasp in absolute horror.
Luckily, the Flavour Your Life campaign, funded by the European Union, the Italian Department for Agriculture, and Unaprol (the largest Italian Association of olive growers and olive oil producers) is raising awareness about fake olive oil through their innovative programs. With initiatives in Belgium, the Netherlands, Denmark, Italy and North America, Flavour Your Life aims to educate consumers on the origin, production and traceability of extra virgin olive oil. Efforts include participation in large trade shows, in store tastings, advertising, and promotional activities – such as the event I attended at Brassaii on King West last week.
Upon entering Brassaii, bloggers, chefs and olive oil aficionados were shuffled into the large back room where we imbibed ourselves in the open bar and some passed canapés. Soon after, we were treated to an educational talk on extra virgin olive oil from Robert Beauchemin and a special overview on cooking with extra virgin olive oil from the Brassaii chefs.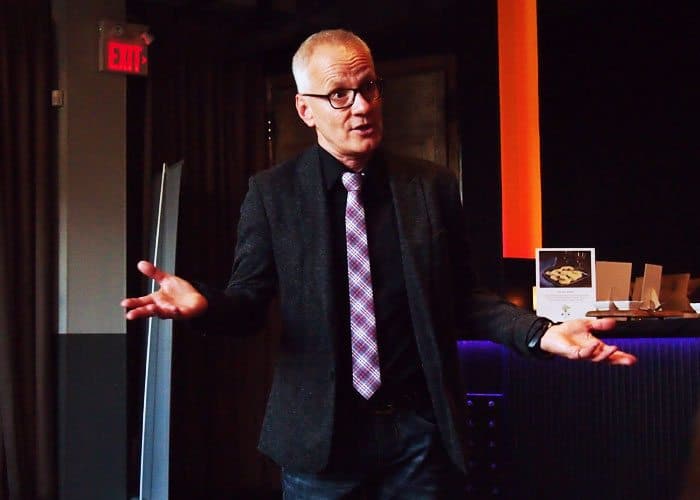 Our first guest speaker, Beauchemin, was an anthropologist, food writer, and professor at La Salle University – and if there's one thing he knew about, it was olive oil. Robert spent the hour educating us on the business of olive oil, where the best came from (Puglia, Italy in his opinion), how it's made, and why the business is so sordid. He entertained us with tales about how the largest extra virgin olive oil producers in the world essentially water down their product with soybean oil. For example, even though Italy only produces about 500,000 metric tons of extra virgin olive oil annually, they export over 1,000,000 – so they're either buying it from other Mediterranean countries and passing it off as Italian, or they're watering it down with some other cheaper oil. Either way, I consider this to be fake olive oil. If you ever have some time to look into the business of extra virgin olive oil, I highly recommend it – you will never think of your vinaigrette the same.
After the lecture from Beauchemin, Executive Chef Marcus Monteiro gave us a short overview on cooking with olive oil. While there were some obvious contradictions between what we learned from Beauchemin and what Monteiro had to say (clearly they didn't exchange talking points before), overall the general take home was that cooking with olive oil is a healthy alternative to other fats and oils but when baking with olive oil, your treats will come out a bit drier than usual.
At the start of his lecture, Beauchemin, was very quick to mention that all of the food we were tasting that night was actually made with fake olive oil (not the good high quality extra virgin olive oil). Here's the scoop on what we were fed:
Israeli Couscous Pilaf
With Roasted Butternut Squash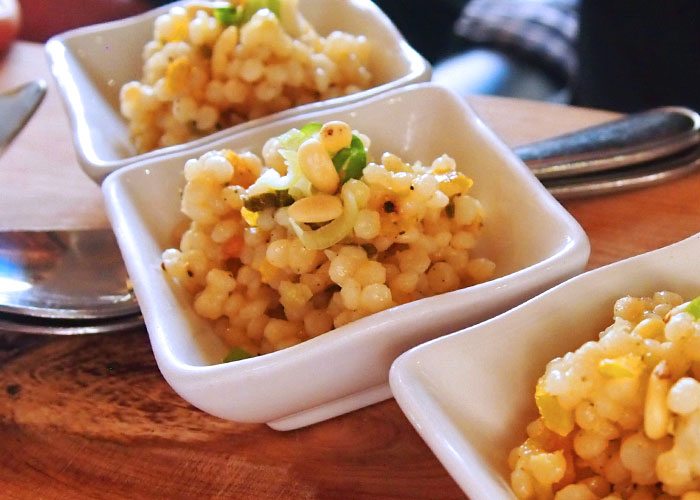 Perfectly cooked couscous with buttery smooth squash certainly packed in a ton of flavour!
Monteiro Cheese on Cucumber
with EVOO Drizzle and Lemon Zest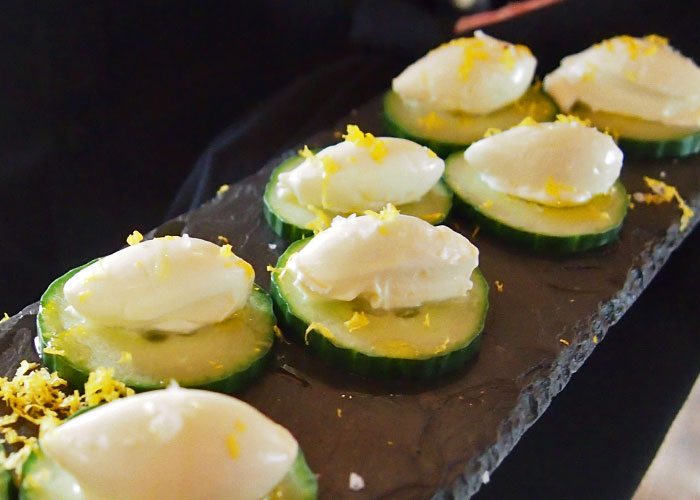 This Monteiro cheese practically melted in my mouth!
Tomato Confit
With Olives and EVOO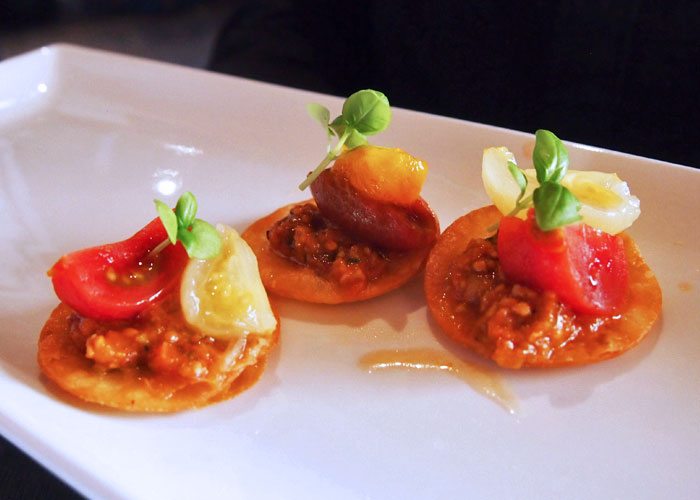 The delicate fried chip was irresistible with the sweet confit tomatoes.
Ahi Tuna Crudo
With frozen Grape and Dehydrated Fennel
I loved the contrast of the warm, salty tuna with the frozen, sweet grape!
Orange and Olive Oil Scented Pound Cake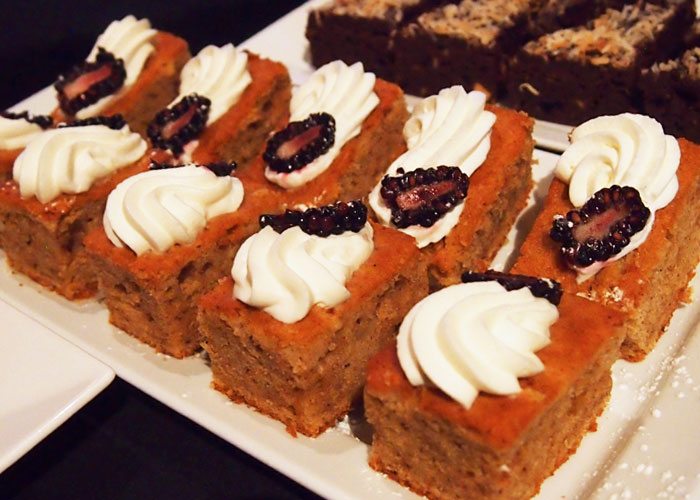 Chef told us that when you bake with olive oil, things come out inevitably dry – they were definitely right. Never the less, I did enjoy the subtle spice in this cake.
Almond Coconut Brownie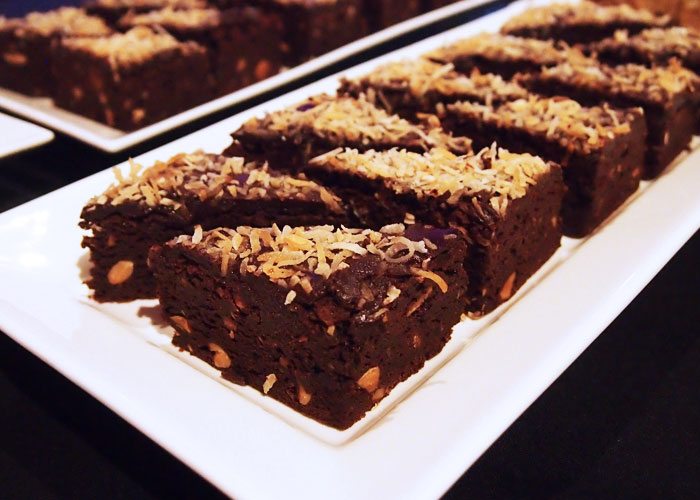 Again, a bit dry but I'm a big fan of nuts in my brownies so I was definitely a happy camper!
The morale of the story here is to be an educated consumer and be warned of fake olive oil. Be aware of what you're buying and where you're buying it. Demand the best quality products from your grocery stores or buy your olive oil from a small local source that you trust.
If you don't have a local olive oil store around you – here are a few tips to help you pick a good one and avoid the fake olive oil.
Fake Olive Oil 101
• Don't look for the cheapest option. A lot of the cheaper options (Maestro, Bertoli) that line the shelves of your local grocery store have been mixed with soy oil – a much cheaper oil. Aka. It's fake olive oil.
• Your extra virgin olive oil should smell and taste like olives. Look for a pungent, bitter tasting extra virgin olive oil. The best extra virgin olive oil comes from un-ripe, green olives that are still on the tree. They produce a bitter taste, are the most nutritionally dense, and will last the longest (if stored correctly). I myself have eaten olives off of olive trees and can confirm that they are brutally bitter.
• Avoid buying "cold pressed" olive oil priced at a premium – this is a marketing ploy. All extra virgin olive oil is cold pressed as you don't need to heat olive's to extract their oils, you just need to squeeze them.
• Avoid "light" extra virgin olive oil – it's not actually lighter, it's just deodorized. The deodorization process uses added chemicals to mask the scent and taste of the olive, and who wants chemicals in their oil?
• If you're extra virgin olive oil has been sitting in your cupboard for over 2 years, it's time to toss it.
For more information on the Flavour Your Life campaign, check out their website. You should also see what tasty treats the chefs at Brassaii have cooking up by perusing their website here and my blog post here!
What are some of your favourite olive oil brands?
Contribution by AK Tasters: Brea Giffin and Cindy Chan